New Age Islam News Bureau
7 Jan 2019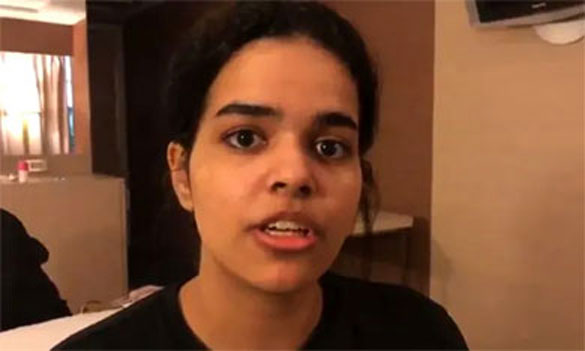 Rahaf Mohammed al-Qunun says she was stopped by Saudi and Kuwaiti officials while in transit at Suvarnabhumi airport in Bangkok. Photograph: AFP/Getty Images
-----
• Afghanistan's Rigid Cultural Norms; A Serious Challenge for Girls' Education
• Hearing Divorce Cases on a Sidewalk in Niger, as Women Assert Their Power
• Saudi Women to Fly High as A Cabin Crew In A New First
• Protests in Iranian Cities and Active Role of Women in Them
• Nurses in Iran Number One-Fourth of the World Standard
Compiled by New Age Islam News Bureau
URL: https://www.newageislam.com/islam-women-feminism/rahaf-mohammed-al-qunun-saudi/d/117389
--------
Rahaf Mohammed Al-Qunun, A Saudi Woman, Says She Will Be Killed If Forced To Return To Abusive Family
7 Jan 2019
An 18-year-old Saudi woman being detained in Bangkok having fled from her family after renouncing Islam fears she will be killed if she is repatriated, according to a close friend who said the threats to her life are real.
Rahaf Mohammed al-Qunun has barricaded herself in her hotel room for fear that Thai immigration officials, who have gathered outside her door, would force her on to a plane to leave the country. Thai immigration officials have confirmed she has been denied entry to the country.
The Guardian has confirmed Qunun had a three-month multiple-entry tourist visa for Australia, where she said she was intending to seek asylum.
Qunun maintains she will be killed if she is returned to Saudi Arabia and has said she will not leave until she can see the United Nations High Commissioner for Refugees, according to Phil Robertson, Human Rights Watch's Asia deputy director.
Robertson said that in an "important victory" for Qunun, Kuwait Airlines flight KU412 to Kuwait, which she feared she would be forced to board, left Bangkok without her. In a video posted after the plane departed, she said: "I am Rahaf, the plane has departed, I am in the hotel, I need a country to protect me as soon as possible. I am seeking asylum."
Qunun said she was trying to escape from her family because they subjected her to physical and psychological abuse. She has appealed for help from Europe, the US, Canada and Australia.
"My family is strict and locked me in a room for six months just for cutting my hair," she said, adding that she was certain she would be imprisoned if sent back. "I'm sure, 100%, they will kill me as soon as I get out of the Saudi jail," she said, adding that she was scared and losing hope.
A 20-year-old friend of Qunun, whom the Guardian has chosen not to name and who recently moved from Saudi Arabia to Australia, said the threats to her were real. "She's ex-Muslim and has a very strict family, they're using violence with her and she faced sexual harassment," she said. "She received a threat from her cousin – he said he wants to see her blood, he wants to kill her."
"If they didn't kill her they couldn't go [around in] public after this [Qunun renouncing the Muslim faith], so they have to do it," the friend said. "It's like: If you're a man you should prove it. If they don't kill her they can't go outside and see other men."
Qunun's friend has lived in Australia for three months, and said she was seeking asylum there after being abused in Saudi Arabia. She said she had known Qunun for a year, after connecting with her online. "She's an activist, she's a feminist," she said. "There are lots of feminist groups [in Saudi Arabia].
"They gather online to protect each other, help each other. [For example] I saw a woman giving money to shelters, food, donations. Even buying tickets for women escaping."
Georg Schmidt, Germany's ambassador to Thailand, tweeted his support for Qunun, saying: "We share the great concern for Rahaf Mohammed and are in touch with the Thai side and the embassies of the countries she approached."
Sarah Hanson-Young, a senator from South Australia, called on Australia to issue her with emergency travel documents.
Robertson said there was no doubt Qunun needed refugee protection and that the UNHCR had to be given immediate access to the hotel.
"Rahaf faces grave harm is she is forced back to Saudi Arabia so she should be allowed to see UNHCR and apply for asylum, and Thailand should agree to follow whatever the UN refugee agency decides," Robertson told the Guardian.
"She's desperately fearful of her family, including her father who is a senior government official, and given Saudi Arabia's long track record of looking the other way in so-called honour violence incidents, her worry that she could be killed if returned cannot be discounted," he said.
"She has clearly stated that she has renounced Islam which also puts her at serious risk of prosecution by the Saudi Arabian government."
Qunun, from Ha'il, in north-west Saudi Arabia, said she was stopped by Saudi and Kuwaiti officials when she arrived at Suvarnabhumi airport on Sunday and her travel document was forcibly taken from her, a claim backed by Human Rights Watch.
The Saudi embassy in Bangkok said Qunun was being held for not having a return ticket, and that she still had her passport, a claim denied by Qunun.
"They took my passport," she said, adding that her male guardian had reported her for travelling "without his permission".
She spent Sunday night in an airport hotel and tweeted that officials were posted outside her door to stop her leaving. On Monday morning she said she was trying to claim asylum in Thailand.
Thailand's immigration chief, Surachate Hakparn, said Qunun had no money or return ticket when she arrived at the airport.
"She ran away from her family to avoid marriage and she is concerned she may be in trouble returning to Saudi Arabia."
Thai officials had been sent to take care of her and were coordinating with the Saudi embassy, he said.
Qunun would be sent back to Saudi Arabia on Monday, he said. "It's a family problem."
The Saudi embassy in Thailand and officials in Riyadh could not be reached for comment.
https://www.theguardian.com/world/2019/jan/06/saudi-woman-held-bangkok-fears-will-be-killed-repatriated
--------
Afghanistan's Rigid Cultural Norms; A Serious Challenge for Girls' Education
January 6, 2019
By Hamidullah Bamik
The Afghan government, headed by Hamid Karzai, the first elected president of Afghanistan after the collapse of Taliban's government in 2001 and its international donors with millions of dollars and other resources embarked a new era in Afghanistan. Since then the governmental and non-governmental organizations funded by international donors built many schools, recruited and educated teachers and instructors, and families started sending their progenies including girls to school. There is not an accurate statistic regarding the number of girls who went to schools during this period, but there is a widespread consensus that, since 2001, millions of girls who were deprived ofgaining education during the Taliban's rule, found access to education.
Now that almost eighteen years have passed since the collapse of the Taliban's regime, the status of education particularly girls' education is not as good as it was expected. Roughly two-thirds of Afghan girls do not go to school according to the recent report published by the USAID. As the security situation worsens in Afghanistan, the progress that has been made towards girls' education may result in a reversal. Despite the infusion of millions of dollars by foreign countries and other international independent institutions, the Afghan government could not fight with rampant challenges especially rigid cultural norms that ban girls' education in Afghanistan. Girls are often kept at home because of harmful gender measures and these issues impede their education. Even on the basis of highly optimistic figures about the participation of girls in education, there are millions of girls in the country who have never been to school, and many more have just gone to school for a short time.When it comes to obstacles to girls' education in Afghanistan, the government and other relevant institutions often mention insecurity the main reasons for the exclusion of girls from schools. They rarely touch the issue of cultural norms that deprive girls from education more than insecurity.
When the Taliban government collapsed in late 2001, the new Afghan government and its supporters, the countries that participated in the United States-led coalition in Afghanistan, faced with two major challenges: how to re-establish the educational system for half of the school-age population in a country with a high poverty rate and how to help girls who were excluded from education during the Taliban's era to go back to school.To achieve this goal, the Afghan government, international donors, and foreign countries invested hugely in girl's education in Afghanistan.They taught that by building schools, providing educational materials such as textbooks and other educational resources would help Afghan girls obtain education. There is no doubt that these aids paved the way for Afghan girls to find access to their basic rights – education. But unfortunately, neither the Afghan government nor the international organizations working on developing educational programs paid serious attention to one of the key challenges to girl's education – the prevailing rigid cultural norms among the communities and families that ban hundreds and thousands of girls from going to school in Afghanistan.
In Afghanistan, there are still a large number of tribes and communities who assume women as home keepers and believe that they don't' have any kind of responsibilities outside the home. Given that they are not interested too much in sending their daughters to school. They still consider some of the common social norms as taboos such as schooling girls. Regardless of the fact that housekeeping and home affairs should be done well and appropriately, girls need to gain education. Some communities in Afghanistan think that schooling girls are a disgrace and for justifying their reasons, they refer to religion that actually, there is not any religious justification for halting girls from obtaining education. Among the number of Afghans who consider girls' education as taboo and forbidden, it is believed that women should raise their children and not spend their time in school. Being ignorant of the fact that raising children can be done better if a mother acquires education. However, these and dozens of other traditional beliefs in Afghanistan have caused a large number of girls to be deprived of going to school.
To fight with the abovementioned challenges, the Islamic Republic Government of Afghanistan passed the Law on the Prohibition of Violence Against Women in August 2009. This law for the first time in Afghanistan considers child marriage, forced marriage, compulsory self-immolation and other 19 types of violence against women, including rape as a crime, and for those who commit imposed a penalty.Although the Law on the Elimination of Violence against Women is an essential step in the eradication of violence against women and girls, it does not help girls have access to education. In other words, the above law does not help girls and women in the fight against the rigid traditional norms and values that ban them from gaining education.
According to the Constitutional Law of the Islamic Republic of Afghanistan, education is the right of all citizens and is provided free of charge by the state.To this end, the government is required to design and implement effective programs in order to promote the balanced distribution of education throughout Afghanistan, to provide compulsory secondary education. This constitutional principle stipulates the need for access to quality and balanced education services for all citizens of the country, regardless of cultural, linguistic, ethnic, gender and physical status. Article 44 of the 2004 Constitutional Law of the Islamic Republic of Afghanistan specifically deals with the education of women. According to this principle, the government is obligated to plan and implement effective programs for the balancing and development of women's education. Another part of the government's obligation is to comply with a number of international treaties. These treaties include Third Millennium Development Goals and Education for All. Under the two treaties, the Afghan government is required to provide all children with access to primary education.
The Prevailing Challenges towards Girls' Education
Early and Child Marriage:More than half of the girls in Afghanistan aregetting married before reaching the age of 19, of which 40% are between the ages of 10 and 13, 32% at age 14 and 27% at the age of 15. The United Nations holds that seven million and 300,000 girls are getting married before reaching the legal age around the world every year, of which 12 percent are Afghan girls.According to the Afghan Independent Human Rights Commission, the main reasons for the rise of forced and underage marriages in Afghanistan are poverty, unfair socialization, insecurity, and the continuing impunity culture. But researchers argue that illiteracy is the main reason for child marriage in Afghanistan.So, as girls get married, they do not continue their education. When they are kept ill treated as their parents, their daughters encounter the same fate as they faced after getting married.
In a country where a third of the girls marry before age 18, the marriage of children leaves many girls out of education. The minimum age for marriage for girls is in accordance with Afghanistan's Constitutional Law is 16. In practice, the law is less enforced, which is why most girls are married before the age stipulated in the law. The consequences of marriage for children are very detrimental and lead to the exclusion from education. Other losses due to child marriage include serious health hazards, including the deaths of girls and their children due to early pregnancy. Girls who are married at an early age may also be more likely to be victims of domestic violence than girls who are married at a later age.
Resistance anti-Teaching Girls by Male Instructors: In Afghanistan, many families are not willing to accept male teachers for their daughters. When the first girl school in Kabul was established in the early twentieth century, it was faced with a shortage of female teachers, and the government inevitably appointed male teachers to teach at girl schools, and this is still a problem for girl's education in Afghanistan. With increasing female students, girls encountered more problems. In Afghanistan, in the remote areas still, families disagree with the presence of male teachers in girl schools. Despite this traditional belief, in many regions of Afghanistan, male teachers teach at girl schools. But, generally, a shortage of female teachers prohibits girls from going to schools. This problem gets more serious and severe, when girls grow older because traditional families in Afghanistan don't let their daughters continue their education in presence of male teachers.
Unfortunately, there are not enough schools for girls in Afghanistan. Girls have two options either go to boy schools which are far away from their vicinity or leave education. Hence, some families prevent their daughters from traveling to another area for long periods of time. On the other hand, in some provinces of Afghanistan due to lack of facilities, girls and boys are allowed to study in the co-ed classroom, which is not acceptable for many families due to the dominant traditions and the culture governing in Afghanistan. Thus, many Afghan girls are left out of school in areas where the government cannot provide separate classrooms for boys and girls and schools don't have adequate educational resources such as instructors, classrooms, and other supporting materials for teaching. And, families are not allowing their daughters to study together with boys in the one class.
Resistance against girls being taught by male instructors is not the same in every province of Afghanistan. This problem has been solved in the areas where the cultural barriers to girls' education have been reduced, where households, school administrators and community elders have supported girls to complete their schooling even with male teachers. Those girls who are completing their schooling either with female teachers or male ones can enter higher education institutions and will be hired as teachers in girl schools after graduation. This has led to a minimization of female teachers in girl schools in some regions of Afghanistan particularly in the central provinces of Afghanistan. This achievement has strengthened both the presence of women in the community and the cultural sensitivity of preventing girls from entering school and university. This cultural and public awareness provides the ground for a new tradition in which families try to encourage their daughters to complete their education to become teachers to support other girls in their communities.
This change in attitudes towards the education of girls is more rampant in the central regions of Afghanistan such Ghazni, Bamiyan, and Daykundi provinces. Also, this attitude to helping girls go to school as boys have been developed in some ways in Badakhshan Province and some northern provinces of the country. But in other provinces, with the exception of the cities of the country, girls continue to be educated with serious cultural limitations. Even with educational facilities, families do not allow their daughters to go to school and families that allow their girls to go to primary school but ban them from going to secondary school.
Exclusion of Sexual Abused Girls from School: Besides war and conflicts that lead to girls' exclusion from education, girls on their way to school also face unwanted crimes and abusive practices, including abduction and sexual harassment in Afghanistan. There are many reports of kidnapping of girls on the ways to schools by criminal gangs. Abduction is similar to acid attacks that have widespread effects on girls' deprivation of gaining education. Kidnapping and sexual harassment cause many Afghan families in their communities to keep their children, especially girls, at home because sexual harassment and kidnapping can harm the honor of a family. So, it can have devastating consequences for girls 'reputation and personality in their communities. That is why it is difficult for parents to bear it. Therefore, sexual harassment and kidnapping is also a key obstacle toward girls' education.
The stigmatization and social taboos related to rape lead to many girls being abandoned by their families. Victims are penalized doubly over: they become social outcasts, whereas their violators go free. Several of these victims are schoolgirls. The weakening effects of sexual violence among the communities and families inevitably spill over into education systems. Girls subjected to rape typically experience grave physical injury – with long consequences for school attendance. The psychological effects, together with depression, trauma, shame, and withdrawal, have devastating consequences for girls' education. Many girls drop out of school after rape pregnancy. Moreover, concern and terror of sexual attacks will lead families to prevent their daughters from going to schools. Fear of social stigmatization from sexual abuses is an important factor in household decisions on whether to send their children to school or not.
The question is here that Afghan families instead of fighting with stigmatization sexual harassment and kidnapping, they succumb to it. And most importantly, girls who been sexually abused are both the victim of sexual harassment and social stigmatization that it carries thereafter. Again, this social stigmatization depends that how families and communities interpret the consequences of sexual harassment and abuses. Since many families and communities still are in this believe that girls who have been abused sexually should be kept at home, and leave pursuing their education, hundreds and thousands of Afghan girls are deprived of education, as a result. This approach of families toward sexually abused girls that they should not go to school is rooted in the rigid cultural norms among communities. While studies indicate that one of the best ways to help the victims of child sexual abuse is providing education.
Gender Stereotype and Cultural Discrimination Against Girls' Education: Gender stereotypingis the practice of ascribing to an individual woman or man specific attributes, characteristics, or roles by reason only of her or his membership in the social group of women or men. A gender stereotype is, at its core, that belief may cause its holder to make assumptions about members of the subject group, women and/or men.But a large body of literature demonstrates that stereotyping often results in violations of human rights and fundamental freedoms of individuals.An example of this can be the incapability of the justice system to hold perpetrator of sexual violence accountable on the basis of stereotypical views about women's appropriate sexual behaviour.
Cultural discrimination against women includes those differences of treatment that exist because of stereotypical expectations, attitudes, and behaviors towards women. The findings of the Special Rapporteur demonstrate that stereotype about women's role within the family leads to a division of labor within households that often result in poverty for women and lower levels of education. A stereotype is harmful when it limits women's capacity to enhance their personal abilities, pursue their professional careers and make decisions about their lives. The view that rearing children is women's responsibility, is a negative gender stereotype among the families and communities. Likewise, in Afghanistan, because of the predominant cultural and gender norms among the families and communities, boys' education in the majority of families is given priority to girls' education, or girls' education is not generally of interest or is acceptable merely for a limited period.
Women in Afghanistan are discriminated because of dominant beliefs of patriarchy from childhood, even before birth. And part of the reason that Afghan girls are experiencing severe gender discrimination is pertaining to the dominant discriminatory cultural norms among the communities in Afghanistan. They are born with discrimination and die with discrimination. Lack of public awareness of human rights standards, low levels of literacy, poverty, incorrect traditions, lack of laws that support the presence and participation of women in society are among the factors that increase discrimination and, as a result, deprive women of their rights and freedoms.According to Kristensen (2016), 70 % of the women whom the author interviewed said that they experienced discrimination in different manners.Many of the women whom the author interviewed had unique stories about their lives – how their brother was free to choose the education he wanted, while they were not permitted, either for economic reasons or because they had to get married instead.One of the stories that Kristensen cites from her interviewees is extremely shocking – "When I was little my parents had a bad financial situation. So, they just sent my brother to school, said you're a girl. Girls do not need to go to school, because, finally they do marry, and they don't need to learn."In a traditional country like Afghanistan, women and girls are suffering from gender discriminations against them that are mainly rooted in the cultural norms of their communities and the gender stereotypes of men toward women.
Girls' Education and the Dominated Patriarchal Codes: Social scientists define patriarchy as the power of man over women. They argue that patriarchy refers to males' ideology, privileges, and other principles are perceived for subjugating the females' roles and functions in the societies. Patriarchal societies are known for marginalizing the feminine.They typically ignore or trivialize what is concerned with feminine characteristics.
Given the above definition, a country like Afghanistan that has a strong patriarchal attitude toward womanhood. In Afghanistan, because of the predominance of patriarchal attitudes and behaviour in families and communities, the power of patriarchy regulates all relationships by means of education, and it serves the interests of the patriarchal society. Therefore, equal opportunities for women and men are not provided in the social, political, economic, and educational spheres. Men can easily implement their projects in different areas, but women will face a lot of problems in the same arena. In the patriarchal society like Afghanistan, the cultural norms do not provide women with equal opportunities for gaining education and working outside the home. Thus, women are left marginalized.
Since education as an important tool in the relationship of power, it can be the root stone of gender inequality in traditional society, and women are the main victims of this gender inequality. Afghanistan, as the country with the most patriotic power in the political, economic and social spheres, some prevents and communities either by cultural means or on the basis of the patriarchal principles deprive girls from their basic human right – gaining education. Additionally, women are not counted as members of society as their men counterparts, and it has been embodied in some communities due to the control of education by patriarchal society. So, as education is an important tool that can question the values and norms of patriarchal society over the long term, communities' elders and family's decision makers (males) knowingly ignore girl's education.
Conclusion and Recommendations
Cultural barriers are one of the main obstacles to the growth and spread of girls' education in Afghanistan. A large part of these cultural norms is learned through the process of socialization that shapes our lives. In this context, one of the most important ways of development and transformation in each society is to challenge and ignore the norms that for various reasons are no longer responsive and meaningful for a group or stratum. Without breaking the norms of the old, the divine, the one-sided, the unequal and the incompatible with the style and the modern conditions of life in the contemporary world, the society is dying and ruining. The key to the dynamism and transformation of a society and culture is based on the critical and challenging approach toward the value systems and norms of that society. This process starts with the breakdown of the norm and ends with the transformation of values.
Studies and researches demonstrate that educating people can play a significant role in the transformation of cultural norms and rigid cultural values.Since in Afghanistan mostly girls are the victims of these rigid cultural norms, educating them can be one of the best and most effective ways to eliminate discrimination and gender inequalities. Because when girls gain education, skills, and, the capabilities required for their presence in the society, they can fight with the political, economic, social, gender, and educational inequalities in their living communities. The Afghan Ministry of Education as a responsible entity in providing education should pay close attention to the education and training of girls and women and provide special programs in this regard. These actions require that certain mechanisms should be created by the Ministry of Education and other relevant entities for fighting with the predominant rigid cultural norms that impede girls from gaining education. In addition to government responsible entities, educating girls is one of the best investments that families and communities themselves can make it happen because educated girls, for example, marry later, will have healthier children, earn more money that they invest back into their families and communities, and play more active roles in leading their communities and families.
All in all, the findings of the current research indicate that preventing girls from going to school on the basis of cultural norms prevailing in communities, been a major cause of child marriage, violence against women, discrimination against women and girls, and gender inequality in Afghanistan. Therefore, I would argue that Afghan families instead of halting their girls from going to school and keeping them at home, should fight with the predominant cultural norms that underlie their interpretation of girl's education. They should help their daughters obtain education so that they can help the other girls who may encounter the same fate in the future. Escaping from the problems either social problems, cultural problems, or economic is not a rational solution, instead, facing and fighting with them can help the entire communities to secure their well-being and development in the societies. Therefore, families should help their daughters gain education and provide them with equal opportunities as their sons.
https://moderndiplomacy.eu/2019/01/06/afghanistans-rigid-cultural-norms-a-serious-challenge-for-girls-education/
--------
Hearing Divorce Cases on a Sidewalk in Niger, as Women Assert Their Power
By Dionne Searcey
Jan. 6, 2019
I was reporting in the West African nation of Niger when the Unicef workers I was traveling with suggested we make a side trip to a clinic that treats women suffering from fistula.
Fistula occurs when the lining between the bladder and the vagina is punctured. It happens often to girls when they experience tears while delivering babies before their bodies are fully developed. The New York Times columnist Nicholas Kristof has written extensively about the condition, which often leaves the girls unable to control their bladders, viewed as dirty and ejected from their families.
There was steady demand for treatment of fistula in Niger, a poverty-stricken nation with high rates of child marriage. The fistula facility we toured was near a leprosy clinic, a sign of just how stigmatized these patients are by society. It also treated girls who had been subjected to genital cutting, a practice that has been outlawed but still occurs in some places.
I was there to learn about girls whose parents had forced them into marriage. Niger has one of the highest rates of child marriage in the world, but there were signs that the practice had been slowing, at least a little. I went to villages where girls had bravely resisted marriage, sometimes enduring beatings for doing so. They had been helped by aid workers and government employees who were trying to stop the practice.
My reporting took me in an unexpected direction after I met with a judge who oversaw a street-side Islamic court.
The judge, Alkali Laouali Ismaël, told me he had noticed that in his city, Maradi, women and girls were taking control of their relationships in new and positive ways.
More and more, he said, they were leaving husbands who didn't meet their expectations. Some were angry over being denied the right to work by their husbands, even though the region is suffering economically. Some were unhappy with their sex lives. Many were asking for a divorce.
Divorce wasn't always a positive outcome, he explained, but it was a sign that women knew their rights and were demanding respect, and happiness, in their marriages. He invited me to sit in on his court sessions.
His bench was nothing more than a double sheepskin rug on a sidewalk, where he plops down with his bare calloused feet poking out from under a shiny gown. Two associates flanked him, wearing dark sunglasses and whispering in his ear. I heard cases on land disputes, inheritance spats and, one morning, a case between two squabbling prostitutes.
"Just go, you're wasting my time," he told them, accusing one of being high on marijuana and the other of being drunk.
The testimony in the divorce cases I listened to could have been aired by annoyed wives in courtrooms, or living rooms, anywhere in the world: complaints about deadbeat dads; husbands who forgot to run errands on the way home from work.
During the hearings, cars, motorbikes and sheep passed, all of them sometimes drowning out Mr. Ismaël's soft but firm counsel.
"I wasn't the one who rejected her," a man at one hearing pleaded, contending that he deserved more than half of the divorcing couple's belongings.
"You are a good man," the judge told him. "But you are not realistic."
One of the petitioners was Saadia Halidou, 27, who had expected to fold her married life into her active social life, a busy calendar of weddings, other celebrations and selling cakes at the local market. But her husband insisted she stay home when he wasn't around.
"When someone was sick, he didn't even let me go visit them," she said. "If it were a tree he'd take better care of it, but I'm a human being."
She knew asking for a divorce wasn't going to please her parents, but she had to get out of her marriage.
"No, no, no, I wasn't used to this life," Ms. Halidou said.
I went to a religious center across town called Dynamic Women, where women took cooking and sewing classes — and sought advice about unfulfilled sex lives.
The photographer Laura Boushnak and I followed some of the women home. I interviewed them and their parents into the night, taking notes with the help of someone holding the light from her phone over my notebook. There was no electricity in the evenings.
Women were taking control of their relationships across the region, I learned through more reporting, even in places like Niger, one of the poorest countries in the world, with high rates of illiteracy. The women I met were so inspiring, I plan to include more of their stories in a book I'm writing that will be out in early 2020.
At his sidewalk court, Mr. Ismaël was helping to make things better for women.
"Islam grants women their rights," he said, "and they know their rights."
I knew the divorcing women would face economic struggles in the future without added income from their husbands. Almost all of them told me they wanted to marry again eventually, when they found a man who would treat them right.
Niger is still lagging when it comes to quality of life for women, but I was happy to find a bit of brightness there for some young women who were part of a quiet new resistance.
https://www.nytimes.com/2019/01/06/reader-center/niger-divorce-women.html
--------
Saudi Women to Fly High as A Cabin Crew In A New First
2019-01-06
RIYADH — Flynas said it would start recruiting Saudi women to work as air hostesses by this month, in a new first while creating new job opportunities for women. It will be the first among Saudi carriers to recruit women in senior positions.
The airlines, which was established in 2007, said in a statement that the first flight with a Saudi female flight attendant would be during this month, after finishing a comprehensive practical program.
Flynas said that the program of male and female flight attendants has attracted about 300 Saudis during the past two years, stressing the observance of working hours and the allocation of uniforms for Saudi female hosts in line with the customs and traditions of the Kingdom.
"The first group graduating from the Saudi flight program is a continuation of programs to localize aviation and empower women," the company added.
"We are the first Saudi national carrier to hire Saudi women in the Air Hospitality Program and the Future Flyers Program," Flynas said. The airline requires a minimum of a secondary school certificate in the requirements for a "host" qualification. The height and weight should match the international aviation standards, proficiency in English and the applicant must be a Saudi national.
Last September the Riyadh-based airline said it would soon start recruiting Saudi women to work as co-pilots. The move aims to enable Saudi women to have a greater role in supporting the Kingdom's economy, CEO Bandar Almohanna said. — SG
http://saudigazette.com.sa/article/551778/SAUDI-ARABIA/Saudi-women-to-fly-high-as-a-cabin-crew-in-a-new-first
--------
Protests In Iranian Cities And Active Role Of Women In Them
Jan 7, 2019
Women played active role in all Iran protests including in Tehran, Ahvaz, Behbahan and Sabsevar during the weekend, Saturday, January 5, and Sunday, January 6, 2019.
Employees of the Agriculture Insurance Fund converged in Tehran on Sunday, January 6, 2019, from all across the country and held a protest gathering outside the National Employment Organization. Several thousand employees of the Agriculture Insurance Fund are working without any form of job security or insurance. They demand that the government expedites its recruitment and determine their employment status. (The state-run ILNA news agency – January 6, 2019)
In another one of the protests on Sunday, a group of people protesting employment examination at Bid-Boland Refinery in Behbahan, gathered outside the city's great mosque, expressing their demands.
A group of disabled people held a gathering outside the mullahs' parliament in Tehran on Sunday, January 6, 2019, and demanded implementation of the law on disabled people.
The families of imprisoned workers of Ahvaz Steel Complex gathered again outside the Governorate of Khuzestan in Ahvaz on Saturday, January 5, 2019. They have been gathering repeatedly for consecutive days over the past two weeks to demand freedom of their loved ones.
In one of the protests, a group of customers of Iran Khodro, Saipa, Bahman Motor, and Saipa Citroen companies gathered outside the General Prosecutor's Office in Tehran in protest of the high prices offered by these companies on Saturday, January 5, 2019. Students of Hakim Sabzevari University in Sabzevar lined up their food trays on the ground on Saturday, January 5, and held a gathering outside the university's cafeteria to protest the low quality of food and conduct of the dean of students.
In another act of protest, 34 student associations signed a letter addressed to the Minister of Intelligence, declaring their support for Ismael Bakhshi and his call on the Intelligence Minister to participate in a public debate on television. Ismael Bakhshi is a labor activist representing workers of Haft Tappeh who was imprisoned in November and tortured before being released to be detained at home.
The students wrote to the Intelligence Minister, Seyed Mahmoud Alavi, that they expect the regime to provide the opportunity for a worker to criticize the government and demand accountability as a citizen. The student associations also declared their readiness to host the debate.
On Friday, January 4, 2019, a group of graduate students of Zanjan University held a gathering to observe the birthday of their fellow classmate, political prisoner Payam Shakiba, and demand his freedom.
On the same day, a group of residents of Sistan and Baluchestan Province performed a symbolic act in protest to the water crisis in this province and expressed their protest.
https://women.ncr-iran.org/2019/01/07/protests-in-iranian-cities-and-active-role-of-women-in-them/
--------
Nurses In Iran Number One-Fourth Of The World Standard
Jan 7, 2019
The number of nurses in Iran is one-fourth of the world standard.
In remarks reported on Saturday, January 5, 2019, Mohammad Sharifi Moghaddam, deputy director of the National Nursing Organization, revealed parts of the drastic situation of nurses in Iran and their difficult job. He said, "The problems of nurses in Iran must be examined and mismanagements in this field must be rectified."
Nursing is considered as one of the most difficult and harmful jobs in the world. In Iran, nurses do not enjoy any form of support due to mismanagement and plunder of the public wealth by government officials.
Nurses are constantly subject to violence by patients and their companies. On the other hand, they are exposed to tuberculosis, hepatitis, influenza, and AIDs. They therefore need to receive support.
Sharifi Moghaddam said, "In many countries, nurses possess safety equipment and they have periodic full checkups, but this is not the case in our country. And nurses in Iran experience incessant pressure. On the other hand, our workforce is one-fourth of the world's average and we face acute shortage of nursing workforce. This while most of the services in hospitals and health centers are offered by nurses. We have 1.5 nurses in Iran for every 1,000 people, while in Georgia and Tajikestan, there are 6 nurses for every 1,000 patients." (The state-run Fars news agency – January 5, 2019)
Earlier in November, Sharifi Moghaddam had admitted that there are 30,000 unemployed nurses who cannot be recruited due to limited funds and lack of employment license.
Despite at least 30,000 unemployed nurses, "there are only 1.6 nurses attending to every 1,000 patients in Iran," Sharifi Moghaddam said, adding, "To receive appropriate nursing services every nurse can attend to a maximum of four patients. But the world's average is six nurses for every 1,000 patients. If we want to have the minimum number of nurses for Iran's population of 80,000,000, we must have at least 240,000 nurses working across the country while we have only 160,000 nurses busy providing health services and care." (The state-run Young Journalists Club website – October 29, 2018)
https://women.ncr-iran.org/2019/01/07/nurses-in-iran-number-one-fourth-of-the-world-standard/
--------
URL: https://www.newageislam.com/islam-women-feminism/rahaf-mohammed-al-qunun-saudi/d/117389
New Age Islam, Islam Online, Islamic Website, African Muslim News, Arab World News, South Asia News, Indian Muslim News, World Muslim News, Women in Islam, Islamic Feminism, Arab Women, Women In Arab, Islamophobia in America, Muslim Women in West, Islam Women and Feminism