New Age Islam News Bureau
28 Jul 2017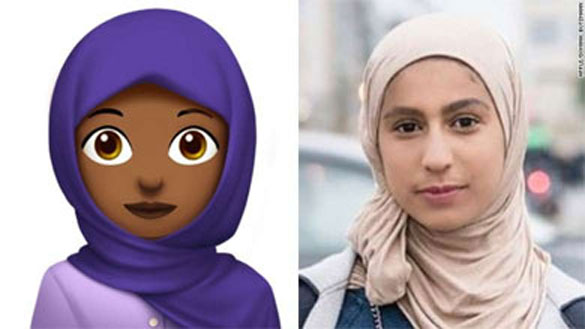 Thanks to this 16-year-old Rayouf Alhumedhi, Muslim women around the world now have the Hijabi Emoji to represent them (aboutislam)
-----
• Saudi Arabia Will Finally Allow Girls to Take PE — That's a Big Deal
• This 16-Year-Old Muslim Girl Made Apple's First Ever Hijab Emoji Happen
• Pakistan Revenge Rape: Four More Arrested
• 'Wish You Were Our PM': Pakistani Woman Thanks Sushma Swaraj After Visa Help
• Tunisia Law on Violence against Women 'Landmark Step': HRW
• North Dakota Woman Who Threatened Muslims Hugs One of Them
Compiled by New Age Islam News Bureau
URL: https://www.newageislam.com/islam-women-feminism/racial-abuse-part-everyday-life/d/112002
--------
Racial Abuse Part of Everyday Life for UK Muslim Women
Julia Breen
28 July 2017
EARLIER this month, I sat in a room and listened as dozens of Muslim women talked about their experiences of hate crime.
One had been attacked on her own doorstep by a neighbour, as her children looked on. Her ten-year-old daughter had been shouted at and racially abused outside their home.
Another had been subjected to a torrent of vile and angry abuse at work, by a man she was trying to help. Her employers did nothing.
An older woman had a child's buggy driven at her aggressively as she tried to do some shopping, while racist bile dripped from her attacker's tongue.
And another tearfully told how she had a bottle of liquid thrown over her in the street and for a single, heart-stopping moment, thought she had been the subject of an acid attack.
The liquid turned out to be orange juice, but her terror was symbolic of the daily dark cloud these women live under, on our streets and in our towns.
She went home and immediately showered, scrubbing the juice off her skin, feeling ashamed and isolated.
The stories are too numerous and varied to be detailed in this column. The policewoman who had come to the event at Middlesbrough's Islamic Diversity Centre to try to encourage Muslim women to report hate crime, seemed shocked.
Cleveland Police hasn't enjoyed the rosiest of reputations in recent years, but the staff member and officer at the meeting were incredibly moved, concerned and respectful of these women's stories, saying that due to underreporting, the police did not know the extent of these kind of crimes.
Many Muslim women are particularly identifiable because they wear headscarves as part of their religion, and they are easy targets for the haters. But some had in the past had bad experiences with reporting it to the police, something the force is trying to tackle with procedures to take every hate crime seriously, to build up a picture of the worst offenders and try to stop them.
After well-publicised terror attacks by extremist groups calling themselves Islamic freedom fighters, the abuse on these law-abiding women always steps up a gear.
Living as a Muslim woman in 21st century Teesside is no easy task. It is constantly looking over your shoulder, trying not to answer back when someone shouts abuse at you in case it makes things worse, although many of these spirited women do try to defend themselves. For those working in public-facing jobs, it is facing unwarranted abuse and hate from those you are trying to help.
It was an emotional evening. The women were given advice about reporting the crimes – although one said if she reported every incident she would be on the phone every minute of every day – and the police went away armed with a more thorough picture of Islamic hate crime.
I hope things improve for these women.
I hope they can carry on with the dignity they have so far shown, in the face of remorseless hate.
There is a climate of fear and ignorance at the moment, but with patience and understanding, and listening, I hope we can overcome the darkness.
http://www.thenorthernecho.co.uk/opinion/15437326.Julia_Breen__Racial_abuse_part_of_everday_life_for_Muslim_women/
--------
Saudi Arabia will finally allow girls to take PE — that's a big deal
July 27, 2017
Saudi Arabia will allow girls to participate in physical education classes for the first time ever, a change experts say illustrates how the government is moving to modernize and loosen rules in the ultra-conservative kingdom where women are not allowed to drive or travel without a male chaperone.
The Ministry of Education issued the decree for this coming academic year, the Associated Press reported. The announcement did not specify what kinds of activities would be included in the classes but stated the lessons would comply with Islamic law and the process would be gradual.
Activists are celebrating the news as a major development in a country where women face extreme social and personal restrictions as a result of the kingdom's strict interpretation of Islam. Women are not allowed to drive or even travel without the permission of a male guardian. They also must cover their hair and bodies in public under the law.
Such constraints largely bar women from participating in sports, unless families permit working out in private. Four years ago, the government allowed girls to play sports in private schools for the first time.
The move to allow physical education for all students is "a historic decree for all schools, public and private," said Lina Almaeena, a member of the Saudi Consultative Assembly Shura Council. Lina, who has been pushing for women sports for over a decade, founded the kingdom's first female sports club, basketball team Jeddah United.
Fatimah Baeshen, a Saudi socioeconomic strategist and director of D.C.-based Arabia Foundation said the move is "a turning point in education reform, the curriculum development and the beginnings of gender balance at the child development stage."
The change is being welcomed by students and parents alike in the country.
"I hope my school opens a tennis class since the game is not only very active, it's extremely fun to throw a ball around and test your strength," Maymoona Sultan, a ninth-grade student in Riyadh, told the Saudi newspaper Arab News. "I'm happy that more girls will get to understand about sports and health like me."
Sultan A.J., a banker and father of two, told Arab News he is excited his daughter will now have the same opportunities as his son to participate in sports in schools.
"My daughter will finally enjoy her time in school along with her school friends and build a good understanding as to what being healthy is all about," he said.
Allowing girls to partake in physical education is part of a far larger government undertaking called Vision 2030 that aims to reduce Saudi Arabia's dependence on oil, diversify its economy and make life in the kingdom more enjoyable for citizens.
As part of the program, the kingdom aims to get 40% of Saudis to exercise at least once per week and will relax some of its rigid rules for women. Last week, the government announced approval for female gym licenses, which were once relegated to operating under salon licenses.
"The introduction of physical education and female gym licenses are institutional recognition that women have the right to also participate in sports and fitness activities," Baeshen said. "All of this indicates progress for women."
The developments follow a decade of incremental change in Saudi Arabia with more women working in retail and being appointed top executive roles at the Saudi stock exchange and Dammam Airport. Women can now also be appointed to the Shoura Council and run in municipal elections.
But hurdles remain. Earlier this month, a Saudi woman was arrested after she was videotaped walking around in a miniskirt. The incident sparked international social media outrage, and she was later released without charges.
Massoud Maalouf, former Lebanese ambassador to the U.S. and a D.C.-based advocate of women rights in Middle East and North Africa region said while allowing physical education for girls is a step in the right direction, the kingdom still has a long way to go.
"When women cannot walk in the street without a male chaperon, when they cannot drive a car and when they have to cover their face and their body, by law and not by choice, it is difficult to say that their rights are fully respected," Maalouf says.
https://www.usatoday.com/story/news/2017/07/27/saudi-arabia-finally-allow-girls-take-pe-thats-big-deal/514026001/
--------
This 16-year-old Muslim girl made Apple's first ever Hijab emoji happen
28 July 2017
On July 17, 2017, Apple CEO, Tim Cook announced plans to release the first ever Hijab emoji. The announcement was made in honor of the World Emoji Day.
While we appreciate the tech company for the religious diversity, it is important that we do not forget Rayouf Alhumedhi.
For those who don't know, she is the 16-year-old Saudi girl responsible for the Hijab emoji.
In 2016, Alhumedhi noticed the absence of her kind, Muslims, in emojis.
According to the then 15-year-old, she felt disturbed that female Muslims did not have any emojis that represented them.
Speaking with the Washington Post, the Saudi teenager said, "My friends, who don't wear the headscarf, they found something. For me? I had to opt to not use an image of a woman wearing a headscarf, because there isn't one."
In another interview with CNN, she said, "My friends and I were creating a group chat on WhatsApp and I obviously had no emoji to represent me."
"The fact that there wasn't an emoji to represent me and the millions of other hijabi women across the world was baffling to me. I really had no initial idea in my mind of what it was supposed to look like, I just wanted it to be available in different skin tones — millions of women from different races do wear it."
Some might ask, "Why is the absence of special emojis of women in hijab such a big deal?"
It is a big deal because emojis have been called "the world's fastest growing language." Thus, everyone should be represented in this language.
Alhumedhi, who lives in Germany, immediately took matters into her own hands.
At first, she tried to reach Apple customer service. Through Mashable, she realized that she could write to Unicode Consortium, a non-profit organization that standardizes text on computers.
At the organization, her idea gained the support of the co-founder of online discussion forum Reddit, Alexis Ohanian, graphic designer Aphelandra Messer, and journalist Jennifer 8. Lee, who is part of Unicode's emoji subcommittee.
According to the Pew Research Center, there are about 1.6 billion Muslims in the world. Out of these people, there are a lot of women who choose to wear a headscarf.
Citing this, Alhumedhi's proposal states: "With this enormous number of people, not a single space on the keyboard is reserved for them."
She proposed designing the headscarf emoji, adding that hijab serves as 'an integral aspect of women's lives.'
She said, "Might seem baffling, but when I wear the headscarf I actually feel liberated because I'm in control of what I want to cover. The headscarf allows for people to see past a woman's beauty and see her for her knowledge."
Alhumedhi, who now lives in Vienna, has reacted to the good news in an interview with CNN on Tuesday, July 18th.
She said that she saw the new emoji for the first time when a friend sent her a message with a link to a BuzzFeed article.
In her words, "I got the news just like everybody else!" I'm really happy with what it looks like.
I saw so many ideas, different colors and styles but I didn't know what it would finally look like. I'm just so excited because it's finally came out after all the work, all the writing."
While Alhumedhi is aware that the emoji might annoy some people, she hopes that it makes others, particularly Muslims, happy.
She said, "It will cause controversy. Some people will try and pervert it, use the emoji in a hurtful way to perpetuate stereotypes. But overall, I think the Muslim community will benefit from it, even if only in terms of representation. It's only an emoji. It's not a game changer. But it will make people happy. I hope so."
The hijab emoji, along with other new ones, will be released later this year.
http://saudigazette.com.sa/article/513917/Life/Faith/Muslim-girl
--------
Pakistan revenge rape: Four more arrested
July 27, 2017
Pakistan's Supreme Court has ordered an investigation into the incident.
Pakistan police on Thursday arrested four more men involved in the rape of a teenage girl as punishment for a rape committed by her brother.
The latest arrests, which include the man who allegedly committed the 'revenge rape', brings the told number detained to 18, a police source confirmed.
A jirga (village council) in a suburb of the central city of Multan had ordered the rape of the 16-year-old girl as a punishment after her brother sexually assaulted a 12 year-old.
The 12-year-old's brother - now in custody - approached the village council to complain about the attack, naming his cousin as the culprit.
In response, the council ordered the brother to rape the sister of the accused in return - an order which was carried out, according to police.
"Both the parties had filed cases of rape against each other at the local police station after the incident that happened last week," local police official Allah Baksh told AFP Wednesday.
Both the girls are now staying in a woman's shelter and were due to meet the provincial chief minister Shahbaz Sharif, brother of the prime minister, later Thursday.
Pakistan's Supreme Court has also ordered an investigation into the incident.
Jirgas, or village councils formed of local elders, are a traditional means of settling disputes in Pakistan's rural areas, where courts and lawyers are not always accessible or trusted.
But such councils are illegal and have been under fire for their controversial decisions, especially regarding women.
A jirga was involved in one of South Asia's most infamous cases of sexual violence against women when, in 2002, it ordered the gang rape of a woman called Mukhtar Mai after her brother was falsely accused of rape.
Mai made the unusual decision to defy her rapists and take them to court. Her attackers walked free but she went on to become a high-profile women's rights activist.
Her story inspired an opera, "Thumbprint", which opened in New York in 2014 and premiered in Los Angeles last month.
https://www.khaleejtimes.com/international/pakistan/pakistan-revenge-rape-four-more-arrested
--------
'Wish you were our PM': Pakistani woman thanks Sushma Swaraj after visa help
Jul 28, 2017
External affairs minister Sushma Swaraj on Thursday directed the Indian High Commission in Islamabad to issue a visa to a Pakistani national for medical treatment in India.
Swaraj's direction to India's High Commissioner in Pakistan Gautam Bambawale came after a woman -- Hijaab Asif -- sought the external affairs minister's urgent intervention.
Touched by Swaraj's prompt response, Asif praised Swaraj and even said that Pakistan would have changed had she been the prime minister of her country.
Minutes after Swaraj's tweet to Bambawale, the Indian mission tweeted that it was in tough with the applicant.
"Ma'am, we are in touch with the applicant. Rest assured we will follow it up," the Indian High Commission said in a tweet.
Responding to Asif's plea, Swaraj also wondered whether Pakistan Prime Minister's foreign affairs advisor Satraj Aziz had refused to issue a recommendation letter for issuance of a visa by India to the patent.
The External Affairs minister had a few weeks back said that Pakistani nationals seeking visas for medical treatment in India must accompany their visa applications with a recommendation letter by Aziz.
"Dear ma'am, spoke to DHC (Deputy High Commissioner) in Islamabad, told the patient's current condition and he said it's all up to you. If you allow," Asif had tweeted earlier.
The patient is suffering from serious liver ailment and needs urgent treatment in India, she said.
After Swaraj's direction to grant a visa to the patient, Asif was effusive in her praise of the external affairs minister.
"@SushmaSwaraj What do I call you? Superwoman? God? No words to describe your generosity! Love you ma'am. Cannot stop praising you in tears!!!," she said.
In another tweet, she said "my heart belongs and beats for you", adding that "Pakistan doesn't deserve her at all".
"Lots and Lots of Love and respect from here. Wish you were our prime minister. this country would have changed.
http://www.hindustantimes.com/india-news/pakistani-woman-tweets-after-sushma-swaraj-grants-visa-says-wish-you-were-our-pm/story-bDJkT2Lbkp0QJBeSVz61UN.html
--------
Tunisia law on violence against women 'landmark step': HRW
28 July 2017
Human Rights Watch on Thursday hailed a new law to fight domestic violence in Tunisia as a "landmark step" towards protecting women's rights but called for funding to fully implement it.
The law, passed Wednesday and expected to enter into force next year, provides for help to victims of domestic violence and removes a controversial article that allows rapists to escape punishment if they marry their victim.
The law also criminalizes sexual harassment in public places and the employment of children as domestic workers, as well as fines employers paying women less than their male counterparts, HRW said in a statement.
"Tunisia's new law provides women with the measures necessary to seek protection from acts of violence by their husbands, relatives, and others," HRW's Amna Guellali said.
"The government should now fund and support institutions to translate this law into genuine protection."
The New York-based group said that "while the law requires authorities to refer women to shelters if they are in need, it provides no mechanisms for funding either governmental or nongovernmental shelters".
The law recognises "physical, moral and sexual" violence, lawmaker Bochra Belhaj Hmida told AFP after Wednesday's vote.
Tunisia is seen as a pioneer of women's rights in the Arab world but rights groups say women are still discriminated against, and around half say they have been subject to at least one form of violence in their lives.
https://english.alarabiya.net/en/News/north-africa/2017/07/28/Tunisia-law-on-violence-against-women-landmark-step-HRW-.html
--------
North Dakota woman who threatened Muslims hugs one of them
July 27, 2017
FARGO, N.D. (AP) — A North Dakota woman who threatened some Muslim women in a Walmart parking lot met with two of them Thursday and all "expressed their sincere regrets" about the incident and apologized, Fargo's police chief said Thursday.
Police Chief David Todd posted a photo on Facebook Thursday of Amber Hensley of Mapleton with her arms around Leyla Hassan and Sarah Hassan, with Todd in the background.
Todd said the women "have come together and talked through this incident."
"We have some ugliness in our community that needs to be addressed and worked on," Todd said. "However, perhaps we can all take a lesson from what was an ugly unfortunate interaction and how even despite words being said that cannot be taken back, forgiveness and understanding can still be achieved."
Hensley had said she was upset that the car the Muslim women were in was parked too close to her car in a Walmart parking lot in Fargo. One of the Muslim women recorded video of Hensley shouting "We're going to kill all of you" and posted it on Facebook Tuesday night.
Hensley told KVRR-TV in a Facebook message that she lost her cool and wished she could take her comments back. In her apology she said one of the women she yelled at insulted Jesus, but Sarah Hassan told The Forum of Fargo that did not happen.
A partner at Horab & Wentz, the Fargo accounting firm where Hensley worked as a part-time secretary, confirms that she has since been fired. Deputy Fargo Police Chief Joe Anderson earlier told KFGO-AM that police were investigating the confrontation.
The three women in the car are originally from Somalia and live in the Fargo area. The Minnesota chapter of the Council on American-Islamic Relations has invited Hensley to meet with the Fargo Muslim community.
http://www.seattletimes.com/nation-world/fargo-police-investigate-threats-against-muslim-women/
--------
URL: https://www.newageislam.com/islam-women-feminism/racial-abuse-part-everyday-life/d/112002
New Age Islam, Islam Online, Islamic Website, African Muslim News, Arab World News, South Asia News, Indian Muslim News, World Muslim News, Women in Islam, Islamic Feminism, Arab Women, Women In Arab, Islamophobia in America, Muslim Women in West, Islam Women and Feminism