New Age Islam News Bureau
30 Oct 2019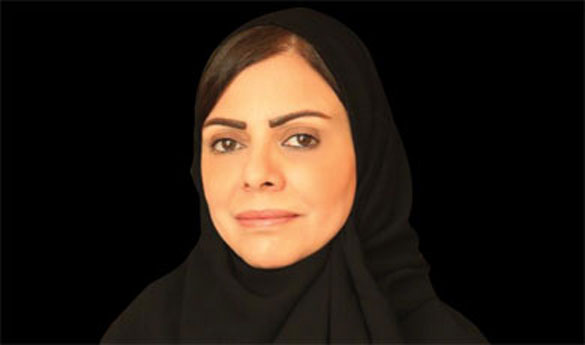 Dr. Fatmah Baothman played a vital role in establishing King Abdul Aziz University's computer science department for women, and became the first appointed teaching assistant in the department
------
• Muslim Woman 'Wasn't Allowed In Nightclub after Refusing To Remove Her Hijab' in Sydney
• Fatmah Baothman, the First Woman In The Middle East With A PhD In Artificial Intelligence
• French Senate Debates Muslim Headscarf Bill
• Influence of Three Major Waves Of Feminist Movements In Pakistan
• Star Jockey Khadijah Mellah: I'm Glad to Challenge Stereotype of Muslim Women
Compiled by New Age Islam News Bureau
URL: https://www.newageislam.com/islam-women-feminism/rabab-al-mabi-named-first/d/120131
--------
Rabab Al-Ma'bi Named First Saudi Woman Arbitrator
October 29, 2019
RIYADH – Rabab Ahmed Al-Ma'bi has been appointed the first woman arbitrator in the Kingdom.
The Court of Appeal in Makkah Province confirmed the appointment of lawyer Al-Ma'bi as licensed arbitrator of the Arbitration Commission to settle commercial disputes between two companies in Jeddah. The authority has already adjudicated between the two parties involved in the dispute through holding several sessions.
Speaking to Okaz/Saudi Gazette, Al-Ma'bi said that she was proud of becoming part of a lawful judicial arbitration panel. She also proposed the establishment of more arbitration centers in order to take advantage of Saudi women's expertise and capabilities in the areas of arbitration and mediation, and this is in cooperation with the Ministry of Commerce and Industry, and chambers of commerce and industry.
Al-Ma'bi is holder of a Masters degree in Commercial Law. She is the Goodwill Ambassador of International Commission of Diplomatic Relations, Human Rights and Peace.
Meanwhile, lawyer Marwa Hamza Moawad has obtained license to practice commercial arbitration from the International Commercial Arbitration Court. She also received the license to practice as an international commercial arbitration consultant.
http://saudigazette.com.sa/article/581186
--------
Muslim Woman 'Wasn't Allowed In Nightclub after Refusing To Remove Her Hijab' in Sydney
ByTom Davidson
29 OCT 2019
A Muslim woman says she was refused entry into a nightclub unless she removed her Hijab.
Soaliha Iqbal was queuing with friends outside the popular Sydney venue when she was asked to take off the religious head covering by a member of the door staff.
The 21-year-old had handed the man outside the Paragon Hotel her ID before he confronted her about the hijab.
"He pointed to my hijab and said 'take it off'," she claimed in a blog post on website 5Why.
Ms Iqbal said the request left her "in shock" and when she failed to respond in disbelief, she said the bouncer again repeated his demand in a more aggressive tone.
"'What is that? Take it off'," she claimed the bouncer then said.
Ms Iqbal writes that she told the employee that it was her hijab and when she didn't comply, she was asked to stand aside and refused entry.
"I felt humiliated, I felt violated," she said.
She noted she is wearing her hijab in the photograph on her ID.
The 21-year-old says that her rejection led to heated discussion between door staff and management where the doorman was accused of racism before police, who were present in the area following a climate change rally, stepped in.
Ms Iqbal was instructed to leave the area, with staff citing a law that states patrons rejected from a licensed venue must move at least 50 metres from its entry.
"Never, in my whole life, have I been treated so badly by an establishment," she said.
Ms Iqbal was instructed to leave the area, with staff citing a law that states patrons rejected from a licensed venue must move at least 50 metres from its entry.
Never, in my whole life, have I been treated so badly by an establishment," she said.
Calling the incident a blatant case of discrimination, Ms Iqbal said she was further angered that the hotel staff failed to apologise and claimed she was "overreacting" and had misunderstood the situation.
Craig Wesker, the group operations manager for Ryan's Hotel Group who own the Paragon, issued an apology to Ms Iqbal via her Facebook page.
He claims the doorman was working his first shift and in a bid to "impress the venue management with his professionalism and attention to detail in carrying out his duties and responsibilities diligently", he had mistaken her hijab as a headscarf.
Mr Wesker said Ms Iqbal had incorrectly misinterpreted the situation and that she was not refused entry for refusing to remover her hijab.
He "unreservedly" apologised for the mistake of the bouncer and the offence caused.
https://www.mirror.co.uk/news/world-news/woman-wasnt-allowed-nightclub-after-20747219
--------
Fatmah Baothman, the First Woman In The Middle East With A PhD In Artificial Intelligence
October 30, 2019
Jeddah-born Dr. Fatmah Baothman is the first woman in the Middle East with a Ph.D. in modern artificial intelligence (AI).
Her AI journey started when she was a student at the University of Arizona studying English. She was introduced to computer systems that help non-native English speakers. The level of machine communication and interaction fascinated her.
In 2003, she graduated from the School of Computing and Engineering at the University of Huddersfield in the UK, where she obtained a Ph.D. in phonology-based automatic speech recognition for Arabic. Her work primarily focused on AI, and she was exposed to forecasting, pattern recognition, phonology and phonetics, acoustics, machine learning and mathematics.
She is the first Middle Eastern woman to have won two international awards in AI from the US and the UK. She has been a guest speaker and moderator at many regional and global technology forums. She has authored several books on AI, and her articles have been published in magazines and scientific journals.
Baothman has also translated a book on modern AI to help Arabic speakers gain a better understanding of the subject.
Baothman has held several positions, among them Apple center manager, director of the education sector at King Abdullah Economic City, director of the E-learning Researcher Program in Dubai, deputy director of the information technology (IT) center at King Abdul Aziz University (KAU), and president of the Women Engineers Committee at the Saudi Council of Engineering.
She has worked at KAU for more than 25 years as an assistant professor in computing and IT. She has recently been appointed as the board president of the Artificial Intelligence Society.
She played a vital role in establishing KAU's computer science department for women, and became the first appointed teaching assistant in the department.
https://www.arabnews.com/node/1576286/saudi-arabia
--------
French Senate Debates Muslim Headscarf Bill
October 29, 2019
PARIS (AP) — The French Senate is debating a bill that would require Muslim mothers who wear headscarves to remove them on school outings.
The bill under consideration on Monday comes amid a weeks-long uproar over French secularism and headscarves at the center of the debate.
The thorny topic moved into the headlines in mid-October after a far-right National Rally representative at a regional council demanded that a Muslim woman in the chamber remove her headscarf, causing a scandal.
The measure under debate was introduced by the mainstream right months earlier.
Education Minister Jean-Michel Blanquer told Senators any law forbidding head coverings on school outings would be "counter-productive." A 2005 law banned students from wearing headscarves in classrooms.
The bill has little chance of passing in the lower house and becoming law.
https://thepublicsradio.org/article/french-senate-debates-muslim-headscarf-bill
--------
Influence of Three Major Waves Of Feminist Movements In Pakistan
Salahuddin Bhutto
OCTOBER 30, 2019
The history of feminists' struggle to end discrimination, oppression and marginalisation against women is divided into three waves. They are known as first, second, and third wave of feminism. These waves, although they had started in Europe, had global impact on the status of women, including women of Pakistan.
The first wave of feminism officially started with the Seneca Falls Convention, 1848. It continued till 1920 after women of New Zealand, the United Kingdom, and the United States gained voting rights. In between the first and the second wave of feminism, which started in 1960s, Pakistan got independence.
Pakistani women were granted the suffrage in 1947, with the provision of reserved seats in parliament existing throughout the constitutional history of Pakistan from 1956 onwards.
Being a woman of a newly born country, a Pakistani woman had to do way more to establish her worth and gain some status quo in society.
Like western women, Pakistani women, during the second wave, were also victim of sexism, harassment at workplace, degradation and objectification. For example, Fatima Jinnah also had to bear character assassination at the hands of a dictator, along with other setbacks, including poor finances and an unfair and unequal election campaign.
Inspired by the second wave of feminism in 1960s, Pakistani women started to embark ona journey of improving their social and economic conditions. They argued that having voting rights did not guarantee the end of their oppression in the hands of men. The initial influence of the feminist movement during the second wave in Pakistan included issuance of the Muslim Family Law Ordinance, 1961. The new law aimed to regulate family affairs by protecting women rights. In the subsequent year, another law, the West Pakistan Muslim Personal Law Sharia Act, 1962 was introduced in the country. It allowed Pakistani women to inherent all forms of property.
In an article published in Express Tribune, Mehreen Ovais writes, "Western women's liberation movement also influenced Pakistani men." She writes, "Rangeela was the first Pakistani to publicly express his concerns regarding the treatment of women in Pakistan and support the liberation movement of the 1970s. He did so via a film called Aurat Raaj, which he directed, produced and even acted in. Released in 1979, the film depicted the story of a housewife who stands up against her chauvinist husband and goes on to form a political party for women across the country, eventually becoming the national leader."
The third wave of feminism started in 1990s. Its focus was to globalise the feminist movement and help every woman around the world, regardless of race, colour, class, and ethnicity. The Transnational Feminist Networks were established around the world to achieve the objectives. In the second wave, Pakistan's government worked on country's Women in Development profile to reduce gaps between socially defined roles and responsibilities of women and men.
But realising the need of the time during the third wave the focus shifted to gender mainstreaming as a part of Gender and Development. Government of Pakistan aimed at promoting gender equality by involving women in all spheres of life.
In the new century, Pakistani women have enabled themselves in gaining higher participation in socio-political and economic fields. They have secured their quota in local government departments, bureaucracy, media houses and parliament.
The writer is a lecturer in the Department of Management Sciences, NUML, Multan
https://dailytimes.com.pk/491672/influence-of-three-major-waves-of-feminist-movements-in-pakistan/
--------
Star jockey Khadijah Mellah: I'm glad to challenge stereotype of Muslim women
LIAM COLEMAN
October 30, 2019
The first British Muslim woman to win a UK horse race has said she is glad to be helping to break down stereotypes.
Khadijah Mellah, 18, from Peckham, made history when she took first place in a charity race during the Glorious Goodwood festival in August.
Mellah was given the royal seal of approval last night when the Duchess of Cornwall attended the premiere of Riding A Dream, a documentary following her story, at the Ritzy cinema in Brixton.
The film charts Mellah's journey from the charity Ebony Horse Club in Brixton as she prepares to compete in the Magnolia Cup at Goodwood.
She said: "Seeing myself on the big screen was I was like, 'Oh wow, that's me'.
"Camilla was lovely, I have to say I did squeal a little bit when I first met her, then I had to say to myself, 'Camilla wouldn't like that'."
The University of Brighton engineering student, who is also the first hijab-wearing woman to win a horse race in the UK, added: "I'm really glad I managed to get a positive story out there about the Islamic community and women in Islam because there's a stereotype that women can't go out there and do things that the normal person is able to.
"I can see why I'm an inspiration, but I personally don't see myself as that — I just feel like a normal human being."
On her next steps in horse riding, Mellah said: "The Grand National isn't in my sights just yet. I want to race my brother in a charity event. We've said 2021, and of course I could beat him."
https://www.standard.co.uk/sport/horse-racing/star-jockey-khadijah-mellah-i-m-glad-to-challenge-stereotype-of-muslim-women-a4273526.html
--------
URL: https://www.newageislam.com/islam-women-feminism/rabab-al-mabi-named-first/d/120131
New Age Islam, Islam Online, Islamic Website, African Muslim News, Arab World News, South Asia News, Indian Muslim News, World Muslim News, Women in Islam, Islamic Feminism, Arab Women, Women In Arab, Islamophobia in America, Muslim Women in West, Islam Women and Feminism