New Age Islam News Bureau
21 December 2020
• Iranian 'Zombie Angelina Jolie' Released On Bail, Shows Real Face In TV Appearance
• Women Make Up Majority of 800m Unbanked Muslim Population
• New Yemeni Government Excludes Women for 1st Time in 20 Years
• 1,500 Saudi Women Serving Pilgrims At Two Holy Mosques
• Leading Saudi Women's Rights Activist's Family Condemns Potential 20-Year Jail Sentence
Compiled by New Age Islam News Bureau
URL: https://www.newageislam.com/islam-women-feminism/quoting-verse-quran-pas-muslimat/d/123833
--------
Quoting A Verse From The Quran, PAS Muslimat Chief Said Beauty Is A Gift From God That Must Not Turn Into Items In A Contest - Miss, Mrs plus World Malaysia Pageant
21 Dec 2020
By Radzi Razak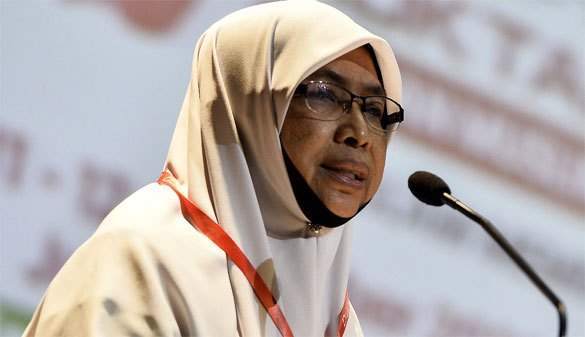 PAS Muslimat (Women) chief Nuridah Mohd Salleh — Picture by Miera Zulyana
------
KUALA LUMPUR, Dec 21 — The women's wing of PAS today joined the chorus of protest against the Miss/Mrs Plus World Malaysia 2020 pageant, saying it is contrary to the moral values of Islam and Malaysia.
Its chief Senator Nuridah Mohd Salleh also accused the pageant of exploiting and objectifying women.
"This is because beauty pageants exploit women's beauty in order to attract public attention. In an indirect way, if this event is allowed to proceed, it would mean we condone Malaysian women being used as stage decorations.
"Of course, this goes against the government's efforts of building a society that's admired for its principles and conduct," she said in a statement today.
Quoting a verse from the Quran on how women's beauty should not be put on display and compared, Nuridah said beauty is a gift from God that must be nurtured and protected, and not turned into something that is subject to a contest.
"Furthermore, in light of the current Covid-19 situation, which has yet to recede, a programme that gathers people together should be avoided even if the organisers promise to abide by the SOP.
"Therefore, Dewan Muslimat PAS Malaysia hopes that the government will consider cancelling the beauty queen competition in order to send a signal to society that such competitions should stop," she said.
Yesterday, the organiser of the Miss/Mrs Plus World Malaysia 2020 hit back at accusations claiming its pageants were hedonistic and exploitative, stressing that its objectives of creating awareness and women empowerment could not have been more misconstrued.
The organiser, in its defence, said its pageants intentionally disregarded "trivial" pageant activities like requiring participants to don swimwear, and instead focused on celebrating, promoting and elevating plus-size women's beauty, intelligence and confidence.
In a statement posted by the organisers on its Facebook page yesterday, they outlined how its pageants are held with objectives like creating a stronger awareness against body shaming and bullying, and promoting and participating in humanitarian and education-driven modules, in mind.
"We teach our participants and queens' world's diplomacy, humanitarian work, respect of cultures and diversity, and how to be role models of peace and love.
"Even our theme is 'Queens with Causes', which serves a noble purpose. Is that not a great academy for training and transformation?" read their statement.
This came after Putrajaya-linked Muslim evangelical foundation Yayasan Dakwah Islamiah Malaysia (Yadim) said it would be urging the government to cancel the pageant after labelling it "hedonistic" and alleging that it was "exploiting women".
Yadim's chairman, PAS' Nasruddin Hassan, alleged such programmes have never been endorsed by any religion, likened it to the hedonistic culture of civilisations that have long been extinct, and claimed that authorities worldwide would have discouraged the running of such programmes amid a pandemic and urged Malaysia do the same.
Miss/Mrs Plus World Malaysia also had stressed how its team had made the necessary arrangements to adhere to the Covid-19 standard operating procedures for events with audiences.
https://www.malaymail.com/news/malaysia/2020/12/21/now-pas-womens-wing-joins-chorus-of-protest-against-miss-mrs-plus-world-mal/1933886
--------
Iranian 'Zombie Angelina Jolie' Released On Bail, Shows Real Face In TV Appearance
Ismaeel Naar
December 21, 2020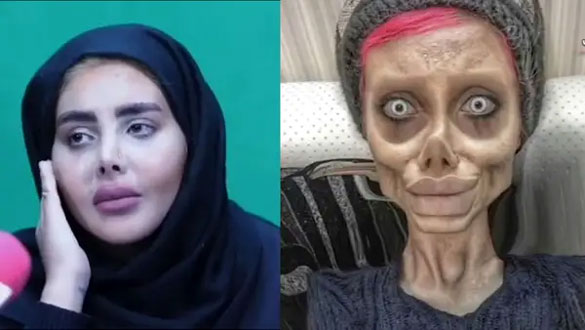 The Rokna news agency posted clips of Khishvand's interview with state television but did not release what she said during her appearance. (Image on left from Rokna/right image AFP)
-----
Sahar Tabar, an Iranian who received a 10-year jail term for posting distorted pictures of herself to resemble a zombie-like Angelina Jolie, has reportedly been freed on bail and revealed her real face after giving a television interview.
Tabar, whose real name is Fatemeh Khishvand, received a 10-year jail sentence by an Iranian court more than a week ago which her lawyers said she intended to appeal.
Khishvand was released on bail sometime on Thursday and appeared in a television interview with the Rokna news agency, revealing her real face for the first time on live television.
"Today Iranian teenager who posted heavily distorted images of herself online and was jailed for 10 years has been freed after massive media pressure," Iranian activist Masih Alinejad tweeted on Thursday.
The Rokna news agency posted clips of Khishvand's interview with state television but did not release what she said during her appearance.
Khishvand was arrested in October 2019 alongside three other female social media influencers. The Instagram star had initially caught worldwide attention in 2017 when she began sharing several selfies of her highly distorted face on her Instagram. Her account had amassed more than 486,000 followers before it was shut down.
https://english.alarabiya.net/en/News/middle-east/2020/12/20/Iranian-zombie-Angelina-Jolie-released-on-bail-shows-real-face-for-the-first-time
--------
Women Make Up Majority of 800m Unbanked Muslim Population
December 21, 2020
DUBAI: Women make up the majority of the 800 million global Muslim population who are unbanked (people without a bank account), according to a digital banking firm, leaving them without basic financial services, and putting their social rights at risk.
Zeiad Idris, the CEO of UK-based digital banking platform Algbra, told Arab News that it is common in Muslim communities for men to take charge of the household's finances. "In our (Muslim) communities it's not uncommon for the male member of the family to hold the bank account in their name and control the family's finances," he said, adding that empowering women by giving them ease of access to financial services would lead to enhanced economic development.
Research published by the World Economic Forum has found that gender inequality is higher in countries that have low GDPs. According to Algbra, 29 percent more women are unbanked in Bangladesh compared to men, while in Egypt the difference is 11 percentage points.
Abbas Basrai, partner and head of financial services in the lower Gulf for finance giant KPMG, also says that financial independence is vital for women.
"Discriminatory inheritance legislation in many countries, as well as women's vulnerability to abuse, makes it particularly critical that they can access their own finances to safeguard their independence, safety and quality of life," Basrai said.
The misinterpretation of Islamic law and a lack of knowledge about inheritance rights are major hurdles to improving women's independence, experts said.
Co-author of a report on women and land in the Muslim world, Rafic Khouri, said that "inheritance rights are often misinterpreted," leading to women being excluded from inheritance.
In Islamic law, a woman's inheritance share is generally half that of a man, although in some rare cases they might get an equal or larger share than a male relative, the report said.
Daisy Khan, the founder of Women's Islamic Initiative in Spirituality and Equality (WISE), a global network of Muslim women committed to peacebuilding and gender equality, argued that discouraging women from having an equal say in the finances is a denial of their human rights.
"If a woman is completely dependent on others for her financial future, her life is regulated, preventing her from leading a life of fulfilment," the award-winning speaker, author and activist said.
The World Bank claims that the Middle East and North Africa – which has Muslim majority populations – has the widest gender gap in bank account ownership with only 35 percent of women having bank accounts compared with 52 percent of men.
Having more women incorporated into the economy would also have an impact of GDP, according to research by the International Finance Corporation. The research quoted findings by McKinsey that "if women participated in the economy on the same basis as men, it would add $12 trillion, or 11 percent, to the 2025 annual global GDP."
The World Bank also states that basic financial services and a strengthening women's role in finance is one of the keys to boosting economic growth.
Khan claimed that robbing women of their financial independence "does grave disservice to Muslim nations for no nation can truly be built without the participation of all its citizens, both men and women."
When it comes to figures regarding the unbanked population in the world, it is not just Muslim women who are at a disadvantage, it is Muslims in general as they are the biggest group globally left without banking services. This is despite the growth in Islamic finance, which has been forecast to be worth $3.8 trillion by 2022.
Muslims account for 47 percent of the world's 1.7 billion adult unbanked population. According to Algbra, 12 of the 15 most underbanked countries in the world are either Muslim-majority or have a significant Muslim population.
In the Arab world in 2018, 52 percent of men had a bank account and only 35 percent of women, according to the World Bank.
With the widespread use of smartphones, the fintech wave could help bring Islamic finance to a larger market, including women.
"In an increasingly digitalized world, banks allow for greater accessibility and enhanced operational efficiencies, with account holders benefiting from the ability to make different forms of payment and move towards a cashless society," Gulf KPMG head Basrai said.
However, many Muslims limit their use of financial services due to the market's failure to provide services that comply with the "faith-based requirements of those consumers," the co-founders of Algbra said.
Around 34 percent of adults in Afghanistan and 27 percent in Iraq and Tunisia said religious concerns have prevented them from accessing financial services, a 2018 Thomson Reuters study found. A World Bank report published in 2017 said that 13 percent of those in Pakistan cited religious reasons, while in Turkey it was 19 percent.
Offering Shariah-compliant loans helped to boost application rates from 18 to 22 percent in Muslim majority countries such as Jordan, US think-tank Brookings said in 2017, citing a study by Dean Karlan, professor of economics at Yale University.
"Ensuring the population is banked enables economies to quickly process the unimaginably large volume of transactions that transpire in goods, labor, and capital markets," Basrai said.
https://www.arabnews.com/node/1780506/business-economy
--------
New Yemeni Government Excludes Women for 1st Time in 20 Years
DEC 19, 2020
Feminists in war-devastated Yemen have condemned the exclusion of women from a new government formed under a power-sharing deal between the internationally-recognized government and separatists.
The 24-strong government announced late Friday includes members of the separatist Southern Transitional Council (STC) as part of a Saudi-brokered bid to end a power struggle between the sides.
The deal was signed in the Saudi capital Riyadh in November of last year.
The new government is the first without female members in 20 years, the Yemeni Women Movement, a grouping of pro-women alliances in the country, said.
"This is unfair discrimination against women's right to political participation," the group said in a statement.
"While we appreciate the formation of the government as a fruit of consensus among Yemeni political powers in the Riyadh agreement, we denounce women's exclusion from the government," it added.
The new government equally represents Yemen's northern and southern areas.
President Abd Rabu Mansour Hadi issued a decree for forming the government, reappointing Maeen Abdulmalik as prime minister, Yemen's state news agency Saba reported.
The United Nations envoy for Yemen, Martin Griffiths, hailed the formation of the new government as an "important step" towards resolving the country's years-long conflict.
"This is an important step for enhanced stability, improvement of state institutions and increased political partnership," Griffiths said.
"It is also a pivotal step towards a lasting political resolution to the conflict in Yemen," he added in an online statement.
The southern separatists and the government are both part of a Saudi-led coalition waging war against Houthi rebels in Yemen but they started fighting each other last year.
In April this year, the STC, which is seeking independence for southern Yemen from the north, announced that it would form an autonomous administration and declared a state of emergency in southern areas, including Aden, the seat of the internationally-recognized government.
Formed in 2017, the STC is backed by the United Arab Emirates, while Hadi is backed by Saudi Arabia.
Yemen has been locked in a devastating conflict between the Hadi government and the Iran-linked Houthi rebels, who overran the capital Sanaa and other cities in northern Yemen in 2014.
The feud has pushed the impoverished Arab country to the brink of famine and wrecked its health facilities.
https://www.dailysabah.com/world/mid-east/new-yemeni-government-excludes-women-for-1st-time-in-20-years
--------
1,500 Saudi Women Serving Pilgrims At Two Holy Mosques
December 20, 2020
MAKKAH — Around 1,500 Saudi women are assigned to perform various duties related to serving Umrah performers and visitors to the Grand Mosque in Makkah and the Prophet's Mosque in Madinah.
About 600 of them are involved in duties at the Agency for Technical and Service Affairs under the General Presidency for the Affairs of the Two Holy Mosques, while 50 are managing electric carts.
There are 850 women in the Presidential Agency for Women's Development Affairs who are distributed among the Agency for Women's Development Affairs; Supporting Agency for Administrative and Service Affairs, and the Supporting Agency for the Guidance and Scientific Affairs.
According to a statement of the presidency, 50 percent of women who work in the General Department of Service Affairs are assigned to serve at the Department of Doors; Courtyards and Mobility Services; Cleaning and Carpets; the Zamzam Watering Unit, and the rest are distributed in various administrative works in the departments of the Presidency.
For her part, Dr. Al-Anoud Al-Aboud, deputy head of the presidency for women's development affairs, affirmed that the participation of women members comes within the presidency's future plan for the Transformational Initiatives 2024, which aims to improve the level of services provided at the Two Holy Mosques to the highest levels of quality in line with the aspirations of the wise leadership.
This also aims to achieve empowerment of women and their services to female pilgrims and visitors of the Grand Mosque in line with the goals of Vision 2030, she added.
https://saudigazette.com.sa/article/601635/SAUDI-ARABIA/1500-Saudi-women-serving-pilgrims-at-Two-Holy-Mosques
--------
Leading Saudi Women's Rights Activist's Family Condemns Potential 20-Year Jail Sentence
Maya Oppenheim
December 19, 2020
The family of a leading Saudi women's rights activist have condemned the state prosecutor office's decision to seek the maximum possible jail sentence of 20 years for the imprisoned campaigner.
Loujain al-Hathloul, who successfully campaigned to win Saudi women the right to drive, has allegedly been tortured in prison and recently launched a hunger strike over her jail conditions.
Lina al-Hathloul, her younger sister, told The Independent during Thursday's court hearing Loujain and their father were briefed on a secret report on her torture despite the public prosecution having denied torture charges.
She added: "My sister must be released. She should be lauded as a hero, instead, she is imprisoned and tortured. In the two and a half years since her arrest, she has endured beatings, sexual assault, hunger strikes and solitary confinement.
"All my sister has done is ask for women to be treated with the dignity and freedom that should be their right. For that, the Saudi authorities are seeking the maximum sentence available under the law – 20 years in prison."
According to the Nobel prize-nominated activist's family, on Wednesday the judge in the terrorism court said the verdict on Loujain's case would be delivered on Monday.
However, they say they were then sent a text message an hour later calling them to the criminal court on Thursday, but are still unsure of what this development means.
Campaigners were left shocked after Loujain's case was transferred from the criminal court to the terrorism court last month.
Human rights organisations say Loujain, a University of British Columbia graduate, has been forced to endure abuse including electric shocks, flogging and sexual harassment while in jail.
She was arrested alongside 10 other women's rights activists in Saudi Arabia in May 2018 – weeks before the kingdom reversed the driving ban.
Heba Morayef, Amnesty International's regional director for the Middle East and North Africa region, told The Independent the decision to seek the maximum sentence for Loujain shines a light on the "relentless cruelty of the Saudi authorities".
She added: "Loujain al-Hathloul is a brave defender of women's rights who should not have spent a single day in detention. Her peaceful activism has driven momentous social change in Saudi Arabia."
Kate Allen, the director of the UK branch of the leading human rights organisation, said they were highly concerned Saudi prosecutors are seeking the maximum prison sentence as she called for all charges against the 31-year-old activist to be dropped.
She added: "The only just outcome for this trial would be her immediate and unconditional release."
Loujain is awaiting trial on charges of communicating with foreign bodies hostile to Saudi, recruiting government employees to collect confidential information, and delivering financial support to entities overseas who are hostile to the kingdom. Saudi officials have denied the torture allegations and said they were investigating claims of maltreatment.
Lucy Rae, a spokesperson for Grant Liberty, a human rights charity, said: "A regime that sees women's activism as terrorism is deeply broken.
"This trial is a sham, her continued imprisonment a stain on the conscience of the world. And through this ludicrous charade, the murderers of Jamal Khashoggi are forcing Loujain's health to ebb away.
A recent report claimed jailed women's rights activists and political prisoners have been sexually assaulted, tortured and died in Saudi prisons. Grant Liberty, which conducted the report shared exclusively with The Independent last month, alleges 309 political prisoners have suffered human rights abuses since Mohammed bin Salman became crown prince of the kingdom in 2017.
https://www.independent.co.uk/news/world/middle-east/loujain-alhathloul-saudi-arabia-prison-b1776287.html
--------
URL: https://www.newageislam.com/islam-women-feminism/quoting-verse-quran-pas-muslimat/d/123833
New Age Islam, Islam Online, Islamic Website, African Muslim News, Arab World News, South Asia News, Indian Muslim News, World Muslim News, Women in Islam, Islamic Feminism, Arab Women, Women In Arab, Islamophobia in America, Muslim Women in West, Islam Women and Feminism