New Age Islam News Bureau
06 April 2022
• Fatma Güngör, Turkish Woman In UK Named 'Chef Of The Year' at the British Kebab Awards 2022
• UAE Sentences Israeli Woman To Death For Drug Possession
• SR117,000 Seized From Asian Woman Beggar In Makkah
• Hyderabad: Poverty Sole Mate Of Single Muslim Women In Old City
• Female Voters' Turnout In Khyber Pakhtunkhwa's Local Govt Polls Remained 30pc: Fafen
• Exploitation Of Children And Women Is Human Trafficking Crime, Says Saudi Public Security
• Slain US Relief Worker Kayla Mueller's Mother Recalls Pleas To Islamic State To Spare Her Daughter
Compiled by New Age Islam News Bureau
URL: https://www.newageislam.com/islam-women-feminism/queen-rania-jordan-karak-castle-iftar/d/126738
--------
Queen Rania of Jordan Joins Unsung Women Heroes In Al Karak Castle For Iftar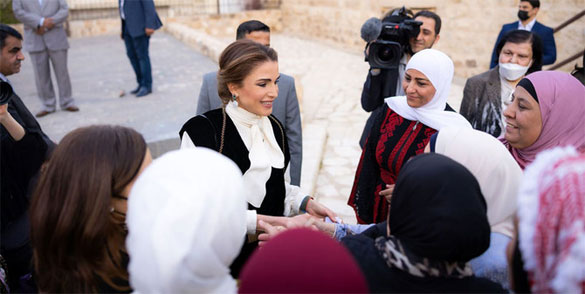 Queen Rania commended the women for their roles in education, social welfare, culture, volunteering, and humanitarian efforts. (Petra)
------
April 06, 2022
KARAK: Queen Rania Al Abdullah of Jordan joined an iftar in the historic Karak Castle, in the Al Karak Governorate on Tuesday, which hosted a group of women who have contributed to the local community.
Queen Rania commended the women for their roles in education, social welfare, culture, volunteering, and humanitarian aid.
"Ramadan is always a month of goodwill, blessings, and reconnecting with loved ones, but this year it feels even more special than usual – perhaps because we have been unable to get together for Iftar like this for the past two years," Queen Rania said.
Source: Arab News
https://www.arabnews.com/node/2057696/middle-east
--------
Fatma Güngör, Turkish Woman In UK Named 'Chef Of The Year' at the British Kebab Awards 2022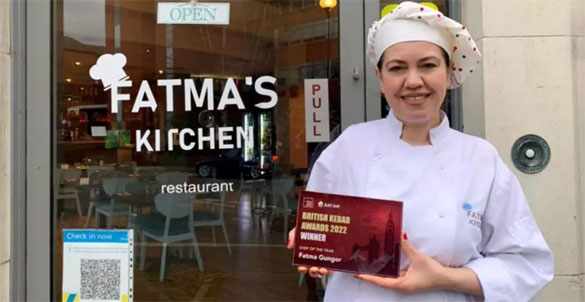 Fatma Güngör, the owner of a famous Turkish restaurant in London,
-----
April 06 2022
Fatma Güngör, the owner of a famous Turkish restaurant in London, has been named "Chef of the Year" at the British Kebab Awards 2022, which has been held in the United Kingdom for 10 years.
Providing service with a rich menu involving mouth-watering meals at an eaterie named Fatma's Kitchen in the Haywards Heath quarter of the British capital, Güngör became the first woman to have ever won the award.
"We'd like to thank everyone who voted, the judges that chose Fatma and also all of our wonderful customers who have dined with us over the years. This award really means a lot, and we'd like to thank each and every one of you from the bottom of our hearts," said the Instagram account of the restaurant.
Born and raised in the Aegean province of İzmir, Güngör had previously practiced as a chef in Turkey and several places abroad, but she always dreamed of opening a restaurant, according to daily Milliyet.
Noting that she went to London through the Ankara Agreement, a visa scheme deal for Turkish businesspeople to move and settle in the U.K., Güngör continued her life working in various restaurants in the country.
After five years, she took the first step towards realizing her dream by buying a restaurant that stopped service at the beginning of the pandemic and was on the verge of bankruptcy, turning the crisis into an opportunity.
Source: Hurriyet Daily News
https://www.hurriyetdailynews.com/turkish-woman-in-uk-named-chef-of-the-year-172746
--------
UAE sentences Israeli woman to death for drug possession
April 06, 2022
OCCUPIED-AL-QUDS: The United Arab Emirates has sentenced an Israeli woman to death for drug possession, her lawyer said on Tuesday, adding that she would appeal the decision. Fidaa Kiwan, a 43-year-old Arab Israeli photographer from the northern port city of Haifa, was arrested after half a kilogramme of cocaine was found in her Dubai home last year.
Source: The News
https://www.thenews.com.pk/print/947729-uae-sentences-israeli-woman-to-death-for-drug-possession
--------
SR117,000 Seized From Asian Woman Beggar In Makkah
April 05, 2022
MAKKAH — The security authorities in Makkah arrested an Asian woman who practiced beggary. The woman managed to collect approximately SR117,000, in addition to a number of foreign currencies and gold jewelry.
The security forces have arrested a total of 3,719 beggars from various regions of the Kingdom during the week starting from March 22 to 30. The Public Prosecution officials are investigating the cases against each one of the arrested beggars, including men and women.
The Public Security emphasized that begging in all its forms and manifestations has been banned.
It urged the public to report about those who are found engaged in beggary or extending support to beggars by any means through contacting over phone number 911 in the regions of Makkah and Riyadh, and 999 in all other regions of the Kingdom.
The Public Security had announced that the competent security authorities would arrest anyone who engages in beggary and will refer them to the competent authorities.
It urged citizens and residents to provide their alms through regular means that ensure that it reaches the needy people and discourage the practice of beggary.
Brig. Gen. Sami Al-Shuwairekh, spokesman of the Public Security, confirmed that the prescribed penalties will be applied to anyone who is caught practicing beggary, or incites others, or helps others to practice beggary.
He said the violators will face imprisonment for a period not exceeding six months, or a fine not exceeding SR50,000 or of both. The penalties will be doubled for those who are part of the organized beggary rackets.
Whoever engages in beggary, manages beggars, incites others, and assists beggars as part of organized rackets will be awarded with a maximum jail term of one year or fine not exceeding SR100,000 or both.
Source: Saudi Gazette
https://saudigazette.com.sa/article/619037/SAUDI-ARABIA/SR117000-seized-from-woman-beggar-in-Makkah
--------
Hyderabad: Poverty sole mate of single Muslim women in Old City
Apr 6, 2022
HYDERABAD: A pre-Ramzan survey in the slums of Old City has revealed that single Muslim women, mostly widows, divorced or abandoned, are living in abject poverty along with their children.
The annual pre-Ramzan survey to understand the economic conditions of Muslims living in the slums focussed on post-pandemic widows and single women this year.
The survey by NGO Helping Hand Foundation (HHF) revealed that many are barely able to make ends meet, forcing 68% of boys in such homes to quit school to work as daily wagers to support the family. About 65% of widows and single women said that their only companions are stress and insecurity as they struggle to find the next meal.
According to the survey, 18% of women are single and 6% divorced. Among the widows, 76% lost their spouses prematurely to chronic diseases, 18% to age-related health complications and 6% to accidents.
"Women from marginalised sections who are widows, divorced or abandoned are living in penury along with their offspring. The survey was conducted in five major urban slums spread over 35 bastis and colonies. It brought to light painful and worrying condition of widows and single women in old Hyderabad. The slums surveyed are part of Rajendranagar, Hasanagar, Achi Reddy Nagar, Shaheen Nagar and Jalpally," said HHF managing trustee Mujtaba Hasan Askari.
Only 22% of widows have the security of having their own home, but often spread over a mere 30 square yards. A majority (71%) of the widows said they live in rented houses, with half of their meagre income going towards rent. About 6% live on charitable donated spaces.
"About 50% of widows work for their survival. But 90% of them are domestic helps with a nominal monthly income. One-third are dependent on extended family for support and 14% survive on alms," the survey said.
Only 45% women said they receive monthly pension from the government.
"About 20% of widows borrow money on interest, while 80% borrow when need arises on non-interest basis due to fear of harassment by money lenders," Askari added.
Source: Times Of India
https://timesofindia.indiatimes.com/city/hyderabad/poverty-sole-mate-of-single-muslim-women-in-old-city/articleshow/90673112.cms
--------
Female Voters' Turnout In Khyber Pakhtunkhwa's Local Govt Polls Remained 30pc: Fafen
Iftikhar A. Khan
April 6, 2022
ISLAMABAD: The female voters' turnout remained 30pc compared to 41pc of males during the second phase of the local government (LG) elections in Khyber Pakhtunkhwa (KP).
The Free and Fair Elections Network (Fafen), in a report, said statistics were based on the gender-disaggregated data available for 49 tehsils. It said none of these tehsils reported women turnout less than 10pc of the total polled votes.
The returning officers responsible for Bahrain, Khwazakhela, Bazai (Swat) and Martung and Chakisar (Shangla) tehsils did not provide gender-disaggregated data of polled votes on Form-XIX (Provisional Consolidated Statement of Results of the Count).
The report also revealed that the number of ballots excluded from the count were more than the margin of victory for the seats of chairmen in 28 tehsils.
Report says 34,734 candidates were in the run at tehsil, neighbourhood, village council levels
Fafen said around 41pc of the 8.5 million registered voters in 18 districts turned out to vote on March 31 to elect 12,875 representatives on general and reserved seats in an election that was largely peaceful, orderly and transparent.
Against the backdrop of political uncertainty amid the impending no-confidence motion against the prime minister and resulting political fragmentation, the election process remained largely peaceful with a reasonable voter turnout, it noted.
The election remained highly competitive as political unity among opposition parties at the centre did not translate into electoral alliances or seat adjustments at the local level.
As many as 34,734 candidates, including the ones fielded by 25 political parties, were in the run for general and reserved seats at the tehsil, neighbourhood and village council levels.
In what was an undeniably a complex, complicated and largescale electoral exercise with more than over 72,000 deployed election officials to manage 6,170 polling stations (3,951 combined, 1,151 male and 1,068 female) comprising 16,509 polling booths (9,218 for men and 7,291 for women), Khyber Pakhtunkhwa has become the first province to have fulfilled its constitutional responsibility under Article 140-A(1) to form the third-tier of governance providing representation to local representatives including the marginalised communities such as peasants, workers and women.
However, the election followed a delay of more than two years primarily due to weak political will to decentralise powers that manifested in the shape of legal complications and inadequacies.
The provincial government legalised the delay through an amendment to the KP Epidemic Control and Emergency Relief Act, 2020 on the pretext of coronavirus disease 2019 (Covid-19).
The ECP had initially scheduled the second phase of KP's local government elections for March 27, but the date was changed to March 31, following the Supreme Court's reversal of an earlier order by the Peshawar High Court that required the Election Commission of Pakistan (ECP) to hold these elections after Ramazan.
During the second phase, the LG elections were held to elect mayors of two city councils, chairmen of 63 tehsil councils, and members of 1,659 village and 171 neighbourhood councils across 18 districts, including Abbottabad, Swat, Malakand, Upper Chitral, Lower Chitral, Lower Dir, Upper Dir, Shangla, Tor Garh, Lower Kohistan, Upper Kohistan, Kolai-Palas, Mansehra, Battagram, Kurram, Orakzai, North Waziristan and South Waziristan.
The elections were postponed in a neighbourhood council Sainabad (Mansehra) due to wrong allotment of election symbol, and two village councils – VC Wahab Khel (Shangla) and VC Mekahband (Malakand) – due to the deaths of the contesting candidates.
Moreover, voting at 18 polling stations in eight districts (South Waziristan, North Waziristan, Kolai Palas, Mansehra, Abbottabad, Kurram, Upper Kohistan and Battagram) was halted and subsequently postponed due to incidents of violence.
While election result of 11 tehsils is still awaited, the turnout in 54 tehsils where provisional consolidated results have been notified remained 41pc – highest being 55pc in Seo tehsil of Upper Kohistan and the lowest 14pc in Serwakai tehsil of South Waziristan.
The number of ballots excluded from the count at the polling station level was disconcerting, and remained almost 7pc (177,375) of the total votes polled (2,642,982).
Of the 54 provisional results announced so far, there were 28 tehsils where the margin of victory was less than the total number of ballots excluded from the count of the contests of seats of chairmen.
For instance, in Kalkot tehsil of Upper Dir, the margin of victory between the winning and runner-up candidates for the chairmen seat was of seven votes, whereas the total ballots excluded from the count were 1,633. The Election Commission may ascertain the reasons for exclusion of ballots as per Section 8(b) of the Elections Act, 2017 to inform its voter information and education campaigns for future elections.
According to the ECP, results of 52 seats for tehsil chairmen and two of city mayors, the largest vote share was bagged by Pakistan Tehreek-i-Insaf (PTI) with 29.02pc of the polled votes, followed by Pakistan Muslim League–Nawaz with 13.64pc, Jamiat Ulema-i-Islam Pakistan (JUI-P) with 12.24pc, Jamaat-i-Islami Pakistan (JIP) with 10.21pc, Pakistan Peoples' Party Parliamentarians (PPPP) with 8.86pc, Awami National Party (ANP) with 7pc, Tehreek-i-Labbaik Pakistan (TLP) with 1.3pc, Majlis Wahdatul-i-Muslimeen Pakistan (MWMP) with 1.16pc and the remaining 12 political parties received less than one percent of the polled votes.
The independent candidates secured 13.61pc votes of the total votes polled.
Source: Dawn
https://www.dawn.com/news/1683604/female-voters-turnout-in-kps-local-govt-polls-remained-30pc-fafen
--------
Exploitation of children and women is human trafficking crime, says Saudi Public Security
April 5, 2022
The United Arab Emirates has sentenced an Israeli woman to death for cocaine possession, Israeli media reported Tuesday, in a major test of new relations between the Mideast countries.
Israel's Foreign Ministry confirmed that it is working on the case of the woman, identified in local news reports as Fida Kiwan, a 43-year-old Haifa resident who owns a photography studio.
The Israeli news site Ynet said Kiwan was arrested on March 21, 2021, with half a kilogram (over 1 pound) of cocaine that she claimed did not belong to her. Kiwan's lawyer is reportedly appealing the sentence, which could be converted to a prison term.
The UAE's Foreign Ministry did not respond to a request for comment on the case.
The UAE's harsh drug laws could test burgeoning relations between Israel and the UAE under the "Abraham Accords," a series of diplomatic pacts between Israel and four Arab countries brokered by the Trump administration in 2020.
Normalization has turned glitzy Dubai into a freewheeling Israeli tourist destination. Israel's top leaders, including Prime Minister Naftali Bennett, have met with their counterparts in the Gulf state, and the UAE was part of an unprecedented meeting of Arab and Israeli foreign ministers in Israel's Negev desert late last month.
As for Kiwan, Israel's Foreign Ministry said it "is aware of the incident and is taking care of it through the division of Israelis abroad in the consular department and Israeli representations in the UAE." Israeli media reported that Kiwan came to Dubai for work at the invitation of a Palestinian acquaintance a little over a year ago. She was arrested a short while later after a search of her apartment turned up the drugs.
Officials with knowledge of the case told The Times of Israel, another Israeli news site, that they expect the sentence to be reduced to a long prison term upon appeal.
The UAE is one of the world's most restrictive nations when it comes to people importing and possessing drugs, including substances for personal use like cannabis and even over-the-counter medications like narcotics.
Trafficking typically carries a life sentence and possession a shorter jail sentence. While UAE law allows for the death penalty in certain cases, capital punishment is rarely carried out. The last known executions were in 2011 and 2014, against two men convicted of murder.
Source: Indian Express
https://indianexpress.com/article/world/uae-israeli-woman-death-penalty-7854462/
--------
Slain US Relief Worker Kayla Mueller's Mother Recalls Pleas To Islamic State To Spare Her Daughter
6 Apr 2022
The mother of slain US relief worker Kayla Mueller testified on Tuesday at the trial of one of her daughter's alleged Islamic State (IS) captors, recounting the desperate pleas for her release and tortuous negotiations.
Marsha Mueller's emotional testimony came on the fifth day of the trial in US federal court of El Shafee Elsheikh, a 33-year-old former British national.
Elsheikh is accused of involvement in the murders of Kayla Mueller and three other Americans: journalists James Foley and Steven Sotloff and aid worker Peter Kassig.
Marsha Mueller's testimony came a day after Kayla Mueller's boyfriend, Rodwan Safarjalani, took the witness stand against Elsheikh, an alleged member of the notorious IS kidnap-and-murder cell known to their captives as the "Beatles" because of their British accents.
Occasionally dabbing tears from her eyes, Marsha Mueller recalled how her daughter had worked at an orphanage in India and taught English to Tibetan refugees in Dharamsala before going to Syria.
"She was always interested in helping people," Mueller said.
Kayla Mueller was captured by IS in August 2013 while accompanying Safarjalani, a Syrian national, on a trip to a hospital in Aleppo where he was contracted to repair a satellite dish.
Marsha Mueller told the court about email exchanges with her daughter's captors, who were demanding a ransom of five million Euros or the release of Aafia Siddiqui, a Pakistani woman who is imprisoned in the United States for the attempted murder of US soldiers.
"We don't want to harm her," the hostage-takers said in a May 2014 email. "She is like a guest with us at the moment."
But, they warned if the Muellers could not meet their demands their daughter would serve "a life sentence just like Siddiqui."
The Muellers told the kidnappers they were asking for "an astronomical amount of money from a family with limited resources."
In one email, they said Kayla's father, Carl Mueller, had retired from the auto repair business he operated in Prescott, Arizona.
They received a curt reply. "Retiring will not help you get your daughter back so go back to work and earn some money," it said.
Mueller said the family had been told by the US government that her captors "will not harm a woman," but they decided to make a personal appeal to then-IS leader Abu Bakr al-Baghdadi.
"Kayla is not your enemy," Marsha Mueller said in the video message. "Show your mercy and release our daughter."
It did not come up at the trial on Tuesday, but it has been reported previously that Kayla Mueller was handed over to Baghdadi, who allegedly raped her repeatedly before killing her.
In September 2014, Kayla's captors added another demand: a halt to US military activities against the Islamic State.
The Muellers received no response to numerous subsequent emails, and IS claimed in February 2015 that Kayla had been killed in an airstrike by Jordanian warplanes.
During a break in the proceedings on Tuesday, Safarjalani, Kayla's boyfriend, approached Elsheikh as he was being led out of court by US Marshals and shouted at him in Arabic that he would end up in hell.
Judge T.S. Ellis warned Safarjalani when the court reconvened that he would be thrown out if there was another outburst.
The judge said he was allowing him to remain in the public gallery because he had only made a "prediction" and not a "threat."
The IS "Beatles" held at least 27 people in Syria between 2012 and 2015, including a number of European journalists who were released after ransoms were paid.
Videos of the brutal executions of Foley, Sotloff and Kassig were released by the group for propaganda purposes.
Elsheikh and another "Beatle," Alexanda Amon Kotey, were captured in January 2018 by a Kurdish militia in Syria, turned over to US forces in Iraq and flown to Virginia in October 2020.
Kotey pleaded guilty in September 2021 and is facing life in prison.
"Beatles" executioner Mohamed Emwazi was killed by a US drone in Syria in November 2015, while the fourth member of the cell, Aine Davis, is imprisoned in Turkey after being convicted of terrorism.
Elsheikh has denied the charges and his lawyers claim his arrest is a case of mistaken identity. He faces life in prison if convicted.
Source: The Guardian
https://www.theguardian.com/world/2022/apr/06/kayla-muellers-mother-recalls-pleas-to-islamic-state-to-spare-her-daughter
--------
URL: https://www.newageislam.com/islam-women-feminism/queen-rania-jordan-karak-castle-iftar/d/126738
New Age Islam Islam Online, Islamic Website, African Muslim News, Arab World News, South Asia News, Indian Muslim News, World Muslim News, Women in Islam, Islamic Feminism, Arab Women, Women In Arab, Islamophobia in America, Muslim Women in West, Islam Women and Feminism