New Age Islam News Bureau
23 May 2013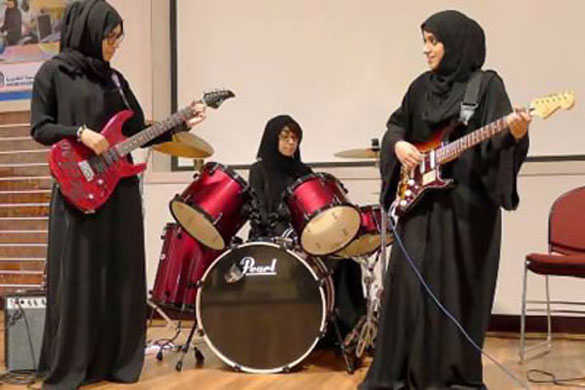 Members of the Al Ain-based rock band Random Stars are, left to right: Bushra Hassan Al Hashimi, 22, rhythm guitar, Aysha Abdullah Almaskari, 21, drums, and Hamda Al Ghaithi, 22, lead guitar. Photo courtesy Patreshia Tkach
-----------
• Random Starts, First Emirate Women's Rock Band
• Brave Woman Tried to Reason with London Attackers
• TV Show Not Sorry For Prank 'Converting' Teen Girls to Islam for Bieber Tickets
• Blasphemy: 'Other Prisoners Say I Deserve To Die'
• Accused of rape, Malaysian marries 13-year-old girl
• Students Honoured for Heroism in Preventing Rape Attempt
• Indonesian 'Hijabers' Buy Into an Islamic Economy
• Indonesian Agency to Investigate Billions Transferred by Graft Suspect to 45 Women
• Ethiopia's Bogaletch Gebre Wins King Baudouin Prize for Eradication of FGM
• 20,000 Foreigners Married Local Malaysian Women
• Samina Baig: Top award for Everest climber proposed
Compiled by New Age Islam News Bureau
URL: https://newageislam.com/islam,-women-and-feminism/new-age-islam-news-bureau/'quarantine-her!'-top-tunisian-islamist-preacher-says-topless-girl-needs-stoning/d/11702
-------------
'Quarantine Her!' Top Tunisian Islamist Preacher Says Topless Girl Needs Stoning
23 March 2013
A Tunisian Salafi preacher has called for a 19-year old girl who posted her topless pictures on Facebook to be "quarantined" and stoned to death before she starts "an epidemic."
Tunisian newspaper Assabah News quoted Salafi preacher Alami Adel, who heads the Commission for the Promotion of Virtue and Prevention of Vice, saying: "According to God's law, she deserves 80 to 100 lashes, but what she committed is worth much more than that. She deserves to be stoned to death and she must be quarantined because what she did is an epidemic."
"She is like someone suffering from a serious and contagious illness and she must be secluded and treated," he added.
The young Amina, who is part of a feminist movement and group called FEMEN can be seen smoking a cigarette topless with Arabic words written across her chest in black that reads in English "My body belongs to me."
FEMEN is a Ukrainian based feminist group that gathers women together in Europe in topless protests in support of women's rights.
Amina has been delivered by her parents to a psychiatric hospital in Tunis, according to reports received by FEMEN leader Inna Shevchenko in Paris and reported by the U.S. based magazine the Atlantic.
Tunisian media said that if Amina committed the offence in Tunisia, she could be punished by up to two years in prison and be given a fine between $60 and $600.
A petition and an international day of action on April 4 to highlight the threats against Amina have been organized by activists.
More than 10,000 people have signed the petition that called for those who threatened Amina's life to be prosecuted.
On Thursday reports FEMEN's Facebook account was hacked emerged. The page had reportedly been infiltrated with videos and pictures on the site being replaced by verses from the Koran.
"Thanks to God we have hacked this immoral page and the best is yet to come," read one message signed by "al-Angour," an apparent hacker.
FEMEN has released a statement condemning "barbarian threats of the Islamists about the necessity of reprisals against the Tunisian activist Amina."
"We are afraid for her life and we call on women to fight for their freedom against religious atrocities" it added.
Last month, FEMEN brought together Iranian women in Sweden, who took to the streets of Stockholm demonstrating against the Hijab (Islamic headscarf).
http://english.alarabiya.net/en/2013/03/23/-Quarantine-her-Top-Tunisian-Islamist-says-topless-girl-needs-stoning.html
-------------
Random Starts, First Emirate Women's Rock Band
5 girls with Islamic veil and Abayas make headlines
22 MAY, 2013
(ANSAmed) - DUBAI, MAY 22 - The first rock bank formed by young women from the Emirates, rigorously dressed with the Islamic veil and Abayas - the long, black caftan used by women in the Gulf - is making headlines. Though the Random Starts are so far only playing at university gigs, graduation parties and national holidays, their concerts, with a repertoire including a classic 'Smoke on the water' by Deep Purple, are gaining visibility. The band's five members - two guitars, a bass, one keyboard and percussions - have studied at the Al Ain polytechnic. Aged between 20 and 22 the five young women decided to form a band a year ago thanks to a British teacher who saw their potential. Out of the five members only Hamda Al Ghaiti, 22, studied music. The other four - Aisha Al Kaabi, 20, Aisha Al Maskari, 21, Almayasa Al Kaabi, 22 and Bushra Al Hashimi, 22 - recently discovered their respective instruments and a passion for rock music. Their families are reportedly supporting them.
The United Arab Emirates have started encouraging women to embrace a professional or artistic career, recognizing the fundamental role they can play in the country's development.
Women are accepted in all professions - from politicians to diplomats, drivers and air technicians. Women in the Emirates are employed today in a range of professions including lawyers, judges, astronauts, taxi drivers, designers and now future rock musicians. (ANSAmed).
http://www.ansamed.info/ansamed/en/news/nations/emirates/2013/05/22/Emirates-Random-Starts-first-women-rock-band_8745774.html
-------------
Brave Woman Tried to Reason with London Attackers
By THE ASSOCIATED PRESS
May 23, 2013
LONDON — A brave scout leader who may have prevented further violence has emerged as an unlikely hero in the apparent terror attack that left one man dead on the streets of London.
Ingrid Loyau-Kennett got off a bus and tried to reason with the two attackers after she tried to help the man lying on the street but found he had no pulse and was already dead.
The 48-year-old mother kept talking to the two bloody attackers before police came, trying to keep them calm.
Loyau-Kennett, who lives in Cornwall in southwest England, told several British media outlets Wednesday night and Thursday morning that she was returning from a trip to France and was visiting her children in London when the bus she was on stopped because of the melee.
She said she saw a crashed car and the victim lying on the street and tried to help him since she had been trained in first aid. She had determined the man was dead by the time the attackers confronted her.
She said a man "with a black hat and a revolver in one hand and a cleaver in the other came over" and excitedly warned her to stay away from the body.
"I asked him why he had done what had had done," The Guardian quoted her as saying. "He said he had killed the man because he (the victim) was a British soldier who killed Muslim women and children in Iraq and Afghanistan. He was furious about the British Army being over there."
When the man told him he was going to kill police when they arrived, she asked him if that was reasonable and tried to keep him engaged.
Then she spoke to the other attacker, who she described as quiet and shy.
"I asked him if he wanted to give me what he was holding in his hand, which was a knife, but I didn't want to say that," she said. "He didn't agree and I asked him: 'Do you want to carry on?' He said: 'No, no, no.' I didn't want to upset him," she is quoted as saying in The Guardian.
Loyau-Kennett said she was not scared and that the armed men did not seem to be drunk or on drugs. She said she was trying to keep them occupied so they didn't get more agitated.
She re-boarded her bus shortly before police arrived, watching from the bus as police shot the two suspects, who are both receiving treatment in hospital.
"The officers shot them in the legs, I think" she says in The Guardian.
http://www.nytimes.com/aponline/2013/05/23/world/europe/ap-eu-britain-attack-brave-woman.html?ref=europe&gwh=D1AD024BB23FA0F8AD0AE8CB44EA8A11&_r=0
-------------
TV Show Not Sorry For Prank 'Converting' Teen Girls to Islam for Bieber Tickets
23rd May 2013
A Norwegian television show that staged five teenage girls' mock "conversion" to Islam for a chance to win concert tickets is not apologizing for the prank.
With free tickets to a concert by superstar Justin Bieber as their incentive, the Ann-Kat Hærland comedy show asked the teenagers to remove their make-up, put on hijabs and recite Islamic creed in Arabic.
They were also told to repeat: "Justin Bieber is impure and probably gay."
"We wanted to find out how far Norwegian 'Beliebers' are willing to go for tickets to one of Bieber's concerts," the show's host, nicknamed Anne-Kat, said.
The communications director for TV Norge, Svein Tore Bergestuen, told Dubai-based newspaper 7DAYS that the network would not apologize in the name of "freedom of expression."
"In Norway we have freedom of speech and expression," Bergestuen said.
"The reaction we got in Norway was as expected — that everyone understood this was a sketch and humor."
The prank comes only weeks after Bieber himself was called insensitive after leaving a questionable message in a guestbook at the Anne Frank house in Amsterdam.
"Truly inspiring to be able to come here. Anne was a great girl. Hopefully she would have been a Belieber," the teen pop star wrote.
More from GlobalPost: Justin Bieber on Anne Frank: "Hopefully she would have been a belieber"
Bieber was not believed to have been involved in the sketch. The pop star is visiting Norway as part of his current world tour.
http://www.globalpost.com/dispatch/news/regions/europe/130423/tv-show-wont-apologize-converting-teen-girls-islam-bieber-ticket
-------------
Blasphemy: 'Other Prisoners Say I Deserve To Die'
May 23, 2013
LAHORE: "Other women prisoners say that I deserve to die because I'm a blasphemer," a woman, accused of defiling two copies of the Holy Quran, told the Additional District and Sessions court on Wednesday.
"Why are people saying I should be killed while the court has not declared me guilty of blasphemy yet?" she said.
The police, she said, had not allowed her relatives to visit her. Neither did the police give her the items or food that her relatives had brought for her, she said.
Additional District and Sessions Judge Muhammad Arshad Ali was hearing the case.
The defendant was produced in the court amid tight security.
"Abusive language was used against me while I was being led to the court," she said. Several clerics, she said, had protested outside her house. The judge observed that people had a right to protest.
The judge told her to argue her case at the next hearing. She said it was her right to tell the court about her suffering. She complained about the spectators at the trial and asked the judge to tell them to leave.
The judge directed the security personnel to clear the room of spectators. "This is a sensitive issue," he said. He fixed June 11 for cross examination.
Earlier, Justice Shahid Hameed Dar had dismissed the defendant's after-arrest bail plea.
On April 8, the trial court had dismissed her acquittal application. The defendant had pleaded that Abdul Munim, the complainant, had denied initiating the FIR. He was declared 'hostile' by the prosecution but he had not been cross-examined, she said.
She claimed that Boota, a prosecution witness, had denounced the case as bogus. She prayed that the case against her be declared void ab initio and terminated.
Advocate Ghulam Mustafa Chaudhry, petitioner's advocate, told the court that Abdul Munim and Muhammad Boota's affidavits were on record.
They said that they had received death threats from the defendant's supporters. Chaudhry said that they had obtained the witnesses' signatures and thumbprints on blank stamp papers and later produced statements favouring the defendant.
The FIR was registered under Section 295-B (defiling the Holy Quran) by Munim in Factory Area.
He had stated that he was a security guard at the Punjab Society near Defence Housing Authority.
On March 3, 2012, he was patrolling the area at 5am when Saima Bibi, a neighbour, raised hue and cry about the defendant desecrating the Holy Quran. He and Boota, a resident of the area, had gone to the defendant's home and seen her defiling the Holy Quran.
http://tribune.com.pk/story/553230/blasphemy-prisoners-say-i-deserve-to-die/
-------------
Accused of rape, Malaysian marries 13-year-old girl
May 23 2013
Kuala Lumpur: Prosecutors are pursuing rape charges against a 40-year-old Malaysian who allegedly had sex with a 13-year-old girl and then married her.
Restaurant manager Riduan Masmud was charged with committing statutory rape in a parked car in Borneo in February, but his lawyer said he has since married the girl.
Rights activists have long criticized Malaysian laws that allow very young Muslims to be wedded with the permission of Islamic courts.
Attorney General Abdul Gani Patail said late Wednesday that authorities remain firmly against statutory rape and were compiling a DNA report and other evidence in Riduan's case.
Riduan is already married to another woman and reportedly has four children. Malaysian Muslim men can have up to four wives.
Full report at:
http://www.indianexpress.com/news/accused-of-rape-malaysian-marries-13yearold-girl/1119570/
-------------
Students Honoured for Heroism in Preventing Rape Attempt
By Vento Saudale
May 23, 2013.
Bogor. Three junior high school students in Bogor, West Java, who foiled rape attempt, have been honoured with scholarships and awards for their heroism.
The trio, Abdulrahman Assegah, Ilham Maulana and Aziz, will get scholarships from the Indonesian Commission on Child Protection (KPAI) and awards from the West Java Governor's wife and the mayor of Bogor.
"We're glad [being awarded], but we did it sincerely," Abdulahman said, as quoted by Detik.com.
Full report at:
http://www.thejakartaglobe.com/news/students-honored-for-heroism-in-preventing-rape-attempt/
-------------
Indonesian 'Hijabers' Buy Into an Islamic Economy
23 May 2013
Indonesian event organizer Risti Rahmadi wears an Islamic headscarf, uses Halal lipstick and knows that it's time to pray when an app on her BlackBerry emits Quranic verses five times a day.
The 37-year-old, who in her 20s would save up for the latest Guess clothes and Revlon make-up, now strictly buys products that show she is a proud Indonesian Muslim – and she hopes to persuade others to do the same.
She is a member of the "Hijabers Community," an Islamic all-women business network which is part of a Muslim consumer boom jostling for market share with Western firms keen to take advantage of Indonesia's strong growth.
Full report at:
http://english.alarabiya.net/en/life-style/fashion-and-beauty/2013/05/23/Indonesian-Hijabers-buy-into-an-Islamic-economy.html
-------------
Indonesian Agency to Investigate Billions Transferred by Graft Suspect to 45 Women
By SP/Novianti Setuningsih & Rizky Amelia
May 23, 2013.
The Corruption Eradication Commission (KPK) will investigate a report listing money transfers totalling almost Rp 10 billion from Ahmad Fathanah, a central figure in the beef corruption scandal, to more than 45 women, including a high school student and some celebrities.
"We will analyze the report first," KPK deputy chairman Zulkarnain said on Wednesday.
Journalists got a hold of the list, which was submitted by the Financial Transaction Report and Analysis Center (PPATK) to the KPK, on Thursday. KPK spokesman Johan Budi, however, denied that they leaked the document.
Full report at:
http://www.thejakartaglobe.com/news/kpk-to-investigate-billions-transferred-by-graft-suspect-to-45-women/
-------------
Ethiopia's Bogaletch Gebre Wins King Baudouin Prize for Eradication of FGM
23rd May 2013
Ethiopian activist Bogaletch Gebre has won an international prize for her campaign to eradicate female genital mutilation (FGM).
Ms Gebre was awarded the King Baudouin Prize in Belgium for confronting "culturally entrenched taboo subjects", the selection committee said.
She helped reduce cases of FGM from 100% of newborn girls to less than 3% in parts of Ethiopia, it said.
FGM is practised mainly in communities in Africa and the Middle East.
Also known as female circumcision, it is seen as a traditional rite of passage and is used culturally to ensure virginity and to make a woman marriageable.
Full report at:
http://www.bbc.co.uk/news/world-africa-22631391
-------------
20,000 Foreigners Married Local Malaysian Women
May 23, 2013
Kota Kinabalu: Almost 20,000 Muslim foreigners comprising Filipinas and Indonesians married Muslim locals since 2000, according to Sabah Islamic Religious Affairs Department (Jheains) - a factor attributed to the increasing population in Sabah.
Its principal assistant director for administration division cum Registrar for Marriages, Divorces and Reconciliation, Baharuddin Alwi, said 19,781 Muslim foreigners were recorded as marrying the locals during the period.
However, he said, the statistics also showed more foreign women opted to marry local men in Sabah (10,922) compared to 8,859 foreign men marrying local women in the same period.
"The number of Muslim foreign women marrying local men in the State surged from 222 people in 2000 to 1,302 in 2012.
Full report at:
http://www.dailyexpress.com.my/news.cfm?NewsID=85418
-------------
Samina Baig: Top award for Everest climber proposed
May 23, 2013
ISLAMABAD: The Alpine Club of Pakistan (ACP) on Wednesday said it will recommend mountaineer Samina Baig's name for the pride of performance and Tamgha-e-Imtiaz awards.
Samina Baig became the first Pakistani woman to scale Mount Everest, the world's highest mountain with a peak at 8,848 meters. Samina completed the climb to the summit with her brother Mirza Ali, who became the third and youngest Pakistani male to scale the mountain.
Talking to APP, ACP secretary Abu Zafar Sadiq said it was a great honour not only for ACP but for the whole nation and for that, he will recommend Samina's name for the two national awards.
Full report at:
http://tribune.com.pk/story/553200/saima-baig-top-award-for-everest-climber-proposed/
-------------
URL: https://newageislam.com/islam,-women-and-feminism/new-age-islam-news-bureau/'quarantine-her!'-top-tunisian-islamist-preacher-says-topless-girl-needs-stoning/d/11702