New Age Islam News Bureau
28 May 2012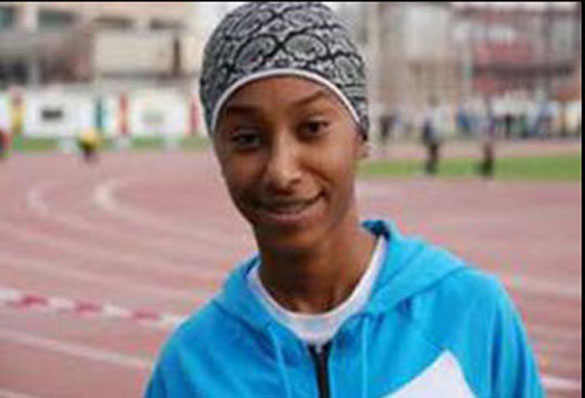 • Pak Tribal Council Sentences four women and two men to death for singing and dancing at a wedding
• Dream of motherhood: The world's first womb transplant in Turkey
• Christian Jordanian woman refuses to wear head cover, loses her Job
• Mohabbat-e-Sindh rally Victim dies Defending Herself in Karachi
• Egypt's belly dancing troupes, Dancing with Brothers
• Yet another acid attack in Pakistan
• Attack on Afghan School Girls Could be Cases of Mass Hysteria
• Taliban deny poison attacks on girls' schools
• Afghan woman pushes for rights from behind the wheel
• 19-year-old German woman enslaved for years in Bosnia
• Role of Islam in 'the making up' of Rabiya, An iron woman of South India
• Lady Gaga show cancelled after Islamist protests in Indonesia
Complied by New Age Islam News Bureau
Photo: Qatari sprinter Noor al-Malki
URL: https://www.newageislam.com/islam,-women-and-feminism/new-age-islam-news-bureau/qatari-olympic-women-athletes-spotlight-wahhabi-schism/d/7459
------------
Qatari Olympic women athletes spotlight Wahhabi schism
By James M. Dorsey
2012-05-27
While Islamic law does not grant athletes dispensation from fasting during Ramadan, it does allow travellers to break fast during their journey. Ms. Al-Malki will be travelling during Olympics.
The question for Qatari sprinter Noor al-Malki is not whether she will be part of the first group of Qatari women to ever compete in a global sports tournament at the 2012 London Olympics but how she will handle the fact that the competition will take place during Ramadan.
The question whether Ms. Al-Malki would be able to compete was resolved when Qatar, alongside Saudi Arabia and Brunei the only nation never to have been represented by women in a global sporting event, decided last year to allow women to compete in the London Olympics.
The decision was the result of Qatar's concerted effort to become a sports power and mounting international pressure on the International Olympic Committee (IOC), not to allow countries to compete that discriminate against athletes on the basis of gender.
It saved Qatar, already threatened with a global trade union campaign against its hosting of the 2022 World Cup because of the conditions under which it employs foreign labour, from becoming the target of yet another attack on its reputation, already dented by controversy over its successful campaign to win the right to host the World Cup. The bruising debate over the soccer tournament bid contributed to the International Olympic Committee's decision to eliminate Qatar as a candidate for the 2020 Olympics.
The debate also highlights the major divide among Wahhabis, followers of 18th century puritan warrior priest Mohammed Abdul Wahhab, with Saudi Arabia, the only other country besides Qatar with a majority Wahhabi population, and the IOC still struggling barely two months before the opening of the London Olympics to find a formula that would circumvent the kingdom's conservative opposition to women's participation.
A Human Rights Watch report released in February, called on Saudi Arabia to protect women's equal right to sports and urged the IOC to live up to its charter, which prohibits discrimination, or face a ban similar to that imposed on Afghanistan in 1999 partly for its exclusion of female athletes.
For Ms. Al-Malki, the Qatari decision means that she is grappling beyond wanting to perform at the London Olympics with the requirement to fast during the 30 days of Ramadan during which the tournament will be held. If the decision to allow women to compete may have been difficult because of mounting conservative opposition to Qatari Emir Hamad bin Khalifa Al-Thani's liberal policies designed to position his tiny gas-rich Gulf state on the world map, resolving the issue of Ramadan coinciding with the Olympics is easy.
While Islamic law does not grant athletes dispensation from fasting during Ramadan, it does allow travellers to break the fast during their journey provided they catch up once they return home. Ms. Al-Malki will be travelling during the Olympics.
That is a luxurious position to be in compared to her Saudi counterparts who still do not know whether they will be going to London. Initial Saudi suggestions that the kingdom would for the first time send female athletes to the Olympics were dashed when Saudi Crown Prince Nayef bin Abdul-Aziz Al Saud declared in April that "female sports activity has not existed (in the kingdom) and there is no move thereto in this regard. At present, we are not embracing any female Saudi participation in the Olympics or other international championships."
The IOC has rejected Saudi suggestions that Saudi women living abroad be allowed to compete under the Olympic flag rather than as part of the official Saudi delegation.
"It's not an easy situation. There is a commitment. We're working steadily with them to find a good solution," conceded IOC President Jacques Rogge at a recent news conference. "We are continuing to discuss with them, and the athletes are trying (to qualify). We would hope they will qualify in due time for the games."
With few Saudi women athletes likely to qualify for the Olympics, the IOC has gone out of its way to encourage participation by suggesting that they would be exempted from qualifying standards and granted entry under special circumstances.
Saudi women participation appears however increasingly unlikely with conservative opposition making it difficult for the government to back down at a time that it is rallying the wagons to shield itself against the wave of anti-government protests in the Middle East and North Africa that has already sparked increased political activism and mobilisation in the kingdom. At his news conference, Mr. Rogge declined to discuss possible penalties if the kingdom refused to include women in its Olympic team.
The Saudi government has recently employed the clergy to condemn the protests that have already toppled the autocratic leaders of Tunisia, Egypt, Libya and Yemen and brought Syria to the brink of civil war, which, according to some, are the result of the mingling of the sexes in sports.
Saudi Grand Mufti Sheikh Abdulaziz Al-Sheikh denounced the protests earlier this month as sinful. "The schism, instability, the malfunctioning of security and the breakdown of unity that Islamic countries are facing these days is a result of the sins of the public and their transgressions," Sheikh Abdulaziz said.
Such sins include, according to Imam Abu Abdellah of As-Sunnah mosque in Kissimee, Florida, speaking in a video posted on the Internet, the mixing of the sexes at sports events. "In the past it was only men, now it is almost half half (in stadiums). Allah knows what happens afterwards. Either way it is bad. Either people go out, they are sensing and partying and drinking and all that, so that's negative. And if they don't, they go out and they demonstrate and they're angry and they destroy property and they destroy cars and they destroy people's business. Either way its haram (forbidden), things have to be done in moderation," Abu Abedallah said.
Sheikh Abdullah bin Suleiman Al Manei, a member of the Gulf Kingdom's supreme scholars committee and an advisor to King Abdullah warned that "the spread of such (bad) acts on play fields is a clear indicator of a decline in moral values and the transformation of sport from fair competition into bigotry."
James M. Dorsey is a senior fellow at the S. Rajaratnam School of International Studies at Nanyang Technological University in Singapore, author of the blog, The Turbulent World of Middle East Soccer, and a consultant to geopolitical consulting firm Wikistrat.
http://www.middle-east-online.com/english/?id=52490
------------
Pak Tribal Council Sentences four women and two men to death for singing and dancing at a wedding
May 28 2012
Islamabad: A tribal 'jirga' or council in a remote area of northern Pakistan has condemned four women and two men to death for "staining the honour" of their families by singing and dancing at a wedding, according to a media report today.
The men and women from Hazara division in Khyber- Pakhtunkhwa province were allegedly caught on videotape singing and dancing at a wedding in violation of the tribal custom of gender segregation, The Express Tribune reported.
The women, who are all married, were called from the homes of their in-laws and locked up in a room in Seertaiy village of Kohistan district.
The men managed to flee before the jirga could act against them. The jirga has tasked 40 young men to kill the men and women.
"A tribal jirga has declared them Ghul (fornicators). And they might be killed any time," said Muhammad Afzal, the elder brother of two men condemned to death.
Afzal said the women allegedly sang 'mahiyas' or folk songs at the wedding and danced in the presence of 'na-mehram' or those who one can marry in Islam.
The wedding took place two months ago in Bando Baidar village. Some guest filmed the women and men singing and dancing with a mobile phone. The amateur video was later sent to the women's relatives, the report said.
The tribe to which the women belong was angered by the video. It convened a jirga of elders a month ago and they found the women and men guilty of violating tribal and Islamic norms by singing and dancing together.
"The jirga did not bother to hear the accused and condemned them to death," Afzal said.
The tribe has raised a fund of Rs 400,000 for litigation that may ensue from the killing of the men and women.
According to the jirga's verdict, the men have to be shot dead first. The women, two of whom have children, are locked up in a room in Seertaiy village.
"They are tied with ropes. They are being starved," said Afzal.
The local police chief confirmed that the jirga had condemned the six people to death.
"I've spoken to the tribal elders and I'll utilise all resources available to stop these executions," said Abdul Majeed Afridi, the district police chief.
Afridi said he had sent a police party to Seertaiy to recover the women.
Afzal voiced doubts about the authenticity of the video and accused his foes of forging it to humiliate his family.
"Since our family is affluent and owns vast acres of forestland, orchards and agriculture farms in Bando Baidar village, they (our rivals) hatched a plot to deprive us of our property," he claimed.
He said the video did not show his brothers and the women dancing together.
Afridi, who claims to have seen the video, agreed with Afzal. He said the women were seen singing folk songs and clapping their hands in a room. On the other hand, the clip showing the men has a different background.
Afzal works as a clerk at the office of Abdul Saboor Usmani, a lawyer who practices criminal law at the Abbottabad Registry of the Peshawar High Court.
Usmani called the jirga's decision a blatant violation of human rights. He added the women were being mentally and physically tormented without having committed any crime.
Afzal said the jirga had no right to condemn somebody to death.
Still, if they believe my brothers have broken some law, let a court of law decide the matter," he said.
http://www.indianexpress.com/story-print/954789/
------------
Dream of motherhood: The world's first womb transplant in Turkey
May 28, 2012
DOCTORS have carried out the world's first successful womb transplant in a breakthrough that could allow thousands of young women to fulfil their dream of motherhood.
Derya Sert, who was born without a womb, received a healthy organ in a seven- hour operation in the Turkish city of Antalya.
Scans show her new womb, which came from a woman who had died in a car crash, to be healthy and working well.
Sert is due to start IVF treatment in Turkey in September in the hope of conceiving a longed- for child.
With Swedish doctors due to start transplants in which a mother donates her womb to her daughter these autumn and British surgeons also close to performing their first operation, many more women could soon have the chance of carrying their own child.
Sert, 22, said: "People ask me now if I want a boy or a girl, but it doesn't make any difference to me, I just want a child, a healthy baby.
"If I had a magic wand, I would want to be pregnant now. I just want to hold my baby in my arms." Her surgeon, who believes womb transplants will become common soon, said some women's desire to be pregnant is so overwhelming that they would take any risk — even death — to have a child.
But fertility expert Lord Winston said the risks are too great and that some women should accept that they won't have a child.
Risks range from rejection of the new womb, to potentially fatal complications of pregnancy. Any baby will have to be delivered by caesarean section and the drugs needed to prevent the womb being rejected can raise the risk of cancer and trigger illnesses like diabetes.
Womb transplants have been carried out successfully in animals including mice, rats and sheep, who went on to have offspring.
The operation has been done on a woman once before, in Saudi Arabia in 2000. But the donated womb, taken from a living donor, withered after three months because the blood vessels used to connect it were too narrow and became blocked by clots.
In August last year, Sert became the world's first woman to receive a womb from a dead donor. Using a dead donor allowed her doctors at Akdeniz University Hospital to remove the extra tissue and large blood vessels needed to give the womb a reliable blood supply.
Like one in every 5,000 women, Sert, a housewife married to a car mechanic, was born without a womb. She had never had periods, but her ovaries were healthy and she could produce eggs.
The farmer's daughter found it difficult to come to terms with the fact that she would never become pregnant and appealed to doctors for help. The operation involved leading plastic surgeon Omer Ozkan and seven other doctors.
Sert spent six months in hospital and was given powerful immunosuppressant drugs to stop her body rejecting the new womb.
Her periods started three weeks after the operation, a signal that the womb is working well. Scans show its lining to be healthy. The true test of success will come in September, when the embryos created from Sert's eggs and her husband's sperm, and frozen ahead of the transplant, will be inserted into her womb. Her husband Mustafa, 35, said: " If the baby is a boy, we'll name him after our doctor." Ozkan has been contacted by women from across the world desperate to have transplants. But he does not plan another operation until he has seen if Sert is able to have a healthy baby.
He said: " This is the first successful womb transplant but the most difficult stage still lies ahead — learning if the patient can become pregnant and have a baby." Josephine Quintavalle, of the group Comment on Reproductive Ethics, called the procedure " a desperate solution to a desperate problem".
Sert will start IVF treatment in September
A RAY OF HOPE FOR WOMEN
Who could benefit from a womb transplant?
Women of childbearing age who were born without a womb or have had it removed due to illness
How is the transplant done?
The process starts with fertility treatment. The woman's eggs are fertilised in a dish to make embryos, which are frozen until the transplant is carried out and her new womb judged ready to carry a baby. The donor's womb, with two major blood vessels, is removed in an operation similar to a hysterectomy and then implanted
What happens next?
The woman given the womb is put on powerful immunosuppressant drugs to prevent it being rejected and, six months to a year later, some of her embryos are taken out of the freezer, thawed and implanted in the new womb.
Any baby will have to be delivered by caesarean section as the new tissue will not stand up to a natural birth.
The long- term dangers of the anti- rejection drugs mean the new womb will be taken out after a few pregnancies
Where does the new womb come from?
Doctors are divided over whether to take the organs from living or dead donors.
Some believe an organ from a living donor may be a better immunological match. But other researchers are uncomfortable with removing a woman's womb for an operation that's not a life- saver
Isn't it horribly risky?
The operation is said to be quite straightforward for a skilled transplant team. The biggest worry is how well the transplanted womb will cope with the strains of pregnancy.
The woman is likely to be at extra risk of a host of complications of pregnancy, as well as miscarrying or having a premature birth.
Critics question whether giving the woman the joy of pregnancy is worth "experimenting" on an unborn child
Mail Today
------------
Christian Jordanian woman refused to wear Muslim head cover and lost her Job
May 27, 2012
AMMAN, Jordan – A Christian Jordanian woman said Sunday she is suing her Gulf Arab employer for arbitrary dismissal after she refused a new dress code forcing her to cover her head.
The incident is rare and could stir religious tensions in Jordan, a predominantly conservative Muslim nation whose Western-educated ruler — King Abdullah II — is perceived as a staunch supporter of moderate Islam and tolerance of other religions.
"We are not in Iran, we are in Jordan, and we must continue to enjoy personal and religious freedoms as stipulated by our constitution," said Vivian Salameh, 45, an assistant manager of corporate operations at the Jordan Dubai Islamic Bank since March 2010 until she was fired a week ago.
"I'm Christian. Why should I wear something not dictated by my religion?" she said in an interview.
Christians make up nearly 4 percent of the country's 6 million population.
Bank spokeswoman Eman Affaneh confirmed that Salameh was fired because "she refused to comply with the terms of her contract, which stipulates that all employees must respect management regulations and bank bylaws."
"We are an Islamic establishment and the dress code is a reflection of our conservative Muslim traditions and values," she said.
Salameh says she had worked for Jordan's Industrial Development Bank for 25 years until it was acquired in 2010 by the Jordan Dubai Islamic Bank — an offshoot of the Dubai Islamic Bank based in the United Arab Emirates. In January 2011, the new management issued a new regulation stipulating a unified dress code for its workers, including waist-to-heel skirts and head covers for female employees.
Salameh accepted the uniform, but refused to wear the head cover on grounds that it violated her religious beliefs and since the contract she signed when she was hired did not oblige her to a dress code.
Affaneh, the spokeswoman, said the headcover "is a fashionable piece of white cloth that shows the hair line — like what women wear in the Gulf Arab countries."
"It's not a headscarf, covering all the hair," she added.
She and Salameh said that five other Christian women employees at the bank accepted wearing the headcover.
When Salameh refused the head cover, "no action was taken against me for nearly 17 months until two weeks ago, when I was suddenly given two notices, five days apart, warning me that I will lose my job if I don't wear the head cover," she said.
"When I stuck by my decision, I was verbally fired last Sunday," she said, adding that she filed a lawsuit against the bank.
The next legal step would be for the court to decide when it would hear the case.
Affaneh, the spokeswoman, says the bank has not been notified of the lawsuit.
"Her contract allows her to do what she wants," she said. She declined to discuss the matter further.
http://www.foxnews.com/world/2012/05/27/christian-jordanian-woman-sues-her-muslim-employer/#ixzz1w967lXMz
------------
Mohabbat-e-Sindh rally Victim dies Defending Herself in Karachi
By Hafeez Tunio
May 28, 2012
KARACHI: Ghazala Siddiqui had just snatched a pistol from a policeman and was about to fire when the men who attacked the Awami Tehreek rally at Napier road got to her first.
"When the Mohabbat-e-Sindh rally came under attack near Denso Hall, seven people were killed," recounted her husband, Mazhar Zardari. "Ghazala was crying for help and asked a policeman to shoot the suspects." When he didn't, she snatched his pistol to try and defend them.
This information came to the family from women who were with Ghazala at the rally on Tuesday, May 22. "My younger brother had fever. Mom dropped him at her friend's house, asked us to complete our homework and then left for the rally," said Abu Zar, Ghazala's elder son.
Her husband, Mazhar Zardari, who works abroad, said that he used to keep in touch with her every day through Skype. "I called on the morning of May 22 and found out that she had left for the rally. I became nervous because she very emotional about the Mohajir province issue," he said. Zardari added that he dialled her mobile number, but got no response at first. "Then suddenly a nurse picked up and said that Ghazala had succumbed to her injuries," he said.
The 43-year-old was working as an assistant manager for the marketing department of Pakistan International Airlines. Her husband currently works for the same organisation as a country manager in Italy. "She was a nationalist by nature and a true lover of Sindh. Her affection was exemplified after the flood in 2010-11," he said. "Not only did she spend most of her time in relief camps in Karachi, but she sold all her jewelry for the cause as well." She was trying to open a vocational training centre for flood survivors living in the Gulshan-e-Maymar camp.
Full report at:
http://tribune.com.pk/story/385030/awami-teheek-rally-attack-victim-died-with-finger-on-the-trigger-of-a-snatched-police-pistol-to-defend-herself/
------------
Egypt's belly dancing troupes, Dancing with Brothers
May 26th, 2012
Not only is the alarm of an "Islamist" clean sweep of Egypt making itself felt in the routine sensational reportage of the foreign media who have been ramping up the notion of no bikinis, booze or tourism for some time now, but locally there are some trades that will feel the pinch more than others. The good denizens of the capital of the Hollywood of the Middle East, are dreading the prospect of a hard-line Muslim rule because it might strangle the arts. Nowhere more so than in the popular national exported trade of belly-dancing.
The spectre of the Muslim Brotherhood, now officially heading the race, seizing the helm of Egypt, is choking the politically, diametrically-opposed current, from the secularist, the leftist to the moderates across the board. It has also paralyzed the less politically-inclined artistic community of the entertainment industry in its wake. A sizeable group of literati, artists and entertainers, not least the belly dancer-brigade, fear that their livelihoods could suffer in a post-revolution dark dawn.
Full report at:
http://www.albawaba.com/editorchoice/egypt-elections-muslim-brotherhood-426882
------------
Yet another acid attack in Pakistan
By Imran Chaudhry
May 28, 2012
LAHORE: Two women, along with a two-year-old girl, received burn injuries when unidentified men hurled acid at them in Islampura area on Sunday.
The women were on their way back from a market when unidentified men on a bike intercepted them and threw acid on them.
The victims were immediately taken to a hospital, where they were given treatment and by the time this report was filed, the doctors had stated their condition to be out of danger.
Punjab Chief Minister (CM) Shahbaz Sharif took notice of the incident and sought a report from the Lahore CCPO.
Following notice from higher authorities, police detained Hasnain, the husband of acid victim Arooj as well as her father-in-law, which multiplied the family's problems.
The family members said they were in turmoil since half of their family was looking after the victims in the hospital while the other half was busy in dealing with police.
According to details, two unidentified motorcyclists threw acid on the women and the child when they were on their way back home. The assailants managed to escape from the scene.
The injured were identified as 24-year-old Arooj, wife of Hasnain, her husband's sister 23-year-old Saba and her two-year-old daughter Fatima. All received burn injuries and were rushed to a nearby hospital for treatment. According to hospital sources, the acid was thrown on their arms and feet, while their faces had been saved.
Full report at:
http://www.dailytimes.com.pk/default.asp?page=2012\05\28\story_28-5-2012_pg13_1
------------
Attack on Afghan School Girls Could be Cases of Mass Hysteria
May 28, 2012
KABUL: Alleged poisonings of Afghan schoolgirls by Taliban insurgents regularly make headlines—but there are signs the incidents could be cases of mass hysteria, say specialists in the field.
In a widely-reported "attack" last week, more than 120 girls from a school in northern Takhar province were rushed to hospital after scores fainted and others complained of feeling ill.
Local officials accused the Taliban—who banned schooling for girls while in power from 1996 to 2001—of contaminating the air with an unidentified "toxic powder".
In two other cases this year alone a "gas attack" and "poisoned water" have been blamed for mass fainting episodes in other schools.
The children are always taken to hospital and usually released shortly afterwards, with authorities vowing to submit samples taken from the girls for analysis.
Usually, nothing more is heard. But enquiries by AFP have found that neither the government nor Nato's military in Afghanistan have discovered proof of poisoning.
Instead an international expert said the cases had "all the earmarks" of mass hysteria.
"So far no evidence or any traces of any kind of poison or gas have been found" in government tests, interior ministry spokesman Sayed Edayat Hafiz said.
A spokesman for Nato's International Security Assistance Force said that at Kabul's request it had collected samples after 200 students were recently reported ill at a high school in the eastern province of Khost.
Full report at:
http://dawn.com/2012/05/28/doubt-cast-over-attacks-on-afghan-schoolgirls/
------------
Taliban deny poison attacks on girls' schools
May 28, 2012
The Afghan Taliban have denied carrying out poison attacks on girls' schools.
A spokesman told the BBC the Taliban condemned any such attack and would punish anyone who carried them out "in line with Sharia [law]".
Militants who oppose the education of girls have been blamed for a string of suspected poisonings in Afghanistan.
In the latest incident, about 40 schoolgirls in Takhar province were taken to hospital complaining of nausea and dizziness.
A day earlier, more than 100 girls from the same school suffered similar symptoms. Police said poisonous chemicals may have been sprayed in the classrooms.
Over the past month, two schools have also been set ablaze in the east of the country.
But spokesman Zabihullah Mujahid told the BBC the Taliban "strongly condemn" such actions "and promise that if we arrest the perpetrators of such actions and cases we will give them punishments in line with Sharia."
Full report at:
http://www.bbc.co.uk/news/world-asia-18227227
------------
Afghan woman pushes for rights from behind the wheel
May 16, 2012
KABUL: The morning after the Taliban fell Shakila Naderi shed her head-to-toe burqa, sat behind the wheel of a car for the first time and asked her husband to teach her how to drive.
Now Kabul's only female driving instructor, she teaches women a rare skill that confronts harsh opposition in ultra-conservative, Afghanistan.
"It bothers men when women drive," Naderi, 45, said from behind her desk in her four-room driving school near Kabul's city centre, decorated with traffic signs and instructions in her native Dari.
"But I wasn't scared of them then and I am not scared of them now," she said, adjusting her green headscarf.
Naderi opened the school four years ago with her husband Iqbal Khan, who as a taxi driver took pity on women he saw struggling to find transportation in a country where many will not speak to men other than relatives.
Full report at:
http://tribune.com.pk/story/379502/afghan-woman-pushes-for-rights-from-behind-the-wheel/
------------
19-year-old German woman enslaved for years in Bosnia
May 28 2012
A teenage German woman has been rescued from a Bosnian couple who are accused of starving and beating her for years and of harnessing her to a horse cart and making her pull it.
The 19-year-old, kept in a hamlet near north-eastern town of Kalesija since 2004, had been taken to safety and the couple had been detained Sunday. Damir Arnautovic, a spokesman for the prosecution in Tuzla, said the woman had been in a bad physical and psychological state and had no papers. She was not named.
He said Milenko Marinkovic, 52, and his wife Slavojka, 45, had been detained on suspicion of treating the woman in an inhuman way, forbidding her any contacts with people, forbidding her to attend school.
The woman's German mother had once been married to Marinkovic, although the woman had a different father. Her mother still lives in the hamlet. Arnautovic said the mother's role was being investigated.
Neighbour Cazim Makalic who tipped off police said the woman was covered in bruises. He once witnessed Marinkovic harness the girl to a horse cart and force her to pull it with him and his friend sitting in it while he whipped her.
http://www.indianexpress.com/story-print/954646/
------------
Role of Islam in 'the making up' of Rabiya, An iron woman of South India
27 May 2012
By Abdul Basith MA
Vellilakkadu, Tirurangadi: "The Kerala society always looked at and the media hyped me as a literacy mission crusader but they always took care to turn a blind eye towards the inspirational role of Islam behind my activities, the role of Islam in 'the making up' of me was never discussed and now I need to do something desperately to convey 'the right message' out of my life. I feel I am nearing death, so visualising my life in a documentary - well in lines with my dreams and ideas - is an important and urgent task before me", says KV Rabiya.
As the documentary is intended at carrying out Da'wat by portraying her life, which she has tried to live according to Islamic principles, she wanted that the documentary should be directed by a non-community member, having an affinity and willingness towards Islam. She was fortunate enough to find such a director in Suresh Iringaloor, and the documentary is under way.
"I believe it is the passion to release this documentary, which still keeps me alive despite all these life threatening diseases I am subject to", says Rabiya.
Full report at:
http://twocircles.net/2012may27/rabiya_iron_woman_south_india.html
------------
Lady Gaga show cancelled after Islamist protests in Indonesia
27 May, 2012
A concert by US pop star Lady Gaga in Indonesia has been cancelled following protests by hard-line Islamic groups, the show's promoters announced Sunday.
About 50 000 tickets had been sold for the Jakarta concert at the Bung Karno stadium. The promoter said tickets would be refunded.
Indonesian police had earlier this month refused to issue a permit for the concert, citing objections from some Muslim groups who deemed Gaga's stage show to be "pornographic" and incompatible with local culture.
Meanwhile, the Islamic Defenders' Front (FPI), a small group known for sometimes violent protests, had threatened to mobilize outside the venue.
"We would like to announce regretfully that Lady Gaga's concert for June 3 cannot be held," Minola Sebayang, spokesman for concert promoter Big Daddy Entertainment, said.
"Lady Gaga is very concerned and respects the people of Indonesia, so she doesn't want anyone to get hurt or fall victim in her show," he said.
FPI spokesman Munarman welcomed the news of the cancellation.
"It's a victory from Allah," Munarman said. "We reject the kind of trash culture and the commercialization of women bodies promoted by Lady Gaga."
Gaga, whose real name is Stefani Germanotta, is known for her eccentric and risque outfits in videos and on stage.
Full report at:
http://www.timeslive.co.za/entertainment/music/2012/05/27/lady-gaga-show-cancelled-after-islamist-protests-in-indonesia
------------
URL: https://www.newageislam.com/islam,-women-and-feminism/new-age-islam-news-bureau/qatari-olympic-women-athletes-spotlight-wahhabi-schism/d/7459