New Age Islam News Bureau
30 Jan 2017
• Saudi Women Allowed To Operate Food Carts in Jeddah
• Call for Pakistani Women Participation in Economic Activities
• Wearing A Hijab Isn't the Way You Should Show Support for Muslim Women
• World Hijab Day: Irish Woman Who Became Muslim Shares Story
• Fatwa against BJP Leader, S K Muddin, For Remarks on Triple Talaq
Compiled by New Age Islam News Bureau
URL: https://newageislam.com/islam-women-feminism/push-change-mindset-saudi-women/d/109890
-------
Push To Change Mindset of Saudi Women in Sports
January 30, 2017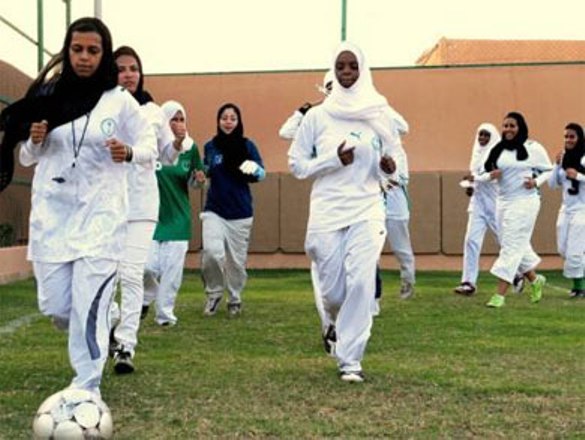 Saudi members of the King's United women football club training in the Red sea port of Jeddah
Manama: When last year Princess Reema Bint Bander was appointed in August to head the new department for women under the General Authority for Sports and its efforts to encourage women to get actively involved in sports, many in the country saw this as an opportunity to act.
Thats why Maali Al Abdely, the head of Jeddah United, a sports company founded in 2006 in the slightly more liberal Red Sea city, decided it was time to promote sports among women.
But the task proved to be more challenging than she expected.
"There are many obstacles: Schools are not equipped with stadia and halls and we do not have enough sports staff since there are no women university graduates in physical education. More ominously, a large section of the society flatly refuses the concept of sports and physical exercises for women. They lack awareness about the significance of sports and exercises for women," Maali said.
Investment in sports will help Saudi women better use their energy, time and efforts while keeping themselves busy and fighting idleness, she added.
"Working out will help keep Saudi women fit and reduce their physical woes resulting from a deplorable lack of exercise. It will also help them fight depressions, disappointments and menopause."
Sports critic Madani Rahimi said there were new steps to reinforce the status of sports for women in the country, but many clubs are not openly promoting it.
"There are now clubs for women and several kinds of sports are being exercised there, but it is usually in a timid way," he said.
"It is about time such clubs emerged in the open and got official support from the state. The first step should be at all public schools and physical education must become a requirement for all students. It should be considered as a national issue to preserve the physical and mental health of young people and teenagers. The second step should be to open up clubs as a fertile ground for investments and I am confident that clubs that are run properly will be hugely popular among women."
"We really deplore the absence in our society of a culture that promotes sports as a crucially stabilising factor in women's lives. Many families see sports as a luxury that they do not need, while several other families consider it as an alien phenomenon that can lead only to trouble. We do need to change the way families look at sports for women and help them appreciate its role in building characters and giving bodies the strength they need," said Rotana, a college student.
Noof Al Ghamdi, another Saudi woman, said that there were formidable difficulties in having physical education in all the schools for girls.
"Many of the public schools in fact are too small to have enough space for sports activities, and besides they do not have the appropriate equipment. However, in private schools, the opportunities and the equipment do exist, but such institutions are too expensive and charge fees that not all families can afford."
For basketball player and coach Reem Hamza, women are still suffering from discrimination in sports.
"Physical exercises are the best guarantees for a fit body free of diseases," she said. "They give the body the stamina and the strength it needs. They also help in building characters and in instilling in people fortitude and patience. They allow women to better resist diseases caused by laziness and lack of fitness."
Reem said that most girls were keen on learning self-defence "to be able to deal with any possible harassment."
"They want to improve their physical stamina and fitness so that they can acquire the necessary strength to engage in rigorous self-defence training sessions."
Such plans, no matter how carefully they are drawn, will have to overcome the stiff opposition of people those who are categorically opposed for women taking up sports.
"The West is adamant to erode the values of the Saudi society and promoting sports for women is one of the steps it is taking to achieve its aim and undermine the religious dimension of Saudi women," Dr Mohammad Al Saeedi, the head of intellectual awareness at a university in Riyadh, told Saudi news site Sabq.
Speaking in Rio de Janeiro where she was providing full support to the four Saudi women competing in the 2016 Olympic Games, Princess Reema, 41, showed a deep understanding of her society and highlighted the need to create opportunities not clashes in the cautious drive to overcome hurdles and obstacles.
"I understand that from an international point of view they might not think we are moving fast enough. But one thing they need to absolutely understand in the Middle East is that it is an elastic community. If we pull too fast, you break that elastic," she said.
http://gulfnews.com/news/gulf/saudi-arabia/push-to-change-mindset-of-saudi-women-in-sports-1.1969494
-------
Saudi women allowed to operate food carts in Jeddah
30 January 2017
Saudi women in Jeddah are now allowed to sell food on street carts, according to reports.
Saudi Gazette cited Jeddah municipality spokesperson Mohammad Al-Bugami as confirming the change after licensing a street cart owned and operated by a Saudi woman.
The cart was one of a group of 24 recently granted annual licences and is stationed in the Taiba district, he said.
This follows a street cart project by the Social Development Bank that began in Jeddah, providing SAR250,000 (66663) in financial support regardless of the gender of the owner.
Street carts have permission to operate Thursday, Friday and Saturday in front of Kanz Ubhor in South Ubhor, according to the publication.
They are banned from moving around or standing in front of schools, inside neighbourhoods, near garbage dumps or on sandy roads.
Sellers must be Saudi over the age of 18 with valid health licences showing they have no transmittable diseases.
In the last 12 months a number of new positions have opened to women in the country as it seeks to employ its female workforce.
http://gulfbusiness.com/saudi-women-allowed-operate-food-carts-jeddah/
-------
Call for Pakistani Women Participation in Economic Activities
January 30, 2017
Islamabad - The Federation of Pakistan Chambers of Commerce and Industry (FPCCI) on Sunday said all necessary steps shall be taken to ensure full participation of women in all spheres of national life. Women comprise more than 50 per cent of Pakistan's total population but they are not getting due attention of the policymakers resulting in systemic gender subordination, said Masooma Sibtain, Vice President FPCCI.
She said this while speaking at a workshop regarding participation of women in economic activities. Ambassadors, VP FPCCI Mian Shaukat Masood, President IWCCCI, Chairman Coordination FPCCI Malik Sohail and representatives of different organisations were also present on the occasion. Sibtain said that there have been attempts by the government and enlightened groups to elevate status of women in society but the current situation is far from satisfactory. She said that women empowerment is a basic need of Pakistan today. Creation of a society where women can take independent decisions for their development and the welfare of society are imperative. Government is taking significant steps to empower women, which is a prerequisite for the national development but a lot is to be done, she added.
FPCCI will fully support all women empowerment initiatives to express our commitment to strengthen the women, she said adding that business and expos are good tools to empower women.
Government as well as business community should support women entrepreneurs, strive to end gender discrimination and mobilise the collective strength of women to turn fate of this country around, she observed.
Masooma Sibtain said that FPCCI wants active participation of the private sector to boost capacity of the women to ensure good future for our next generations.
http://nation.com.pk/islamabad/30-Jan-2017/call-for-women-participation-in-economic-activities
-------
Wearing A Hijab Isn't The Way You Should Show Support For Muslim Women
01/29/2017
his piece by Shireen Ahmed originally appeared on The Establishment, a new multimedia site funded and run by women.
Gendered Islamophobia — targeted violence against Muslim women — has reached a terrifying level in Western society. Current political rhetoric is toxic, and according to a report from Georgetown University, attacks on Muslims in 2016 increased to the highest level in the last 15 years.
Women who choose to wear hijab, a headscarf (or turban or loose-fitting clothing) that covers the hair and neck, are often immediate targets for violent and verbal assaults. In response, some non-Muslim allies have taken it upon themselves to wear hijabs as an act of solidarity.
But while this may seem like a tangible way to express support, in reality, lasting change requires a lot more work than draping material over your face and hair.
Moreover, and unsurprisingly, this act of unanimity did not start with Muslim women, even if they choose to support this type of action. And that is a problem.
Lasting change requires a lot more work than draping material over your face and hair.
In November, CNN anchor Alisyn Camerota caused a ruckus in the "alt-right" (read: white supremacist) media circuit by publicly suggesting that non-Muslim Americans should wear hijabs in solidarity with their fellow Muslim citizens. More recently, actress Kathy Najimy, a non-Muslim woman, decided to speak up for her "about-to-be-disenfranchised Muslim sisters" by declaring her intention to sport a headscarf on inauguration day. As she explained to People magazine:
"I saw a woman with an hijab, and I thought, how can she know that I support her without going up and embarrassing her? So I thought, what if we wore them on Inauguration Day?"
Perhaps Camerota and Najimy intended to be helpful — but the fact is, if the ideas don't come from Muslim women, they are shallow.
In the case of Najimy, instead of engaging with the Muslim woman she saw (or, for that matter, one of the women who help make up the Muslim-American community of approximately 3.3 million), she determined what she thought would be best . . . a classic case of the savior mentality.
This may come as a shock to non-Muslims, but engaging in a conversation and asking the opinions of a Muslim woman is not "embarrassing." From my perspective as an actual hijab-wearing Muslim woman, it would be a relief to be spoken to — as opposed to spoken for.
In an email, Dr. Fatimah Jackson-Best, a public health researcher and consultant with expertise in mental health, emphasized that Muslim women should always dictate what is wanted and needed in terms of solidarity:
"It's the responsibility of non-Muslim women to ask what they can do to assist us. If a non-Muslim woman doesn't know what Muslim women need or want in terms of solidarity, then it means you probably don't know enough of us. And that may be the place for you to start doing some deep thinking and change-making, rather than immediately looking to make a show of solidarity."
In addition to de-centering Muslims, calls from non-Muslims to wear hijabs detract from what matters: breaking down racist, xenophobic, and misogynistic systems. Wearing a stylish scarf for a few hours is insufficient in addressing the lifetimes of oppression and bigotry that Muslim women face. As I previously wrote on the Muslimah Media Watch blog:
"This exercise reduces a Muslim woman to one yard of material. It is not an action that one can adequately educate and put another woman in their position. It's completely disingenuous to think so."
Darakshan Raja, co-director of the Washington Peace Center and an activist committed to fighting violence against women, notes that allies wearing hijab "take attention away from putting pressure on institutions. They center the guilt of the ally [instead of centering] justice around the Muslim women who have been wronged."
It is also crucial to remember that not all Muslim women wear hijab — in fact, many do not. Muslim women may wear burkinis, bikinis, or burqas to observe their faith . . . or they may not. I wear a scarf because I feel it is an obligation as a Muslim woman; that is my interpretation and my right. I would not force another women to veil, nor would I expect her to unveil. It is her choice. Full stop.
It would be a relief to be spoken to — as opposed to spoken for.
For many Muslim women, wearing hijab is an extremely personal choice. And if showing solidarity only reflects the reality of a few, it isn't solidarity at all. Only recognizing hijab-wearing Muslim women erases the experiences of thousands of Muslim women who do not cover, but are hardly immune to Islamophobia as a result.
As Dr. Jackson-Best puts it:
"Muslim women are living and breathing our rights and manifesting our agency and autonomy every day, and non-Muslim women must acknowledge that by recognizing the diversity in the ways we choose to represent ourselves."
Anyone actually affected by oppression could tell you that demonstrative white feminism is not the solution to gendered Islamophobia. As Raja says, "So many layers of how hijab is being co-opted by political liberals and even Islamophobes . . . [are] as tools to talk about how progressive they are." And just talking it not nearly enough.
Wearing a hijab in solidarity may lead to compelling photo-ops, but these ultimately offer little substance. The action does not affect policy or organizational structures, and it doesn't help to dismantle unjust systems that cause distress to so many women of color within the wider Muslim community.
So what can non-Muslim allies do? A lot. And they can start by empowering and amplifying Muslim women themselves.
There are Muslim women mobilizing and organizing in various social justice circles. There are websites dedicated exclusively to the voices of Muslim women, including Muslimah Media Watch (I am a contributor) and Muslim Girl. The Women's March includes a handful of Muslim women as featured speakers—some of whom wear hijab, and some of whom do not.
Allies can also support self-defense seminars that have been organized by Muslim women (myself included) in the United States, Canada, and Europe. They can participate in workshops on solidarity. They can directly help Muslim women during an assault. They can make phone calls, petition different levels of government, protest, and support campaigns at local Islamic centers and mosques.
Raja notes that financial support for grassroots initiatives is also key. "Muslim women have organized self-defense rapid-response seminars, but to my knowledge, not a fucking dime had been given by mainstream feminist agencies," she says. "We must build and support grassroots organization for Muslim women."
Supporting Muslim women can be done without wearing a headscarf. It can be done in track pants, a miniskirt, or a ball gown.
Perhaps most importantly, non-Muslim allies must confront their own biases and push themselves to learn more and do better. "We live in a time where many of us know the right things to say… in public," says Dr. Jackson Best. "But privately we are just as guilty as people who are openly discriminatory or racist. Getting real about what you think of Muslim women and gendered Islamophobia is a necessary place to start that internal work. And then don't stop there. Get educated and informed. Read the many many works by diverse Muslim women that are available for free online."
Supporting a plethora of Muslim women can be done without wearing a headscarf. It can be done in track pants, a miniskirt, or a ball gown. It is possible to show solidarity with Muslims without appropriating their clothing.
Every Muslim woman may not agree on this issue, because as it turns out, we are not a monolith. But our voices are powerful and our spirits are indomitable.
If women who do not identify as Muslim sincerely want to support us, they might consider putting away the scarf, and listening to and following us — instead of excluding us from the conversation we should be leading.
http://www.huffingtonpost.com/entry/wearing-a-hijab-isnt-the-way-you-should-show-support_us_588e72afe4b0cd25e4904a5c
-------
World Hijab Day: Irish woman who became Muslim shares story
January 30, 2017
Brigid Aylward from Mullinavat, Co Kilkenny became a Muslim in 2008 but it wasn't until she started wearing the hijab two years later that she felt like a full member of her new community.
"Everybody is on their own journey. If a [Muslim] woman decides they can't cover or doesn't want to cover, nobody will say anything to them. It can't be forced," she says.
"For the two years I didn't cover, I used to feel bad that I wasn't identified as a Muslim. It was an identity thing. Now, I actually love it."
This is one of the reasons why she accepted an invitation to participate in an event at Waterford Institute of Technology (WIT) this Wednesday to mark World Hijab Day.
She and other members of the local Islamic community will meet students and staff at WIT, giving information about their religion and the hijab in an attempt to dismantle some misconceptions they say have grown about Islam and its beliefs and customs.
Fighting prejudice
Organised by lecturer in world religions Colette Colfer, the event will include public talks and a display of different hijabs which can be tried on.
It is the only registered event taking place in Ireland as part of World Hijab Day, which was set up in 2013 by New Yorker Nazma Khan to fight prejudice and discrimination against Muslim women.
"I think it's a such a real opportunity, and that's how to perceive it; to hear about Islam and life as a woman wearing the hijab," Ms Colfer said. "It's one thing me telling [students] about it, but another thing to hear about people living it."
There has been some negative reaction to this week's event, she said, but mostly "people are interested in it and finding out more" about the religion. "There are so many misconceptions out there about Islam."
A paediatric nurse in Waterford city, Ms Aylward converted to Islam after she worked in Saudi Arabia in 2007. She had already spent time questioning the Catholic faith she was born into.
"When I went to Saudi first, I was thinking the women are completely blocked out from society and how could they cover themselves like that, but at the same time I had an open mind. I was working in a children's ward in the hospital and got to know the women behind the cover.
Family supportive
"They were so poor but so kind and it was this kind of gratitude and kindness that made me decide I needed to know more about their religion."
Shortly afterwards she met her Egyptian partner, now husband, Magdi. They now live in Ireland with their four young children: Yussef, Saif, Yasmeen and Raiyan.
Her own family back in Mullinavat have been supportive although her siblings and friends were initially dubious about her decision to convert, Ms Aylward said.
"The one person I was always conscious of was my mum and how she would take it. I have to say, she was one person who never told me not to do anything. She understood, when I was making this decision, to trust me to know it was the right decision for me." She has "never" had any negative reaction in Ireland to the hijab, or her religion, she said.
"Some people think it's because of my husband and I say, 'no, it's completely for me'. Nobody can do anything in life without doing it from their heart. If I put that scarf on for my husband, I would hate it."
http://www.irishtimes.com/news/social-affairs/religion-and-beliefs/world-hijab-day-irish-woman-who-became-muslim-shares-story-1.2955492
-------
Fatwa against BJP Leader, S K Muddin, For Remarks on Triple Talaq
January 28, 2017
Jabalpur: City-based Darul Uloom Ahle Sunnat (DUAS) has issued a fatwa against BJP leader S K Muddin ostracising him from the community over his triple talaq remarks with the latter today hitting back saying he is going to file a defamation suit against the decree.
Sunnis' Barelvi sect Islamic Study Centre's DUAS Mufti (cleric) Mohammad Asrar Ahmed Ashrafi issued the fatwa against Muddin, who is the MP Backward Classes and Minority Finance and Development Corporation vice president, on January 23 to ex-communicate him over his remark on triple talaq which he described as anti-Islamic.
A week ago, Muddin, along with two others — Naseem Bain and Shakir Quereshi while addressing a press conference had said that triple talaq was against Shariat laws.
The fatwa says that if the trio apologises for their remark, they will be pardoned and allowed back into the community's fold.
"We are with Shariat but against the triple talaq, which is against the tenets of Islam," Muddin told PTI today.
"We are going to move court and file a defamation suit against the issuance of fatwa," he added.
http://www.siasat.com/news/fatwa-bjp-leader-remarks-triple-talaq-1119716/
-------
URL: https://newageislam.com/islam-women-feminism/push-change-mindset-saudi-women/d/109890
New Age Islam, Islam Online, Islamic Website, African Muslim News, Arab World News, South Asia News, Indian Muslim News, World Muslim News, Womens in Islam, Islamic Feminism, Arab Women, Womens In Arab, Islamphobia in America, Muslim Women in West, Islam Women and Feminism, Moderate Islam, Moderate Muslims, Progressive Islam, Progressive Muslims, Liberal Islam