New Age Islam News Bureau
27 Nov 2013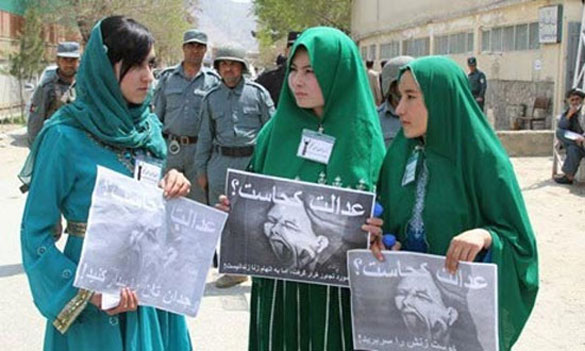 Young Women for Change (YWC) in Kabul
---------
• Edmonton Police Plan to Offer Hijab Option for Female Muslim Officers
• Hafiz Program Being Abused By Educated, Idle Women
• French Veil Law: Muslim Woman's Challenge in Strasbourg
• Rochdale Community Discuss Wearing Of the Niqab
• Pak Girl Guides without Funds
• Pak Govt Asked To Reinstate 33 Per Cent Quota for Women
• Sportswomen: Muslim Women's Sport Foundation Facing Cash Crisis
• IIUI to Hold International Conference on 'Women Role in Muslim Societies'
• Turkish Employers See Losing Women as Erdogan Plans More Births
Compiled by New Age Islam News Bureau
URL: https://newageislam.com/islam-women-feminism/public-stoning-consideration-latest-setback/d/34620
-----------
Public stoning consideration is latest setback for Afghan women's rights
Emma Graham-Harrison
25 November 2013
Twelve years after the fall of the Taliban, Afghanistan's government is considering bringing back a gruesome spectacle that became synonymous with Islamist cruelty: the use of public stoning as a punishment for sex outside marriage.
The sentence for married adulterers, along with flogging for unmarried offenders, appears in a draft revision of the country's penal code being drawn up by the ministry of justice.
It is the latest in a string of encroachments on hard-won rights for women, after parliament quietly cut the number of seats set aside for women on provincial councils, and drew up a criminal code whose provisions will make it almost impossible to convict anyone for domestic violence.
Activists fear that as western troops head home, taking with them both money and the attention of the voting public back home, conservatives are making headway in undermining rights they see as a foreign imposition.
"It is absolutely shocking that 12 years after the fall of the Taliban government the Karzai administration might bring back stoning as a punishment," said Brad Adams, Asia director at Human Rights Watch. "President Karzai needs to demonstrate at least a basic commitment to human rights and reject this proposal out of hand."
A translated section of the draft seen by the Guardian has several references to stoning, including detailed notes on judicial requirements for handing down the sentence.
"Men and women who commit adultery shall be punished based on the circumstances to one of the following punishments: lashing, stoning [to death]," article 21 states. The draft goes on to specify that the stoning should be public, in article 23.
A working group including officials from the UK and US embassies, the United Nations and other international bodies is supervising the slow process of trying to unify a fragmented penal code, which has already dragged on for over a year, a source connected to the process said.
The provision on stoning was drawn up by a sub-committee working on Sharia law, and has not yet been put to the main working group for approval. But its inclusion even in the draft is a warning sign that conservative judges and lawmakers are feeling bolder, women's rights campaigners said.
Although current Sharia provisions make reference to physical punishments, or Hudud, mandated under Islamic law, they do not specifically mention stoning, said Wazhma Frogh, executive director of the Research Institute for Women, Peace & Security.
"In the whole history of Afghan law we never had an official punishment of stoning … we are very worried about the return of the Taliban-like treatment of women."
It will be hard to campaign against the sentence being enshrined in national law now though, she warned, because critics in the conservative nation would leap to accuse them of defying Islam.
"It has been a punishment under Sharia, so its almost impossible for many of us to take a public position [against it]," she said. "We as women's organisations have to come together, but at the same time it's very scary."
Although stoning is on the penal code of neighbouring Iran, it has been banned in many Muslim-majority countries including Morocco, Algeria and Indonesia.
And when a video surfaced a year ago of a young woman being stoned to death in an insurgent-controlled village a few dozen miles from Kabul, it was strongly condemned by government officials as well as rights groups and diplomats.
A senior official at the ministry of justice confirmed there was a provision for stoning in the sharia provisions of the draft penal code, but said the cautious drafting process was barely half complete.
"40% or 50% of this code is complete," said Dr Abdul Raouf Herawi, head of the department for new legislation. He said the evidence standards for stoning offered rigorous protection.
"Stoning is very sensitive in Islam, there are a lot of conditions … for example there must be four eyewitnesses who are absolutely sure, if just one is even a little unsure then it won't go ahead."
When the draft is complete, and approved by the working committee, it will be reviewed by the ministry before going to the presidential palace and then finally to parliament for approval.
EUPOL, the European Union police mission that chairs the Criminal Law Reform Working Group, said the "restoring of Sharia law" had not been discussed on any committee its representative sat on.
The US embassy declined to comment, the UN did not respond to requests for comment and the UK embassy said it would "continue to work with the Afghan government to carry out legal reform in a way that is compliant with international human rights standards".
http://www.theguardian.com/world/2013/nov/25/public-stoning-womens-rights-afghanistan-government-adultery
-----------
Edmonton police plan to offer Hijab option for female Muslim officers
By Steve Mertl
25 Nov, 2013
Brace yourself for a spirited and, at times, probably uncivil debate as Edmonton police prepare to introduce a Hijab option for its uniform in a bid to recruit Muslim women.
The National Post reports the Edmonton Police Service plans to include the Hijab as optional headgear as early as next year.
"Several prototypes have been created and are now being tested to ensure officer safety and other considerations," the department said in an news release.
"It is important that anyone who has a calling to serve and protect Edmontonians, and who passes rigorous police training standards feel welcome and included in the EPS."
While much of Alberta is typically thought of as having very conservative values, it should be noted that Edmonton historically is not as conservative as the rest of the province, regularly electing Liberals and New Democrats to Parliament, as well as the provincial legislature.
And for the record, it's not the first Canadian police service to introduce the headscarf worn by many devout Muslim women. The Toronto Police Service opened the door to Hijab-wearing officers in 2011 and has actively worked at recruiting female Muslims to the force, QMI Agency reported at the time.
To be fair, the force didn't exactly trumpet that change. A subsequent news release on the swearing in of new auxiliary police officers buried the fact recruit Mona Tabesh was "the first woman to wear a Hijab in a Toronto Police Service uniform."
Toronto's initiative drew a predictable reaction from traditionalists. Toronto Sun guest columnist David Menzies saw it as political correctness, an unreasonable extension of reasonable accommodation to the city's multicultural reality.
"Indeed, just how far do we take reasonable accommodation in the police department?" Menzies wrote.
"Do Muslim police officers reserve the right not to work with the Canine Unit, given that many Muslims consider dogs 'unclean?' Will ham sandwiches be banned from police stations due to dietary restrictions?"
Edmonton Councillor Scott McKeen called his city's initiative a "gesture of inclusion" toward the local Muslim community that sometimes feels "skittish" at times because of Islamophobia.
"One of the perceptions about Edmonton and Alberta is that we're kind of redneck," McKeen told the Post.
Offering the Hijab as an option for police recruits, especially in the absence of any political pressure, "is sort of saying we want to have a diverse police service that reflects the diversity and multicultural aspects of Edmonton…. I'm proud of us."
McKeen observed the decision is in striking contrast to Quebec's move, via its proposed values charter, to bar the Hijab and other overt religious symbols from being worn by public servants.
The move is a "natural evolution" for policing in Canada, executive director of the National Council of Canadian Muslims Ihsaan Gardee told the Post, comparing it to the introduction of the Sikh turban to the RCMP uniform in 1990.
That change triggered heated debate at the time and still rankles in some quarters, but most people now take it for granted.
Muslim policewomen in London, England's Metropolitan Police Force have been allowed to wear a Hijab since 2001.
"We know of many Muslim women who had thought of joining the Met, only to be put off when they were told they could not wear the Hijab," Mahammad Mahroof, of the Association of Muslim Police told the Guardian at the time. "Hopefully, having this option will encourage more to become police officers."
Other British police forces have since implemented the change.
"The move is seen as a further sign of official acceptance of Britain as a religiously diverse society where faith-related accommodations should be made for all individuals," says a Facebook page on the topic.
In Canada, Canada Border Services Agency and the armed forces permit the Hijab as part of the uniform.
http://ca.news.yahoo.com/blogs/dailybrew/edmonton-police-plan-offer-Hijab-option-female-muslim-233505889.html
-----------
Hafiz Program Being Abused By Educated, Idle Women
27 November 2013
The Hafiz program, which doles out SR2, 000 per month to unemployed Saudis, has come as a blessing in disguise for those who are short of cash and are not keen on working, particularly women.
Several Saudi men and women, taking advantage of the system, have enrolled themselves in the program and have been receiving the monthly allowance.
This, under Saudi laws, is a crime since it amounts to manipulation of the system besides depriving others who are genuinely in need of assistance from getting it. Under the Hafiz program, unemployed Saudis get SR2,000 ($533) a month for up to one year. The program was introduced in late 2011.
A study presented at the Riyadh Economic Forum revealed that the number of unemployed Saudis looking for jobs as per the Hafiz database was 1.6 million, with women alone accounting for 1.2 million. This means that 78 percent of Hafiz beneficiaries are Saudi women.
The Hafiz database also showed that 253,613 of the women had bachelor's degrees and most of them had majored in social sciences, Islamic studies, literature, natural sciences and education.
Says Lama K, a stay-at-home mother: "I am a graduate. My husband's income is low and we hardly make enough money to pay our rent. It seemed a good idea for me to help him out by enrolling under Hafiz, to add to the income for our family."
Admitting that it was illegal, she said: "I don't believe I have committed a mistake since it is hard for both of us to go to work and leave the children at home. It feels great when I receive the money and give it to my husband to make payments."
In the case of Jawaher O, a part-time teacher, the idea came when her husband went into deep debt and her job wasn't paying much. "It's not easy to manage if we make less than SR5,000 because rent is so high and other payments like instalments for car. To supplement the family income, I decided to work in a Jeddah-based college which pays just SR2,000. I then enrolled in the program and now I make SR4,000 a month which is helpful," she said.
"The college pays me through a check and the ministry would deposit the money in my bank account. It is a great arrangement," she added.
Hanan A, stay-at-home mother, decided to enroll in Hafiz after her mother-in-law told her she had to do it to pitch in with additional income. "I did not know that my husband needed financial support but every time I needed to buy something, he would ask me to put it off till the next month. My mother-in-law said I should enroll in the Hafiz program and that I could use the money on myself," she said.
"I was happy with the idea, but I ended up paying bills and helping my husband with the bills instead of buying what I really wanted," she added.
Saudi lawyer Mohamad Nayta says women taking advantage of the program is legal loophole in Hafiz. This deprives those who are seriously in need of the money till they find a suitable job. "Taking advantage of it is illegal. Those who indulge in it lack education and knowledge, besides not showing any responsibility toward the community. Such people are not only making it difficult for the government to solve the unemployment problem, but are making it worse by manipulating it and taking something that is not theirs," he said.
Nayta suggested that women who are taking advantage of Hafiz should realize it is only a temporary solution, and that they should have long-term plans to secure their future.
"Most Saudis do not understand the aim of the unemployment allowance. Hafiz is a program that helps Saudis till they land jobs, and not charity from the king," he said.
In 2011, the Ministry of Labor had said that the unemployment list had 560,000 Saudi women against 140,000 Saudi men, a discrepancy that sparked a debate on unemployment among Saudi women. Some Saudi men accuse women of registering in Hafiz without ever having looked for a job.
http://www.arabnews.com/news/483821
-----------
French veil law: Muslim woman's challenge in Strasbourg
27 November 2013
A young Muslim woman is challenging France's full-face veil ban at the European Court of Human Rights, based in the French city of Strasbourg.
The woman argues that the Niqab, and the Burqua body covering, accord with her "religious faith, culture and personal convictions".
She denies being under any pressure from her family to wear them.
A leading French feminist group has urged the ECHR to uphold the ban, arguing that it liberates women.
"The full-face veil, by literally burying the body and the face, constitutes a true deletion of the woman as an individual in public," the head of the International League for Women's Rights, Annie Sugier, said in a letter to the court.
France banned the public wearing of most face coverings in 2011, setting fines for offenders of up to 150 euros (£126; $203).
The country is home to the biggest Muslim minority in Western Europe, accounting for about five million people, or nearly 8% of the population. Most have origins in France's former North African colonies.
'A symbolic violence'
Continue reading the main story
"
Start Quote
Those who do not wear it feel insulted by this sight reminding them of the enclosures suffered in the past"
Annie Sugier
International League for Women's Rights
According to the ECHR, the woman argues that her right to "freedom of thought, conscience and religion" is violated by the law.
The law, she contends, gives rise to "discrimination based on gender, religion and ethnic origin, to the detriment of women who, like herself, wear the full-face veil".
She is not named in the document but is described as being a French national who was born in 1990 and lives in France.
The complaint was brought to the court in April 2011, when the law came into effect.
Ms Sugier, whose organisation was founded by the feminist writer Simone de Beauvoir, said the law was "in no way contrary to freedom and dignity".
Instead, she said, it was aimed at the "liberation" of women because the wearing of veils was "totally incompatible with the very idea of equality".
"How can one not see that to wear the full veil is also a symbolic violence to other women?" she added. "Those who do not wear it feel insulted by this sight reminding them of the enclosures suffered in the past."
Supporters of the law argue that Islam does not stipulate the wearing of a veil.
However, some human rights campaigners have condemned the French law. Amnesty International, for instance, has argued that it violates women's "rights to freedom of expression and religion".
According to France's Le Figaro newspaper, the court's ruling is not expected until the middle of next year.
http://www.bbc.co.uk/news/world-europe-25118160
-----------
Rochdale community discuss wearing of the Niqab
27 Nov 2013
The wearing of a religious veil will be discussed at a conference in Rochdale. The niqab covers a Muslim woman's head and face apart from the eyes, but not the entire body. Members of the community will have the chance to speak to women who wear the niqab.
http://www.itv.com/news/granada/update/2013-11-27/rochdale-community-to-discuss-wearing-of-the-niqab/
-----------
Pak Girl guides without funds
November 27, 2013
LAHORE - Punjab Girls Guide Association Commissioner Nafeesa Sikandar Malhi has said the provincial government is not releasing the allocated funds for Murree training centre, delaying the project. She said the government should association as the society could not progress without development of women. Nafeesa Sikandar along with Dr Tahira Hussain, Shamsa Murtaza Maqsood Chughtai, and others were talking at the concluding session of six-day guide service camp. On the occasion, girl guides were awarded in various competitions.
http://www.nation.com.pk/pakistan-news-newspaper-daily-english-online/lahore/27-Nov-2013/girl-guides-without-funds
-----------
Pak Govt Asked To Reinstate 33 Per Cent Quota For Women
By Hassan Naqvi
November 27, 2013
LAHORE: Women should be directly elected to reserved seats under a joint electorate system so that they can create their own constituencies. They should also be allowed to contest on general seats, participants of Mumkin, an alliance of 17 NGOs working to prevent violence against women, said at a discussion on the reduction of the number of seats reserved for women in the forthcoming local government elections, at Shirkat Gah on Tuesday.
The participants said that 33 per cent seats should be retained for women, as provided in the 2001 local government system, at all tiers. The size of the councils should allow participation of at least three or four women.
The alliance demanded party-based elections as "this will help strengthen the political process at the grassroots level".
They said councillors should be treated equal regardless of whether they were elected to general seats or nominated to reserved seats.
The representation of women from religious minority groups should also be ensured at all tiers. They also demanded quotas for women farmers and workers. Sufficient funds should be provided to local governments for women's development schemes.
They said a mechanism should be provided to address grievances at the local body level. They demanded 33 per cent representation for women in ancillary bodies and in the Federally Administered Tribal Areas.
Shirkat Gah Advocacy and Communication Director Fauzia Viqar, on behalf of the alliance, said the Local Government Ordinance 2001 had provided 33 per cent seats for women. This had allowed more women to take decisions at the grassroots level. It had also provided a platform to several women who later entered provincial and national level politics, she said.
Viqar added that despite its shortcomings, the 2001 system provided a platform for women politicians to play an effective role despite opposition from men in many areas.
The new local government legislation had significantly reduced the representation of women, Viqar said.
She said the representation of women had been reduced from 33 per cent to 10-20 per cent at various tiers of the local governments in the Punjab and Sindh.
Women will be elected directly on the basis of adult franchise at the lowest tier of government, she said.
Viqar said indirect election for upper tiers of the local government could deprive women, from marginalised groups, of representation.
She said this violated the government's commitment to incorporate women into the political mainstream; Article 34 of the Constitution, that guarantees participation of women in national life; Article 25 that provides equality of citizens and measures for the protection of women and children; the International Covenant on Civil and Political Rights ratified in 2010 and the Convention on the Political Rights of Women, ratified in 1954.
Salman Abid of the Strengthening Participatory Organisation said the Punjab Local Government Act 2013 provided two seats out of 13 seats for women in union councils. He said this was a drastic decrease from the 33 per cent quota.
The Aurat Foundation, Simorgh, Shirkat Gah Women Resource Centre, Pakistan Catholic Women's Organisation, National Commission on Justice and Peace, Strengthening Participatory Organisation (SPO), AGHS Legal Aid Cell, Women Workers Helpline, South Asia Partnership- Pakistan, WAR against Rape, Action Aid Pakistan, Home Net Pakistan, Women Empowerment Group, Human Rights Commission of Pakistan, Medecins du Monde-France, ASR Resource Centre and UNIFEM Rep are part of the Mumkin alliance.
Published in The Express Tribune, November 27th, 2013.
http://tribune.com.pk/story/637463/local-bodies-govt-asked-to-reinstate-33-per-cent-quota-for-women/
-----------
Sportswomen: Muslim Women's Sport Foundation facing cash crisis
November 26, 2013
One of the leading figures in promoting participation in sport among Muslim women has warned they may be unable to carry on their work if they are unable to secure new funding.
Rimla Akhtar, chair of the Muslim Women's Sport Foundation (MWSF), has revealed they cannot continue supporting their projects beyond the spring if they are unable to access non-Lottery money.
The foundation has made great strides in enabling Muslim women to become actively involved in sport, with a £235,000 grant from the Football Foundation allowing them to deliver the 'Born To Succeed' project, which offers crucial training and support.
Their work has also been recognised at a wider level, with the MWSF presented with the Mosaic Award by HRH Prince Charles for helping to inspire young people from deprived communities.
But the Muslim faith means the foundation is unable to accept funds which are related to gambling and with much of the funding for charitable organisations coming from the National Lottery, Akhtar fears they may miss out.
"The problem for us at the moment is that people from a faith and others, from a moral perspective as well, cannot access lottery funding," she said.
"The amount of lottery funding is increasing all the time and the amount of other funding is decreasing.
"We are finding it very difficult at the moment and in fact our activities and delivery are likely to stop from March onwards because the authorities don't have the funding to support us that isn't lottery funded.
"We are always looking for either private businesses or non-lottery funding to support us.
"It's a case of people seeing what we do, believing in it, and saying 'yes, we would like to support what you are doing'."
The MWSF has a "No Excuses" policy, which refuses to accept that barriers to participation are insurmountable and instead aims to find ways to offer access to sport for Muslim women.
But Akhtar insists they cannot compromise their core values in order to fund their work.
"If that (National Lottery funding) is the reason why women are not taking part in sport, then we cannot access that," she added.
"We have to stick by that policy because otherwise we are going against our own belief system.
"We are saying we want to be for women but there are a lot of women who would not turn up if it was lottery funded and they have told us that.
"We are just trying to get rid of every barrier so hopefully we will get the support soon to carry it on."
http://www1.skysports.com/other-sports/news/12040/9043142/sportswomen-muslim-womens-sport-foundation-facing-cash-crisis
-----------
IIUI to hold international conference on 'Women role in Muslim societies'
Usman Khan
26-11-13
ISLAMABAD: Iqbal International Institute for Research & Dialogue (IIIRD) of International Islamic University Islamabad (IIUI), in collaboration with Riphah International University and International Muslim Women Union, is going to organize a two-day international conference on " Emerging Role of Women in Muslim Societies : Opportunities and Challenges".
Conference will be attended by women rights' activists and experts all across the world and renowned political and social figures of the country.
The conference would start on November 28 (Thursday) at Old Campus, Quaid e Azam auditorium of IIUI, where Vice President (Academics) and Executive Director IIIRD Dr. Mumtaz Ahmed would deliver welcome address. Vice Chancellor Riphah International University Dr. Anis Ahmed would deliver key note address while Senator Raja Zafar ul Haq would also speak on the occasion. Dr.Zakria Bashir, Prof.of Islamic Philosophy, Sudan, Russian Journalist Liudmila Mishna, Ph. D. Scholar from Hungary Asli Karaca, Prof. Rufaida Al Habash from Al-Indluse Institute of Islamic Studies, Syria, Chair Person Kashmir Women Forum Shamim Shawl, Member National Assembly of Pakistan Shahida Akhtar, Incharge Dawah Centre For Women, IIUI Shagufta Umar, Jawairiyah Faisal Khan from United Kingdom, famous women activist from Turkey Huda Kaya would speak on the subject.
Theme of the first day of conference is dedicated to "women empowerment" whereas Dr. Samina Qadir, Vice Chancellor Fatima Jinnah Women University will be the chief guest and Mrs. Muzna Yousif Al-Draiweesh will be the guest of honour of the first session of the conference. During the first session, various foreign experts and workers will deliver lectures on the topics like Hijab, Fictional Representation of Pakistani women's struggle for empowerment, electoral gender quotas and women's leadership.
During second session of the day one of the conference, Saira Afzal Tarar, Minister of state for National Health Services, Regulation and Coordination will be the chief guest while founding member International Muslim Women Union, Sudan Dr. Saud Al Fateh Al Badawi will be the guest of honour. The session will be chaired by Khalid Rahman, Director General Institute of Policy Studies, Islamabad. Topics regarding role of Muslim women at national and international level, gender politics, and media's exploitation of the global Muslim community will be discussed in the session.
On the second day of the conference, Dargam Nadia from Algeria, Former Chief Council of Muslim Women Scholar Dr. Nabeelah Lubis from Indonesia and Former Parliamentarian from Iran Khanum Zohre Illahiyan would deliver valuable lectures on the subject. Second day of the conference would discuss the themes "Educational Opportunities and preferences" and "women at work" where topics including women dominance in medical colleges of Pakistan, Muslim women and intellectual revolution and many other valuable issues will be discussed by the experts. The concluding ceremony of the conference would be presided by Rector IIUI Prof. Dr. Masoom Yasinzai while Pro. Chancellor Riphah International University Hassan Mohammad Khan, Dr. Mumtaz Ahmad and Director Female Campus IIUI Dr. Zaitoon Begum would also spoke on the occasion.
http://www.thenewstribe.com/2013/11/26/iiui-to-hold-international-conference-on-women-role-in-muslim-societies/
-----------
Turkish Employers See Losing Women as Erdogan Plans More Births
By Selcan Hacaoglu
Nov 26, 2013
Handan Yorulmaz has a new rule at her plastics manufacturing company in Ankara: She'll only hire women if they have children older than 10, or none at all.
"I can't risk losing time and money," she said from the Turkish capital, where she employs 10 women and six men at Arti Plastik & Ambalaj.
Regulating the mothers on the payroll is her response to Prime Minister Recep Tayyip Erdogan's campaign for women to have at least three children -- preferably five -- and his push for laws to encourage people to marry earlier and procreate more. He's backing measures to forgive newlyweds' student loans and offer them low-interest credit, and to allow mothers with three offspring to retire early with tax breaks for their families.
Erdogan frames his crusade for more babies as an economic movement to ensure growth by creating a larger and younger population. Business owners and economists predict it will have the opposite effect by keeping mothers out of the workforce.
"The government's planned moves are further pushing women toward home," said Kadriye Bakirci, a professor and head of the labor and social security law division at Hacettepe University in Ankara. The administration's policies reflect a "prejudiced mentality" that wants to marginalize women so that their primary responsibility is "to take care of the home, children, the handicapped and elderly."
More Leave
Labor Minister Faruk Celik has rebuffed suggestions that the ruling Justice and Development Party proposals -- including one to expand maternity leave to 18 weeks from 16 -- are anti-working women. Instead, the government is using "positive discrimination for women while keeping them in the workforce" with the aim of reversing the slumping birth rate, Celik was quoted as saying by the state-run Anatolia news agency.
While maternity leave is popular with workers, it can be seen as a burden by employers. Erdogan's drive for both more leave and more pregnancies has given the discussion a new twist, and angered business owners like Yorulmaz, who said she's hesitant to employ young women. Kemal Kilicdaroglu, head of the Republican People's Party, said in a speech that the proposal was intended to "make sure that employers do not hire women."
Erdogan's motives on gender-related matters are sometimes met with suspicion because of positions he's taken in Turkey, a country that in religion is predominantly Muslim and in politics was for decades secular. He most recently ignited debate when he said co-ed student housing was "against our conservative democratic makeup" and should be banned.
Criticizing Contraception
The father of two daughters and two sons, Erdogan claims Caesarean sections reduce fertility, and signed a law restricting them. He has criticized contraception and accused advocates of the birth control pill of encouraging women to take it "as if to serve sterilization."
Erdogan's focus on procreation may be aimed in part at balancing the country's ethnic demographics. Women in the largely Kurdish southeast have an average of 3.47 children, higher than the national average of 2.08, according to 2012 figures by the state statistics institute. The government has been working to broker a peace deal with autonomy-seeking Kurdish militants to end decades of conflict that has killed tens of thousands of people.
Turkey's annual growth rate decreased to 1.3 percent in 2011 from 1.7 percent in 1988. "I don't want to see an aging Turkish nation by 2040," Erdogan said in an Oct. 30 speech, referring to predictions that by then the percentage of Turks over 65 will be 14 percent of the population, and growing.
EU Politics
The country's politics is closely watched in Europe. Turkey's bid to join the European Union has stalled in part because of resistance within the EU to admitting a predominantly Muslim country. Erdogan critics have complained that he's forcing a conservative Muslim program on a secular population.
"Erdogan should get out of my bedroom," said Gulsum Tasyurek, an unemployed mother of two in Ankara. "Families make children if they can afford to raise them."
In Turkey, the economy could be jeopardized by the focus on large families and conservative views of women, said Wolfango Piccoli, an analyst with London-based Teneo Intelligence, a political risk-assessment firm, in an e-mail. "Inculcating mindsets which regard women as being primarily homemakers is preventing talented women from entering the workforce."
Low Participation
In the Erdogan decade, Turkey has become the world's 17th-biggest economy, rising from 21st in 2002, according to the International Monetary Fund. It posted annual average growth of 5.1 percent, which is reflected in stock-market gains, with Turkey's benchmark index rising about 700 percent.
But per-capita gross domestic product, which indicates living standards, has stalled since 2003, with Turkey at 58th in the world in 2012, ahead of Malaysia and behind Palau, according to a list of countries on the World Bank website. Turkey was ranked 43rd based on gross national income purchasing power parity, ahead of Panama and behind Equatorial Guinea. The unemployment rate was 9.2 percent in 2012 and is expected to increase to 9.5 percent by the end of this year.
Turkey's female workforce participation rate was 31.6 percent in July, about half the Organization of Economic Cooperation and Development average and about the same as in Kuwait and Sudan. Turkey ranks 120th out of 136 on the World Economic Forum's Global Gender Gap Index. The country was 105th in 2006, three years after Erdogan became prime minister.
'One Wing'
The low participation of women in the workforce "limits prospects for Turkey's economic growth," Martin Raiser, director of the World Bank in Turkey, said in Ankara last month when he introduced a project funded by the World Bank and Sweden to increase economic opportunities for women. "If Turkey can close the gap between women and men in the labor market it will be able to increase GDP by 30 percent," he said.
Swedish Ambassador Lars Wahlund said at the same event that Turkey could achieve twin goals of increasing the birth rate and the number of working women. "The answer is a very generous package of parental leave like we have in Sweden," he said. Parents in Sweden are entitled to 480 days of leave when a child is born or adopted, and daycare is inexpensive, and its female labor participation rate is 58 percent.
Askin Asan, Turkey's deputy minister for family and social policies, said employers wouldn't have to worry if the extended leave proposal is adopted. She said temporary workers supplied by new special employment bureaus would replace women on leave.
"Women's participation in the workforce won't be negatively affected," Asan said in an interview in Ankara. "The role of special employment bureaus is key."
'Extremely Difficult'
In Ankara, Yorulmaz rejected the temporary-worker solution for Arti Plastik & Ambalaj. "It is out of the question for me to replace a worker who excelled at speed in cutting roasting bags for 15 years with an inexperienced worker," said Yorulmaz, a member of the executive committee of the Women Entrepreneurs Council of the Union of Chambers and Commodity Exchanges.
Some businesses have begun shunning women, said Nurettin Ozdebir, chairman of the Ankara Chamber of Industry, in an e-mail. Fatma Lale Ergun, an executive committee member of Women Entrepreneurs Council, said she now prefers employees with grown children at her medical education and tourism businesses. "A year ago, three of my workers got pregnant at the same time and it was extremely difficult to manage things," she said. "The government should stop expecting the private sector to solve problems on its own. It must roll out the red carpet for investors instead."
Last month, Erdogan lifted a longtime prohibition on Islamic-style head scarves in most government offices and schools, saying the ban was why he sent his daughters abroad for their university educations. He also said his party would field head scarf-wearing female candidates in the next election.
Zeynep Karabulut, an accountant in Istanbul who has two children, said she's grateful to Erdogan for ending the ban. She's not taking his advice about adding to her family, though. With her husband out of work for the past two months, she said, "we simply can't afford to look after another child."
http://www.bloomberg.com/news/2013-11-26/turkish-employers-see-losing-women-as-erdogan-plans-more-births.html
-----------
URL: https://newageislam.com/islam-women-feminism/public-stoning-consideration-latest-setback/d/34620