New Age Islam News Bureau
16 Aug 2015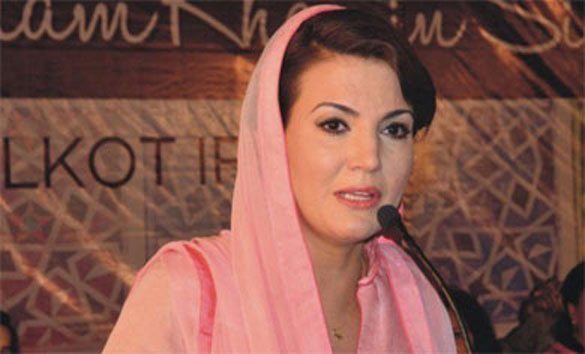 PTI chief's wife criticised media's role in depicting women as always crying and deprived of their rights. PHOTO: INP
-------
• PTI Chief's Wife, Reham Khan Redefines the Role Of Pakistani Woman
• Chief of Radical Women's Outfit Dukhtaran-E-Millat Addresses Saeed Rally over Phone, Triggers Controversy
• ISIS Post Pictures of Assyrian Women Kidnapped In Syria
• Angelina Jolie's New Film to Depict the Life of a Young Afghan Girl
• Scotland's Labour Elects New Leader, Kezia Dugdale
• War on Women, War On Liberty?
• Boy or Girl? Methods and Ethical Questions
Compiled by New Age Islam News Bureau
URL: https://newageislam.com/islam-women-feminism/pti-chief-wife,-reham-khan/d/104281
------
PTI Chief's Wife, Reham Khan Redefines the Role of Pakistani Woman
By Our Correspondent: August 16, 2015
KARACHI: Women should portray themselves as brave and courageous in society, stressed Pakistan Tehreek-e-Insaf (PTI) chief Imran Khan's wife, Reham Khan, at the ninth International Conference on Women Leadership on Friday.
Reham was the chief guest of the conference organised by Triple-E to celebrate Independence Day and discuss empowerment of women at PC Hotel on Friday.
The PTI chief's wife criticised the media's role in depicting women as always crying and deprived of their rights. "Today I saw that Mahira looks beautiful while smiling," said Reham, pointing towards actress Mahira Khan, who was also one of the speakers. She further clarified that she has only seen Mahira crying on television.
Encouraging women to portray themselves as brave and courageous in society, she said that women must aim to change societal perceptions. "If you think yourself as weak, you shouldn't expect anyone else to respect you and empower you," she said, addressing the 200 women seated in the hall who belonged to different walks of life.
Talking about how discrimination against women can be overcome in Pakistan, Reham suggested that society will only empower women when its men are empowered and made to understand the importance of women rights. "We need to educate our men to [make them] realise the importance of female education and women empowerment," she added.
"Women make good leaders because they don't hesitate to ask questions and make their ego a problem," she said, accosting all the male members of the audience.
Talking about choice, Reham shared an example to explain how a woman's choice can make a difference. "Women should resist domestic violence because if your son observes abuse in his house, he will take a negative message and might also abuse his wife in the future," she said.
Irrigation and information minister Nisar Khuhro also spoke on the occasion. Citing former Prime Minister Benazir Bhutto as an exemplary woman for the nation, Khuhro said that nothing in life comes on a platter and it was never easy even for Bhutto. He talked about how every woman has worked hard for everything and Bhutto did, too, to become the first female prime minister.
According to him, it is needless to suggest that women are any lesser than men. "We feel proud of the women who are stepping into every field and have proved how women have played their part in society," he said. "Women are equal to men".
Referring to Khuhro's views, Senator Sherry Rehman said that she does not believe in the concept of the equality of man and woman. Instead, she said, women are more than that. "We [women] are much better than men. We are much more than mothers, sisters and daughters."
Rehman encouraged young girls pursing their degrees to opt for jobs and build their careers in specific fields. She also said that a woman should not hesitate in making choices because there is no force in the world that can stop empowered women.
http://tribune.com.pk/story/938780/female-empowerment-reham-khan-redefines-the-role-of-pakistani-woman/
------
Chief of Radical Women's Outfit Dukhtaran-e-Millat Addresses Saeed Rally over Phone, Triggers Controversy
PTI | Aug 16, 2015
SRINAGAR: Chief of radical women's outfit Dukhtaran-e-Millat, Asiya Andrabi, has stoked a controversy by addressing a rally organised by Mumbai mastermind Hafiz Saeed-led Jamat-ud Dawa in Pakistan.
In her telephonic address to the rally, organised in Lahore on August 14, Andrabi greeted the people of the neighbouring country on their Independence day.
Saeed was seen sitting on the stage during Andrabi's address.
Hours before her address, the DeM chief had celebrated Pakistan's Independence Day at her residence.
Dozens of DeM activists had gathered in Bachpora area of the city where they celebrated Pakistan's Independence Day.
Andrabi's telephone address triggered a controversy with BJP's Jammu and Kashmir unit president Jugal Kishore demanding strict action against her.
"These are instances of treason and will not be tolerated at all...Asiya Andrabi should be arrested. I expect that she would have been arrested by now and a case of treason would have been registered against her."
Congress spokesman RPN Singh demanded that concrete action should be taken against those working against the state.
"The NSA-level talks are slated to be held on August 23-24. A lot of talks have happened and the government claims about a breakthrough. But, with the terrorists attacking India, there is an urgent need to take concrete action against them, whether it is Hafiz Saeed or Zaki-ur-Rehman Lakhvi via these talks with Pakistan."
JKNPP leader Harsh Dev Singh noted that this was not the first time that Andrabi has indulged in such acts.
"I don't understand why these people have been given a long rope by the present government in J-K. They ought to have booked the culprits by now, because it's not the first time that Asiya is indulging in such kind of anti-national activities... So, we feel unnerved by the government's approach in taking action against people like her."
Andrabi had earlier also celebrated Pakistan's National Day on March 23 this year and hoisted the flag of that country, following which the police had registered a case against her under the Unlawful Activities Prevention Act.
http://timesofindia.indiatimes.com/india/Andrabi-addresses-Saeed-rally-over-phone-triggers-controversy/articleshow/48500749.cms
------
ISIS Post Pictures Of Assyrian Women Kidnapped In Syria
By Staff writer | Al Arabiya News, 16 August 2015
Pictures believed to be of Syrian Christian women kidnapped by Islamic State of Iraq and Syria (ISIS) militants surfaced on social media this week, the Mail Online reported.
In the three pictures, three women are seen holding up a sign with their names and a date written underneath.
"The names resemble the family names of people in a nearby village - Tel Jazire - so it is possible that these women could be from Assyrian villages but we cannot confirm that," a source at the Assyrian Federation of Sweden told the Mail.
"These names are names you find in Assyrian villages," she added.
Another woman holds up a piece of paper identifying her as Hannaa Assaf Youssef. (Photo courtesy: Twitter)
As to whether the piece of paper the women hold up indicate that they were being held for ransom, the source said it remains uncertain.
"It is a theory and it makes sense but we can not 100 per cent say that this will happen."
ISIS kidnapped more than 250 Assyrian Christians from a series of Syrian villages along the Kabur River in February.
The writing on the piece of paper held by a third woman was unclear. (Photo courtesy: Twitter)
These pictures emerged with a video believed to have been shot and released by ISIS showing eight kidnapped Assyrian men.
The Assyrian Federation of Sweden said the eight were among those abducted in February.
"They state their names in the video and we have a list of the hostages so we can clearly see they are one of them," the organization's spokesman Afram Yakoub is quoted by the Mail Online as saying.
"No ISIS fighter appears in the video but the last man clearly says we call on the international community to secure our release but he does not say anything about ransom," he added.
https://english.alarabiya.net/en/News/middle-east/2015/08/16/ISIS-post-pictures-of-Assyrian-women-kidnapped-in-Syria.html
-----
Angelina Jolie's New Film to Depict the Life of a Young Afghan Girl
By MIRWAIS ADEEL - Sat Aug 15 2015
The latest of film by the American actress, filmmaker, and humanitarian, Angelina Jolie Pitt will depict the life of a young Afghan girl putting into the screen the courage of the girl who disguises herself as a boy to become the breadwinner of her family.
According to the reports, Angelina is set to produce the animated film by becoming the director of the movie.
The movie will be based on the novel of Deborah Ellis and will be titled "The Breadwinner" which will tell the story of a young girl named Parvana, who lives in the reign of Taliban in Afghanistan.
Parvana acts bravely and disguises herself as a boy to become the breadwinner of her family despite her life comes to a standstill when her father is wrongly imprisoned.
Angelina quoted in a statement cited in a report by The Hollywood Reporter said "Millions of young girls like Parvana are growing up today under oppression or conflict and helping their families to survive in those conditions. This story is a reminder of the immense value of their contribution."
The statement further added "I am delighted to be working with a talented team of artists who I know will do justice to the richness, creativity and strength of Afghan culture and to little girls like Parvana."
The project is expected to be taken up by the Irish animation studio and production company and Irish animator and filmmaker Nora Twomey to direct the film.
The screenplay of the film will be written by the Ukrainian/Canadian film director and screenwriter Anita Doron who is best known for her work in the films, "The End of Silence" and "The Lesser Blessed."
The rich culture, history and natural beauty of Afghanistan would also be depicted in the film which will also be released in Dari, one of the official languages of Afghanistan.
http://www.khaama.com/angelina-jolies-new-film-to-depict-the-life-of-a-young-afghan-girl-1392
-----
Scotland's Labour Elects New Leader, Kezia Dugdale
REUTERS —16. 08. 15
LONDON: The Scottish arm of the opposition Labour Party announced on Saturday that members had elected Kezia Dugdale as their new leader to replace Jim Murphy, who resigned following the party's catastrophic defeat in a general election in May.
Dugdale, 33, has been a member of the devolved Scottish parliament representing the Lothian region since 2011 and was previously deputy leader of Scottish Labour. Her easy victory over a single rival, Ken Macintosh, had been widely expected.
Dugdale will face the daunting task of rebuilding support for Labour in Scotland, where the party lost all but one of its 41 seats in the London-based parliament of the United Kingdom in the May 7 election.
Scotland had previously been a stronghold for Labour, but the party was unable to stop a dramatic surge in support for the Scottish National Party, which won 56 out of Scotland's 59 seats. The next general election is due to be held in May 2020.
"I am not so presumptuous to ask instantly for your vote," Dugdale told voters in a victory speech, broadcast by the BBC.
"All I ask is that you take a fresh look at the Scottish Labour party under my leadership." Scottish Labour's leadership race has been eclipsed elsewhere in Britain by the contest to replace defeated prime ministerial candidate Ed Miliband as the national party leader.
http://www.dawn.com/news/1200756/scotlands-labour-elects-new-leader
-----
War on Women, War On Liberty?
14 Aug 2015
In this episode of Head to Head, Mehdi Hasan challenges Naomi Wolf, one of the world's best-known feminists and author of the seminal book The Beauty Myth, on where the feminist movement is headed, and whether her controversial latest writings are furthering or undermining the cause of women's rights.
Women have sexual desire which is misunderstood, not addressed, not recognised, not respected.
Wolf vigorously defends her latest book Vagina: A New Biography, in which she argues, "to understand the vagina properly is to realize that it is not only coextensive with the female brain, but is also, essentially, part of the female soul." The book has been labelled as 'essentialist', 'narcissistic' and 'simplistic' by fellow feminists.
We explore whether feminism is dominated by white, middle-class Western women and how it can represent the interests of women across cultural lines.
We also ask why the media has branded Naomi Wolf a 'conspiracy theorist' in recent years, and whether there is truth to her claim that the US has become a police state.
http://www.aljazeera.com/programmes/headtohead/2015/07/war-women-war-liberty-150728113218695.html
-----
Boy or Girl? Methods and Ethical Questions
XARI JALIL — 16 08 15
Salman and Najma have a two-year-old girl and now the couple hopes for a boy. They are following advices by a fertility consultant to influence the gender of their unborn baby through "natural methods".
"No medicines," says Najma. Without much explaining the methods, she says it is more about the timing of ovulation.
Amjad who operates such a business says these methods have been around since the 1950s. He says many who have not researched this method do not believe in this procedure.
"Still I get around five to six families a month," he says.
There are clinical methods -- IUI and PGD -- too to conceive the desired gender of an unborn baby.
In the IUI method, male and female sperms are separated and the preferred sperm is reinserted into the woman's body. This can be done in a number of procedures because fertilisation does not always take place as the male sperm or Y sperm is much slower in reaching the ovum while the X sperm or female sperm is fast. Sometimes the Y sperm even dies soon. The success rate for a baby girl therefore is much higher. For a baby boy only the Y sperm is inserted.
The other method is the PGD method which is done in Pakistan too and it requires lots of work.
"The embryo is fertilised in a lab and then the early genetic traits of the embryo are determined," says Dr Chohan, fertility expert at the Lady Wellington Hospital.
"It's being practiced in almost all Muslim countries, including both Saudi Arabia and Iran, and is a safe procedure for both mother and child."
The IUI has an 85 per cent success rate and the PGD a 95 percent success rate.
In Pakistan there are already instances of female infanticide, illegal abortions, and many families regard their daughters as burden.
"In the desire to have a son, families keep producing children," says Dr Chohan.
"Most of their children are the outcome of unwanted pregnancies because of no contraceptive control."
He says through choosing the baby's sex, it is likely that female infanticide will be reduced.
He says: "Many people, especially in rural areas, have inheritance issues and want sons in their family. If they keep producing daughters, either the girls are mistreated or killed, or the man marries again. There is a high chance of over population and domestic violence too because of this."
The standard male to female ratio in most countries is 100:105. In Pakistan, women make 55 per cent of the population. In Punjab, the ratio according to the Population Welfare Department is exactly 100:107 (male to female).
But if society continues to prefer one sex over the other such as males over females some trouble is expected to arise very soon. With a higher number of males, there will be a higher testosterone level which may increase violence in society, says psychiatrist Dr Sameeha Aleem.
In one area of India, for example, studies have shown that there are so few women that marriages have become an issue. With women being in high demand, this may result in kidnapping of girls as some studies point out has been the situation in China because of the one-child policy.
In the societies like India, Pakistan and Bangladesh, people ask for high dowry, says Lukas Werth – a senior instructor of sociology at the Lahore University of Management Sciences, and this may be one reason why families would prefer boys.
Economist Dr Faisal Bari says in society it is apparent which of the sexes are given more importance and preference.
"With girls there is food insecurity and starting at a very micro scale, we can see that boys are fed first and educated too. If this becomes a common practice which it is not, we will see many things that may impact society. For instance we should see how the state spends on education."
So far medical laws, Dr Chohan says abortion is illegal, except for limited circumstances, there are really no embryo rights specified in the Pakistani law. Because of this, there is nothing that points out if these procedures are unethical or unlawful.
http://www.dawn.com/news/1200715/boy-or-girl-methods-and-ethical-questions
-----
URL: https://newageislam.com/islam-women-feminism/pti-chief-wife,-reham-khan/d/104281