New Age Islam News Bureau
15 March 2020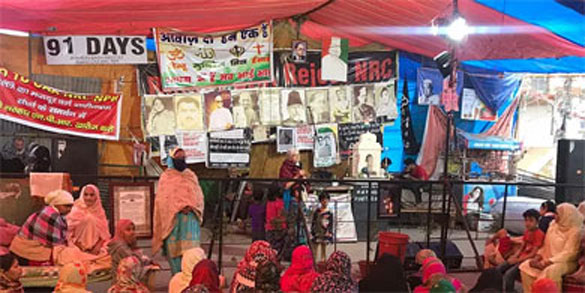 Shaheen Bagh Protest Day 91
----
• Protests to Continue Until CAA-NPR-NRC Withdrawn, Say Shaheen Bagh Protestors, Activists
• Shaheen Bagh Women Refuse to End Protest Despite Coronavirus Threat
• Letter To NZ From Islamic Women's Council: 'In The Face Of Depravity, NZ Chose Humanity'
• UK Police Concedes Forcing Woman to Remove Hijab At Airport Was Wrong
• Uttarakhand High Court Grants Bail To Person Accused For Uttering The Word 'Talaq'
• US-Taliban Agreement Leaves Afghan Women in Jeopardy
• Bookmarking Poetry: These Female Arab Poets Are A Must-Read
Inside One Man's Secret Mission To Rescue Jihadi Brides From ISIS
Compiled By New Age Islam News Bureau
URL: https://www.newageislam.com/islam-women-feminism/protests-continue-caa-npr-nrc/d/121308
-------
Protests to continue until CAA-NPR-NRC withdrawn, say Shaheen Bagh protestors, activists
14 Mar 2020
Ashlin Mathew
Refusing to believe Union Home Minister Amit Shah's half-truths on the issue of National Population Register, women protestors and social activists have demanded that the government amend the existing law to ensure that as a result of NPR, no citizen will be marked as 'doubtful'.
It has been 91 days since the sit-in protest at Shaheen Bagh began and the women have decided that they will continue the movement until the law is revoked. "People are intelligent, and we remember what Amit Shah has said about the chronology of implementation. He is simply throwing crumbs at us. They think we are unlettered women, so we do not understand anything. But we have long experience and that is why we are out on the streets," explained 70-year-old Noornisa, who has been at Shaheen Bagh since the beginning.
Shah has gone on record in Parliament saying that the "doubtful" category will be removed from the NPR. "We want to know why these questions are being asked. After conducting the NPR exercise, a year later with the same data, they will enact National Register of Citizens. We have no grounds to retreat now," said Prakash Devi, another protestor at Shaheen Bagh.
Maintaining that the protestors' demands were correct, social activist Harsh Mander said, "We call for the boycott of NPR as it is the first step towards NRC. We oppose the clubbing of NPR with Census. The government must pass a law and formalise through an amendment of the 2003 Citizenship Rules in the context of NPR and 'doubtful voters'. Unless the government amends the law, we will continue to protest and call for the boycott of NPR." He was speaking at a press conference called by various civil society groups in the Capital to announce the future of anti-CAA-NRC-NPR movement on Saturday.
One of the women demonstrators, 50-year-old Meharunissa said, "If the Home Minister can pass the Citizenship Amendment Act (CAA) in Parliament, then he can amend the existing law in Parliament too. This is a fight for the poor of the country and for our next generation. If we don't fight now, the next generation will also be enslaved."
"The government must suitably amend Rule 7(2) and 17 of the 2003 Citizenship Rules to ensure that no one would be penalised for failure to provide information and NPR is voluntary. As soon as the government carries out these amendments, we would be prepared to withdraw the call for boycotting NPR, but the movement against CAA and NRC would continue," explained Yogendra Yadav of Swaraj Abhiyan and 'We the People of India'.
Asserting that CAA was unconstitutional, a young protestor Hina Khan said, "Why are we being asked to withdraw our protests? The question is why is he linking NPR with the census? Why are we being linked to the violence in northeast Delhi? What were the Delhi police officials doing when they got more than 1500 calls even on February 27, 28? We have been sitting here since December 16 after the police atrocities on the students of Jamia Millia Islamia. Amit Shah is a 'jumlebaaz' and he does not respect the institution that he heads."
Adding to this, another protestor Aparna said, "Only a government which does not understand its people and its women can say or do this. The government is supposed to work for us and if we are unhappy with the legislation, it should be removed. The government exists to solve our problems, not to increase it. If the government is worried about the spread of COVID-19, then let them withdraw CAA, we will all go home."
https://www.nationalheraldindia.com/india/protests-to-continue-until-caa-npr-nrc-withdrawn-say-shaheen-bagh-protestors-activists
------
Shaheen Bagh Women Refuse To End Protest Despite Coronavirus Threat
March 14, 2020
New Delhi| The protest in Delhi's Shaheen Bagh is going on for the last three months. The women sitting in the demonstration have decided that the protest will continue until their demands are heard. Meanwhile, in view of the growing threat of Coronavirus in the country, the women said that there was no need to panic. The sanitizers will be provided from time to time to deal with this.
On the one hand, there is fear and terror of Coronavirus all over the world. 82 people have been found infected in India. Delhi govt has advised avoiding crowded areas. WHO has declared Coronavirus as an epidemic while the central govt has termed it under notified disaster. However, the women of Shaheen Bagh said that they will not end the sit-in protest. When asked about ending the protest in view of a health hazard, the women said that when they survived the cold and pollution, they will continue to protest in the danger of Corona.
Maryam, who has been consistently involved in the demonstration of Shaheen Bagh, said, "Our faith is strong, enthusiasm is high and we will not back down from our demands." At the same time, women are being appealed to not be alarmed by this coronavirus. Sanitizer will be provided from time to time.
https://hwnews.in/news/national-news/shaheen-bagh-women-refuse-to-end-protest-despite-coronavirus-threat/127616
-----
Letter to NZ from Islamic Women's Council: 'In the face of depravity, NZ chose humanity'
15 Mar, 2020
As the one-year marker of the horrendous attacks arrives, we write to you, New Zealand, to offer a sincere thank you for not just supporting our community as we grieved and as we continue to heal, but also for showing the world what it truly means to be a nation.
As migrants to Aotearoa, we chose this beautiful and prosperous country to call home because of its way of life and the Kiwi "can-do attitude".
We were well aware of your willingness to stand up for what you believe in. So, while it may have surprised some around the world, it comes as no surprise to us that the vast majority of New Zealanders have risen in support to say that hate has no place here.
In the depths of our despair, we could still see and feel your aroha - the giving of yourself without expectation of return. From the simple gestures of placing flowers in front of our mosques and making of signs and artwork, to the tireless and challenging hours of the first responders who worked non-stop to stabilise our loved ones and our community as a whole, and to Ngāi Tahu coming alongside in support as we buried our martyred.
These acts that Kiwis may view as simple, natural and given…showed the world that things are, and will be, done differently here.
In the months that have followed, there has been a lot of reflection and consideration. We have seen protective measures begin to be put in place through legislation, the strengthening of support measures in health and in schools, greater investment in communities and the establishment of a Royal Commission of Inquiry. All of these efforts saying, if we can do better as a country, we will.
As we look forward, we must work to strengthen this Kotahitanga (unity) that we are experiencing in New Zealand and export it to the rest of the world. It is so needed!
When we were faced with that act of depravity, New Zealand chose humanity. Confronted with the crushing blow of loss, we have chosen to build.
At a time when the world seems to be spiralling out of control with hate and fear, our nation has displayed resilience and a steadfastness to get it right.
Simply put, as one sign said at Hagley Park a year ago, "We choose love". In doing so, this little nation that we chose is inspiring the world to be better.
https://www.nzherald.co.nz/nz/news/article.cfm?c_id=1&objectid=12316352
-----
Met police concedes forcing woman to remove hijab at airport was wrong
14 Mar 2020
Police have admitted that forcing Muslim women to remove their headscarves at UK airports could be unlawful, a practice likened by one victim to being made "to remove her top".
In an out-of-court settlement, the Metropolitan Police has conceded that when it coerced a woman to take off her hijab so officers could photograph her, it was a breach of her human rights and violated the woman's right to religious observance.
A transcript of a recorded interview with the 25-year-old woman, known as Asiyah, and male officers at Heathrow airport in October 2018 reveals that police told her that "we can take photographs that we need by force".
The officers were using a controversial counter-terrorism power known as schedule 7, which allows individuals to be stopped and searched at UK airports and ports without there being grounds for suspecting the person of involvement in terrorism. It is an offence if an individual fails to answer questions or does not comply with requests such as removing a headscarf.
In the transcript, officers tell Asiyah: "You might end up being arrested because you wouldn't let us take a photograph of your hair."
Asiyah, who was travelling with her family to visit a sister in Bahrain, explained that she was "uncomfortable" with the request to remove her hijab, but said an officer had claimed she was not identifiable while wearing it.
The transcript shows the officer saying: "I have no idea [of] the positioning of your ears on your face. Like, you might not even have any ears. We don't know what you look like."
Human rights group Cage says it has seen a number of similar cases, which could suggest an undisclosed strategy by police to target Muslim women at UK airports.
"It is clear the police knew they were discriminating against Muslim women and therefore opted to settle, in order to avoid Asiyah's case setting a precedent for other women who have had their hijabs forcibly removed," said Muhammad Rabbani, managing director of Cage. "It's high time schedule 7 was scrapped."
The case was won after Asiyah brought a judicial review against the Met following the incident at Heathrow. Her witness statement describes how the threat of force by officers terrified her.
"An image came into my head of me on the floor, with female officers surrounding me, trying to put handcuffs on me and pulling my hijab off my head and a lot of screaming."
Asiyah, born in London, said that being told to remove her hijab by the two male officers present was like being told to get naked.
"For any woman who does not wear hijab, it would be the equivalent of two men telling a woman to remove her top so they can take pictures of her. The fact they were men insisting I did this made it even worse and embarrassing for me. It is part of the purpose of the hijab to preserve yourself from the gaze of men."
Following the case, when the Met agreed to pay £15,000 in damages, the Home Office has yet to issue fresh guidance on the issue or address the concerns of women such as Asiyah.
Among the other cases received by Cage is that of Summayah, who was travelling in a wheelchair and feeling ill when she was stopped at Gatwick airport after a holiday in Turkey and taken for questioning.
"The final blow was asking me to remove my hijab. By that point, I had been interrogated for over an hour. I felt sick, like I was going to pass out.
"They threatened me with arrest if I didn't comply and remove my hijab, so they could take pictures. I felt so dehumanised. This has had a very complex impact on my mental health and life."
Anne McMurdie, a solicitor at Birnberg Peirce, who represented Asiyah, said: "Stopping people on a suspicionless basis and intruding on their religious observance and private life without any reason is an abuse of a power, which is already very draconian".
Despite her victory, Asiyah, who agreed to remove her hijab because she felt "bullied and pressurised", said she remained concerned that the photographs might have been widely circulated.
"I keep thinking how men might be looking at me without my hijab, and I wonder how many times a day they are being viewed and how many different men are viewing them. For me, it feels the same as if the police had taken a photo of me naked that was then being looked at by male police officers or maybe male members of the security services. I felt my dignity had been taken away and I had been stripped."
McMurdie said: "There is nothing to prevent them sharing [the image] with others like the security services. There is nothing in the law to regulate how long it is kept for, who can view it, who it is shared with. One of the evils with this is that the abuse continues."
https://www.theguardian.com/law/2020/mar/14/metropolitan-police-concede-forcing-woman-to-remove-hijab-wrong
------
Uttarakhand High Court grants bail to person accused for uttering the word 'Talaq'
March 14, 2020
Uttarakhand High Court on Wednesday granted bail to an accused person who was languishing in jail since December last year for offence under Muslim Women (Protection of Rights on Marriage) Act 2019.
Before the High Court, it was argued by the counsel for applicant that he had been falsely implicated in the crime and no offence was made out against him. The Counsel further argued that he never used the word 'Talaq' as stated in the FIR and still he is the husband of the 'informant'.
A single judge bench of Justice R. C. Khulbe said, "It is a matter of evidence whether he has uttered the word 'Talaq' in presence of his wife or not but the offence is exclusively triable by a Magistrate and the accused is languishing in jail since 14.12.2019. Without expressing any opinion as to the final merits of the case, this court is of the opinion that it is fit case for bail and applicant shall enlarge on bail. However, it is clarified that observations made by this court shall not affect the trial proceedings."
This was the first bail application filed by the applicant-Sahid Hussain had sought his release on bail in connection with offence under Section 3/4 of Muslim Women (Protection of Rights on Marriage) Act 2019 and Section 506 IPC, Police Station Shyampur, District Haridwar.
Sections 3/4 of Muslim Women (Protection of Rights on Marriage) Act 2019 provides that any pronouncement of talaq by a Muslim husband upon his wife, by words, either spoken or written or in electronic form or in any other manner whatsoever, shall be void and illegal. And that any Muslim husband who pronounces talaq referred to in section 3 upon his wife shall be punished with imprisonment for a term which may extend to three years, and shall also be liable to fine.
Applicant Counsel also argued that the offence is exclusively triable by a Magistrate. Counsel for the State vehemently opposed the bail application but admitted that the offence is exclusively triable by a Magistrate and as per Section 4 of the Act, the maximum punishment is of three years.
https://www.indialegallive.com/top-news-of-the-day/news/uttarakhand-high-court-grants-bail-person-accused-uttering-word-talaq-92420
------
US-Taliban agreement leaves Afghan women in jeopardy
03/14/20
BY NADIA HASHIMI
The new so-called peace agreement between the United States and the Taliban does not mean peace for the people of Afghanistan — and especially not for Afghan women. We should recognize both their extraordinary gains since the 2001 fall of the Taliban as well as the fight to preserve those gains that lies ahead.
Americans have clearly and poignantly voiced frustration with "endless wars" and have long wanted to bring U.S. troops home safely. But we can celebrate the troops' homecoming without deluding ourselves about what the agreement is — a U.S. bow to the Taliban and a body blow to millions of Afghan women, whose brutal oppression remains a hallmark of Taliban rule.
Not only did the peace negotiations exclude women — who make up a majority of the Afghan population — the resulting agreement comprises no guarantees to safeguard human rights or women's rights, enshrined in a Constitution that the Taliban do not recognize.
I write novels about Afghanistan, the country of my parents' birth, and gritty Afghan women. In 2016, a member of the Afghan Parliament, an obstetrician, attended one of my book tour stops in Australia. "Those were the darkest days," she said, recalling life under Taliban rule. I think of her contributions to Afghanistan when I consider what's at stake if the Taliban regain control.
I read the agreement aloud at my kitchen table. Every time I read the cumbersome phrase "the Islamic Emirate of Afghanistan which is not recognized by the United States as a state and is known as the Taliban," my daughter stifled a laugh because — at age eight — she understands that an agreement with an entity that we as a nation do not recognize presents a metaphysical quandary.
Despite the awkward disclaimer, the document gave much legitimacy to the Taliban, who maintain they are the rightful government of Afghanistan and treat Afghan national security forces as the enemy.
The agreement, negotiated over the past year outside of Afghanistan and without the Afghan government, requires that the Taliban not provide visas or passports "to those who pose a threat to the security of the United States and its allies to enter Afghanistan."
This implies that the Taliban can carry on issuing passports, as if they are a parallel government, to "benign" individuals. Since the document's signing, President Trump has announced he would "be meeting personally with Taliban leaders in the not too distant future," and that he has "a really good relationship with the Mullah," co-founder of the Taliban.
Sidestepping the Afghan government has quickly proven problematic, with President Ashraf Ghani refusing to release 5,000 Taliban prisoners as the agreement mandates.
Meanwhile, the signed agreement secured from the Taliban only a promise not to facilitate harm to the United States or its allies.
After the signing, Taliban spokesperson Mujahid told Agence France Presse: "As per the [U.S.-Taliban] agreement, our mujahideen will not attack foreign forces but our operations will continue against the Kabul administration forces." The Taliban then detonated a motorbike rigged with explosives near a football field and kidnapped 50 civilians in Maidan Wardak province.
We are left with a choice. Either we declare the existing Afghan government is not an ally, or the peace agreement is null and void before the ink has dried. Prospective failure is painful to contemplate. Imagine reality on the ground.
Millions of Afghan women, girls, and minorities are left again vulnerable to the extreme brutality, oppression, and discrimination that for years had made Afghanistan one of the world's worst places to be born female.
Afghan women vow to protect their hard-won gains. As we leave them to grapple with a traumatic past and an uncertain future, we owe them an honest assessment of this historic moment — not a whitewashing of failure.
Afghan women have built schools, served in government, prosecuted criminals, reinvigorated the arts, delivered the news, de-mined land, saved lives, competed athletically and thrived as entrepreneurs. They have buried their dead and carried the living.
The next generation of Afghan daughters deserves to own the legacy of their mothers and grandmothers. They deserve acknowledgement that this shameful so-called peace deal, which President Trump hopes will help secure him a second term, failed to honor their rights, their contributions, or their very existence with even a single word.
Only an honest reckoning with how we have failed them in the present will empower Afghan women to claim their rightful place in Afghanistan's future.
https://thehill.com/opinion/international/487587-us-taliban-agreement-leaves-afghan-women-in-jeopardy
-----
Bookmarking Poetry: These female Arab poets are a must-read
2020-03-15
By Razan Mneimneh
Sure, you've heard of Mahmoud Darwish and Nizar Qabbani, but when was the last time you've read the works of a female Arab poet?
It's not for the lack of them for sure, for there are hundreds of women in poetry who have prevailed over the years. But maybe it's due to the lack of recognition and attention they receive for their work.
Looking to brush up on your Arabic reading? Here are five female Arab poets who should be on your reading list:
May Ziadeh was a feminist before feminism was widely discussed matter. A poet, translator, essayist, and critic, she was a woman for all seasons. Born in Nazareth, Palestine in 1886, she was one of the most important literary figures in the Arab region.
Most of her writing was done in Arabic and reinforced and introduced the feminist agenda through advocating for women's education, voting rights, and the end of patriarchy.
In the words of scholar Antje Ziegler, Ziadeh "courageously took a stand against European colonial politics and defended the freedom of the press and other basic democratic rights."
After battling with crippling depression in 1928 due to the loss of her lover Khalil Gibran and her parents, she traveled from Egypt to Lebanon only to be forced into a psychiatric ward by members of her extended family.
Eventually, she was proven sane and returned to Cairo, Egypt in 1941, and died later that year at the age of 55.
Born in Baghdad, Iraq, in 1923, Nazik Al-Malaika was the daughter of a well-off and educated family who sent her to study comparative literature at the University of Wisconsin after graduating from the Iraqi Teachers' Training College in 1944.
She is easily one of the leaders of Iraq's cultural renaissance and modernist Arabic poetry. She combined influences from Shakespeare all the way to classical Arabic poetry, which enabled her to express her political ideologies more easily.
Immersed in the writing scene since the age of 10, her writing subjects include but aren't limited to female liberation, honor killings, and depression.
One of the best "form-and-shape-shifting poets of her generation", her poem Revolt Against the Sun "mocks the common perception of women as weak and easily disposed to crying."
An Egyptian poet and currently a professor of Arabic Literature at the University of Alberta in Canada, Iman Mersal's poems delve deep into what makes us human: our insecurities, resentments, and tiny victories and suffering.
She writes about life, love, motherhood, and memories in "free prose," a poetic style not metered by the Arabic rhythm.
In her book How to Mend: On Motherhood and its Ghosts, Mersal "navigates a long and winding road, from the only surviving picture of the author has with her mother, to a deep search through what memory, photography, dreams and writing, a search of what is lost between the mainstream and more personal representations of motherhood and its struggles. How to mend the gap between the representation and the real, the photograph and its subject, the self and the other, the mother and her child."
Mosteghanemi is the first female Algerian author with Arabic-language works to be translated into English, and its a title she surely deserves.
Mosteghanemi became one of the first female Algerian Arabic writers in the late 60s and early 70s as she used to go on national radio to broadcast her poetry in an effort to provide for her family.
Her first poetry collection, Ala Marfa Al Ayam (The Harbor of Days), was published soon after she earned a B.A. in Arabic Literature from the University of Algiers in 1973. She later received a Ph.D. in Sociology from the University of Sorbonne in Paris in 1982.
In Paris, she met and married a Lebanese journalist in 1976; she later moved to Lebanon in 1993 to publish her first critically acclaimed novel Memory in the Flesh (Zakirat al Jassad), which sold over a million copies in the Arab world. It was later translated into English by the American University in Cairo Press in 2000, after winning the 1998 Naguib Mahfouz Medal for Literature.
The highly successful book "tells a moving love story imbued with political reflections on women's rights and the struggles of a post-colonial generation."
Referring to herself as "this mix between the submissive and rebellious woman," Syrian poet Maram Al-Massri writes about love, relationships, and her longing for her homeland caught in the midst of war.
She's been in Paris since 1984 and is fluent in French, English, and Arabic, with the latter being the main language of her poetry work.
Her poetry collection Red-Cherry on a White-tiled Floor is translated to English and reprinted with her permission. She writes "short, seductive lyrics of astonishing clarity and piercing candor, stringing them together like pearls in a story chain."
https://stepfeed.com/bookmarking-poetry-these-female-arab-poets-are-a-must-read-5213
------
Inside one man's secret mission to rescue jihadi brides from ISIS
March 14, 2020
By Brad Hamilton
Decked out in a Kevlar vest, an AK-47 slung over his shoulder, Glock at his hip and Ray-Bans shielding his eyes, the former British infantryman found himself pinned down in the world's most dangerous battlefield during the retaking of the ISIS-held city of Mosul, Iraq, in 2016.
His mission, a private and unsanctioned enterprise, was to rescue Diana Abbasi, a young Dutch woman who had joined ISIS and was therefore considered the enemy. But she was being raped by its thugs and desperately wanted out. Her father had spread the word.
There was no one else to help, so Carney and his small band of ex-Kurdish commandos trailed coalition forces in a daring operation, risking their lives to save her.
They dodged trip-wire mines, suicide bombers and caliphate snipers blasting anyone in the streets. Some children got shot in the back as they fled.
"The noise is constant: the clatter of machine guns," Carney writes in "Operation Jihadi Bride: My Covert Mission to Rescue Young Women from ISIS" (Monoray), out now. "The whoop and thump of mortars, the ricochet of stray rounds bouncing off vehicles like jangling keys."
"I had always felt invincible," writes Carney, who used a pseudonym for the book to protect his family. "I didn't feel that way anymore."
After completing six years of British army service in 2003, Carney, 42, was working security for oil executives in Iraq. It paid handsomely, and after a decade of cashing in, he bought a mountain-top villa in Crete for himself, his wife and 12-year-old daughter, Ntileini, an outgoing, carefree girl not much younger than those he hoped to save.
Because of "Natty," as he calls her, Carney felt for the disillusioned ISIS wives — many of them naive teens duped into ditching their families for the promise of a new life in Iraq. They "had set out to give meaning to their lives by joining what they believed was a holy war," he writes.
He got involved in June 2016 after a stranger called him at the suggestion of Matt Lambert, an MI6 agent who knew of Carney from his security work. The stranger begged him to help rescue a woman by the name of Laura Hansen, saying "there's a girl stuck in Mosul, a jihadi bride. He reckons you'd be able to get her out."
But the man sent e-mails on the case, explaining that Hansen, 21, from Holland, married a Palestinian with Dutch papers she'd met on a Muslim dating site. Now she was being beaten daily and, he was told, her two young kids would die if they weren't rescued.
But he couldn't shake her image. He reached out to Lambert, who told him that Hansen's family had raised $10,000 to bring her home.
Carney flew to Erbil in northern Iraq, where he set up a safe house and recruited a team of three with the help of a Kurdish intelligence pal.
But the Hansen mission went sideways. The money, sent through a middleman, vanished. Carney's group, which had planned to meet Hansen and her kids near an ISIS checkpoint, was forced to bolt.
Abbasi was a Dutch citizen with a Pakistani family and a degree in international relations from a university in London. But when she went on a holiday with her brothers to their parents' home in Pakistan, it was a trick — for an arranged marriage to a villager twice her age.
His crew was all in, though they needed cash for arms and equipment to get her back. Carney would have covered the costs but Lambert kicked in $5,000 from his investment profits. They left for Mosul.
That's how Carney ended up trapped during the siege on the city. His men opened fire on the ISIS position. An unknown woman emerged from a shed, and she ran to them with her young son. The two somehow ducked fire, and the Kurdish militia unleashed a volley of mortar rounds. Carney scooped them up.
A few days later Carney and his gang heard about Sophian, a young woman from Australia who was holed up in a bombarded hospital in Mosul behind enemy lines. So they set off, again entering a nightmarish wasteland of death and destruction.
"We turned left and right through a lattice of skeletal buildings," Carney writes. "I thought this is what the world will look like after a nuclear war."
They snuck past a machine-gun nest and wound their way through rubble near the hospital. Two women wearing dark shemagh scarves around their faces raced out, one with a baby. They jumped into Carney's vehicle and the group sped off, eluding the notice of two ISIS teens with rocket launchers.
They'd gotten her out, but Abbasi faced possible prosecution from Dutch authorities. Carney worked his sources, including contacts in MI6 and the CIA, arguing that she and other ISIS women hated the regime and could become assets with the right handling.
She was eventually cleared, moved to London, and was hired as a counselor for a government counter-terrorism and deradicalization program.
But many of the jihadi brides got stuck in refugee and internment camps, "tied up in red tape," Carney writes. "Some had disappeared, probably dead. Some were still out there."
Carney, who claims to have rescued more than 100 such women, also found himself in trouble. When he and his family made a return trip to England for Christmas in 2016, airport security at Heathrow detained him.
Carney also pointed out that he'd been working with the Kurds — "the ones who found Osama bin Laden" — and revealed to agents that he was also on an ISIS death list. When he told them he'd been watching women and children being shot for the last 10 weeks, they finally let him go.
Today, Carney's group receives funding from an American Christian charity and others, and is continuing its work, organizing deradicalization efforts on the Syria-Turkey border while supporting the British government's counter-terrorism programs and a UK charity for missing kids.
https://nypost.com/2020/03/14/inside-one-mans-secret-mission-to-rescue-jihadi-brides-from-isis/
-----
URL: https://www.newageislam.com/islam-women-feminism/protests-continue-caa-npr-nrc/d/121308
New Age Islam, Islam Online, Islamic Website, African Muslim News, Arab World News, South Asia News, Indian Muslim News, World Muslim News, Women in Islam, Islamic Feminism, Arab Women, Women In Arab, Islamophobia in America, Muslim Women in West, Islam Women and Feminism