New Age Islam News Bureau
28 March 2019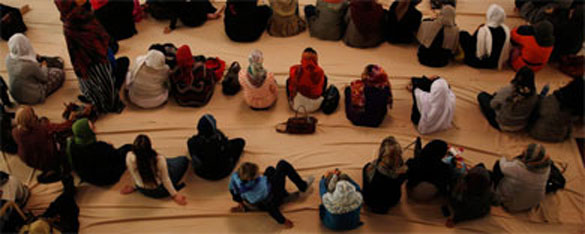 Getty Images, On Muslim Women's Day, Women-Only Mosques Are About Much More Than Prayer
----
• On Muslim Women's Day, Women-Only Mosques Are About Much More than Prayer
• One Man Sharia Courts 'Discriminate Against Women'
• Arab Women Seeking Larger Role in Delivering Middle East's Aviation Aspirations
• Flooding Of 30 Iranian Provinces, Maryam Rajavi's Message
Compiled by New Age Islam News Bureau
URL: https://www.newageislam.com/islam-women-feminism/promise-law-lynching-indian-muslim/d/118155
--------
Promise Law against Lynching, Indian Muslim Women Urge Parties
Mar 28, 2019
NEW DELHI: Muslim women associated with grassroots networks from 10 states came together to launch a manifesto of demands from political parties ahead of the 2019 Lok Sabha elections, calling for a law to deal with mob lynching and hate crimes in the light of what they said was a growing insecurity among minorities.
The demand comes in the backdrop the manifesto released by women organisations which says that "the state must take cognizance of these hate crimes, and ensure compensation and legal support to the survivors".
They cite the SC judgment of July, 2018 where the top court warned against rule of mob and called for measures to curb cow vigilantism and lynchings. "State governments be reminded of its 'sacrosanct duty' to protect its citizens from lynch mobs and Parliament enact a special law against vigilante violence, and should follow the directives of the court to appoint local officers in order to monitor targeted violence," stated the demand charter. "Introduce a Communal Violence Bill to bring (state) sponsors and perpetrators to justice," it said.
The press conference on Wednesday saw some women relate their experiences such as the case of mob lynching at Alwar of Umar Khan who was killed in 2017. His wife said she did not want anyone to go through such an experience. While registering their support for ending the practice of triple talaq, the women's groups led by Bebaak Collective opposed the criminalisation provisions prescribing a three-year jail term for the husband under the Muslim Women (Protection of Rights on Marriage) Ordinance, 2019. They want the ordinance scrapped.
https://timesofindia.indiatimes.com/india/promise-law-against-lynching-muslim-women-urge-parties/articleshow/68606142.cms
--------
On Muslim Women's Day, Women-Only Mosques Are About Much More than Prayer
By Asma Uddin
March 27, 2019
On March 15, a gunman ambushed two mosques in Christchurch, New Zealand, opening fire on the worshippers and killing 50. The mosque-goers were gathered for the Friday congregational prayer. They had come to the mosque to commune with others, connect with God, and find solace from the small and big troubles plaguing their lives outside the mosque doors. But on that fateful day, the gunman violated those sacred spaces — not just for the Christchurch Muslims but for Muslims across the globe, who are now also anxious about potential violence in their own mosques.
The sacredness of the mosque has been a focus of much Muslim discourse in recent years. As many young Muslims have found themselves "unmosqued" — feeling that their needs were not being met in the traditional mosque and that their leadership was being sidelined — they have sought to reclaim the mosque experience.
On Muslim Women's Day, we celebrate a wholly innovative solution in the American context: women-only mosques. In 2015, M. Hasna Maznavi and Sana Muttalib, side-by-side with their male allies, opened the Women's Mosque of America to help Muslim women deepen their faith. The founders say they want to revive the "legacy of female Muslim scholarship and leadership in the earliest years of Islam" by uplifting female voices; they're careful to note that the mosque is not about the "liberation" of women from Islam but is instead a celebration of women's place in the religion. In this space reserved for women (and children) only, the women lead one another in prayer and study. The project was so successful in nurturing spirituality for Muslim women that, two years later, a second such mosque, the Qal'bu Maryam Women's Mosque, opened in Oakland, California.
Though women-only mosques are a newer phenomenon in the U.S., they are not a recent or American invention. The earliest records of women-only mosques are found in China in the later Ming and early Qing dynasties, and they continue to exist today. In a traditional mosque setting, men and women are separated, sometimes by a physical barrier. When they are in the same room, the men all either stand together on one side of the room or in front of the women. Women-only mosques were originally conceived as schools where girls could study, knowledge that they would then pass on to their children. Eventually this evolved into something more akin to a mosque. Since the title of "imam" is almost always reserved for male leaders of the Muslim community, in China the women are called nu ahong, which derives from the Persian word akhund, or "teacher" — though some women do assume the title of imam.
Out of this tradition among Chinese Muslims, women's mosques have begun appearing throughout the world. In the U.K., it's being conceptualized in a different way. The leader of the Muslim Women's Council in the U.K., Bana Gora, argued in 2015 that traditional mosques far too often exclude women from full and equal participation, and that the solution is to open a mosque that serves both sexes but is run entirely by women. The mosque has not yet come to fruition but promises a revolutionary new take on gender dynamics in mosques.
Efforts to create women-only mosques have not always received a warm reception. In recent years, as the women's mosque concept has seeped into America, critics have responded in myriad ways. Some object because they say it's not religiously legitimate for a woman to lead a mosque as an imam would. Others say that the creation of separate spaces for women hinders the fight for equal treatment in mixed-gender mosques. The focus, many critics say, should be on working with the rest of the religious community to change traditional structures in a way that respects Islamic law and creates lasting change.
Women-only mosques appear to some as an abdication of this responsibility. Connie Highberg, who converted to Islam in the Women's Mosque of America, agrees with this sentiment; she tells Teen Vogue that she finds the young, progressive men at the main mosque "understanding and supportive of my search for space in the [Muslim community]" and that "the change needed to include women in a more progressive way must come from within the larger community."
But for the women who created these spaces or attend them, women-only mosques, much like women's colleges, give them the comfort they need to commune with other believers without fear of judgment or reprisal, to discuss their ideas and fears, and to develop confidence for their roles outside that safe space. Suroor Raziuddin tells Teen Vogue that the space has given her "opportunities to hear about overcoming trauma; topics like the power of motherhood, mental health, and radical love, all in a safe space by Muslim women and with Muslim women." Zoya Hasan says her favorite part of the experience is the diversity of the participants: "First generations, immigrants, people who have converted, millennials, etc., regardless of these different paths, we all found so much commonality within our faith and our resilience."
In today's tumultuous climate — in which our public spaces are saturated with divisive rhetoric and an ominous increase in hate crimes, and in which even our houses of worship are made to feel unsafe — women's mosques forge a new path. For the Muslims who use them, these mosques reclaim the sacred and the safe in a time when safety is sorely lacking.
https://www.teenvogue.com/story/muslim-womens-day-women-only-mosques
--------
One Man Sharia Courts 'Discriminate Against Women'
March 25 2019
Women face discrimination as a growing number of "one-man" Sharia councils pop up, an Islamic scholar has warned.
Khola Hasan, a scholar at the Islamic Sharia Council in east London, said that a number of new councils had sprung up, run from living rooms, the back of shops or even through the post.
Sharia councils offer advice and rulings on Islamic law. They mainly deal with religious divorce cases and most of their clients are women seeking to dissolve their Islamic marriage.
An independent review into Sharia councils last year raised concerns that the bodies "engage in practices which are discriminatory to women", particularly because Islamic law grants men the right to divorce their wives by simply declaring the marriage to be over, but insists…
https://www.thetimes.co.uk/article/one-man-sharia-courts-discriminate-against-women-muslim-jx7hww3c3
--------
Arab Women Seeking Larger Role in Delivering Middle East's Aviation Aspirations
28 Mar 2019
DUBAI - As commercial aviation witnesses a phenomenal boom across the world, more and more women are passionately striving to become a part of the industry.
Women in airspace have transitioned from being employed as flight attendants to premier cockpit controllers. Today, a fifth of students enrolling for a commercial flying licence in India, the world's second-most populous country, are women, which is way higher than other countries.
Compared with other countries in the Middle East and North Africa (MENA) region, the UAE has more women pilots, captains, aircraft engineers, mechanics, aircraft maintenance and air traffic controllers, among others.
Emirates Airlines and Group currently employs nearly 27,000 women, making up 42 percent of the group's workforce, including women pilots who includes the youngest Emirati female pilot operating the world's biggest aircraft, A380. Over 60 of more than 4000 pilots employed by it are females.
More than a third of the 3,770 employees at flydubai, Middle East's fastest-growing LCC, are female with more than 1,000 female Cabin Crew members and more than 30 female Captains and First Officers. Etihad Airways currently employs over 2,850 Emirati women, including 50 female pilots and also the first Emirati woman registered as a specialist in aviation medicine. Air Arabia's women employees include the first female Emirati holder of a multi-crew pilots (MPL) license.
The 4th Women in Aviation (WIA) Middle East General Assembly will be held in Dubai on 1 May alongside the 19th edition of Airport Show, under the patronage of His Highness Sheikh Ahmed Bin Saeed Al Maktoum, President of Dubai Civil Aviation Authority, Chairman of Dubai Airports and Chairman and Chief Executive of Emirates Airline and Group. The event will focus on the growing contribution of women in aviation globally and share best practices from around the world for over 400 attendees expected at the Dubai event.
The sponsors are: Air BP, Airbus, Boeing, Dubai Aerospace Enterprise (DAE), Falcon Aviation Services, Honeywell, LFV Consulting, MSI Air, Safran, Saudi Air Navigation Services, Strata and Yahsat.
Key sessions will focus on initiatives that can help women succeed in the aviation workplace and help organisations meet ICAO's gender parity goals, the influence of social media in the changing workplace and work-life balance issues with respect to female employment, as well as a systematic guide on how to enhance gender equality in the aviation workplace. The conference will also look at the role women are playing in the development of the region's ambitious space programmes, especially in the United Arab Emirates.
Mervat Sultan, one of the first Arab women to obtain a flight dispatcher's license and a Co-Founder and President of the Middle East chapter of Women in Aviation (WIA) International, said: "Just over five per cent of the commercial pilots flying worldwide are females. The Middle East's share has not been encouraging, but things are changing. Being a woman in the aviation industry shouldn't be about gender, but only about hard work and ability. The barriers are disappearing as women have been successfully destroying the stereotypes."
"Today, we can see an increasing number of women in aviation and aerospace, but still they are vastly under-represented. The opportunities are greater now than the past. Without any doubts, women in the coming time would be scripting a different success story altogether. It's somewhat a slow and steady process. Debates will help us in taking crucial decisions towards this end," said Merwat who will also be addressing the WIA General Assembly.
Prince Fahd bin Mishaal Al-Saud, Vice-chairman of Saudi Aviation Club (SAC) and Chairman of GCC Aviation Authority and Sheikha Al Maskari, Chief Innovation Officer, UAE Space Agency, will address the gathering.
The other confirmed speakers include Robert J. Gerritsen, General Manager, Air BP MENA, Al Jwahrah Al Theyeb, HR Manager Saudi Arabia, Boeing, Barbro Bolander, HR Director, LFV Consulting, Bernie Dunn, President, Boeing MENAT and Filiz Hayirli Tepebasi, Turkey Strategy Manager, Boeing.
Also addressing will be Haifa Hamedaldean, Transformation and Project Manager, Saudi Air Navigation Services, Lisa Holzmann, Deputy General Manager, MSI Air, Lisa Lyons, Vice President Trading, DAE, Maryam Al Balooshi, Manager - Environment Studies at General Civil Aviation Authority (GCAA), Nadine Fanous, Associate Director Industry and Government Relations, Boeing and Patrick Natali, General Delegate Middle-East, Safran.
The other speakers are Rana Dajani, Associate Professor, Hashemite University, Sonja Strand, Vice President / General Manager – Global Airports, Honeywell, Suaad Al Shamsi, Senior Manager - Midfield Programme, Etihad Airways and Zeina El Hakam, Communications Manager, Boeing.
Women account for 12.4 percent of India's pilots, with 1,092 of the total 8,797 pilots in schedule domestic airlines being women. India has among the highest ratio of female pilots working for schedule airlines globally. Though the number might seem small, it is significantly higher than the global average of 5.4 percent and surpasses the countries like France, Japan and the US at 7.6, 5.6 and 5.1 percent, respectively.
Estimates from the International Society of Women Airline Pilots show there are 7,409 women pilots across the world accounting for 5.2 per cent of total pilot workforce. Women make up about five per cent of the 53,000 members of the Air Line Pilots Association (ALPA), the world's largest pilot union. It estimates that between three and six per cent of pilots at the world's largest commercial airlines are women. Representation of women on the ICAO Council is seven out of 36 members. The organisation is committed to a 50-50 gender parity by 2030. According data by the ICAO, only 5.18 percent of pilots are female.
https://www.traveldailynews.com/post/arab-women-seeking-larger-role-in-delivering-middle-easts-aviation-aspirations
--------
Flooding Of 30 Iranian Provinces, Maryam Rajavi's Message
Mar 27, 2019
In the wake of the flooding of 30 Iranian provinces which has taken the lives of at least 200 people in Shiraz and other cities, the Iranian Resistance's President-elect Maryam Rajavi sent a message to the people of Iran on Wednesday, March 27, 2019, calling on them to unite and cooperate in solidarity in order to prevail over the flooding and the evil rule of the mullahs.
In parts of her message addressed to the suffering people of Iran, Mrs. Maryam Rajavi said:
The corrupt mullahs have inflicted this catastrophe on Shiraz and its valiant people. They destroyed the channel which used to lead flood waters out. In the dry seasonal river bed beside Darvazeh Quran, they built urban facilities to gain huge profits for themselves and their accomplice.
In Golestan Province, it has been several years that they have failed to dredge the Gorgan River. They have destroyed vast parts of the forests and pastures, and they have evaded to drain the farms and manage the watershed.
In other cities, they have constructed buildings in the periphery of rivers or have blocked the natural paths of rivers. In implementing such a corrupt policy, they have taken over, damaged or sold river banks, sea shores, foothills of mountains, and jungles which are public properties….
Amid the disastrous flooding and such vast devastation, there is not much presence of aid workers and relief agencies. Instead, the mullahs have dispatched the Revolutionary Guard Corps and the Bassij paramilitary force to quell the outbreak of protests.
Shiraz needs emergency aid for the injured and assistance to clear the ruins and rubble, but Rouhani hastily sends there his Minister of Intelligence and his mafia of executions, suppression and terror….
I hereby call on all my fellow countrymen and women to cooperate together in the flood-hit areas and in other areas which are in danger.
The only way and the best way is that we help one another. No one and no other power is more effective and more accessible than the power of solidarity among us.
I urge everyone, particularly the young men and women, to form their popular councils in every neighborhood, and in every city, town and village to confront the floods and their disastrous consequences….
Rush to the aid of families affected by floods and show them your love and compassion. The mullahs have inflicted such a calamity on our people and cities. Let us build amid such disaster, our own solidarity and kindness which is the greatest strength of our nation.
Let us build with our tears and sorrow a force of sympathy and unity against the mullahs. In these difficult days, rely on one another and let people rely on you. Take one another's hand and let us come together to advance our plans for a free and prosperous Iran.
https://women.ncr-iran.org/2019/03/27/flooding-of-30-iranian-provinces-maryam-rajavis-message/
--------
URL: https://www.newageislam.com/islam-women-feminism/promise-law-lynching-indian-muslim/d/118155
New Age Islam, Islam Online, Islamic Website, African Muslim News, Arab World News, South Asia News, Indian Muslim News, World Muslim News, Women in Islam, Islamic Feminism, Arab Women, Women In Arab, Islamophobia in America, Muslim Women in West, Islam Women and Feminism