New Age Islam News Bureau
19 Aug 2017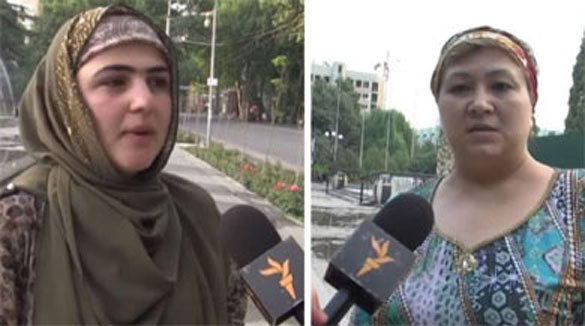 A composite photo showing the "alien" Islamic hijab (left) and a scarf tied in the traditional "Tajik" way behind the head, exposing the neck under the chin.
-----
• State Orders Muslim Women to Tie Head Scarves in 'Tajik' Way
• Islamabad High Court Orders Protection of Girl Who Embraced Islam
• Women's Manifesto for Political Parties Launched
• Kabul Garrison Opposes With Aryana Sayeed Concert over Security Threats
• A View From The 1950's Into Sudan's Leading Women's Activist
Compiled by New Age Islam News Bureau
URL: https://www.newageislam.com/islam-women-feminism/program-launched-help-200-young/d/112257
--------
Program launched to help 200 young Saudi men and women marry
19 August 2017
JEDDAH: With the support of Crown Prince Mohammed bin Salman, the Charitable Society for Marriage and Family Guidance launched a program to help 200 brides and grooms get married.
The charity's chairman in Jeddah, Ahmed bin Saleh Al-Sultan, said that the program helps 200 low-income brides and grooms marry by providing financial aid and charity programs to build stable families.
Al-Sultan indicated that the foundation provided the 100 young couples with a training program before marriage based on the arts of a stable and happy married life.
The founding member of the foundation, Sheikh Abdul Mohsin Al-Khayal, praised the generous support of the crown prince, and hoped that these couples will have a happy married life.
The age range of the majority of the program's beneficiaries is 26-30, representing 40 percent; 29 percent are between 20-25; 20 percent between 31-35; and 8 percent between 36-40.
The foundation said that 57 percent of the beneficiaries work in the private sector; 22 percent in the government sector; and 21 percent in entrepreneurial businesses.
http://www.arabnews.com/node/1147086/saudi-arabia
--------
State Orders Muslim Women To Tie Head Scarves in 'Tajik' Way
August 18, 2017
DUSHANBE -- Dildora, a 30-year-old Tajik mother in Dushanbe, had taken her children to see a doctor at a medical clinic near her home in early August when she was approached by a small team of state officials.
The authorities questioned her about her apparel -- an Islamic hijab, tied under her chin and over the front of her neck -- that is known as a satr.
Although there are no laws against wearing a hijab in Tajikistan, Dildora says the officials told her she could be fined for wearing her head scarf in an "alien" fashion.
Dildora says she and other hijab-clad women at the clinic were separated from their children and herded into a room where they were lectured on how to tie their head scarves in the style of "traditional national clothing" -- that is, with a knot behind their heads in a way that exposes the front of their necks.
"Security officers, one man and two women, were among them," Dildora told RFE/RL. "They forced us to take off our satrs and showed us how we must wear hijabs."
"They told us to wear national clothing only," said Dildora, who has worn the hijab since finishing her education at a madrasah, an Islamic religious school, 12 years ago. "I challenged them, asking the women police officers why they wore Western trousers and did not cover their heads. We exchanged many words."
"Everything was filmed and photographed," Dildora said, adding that the confrontation was so intimidating she no longer goes out in public unless it is absolutely necessary.
Religion Control
Dildora was among some 8,000 women approached by authorities in Dushanbe in early August as part of a state campaign to discourage what the government calls "nontraditional" foreign clothing.
Human rights activists say the government uses the term "nontraditional dress" as a euphemism for the Islamic hijab.
Indeed, Dushanbe's fashion patrols only targeted the women in Islamic garb that they came across in public places like parks, markets, or state institutions like Dildora's local medical clinic.
A U.S. State Department report on religious freedom this week noted numerous cases since May 2016 in which hijab-wearing Tajik women say they have been harassed by authorities.
The report confirmed that U.S. diplomats have raised concerns with Tajikistan's government about its harassment of women in Islamic clothing.
It also raised concerns about the government's attempts to control all aspects of religious life in the country -- including the approval and registration of religions, the construction of places of worship, the distribution of religious literature, and religious education for children.
About 90 percent of Tajikistan's 8.3 million citizens are Muslims, and the majority are followers of the moderate Hanafi school of Sunni Islam.
About 4 percent of the country's Muslims are Ismaili Shi'a. Most of that minority community live in the mountainous Gorno-Badakhshan Autonomous Region that borders Afghanistan.
The Tajik Constitution says citizens have the right to adhere to any religion, or to no religion at all, and to observe religious customs and ceremonies.
It also says religious organizations must be separate from the state and cannot interfere in "state affairs."
A May 2016 constitutional amendment bans political parties that are based on religion. That law led to the controversial dissolution of the Islamic Renaissance Party of Tajikistan, an opposition party, and the arrest of several of its leaders.
Tajikistan's laws also restrict the locations of Islamic prayer and prohibit children under the age of 18 from taking part in public religious activities.
The government argues that its strict controls on religion are necessary to prevent the growth of what it calls Islamic "extremist" organizations and terrorist groups.
But the U.S. State Department report says Dushanbe's controls over religious life also cause problems for minority communities of Jehovah's Witnesses, Baptist Christians, Russian Orthodox Christians, Roman Catholics, Ismaili Shi'a, and Jews.
Fashion Police
Marhabo Olimi, deputy chairwoman of the government's Committee on Women's Affairs, told RFE/RL that the government's August campaign to "promote traditional national dress" employed small "working groups" of state agents from her committee, Tajikistan's Interior Ministry, the Committee on Religious Affairs, and other government departments.
Olimi said more than 90 percent of the women confronted by the patrol teams "confessed they were being forced" to wear Islamic clothing by their husbands or by adult male relatives.
She said many of those women told authorities they would agree to remove their hijabs if their husbands and other relatives allowed them to do so.
"We should conduct explanatory work among men," Olimi told RFE/RL. "After all, no one in the government is telling them that their wives or daughters should walk around in public without a head scarf. But we've become aware of cases where husbands who work in Russia are telephoning their wives and threatening them with divorce if they refuse to wear the hijab."
But Zebo, another young woman from Dushanbe who wears the hijab, told RFE/RL a different story in the midst of the government's early August campaign.
"It is my decision to wear satr," Zebo told RFE/RL. "I do this hoping that it will be taken into account after my death. When a woman wears satr, such a woman is greeted with expressions of respect. If a law banning the satr is accepted, I will be frustrated. I have been wearing satr since my childhood. They must not violate our rights."
In fact, the U.S. State Department has named Tajikistan as a "country of particular concern" under the International Religious Freedom Act of 1998, saying it has "engaged in or tolerated particularly severe violations of religious freedom."
But Washington has waived the sanctions that normally go with the designation, justifying the decision on the grounds that Tajikistan's efforts to combat Islamic terrorism is "in the important national interest of the United States."
Religious groups banned in Tajikistan as "extremist" organizations include Salafis, the Muslim Brotherhood, the Islamic Movement of Uzbekistan, Islamic State militants, Jindullah, Ansarrullah, and Hizb ut-Tahrir.
Sharif Nazarzoda, head of the Sughd Regional Department of Tajikistan's Interior Ministry, has insisted that "some women and girls" associated with extremist "terrorist" organizations can be identified because they follow "alien culture and traditions."
Nazarzoda also has said that Interior Ministry police will detain women in hijabs in order to investigate whether their husbands are "militant Salafists."
He says that practice is justified because the ministry has determined that "all Salafist wives wear hijabs."
Tajik authorities also have closed down scores of shops that sell women's religious clothing that does not meet what the government calls "national traditions."
Despite complaints by many woman of state harassment, Tajik Interior Ministry spokesman Umarjoni Emomali told RFE/RL that women who wear hijabs are not being threatened with fines or arrest.
"There are no fines for this," Emomali said. "What we are conducting now are explanatory talks. The authorities are merely reminding women that wearing hijabs, satrs, and turbans is alien to the traditions of the Tajik people."
https://www.rferl.org/a/tajikistan-muslim-head-scraves-hijab-satr/28683842.html
--------
Islamabad High Court Orders Protection of Girl Who Embraced Islam
19-Aug-17
ISLAMABAD: The Islamabad High Court (IHC) on Friday directed the Inspector General Police, Islamabad to provide protection to a 21-year-old girl, Maria, resident of Sukkur, Sindh province, who converted to Islam and got married of her choice.
The court directed that her husband Bilawal Ali Bhutto also be provided protection. During the course of the hearing, Justice Shaukat Aziz Siddiqui noted that all Pakistani citizens, irrespective of their religion and cast are equal in the eyes of law.
Mr Lal, uncle of girl, requested the court to order the meeting of the girl with her family. The court then directed that meeting of Maria with her parents be arranged in the court on next hearing.
Maria told the court that she converted to Islam by her own will and choice. She said no one pressurize her to change her religion. She said earlier she had Hindu faith and her name was Anoshi. On the court's insistence, Maria recited the 'Kalima'.
Counsel for girl's family contended before the court that the family of Maria's husband Bilawal Bhutto had a criminal record and a case of theft and kidnapping was registered against the family in Sukkur.
Maria's uncle requested the court to provide him justice, as he was also a Pakistani citizen. He said the girl be kept in Dar-ul-amaan (Safe Home).
The petitioner Maria, whose Hindu name was Anooshi, and her husband Bilawal Ali Bhutto son of Zulfiqar Ali Bhutto, approached the IHC seeking protection because of the threats to their lives for exercising their free will.
The counsel for petitioners, Zulfiqar Ali Korai, requested the court to direct the Ministry of Interior and the Inspector General of Police, Islamabad, to protect the lives and liberty of petitioners who get married with their free will after Maria embraced Islam for this cause.
The counsel submitted that life of the couple was threatened because of the old practice of Karo-Kari in Sindh. Life of both the petitioners is under serious threat and danger. He said the respondents can go to any extent in order to execute the "black tradition" and it will promote "unconstitutional, illegal, immoral and un-Islamic practice of Karo-Kari."
He requested the court to direct the police to provide protection to the free willed couple as they intend to stay in Islamabad. "Otherwise they would not be found alive," he said.
"When will the black tradition of 'Karo Kari' end", Justice Shaukat Aziz Siddiqui noted. "The girl might not be killed on the pretext that she embraced Islam and got married of her choice", Justice Siddiqui feared.
After hearing arguments, the court ordered police protection for the couple, besides directing the Islamabad police chief to produce them before the court on August 25 under police escort. In her petition, she made the Ministry of Interior, Inspector General of Police, Islamabad, Deputy Inspector General of Police, Sukkurr, Senior Superintendent of Police, Sukkur, Deputy Superintendent of Police Rohri, SHO Rohri, Santosh Kumar, Milki Mal, Anand Mal, and the Home Secretary of government of Sindh as respondents.
http://dailytimes.com.pk/islamabad/19-Aug-17/ihc-orders-protection-of-girl-who-embraced-islam
--------
Women's manifesto for political parties launched
August 19, 2017
Islamabad - Women Councillor's Network (WCN) has said in its newly launched 'manifesto for political parties' that a huge gap exists between Pakistan's public policy on gender and the manifestoes of political parties.
The statement was said to be made at the launching ceremony of Women's Manifesto for Political Parties' where the office bearers of WCN also took oath.
They vowed to uphold the mission of WCN, which aims to empower women politically through conscientiousness, social mobilization and participation in decision-making processes and structures. The members of WCN also promised to influence their respective political parties to incorporate the women's manifesto in their party manifestos.
The manifesto which was created through the cooperation of all the women councillors calls on political parties to formulate their policies in line with public policy on gender, the SDGs and other international commitments.
It pushes for the abolishment of indirect mode of election to fill quota seats of women adding that the parties should issue at least 25 percent tickets to female candidates in general elections and 33percent in local elections. It also contains proposals for representation within the local government, judiciary and the private sector.
It emphasizes on the need for reforms towards improved education, health, inheritance laws, social protection, and protection against domestic violence for women.
In March 2017, the women councillors of Islamabad elected Tayyaba Ibrahim for the position of president, Saba Afzal for vice president, Abida Rahseed for general secretary, Sofia Yasmeen for joint secretary, Seema Durrani for information secretary, and Seemi Ezdi for treasurer.
"The election of executive council members from different parties marks a huge milestone because it makes the network truly non partisan," said the president of WCN on the occasion.
It is worth stating here that Pattan Development Organisation has been facilitating women councillors across the country since 2002 and the ICT chapter was established after the introduction of local government system in the city.
"The establishment of Women Councilors' Network –ICT is a great contribution by Pattan," said Ali Nawaz Awan, the opposition leader Metropolitan Corporation Islamabad (MCI).
http://nation.com.pk/islamabad/19-Aug-2017/women-s-manifesto-for-political-parties-launched
--------
Kabul Garrison opposes with Aryana Sayeed concert over security threats
Aug 18 2017
The Kabul Garrison Command has opposed with the concert by Aryana Sayeed on the occasion of the Independence Day of Afghanistan, citing persistent security issues in the capital.
The Kabul Garrison Commander General Afzal Aman said the singer has been informed regarding the security threats and that the Garrison Command will not be able to ensure security for the concert and the participants.
Gen. Aman further added that the organizers of the concert informed them that around ten thousand people will attend the concert.
He said the security forces will be busy with the security for the Independence Day and will be unable to ensure the security for the thousands of people as the city is consistently being threatened by the security threats.
Gen. Aman further added that the concert organizers have been informed to organize the concert in some other place, like in any hotel to prevent the outburst of a security incident.
This comes as some religious clerics have also shown their opposition with the concert.
In the meantime, the concert organizers have said they have changed their plan to organize the concert in Ghazi Stadium and will opt another place due to the security concerts.
http://www.khaama.com/kabul-garrison-opposes-with-aryana-sayeed-concert-over-security-threats-03388
--------
A view from the 1950's into Sudan's leading women's activist
18 August 2017
The women's movement in Sudan first came to prominence in 1949 leading to the formation of the Union of Sudanese Women in 1952.
The late Fatima Ahmed Ibrahim, a socialist leader and activist, was one of the key members involved in the formation of the women's union.
Ibrahim, who died at the age of 84 in London on August 12, was Sudan's first female parliament member, elected in 1965.
Her activism went beyond raising awareness. In 1947, Ibrahim founded the Intellectual Women Association and later expanded her horizon by establishing the first Union of Sudanese Women in 1952.
Former women's activist Awatif Al Shaikh gives us a window to the early activism days of Fatima Ibrahim in colonial and postcolonial Sudan of the 1950s.
Daring personality
"She was renowned for her academic brilliance and had a daring personality", Awatif al-Shaikh said, recalling her early association with Fatima.
"As early as 1952, I started taking interest in Sudanese politics and the struggle against Anglo-Egyptian colonization," said Awatif al-Shaikh, adding that she was just 11 at the time.
"I was following news related to Sudanese political life, parties and national liberation movements. That was the time when the women of Sudan had risen and were expressing Sudan's right to independence and solidarity."
The Sudanese Women Association was established by this time where women took leadership positions and intensely involved themselves in social work, Awatif recalled.
Women's associations
"We used to hear about Suad al-Fatih al-Badawi and Fatima Talib Ismael, who were my history teachers. Later we came to know about Thuraya Umbabi, Zakiya Mekki, and Fatima Ahmed Ibrahim," she said.
However, there were reports of conflicts within the women's association, between Fatima Ahmed Ibrahim leading the socialists, and other leading members. Eventually Fatima dominated the association.
Awatif says that Fatima's father, Shaikh Ahmed Ibrahim, was a venerable scholar who taught her Islamic studies and Arabic for four years in intermediate school. "I am greatly indebted to Shaikh Ahmed Ibrahim for his guidance and knowledge," she said.
The first encounter
The first time Awatif saw Fatima was during the annual 'Woman's Week' fair which was a festive occasion.
"During the seven days, the atmosphere was lively with the galleries, music and folklore from provinces across Sudan. I still have vivid memories of those days," she says.
She established direct connection with Fatima Ahmed Ibrahim in 1956 when Britain, France and Israel waged war on Egypt, and the entire Sudanese nation was shaken.
According to her, the instant response to this was the establishment of 'Solidarity with Egypt' Organization, constituting all political parties, women's associations and labor unions across Sudan.
'Solidarity with Egypt' was my first voluntary participation in public work. I was 16 at the time. I used to meet with Fatima, chairperson of the Sudanese Women Association, and other leaders," she said.
Awatif and her associate, Layla Basheer, represented the 'Nahdat Al Mar'a Association' (Women's Development Association).
Still young
According to her, her young age at the time made her up to the task. "Fatima and I were selected to be part of a committee, along with other political parties' representatives, headed by Mohammed Saleh Al Shingiti, a senior representative of Al Ummah Party," she said.
The committee's role was to collect donations for Egypt and from Sudan's established dignitaries and leaders such as al-Sayed Abdul Rahman al-Mahdi, one of the leading religious and political figures in Sudan and the first prime minister of colonial Sudan, al-Sayed Ali al-Merghani, leader of the Khatmiyya Sufi order and other big figures in Khartoum.
The tour to collect donations started from Khartoum's Burri neighborhood, at Sufi leader al-Sharif Yousef al-Hindi's headquarters. His representatives and followers were welcoming despite women participating in such activities being uncommon at the time.
According to Awatif, the two coordinated until they reached the residence of the prime minister al-Sayed Abdul Rahman al-Mahdi's Saraay in the center of Khartoum, an approximately 20km trek.
"We were warmly received by al-Sayed Abdul Rahman who expressed his joy at seeing two women members of the delegation working steadfastly," she said.
Awatif says she has fond memories of Fatima and her father, Shaikh Ahmed Ibrahim. "They were decent Sudanese leaders who were an inspiration to women not only in Sudan, but across Africa and the Middle East".
https://english.alarabiya.net/en/features/2017/08/18/A-view-from-the-1950-s-into-Sudan-s-leading-women-s-activist.html
--------
URL: https://www.newageislam.com/islam-women-feminism/program-launched-help-200-young/d/112257
New Age Islam, Islam Online, Islamic Website, African Muslim News, Arab World News, South Asia News, Indian Muslim News, World Muslim News, Women in Islam, Islamic Feminism, Arab Women, Women In Arab, Islamophobia in America, Muslim Women in West, Islam Women and Feminism