New Age Islam News Bureau
3 Dec 2016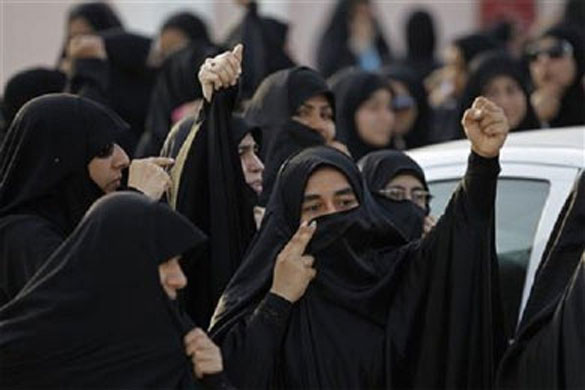 Jailed female protesters have been 'Raped, Sexually Assaulted' by regime forces in Bahrain. Reuters File
--------
• Bahraini Activist: Female Inmates Tortured, Raped in Jails
• Egyptian Veiled Women Banned From Amr Diab Concert
• Egyptian Women Innovate To Weather Hard Times
• Meet The Kashmiri Who Is Coaching India's Women's Soccer Team
• Daughter of Indonesia's Founding President Arrested Over Alleged Anti-Government Plot, Amid Mass Protests
• Men Attack Muslim Woman, Shout 'Donald Trump' On 6 Train, NYPD Says
Compiled by New Age Islam News Bureau
URL: https://www.newageislam.com/islam,-women-and-feminism/new-age-islam-news-bureau/probe-begins-against-influentials-over-'exploitation'-of-young-girls-in-pakistan/d/109274
--------
Probe Begins Against Influentials over 'Exploitation' Of Young Girls in Pakistan
03-Dec-16
ISLAMABAD: The law enforcement agencies including the police have commenced an investigation against the blackmailing and exploitation of young girls hailing from the northern areas by five members of the Legislative Assembly and senior bureaucrats of the Gilgit Baltistan government.
The cruelty with the constrained girls of Gilgit Baltistan was revealed when a case No 23/2016 was registered at Shalimar Police Station after the kidnapping of a 14-year old girl and the police had arrested two accused Wasif and Nadeem and unearthed many hidden facts in the case. During the course of the investigation both the accused told the police that some powerful personalities from Gilgit Baltistan were involved in the heinous crime.
The abducted girl was recovered from the farm house of a wealthy and influential businessman of the federal capital.
They also informed the police the girl was handed over to that man for Rs 70,000 for a whole month. When the police raid a house at Gulzar-e-Quaid, six other girls were also recovered. When both the culprits were sent to jail on judicial remand, the police had some underhand deal with the culprits and prepared a weak case due to which they were released on bail. The police instead of moving the case forward had put it in the doldrums, on the desire of some influential people. On the revelation of Daily Times the law enforcement agencies took all the record regarding the case into custody and extended the circle of
the probe.
The Chief Minister Gilgit Baltistan, Hafiz Hafiz-ur-Rehman, just to save the skin of his friends has used his good office to get the story published in the local papers of Gilgit Baltistan, that Daily Times had sought pardon on its story, but as a matter of fact the story was quite true and it was very much discussed everywhere.
The details showed that the issue of supplying the girls on a monthly basis to the members of the Legislative Assembly had become a headache for the GB government.
Reliable sources from an esteemed law enforcement agency told Daily Times that they had taken all the records of the case from Shalimar Police Station. Now the process of verifying the names of the people involved in it by investigating police officer is under way and now it would be taken to its logical end soon.
The police sources said that the arrested culprits had recorded their statements that the constrained girls from the circumstances were brought form Gilgit, Astore and Hunza on the pretext of being given scholarships to them in Islamabad.
Latter on they were handed over to prominent persons. In this regard a girl fled and took refuge in a girl's HOSTEL. She also told this reporter on the condition of anonymity that she was also given to a powerful
person.
The police also added that a notorious brothel house runner, Saleem in the F-11 Sector of Islamabad, was also involved in the case but the police had not nabbed him due to his some secret "services" to the officers of Capital Territory Police.
Rawalpindi Police had also arrested another person Aslam, who belongs to Gilgit, in the case. But it used his disclosures as a 'gold mine'. It is pertinent to mention here that the Shalimar Police is saying that it did not drop the case into cold storage but their investigations are going on.
http://dailytimes.com.pk/islamabad/03-Dec-16/probe-begins-against-influentials-over-exploitation-of-young-girls
--------
Bahraini Activist: Female Inmates Tortured, Raped in Jails
Dec 03, 2016
"When torturing women, all methods are used, including electric CHAIRS, sexual harassment, rape, threats to rape, severe beating, deprivation of eating, drinking and sleeping for a long time and insulting prisoners' faiths and beliefs," the activist, who called for anonymity for the fear of her life, told FNA on Saturday.
She also said many detained WOMEN have also been deprived of their right to return to work, SPECIALLY in the government sector, even after release.
The activist added that certain human rights institutions have recorded many reports on torture and rape against women in Bahrain's jails but the government has dismissed and prevented their release.
The al-Khalifa regime is exerting mounting pressure on the opposition.
Bahrain has been in the throes of an uprising since February 2011, when hundreds of thousands of protesters took over a Central roundabout in the capital Manama and demanded political and democratic reform in the authoritarian kingdom.
Bahraini authorities backed by Persian Gulf allies, specially Saudi Arabia, violently broke up the protests, leading to the deaths of hundreds of people, and since then rallies have continued and human rights groups have accused the kingdom of imprisoning and torturing thousands of activists. Hundreds of others have gone missing without any trace or state explanation.
Back in 2014, UN human rights experts called on the regime in Bahrain to allow women activists to exercise their rights to free expression and free association.
The independent experts slammed Manama for detaining female activists for criticism of government authorities.
"Such criticism is not only fully legitimate according to Bahrain's obligations under human rights law; it is also essential to the free and public debate necessary for a healthy civil society," the UN experts said in a statement.
http://en.farsnews.com/newstext.aspx?nn=13950913000247
--------
Egyptian veiled women banned from Amr Diab concert
2 December 2016
Egyptian star Amr Diab has been sending shockwaves across the country after organizers of his upcoming Christmas concert announced they were banning veiled women from attending.
The reason given by the company organizing the December 25 concert was that alcohol will be served at the event.
A member of AlArabiya.net contacted several hotline numbers advertised by the concert organizers posing as a concert-goer to enquire about the ban. An organizer confirmed the strict dress code of formal wear and the ban on veiled women because of the presence of alcohol.
Al Arabiya English reported extensively on the plight of veiled Egyptian women in public spaces after many said they were turned away from resorts because of their hijabs last summer.
https://english.alarabiya.net/en/News/middle-east/2016/12/02/Egyptian-veiled-women-banned-from-Amr-Diab-concert.html
--------
Egyptian women innovate to weather hard times
December 3, 2016
Cairo: Before going to bed or to work, Maha Ahmad, a schoolteacher, makes sure that all electrical appliances in the house are unplugged. The measure, aimed at cutting the power bill, is one of the steps this mother of two has recently adopted in ORDER to keep her family spending under control.
"Everything has gone up, but salaries remain unchanged," Maha said. "My monthly salary and that of my husband, who also works a teacher, has dropped our purchasing power by almost half after the recent flotation of the pound. We have no choice but to reconsider ways of spending in order to survive in these hard times," she said.
Earlier this month, Egypt floated its local currency and cut state subsidy on fuel, triggering spikes in PRICES of most commodities, including food in this country of 92 million people.
The measures are part of tough economic reforms that secured Egypt a $12-billion loan over three years from the International Monetary Fund. The loan is badly needed to prop up Egypt's economy that has been in decline due to the unrest that followed the 2011 uprising.
"It is no longer easy to plan a budget ahead of the month because prices increase almost every day," Maha said. "However, I do my best in order to keep things going by giving priority to spending on main things such as food and bills of electricity, gas and phone. My husband usually gives me his salary every month after deducting a certain sum of MONEY for his expenses including transportation. We have to live monthly on our combined salaries of 3,500 pounds [Dh739]."
The hike in cost of living has deeply reshaped habits of Maha's family. "We have stopped to go out for more than one time in the week in order to reduce our spending. Moreover, I now BUY vegetables and fruit from the market that is cheaper than supermarkets. I also avoid the shopping offers in major malls that previously devoured lots of our budget. Generally speaking, now I buy just what I need not what I and my family desire."
This austerity plan has affected Maha's two children aged five and seven respectively.
"It is hard to get my two daughters to accept the new situation that includes spending less on IMPORTED chocolate and expensive clothes. I often try to pacify them by promising weekend outings."
Egypt heavily relies on imports, a matter that has placed a pressure on its limited foreign currency revenues.
Egypt's foreign currency reserves have dwindled from their peak $36 billion in 2010 to $19 billion in October this year.
Prior to the November 3, Egypt's non-governmental Chamber of Commerce announced curtailing IMPORTS for three months in an attempt to support the government's efforts to eliminate a long-thriving unofficial currency market.
In recent weeks, Egypt's state and private television stations have bombarded viewers with calls to espouse "bold economic reforms" and avoid extravagance.
"The situation is affecting all classes and compelling them to reconsider their ways of living," said Nadia, a lawyer and a mother of two.
"My business as a lawyer has suffered too with many clients unable to pay fees on time. I add what I earn to the salary of my husband who works at a consultancy firm in ORDER to cover our monthly expenses," added Nadia, who declined to give her full name for fear of what she called "social embarrassment".
"With our monthly average income of 7,000 pounds [Dh1,478] we can hardly cope with increasing costs of living. The private language school of my two sons increased their fees by 20 per cent due to the pound flotation and FUEL PRICE increases. We begrudgingly accepted the hike in fees because we cannot register the boys in another school as we are almost mid-year. But I and my husband have agreed to find a less expensive school for them next year. "
Nadia devotes more of her time than before to revise lessons of her two children who are in the fifth and seventh grades respectively in ORDER to save money spent on private tuition.
"I have also set up a group on the FACEBOOK with mothers of other children in the same grades of my sons to exchange information about lessons."
The Egyptian government has promised to boost social safety networks in order to cushion the impact of recent economic measures on the limited-income brackets.
Hanan Fat'hi, a widowed mother of four, is not waiting for these promises to be fulfilled. She has already reworked her family's lifestyle.
"Instead of BUYING jams, I now make jams of orange and strawberry at home. They are cheaper and plentiful," Hanan said. "I also preserve vegetables to be eaten as pickles at home," she added, referring to a type of popular appetisers in Egypt. The 43-year-old home-maker gets a monthly income of around LE2,400 (Dh506) from her late husband's pension and interest rates from a bank deposit.
"I have decreased quantities of food I cook daily so that nothing will be thrown away," she said. I have also reduced my family's meat consumption and replaced it with other sources of protein such as beans and lentils," Hanan added. "I heard them saying on television that vegetable proteins are healthier than meat. They are also cheaper and fill the hungry stomachs."
http://gulfnews.com/news/mena/egypt/egyptian-women-innovate-to-weather-hard-times-1.1935919
--------
Meet the Kashmiri who is coaching India's women's soccer team
Dec 03, 2016
As a teenager, Sajid Yousuf Dar played football in Kashmir during curfew breaks at the height of militancy. Now, the 42-year-old Dar's dedication to the game has earned him a third stint as head coach of the Indian women's football team for the South Asian Federation Games.
Dar is also the first and only Kashmiri so far to coach any Indian soccer team for international events.
In the last week of November, the All India Football Federation (AIFF) appointed Dar as coach of the women's national football team for the upcoming SAFF women's championship 2016.
Dar told HT that the team was gearing up for the championship, which is slated to kick-off in Siliguri from December 26. Defending champions India have been placed in Group B along with Bangladesh and Afghanistan. A total of seven countries are taking part in the competition.
"We have to be on our toes to defend the title as more and more countries in the region are working and developing their game," Dar, who is currently in Srinagar, says.
Owing to his impressive record as coach for the under-14 and under-19 boys' soccer teams of the country, Dar was first roped in by the AIFF for the women's team in March 2015 when ahead of the Olympic qualifiers. He was also chosen as the technical advisor for football development in India.
Under his guidance the women's team got gold in the 12th South Asian Games earlier this year in Shillong. "The AIFF provided us with the facilities and we had enough time to prepare leading to our success. I am proud that our women's team got gold. The men's team had to settle for silver," he says.
Dar has come a long way since the time he started playing football in Shri Pratap (SP) higher secondary school in 1991-92.
This was the time when militancy had just erupted in Kashmir and youth were crossing the line of control in hordes for arms training fuelled by the idea of "freedom from Indian rule". The violence derailed all developmental work and virtually stopped sports activities.
But it didn't quite deter Dar, then 18, from pursuing his first love. "I was mad about the game. Despite the bad situation all around a few friends and I continued to practice in the otherwise empty grounds," he says.
In fact football is in his blood. His father Mohammad Yousuf was the first Kashmiri to play any international game for the Indian team.
But pursuing the game with violence all around was never easy for Dar junior. Owing to the violence and mass protests, curfew used to be imposed for days at a stretch in the early 1990s.
"They would give relaxation for a few hours and I would rush to the ground to play," Dar remembers.
In fact, young men in Kashmir fancied football more than cricket before the start of militancy. Abdul Majid Kakroo was the first Kashmiri to captain the Indian squad in 1986-87 and played for the national team for nine years.
A resident of Dalgate in the heart of Srinagar, Dar was fortunate that there were at least three grounds near his home where he could hone his skills.
Dar's perseverance finally paid and he captained Srinagar's YMCA team in the Federation Cup in 1998 held at Chandigarh and later represented state in the Santosh Trophy three times from 2000 to 2002.
"It was only after playing outside the state that I realized how absence of professional coaches was hampering game in our state," he says.
He started training youngsters and went for different coaching courses, AFC licenses and degrees in physical education and also started coaching Kashmir University team since 2006. "My first break at national level came in 2012 when I was chosen as assistant coach by AIFF for the under-19 boys' team," he says.
Since then, Dar has not looked back.
http://www.hindustantimes.com/india-news/meet-the-kashmiri-who-is-coaching-india-s-women-s-soccer-team/story-h4NAz3y2iPMDlWqkegBVkI.html
--------
Daughter of Indonesia's founding president arrested over alleged anti-government plot, amid mass protests
2 DECEMBER 2016
The daughter of Indonesia's founding president was among ten people arrested over an alleged plot to use a mass protest in the capital on Friday to overthrow the government.
Two former army generals and a well-known musician were also reportedly among those arrested for suspected treason and other offences.
Rachmawati Sukarnoputri, the daughter of Indonesia's founding president Sukarno and younger sister of former president Megawati, was arrested in the early hours of Friday morning, her lawyer said.
Local news outlets reported that Ms Rachmawati held a press conference on Thursday to call on protesters to occupy the House of Representatives and demand that the Constitution be returned to its original 1945 version, arguing that amendments have made Indonesia too liberal and dependent on foreign powers.
Police did not comment on how extensive or sophisticated the plot was.
There was a heavy police and military presence in Jakarta for Friday's protest, the second major demonstration by conservative Muslims against the minority Christian governor of Jakarta Basuki Tjahaja Purnama, widely known by his nickname "Ahok".
The rally attracted some 200,000 people to the city's streets and ended peacefully.
The governor, an ally of President Joko "Jokowi" Widodo, is being prosecuted for blasphemy, a criminal offence in predominantly Muslim Indonesia.
Musician-turned-politician Ahmad Dani was among eight people arrested for alleged treason, while two others were arrested for information breaches.
Police said they had stepped up their investigation of the group over the past three weeks.
"They intended to incite people to overthrow the legitimate government using today's mass rally," said Boy Rafli Amar, National Police spokesman. "They planned to seize the Parliament building."
Mr Boy said one of the group's aims was to restore Indonesia's original constitution, implemented after Mr Sukarno declared independence from the Netherlands, which provided for the president to be elected by Parliament, rather than a national poll.
Many of those arrested are known critics of Mr Joko, who took power in 2014.
http://www.telegraph.co.uk/news/2016/12/02/daughter-indonesias-founding-president-arrested-alleged-anti/
--------
Men attack Muslim woman, shout 'Donald Trump' on 6 train, NYPD says
December 2, 2016
The NYPD Hate Crimes Task Force is investigating an alleged bias crime after a Muslim woman was attacked by three men who shouted President-elect Donald Trump's name, police said.
According to police, the 18-year-old woman was riding a northbound 6 train about 10 p.m. Thursday when the suspects, who the victim said appeared to be drunk, started yelling anti-Muslim sentiments at her.
Police said the men called her a terrorist, shouted Trump's name, told the woman to get out of the country and that she didn't belong here.
The woman told police the men tried to grab her PURSE while they were on the train and when she ignored them, they tried to take the hijab off her head, an NYPD spokesman said.
The woman got off the train at 42nd Street-Grand Central, police said, and notified an officer about the incident.
Police described the suspects as between 20 and 23 years old, around 5-feet-10 and weighing around 170 pounds. All of them were described as clean-shaven, police said.
The New York chapter of the Council on American-Islamic Relations condemned the alleged attack on Friday.
"American Muslims, and particularly men and WOMEN who wear religious attire, are being increasingly targeted by hate nationwide in the wake of the Nov. 8 election," said CAIR-NY Executive Director Afaf Nasher. "Our elected leaders and local law enforcement authorities must continue to take strong action to protect Muslims and other minority groups in a period of growing Islamophobia and political division."
http://www.amny.com/news/men-attack-muslim-woman-shout-donald-trump-on-6-train-nypd-says-1.12699740
--------
URL: https://www.newageislam.com/islam,-women-and-feminism/new-age-islam-news-bureau/probe-begins-against-influentials-over-'exploitation'-of-young-girls-in-pakistan/d/109274
New Age Islam, Islam Online, Islamic Website, African Muslim News, Arab World News, South Asia News, Indian Muslim News, World Muslim News, Womens in Islam, Islamic Feminism, Arab Women, Womens In Arab, Islamphobia in America, Muslim Women in West, Islam Women and Feminism, Moderate Islam, Moderate Muslims, Progressive Islam, Progressive Muslims, Liberal Islam