09 October 2022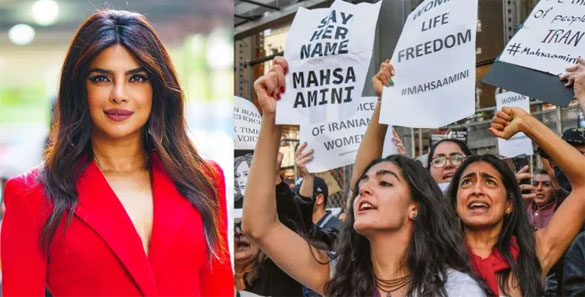 • Priyanka Chopra attacked on social media for supporting Iranian women protesting against hijab, called a hypocrite, Muslim hater
• Mother says police beat daughter to death in Iranian protests
• Voices from the Arab press: Will the women of Iran bring down the law imposing the veil?
• How the U.S. Can Help Support the Women of Iran Calling for Change
• Sexual violence against women in Afghanistan on the rise under Taliban
• Iran's brave young women must break their own chains. The west won't help
• Woman, 22, killed in hit-and-run after car mounts kerb outside Shropshire takeaway
• 'Darkest of days for Donegal': Girl (5) and her father among 10 victims of petrol station explosion, alongside teen girl and mother
• Hindu woman molested by a Muslim in Shridurga Puja Mandap in Bangladesh
• Why Iran's female-led revolt fills me with hope
• Dua Lipa Shows Support for Women's Rights in Iran Following Protest Deaths: 'Keep the World Watching'
• Muslim federation to reserve seats for women in its panel
Compiled by New Age Islam News Bureau
URL: https://newageislam.com/islam-women-feminism/priyanka-chopra-women-protesting-hijab-muslim/d/128136
--------
Priyanka Chopra attacked on social media for supporting Iranian women protesting against hijab, called a hypocrite, Muslim hater
8 October, 2022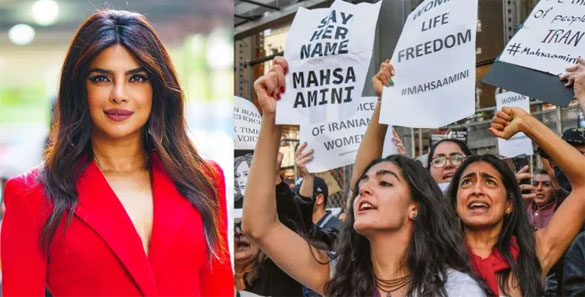 On Saturday, actress Priyanka Chopra Jonas was attacked for extending her support to the Iranian women protesting against the death of a 22-year-old woman named MahsaAmini. Amini was arrested by the 'morality police' in Tehran for not properly wearing a hijab as per mandatory hijab laws of the country and she was then killed by the police on 16 September 2022. Since then, dozens of young people have been killed and hundreds jailed in the ongoing protest against the Islamist regime.
Priyanka directed a message to Iranian protesters, stating that she admires their bravery in fighting for their rights. "Women in Iran and around the world are standing up and raising their voices, publicly cutting their hair and many other forms of protest for MahsaAmini, whose young life was taken away so brutally by the Iranian Morality Police for wearing her hijab 'improperly'. The voices that speak after ages of forced silence, will rightfully burst like a volcano! And they will not and MUST not be stemmed", the message read.
"I am in awe of your courage and your purpose. It is not easy to risk your life, literally, to challenge the patriarchal establishment and fight for your rights. But, you are courageous women doing this every day regardless of the cost to yourselves. To ensure that this movement will have a lasting effect, we must hear their call, understand the issues and then join in with our collective voices", the 40-year-old actress further said.
However, netizens on Twitter and her followers on Instagram could not digest the fact that the actress was supporting the Iranian protest against the hijab and attacked her for allegedly not standing by her country amid the hijab row. "I appreciate this post but also point out your hypocrisy for not extending the same supportive voice to Hijabi women from your own country who are being harassed by your country's government for their freedom of choice and being forbidden from taking exams because of their hijab. Can you stand up for them too? Can't probably", one of her Instagram users commented.
Meanwhile, another one said that the actress had failed to stand by the women in India, France, and Germany who want to wear hijab. "Why didn't you say anything when women were brutally treated in India, France, and Germany who wanted to wear hijab? It's everyone's own choice. Why just show support when they don't want to wear hijab? Is it really about rights or agendas?", the comment read?
Chopra's support was also condemned by the leftists and Islamist citizens who accused her of maintaining silence in many incidents favoring the Islamist community. "Priyanka Chopra's concern for Iranian women is hugely appreciated, but her silence on BilkisBano and the state-enabled persecution of Muslims, especially marginalized women in her home country, India is worth introspection", commented claimed journalist Rana Ayyub.
Source: Op India
https://www.opindia.com/2022/10/priyanka-chopra-attacked-for-supporting-iranian-women-protesting-against-hijab/
-----
Mother says police beat daughter to death in Iranian protests
Martin Chulov
8 Oct 2022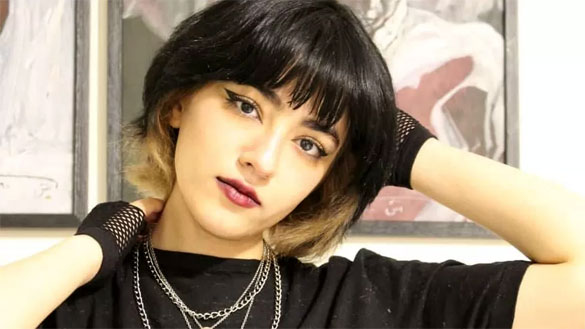 Nika Shahkarami, 16; her mother rejects the official account of her death. Photograph: Twitter
-------------
The mother of a 16-year-old Iranian girl, Nika Shakarami, who died during protests that continue to sweep the country, has rejected official claims that her death was caused by falling from a building and insisted she was beaten to death by regime forces.
Nasreen Shakarami said authorities refused to notify the family about her daughter's death for 10 days and then removed Nika from the morgue, burying her in a remote village without the family's consent. Her mother says records of Nika's death show her skull was severely damaged and her injuries were consistent with being struck repeatedly on her head.
The death of the young student has emerged as another icon of a protest movement that is now entering its fourth week and is seen as the biggest challenge to the Iranian regime's authority in at least 13 years. Iran's leaders have attempted to characterise the protests as a foreign plot, and a separatist push by a Kurdish minority. However, a groundswell of people from all walks of life continues to fuel a movement that is drawn from widespread social grievance.
Meanwhile, another teenage girl was reported to have been killed by security forces. Sarina Esmailzadeh, a 16-year-old who posted vlogs on YouTube, was reportedly killed when security forces beat her with batons at a protest in Gohardasht in Alborz province on 23 September, according to Amnesty International.
Demonstrations across the country are centred on women's rights, in particular demands to eschew the hijab, which the theocratic regime enforces as mandatory.
"The protests are the continuation of a century-long desire and struggle for change and improvement in Iran," said Dr Allan Hassaniyan, from the University of Exeter's Arabic and Islamic Studies centre. "It is too early to call them truly nationwide, but they are certainly widespread. Whatever happens next, the uprisings have already redefined the state-society relationship in Iran and have shaken the Islamic Republic to its core."
Hassaniyan said the movement marked the first time since the Islamic Revolution in 1979 that communities in the central regions of Iran had expressed solidarity with protest leaders who were campaigning against the state.
Protests started in Kurdish regions of Iran after the death of 22-year-old MahsaAmini in the custody of Iran's feared morality police who had detained her for being in violation of the dress code for women.
However, they quickly spread to other parts of the country, including the capital. Nearly one month on, the movement has galvanised women in many towns, cities, and even villages, where momentum shows little sign of slowing and defiance of social norms shows signs of increasing.
Students have been at the forefront of demonstrations and men have also expressed solidarity. "Gender struggles have proved to be an important unifying dynamic," said Hassaniyan. "The fact that this movement has followed the lead of Kurdish demonstrators is an important sign that new forms of solidarity are developing."
Defying officials, Nika's bereaved mother spoke to a Persian language service, Radio Farda, rejecting official attempts to frame her daughter's death as an accident. She said forensic reports had shown that her body was intact, but bones in her teeth and the back of her skull were broken and some teeth were missing. "The damage was to her head," she said. "Her body was intact, arms and legs."
Iran's state news agency also claimed on Friday that a coroner's report into Amini's death showed she had suffered multiple organ failure from cerebral hypoxia – a condition caused by lack of oxygen to the brain.
Human rights groups have roundly condemned Iranian authorities for the ongoing crackdown. Amnesty International says many dozens of people have been killed across the country, claiming that 66 demonstrators were killed in one day in the city of Zahedan. Human Rights Watch has also accused the government of being quick to "crush dissent with cruel disregard for life".
"The security forces' widespread shooting of protesters only serves to fuel anger against a corrupt and autocratic government," said Tara Sepehri Far, the organisation's senior Iran researcher.
Despite the growing demonstrations, there has been no sign of splintering among the ranks of Iran's vast security state. Over 43 years, the Revolutionary Guards have consolidated a ruthless hold on social and cultural mores, and have shown no sign of yielding to dissent of any kind.
Source: The Guardian
https://www.theguardian.com/world/2022/oct/08/mother-says-police-beat-daughter-to-death-in-iranian-protests
-----
Voices from the Arab press: Will the women of Iran bring down the law imposing the veil?
By MEDIA LINE
OCTOBER 9, 2022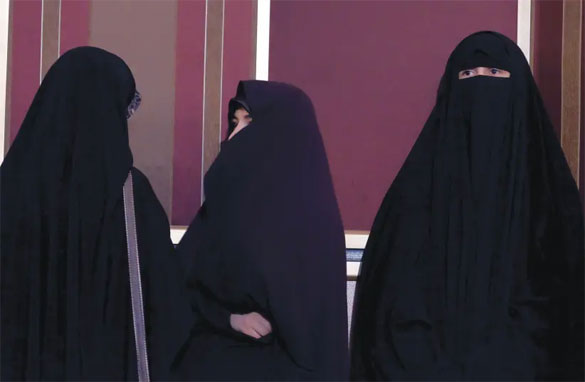 VEILED WOMEN in Tehran.
(photo credit: Raheb Homavandi/TIMA/Reuters)
------------
There is no doubt that Iranian President Ebrahim Raisi would have liked to win the sympathy of the delegates sitting at the UN General Assembly hall during his speech, but even those who could sympathize with him had in mind the sights of Iranian police chasing women, arresting them and shooting them.
The soul of MahsaAmini, who succumbed to the wounds inflicted upon her by the Iranian police, hovered over everyone present in the room. As you might recall, MahsaAmini was arrested because some of her hair showed through her veil, which was against the law. The Iranian regime first imposed the veil laws in 1981. But the truth is that the laws weren't just imposed in Iran; they also made their way to most Gulf and Arab countries. Inspired by the Iranian Revolution, other counties in the region began imposing their own laws pertaining to head covering.
At this time when Iranian women are revolting against the most important symbols of authoritarianism, I recall the late Fatema Mernissi, the renowned Moroccan sociologist, whose research focused on the veil. One of Mernissi's most important books was "Behind the Veil," in which she refuted the claim made by some clergymen about women's hair and face as a fitnah – a temptation – for men. In this book, Mernissi claims that men who are afraid of seduction should lower their gaze. It seems that Iranian President Raisi remains adamant about his position on the veil, so he refused to meet CNN reporter Christian Amanpour if she was not veiled. Amanpour declined the request out of empathy with her sisters in Iran who are being killed for their rebellion against the veil. If further political unrest unfolds in Iran, President Raisi will bear the consequences, and even conservatives will hate the day he became president.
Many of us wonder not about the future of veiling in Iran and the Arab region, but about the future of the regime in Iran. Unfortunately, there is no law or mathematical formula that accurately predicts what will happen in Iran over the next few years. Certainly, women in Iran after September 16, 2022, are different from women before this date. If they manage to overturn the veil law, it is expected that many women on the opposite side of the Gulf will reconsider their options as well. Hopefully, I will be able to visit Iran one day in the future without seeing public signs indicating that the wearing of a head scarf is required by every woman in every public setting. – Hamed Al-Hamoud
Over the decades, many complaints were filed over the noise caused by mosques located in residential neighborhoods. At first, the government attempted to deal with the issue by promising that the Adhan – the call to prayer usually played on loudspeakers – would be limited to one mosque per neighborhood. However, this solution was short-lived and was soon replaced with the idea of implementing a unified call to prayer, which would be sounded by all mosques simultaneously. But even this initiative hasn't been met with success across the country.
The demand to standardize the call to prayer has yet to be met. Recently, Minister of Endowments Dr. Mohamed Mokhtar Gomaa explained that the delay in implementation has been caused by the Coronavirus pandemic. But the obvious fact is that the project is progressing very slowly. The excuses made by senior officials in the ministry have been prevalent since 2019. To date, very few of the mosques located in Greater Cairo have joined the initiative. It turns out that there are many mosques that fall outside the jurisdiction of the ministry, allowing them to sound whatever Adhan they want. Sadly, many mosques still believe that having the loudest call to prayer distinguishes them from other mosques, even if they disturb the peace of their neighbors and violate the public's right to a basic quality of life. – Ahmed Abd Al-Tawab
The speech given by Israeli Prime Minister Yair Lapid at the UN General Assembly revolved around the two-state solution. Whereas the Israeli Right, led by Binyamin Netanyahu, has opposed the Palestinians' right to establish a state of their own, a new camp, led by the likes of Lapid, supports such a move. For Lapid to speak about the two-state solution just weeks before Israel's next election – the fifth Israeli parliamentary election in three and a half years – is a huge bet. It is true that Palestinian President Mahmoud Abbas acknowledged Lapid's speech with skepticism. But Lapid's position is an important one in the Israeli political scene. His announcement of support for the two-state solution seems to have been a calculated move aimed at highlighting his distinction from Netanyahu. Publicly supporting the two-state solution may also be a way for Lapid to woo over the Democratic administration in the White House, which is also concerned with Netanyahu's potential return to power.
Meanwhile, the Israeli public has grudgingly grown used to the idea that the Arab vote in the election will determine the identity of the next coalition. The Arabs in Israel make up about 21% of the total population. However, the percentage of those eligible to vote, due to the age structure, stands at only about 17% percent. Nevertheless, this percentage is supposed to allow the Arabs to obtain more than 20 Knesset seats out of the total of 120. But division, the multiplicity of parties and low voter turnout all have prevented this from happening. Some reports in 2019 spoke of right-wing settler parties financing the Arab boycott of the election, and Arab MP Aida Touma raised the matter at one time. On the other hand, reports these days speak of foreign funds, some of them American, aimed at encouraging Arabs to participate in the election.
But what caught my eye was the eagerness shown by Jordan towards the Arab political parties in Israel, in an attempt to push them toward unity that would grow their parliamentary presence. Whereas Washington is hiding its historical "hatred" of Netanyahu, Amman is publicly working to avoid his return to office. In the 2020 election, the Arabs ran under one party, the Joint List, achieving their highest-ever representative power by obtaining 15 seats. This number was reduced to 10 seats in the 2021 election following the split of the bloc into smaller parties. Mansour Abbas, whose list won four seats, allowed for the establishment of a government by Naftali Bennett and Yair Lapid. He joined the government coalition, which sparked an Israeli debate on the issue of the Arabs determining the fate of a government and an Arab debate about Abbas's choice to formally join an Israeli government.
If the Abbas phenomenon emerged from a bilateral Arab division in the last election, this time the Arab candidates are even more fragmented. The split will lead to more dispersal of the Arab voice. Polls suggest that the voter turnout will drop to 40% after it reaches 70% in 2020. However, other pundits believe that this pluralism of parties will strengthen the vitality of the electoral campaign in the Arab community. In the polls, Netanyahu's bloc will get 59 seats compared to 56 for his opponents. This means, once again, that whoever will rule Israel will need a few seats that must be found among one of the Arab lists. Indeed, Arab voters will play a pivotal role in the Israeli election. Within the Arab community, there are those who fear that this fact will lead to more extremism against the Arabs in Israel.
Source: Jpost.Com
https://www.jpost.com/middle-east/article-718851
-----
How the U.S. Can Help Support the Women of Iran Calling for Change
Oct. 8, 2022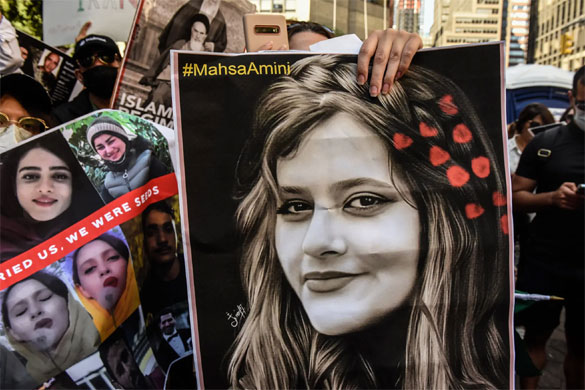 Stephanie Keith/Getty Images
----------
The hijabs that thousands of Iranian women and girls have been burning in defiance over the past few weeks — since the death of MahsaAmini in the custody of Iran's morality police on Sept. 16 — are a symbol of far broader discontent with Iran's corrupt and incompetent leaders. The protests since Ms. Amini's death, led by women, have persisted for weeks and have brought Iranians in dozens of cities into the streets to reveal the depth of their anger. Iranians who are sick and tired of living under a tyrannical theocracy deserve the support of the United States and its allies.
The death of Ms. Amini, who was detained by the guidance patrol for allegedly wearing her hijab improperly, is an outrageous sample of the violence the Islamic Republic has visited on women since coming to power in 1979. The religious cabal that has led Iran since then, currently led by Ayatollah Ali Khamenei, the supreme leader, regards enmity with the United States and keeping women in their place as critical to their survival in power.
The threat of a virulently anti-American and anti-Israeli regime obtaining nuclear weapons is real, but the diplomatic efforts to block it must go hand in hand with efforts to help Iranians who are seeking respite and change.
Ayatollah Khamenei is 83 and ailing, and he is among the last of the Islamic revolutionaries who overthrew the monarchy. His passing, however, would be no guarantee of a more liberal regime in Tehran. As Karim Sadjadpour of the Carnegie Endowment for International Peace wrote in a recent essay in The Times, his cohort of true believers have been largely supplanted by opportunists in search of wealth and privilege.
Source: Ny Times
https://www.nytimes.com/2022/10/08/opinion/iran-protests-women.html
-----
Sexual violence against women in Afghanistan on the rise under Taliban
KATHARINE LAKE BERZ
09-10-2022
Mehr, a 24-year-old university graduate in Kabul, lives in hiding. Dozens of men have a digital photo of her wearing nothing but underwear, she said, and some of them are threatening to get her arrested if she doesn't have sex with them.
Before the Taliban seized control of Afghanistan in August, 2021, she shared the image with a man she had hoped to marry. Now, violating the new regime's strict modesty standards for women is a crime. She said the situation has left her fighting suicidal thoughts every day. She fears that if she is arrested she will be killed.
Threats against women are now common in Afghanistan. Advocates for victims say sexual violence is on the rise under Taliban rule, and that previous supports to which women had access are no longer available to them.
The Globe and Mail spoke with six Afghan women who have faced gender-based violence since the Taliban came to power, and two local journalists who cover women's issues. All of them described a worsening of conditions for women over the past year. The Globe is not identifying them by their full names out of concern for their safety.
For Afghan women, "the absence of war is not peace," said Ayesha Jehangir, a war and conflict researcher at the University of Technology in Sydney, Australia.
Dr. Jehangir, who is Pashtun, said some gender-based violence stems from a southern Afghan societal code called Pashtunwali, which predates the region's conversion to Islam in the seventh century. The code prohibits women from interacting with men outside of their families and has long been used to justify honour killings. Women who endure gender-based violence are often victimized again by their communities, whose members blame the women themselves for being sexually assaulted, Dr. Jehangir said.
By upholding Pashtunwali views of women as property, the Taliban have destroyed 20 years of progress on women's equality and escalated sexual violence, Dr. Jehangir added. The regime has withdrawn a major advance in women's rights introduced in 2009, known as the Law on Elimination of Violence against Women. The law had allowed victims to report abuse and prosecute perpetrators.
And, in September, 2021, the Taliban shuttered the Ministry of Women's Affairs. It was replaced by the Ministry for Promotion of Virtue and Prevention of Vice, the Taliban's morality police.
A 25-year-old woman said she was the mistress of a former government official before the Taliban takeover. She now has no choice but to remain the married man's sex slave indefinitely. If she refuses him, he will kill her and the rest of her family, she said.
A 33-year-old journalist who rallied for gender equality in Kabul in December told The Globe that three of her fellow protesters were imprisoned, tortured and raped by Taliban officers. The women were released a few months later, the journalist said. But they were warned to stay silent, or videos of the rapes would be publicized – a probable death sentence.
The journalist also confirmed through friends in Afghanistan that eight women who survived a brutal gang rape in January reportedly committed by Taliban officials in the city of Mazar-e-Sharif were later killed by their families. The women were imprisoned, stripped naked, whipped, electrically shocked and repeatedly raped over several weeks, she said. Their families, fearing they were pregnant, killed them to protect family honour.
Afghan women are murdered in myriad ways, including beheading, immolation, hanging, laceration, strangulation, shooting and electric shock, the sources who spoke to The Globe said. A 21-year-old being blackmailed by a man who is threatening to tell her father that she is not a virgin wrote that she fears being buried alive.
And there are few places for survivors to hide. An Amnesty International report said the Taliban have looted and closed women's shelter services. Some survivors had to return to abusive families and some live in hiding, the report said; others were imprisoned for "immoral behaviour" at Pul-e-Charkhi prison, near Kabul.
A 28-year-old former employee of the Afghan Ministry of Women's Affairs in the northeastern province of Baglan said she still tries to help abused women. But, with shelters closed, there is little she can do. Her own husband brutally beats and rapes her, she said, assaults that have become more frequent and vicious since the Taliban takeover.
Sexual violence in marriage is prevalent in Afghanistan. A 2021 survey by the Afghan Ministry of Women's Affairs reported that 40 per cent of women in Afghanistan's Kandahar province had experienced sexual violence and more than 60 per cent nationwide were married without their consent.
Maryam Said Anwar, an Afghan refugee who is now living in Vancouver, said she was drugged and tortured by her husband before she fled. "Even as l lay full of pain and blood on the ground, he would hit my face and remove my nails with heavy-duty pliers," she said.
The Taliban are ignoring murders of men in domestic disputes as well, several sources told The Globe. A former Afghan government official said his neighbour killed another man and took the man's wife as his own. The Globe is not naming the official because he fears reprisal from the Taliban.
The Taliban have also created a list of unmarried girls, some as young as nine years old, and is forcing their fathers to marry them off to Taliban men, Dr. Jehangir said. Families live in fear because many Afghans are willing to turn in their neighbours' daughters to curry favour with the Taliban.
Mia Bloom, a Canadian gender violence expert at Georgia State University in Atlanta, said women in Afghanistan are crestfallen and heartbroken.
The only chance for Afghan women is for Western countries to connect humanitarian funding to improving women's security in Afghanistan, she said, or "we're going to lose an entire generation of women."
The Afghan women who spoke to The Globe said they suffer violence without allies or weapons. Many resort to blaming themselves for their anguish.
Source: The Globeand Mail
https://www.theglobeandmail.com/world/article-sexual-violence-against-women-in-afghanistan-on-the-rise-under-taliban/
-----
Iran's brave young women must break their own chains. The west won't help
Simon Tisdall
8 Oct 2022
In Hong Kong in 2019-20, millions took to the streets to oppose the repressive actions of an authoritarian regime. But ultimately their voices were silenced, their leaders jailed and China stripped away their democratic rights – as western leaders looked on, wringing their hands.
In Belarus, nationwide protests erupted when a cruel dictator stole the 2020 election. The UN said hundreds of people were abused, tortured, raped. But the dictator, Alexander Lukashenko, propped up by his loathsome buddy in Moscow, remains truculently in power.
In Myanmar, the army launched a coup last year, replacing elected politicians with a military junta. Its boss, General Min Aung Hlaing, stands accused of overseeing genocide and ethnic cleansing of the Rohingya minority – but has got off scot-free so far.
It's a pattern that repeats with dismaying frequency around the world. Just look at the Arab spring "revolutions" in Syria and Egypt. The people rise up, the people are crushed – and the western democracies, crying foul, eventually accept the new-old reality.
Is this the fate now awaiting the young women of Iran who have bravely taken the lead in challenging the latest lethal excesses of Tehran's morally bankrupt regime? Like other countries, Iran's 1979 revolution vanquished a tyrant, only to have another take his place.
Yet today's ongoing nationwide protests, defying brutal crackdowns, are unusual in several respects. While most seem to be led by young women and schoolgirls, backed by young men, a wide range of ages, ethnic groups and social classes is represented.
The uprising has no leaders, organisation or manifesto other than "Women, life, liberty" – a slogan signalling collective commitment to human rights, free expression and democratic self-determination. Little wonder this vile regime cannot comprehend it.
Most strikingly, the women show no fear. They refuse to be cowed (or covered). These vigorous younger generations care nothing for the Islamic Republic's 43-year history of grand designs, broken promises and bloody wars. For them it is corrupt, anachronistic and irrelevant.
Nor has the unrest anything to do with "foreign plots" – the regime's hackneyed, catch-all excuse for failure. It has everything to do with high educational attainment, the internet and social media, globalised culture, and the denial of personal and career freedoms that are the accepted norm elsewhere.
Whether or not the mullahs realise it, these courageous young women are Iran's future. No longer can they be silenced, closeted and forcibly isolated from the world. They're connected. They inhabit the era of #MeToo and Black Lives Matter. They know it, celebrate it.
After years in gestation and several wrenching false starts, citizen-based politics has arrived in Iran. It's setting an agenda for change. And there's no putting that genie back in the bottle. For the supreme leader, the arch-reactionary Ayatollah Ali Khamenei, and for his placeman president, Ebrahim Raisi, the message is plain: give way or "get lost".
Next week or next year, sooner or later, the second Iranian revolution is coming. The wheel is turning anew. And over time, no amount of killings, detentions, censorship and threats, no amount of shaming of young women, no futile efforts to persist with mandatory hijab – that potent symbol of revolt – can stop it.
That said, the Shia clerical oligarchy will not willingly embrace this dawning reality. It will resist every which way it can. Its victims, such as the heroic, much-persecuted women's rights lawyer Nasrin Sotoudeh, know how viciously the regime clings to its beliefs, prejudices and power.
And yet, as Shirin Ebadi, one of Iran's first female judges and 2003 Nobel peace prizewinner, has noted, the battle is not with Islam but with those who exploit and distort it for their own ends. Men like the Islamic Republic's theocratic founding dictator, Ayatollah Ruhollah Khomeini.
"An interpretation of Islam that is in harmony with equality and democracy is an authentic expression of faith," Ebadi wrote in her 2006 book, Iran Awakening. "It is not religion that binds women, but the selective dictates of those who wish them cloistered."
Iran's women's revolt comes amid increased scrutiny of the subjugation and abuse of women in Muslim countries. The Saudi government attracted deserved opprobrium in August after the outrageous jailing for 34 years of Leeds university student Salma al-Shehab for her use of Twitter.
In Afghanistan, the Taliban's misogynistic diktats, such as closing girls' schools, have wrecked its hopes of international acceptance. The nightmare world of 1990s Kabul, unveiled in Khaled Hosseini's A Thousand Splendid Suns, is back with a vengeance.
Yet across the developing world, positive examples may be found of self-empowered Muslim women taking charge. I've witnessed it myself, at a women-owned village crab business on the Bay of Bengal in Bangladesh, an agricultural collective in Mindanao in the Philippines, and a domestic violence support group in Kuala Lumpur, Malaysia.
In Idlib, north-western Syria, women have taken the leading role in providing education, food distribution and healthcare for refugees from the civil war. It's a huge cultural shift – and appears permanent.
Viewed in this more hopeful context, it's clear that Iran's women are not alone in challenging the archaic shibboleths of male-dominated societies. And today's upheavals belong to a continuum. Iran has changed massively since I first visited in 1977. The emancipatory process is slow and uneven, but it has no reverse gear.
Evidently, Iran's regime will not go quietly or quickly. So what will the west do? As already discussed, recent history suggests: not a lot. A few harsh words here, a few sanctions there, and the global caravan moves on.
This is no surprise. And it's a hard truth. Iran has many friends and well-wishers abroad who will do what they can. But for their second revolution to succeed, Iranians must firstly rely on themselves.
Source: The Guardian
https://www.theguardian.com/world/2022/oct/08/irans-brave-young-women-must-break-their-own-chains-the-west-wont-help
-----
Woman, 22, killed in hit-and-run after car mounts kerb outside Shropshire takeaway
By Siba Jackson
9 October 2022
A 22-year-old woman has been killed in a hit-and-run incident after a car mounted a kerb outside a takeaway in Shropshire.
The car struck the woman and another person in front of the Grill Out restaurant in Oswestry at around 2.50am on Sunday, police said.
Aston Villa's Dalian Atkinson celebrates after scoring against Tottenham Hotspur at White Hart Lane. Aston Villa won the match 4-3.
"I'd like to thank the members of the public who worked tirelessly at the scene to help the victims and deliver crucial first aid.
Source: News.Sky.Com
https://news.sky.com/story/woman-22-killed-in-hit-and-run-after-car-mounts-kerb-outside-shropshire-takeaway-12716233
-----
'Darkest of days for Donegal': Girl (5) and her father among 10 victims of petrol station explosion, alongside teen girl and mother
Adrian Rutherford
October 08 2022
Ten people have died after an explosion at a Co Donegal petrol station which police believe was a tragic accident.
Fatalities are understood to include a five-year-old girl who was being accompanied by her father, as well as a teenage girl and her mother, and another teenage boy.
A search and recovery operation had continued through the night for "further fatalities" amid the debris of the Applegreen service station.
In Northern Ireland, DUP leader Sir Jeffrey Donaldson and First Minister designate Michelle O'Neill were among those offering prayers.
A gas leak is thought to be the most likely cause of the blast which destroyed the village's only shop, as well as apartments overhead, on Friday afternoon.
"At this point in time, we have to keep an open mind in how we investigate this but our information at this point in time is pointing towards a tragic accident.
Emergency services from Northern Ireland have helped with the rescue operation. Assisted by local volunteers, emergency teams had worked through the night to reach people still trapped in the debris. Sniffer dogs drafted in from Belfast were also assisting with the search.
Source: Belfast Telegraph
https://www.belfasttelegraph.co.uk/news/republic-of-ireland/darkest-of-days-for-donegal-girl-5-and-her-father-among-10-victims-of-petrol-station-explosion-alongside-teen-girl-and-mother-42050073.html
-----
Hindu woman molested by a Muslim in Shridurga Puja Mandap in Bangladesh
09 Oct 2022
Dhaka (Bangladesh) – A Muslim named Aftab Hussain molested a Hindu woman after entering a Shridurga Puja Mandap in Dhaka.
Aftab Hussain, a religious fanatic, was arrested in this case from Jagannath Hall on the Dhaka University campus. 'Voice of Bangladeshi Hindus' has shared this information on Twitter.
Source: Sanatan Prabhat
https://sanatanprabhat.org/english/65073.html
-----
Why Iran's female-led revolt fills me with hope
Kamin Mohammadi
8 Oct 2022
It was in the strange days between the Queen's death and her funeral that the bad news from Iran broke through the blanket coverage of the state mourning rituals. The news that pierced this was the report that a young woman had died in the custody of Iran's morality police.
MahsaAmini, a 22-year-old Iranian Kurd, had been taken into custody because of "bad hijab". She was visiting relatives in Tehran with her brother when the morality police challenged her about a few strands of hair that were showing from her standard hijab. According to her brother, she was in custody for just two hours before collapsing and being taken to hospital, where she lay in a coma before dying on 16 September. The authorities claimed that she had a heart attack from a pre-existing condition. Her family deny this, and state that her head and body were covered in bruises and signs of being beaten.
As an Iranian who has grown up and lived in Britain since the age of nine, I am long accustomed to the horror stories that come out of my birth country. So when protests started in Mahsa's homeland of Kurdistan – a western province in Iran – I shuddered at the possible arrests and violence that may be meted out on those taking part, but didn't think more of it. Protests at the abusive treatment of women, minorities and students have become commonplace in the past years and I have become reluctantly accustomed to observing passively while the Iranian authorities suppress people's peaceful demonstrations with increasingly violent force.
Ethnic Kurds have long experienced discrimination in Kurdistan. Mahsa's real name – Jhina – is Kurdish and as such could not be registered on her birth certificate as only Persian and some Islamic names are lawful. There are also laws against the teaching of the Kurdish language in schools. It so happens that my paternal homeland is the very town that JhinaAmini came from and so when I heard about the protests in Kurdistan, I prayed that my family would be safe.
However, in spite of 250 people reportedly being arrested and five killed during two days of protests in Kurdistan, the demonstrations didn't stop. In fact, they spread to the rest of the country, and the Kurdish freedom cry of "Woman Life Freedom" became the dominant chant in what have become the biggest nationwide protests that Iran has seen since the revolution of 1979. As I write this, BBC Monitoring has recorded protests in at least 350 locations in the country over the past 20 days.
In images that diasporic Iranians like me have been sharing on social media, we see the protests are led by women, predominantly very young women (Gen Z), who are tearing off their headscarves to wave them triumphantly in the air, to burn them, to joyfully dance as they consign them to bonfires.
What started as a protest against the mandatory hijab soon became a demand for freedom. "Woman Life Freedom" is the first time in Iranian history that a chant demands something positive rather than the end to, or the death of, someone or something. The brutal treatment of MahsaJhinaAmini over "bad hijab" – and now many other young women, including 16-year-old Nika Shakarami, killed in these weeks – was the spark that lit this conflagration of rage. But the real heat of this movement comes from decades of repression and oppression of any viable opposition to the hardline clerical regime, a freefalling economy and the mass corruption and hypocrisy of the ruling elite, which refuses to allow Iranian women some loosening of the mandatory hijab even as their own children stalk the streets of LA clad in revealing outfits and post pictures of parties they hold in luxurious mansions bought with the pilfered riches of our country.
The headscarf that is being waved, banshee-like, by Iranian women is, for the people of Iran, no longer anything to do with Islam but a symbol of the oppression that the regime has visited on its own people in the name of religion. This is not a call for the end of Islam, it is a call for the end of the symbols of state power and abuse, a call that even religious Iranians have joined. As my quietly devout Iranian aunties tell me, this regime has taken the symbols of their faith and turned them into a tool for the suppression of half the population. They and women like them are joining the protests alongside the girls who have so courageously whipped off their hijab to face the regime's forces with their hair flowing.
The women of Iran have been demanding freedom ever since Ayatollah Khomeini took power in 1979 – the first demonstration against mandatory hijab was three weeks after Khomeini's arrival. Before the revolution, Iranian women had some of the most liberal laws in the Middle East: they could wear what they liked, they could work and even rise to be judges, they had equal rights to divorce and the custody of children, and they had been voting since 1963.
It was not until 1983 that mandatory hijab was finally made law for all women in Iran – and arguably it was only because of the devastating war with Iraq that started in 1980 that the regime was able to impose this. The fact that Iranian women enjoy the right to work and vote and appear in public spaces is testament to their relentless fight for their rights in the Islamic Republic.
Of Iran's population of 84 million people with a literacy rate of 97%, women make up 65% of university graduates. And all this for a gender whose word in court is worth half that of a man (you need two female witnesses to attest where one man will do), who cannot sing, dance or show its hair or body in public, and can be married aged 13.
Significant uprisings in Iran led by women have taken place in 1999, in 2005, in 2009, 2017 and again in 2019. From 2009 onwards, men have joined women in these protests, often adopting the hijab themselves to express their equality with women.
In reality, Iranian people's struggle for freedom and democracy goes back more than 100 years. The Constitutional Revolution of 1906 was quashed by imperial Russia and Britain. In 1953, democratically elected prime minister Mohammad Mossadegh, who nationalised Iranian oil, was removed in a coup engineered by the CIA and MI6 – until that point Britain had received 87% of the revenue from Iran's oil and after the coup, America occupied the main place as the foreign power stealthily colonising Iran.
These demonstrations feel different in significant ways. In spite of a bloody crackdown, which has seen live and rubber bullets shot into protesters, the mass rounding up of university students, dystopian scenes of schoolchildren being beaten by security forces on the streets and a massacre in another ethnic minority province, Sistan and Baluchistan, the people of Iran are not giving up. Protests which took place mainly at night have now spread to broad daylight.
Many shopkeepers are not opening, university students are on nationwide strike and there are increasing instances of quiet civil disobedience – women going about their daily lives dressed as you and I are, without the mandatory hijab. Now that high schools are back, schoolgirls are joining the protests in their droves, baring their hair in the school yard and chasing out the representatives of the regime.
There is a power and energy to these protests. The sight of young girls with flowing locks taking down pictures of the two elderly ayatollahs Khomeini and Khamenei, the current supreme leader, that brings tears to my eyes and makes even my cynical heart burn with hope. It is as if the Furies have been unleashed in Iran and these extraordinarily brave young women, who are prepared to walk into bullets for the sake of the right to choose how to live, have lost all the fear that has kept previous generations repressed.
I say cynical heart because, as a member of Iran's huge diaspora, as a proud British-Iranian, I have spent a large part of my adult and working life trying to introduce my countries to each other, and it has seemed to no avail.
So much of my work has been about humanising the people of Iran in my adopted country in the hope that if the British people realised that the people of Iran are not the regime, that they are peace-loving, educated and cultured just like in the west, then perhaps the chances of war being waged on my country would lessen.
Since George W Bush's "axis of evil" speech, some of us diasporic Iranians have been walking a particularly tricky tightrope: not daring to speak out too passionately about the atrocities of the regime against our people for fear of repercussions for our family in Iran, for losing our own ability to travel there safely, and also for feeding the toxic narrative of Iran in the west.
Yet 20 years after some of my biggest articles were published – some even nominated for awards from Amnesty and the American Society of Magazine Editors – I see that the western narrative on Iran has hardly changed. And now that our women and children are dying in the demand for basic human rights, the indifference of much of the mass media and even social media on this topic is palpable.
It seems that the death of MahsaJhinaAmini has not captured the world's imagination in the same way as the death of George Floyd did, and the subsequent global protests in solidarity with the Iranian uprising have had few column inches, in spite of mobilising some 500,000 people around the world in one day alone (1 October).
But now, as I watch the unity in Iran and the cry of this generation which carries within it the stifled cries of all the generations gone before, for the first time in many years I am allowing myself to dream that one day I too can enter Iran without fear gripping my heart and accompanying every step I take there.
I am quietly resurrecting the long-buried wish to one day walk down Vali Asr Boulevard in Tehran (the longest street in the Middle East) with my hair loose under the Iranian sun and to lean in to kiss my man without fear of being arrested or shouted at or slapped on the street, or taken to be beaten to death in the back of a morality police van. This is a fragile hope that I keep tucked in my back pocket.
Meanwhile, I hope that the world wakes up to understand that what is happening in Iran is the frontline of feminism right now: the simple expression of desire for equality, for dignity, for life without fear. And as such, it touches us all. Say it with me: Woman Life Freedom.
Source: The Guardian
https://www.theguardian.com/world/2022/oct/08/iran-mahsa-amini-women-girls-revolt-hope
-----
Dua Lipa Shows Support for Women's Rights in Iran Following Protest Deaths: 'Keep the World Watching'
By Mitchell Peters
08-10-2022
The 27-year-old pop superstar took to social media on Saturday (Oct. 8) to bring attention to the death of numerous young females at the hands of Iranian police and security forces amid ongoing protests in the country.
"Sarina Esmailzadeh, 16, beaten to death by Iranian security forces for protesting for women's rights in Iran. Nika Shakarami, 16, killed after burning her headscarf in protest. Hadis Najafi, 23, shot multiple times during demonstrations sparked by the death of MahsaAmini, 22, after her arrest by the country's morality police," the "Levitating" singer captioned a gallery honoring the girls on Instagram.
Protests recently erupted throughout Iran following the death of Amini, who was detained by the country's "morality police" in the streets of Tehran due to the style of her hijab. The woman was taken into a van by officers, fell into a coma in police custody, and died two days later. While Iranian officials claim she died from a heart attack, a United Nations report as well as Amini's relatives say she was brutalized during her arrest and later died, presumably as a result of her injuries.
"Just four young women out of more than 100 protestors to pay with their lives," Lipa continued in her post. "An estimated 1,200 more are in police custody. Please don't turn away, keep the world watching. Every one of us can lend our platform and together we can make some fkn noise. I stand with the women of Iran."
Lipa is one of many musical artists showing their support for the women of Iran, including Justin Bieber, Yungblud, Ricky Martin and Halsey. In late September, Lipa also took to Twitter Live to discuss Amini and the subsequent protests.
"The images of women protesting in the streets by cutting their hair and burning their hijabs is one of the most powerful and inspiring things I've seen for many years," she said. "To any listeners in Iran or from Iran, we see you, we hear you, and we stand in solidarity with you."
Source: Bill Board
https://www.billboard.com/culture/politics/dua-lipa-iran-protest-deaths-womens-rights-shows-support-1235152985/
-----
Muslim federation to reserve seats for women in its panel
Ziya Us Salam
OCTOBER 08, 2022
In a development likely to have far-reaching implications for leading Muslim organisations in the country, All India Muslim Majlis-e-Mushawarat has announced plans to reserve seats for women and Pasmanda community representatives to the body's 25-member national executive. Besides, plans have been announced to bring on board four members from southern States and one representative of northeast India.
Two seats each have been earmarked for women and notified Muslim OBC representatives. This is the first time ever that seats have been reserved on caste lines in any Muslim body in the country.
Incidentally, the Mushawarat is the umbrella body of 12 Muslim organisations, including Jamaat-e-Islami Hind, the Muslim League, Indian National League and Jamiat Ahl-e-Hadith. The changes have been brought in with select amendments to the constitution of the Mushawarat. The amendments were brought in through a referendum that took place via a postal ballot.
"The moment the amended constitution got the consent of the members, it was considered passed," says Navaid Hamid, President, AIMMM. A little over 81% of the members voted in favour of reservation for women through a referendum while nearly 74% voted in favour of Pasmanda reservation.
The groundbreaking changes come with a cloud of uncertainty. Three leading organisations, Jamaat-e-Islami Hind, its student wing SIO, and Indian National League boycotted today's deliberations. It was argued that Mr. Hamid is a caretaker president and hence, not authorised to bring in far-reaching changes to the constitution. They argued that Mr. Hamid's extended tenure as the president of the body ended in September this year. Hence, the changes he has brought in cannot stand legal scrutiny.
Among those who participated in today's deliberations were representatives of Jamiat Ahl-e-Hadith, Markazi Ahl-e-Hadith-e-Hind, All India Momin Conference, Jamiatul Quraish and Association of Muslim Professionals, while others sent in letters of support.
"His elected term ended on December 31, 2019. His grace period also ended on September 5, 2022. He is not authorised to amend the constitution. His plans to reserve seats for women and Pasmanda are unprecedented. In Mushawarat, we have never seen the caste of a person occupying a seat," says Zafarul Islam Khan, former president of the Mushawarat, adding, "When I became the president in 2008, the first choice was Maulana Abdul Haq Ansari who was the president of Jamaat-e-Islami. He was a Pasmanda. It did not matter to any member. However, the Jamaat's policy was to not accept any presidency. So, he did not become the president of the Mushawarat and I got a chance."
Mr. Khan contends that the Mushawarat today is a mere coterie of yes men, and Mr. Hamid is a mere caretaker till fresh round of elections take place; the changes go against the letter and spirit of the body.
Mr. Hamid argues that he has every right to be in the seat till the elections and the changes are legally sound as they have been ushered in through a referendum. "Those questioning the referendum, they also participated in it though through negative voting. Why did they participate in the referendum? It means they accepted the process."
Source: The Hindu
https://www.thehindu.com/news/national/muslim-federation-to-reserve-seats-for-women-and-pasmanda-representatives/article65985757.ece
-----
URL: https://newageislam.com/islam-women-feminism/priyanka-chopra-women-protesting-hijab-muslim/d/128136
New Age Islam, Islam Online, Islamic Website, African Muslim News, Arab World News, South Asia News, Indian Muslim News, World Muslim News, Women in Islam, Islamic Feminism, Arab Women, Women In Arab, Islamophobia in America, Muslim Women in West, Islam Women and Feminism