New Age Islam News Bureau
10 Nov 2013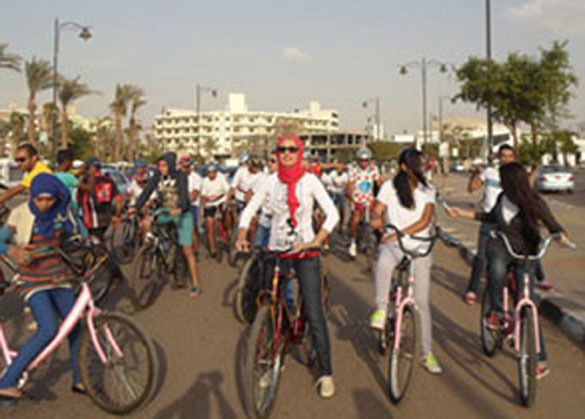 Egyptian women bike against sexual harassment in Suez on November 8, 2013 (Photo: Aswat Masriya)
-----------
• Egypt Women Ride Bikes to Defy Sexual Harassment
• 66,000 Girls Mutilated - And We've Let Them Do It in Britain
• Nigerian VP's Wife Advises Muslim Women on Upbringing of the Girl-Child
• Pakistan: "Families Marry their Sons to the Young Girls to Gain a Child Servant"
• Tanzania: First Lady Appeals to Elders Over School Girl Pregnancies
• Political Participation of Women in Larger Public Life Stressed
• Saudi Housewife Beat 'Badly Behaved' Indonesian Maid, Hears Dubai Court
• M'sia on Right Track to Empower Women for Economic Growth
• Moms Guide Is Building a Multicultural Bridge
Compiled by New Age Islam News Bureau
URL: https://newageislam.com/islam-women-feminism/private-schools-pakistan-ban-malala/d/24358
------------
Private Schools in Pakistan Ban Malala Yousafzai's Book
November 10, 2013
Tens of millions of Pakistani children will struggle to lay their hands on the book written by Malala Yousafzai after the organisation representing the country's private schools decided to ban it.
The All Pakistan Private Schools Federation, which says it represents more than 152,000 institutions across the country, has decided that allowing pupils to read the book, I am Malala, would have a "negative" effect on them. The federation also said it believed the book was not entirely respectful of Islam.
The book will not be included in the schools' curriculum, nor will it be stocked in school libraries. Pakistan's most elite schools belong to the federation. The government does not plan to teach it in state schools, though it is not banned.
"The federation thought we should review the book, and having reviewed it we came to the decision that the book was not suitable for our children, particularly not our students," said the federation's president, Mirza Kashif. "Pakistan is an ideological country. That ideology is based on Islam.... In this book are many comments that are contrary to our ideology."
The book, written jointly by the teenage education campaigner who was shot last year by the Taliban, and a British journalist, Christina Lamb, was published last month to widespread international enthusiasm. The 16-year-old tells of her life in the Swat Valley – where her father ran a private school – when it was under Taliban rule, of writing an anonymous blog for the BBC, and of her campaign for girls' education.
Yet in Pakistan, the reaction to Malala and her book has been mixed. Many have claimed she has been used by the West for its own interests. The Taliban threatened to attack bookshops that stocked it.
Mr Kashif, who said 25 million pupils attended private schools in Pakistan, claimed that in the book Malala had defended the writing of Salman Rushdie on the grounds of free speech and had failed to use the abbreviation PUH – "peace be upon him" – when referring to the prophet Mohamed. He said there was a sense that Malala had not written large parts of the book, because it referred to things that happened before she was born.
Observers say the ban comes amid discussions in Pakistan about Malala's actions. It also follows recent controversy at a celebrated Lahore private school that started teaching sex education.
"The decision to ban the book is the result of a deliberate smear campaign run against Malala and the book by right-wing commentators," said Bina Shah, a Karachi-based novelist and education campaigner. "There has been complete confusion about the book, sown very deliberately in the minds of adults because of this right-wing talk."
In Pakistan, some of Malala's strongest supporters are schoolgirls. Yet pupils from Lahore's exclusive Bloomfield Hall School, where fees are £116 a month, held mixed views about the book.
Zonash Raza, 15, said she sympathised with Malala, yet believed her speech at the United Nations was damaging to the country's reputation. "The world already gets to hear a lot of corruption stories about Pakistan and this is only going to add to that same image," she said. Yumna Afzal, 16, said Malala was an inspiration for girls across the country and that she had revealed the importance of education.
"The decision [to ban the book] is completely wrong and it is a conspiracy to show Malala as a US puppet," she said. "I have heard talk shows on TV where people are claiming Malala is fake and the injuries she received are not real, but I really don't agree with them. She is a hero and an inspiration."
Ramsha Shoaib, 15, said: "Personally, I think it was a biased decision to send Malala to the UN to represent Pakistan because there are millions of other girls who are suffering far greater hardships, but are never noticed or sent to the UN.... She is giving a very negative image to the world outside. She, being a girl, was supposed to portray a positive image of the country."
A recent briefing document prepared by Unicef suggested Pakistan faced a "myriad of challenges" in its efforts to educate its youngsters. Indeed, after Nigeria, Pakistan has the second highest number of unschooled children in the world.
The situation is especially poor for girls, particularly in rural areas. In the remote tribal areas that border Afghanistan, Unicef says that maybe only one in five girls attends school. Across Pakistan, adult literacy for women stands at 45 per cent, compared with 70 per cent for men.
Mr Kashif, the federation president, said that more than half of children in Pakistan attended private schools. He said half of all pupils were girls and that women made up 90 per cent of teaching staff. He said if Malala agreed to changes to the book, the federation would review its decision. He denied the ban was prompted by fears of attacks.
"We are the biggest supporters of Malala. The private schools shut down [when she was shot]. We all support her, we are not against her. She is our daughter," he said. "If she would look at these things and take measures not to hurt the emotions of Muslims, we will welcome it."
http://www.independent.co.uk/news/world/asia/inspiration-or-danger-private-schools-in-pakistan-ban-malala-yousafzais-book-8930925.html
------------
Egypt Women Ride Bikes to Defy Sexual Harassment
10 Nov 2013
A group that goes by the name "Tomorrow" organized a bicycle demonstration in Egypt's Suez on Friday evening where tens of girls biked on the Corniche in defiance of sexual harassment.
A number of men also joined the demonstration in solidarity with the female participants to stress that society must let women go about their daily lives without fear.
"The idea is to revolt against this model imposed on Egyptian women by society since the 70's where everything outside of it is considered a crime that we have to pay for," said Coordinator Marwa Radwan.
She pointed out that sexual harassment and verbal and psychological attacks are the society's way of punishing women and teaching them to take caution with every move they make.
Radwan added that they decided to organize the demonstration after similar attempts in Cairo, Alexandria and Port Said were successful.
The campaign is meant to force passersby to accept women as they go on about their business without fear of attacks or harassment and also to help women regain their confidence.
Radwan added that the campaign wishes to encourage women to exercise as well.
Sexual harassment has been a growing problem in Egypt. More than 99 percent of hundreds of women surveyed in seven of the country's 27 governorates reported experiencing some form of sexual harassment, ranging from minor harassment to rape, according to an April report by the UN, Egypt's Demographic Centre and the National Planning Institute.
There are no explicit anti-sexual harassment provisions under Egyptian law. However, there are three articles in the penal code that are sometimes applied in cases of sexual harassment.
Last April, Egypt's National Council for Women has proposed a new law against sexual harassment where a person convicted under the law would receive a minimum one-year jail term and/or a minimum fine of LE10,000.
http://english.ahram.org.eg/NewsContent/1/64/85988/Egypt/Politics-/Egypt-women-ride-bikes-to-defy-sexual-harassment.aspx
------------
66,000 Girls Mutilated - And We've Let Them Do It in Britain
November 10, 2013
I'm afraid this is a piece that I wish I didn't have to write, about something I wasn't aware even happened in this country, and that you probably won't want to read.
It's female genital mutilation (FGM). Look away now if you don't want to know what this is.
It is cutting, by degrees. FGM ranges from piercing the clitoris to total infibulation – the removal of the clitoris and all the labia and the sewing up of the vulva, leaving only a small opening for sex, menstruation, and childbirth.
To call it female circumcision would be a misnomer. The male equivalent of FGM is, according to the World Health Organisation, the removal of the entire penis.
So, not a subject to bring up over breakfast.
But there was a documentary about it last week, which confirmed that here, in health and safety-mad modern Britain - where conkers are banned from playgrounds and our schoolchildren wear hi-vis vests to walk in crocodiles - there persists a barbaric medieval practice, akin to torture, that has irrevocably maimed 66,000 British girls.
It has been banned here, in theory, since 1985. But it goes on.
The Royal College of Midwives did a survey last year of more than 1,700 midwives. A third of them had seen evidence of FGM in Britain.
Cathy Warwick, chief executive of the RCM, said: 'It worries me greatly that so many UK midwives are seeing cases of FGM, and I am concerned about the scale and extent of it in this country.'
In France, there have been 100 prosecutions.
The Netherlands government is throwing millions of Euros into education so that Islamic communities don't cut their girls.
And here? Well, no one seems to want to interfere to stop it; even though a further 24,000 girls are estimated to be at risk. So far there has not been a single prosecution for FGM.
Why? Well, because it is carried out in secret. And prosecutions would involve girls testifying against their own mothers. And also because we're terrified - not just of talking about such subjects, but of giving offence.
The midwives didn't report the mutilated girls because they were frightened of being seen as racist, one campaigner explained. And because, let's face it, the girls are British black or Asian.
'If these were blue-eyed blonde girls being cut, we would be talking about it,' barrister Felicity Gerry said last week.
'Women are at the bottom of the pile. Black and minority women are even further down. Black and Asian vaginas - who's interested?'
Last week I spoke to Leyla Hussein, who was cut in Somalia when she was a girl.
She has an 11-year-old daughter and lives in London. It was when her own ethnic community started lobbying her, hard; to cut her own child so that the little girl would be 'clean' and 'pure' that she became a campaigner against the custom.
'I have been mutilated because I am a woman,' she told me, 'and I have to live with that for the rest of my life.'
As part of her filmed campaign, Hussein put together a cod petition, and took to the streets of London.
She asked people to sign it to reverse the ban on FGM, telling them the practice was a traditional part of a historic culture and other guff about multiculturalism. She got 19 people to sign in 30 minutes.
Only one woman refused, pointing out that the practice brutalises baby girls who have no choice about whether they keep their clitorises or not.
'I have been mutilated because I am a woman, and I have to live with that for the rest of my life'
- Leyla Hussein
So we have to face the fact that the reason it goes on is because we let it happen. We sloppily think it is part of foreign culture, so we must be cool with that. And anyway, no white front bottoms are at risk.
But this is not how we should do things here. I know it's a sensitive, taboo subject, but this is not just about cutting, it's about how we are, as a country.
Think if it was your own daughter, sister, wife, or girlfriend, condemned to a lifetime of pain, not pleasure.
Yet thanks to a toxic compound of multiculturalism, racism, sexism, an obsession with diversity and political correctness, this country has become the go-to nation in Europe if you are crazed enough to want to remove the genitalia of your baby daughter.
This makes me sad, ashamed and angry.
Well done for reading this far. It's great news that last Friday, 56 MPs took up the cudgels in two Commons campaigns against FGM.
Now all you have to do is sign the #STOPFGM petition (it's online, just search for Daughters Of Eve) and I'll pipe down.
A vital message our spies failed to spot
Those who say they don't care about mass surveillance are forgetting something.
The red poppies we wear with pride are in remembrance not of war, but of those who gave up their lives to defend the very liberties the laid-back profess to care so little about.
As David Davis MP told a surveillance debate last week: 'Freedoms bought at so heavy a price should not be given up without a fight.'
Can't see this Government chiselling that on the Cenotaph, can you?
Theresa, the Technicolor badass!
THERESA MAY!
She was totally rocking in that Technicolor Dreamcoat and those patent puss-in-boots.
I think the best word for our Home Secretary's style might just be 'badass'.
Start your, um, First World War centenary 'celebrations' early with a visit to Somerset House in London where Stanley Spencer's murals from the National Trust's Sandham Chapel are now being displayed.
Heaven In A Hell Of War is the most beautiful and moving show of narrative modern painting you will see all year.
Wandered round Primark in a daze, lost in piles of synthetic jerseys and shiny jeggings, then went to M&S and bought a delicious supper, with wine, for a very reasonable £10.
You don't have to be a retail analyst to determine why one store is selling clothes like they're going out of fashion and the other is becoming a grocer (M&S profits are down nine per cent year on year, but food sales are up 5.3 per cent).
It's hard to spend £30 at Primark on a whole outfit, including shoes and a coat, while the festive season's M&S must-have - a cashmere onesie - is £199.
Still want one for Christmas, though. In grey please.
Don't have much patience with the disdain of the Two Beards – Paxman and Brand – for the political process.
Both are wrong to show contempt for 'un-appetising' – copyright Paxo – politicians.
Politics is rarely glamorous, mostly low profile and not very well paid.
It takes people with a sense of public service, high boredom threshold, thick skin and iron constitution to do it.
So it bloody well behoves the highly paid and pampered national celebrities NOT to take cheap shots at those who are prepared to do a difficult job that they themselves wouldn't do - even when the cameras are running.
http://www.dailymail.co.uk/columnists/article-2495861/RACHEL-JOHNSON-66-000-girls-mutilated--weve-let-it.html#ixzz2kIIVcejy
------------
Nigerian VP's Wife Advises Muslim Women on Upbringing of the Girl-Child
November 10, 2013
Hajiya Amina Sambo, wife of the Vice President, on Sunday, urged Muslim women to use their resources to support the girl-child to attain excellence.
Sambo made the call in a message to the opening of the 14th Annual Women's Week of Nasrul-Lahi-L-Fatih Society of Nigeria (NASFAT), in Lagos.
She was represented by Hajiya Farida Sada, the Naiba Amira, and Federation of Muslim Women Association of Nigeria (FOWAN).
The programme has as its theme: "Nurturing the Muslim Girl Child for Excellence."
She said that a girl-child should be well nurtured and prepared to impact positively on the larger society.
"We are all highly concerned that our desired standard of Islamic values, comprising learning the faith, general education, consciousness, selflessness, charitable spirit, tolerance, humility and peaceful co-habitation are fast declining.
"This has given rise to the prevailing state of insecurity, economic deprivation and other social ills that have been afflicting us for a while now.
"This annual event that educates Muslim women on the unique values of the Islamic faith and their expected roles in building a model society has no doubt become one of the programmes that I look forward to shape us," she said.
Sambo said that the country was endowed with human and material resources which needed to be properly nurtured to lay solid foundation for the youth especially the girl-child.
"I implore NASFAT women to share the message and spirit of the 2013 theme as widely as possible, to ensure that its impact is registered in the minds of the generality of Muslim women in every nook and cranny of the country.
"I commend the leadership of NASFAT for the accomplishment over the years and the numerous laudable projects being executed by the various arm of the society," she said.
Sambo called on other women organisations to emulate NASFAT, and join in the effort to help the less privileged in the society.
Earlier in her address, Alhaja Nofisat Arogundade, National Women Affairs Secretary of the body, noted that Islam attaches significance to the proper upbringing of children.
She, however, regretted that socio-economic challenges were eroding this very important task.
"This theme is, not only very important but fundamental to our existence and development as a people, creating and sustaining inter-generational benefits.
"The position of children, especially the girl-child in developing nations has steadily been encroached upon and under constant threat.
"Cases of domestic abuse as well as dehumanising treatment of children abound, especially those that border on sexual harassment, violence and child labour.
"The worrisome resultant effects include escalating prostitution, violence and wars, migration, drug addiction and lower literacy level," she said.
http://www.tribune.com.ng/news2013/index.php/en/news/item/25491-vp%E2%80%99s-wife-advises-muslim-women-on-upbringing-of-the-girl-child.html
------------
Pakistan: "Families Marry their Sons to the Young Girls to Gain a Child Servant"
November 10, 2013
Welcome to Pakistan. It might be in Pakistan or, thanks to immigration; it might be the next block over.
And it's not just Pakistani girls who suffer. Men from a culture where women are treated like this are not safe around any women, no matter what the law in America, Canada or Australia may be.
Aisha, 18: "I got married when I was just 10.
"At the time of the marriage, my husband was a school student, just 16 years old.
"My father had a second wife and he had a conflict with them, so he gave me away in order to settle the conflict with the second wife's family.
"The marriage was arranged by family, it was not a forced marriage – but I was a little girl at the time, I did not know the meaning of marriage and accepted it because I did not know any better. My husband was really harsh with me because of the fact that I did not know what a marriage was, and what the duties of a wife were.
"He wanted a sexual relationship but I did not even know what that was at the time, and so he started beating me to get it.
"My hand was fractured, and also my eyes suffered injuries and were severely affected from the beatings. Very early on in the marriage, I fell pregnant twice. Both children died due to my extremely young age.
"No one could help me – everyone remained silent. I guess they thought this is a tradition – that every woman should be beaten by her husband and this is his right to get his demands, to get what he wants.
"I did not escape – I compromised with him and stayed for the sake of two children we now have (two more, after the first two died).
"My children are the reason I have stayed. And my father is old now, I can't hurt him by leaving so I will stay – it's tradition. This is a tradition here in my village (in the Bannu district). Most females get married at 10-12 years old.
Men from a culture where this is the norm are never going to treat women decently. It's just a fact of life. If you think it's socially acceptable to rape a 10-year-old, then you will keep on doing it when you're in the UK too.
http://frontpagemag.com/2013/dgreenfield/pakistan-families-marry-their-sons-to-the-young-girls-to-gain-a-child-servant/
------------
Tanzania: First Lady Appeals to Elders Over School Girl Pregnancies
10 NOVEMBER 2013
FIRST Lady Mama Salma Kikwete has reiterated the need for more education and awareness on reproductive health among teenagers in the country.
She expressed the concern in Dar es Salaam while opening a workshop of clan elders from pastoral communities in the country.
The workshop aims at discussing ways to prevent the spread of HIV/AI DS among the youth, preventing maternal deaths and problems associated with norms and culture amongst pastoral communities.
"There is need to speak openly about reproductive health, basing on our traditional ways of life... because we cannot leave our daughters to die at a tender age," she noted.
The First Lady said that the current statistics show that 20 per cent of maternal deaths occurring every day include teenage girls.
"The figures are very disheartening considering the reasons behind the problem," she said calling for concerted efforts by clan elders to help create awareness on reproductive health.
She said deaths among the teenagers occur due to undeveloped bodies that are not ready for child bearing.
According to the report by Centre for Reproductive Health under the Ministry of Education and Vocational Training, about 8,000 girls drop from school every year due to pregnancies and 3,000 among them are primary school pupils.
Mrs Kikwete called upon the clan elders and other participants at the workshop to discuss and come up with strategies that will help eliminate problems hindering the development of youth in the country.
She also promised full support the clan elders through her Foundation 'Wanawake and Maendeleo' (WAMA) to ensure problems hindering the youth development are solved.
http://allafrica.com/stories/201311100073.html
------------
Political Participation of Women in Larger Public Life Stressed
November 10, 2013
ISLAMABAD: The Aurat Foundation hosted the inaugural meeting of the AAWAZ National Forum (ANF) here on Thursday and the participants stressed on women have enhanced political participation in larger public life without the fear of violence.
The ANF is a representative body of AAWAZ – Voice and Accountability Programme – envisioned as a national forum which will serve as a strategic platform to strategise key reform areas and provide technical input for promoting women's political participation, ending violence against women and gender-based legislation. It will also focus on peaceful resolution of conflicts and citizens' engagement for effective service delivery under the main AAWAZ themes in consultation with similar provincial forums and different stakeholders. AAWAZ team leader Harris Khalique, while addressing human rights activists and journalists, gave a brief description of the objectives of the AAWAZ programme. He said the AAWAZ programme would focus on enhanced political participation of women in larger public life without the fear of gender-based violence, conflict resolution to address tribal, familial, sectarian, ethnic, faith-based or other kinds of conflicts and citizen engagement to achieve better public service delivery particularly in the areas of health and education.
Aurat Foundation Chief Operating Officer Naeem Mirza said the AAWAZ programme was a flagship project in the broad area of gender, governance, democracy and civil society, and it was conceived after taking stock of Pakistan's political economy, sociology and issues around development and much larger corresponding support of the public sector.
Feroza Zahra briefed the ANF members about its terms of reference (TORs) and role. She said the ANF would develop a strategic plan in consultation with partners and stakeholders concerned. Important TORs include regular periodic consultations for thematic areas particularly increased women's participation in politics, advocacy and lobbying for AAWAZ thematic areas, legislation, policy making and procedural changes and amendments to AAWAZ thematic inputs, follow ups on different initiatives and capacity support by technical experts to promote issues of women's participation and safety in the political and public spaces.
Legal expert Riffat Butt spoke on the current issues of citizen rights and gender-based legislation. She said Pakistan had recently made progressive achievements on gender-based legislation and brought another challenge of effective implementation of these women-friendly laws. However, there remained other daunting issues which still required a lot of work and lobbying like domestic violence, trafficking, early marriages and economic empowerment of rural women, she added.
While discussing the major objectives of the forum, the members suggested that the forum would demand that the government reverse its decision of devolving the Ministry of Minority Affairs to provinces under the 18th Amendment and make it a federal subject. They also suggested that after evaluating the types and rates of violence against women, the forum would raise the issue at relevant forums to effectively eradicate violence against women and intolerance from the society.
MNAs Farhana Qamar and Asiya Nasir suggested that the forum should involve parliamentarians from the districts where the AAWAZ programme was being implemented.
AAWAZ is a five-year (2012 to 2017) programme striving to strengthen a stable, inclusive and tolerant democracy in Pakistan. The programme views democracy through a gender lens and intends to contribute to women's political empowerment, resolution of conflicts across the communities that it works with, and for a better public service delivery in the areas of health and education through informed and active engagement of citizens.
http://www.dailytimes.com.pk/default.asp?page=2013%5C11%5C08%5Cstory_8-11-2013_pg11_4
------------
Saudi Housewife Beat 'Badly Behaved' Indonesian Maid, Hears Dubai Court
November 10, 2013
DUBAI // A "badly behaved" maid was beaten so severely by her employer she was left with permanent damage to her arm, a court heard yesterday.
The maid ran away and was taken in by a neighbour who noticed her injuries and reported the employer to police, prosecutors told the Criminal Court.
SH, 59, an Emirati housewife, told the judge her maid "was not a good person" who did "many bad things" and would "tell stories". However, she said that "despite her bad behaviour I didn't hit her".
The judge replied: "I don't need these stories – did you hit her?"
"No, I didn't," replied the housewife.
The maid TS, 28, from Indonesia, said she had been working for the housewife for the past five months. "She acted badly towards me and was always upset and mad," said the maid. She said the housewife had hit her on several occasions.
On one occasion the housewife twisted the maid's arm so severely it caused permanent damage. A medical report estimated the injury as qualifying for a blood money settlement of 3 per cent.
A verdict is expected on November 27.
newsdesk@thenational.ae
http://www.thenational.ae/uae/courts/housewife-beat-badly-behaved-maid-hears-dubai-court#ixzz2kIGJr1YT
------------
M'sia on Right Track to Empower Women for Economic Growth
10 November 2013
KUALA LUMPUR (Nov 10, 2013): There is a proverb that says "Women hold up half the sky".
Realising the important contribution of women to the country's economic growth, Prime Minister Datuk Seri Najib Abdul Razak has charted out clear policies to encourage more women involve in the workforce and decision making in both the public and corporate worlds.
According to Prof Dr Samsinar Md Sidin from the Faculty of Economic and Management, Universiti Putra Malaysia, the country was on the right development track when it focused on empowering women as a economic driving force of the country.
"Our leader made the right decision when he focused on economic empowerment of women," she said.
However, she told Bernama that in order to tap women's optimal economic performance, especially working mothers, there were several issues such as domestic help and child care that must be addressed.
She said this was crucial considering these two were among the biggest issues that hindered many women from working and developing their careers, despite having good qualifications, skills and track record.
"Working mums have to juggle between family and work, so if these issues (domestic help and child care) can be tackled, I have no qualms they will go all out to perform in their work," she said.
Aside from training and up skilling programmes, she said the government and the private sector could also consider introducing other incentives to retain and lure women back to work.
She suggested that giving certain days of unrecorded leave for women to attend to family emergencies would be a good idea. Samsinar said Malaysia could also be a good example to other Muslim countries on leveraging on economic empowerment of women.
"I have travelled to a lot of Muslim countries and they have a good impression on our women. They are impressed that our women are well-educated and have significant roles to play in nation building and at the same time able to uphold the Islamic values," she added.
To increase female participation in the workforce from the current 49.5% to 55% in three years, various initiatives have been introduced, including providing training and entrepreneurship programmes for women as well as giving tax reduction to companies who employ women after a career break.
Malaysia also set an ambitious goal which is to have 30% women as senior decision-makers and on corporate boards by 2015. To achieve that goal, a Women Directors Training Programme was launched last year and to date has trained 485 women to hold such positions.
According to statistics from the Women, Family and Community Development Ministry, some 52 women from the programmes were successfully appointed as board directors this year.
The importance of economic empowerment of women was highlighted by Najib in his speech at the 9th World Islamic Economic Forum (WIEF) in London late last month. He had pointed out that greater involvement of women could deliver better growth, more competitiveness and greater human development.
"Companies with women on their boards are more likely to account for environmental risk when making investment decisions, more likely to invest in clean energy, and more likely to focus on energy efficiency.
"They demonstrate a stronger commitment to good governance, and to laying the foundations for long-term growth; working to improve access to healthcare, and offering services to those with limited access to financial products," he said in his speech.
Concurring with Samsinar, MCA Young Professionals Bureau chief Datuk Chua Tee Yong said the policy demonstrated government's clear commitment in empowering women to stimulate the economy.
He said for the objective to be met in the long run, the government must have strong political will and continue to implement new efforts. He said proactive steps were also needed to address pipeline leakages of women in the workforce.
Despite close to 70% of undergraduates in higher learning institutes in the country being women, the fairer sex is only represented by about 49% in the workforce.
"This figure has been quite stagnant for a long time, and I think the initiatives outlined can help to improve it," Chua said. – Bernama
http://www.thesundaily.my/news/877521
------------
Moms Guide Is Building a Multicultural Bridge
November 10, 2013
Mothers in Abu Dhabi, unite. Moms Guide, a one-stop online retail site that brings mums in the capital together, is growing into quite a community – and is a haven for women with families in search of me-time.
Moms Guide is celebrating its first anniversary and has a brand new section that will launch in January: "Moms Talk", which will showcase Emirati and expatriate bloggers. The bloggers will discuss issues ranging from family obligations for the Emirati mum to moving here and setting up shop for the expat mum.
The Moms Guide creator Esraa Rothman explains: "We already have 10 [posts for] the Emirati mum's blog, so we know she's such a great writer – and we'll keep releasing them one by one."
Another new section, "Moms Lead", will cover life-coaching, cycling and Pilates. It will be hosted by The Room at Zayed Sports City, which will also provide babysitting while mums are being whipped into shape.
Rothman started Moms Guide with her Emirati friend Manal Hamid. Hamid says: "We share the same values so it felt really natural to get involved. We now both describe Moms Guide as our third baby."
Rothman, who was born in Sudan, moved to the US when she was four. She worked for a non-profit organisation before moving here last January with her husband and two children – Fatima, 5, and Wafaa, 2. Hamid left her job at Khalifa Hospital two years ago to spend more time with her two children Nada, 4, and Omar, 2, and to study for her MBA.
Moms Guide hosts monthly meets, organises focus groups for businesses trying to break into the UAE and aims to get mums volunteering with their kids under their Mom Ambassadors programme.
"Moms Guide isn't just a website. We connect to real people and real businesses and we allow an outlet for people's skills," Hamid explains.
"We are genuinely multicultural and all from different socio-economic statuses," says Rothman. "Some mums arrive on a bus and someone else is dropped off with a nanny and a driver – we don't look at anyone any differently. A lot of our focus is on bringing all these different kinds of people together."
http://www.thenational.ae/moms-guide-is-building-a-multicultural-bridge#ixzz2kIFlCq6R
------------
URL: https://newageislam.com/islam-women-feminism/private-schools-pakistan-ban-malala/d/24358