New Age Islam News Bureau
30 March 2018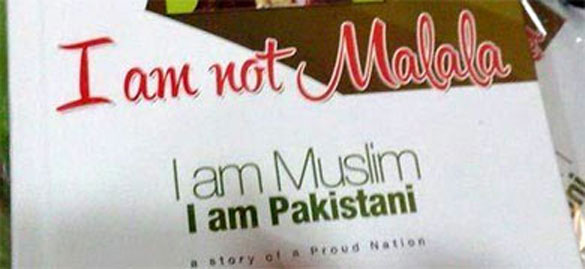 Book cover of 'I am not Malala, I am Muslim, I am Pakistani' written by Kashif Mirza
----
• Have Dreamed Of Coming Back To Pakistan for Five Years: Malala Yousafzai
• 'Future Is Ours,' Saudi Women Tell Major US Policy Forum
• Saudi Arabia: First Ever Arab Fashion Week to Be Held In April
• Meet the First Arab Woman to Dive in the North Pole
• Women Cast Vote in Dir LG By-Polls after Decades
• 'Social Media Means All Women Can Now Become Entrepreneurs'
• Iran: Child Benefit Deducted From Salary of Women Heads Of Household
Compiled by New Age Islam News Bureau
URL: https://www.newageislam.com/islam-women-feminism/private-schools-forced-observe-i/d/114769
--------
Private schools forced to observe 'I am not Malala Day' on March 30
March 30, 2018
LAHORE: Private schools in Lahore and across the country were forced to observe 'I am not Malala Day' on March 30 as part of the protests to condemn arrival of the Nobel laureate Malala Yousafzai in Pakistan.
The directions were issued to thousands of schools by Kashif Mirza, president of All Pakistan Private Schools Federation.
The association representing over 200,000 private schools asked the school teachers to wear black bands on their arms. The association, along with the schools, will protest against the alleged anti-Pakistan and anti-Islam content written and promoted by the advocate for education.
The children at these schools will be given special lectures during Friday in which they will be taught to condemn Malala and her ideas.
Talking to a media outlet, Kashif Mirza said, "Pakistan is her home and if she has come home we welcome her, but we think that she has come as part of international agenda to malign Pakistan and we strongly condemn that."
In 2015, the schools' associations had launched a novel titled "I am Not Malala, I am a Muslim, I am Pakistani" before banning Malala's first book in all private schools and colleges
"We found Malala's book highly controversial, and contrary to the ideology of Islam and Pakistan," said Mirza in a statement issued to media.
Meanwhile, Malala arrived in Pakistan on Wednesday night on her four-day visit to the home country. During an emotional speech on Thursday, she called to invest in education and said, "I have dreamed of returning to Pakistan for the past five years.
Addressing a gathering at the Prime Minister's House where she held a meeting with Prime Minister Shahid Khaqan Abbasi, Malala slightly broke down while talking about her return.
"Today, I am very happy that, after five-and-a-half years, I have set foot on the soil of my nation again," she began in Urdu. Switching to Pashto, she said, "Today is the happiest day of my life, because I have returned to my country, I have stepped foot on my nation's soil again and am among my own people."
https://www.pakistantoday.com.pk/2018/03/29/private-schools-forced-to-observe-i-am-not-malala-day-on-march-30/
--------
Have dreamed of coming back to Pakistan for five years: Malala Yousafzai
By Sardar Sikander
March 29, 2018
ISLAMABAD: Malala Yousafzai broke down in tears in Islamabad on Thursday while recounting how much she had missed Pakistan since moving abroad for treatment and education.
The youngest Nobel laureate in the world was addressing the media at an event held in her honour after meeting Prime Minister Shahid Khaqan Abbasi at the PM Office.
"I still cannot believe this is happening. I have dreamed of this day for five years. All the time I was in cars and planes across the world, I used to tell myself that I am back home in Pakistan. And it was never true," she stated in between sobs of happiness.
Malala lamented how so much had changed in her life in so little time. She also said that she would never have left Pakistan if she had a choice.
"The attack happened and I had to leave home, everything was happening itself. I could not control it," she told the gathering.
Malala expresses solidarity with #PashtunLongMarch
The Nobel laureate also highlighted how the doctors who had operated on her in Pakistan had saved her life, and further treatment for her injuries forced her abroad.
"Now I have to continue my education abroad," she added.
The advocate for education expressed her immense gratitude to all those who had made her visit to her home country possible.
"I have always wanted to come back home and meet people here, talk to them, and spend time on the roads and streets I cherish so much, and now that it is actually happening, I am very grateful," she stressed.
Malala further said extremism and terrorism in Swat destroyed the city when the Taliban took over and added that the future of Pakistan was bright and the people of the county were its biggest resource and asset.
"We need to invest in education of children in Pakistan. Malala Fund has already spent more than six million dollars in Pakistan for the education of girls," she said regarding the non-profit group she had co-founded with her father.
Malala also expressed hope that everyone in the country would join hands for the betterment of the nation, adding that empowering women should be at the top of the agenda.
PM Abbasi also addressed the gathering held for Malala and said Pakistan was proud the daughter of the nation had returned after making her place in the world.
"Malala is Pakistan's representative to the world. She advocates for the education of children," the premier stated.
The prime minister was lavish in his praise for the girl from Swat, telling the gathering how Malala left Pakistan when she was only a child but had come back as a girl who has made her mark in history.
Malala meets PM Abbasi
Earlier today, Malala met the premier at the Prime Minister's office. Minister of Broadcasting Marriyum Aurangzeb, Minister of Information Technology Anusha Rehman, and Marvi Memon were also present in the meeting.
Shortly after the meeting, Malala headed to a ceremonial event held at the PM office itself, where the 20-year-old addressed the media.
According to the Pakistan Muslim League-Nawaz (PML-N) leader Memon, the premier offered Malala a chance to expand her gulmakai advocacy through Benazir Income Support Programme (BISP) beneficiary committee.
The Nobel laureate arrives in Islamabad
Malala arrived in Islamabad in the wee hours of Thursday after spending nearly six years abroad. Although there was no official confirmation or announcement, reports suggested that Malala, her immediate family, and officials of the Malala Foundation flew into Islamabad from Dubai and landed Islamabad airport at 1:30am. They had taken a separate flight from Birmingham to Dubai.
According to reports, Malala is scheduled to stay in Pakistan until April 2.
During her stay in Pakistan, Malala, now 20, is scheduled to discuss the prospects of promoting education in less-developed areas of the country with Pakistani authorities, officials said. Her visit was kept secret due to security reasons, according to sources.
It is still not clear whether Malala would visit her hometown of Swat, where she was shot in the head in October 2012 by Taliban gunmen for actively supporting girls' right to education.
The attack
Malala was on her way home in a school van when she and her class fellows were shot. She was hit in the head, but survived the attack and was airlifted to the Armed Forces Institute of Cardiology (AFIC), Rawalpindi, where she had several surgeries before she was flown to the UK for advanced treatment.
The attack had left Malala with a serious brain injury and she struggled to speak for several months after the assault.
In 2014, she was awarded the Nobel Peace Prize for her contributions to and struggle for promoting education for children. She was 17-year at the time — the youngest-ever Nobel laureate. She shared the prize with Kailash Satyarthi, a children's rights activist from India.
https://tribune.com.pk/story/1672089/1-homecoming-nobel-laureate-malala-meets-pm-abbasi/
--------
'Future is ours,' Saudi women tell major US policy forum
30 March 2018
WASHINGTON: Saudi women were "just getting started" when it came to taking control of their futures, a meeting of business leaders, entrepreneurs and future policymakers from the Kingdom and Gulf region was told yesterday.
The meeting at the National Press Club in Washington D.C. discussed advances women are making and the challenges they face throughout the Kingdom.
Reem Daffa, vice president and executive director of the Saudi American Public Relation Affairs Committee, which sponsored the event, said: "The message we want to tell the world is very simple: The women of Saudi Arabia are ready to take the driver's seat.
"Saudi women are experiencing historic social and economic reforms under the leadership of Crown Prince Mohammed bin Salman, and they are about to take Saudi Arabia toward a future of unprecedented prosperity and positive growth, whether it is assuming leadership positions in the government, or becoming job-makers through untapped entrepreneurial potential.
"Quite simply, Saudi women are just getting started."
Saudi women not only want to assume control of their own futures, the panelists explained, but also are willing to learn from and partner other women who have forged new paths toward economic and social equality. American women are the ideal example of what Saudi women aspire to become, they said.
"I believe every single sector is open to women right now. There are huge steps being taken to get us into the workforce," said Razan Al-Aqeel, a Saudi delegate at the UN Youth Assembly.
"We are seeing our whole Saudi society come together in unity. Our youth make up more than 70 percent of our population; we are seeing a transition that we've never seen before," she said. "It has become an economic necessity for women to get into the Saudi workforce.
"We are empowered by our past. So where do I hope to see the Kingdom in the future? I hope Saudi youths' voices expand around the world, so people can see the real us."
Competent and assertive
Dr. Nadia Al-Tamimi, who heads the psychology department at King Fahad Medical City in Riyadh, told Arab News: "We are here because we want to show that Saudi women are educated and can present themselves in a way that is competent and assertive ... a woman knowing what she wants, what she wants to reach, that she knows her way, that she is in control."
Crown Prince Mohammed bin Salman is the engine behind these changes, the panelists agreed.
"He has made a huge difference, said Al–Tamimi.
"He has confidence in us as Saudi women and has given us the green light professionally. He makes us feel that the sky is the limit, and he knows that we will not disappoint him."
"I am amazed that I'm a speaker for women's roles today," said panelist Al-Aqeel.
"I will be 33 by 2030, so what I'm going to do in 10 or 12 years, especially with the support of the crown prince and the government, is exhilarating."
Despite the crown prince's support, Asma Al-Kusayer, a doctoral candidate in clinical psychology, acknowledged that some segments of society in the Kingdom had misgivings about the decisiveness they are seeing in younger Saudi women.
"What is it like if you're a conservative man in our society?" asked Al-Kusayer. "We are not here to challenge you, we're here to help you and our society."
Changing Americans' attitudes was also on her agenda.
"My message to Americans is that just as Americans are diverse and different, it's the same in Saudi Arabia. For me, often I'm the first Muslim that many Americans have met and I hope to change the stereotypes that some people have about my country and our people."
Stepping into the global spotlight as a Saudi woman has not been difficult, said Al-Aqeel. "I always say that I am a 'glo-cal' person, I am both a global citizen and a local Saudi woman.
"My advice to Saudi women? Be consistent in your dreams."
"Don't be afraid to ask for help and support in our society — your parents, your teacher, your mentor; whoever your role models are, whatever you aspire to do, don't stop," she said.
"The road is never easy, but the journey is part of the experience. Don't stop following your dreams."
"Each one of us has to be part of Vision 2030," said Alyaa Mohammad Malibari.
"Don't get caught up in social media, this does not define who we are. Small things matter. Every small deed you do in the world matters. Do something you like and you love, and you will be empowered by yourself," she said.
http://www.arabnews.com/node/1275986/saudi-arabia
--------
Saudi Arabia: First ever Arab Fashion Week to be held in April
March 29, 2018
London: The first ever grand fashion gala to be celebrated in Saudi Arabia got abruptly postponed just three days before the opening week of the first fashion week in Saudi Arabia.
All the preparations were made for the big night at Riyadh's Apex Centre which was scheduled for a four-day fashion show with fashionistas, designers from across the world, European brands like Roberto Cavalli and of course local Arab designers.
That being said, all the preparations were abruptly postponed with a wide spread of good and bad, both rumours, some speculating unsuccessful bookings of Journalists while some said the conservative government officials took it against the Saudi royal family who were supportive to bring the fashion show in the Arab country.
Speaking of the postponed dates, Layla Issa Abuzaid, Saudi Arabia's country director at the Arab Fashion Council said, "Since the initial announcement made in February, Arab Fashion Week Riyadh has garnered significant interest from international guests wanting to attend."
"Given this important historical moment for the kingdom, the Arab Fashion Council and participating designers have collectively taken steps to postpone the dates in order to welcome guests from all over the world. This could only be done by taking additional time."
Putting an end to all speculations, she released a statement giving new dates for the event, that will be April 10 to April 15, which will be conducted at the Ritz Carlton in Riyadh.
"The decision for postponing the event was made simply so that we are able to accommodate all the international guests who had applied to attend," said Jacob Abrian, the chief executive of the Arab Fashion Council. "We are extremely thankful for all the trust and support that we have received to make it happen."
Saudi Arabia has been earning its revenues from oil and Gas but now taking lessons from neighbouring similar Gulf Countries like Dubai, Saudi Crown Prince has decided to bring in business to Saudi Arabia attracting hospitality, business and tourists.
The new reforms brought in for women in Saudi will surely start to bring in a new reform in the country which would eventually attract business.
It was in January when Saudi women were allowed to enter soccer stadiums while decades-long cinema's banned in Saudi was also lifted in December. With this Arab Fashion Week at Riyadh, it will be held in the evening for women-only audiences.
Women in Saudi will soon have more access than ever to public arts and entertainment.
The Arab Fashion Council in Riyadh plans to appoint Princess Noura Bint Faisal al-Saud as the Council's president. The council also plans to make Saudi Arabia a hub for an emerging regional fashion industry.
A step ahead into building fashion in Saudi, the Council had partnered with British Fashion Council to provide support in establishing fashion industry in the Middle East.
"The first Arab Fashion Week in Riyadh will be more than a world-class event," Ms. Issa Abuzaid said when the project was announced. "It is a catalyst through which we believe the fashion sector will lead other economic sectors such as tourism, hospitality, travel and trade. Our retail sector is among the fastest growing in the world."
"The laws are very clear and stipulated in the laws of Shariah (Islamic law): that women wear decent, respectful clothing, like men," Crown Prince had said.
"This, however, does not particularly specify a black abaya or a black head cover," he added. "The decision is entirely left for women to decide what type of decent and respectful attire she chooses to wear," New York Times reported.
https://www.siasat.com/news/saudi-arabia-first-ever-arab-fashion-week-be-held-april-1335561/
--------
Meet the first Arab woman to dive in the North Pole
March 30, 2018
Jeddah: Mariam Fardous was leading a fairly normal life having grown up in Makkah, and later studying medicine at King Abdul Aziz University in Jeddah.
While in Jeddah, she was looking for ways to let off steam to relieve her from the stress of her demanding schedule.
The 32-year-old Saudi national decided to try diving because she grew up listening to her late father's fascinating stories about the Red Sea.
At the time Fardous took up the sport 10 years ago, diving was an unconventional activity—which only motivated her to pursue it more.
While today there are many diving schools in Jeddah given the city's proximity to the Red Sea, and also many Arab and Saudi women divers there were a few diving schools in Jeddah that accepted women.
However, when she started taking classes she instantly fell in love.
"When I'm diving, I am in a happy space, and I instantly feel rejuvenated. The sea is a beautiful place to take a break," Fardous told Gulf News.
By the time she finished her medical internship, she had earned a master scuba diver certification from the Blue Reef Divers in Jeddah—using her weekends to train.
She specialised in open water, advance and rescue level dives, along with peak performance buoyancy and night dives.
Despite her obsession with diving, the ambitious Fardous went on to obtain two masters degrees in pediatrics and epidemiology from London and Riyadh, respectively.
But her demanding work schedule did not prevent her from furthering her diving career.
Any spare time she had went to training. She even went to Russia to learn specialised diving techniques like ice and dry-suit diving.
"My mother has always been a great source of motivation. She has always guided me to think out of the box, taught me to believe in myself and follow my dreams," said Fardous.
One day, Fardous and her friends were discussing the very challenging North Pole dive—only two women in the world have accomplished this feat.
"The idea to dive at the North Pole seemed not only unique and interesting, but also a challenge that would define me. I wanted to be the first Arab woman to do so," she said.
She immediately began to prepare, starting with months of intensive training for the 40-day expedition. Having been unable to secure sponsors, she self-financed her expedition.
On March 28, 2016 she embarked on her trip.
To reach the base camp of Barneo in the North Pole, Fardous had to travel to Moscow and then Karelia in north west Russia where she stayed for 3 weeks to get acclimatised to the extreme sub-zero temperatures.
She flew to Moscow and then to Karelia, where she stayed for 3 weeks to get acclimatised to extreme cold temperatures.
On April 20, 2016 Fardous was dropped off by a helicopter to Barneo where temperatures average at -25C.
As soon as Fardous deplaned, she prostrated in gratitude.
"I was overwhelmed and extremely proud of being part of a historic expedition for my country," she said.
At the North Pole, the dive took place under the frozen Arctic Ocean.
Prior to diving, Fardous, with the help of her diving team, broke a few feet of solid ice to make a hole in the frozen ocean — the only entry and exit point for divers.
Under the water, temperature averaged at -6C.
Fardous dove twice, descending approximately 25 feet and staying underwater for 25 minutes each time.
Recounting her experience of the first dive, Fardous said, "I went through a range of emotions. As I went deeper I felt light like a feather."
The only time Fardous felt terrified on the entire expedition was when she dove for the second time a few days later.
"I had to do it because I had made up mind. But I felt very scared and very weak because I had lost strength due to lack of nutritious food."
By the end of the expedition Fardous had lost 10kgs, having to survive only on soup powder, chocolate bars and nuts.
Currently Fardous is training to dive at the South Pole early next year.
"I am an adventurer and a solo traveler. I dive whenever and wherever I get an opportunity."
http://gulfnews.com/news/gulf/saudi-arabia/meet-the-first-arab-woman-to-dive-in-the-north-pole-1.2194149
--------
Women cast vote in Dir LG by-polls after decades
March 30, 2018
UPPER DIR: Women in Upper Dir were provided an opportunity of exercising their constitutional right to vote after over four decades as a large number of them polled their votes in the local government by-elections held in the district on Thursday.
Pakistan Peoples Party clinched all the four seats, including two tehsil seats and one each of general and youth councillors.
The tehsil councillor seat of Gawaldi union council was retained by PPP's Anar Gul, who had also recorded victory in the last year's by-election.
According unofficial results, PPP candidate Anar Gul got 1,819 votes while Dawood Shah of JI secured 944 votes.
In Darora PPP candidate Saifullah secured 1,498 votes to defeat JI candidate Izaz Ali Shah who got 1,120 votes. Shah had defeated Saifullah in the previous by-election on Dec 21, 2017 on the same seat.
Chukiatan village council's general seat was clinched by PPP candidate Sadiqullah, while for Dir Khan village council's youth's seat the PPP candidate defeated JI candidate.
On all these seats, the previous by-elections were declared null and void by the Election Commission of Pakistan due no participation of women. Re-election on these seats was announced and on Thursday the women voters came out in large number and exercised their right to vote.
The last time the women here had voted was in elections in 1977. On Thursday, it was after over four decades that the women in Upper Dir were provided an opportunity to vote.
A women voter said that it was indeed a historical moment for them and they thanked ECP for providing such an opportunity to them. The ECP made special arrangements for women voters and had established separate polling stations for them in various areas in Gawaldi, Darora, Chukiatan and Dir Khan.
The women voters were provided a peaceful environment in which they polled their votes. Proper security arrangements were made for the by-elections.
However, sources said, that women had not polled votes in those areas where separate polling stations were not established for them.
https://www.dawn.com/news/1398347/women-cast-vote-in-dir-lg-by-polls-after-decades
--------
'Social media means all women can now become entrepreneurs'
March 29, 2018
Sharjah: Technology and social media open up plenty of opportunities for women and are the way forward for them to succeed, top women influencers said at the 7th International Government Communication Forum (IGCF) on Thursday.
A panel of distinguished female politicians, entrepreneurs and academics took part in a discussion on the final day of the forum to discuss the role of women leaders in the digital future.
In addressing the subject of empowerment, Jordanian Minister of Information and Communication Technology Majd Schweikeh described social media as a world without limits and that the empowerment it brings to women is immense.
"It has effectively changed life as we know it. There are no boundaries anymore, but we must always enjoy its possibilities with responsibility and respect. In some of the more remote areas of Jordan, the government (has) set up 190 'Knowledge Stations' to provide internet access and training. I went to visit one of them and I found women who had never even left their village — they were using social media to sell their crafts across the world. That is truly empowering," she said.
Echoing her sentiment, Vanessa D'Ambrosio, the youngest former head of state of San Marino, said social media is the way forward for women in both the public and private sectors.
"I use social media to tell people what my work is and encourage women to take a position of power in both the community and the workplace. I tell them about the social opportunities they have across Europe and help them to broaden their horizons. The beauty of social media is that it is direct, immediate, two-way and has the ultimate power to enable," she said.
Baroness Mone, a British businesswoman and advocate of women's rights, pointed out that despite coming from a deprived area of Scotland and leaving school at 15, she achieved enormous success through her business and now believes the power of social media means all women can now become entrepreneurs
"If a woman wants to start a business, she can do that in less than an hour, without the need for millions of dollars worth of advertising. A single mother in a deprived region can still connect around the world and sell her products and services around the world which just wasn't possible before," she explained.
When asked about what their hopes were for the future of women in technology, D'Ambrosio said engagement and interaction were the key: "I hope women will obtain key roles in government and business to strengthen their position in society and through social media that every woman can be a role model."
http://gulfnews.com/news/uae/culture/social-media-means-all-women-can-now-become-entrepreneurs-1.2196661
--------
Iran: Child benefit deducted from salary of women heads of household
29 March 2018
Child benefit has been deducted from women's salaries and only housewives with three children can have insurance.
Speaking about the New Year's budget and the Sixth Development Program, Zahra Sa'ii, spokeswoman for the parliamentary social committee, explained about insurance of housewives. She said, "Only housewives with three children can receive insurance. Because of the present economic conditions and limited resources of the government, only a limited number of housewives can receive insurance."
Sa'ii added, "We sought to provide insurance for all housewives, similar to developed countries where housewives enjoy certain rights. In light of the existing economic problems, however, it was not possible to implement such a plan and the government did not afford the additional expenditure, so they prevented the implementation of this plan."
In the same interview, Zahra Sa'ii also revealed that child benefit has been being deducted from the payrolls of women heads of household since Autumn 2017. The decision was implemented abruptly and the amount that had been previously paid to them were withdrawn at once from their accounts. (The state-run Salamat News website, March 28, 2018)
Parvaneh Salahshouri, head of the so-called women's faction in the mullahs' parliament, had previously asserted that the New Year's budget increases poverty rather than decreasing it. She said more than 30 per cent of the credit for insurance of housewives with three children and more had been cut. (The state-run ISNA news agency – December 18, 2017)
There are 3.5 million women heads of household in Iran, most of who do not have any form of employment due to numerous obstacles for women's education and employment. Only 180,000 of women heads of household are covered by the Welfare Organization and receive a monthly financial aid of 70,000 toumans (or $18 which is less than 10 per cent of the minimum wage). Women heads of household thus resort to unconventional means to earn for their families' needs, including sale of their body parts.
http://www.women.ncr-iran.org/iran-women-news/4910-iran-child-benefit-deducted-from-salary-of-women-heads-of-household
--------
URL: https://www.newageislam.com/islam-women-feminism/private-schools-forced-observe-i/d/114769
New Age Islam, Islam Online, Islamic Website, African Muslim News, Arab World News, South Asia News, Indian Muslim News, World Muslim News, Women in Islam, Islamic Feminism, Arab Women, Women In Arab, Islamophobia in America, Muslim Women in West, Islam Women and Feminism