New Age Islam News Bureau
24 Feb 2019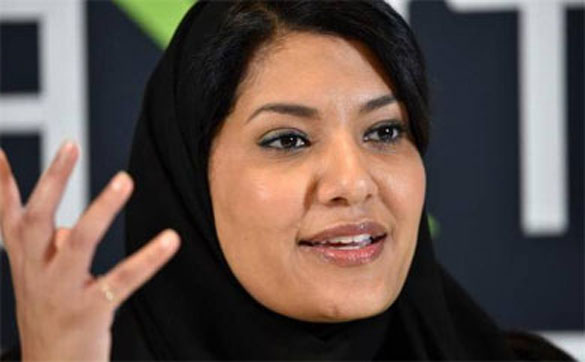 In this file photo taken on October 24, 2018 Saudi Princess Reema bint Bandar al-Saud speaks during the Future Investment Initiative (FII) conference in the capital Riyadh. Saudi Arabia on Saturday named a princess as its first woman ambassador to the United States, a key appointment as the fallout over journalist Jamal Khashoggi's murder tests relations between the allies. | Photo Credit: AFP
------
• Tunisia: Muslim Women Protest In Favour Of Polygamy
• French 'Isis Bride' Recalls Islamic State 'Chaos'
• Shamima Begum Says UK Government Is 'Making an Example of Me'
• Shedding the Headscarf, Turkish Women Tell Of Pressures and New Solidarity
• As 'Caliphate' Crumbles, Daesh Women Remain Defiant
• Talawi: Avoid Scenes Abusive To Women In Cinematic Works
Compiled by New Age Islam News Bureau
URL: https://www.newageislam.com/islam-women-feminism/princess-reema-bint-bandar-al/d/117837
--------
Princess Reema Bint Bandar Al Saud, First Saudi Female Ambassador Replaces King's Son in U.S
Feb 24, 2019
RIYADH: Saudi Arabia on Saturday named a princess as its first woman ambassador to the United States, a key appointment as the fallout over journalist Jamal Khashoggi's murder tests relations between the allies.
Princess Rima bint Bandar replaced Prince Khalid bin Salman, the younger brother of the powerful crown prince who was appointed vice defence minister in a flurry of late-night royal decrees announced on state media.
The reshuffle comes as Saudi Arabia seeks to quell an international outcry over Khashoggi's murder last October in the Saudi consulate in Istanbul, which strained relations with its key ally Washington.
After initially denying they knew anything of Khashoggi's disappearance, the kingdom finally acknowledged that Saudi agents killed him inside the consulate, but described it as a rogue operation.
Princess Rima faces hostile US lawmakers who have threatened tough action against Saudi Arabia over the brutal killing amid claims that crown prince Mohammed bin Salman - the kingdom's de-facto ruler - was personally responsible.
The Saudi government has denied he had anything to do with the murder of Khashoggi, a royal insider-turned-critic who was a columnist with the Washington Post.
"The appointment of a new envoy signifies an attempt by Riyadh to try and re-set relations with Washington and draw a line under the Khashoggi affair, however unlikely that may be in practice, at least with Congress," Kristian Ulrichsen, a fellow at Rice University's Baker Institute in the United States, told AFP.
Princess Rima, the daughter of a former long-time ambassador to the US, has been a leading advocate of female empowerment in the kingdom, which has faced intense criticism over the recent jailing of women activists - and subsequent claims of sexual abuse and torture of some of them in detention.
The princess previously worked at the kingdom's General Sports Authority, where she led a campaign to increase women's participation in sports.
"Princess Rima becomes the first female ambassador in Saudi history and the first female with a rank of minister - a strong signal to the integration of women into the government and workforce," Ali Shihabi, founder of the pro-Saudi think-tank Arabia Foundation, said on Twitter.
Prince Khalid, a son of the king who served as ambassador since 2017, had been expected to leave Washington for some time -particularly after the global outcry over Khashoggi tarnished the kingdom's reputation.
His new appointment as deputy defence minister comes as a military coalition led by Saudi Arabia remains bogged down in a four-year conflict in neighbouring Yemen.
A separate royal decree on Saturday ordered a one-month salary bonus for frontline military officials on the kingdom's southern border.
Prince Khalid, a former Saudi air force pilot, takes his post a year after the crown prince - who also serves as the defence minister - announced a military reform plan and a dramatic overhaul of top defence commanders.
"As the Yemen war drags on and the military reform programme continues to move painstakingly slow, Prince Khalid is gaining a difficult portfolio but one that is critical to his father, brother and the kingdom," Becca Wasser, a policy analyst at the US-based RAND Corporation, told AFP.
"Prince Mohammed has struggled to delegate authority within this file which has rendered some efforts - chiefly military reform - stagnant, and Prince Khalid's appointment may be an attempt to reinvigorate these initiatives."
Shihabi said Prince Khalid will virtually have the same authority as the defence minister, shouldering some of the burden on the crown prince.
Khashoggi's killing has refocused attention on the Saudi-led coalition's bombing campaign in Yemen, which is gripped by what the UN calls the world's worst humanitarian crisis.
A key challenge for Princess Rima will be to win over US lawmakers, who earlier this month voted overwhelmingly to end American involvement in the Saudi war effort in Yemen, dealing a rebuke to President Donald Trump who has publicly thrown his support behind the crown prince.
US lawmakers this month also said they were probing whether Trump was rushing to sell sensitive nuclear technology to Saudi Arabia, voicing fears that it could be misused to make an atomic bomb.
https://timesofindia.indiatimes.com/world/middle-east/saudi-arabia-names-first-woman-envoy-to-washington-at-critical-time/articleshow/68134553.cms
--------
Tunisia: Muslim Women Protest In Favour Of Polygamy
Feb 24, 2019
Tunisia: Muslim women in Tunisia have started protesting in favour of polygamy. This has resulted in a very serious crisis in view of the increasing number of unmarried women in the country.
It may be mentioned that polygamy is not only a crime but also considered as an evil in the society of Tunisia.
Islamic researcher, Mr. Sami Birhan told that women who did not find a life partner will get an opportunity to get married if polygamy is allowed but men would prefer young girls.
Some of the people in the country opine that the demand for polygamy is an attempt to defame Islamy Annehza Party so that by raising this slogan, the ruling party could be given benefit.
According to a recent report, there are 50 lakh women in Tunisia out of which 50% are unmarried. They are in the age group of 25-34 years.
https://www.siasat.com/news/tunisia-muslim-women-protest-favour-polygamy-1470987/
--------
French 'Isis Bride' Recalls Islamic State 'Chaos'
23 February 2019
Clutching her young son, a Frenchwoman was among those fleeing the last holdout of Islamic State group jihadists. But she told waiting aid workers that her husband, dubbed 'a death machine' by French prosecutors, has vanished.
Lise, 24, arrived with about 40 others on Tuesday clambering up the ochre, rocky hill which overlooks the eastern Syrian village of Baghouz. Dressed in a long black niqab which showed only her eyes, "she looked at us like a hunted animal," said Paul Bradley, an aid worker with Free Burma Rangers.
He is part of a small team of international medics seeking to help feed and treat those fleeing as the jihadists make their last stand in Baghouz.
More than 40,000 people have fled IS's last Euphrates Valley bastions into territory held by the US-backed Syrian Democratic Forces, most in a pitiful condition after weeks of bombardment and food shortages.
Lise's escape marks the end of a four-year odyssey, which began in 2014 when at just 20 years old she suddenly quit France to join Isis. She confirmed to the aid workers that she is originally from the central university town of Tours and left behind her husband and a toddler.
"She said she converted to Islam on her own, when she was 12," said David Eubank, who leads the team of some 25 Free Burma Rangers.
But now she wants to go home, and she hopes that the French government will take her back, the American aid worker said. Her return could prove complicated, as in her early years with Isis in Syria, she met and married a young Frenchman, Tayeb Derraz, according to sources close to the case.
Derraz, who had left for Syria in 2013 aged just 18, is originally from the southern city of Perpignan. Now an international arrest warrant has been issued against him. He had been closely tracked by French intelligence services because "he planned at the time to sneak back into Europe and carry out a violent attack," said Jean-Charles Brisard, head of the Paris-based think tank, the Center for the Analysis of Terrorism.
During a 2017 trial of two of his associates, a French prosecutor said Derraz was "a death machine who threatened France".
Videos he posted of himself online showed him shooting a line of Isis prisoners in the back, or killing a Syrian rebel with a bullet to the head.
'Injustice and chaos'
Lise and Derraz spent two years together in the Syrian province of Hama and had a son, but she told the aid workers she did not know what had happened now to her husband. He was probably dead, she said.
According to Brisard, Derraz is thought to have been arrested and killed in Hama by the rebel Free Syrian Army, fighting to topple President Bashar al-Assad. Derraz's death has however never been confirmed.
Like other "Isis brides", Lise told the local Kurdish television Ronahi TV that at the beginning she had "a normal life". She was happy to wear the all-covering black Islamic veil and to be part of the new "caliphate" declared by the jihadists. But as the proto-state began collapsing she lost the last of her illusions, she told Ronahi TV.
"After I see injustice, it was fauda," she said in English, using the Arabic word for "chaos".
During her final days with Isis, there was "no food, no medicine" and they were given wheat mashed up with water, grilled on a fire and sold for a fortune on the black market.
After fleeing Baghouz, the SDF forces trucked the escapees into camps in the northeast where they will await their fate. For Lise and her son, it may be a long wait.
https://www.thelocal.fr/20190223/french-isis-bride-recalls-islamic-state-chaos
--------
Shamima Begum Says UK Government Is 'Making an Example of Me'
23 FEBRUARY 2019
Isil bride Shamima Begum has accused the British government of "making an example" of her by stripping her of UK citizenship, but admits she now regrets speaking out about her situation.
Speaking to The Sunday Telegraph in the al-Hol camp in Syria, the 19-year-old from east London said she might have been able to keep her UK passport if her case had not attracted so much attention.
"They are making an example of me," she said. "I regret speaking to the media. I wish I had stayed low and found a different way to contact my family. That's why I spoke."
The teenager is living with her week-old son, Jarrar, in a corner of the camp designated for foreigners. They have a tent of their own, while some...
https://www.telegraph.co.uk/news/2019/02/23/shamima-begam-says-uk-government-making-example-abandoned-fate/
--------
Shedding the Headscarf, Turkish Women Tell Of Pressures and New Solidarity
24/02/2019
ISTANBUL - Busra Cebeci was 19 when she took one of the most difficult decisions of her life. The young Turkish woman took off her Islamic headscarf, triggering a bitter row with her father, an observant Muslim, who refused to talk to her for more than a year.
Her decision shocked her family in her hometown of Boyabat in central Turkey. "My father thought I was going to roast in hell," Cebeci, now 25, said. "My mother said she would be ashamed to be seen on the street with me."
As a Turkish journalist, Cebeci has talked with dozens of women who have taken the same step. "The main pressure takes place inside the families," she said. "The family is like a little state and has much bigger means of punishment than the real state. When women want to take off their headscarf, they must confront their fathers, their brothers or their husbands."
Sometimes women pay a high price, she added. "Some women have been beaten. Others have tried to commit suicide. In one case, a woman ended up in a mental institution," she said.
In Turkey, a Muslim nation and EU candidate country of 80 million people that has secular principles and equality of the sexes enshrined in the constitution, most women wear the veil.
However, the country is seeing a change in its citizens' views of religion. A survey by the Konda polling firm indicated that the percentage of women covering their hair has fallen to 34%, from 37% a decade ago. Only a slim majority of Turks (51%) described themselves as pious, down from 55% in 2008.
Since rising to power in 2002, the Justice and Development Party (AKP) of President Recep Tayyip Erdogan, an organisation with roots in political Islam, has abolished regulations that banned veiled women from working or studying in public institutions. As a result, university students, teachers, lawyers or police officers covering their hair have become commonplace.
Erdogan and his supporters say the government respects secular lifestyles and is not forcing women to wear a headscarf. "Women are free to not cover their hair or to cover their hair," wrote Ozlem Albayrak, a columnist for the pro-government Yeni Safak newspaper. "None of us has the right to question choices that people make for themselves."
Still, commentators have suggested that taking off the veil could be a sign of protest against the AKP. Cebeci, however, said in many instances the women's decision was very personal and had more to do with the wish to change their own life than with politics.
"Some want to do sports or play theatre, some just feel prettier without the headscarf, some want a certain hairstyle," she said.
Cebeci added that the fact that women decide to wear their hair openly is nothing new in Turkey. What has changed is that women taking off the headscarf in Turkey today no longer feel alone.
"They used to withhold their names when they talked about it but today they post their pictures on the internet," Cebeci said. The worldwide web and social media were providing a "big net of solidarity."
After publishing articles and interviews on the issue in Turkish media, Cebeci said she received many messages from women telling her: "I thought I was alone with this, I didn't know there were other women going through this."
A recent worldwide Twitter initiative, #10YearChallenge, led dozens of women in Turkey to write on the micro-blogging site about their choice to uncover their hair. Many posted before-and-after pictures showing them with and without a headscarf. Cebeci joined in, commenting: "I can't hold myself back any longer. I am in it as well."
A website, called "Yalniz Yurumeyeceksin" ("You'll Never Walk Alone"), gives women an opportunity to talk anonymously about experiences in shedding the veil and has developed into another tool giving women a voice.
"For the first time in my 18-year-old life I have done something that makes me feel like myself," one woman wrote on the website. "It has not been easy. I was more or less ready for the response I was going to get but it was harder than I thought and it still is."
"Don't be afraid of anyone, my friends," wrote another woman, who said she had taken off the headscarf at the age of 47 after wearing it for 30 years. "I will keep living with my hair blowing in the wind and becoming wet in the rain."
Cebeci said many women were tired of being made "mascots" in political battles between AKP supporters and the opposition.
"If you are wearing a headscarf, you fulfil a certain cliche," she said. "You vote AKP, you don't have sex and so on. Women no longer want to deal with prejudices like that."
On Yalniz Yurumeyeceksin, one woman echoed that sentiment. "Just leave it to women to decide how they want to live," she wrote.
Erdogan has not commented on the website or the Twitter campaign.
https://thearabweekly.com/shedding-headscarf-turkish-women-tell-pressures-and-new-solidarity
--------
As 'Caliphate' Crumbles, Daesh Women Remain Defiant
February 24, 2019
Syria - "My son will grow up to become a jihadist," a woman cried proudly as she stepped off a bus ferrying people out of Daesh last sliver of territory in eastern Syria.
Defiant and angry, she is one of 2,000 people evacuated Friday from the jihadists' final scrap of territory in the village of Baghouz near the Iraqi border.
At a screening point run by the US-backed Syrian Democratic Forces close to the village, women clad in black sat on the barren desert floor waiting to be searched by the Kurdish-led fighters.
When asked where they came from, a group of three veiled women sitting on the rocky terrain said they were "followers" of Daesh so-called "caliphate".
One of them, who refused to give her name but said she was Syrian and originally from the area, burst with anger when asked about the desperate conditions among the holdout jihadists.
"Who says we were hungry?" she asked, while gently nursing a newborn baby.
"In a house that has dates, the resident don't go hungry," she added.
Like many of those with her, she refused to acknowledge the steadily approaching end of so-called "caliphate".
Declared across swathes of Syria and Iraq in 2014, the proto-state once the size of the United Kingdom has been rolled back to just a few blocks of homes in the desert hamlet.
She insisted the jihadists had only "stumbled", adding she never wanted to leave their final patch of territory.
"Had the caliph not ordered it, we would not have left," she said, referring to Daesh supremo Al Baghdadi who remains at large.
"I hope the Islamic caliphate will return and spread across all corners of the globe."
'Proud he's our caliph'
US-backed forces have evacuated nearly 5,000 men, women and children from the jihadist holdout since Wednesday, bringing the SDF closer to retaking the less than half a square kilometre still under Daesh control.
The SDF is trying to pull out the remaining civilians before pressing on with a final push to crush the jihadists, unless they surrender first.
Amid the wails of hungry infants at the screening point, another Syrian woman was similarly bold and unapologetic.
"We were scared of air strikes and nothing else," said Umm Abdul Rahman, from the southern province of Daraa, referring to life inside Daesh held Baghouz.
"We feel very bad right now, but the Islamic caliphate, God willing, will not be defeated," said the 25-year-old.
She said she quit the redoubt with her husband, a wounded jihadist who she claimed has not fought in battle for years.
"We were comfortable" in Baghouz, she said.
When asked about Daesh leader Baghdadi, she said she was "proud he's our caliph".
"We used to only listen to his speeches," she said, suggesting she had not seen him in person.
After all, "he is the caliph and of course he is being monitored by everyone", she added.
"Is it possible for him to just appear in person?" she asked rhetorically.
Pronounced dead on several occasions, Baghdadi has not been seen in public since he declared the "caliphate" in 2014.
An Iraqi intelligence official said in May that Baghdadi was still alive, and likely to be in Syrian territory along the Iraqi border.
SDF officials have said he is not believed to be among the jihadists holed up in Baghouz.
'We are weak'
At the SDF search point, the US-backed fighters separated the women from the men, who stood in a queue waiting to be searched.
Female SDF fighters nearby patted down the female evacuees, most of whom were fully veiled, as their children played on the rocky ochre terrain.
"(The SDF) wants to launch a (military) campaign and we are weak," said one woman, when asked why so many were pouring out of the village.
"We women are weak," she added.
Other women said the exodus was because life inside Daesh redoubt was unbearable.
"You can't live inside and you can't even get out", said Sabah Mohammad Chehab, a Syrian in her twenties.
Originally from the northern city of Aleppo, she said smugglers are charging up to $2,000 to get people out shrinking patch.
"We are happy to have made it out," she said.
No regrets
Ghalia Ali shows no regret about abandoning her life as a student in Tunisia to join the militants in 2014.
The young Tunisian-French woman was among truckloads of civilians leaving the militants' last enclave in eastern Syria.
Like Ali, many were relatives of Daesh fighters who have followed the group during years of retreat until it fell back to the village of Baghouz, now besieged by the U.S.-backed Syrian Democratic Forces (SDF).
"God's world is big. The most important thing is that I do not return to France or Tunisia," she told Reuters, saying life had been "impossible" for her in both places because of her decision to wear the full Islamic face veil, or niqab.
Accompanied only by her two young children at a checkpoint on the edge of Baghouz on Friday, Ali said she did not know what had happened to her Syrian husband from Latakia, a Daesh fighter who traveled with her to the village near the Iraqi border.
"He is somewhere ... currently I truly don't know where," said Ali, laughing faintly beneath her veil.
Ali and her children, a girl aged nearly three and an 18-month-old boy, were headed to Al Hol camp in SDF-controlled northeast Syria.
The SDF has said it wants all civilians evacuated from Baghouz before it launches a final assault to defeat or force surrender on the remaining fighters. The U.S.-led coalition has described those left inside as the "most hardened" of Daesh militants.
The SDF has not ruled out the possibility that some militants have crept out, hidden among the civilians. Warplanes flew overhead on Friday as the evacuation continued, but there was no sound of bombing or clashes.
She spoke fondly of the last spell living in adversity in the final Daesh enclave. "In Baghouz, especially in the last period, I learnt perhaps all the principles of life," she said.
It was the end point in a journey that started in Tunisia after the 2011 revolution that heralded the Arab uprisings, sweeping out the leaders of Libya, Egypt and Yemen, and presaging Syria's own eight-year war.
Under the ousted Tunisia's President Zine El Abidine Ben Ali there was a "very harsh constraint on Muslims", she said. She herself had not been particularly pious at that point, but something changed when she saw veiled Libyan women who had come to Tunis after their own uprising.
"I saw a woman wearing niqab, I was afraid as it was something strange in Tunis," Ali said. Adopting the dress herself, she then faced difficulties continuing her studies at the French institute in Tunis and, for several months, in Toulouse in France, where full face veils are banned.
Along with her mother, who went with her to Syria, Ali joined Daesh after being won over by one of its propaganda videos. She said she had been disowned by her brother who serves in the French army, which belongs to the coalition backing the SDF.
The gradual defeat of the militant group's "caliphate" has rescued millions of people from draconian laws, harsh punishments and, for minorities, slaughter or sexual slavery.
Ali said she would meet at the camp with her mother, who had already quit Baghouz. "God will fix things for me," she said.
https://gulfnews.com/world/mena/as-caliphate-crumbles-daesh-women-remain-defiant-1.1550997944284
--------
Talawi: Avoid Scenes Abusive To Women In Cinematic Works
Feb. 21, 2019
CAIRO - 21 February 2019: On the sidelines of the opening ceremony of Aswan International Women's Film Festival's third session, Ambassador Mervat Talawi said, "I am very pleased with the festival's third edition, which focuses on all the aspects that matter to women."
"Women are one of the solid elements of Egypt's progression," continued Talawi, chairman of the Board of Trustees of the festival.
Talawi further affirmed that the celebrities attending the festival are among the main elements of enlightening the Egyptian society, working to bring it back to its former solid cultural and educational position, and erasing all the dark Salafist culture that invaded the classy Egyptian society in recent years.
In addition, Talawy thanked during her speech Egyptian Minister of Culture, Inas Abdel Dayem, for providing all the necessary support for the Aswan International Women's Film Festival.
Talawi asserted that the role of women in any society surpasses the role of men, as women play a significant role in upbringing and supporting the members of any society.
Furthermore, Talawi stated that more light should shed on female artistic contributions; she stressed the necessity of avoiding showing scenes of domestic abuse or humiliation of women to protect women's respectable and precious image.
In a different context, actress Menna Shalabi expressed her deep happiness after being honored in the opening ceremony of Aswan's International Women's Film Festival's third edition, affirming that Aswan has been the closest city to her heart since her childhood.
http://www.egypttoday.com/Article/4/65026/Talawi-Avoid-scenes-abusive-to-women-in-cinematic-works
--------
URL: https://www.newageislam.com/islam-women-feminism/princess-reema-bint-bandar-al/d/117837
New Age Islam, Islam Online, Islamic Website, African Muslim News, Arab World News, South Asia News, Indian Muslim News, World Muslim News, Women in Islam, Islamic Feminism, Arab Women, Women In Arab, Islamophobia in America, Muslim Women in West, Islam Women and Feminism