New Age Islam News Bureau
13 Jun 2019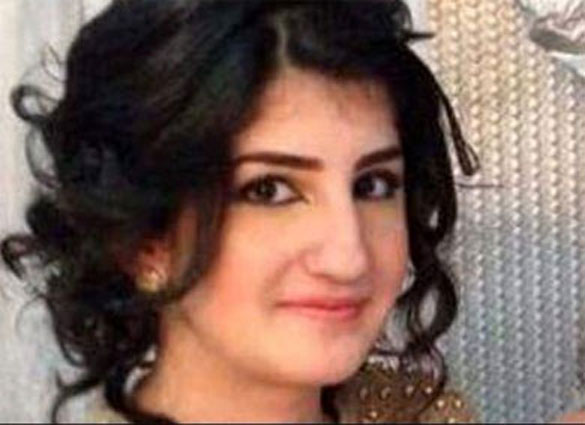 Princess Hassa Bint Salman, Sister of Saudi Crown Prince
------
• Princess Hassa Bint Salman, Sister of Saudi Crown Prince, Faces Paris Trial: Legal Source
• Woman Admits Scheme to Smuggle Aircraft Parts to Iran
• Muslim Woman Investigated Her Own Hate Crime After NYPD Dismissed Her Case
• Iranians Boycott Ride-Hailing App after Hijab Controversy
• State Security Force Further Ramps up Pressure On Iranian Women
• Female Football Fans Brutalized in Iran on the Eve of Women's World Cup
• Number of Female Judges And Prosecutors In Turkey At Its Highest
Compiled by New Age Islam News Bureau
URL: https://www.newageislam.com/islam-women-feminism/princess-hassa-bint-salman-sister/d/118874
-------
Princess Hassa Bint Salman, Sister of Saudi Crown Prince, Faces Paris Trial: Legal Source
June 13, 2019
The sister of Saudi Crown Prince Mohammed bin Salman is to be put on trial in Paris next month for allegedly ordering her bodyguard to beat up a workman in the French capital, a legal source told AFP on Wednesday.
The case against Princess Hassa bint Salman stems from an alleged assault in her apartment on the ultra-expensive Avenue Foch in west Paris in September 2016.
The trial is due to be judged on July 9, the source said.
The alleged victim has said he was hired to carry out refurbishment work at Princess Hassa's apartment and that she became angry after he took a photograph, accusing him of wanting to sell it to the media.
He alleges the princess, said to be in her 40s, then ordered the bodyguard to beat him up.
Le Point magazine reported that the princess shouted: "Kill him, the dog, he doesn't deserve to live".
The workman says he was punched in the face, his hands were tied and he was forced to kiss the princess's feet during an hours-long ordeal.
His tools were confiscated before he was allowed to leave.
AFP reported at the time of the incident that his injuries were so severe that he was ordered off work for eight days.
- Bodyguard charged -
The bodyguard was charged on October 1, 2016 with armed violence, theft, issuing death threats and holding someone against their will.
Princess Hassa is likely to be absent from the trial as she has not been apprehended under an international arrest warrant issued in 2017.
Lionised in the Saudi media for her charity work and women's rights campaigning, Princess Hassa is sister to Prince Mohammed, one of the most powerful leaders in the Middle East.
Known by his initials MBS, 32-year-old Prince Mohammed has shaken up Saudi Arabia and the wider Middle East since he was elevated to crown prince in 2017.
Widely regarded as de facto leader under his 82-year-old father King Salman bin Abdulaziz Al Saud, Prince Mohammed has presented himself as a champion of moderate Islam.
But the crown prince has faced a diplomatic crisis since the murder of journalist Jamal Khashoggi, a fierce critic, at the Saudi consulate in Istanbul in October last year.
The Saudis, after initially denying they knew anything of Khashoggi's disappearance, finally acknowledged that a team killed him inside the consulate, but described it as a rogue operation that did not involve the crown prince.
Princess Hassa's legal case is not the first time Saudi royalty have had a brush with the law in France.
In 2013 French authorities ordered assets to be seized from Saudi princess Maha al-Sudairi, wife of the then interior minister Prince Nayef bin Abdul Aziz, over an unpaid luxury hotel tab of nearly six million euros ($6.8 million).
https://www.thejakartapost.com/news/2019/06/13/sister-of-saudi-crown-prince-faces-paris-trial-legal-source.html
--------
Woman Admits Scheme To Smuggle Aircraft Parts To Iran
June 13, 2019
NEWARK, N.J. – A New Jersey woman has pleaded guilty to participating in a scheme to illegally smuggle aircraft parts to Iran.
Joyce Eliabachus faces up to five years in prison after pleading guilty Tuesday to helping smuggle more than $2 million in components. An alleged co-conspirator, Iranian resident Peyman Amiri Larijani, faces conspiracy and money laundering charges.
The U.S. attorney's office in Newark says the pair used a company run out of Eliabachus's Morristown home to ship parts through Turkey and the United Arab Emirates to Iran.
They allegedly shipped more than 23,000 parts in 49 shipments between May 2015 and October 2017, without required licenses.
Among the Iranian airlines buying the parts were several that have been officially designated by the U.S. as threats to national security or economic interests.
https://www.foxnews.com/us/woman-admits-scheme-to-smuggle-aircraft-parts-to-iran
--------
Muslim Woman Investigated Her Own Hate Crime After NYPD Dismissed Her Case
12/06/2019
A Muslim woman who was robbed and brutally beaten by a group of young people last month says the New York Police Department and the Bronx District Attorney's office failed to properly investigate until she dug up video evidence proving the hate crime.
Fatoumata Camara, 22, said the authorities' lack of investigation into the May 10 beating that sent her to the hospital with a broken nose and a head injury forced her to do the investigative work herself, uncovering surveillance video from a business near the crime scene. Camara, who lives in the Bronx and wears a hijab, said the NYPD reopened her case and is investigating the attack as a possible hate crime after she presented the footage this week.
"I told myself I wasn't going to be one of those cases that got abandoned," Camara told HuffPost. "I was going to get justice for what happened to me that night."
Camara, who graduated from college with a degree in engineering on May 29, said an NYPD official told her earlier that the case had been closed due to lack of evidence.
Authorities disputed the claim that they abandoned the case. The DA's office said the case was not closed, but was referred to the NYPD. The NYPD said the investigation "is active and ongoing" by the 42nd Precinct detective squad. Police did not elaborate.
In recent years anti-Muslim hate crimes have soared in New York and in the U.S. The New York chapter of the Council on American-Islamic Relations documented a 74% increase in anti-Muslim hate crimes in the state since 2016. The U.S. saw a 17% rise in hate crimes last year, with Muslim individuals being the target of over 18% of religiously motivated hate crimes.
Women like Camara who wear hijabs face an increased threat due to their visibility as Muslims. The New York City Commission on Human Rights found that black Muslim women living in the Bronx were at "notably high risk for bias motivated assaults," with 1 in 5 women having experienced physical assault.
Camara was attacked on her way home from a New York City College of Technology award ceremony, where she was honored for her work as student government treasurer. She boarded a bus at the Grand Concourse and 167th Street stop outside the college.
Once seated, approximately 10 to 12 young men and women, including some teenagers, began to harass and taunt her, she said. They threw sunflower seeds, she said, and called her racial and sexist slurs, including "dumb, black bitch." They also mocked her "stupid headwrap," according to Camara.
The group followed her when she got off the bus at 168th Street and Third Avenue. The surveillance footage shows Camara being pushed, punched and kicked. One person pulled off her hijab.
It wasn't until a bystander intervened that the attack briefly halted. But then the attack resumed and an individual is seen striking Camara again.
Police eventually arrived. Some of the assailants ran, but officers took three people into custody. They were later released without charges.
Camara was taken to St. Barnabas Hospital in the Bronx, where she was treated for a broken nose and a head injury. Her bag ― which included a stipend reimbursement check for $500, her Social Security card, her state identification and her U.S. passport ― were stolen, according to her lawyer. Her engagement ring was damaged during the attack and her clothing was torn.
Later, Camara met with police officers at the 42nd Precinct, where she was shown photos of 18 people and asked to identify her attackers, including the three people taken into custody the night of the assault, according to her lawyer. Camara, traumatized and unable to clearly see the attackers during the assault, couldn't pick out anyone in the photos, so she said investigators told her they were closing the case.
"It was unfair for me. I'm the victim of this whole situation," said Camara. "For them to just drop my case like that because I couldn't identify these people through photos, I was very upset."
Ahmed Mohamed, Camara's lawyer and the litigation director at CAIR-New York, said authorities weren't taking the report seriously enough.
"We have such a clear case of not only a crime being committed, but of a hate crime taking place," Mohamed said. "There's clear evidence. Our client not only provided some of this evidence to the detectives, district attorney, but instead of investigating and doing their jobs, the NYPD, the district attorney, decided our client's life just didn't matter enough for them to take it seriously."
On May 14, Camara went back to the precinct and requested a copy of the police report. Instead, she said an official gave her a letter from the legal department denying her access to the report because it had been sealed by court order. She said she twice since tried to meet with detectives handling her case, to no avail.
"I had to run after them every day just to get answers from them," she said of the detectives. "It shows they don't care. I have the right to be protected in this country."
Not long after that, Camara noticed a business near the scene of the beating had surveillance cameras. She met with the business owners and obtained the footage, then forwarded it to the police and media outlets.
Camara said police finally reached out to her on Monday after media reports featuring the footage.
She said she hopes with the video, police can find the attackers. But she said the authorities' lack of support has left her traumatized.
"I'm scared to go out by myself now. Because of this incident, I don't know what's going to happen to me," said Camara. "I just hope this doesn't happen to somebody else from my community."
https://www.huffingtonpost.in/entry/muslim-woman-investigated-her-own-hate-crime-after-nypd-dismissed-her-case_n_5cfeca32e4b0da64c5362d58
--------
Iranians Boycott Ride-Hailing App After Hijab Controversy
by Saeed Jalili
June 13, 2019
A move to boycott a popular Iranian ride-hailing application has gained momentum among social media users in the country after a controversy over a female passenger's hijab, a headscarf worn by many Muslim women who feel it is part of their religion.
It all began last week when the woman was asked by a driver of the Snapp app to put on the headscarf that had fallen off her head, according to Tasnim News Agency.
After an argument with the male driver, the passenger reportedly left the car in an avenue in the eastern part of Iran's capital, Tehran.
In comments made later, the passenger and the driver gave different accounts of the incident. The passenger said in a Twitter post that the driver dropped her off when she refused his demand, but the man told state media he had offered to take her back to where he had picked her up from.
Iranian law requires women to cover their hair and wear a loose garment to hide their body and skin.
Soon after the incident, the passenger published the name and the picture of the driver, Saeed Abed, on her Twitter account - which has a pseudonym handle - and said Snapp had pledged to follow up on the issue.
The tweet was later deleted, but screengrabs of it have circulated on social media.
Meanwhile, Abed was lauded during an appearance on state TV and was hailed as a hero for promoting Islamic virtues.
For its part, Snapp, which is known as the Iranian version of Uber and is the largest online ride-hailing company in the country, said in a statement that it was obliged to abide by Iran's law and Islamic values.
The company also said it would honour the driver for complying with its regulations. Snapp later said it had abandoned a decision to file a lawsuit against the passenger for disclosing Abed's personal information after she tweeted an apology and expressed regret.
Boycott hashtag
But the passenger's apology, coupled with the support for the driver by Snapp and conservative media, sparked outrage on Twitter.
On Sunday, Twitter users began using a hashtag calling for the app's boycott, which by Tuesday had been used some 70,000 times, according to ILNA news agency.
"I deleted the app, because I think, if they see a decline in orders, this would mean that our message is received," Mani, a Tehran resident working for an advertisement company, told Al Jazeera.
The 35-year-old said he regarded the move as necessary, even though he did not believe that boycotting Snapp would solve the hijab dispute.
"Any other online taxi application could be under pressure by the establishment [to enforce the law], but we need to have our voices heard," he said.
Shirin, a 30-year-old English teacher in Tehran, said she had not been using the app since the controversy.
She noted that she had a similar argument with a Snapp driver while using the service with her husband, but added that she was uncertain about deleting the app because she believed many drivers would lose their jobs at a time of economic malaise and high unemployment.
"Many young people with a bachelor's or a Masters' degree are working for Snapp," she told Al Jazeera. "This makes me think twice."
'Social segregation'
Many Iranians, who do not feel obliged to observe Islamic teachings, have been against the compulsory hijab law.
In 2005, the police and the judiciary created a dedicated police unit to enforce the country's dress code. But the body - known as the morality police - has been criticised by reformists and moderates.
On Wednesday, the IRNA state news agency reported that Iran's traffic police have been monitoring vehicles and sending warnings to the owners of cars in which passengers wear their hijab loosely.
Most recently, the judiciary asked citizens to report via text message the violation of Iran's code of conduct, including lack of hijab, drinking alcohol, mix-gender parties and prostitution.
Iran's Jahan Sanat newspaper warned on Wednesday that such policies would lead to a bipolar society and hurt the national unity.
"Social segregation is the first side-effect of such decisions ... The continuation of this process would lead to social encounter [between the two groups] ... it would lead to widespread social conflicts," Hassan Hosseini, a sociologist, told the paper.
https://www.aljazeera.com/news/middleeast/2019/06/iranians-boycott-ride-hailing-app-hijab-controversy-190612134108045.html
--------
State Security Force Further Ramps Up Pressure On Iranian Women
Jun 13, 2019
The State Security Force has further ramped up pressure on Iranian women by tightening up the regime's rules on compulsory veiling.
The acting commander of the State Security Force, Ayyoub Solaimani, once again declared that women commit an obvious crime by removing their veils, and police deals with them.
A reporter asked Solaimani, "Why should drivers of taxi agencies account for their passengers' removing of their veil?" He answered, "The legal responsibility of any car is with the owner. Just like the passenger's failure to fasten the seat belt, for which the car owner must account before the law, drivers must note and be committed to their legal responsibility. They must not allow their passengers to break the law by removing their veil. All agencies must emphasize on their rules for observing the veil and Islamic principles." (The state-run media – June 11, 2019)
Three days ago, a taxi driver working with the SNAP company gave a warning to his passenger whom he considered improperly veiled. He dropped her in the middle of the way in a place where she had no access to other transportation. The woman later published on her twitter account the details of how she had been mistreated by this driver. (The state-run ROKNA news agency – June 10, 2019)
In another development, the State Security Force in Mazandaran identified and arrested a group of men and women who were riding boats in a dam while dressed in swimming suits. More arrests are expected. (The state-run ROKNA news agency – June 8, 2019)
The State Security Force of Kermanshah also announced that 611 people, including 64 women, had been arrested during the month of Ramadan for defying the SSF's warnings.
Mohammad Reza Amou'ii, social deputy of the State Security Force Command in Kermanshah Province, made the announcement, adding that they had sealed up the food shops and restaurants which had broken the regime's rules. They had also given warnings to 4,166 persons who had openly eaten in public. (The state-run Fars news agency – June 9, 2019)
https://women.ncr-iran.org/2019/06/13/state-security-force-further-ramps-up-pressure-on-iranian-women/
--------
Female Football Fans Brutalized in Iran on the Eve of Women's World Cup
Jun 9, 2019
On Thursday, June 6, 2019, on the eve of the Women's World Cup in France, Iranian women who were holding tickets to enter Azadi Stadium to watch the football match between the national teams of Iran and Syria were violently attacked by the State Security Force.
At least two of those women were arrested and taken into custody. Their fate remains unknown.
Several of the women who were attacked by the State Security Force were interviewed by the sports reporter of the state-run daily of Etemad. One of the women explained while crying, "One of the troops placed his foot on the chest of one of the ladies, took away her cellphone, and tore away her purse. The security forces attacked us in a raid and dragged one of the ladies on the ground."
Another woman said, "They kicked us, punched us, and swore at us, without our doing anything wrong. There were several of us, women, who were waiting on the lawns outside the west gate of the stadium. We were not chanting. We were not talking. We were not even holding the Iranian flag…"
It appears that to curry favor with the International Football Federation (FIFA), the official website of the Iranian Football Federation announced that it was going to sell tickets for the Iran-Syria game without blocking the option for women. After a day of sale of tickets, however, they blocked the option for women without any explanation. Since Tuesday, June 4, 2019, no women have been able to buy tickets. So, a number of those women who had managed to procure their tickets, posted the photo of their tickets on the social media.
Nevertheless, the security manager of the Football Federation announced that there had been no change in the regime's policy and women continue to be banned from entering sports stadiums. Officials of the Football Federation and the company in charge of selling tickets later claimed that the availability of the option for sale of tickets to women had been a technical mistake and that no changes had occurred in the unwritten law banning women's entry to sports stadiums.
Discrimination against Iranian women
While the Iranian women fans of football were being brutalized at the west gate of Azadi Stadium, Syrian women were allowed in.
The Iranian Football Federation has received multiple warnings from FIFA over the past years for banning women from entering sports stadiums. On June 6, 2019, however, on the eve of the start of the games in the Women's World Cup in France, Iranian women who were holding tickets legitimately bought from the official website of Iran's Football Federation, were not allowed into the stadium and were treated as criminals.
Iranian women have been deprived of entering sports stadiums to watch football or any other games since when the clerical regime seized power in Iran.
To prevent women from entering sport stadiums, the clerical regime has hired female security forces since August 2018, to confront women who try to sneak into the stadium with men's makeup. (The state-run ISNA news agency – September 17, 2018)
According to some other reports, some 500 closed circuit cameras have been installed at the entrance gates to Azadi Stadium to identify women who enter the stadium. (The state-run ROKNA news agency – September 27, 2018)
Obstructing women's sports in various ways
Although, six teams from Asia and Australia are taking part in the Women's World Cup, Iran's female footballers are absent in the tournament.
Obstructions by Iran's ruling regime are aimed at excluding Iranian women from the sports arena. Nevertheless, Iranian women are both talented and highly motivated. They win medals and demonstrate their merits despite being deprived of any and all forms of government support.
Women football and futsal players in Iran are among the most motivated who won Asia's championship despite lacking government or private backing.
But winning Asia's championship did not gain them sponsors. One of the reason, sponsors are not inclined to support women's teams is because their matches are not broadcast by national media. So, they do not profit from sponsoring women's teams. Women's competitions are not allowed to be broadcast by the national media in Iran.
Team players suffer from poor financial conditions. Winning Asia's championship did not affect the wages of the national team's futsal players, either. Although, prices have increased several folds, the players' contracts have not increased. Some are paid on the basis of their previous contracts and others have met lower contracts which proved to be disappointing to them. (The official IRNA news agency – September 22, 2018)
In domestic games, women are allotted bad fields with lots of holes. In some cases, the teams do not have locker rooms and even lavatories. In some cases, players remain in pain for several hours by the side of the field if they get injured because there are no ambulances to take them to hospital.
Instead of giving resources to women athletes, the Iranian Football Federation briefed the teams participating in the Women's Football League that players would be shown the yellow card if they do not properly cover all their hair during the games. If repeated, they would be shown the red card and sent off the field. (November 5, 2017)
https://women.ncr-iran.org/2019/06/09/female-football-fans-brutalized-in-iran-on-the-eve-of-womens-world-cup/
--------
Number Of Female Judges And Prosecutors In Turkey At Its Highest
June 05 2019
The number of female judges and prosecutors has reached its highest in the past few years, according to figures from the Ministry of Justice.
Out of a total of 20,777 judges and prosecutors on duty, 13,284 are male and 7,493 are female.
The judicial reform strategy paper, unveiled last week by President Recep Tayyip Erdoğan, set the goal to maintain gender equality in personnel recruitment.
During the appointment of 1,446 judges and prosecutors at a ceremony on May 22, 758 were men and 688, about 47.5 percent, female. With last month's appointments, the total number of judges and prosecutors in Turkey rose to 20,777. The total was 13,666 in December 2013 before the coup attempt in 2016.
The growth in women judges and prosecutors is skyrocketing.
The number of women judges and prosecutors was 2,664 in 2010, it was 3,549 in 2013 and 3,977 in July 2016. Since 2010, the number of female judges and prosecutors has tripled.
While the ratio of women judges and prosecutors was 22.8 percent in 2010, this rate increased to 36 percent with the latest appointments.
There are relatively more women judges among the female judicial members entering the profession. Out of the 7, 493 women, 6, 369 of them are judges, while 1,124 are prosecutors.
The number of female judges working in judicial justice is 3,947. Some 460 judges are in the administrative courts, 448 are in the regional courts of justice, and 118 are in the regional administrative courts.
In the Supreme Court, the number of female judges is 718, while the number of women prosecutors is 24.
There are 236 female judges and 13 prosecutors in the Council of State. In the Constitutional Court, there are four women judges. Fourteen of the 207 prosecutors in the Council of Judges and Prosecutors are women, while there are 82 female judges and prosecutors out of 82 at the headquarters of the Ministry.
http://www.hurriyetdailynews.com/number-of-female-judges-and-prosecutors-in-turkey-at-its-highest-143963
--------
URL: https://www.newageislam.com/islam-women-feminism/princess-hassa-bint-salman-sister/d/118874
New Age Islam, Islam Online, Islamic Website, African Muslim News, Arab World News, South Asia News, Indian Muslim News, World Muslim News, Women in Islam, Islamic Feminism, Arab Women, Women In Arab, Islamphobia in America, Muslim Women in West, Islam Women and Feminism