New Age Islam News Bureau
14 Aug 2015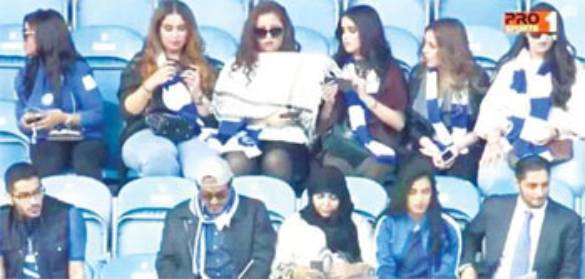 TOUGH CHOICE: While some have argued that the attendance of Saudi women at the match is a reflection of their personal freedom, others disapproved of their presence.
-----------
• 1,000 Muslim Women to Tie Rakhi on RSS' Indresh
• Radical Women's Outfit Dem Unfurls Pak Flag in Kashmir
• Indonesia Court Overturns Sexually Abuse Convictions
• Muslim Woman Denied Entry into Westland Advance America
• Sex, Divorce and Infidelity: Meet the Muslim Women Bloggers Tackling Taboos
• U.N to Meet On ISIS Killings of Homosexuals
Compiled by New Age Islam News Bureau
URL: https://newageislam.com/islam-women-feminism/presence-saudi-women-london-stadium/d/104276
-----------
Presence of Saudi women at London stadium sparks debate
14 August 2015
The presence of Saudi women at the Saudi Super Cup match between Al-Hilal and Al-Nasr in London on Wednesday has a sparked a debate among Saudis on social networking sites.
As usual, liberals and conservatives had different points of view on the issue. While some have argued that the participation of Saudi women at the match is a reflection of their personal freedom, others disapproved of their presence, claiming they "appeared gaudy with too much makeup."
Women's rights activist Kholoud Saleh Al-Fahed wrote on Twitter that these opinions no longer have relevance or impact on the Saudi women.
"The world has turned away from discussing the finer points of the match and are now busy analyzing the Saudi woman, her rights and her face cover," said Samar Khan, a researcher and doctor in London.
Walid Al-Howairini said: "Women who expose themselves and remove their cover are disobeying God, as wearing the hijab is a form of worship."
"The incident has challenged the perception that young men act like animals and girls are always the victims," said Ahmed on a social networking website.
According to Abdullah Al-Shaibani, if women attended the match wearing makeup, this does not grant anyone the right to speak of their behavior and intention.
"Speaking poorly of others is worse than wearing makeup," he said.
"The true embarrassment," adds Ali Al-Mansour, "is that Saudis attended the match with no harassment or problems in the UK, where anti-harassment laws exist, but covered women in our country are constantly harassed."
"Unfortunately, the match has led to the publication of photos of Saudi women without their knowledge or approval," wrote Abdulsalam Al-Yemeni.
Some, like Abdullah Al-Dawood, have gone as far as questioning whether the event was purely a coincidence or pre-planned.
For the game's enthusiasts, Al-Hilal emerged victorious, winning the match 1-0.
Copyright: Arab News © 2015 All rights reserved. Provided by SyndiGate Media Inc. (Syndigate.info).
https://en-maktoob.news.yahoo.com/presence-saudi-women-london-stadium-sparks-debate-073754595.html
-----------
1,000 Muslim women to tie rakhi on RSS' Indresh
Rajiv Srivastava
Aug 14, 2015
LUCKNOW: After holding an all-India ulemas' meet, the Rashtriya Swayamsevak Sangh-backed Muslim Rashtriya Manch has now decided to celebrate Rakshabandhan with Muslims. In a pan-India event, each state unit of the manch would bring together around 1,000 women from Muslim community to tie rakhi on MRM national coordinator and senior RSS functionary Indresh Kumar and other men. The programme would be held on August 30, a day after Rakshabandhan which is falling on August 29, said Mehrajidhwaj Singh, state coordinator of MRM.
It's not that Muslim women don't tie rakhi on Hindu brothers, but the mass gathering is an attempt to highlight the outfit's nationalist character, said a senior functionary RSS, which seems to be going in for an image makeover from anti-Muslim or pro-Hindu to being socially correct.
MRM's state coordinator said Rakshabandhan should not be associated with any religion but seen as a national festival to promote women's safety and honour.
Last year a similar programme was held in Lucknow, but this time the scale would be bigger as 500 to 1,000 Muslim women are expected to take part. The women will tie a rakhi on Indresh Kumar and other men from both communities, said Singh, adding that venue for the programme in Lucknow would be decided soon.
Besides Lucknow, MRM district units like Bareilly, Moradabad, Shahjahanpur and others would also hold such programme on August 30, said Singh.
Confirming that Rakhsabandhan would be celebrated at Madrasa Arabia Talim-ul-Islam, Faridapur Chaudhary in Bareilly, MRM's district coordinator Mohammad Islam Sultani said a madrasa each had been selected for the day at districts with MRM presence.
It was during Ramzan that MRM workers convinced members of the minority community and gifted them Tulsi saplings saying it finds mention in Quran as a 'jannati jhaad' (heavenly shrub).
MRM's all-India Ulema meet in Lucknow on August 8 was attended by clerics from across the country, but prominent clerics gave the meet a miss.
http://timesofindia.indiatimes.com/city/lucknow/1000-Muslim-women-to-tie-rakhi-on-RSS-Indresh/articleshow/48475032.cms
-----------
Radical women's outfit DeM unfurls Pak flag in Kashmir
August 14, 2015
Radical women's outfit Dukhtaran-e -Millat (DeM) on Friday unfurled Pakistan's flag and sang its national anthem on the neighbouring country's Independence Day. A group of DeM activists led by Asiya Andrabi had gathered in Bachpora area on the outskirts of the city. Separatist activists have been hoisting Pakistani flags on August 14 for more than two decades.
In the early days of militancy in Kashmir during 1990s, militant groups like Hizb ul Mujahideen would hold full-fledged parades to mark this day.
http://indianexpress.com/article/india/india-others/radical-womens-outfit-dem-unfurls-pak-flag-in-kashmir/
-----------
Indonesia court overturns sexually abuse convictions
Niniek Karmini
August 14 2015
An Indonesian court has overturned convictions against a Canadian teacher and an Indonesian teaching assistant who were serving 10 years in jail for sexually abusing three young children at a prestigious international school in Jakarta, their lawyer said Friday.
Neil Bantleman, 45, and Ferdinant Tjiong were convicted in April by the South Jakarta District Court of violating Indonesia's child protection law and were also ordered to pay a fine of $7,700 or serve six additional months in jail.
They maintained their innocence and were supported by fellow teachers and the principal at the Jakarta International School, now called the Jakarta Intercultural School.
They filed appeals to the Jakarta High Court and Hotman Paris Hutapea, an Indonesian lawyer representing Bantleman and Tjiong, said the court overturned the indecency convictions for raping three kindergarten students, now 6 and 7 years old, at the school which is attended by children of foreign diplomats, expatriates and Indonesia's elite. It has 2,400 students aged 3 to 18 from about 60 countries.
"The truth is finally revealed and justice has been done," Hutapea told The Associated Press on Friday.
He said earlier that the rape claims were all about money. The principal and a number of other teachers have alleged the same about the case. The parents of one of the children had sued the school for alleged negligence and were seeking $125 million in compensation.
But on Monday, the same district court threw out the civil case brought by the mother of one of the children against the school, saying it was had not proven that any of the alleged abuses had actually taken place since new evidence from medical reports from three different hospitals in Jakarta and Singapore showed no major injuries or abnormalities in the three children.
The decision after a court in Singapore on July 16 ruled that the woman accusing Bantleman had defamed him, Tjiong and the school because the allegations of sexual abuse could not be proven, and ordered the parent to pay a total of $164,700 in damages. The case was brought in Singapore by Bantleman's family because the initial allegations were made in Singapore through emails, texts and other digital communications.
Hutapea said both decisions had an impact on the higher court's decision to free Bantleman and Tjiong.
The arrests of Bantleman and Tjiong in July last year followed reports from the parents of a 6-year-old boy who have been sodomized three months earlier. Four male janitors were sentenced to eight years in jail in that case, while a woman received seven years as an accomplice. Police said a sixth suspect killed himself in custody by drinking bathroom cleaner.
Hutapea said a copy of the higher court decision has to be taken to the district court to start the process of getting his clients released from prison.
Prosecutors, who could appeal the latest decision to the Supreme Court, could not be reached for comment.
http://www.thejakartapost.com/news/2015/08/14/indonesia-court-overturns-sexually-abuse-convictions.html
-----------
Muslim Woman Denied Entry into Westland Advance America
By Samer Hijazi
08.13.2015
WESTLAND – A local Muslim woman was denied entry into Advance America on Thursday, August 6, after refusing an employee's demand that she remove her Hijab.
Westland resident Zeinab Zreik had intended to purchase a money order. Instead, she discovered that the payday lending company had long been implementing a discriminatory policy against Muslim women for "security purposes."
Zreik's incident marks the latest in a string of complaints by Muslim women launched against the South Carolina-based company.
Last November, The American-Arab Anti Discrimination Committee of Michigan (ADC-MI) and the Council on American-Islamic Relations of Michigan (CAIR-MI) filed a joint lawsuit against the company because of a similar incident involving a Muslim woman at an Inkster location.
In that case, surveillance footage captured local resident Raghdaa Ali being denied entry and an Advance America employee asking her to remove her hijab in order to receive service.
ADC-MI Director Fatina Abdrabboh said the organization received dozens of complaints from Muslim women who were denied entry around metro Detroit, including locations in Sterling Heights and Warren.
"Unfortunately, we have received dozens of complaints by Arab American women about the discriminatory business practices against women who wear hijab," Abdrabboh said. "Some of the victims choose to go public, but many choose to remain anonymous and avoid litigation and media coverage. There is undoubtedly a widespread problem. Considering we receive many complaints each week, the decision of whether or not to litigate depends on the consideration of the client's interest and the community's cause. These days, women in hijabs are increasingly being mistreated."
The refusal to serve Muslim women supposedly stems from a company policy stating that customers can't wear "hats or sunglasses."
Amir Makled, an attorney at the law offices of Cyril Hall, who is handling Zreik's case and is in the process of filing a lawsuit, told The Arab American News that he reached out to the company for a response.
"They indicated that it's their policy to have all headgear removed, including a religious garb, upon entry into their locations," Makled said. "I made it clear to them that my client has a first amendment right to practice her religion and this hijab is part of her religion. In any event, they don't seem to care."
Lena Masri, the senior staff attorney at CAIR-MI, told The Arab American News that both CAIR-MI and ADC-MI have been communicating with the company's legal team about changing its nationwide "safety" policy, but have had no luck so far.
"They have been defending the case vigorously," Masri said. "Their argument is that they should be allowed to discriminate. The argument they make is based on security concerns. We believe that argument is a cover for what is actually pretextual discrimination."
Advance America has justified demanding that a Muslim woman remove her hijab by arguing that she could conceal a weapon under it. Masri noted that this argument seems to be inconsistent with other clothing items and accessories. Advance America employees don't ask customers to remove coats and hoodies and they also allow female customers to walk in with their purses. Masri said weapons could easily be concealed in any of those situations.
She said the policy blatantly targets Muslim women.
"This conduct is outrageous and it shouldn't be tolerated. They use safety as a pretext against Muslim women, preventing them from services at any location."
In recent years, the hijab has been at the center of several court cases involving Muslim women who were either told to remove their headwear or denied the same privileges as others.
In May, the Supreme Court ruled in favor of Samantha Elauf, a Muslim woman who had interviewed for a job at a Tulsa, OK. Abercrombie and Fitch while wearing her hijab and had been rejected under the company's "look policy." That decision marked a victory for the Equal Employment Opportunity Commission, the federal agency that sued the company on Elauf's behalf.
In Dearborn Heights, Makled also represented a Muslim woman who had filed a complaint against the police department after officers forced her to remove her hijab during the booking process. The parties settled the dispute outside of court, resulting in new procedures and protocols being implemented so that a Muslim woman is no longer required to remove her hijab in front of male officers.
The Advance America Litigation has two scheduled court dates in October.
http://www.arabamericannews.com/news/news/id_10902/Muslim-woman-denied-entry-into-Westland-Advance-America.html
-----------
Sex, divorce and infidelity: Meet the Muslim women bloggers tackling taboos
By Alia Waheed
14 Aug 2015
At a time when the lens of the media is trained on the Muslim community like never before and it seems we read near-daily reports of teen girls fleeing the UK to marry Isil fighters, it's strange how little we actually know about the lives of young, British Muslim women.
That could be about to change.
A growing number of Muslim female bloggers are now giving voice to their experience and challenging the misconceptions that exist, both within their own communities and society as a whole.
After generations of having their voices silenced by their own culture, they now face a new challenge from organisations like Britain First - a BNP splinter group - who have attempted to hijack issues affecting Muslim women to further their own causes.
What makes the phenomenon remarkable is that many of these bloggers are choosing to lift the veil of anonymity, in order to discuss issues that have been traditionally swept under the carpet for fear of a backlash from the community and to protect family honour.
By talking openly about their personal experiences, they are succeeding in challenging taboos around subjects such as religion and sexuality, and redefining society's perception of what it is to be a Muslim woman.
• Meet the female Muslim boxer 'bringing shame on her family'
One reason for the sudden surge in Muslim female bloggers is technology – social media and blogging platforms give them control over their voices like never before.
Another explanation is the growing confidence of Muslim women as individuals, at a time when there is an increasing sense of their community being under attack. This makes them want to assert their British identity more forcefully than ever before and this certainty around their nationality is giving them the confidence to explore deeper issues that stem from their dual cultural and religious heritage.
While they are proud of it, they also see its faults - and are not afraid to challenge them.
Maryam Din, whose blog 'Five Pillars and Six Colours' chronicles her experience of reconciling her religious, cultural and sexual identity - as a gay, Muslim feminist - tells me:
"Social media is, on the whole, a safe space for me. It's not very often that negativity penetrates that. However, much like in real life, there will be times when it happens. I've faced racism and Islamophobia from the non-Muslim community, and homophobia within the Muslim community. However, my experiences have largely been positive.
"Muslim women are now being open about themselves and their lives because we've had enough, both from within and outside of the Muslim community and enough of being silenced.
"Between the constant wave of Islamophobia across Europe and politicians thinking they're trying to do what's best for us, while not actually consulting us - like banning our cultural and religious dress in public - it isn't really difficult to see why there has been an upsurge of Muslim women speaking out.
"These preconceived ideas about Muslim women aren't ever positive and are rife with a mixture of Islamophobia, racism and sexism. Blogs like mine challenge these misconceptions simply by existing.
"In a world that sees Muslim women as oppressed and marginalised, visibility is a radical and political act, which unapologetically says we love who we are and what we stand for."
• Muslim gymnast criticised for 'revealing' leotard as she wins double-gold
Giving Muslim women an authentic voice was one of the reasons Mehreen Baig, a teacher from North London, decided against remaining anonymous when she began her blog, 'Queen Mehreen: Brown Girl Talks'.
Her blog - which has more than 10,000 readers - ranges from humorous descriptions of the arranged marriage system and being considered left on the shelf at the grand age of 25; to sexual harassment at work and being judged for not wearing a hijab.
"My blog started off as a diary of my feelings and frustrations," she explains.
"There are lots of issues that never get addressed, out of fear of judgement or because we don't have a platform to express ourselves. I was advised on numerous occasions to remain anonymous in case of any backlash.
"My mum was scared that I was so honest and blunt with my opinions. But my blog represents my feelings. I feel no animosity toward anyone, nor am I inciting any hatred or disrespect. If I truly believe I'm not doing anything wrong, so I shouldn't have to hide.
"My blogs are a voice for the young British Asian woman. To hide my identity would defeat the purpose of showing we are proud of how we feel and our experiences. Though I have received negative comments, they have been a minority and they have actually validated what my blog is talking about.
"There has been huge media attention on the oppressed Muslim girl or the "Muslim girl gone bad" but these are stereotypes that most of us can't relate to. Where are the majority of us, the ones who are comfortable with being British and Muslim? I hope blogs like mine represent those women- the majority who are unfortunately the least visible."
• What Muslim women really want in the bedroom
For many women bloggers, it's also a therapeutic experience, albeit driven by the desire to empower other women. Laila Ali, 30, started her blog 'Desi, Divorced and Damn Fabulous', after discovering a lack of emotional support and information for Muslim women facing the end of their marriages, and to take a stand against the stigma associated with female divorcees.
"I was hurting badly when I discovered my husband's infidelity. I searched for websites to try to connect with people who were in the same boat as me and found plenty about adultery and divorce, but none were directed towards a Muslim woman's experience," she says.
"This prompted me to write about my circumstances. I realised that, while there had been no helpful information available to me, perhaps through writing about my own experience it might helps someone else.
"We are tired of being told how to behave. This was one of the most heart-wrenching moments of my life yet we [divorcees] are considered 'unclassy' or 'a woman scorned' for even existing, let alone talking about it.
"I won't pretend five years of my life didn't exist. Everything that has happened has shaped me into the person I am now. Though blog is quite open at criticising the Muslim community, on the flipside, it does show that Muslim woman are strong, we won't be broken."
http://www.telegraph.co.uk/women/womens-life/11801070/Sex-divorce-infidelity-Muslim-women-bloggers-tackle-taboos.html
-----------
U.N to Meet On ISIS Killings of Homosexuals
14 August 2015
The U.N. Security Council will hold a meeting this month to hear about ISIS attacks on sexual minorities, the first-ever council meeting focused on gay rights, the U.S. ambassador said on Thursday.
The informal meeting on August 24 will shine a spotlight on "ISIS and its systematic targeting of LGBT persons who find themselves in ISIL-controlled territory," said Samantha Power.
The U.S. and Chile will host the meeting that will be open to all member-states interested in the plight of lesbian, gay, bisexual and transgender people persecuted by ISIS extremists.
"This will be a historic meeting. It will be the first Security Council meeting on LGBT rights," Power told reporters.
U.N. envoys will hear accounts from Adnan, an Iraqi who fled northern Iraq after being targeted as gay, Syrian Subhi Nahas, who was also threatened and Jessica Stern, the director of the International Gay and Lesbian Rights Commission.
Power noted that ISIS attacks on gays had been well-documented.
The Syrian Observatory for Human Rights reported last month that ISIS fighters dropped two men from a building in the city of Palmyra and then stoned them to death.
It remained unclear how many countries with anti-gay laws would attend the meeting, but Power said she expected a good turnout.
The U.S. is leading an international coalition that has vowed to defeat the extremist group, which declared a caliphate in June 2014 after seizing the Iraqi city of Mosul.
ISIS now controls large swathes of territory in Iraq and Syria, and has gained a foothold in Libya, Yemen, Egypt and elsewhere in the Middle East.
http://english.alarabiya.net/en/News/middle-east/2015/08/14/U-N-to-meet-on-ISIS-gay-attacks.html
-----------
URL: https://newageislam.com/islam-women-feminism/presence-saudi-women-london-stadium/d/104276