New Age Islam News Bureau
1 Jan 2016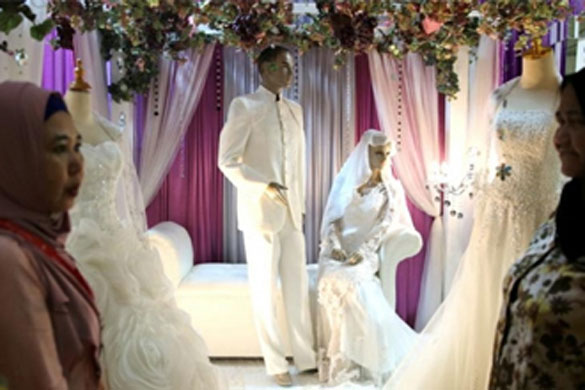 Photo: PAS ulama information chief Datuk Dr Mohd Khairuddin Aman Razali said on Wednesday that marriage was the 'best solution provided by Islam' to statutory rape. — File pic
---------
• Nigeria: Possible Ban of Hijab 'An Affront to Religious Freedom Of Muslim Women'
• Western Feminists Airbrush the Horrors of Their Muslim Sisters
• Saudi Man Ties Knot with Russian as Per Hindu Rituals in Gujarat
• About Half of India's Muslim, Hindu Women Illiterate
• Muslims in Gujarat State of India Ahead In Child Sex Ratio: Census
• Pak Woman, Afsheen Murtuza, Gets Indian Citizenship after 21 Years of Struggle
Compiled by New Age Islam News Bureau
URL: https://newageislam.com/islam-women-feminism/preacher-if-marriage-solves-child/d/105829
-----------
Preacher: If Marriage Solves Child Rape, Why Is There Incest?
BY BOO SU-LYN
January 1, 2016
KUALA LUMPUR, Jan 1 — Marrying girls off at a young age is not the solution to statutory rape, independent Muslim preacher Wan Ji Wan Hussin said yesterday.
He also disputed PAS Ulema information chief Datuk Dr Mohd Khairuddin Aman Razali's statement that marriage is the "best" way to resolve the issue of sex with minors, pointing out that many rape cases are committed by married people and involve incest, such as fathers raping daughters and grandfathers assaulting grandchildren.
"Marriage is good, but not necessarily for underage children who are still studying and are growing up," Wan Ji told Malay Mail Online.
The independent preacher noted that the oft-cited Hadith that Aishah married Prophet Muhammad when she was seven years old was a matter of contention among clerics.
"Aishah married the Prophet at the estimated age of between 16 and 20 years old," he said.
Police statistics reportedly showed that statutory rape comprised about half of reported rape cases in 2013, 2014 and up to October this year.
Local daily The Star reported that statutory rape amounted for 1,424 out of the 2,767 rape cases reported in 2013, 1,243 of 2,349 cases last year, and 920 of 1,794 cases reported this year as of October.
Malay Mail Online understands that the majority of statutory rape cases involves sex between underage girls and older men above the age of 18, not between minors of similar ages. In Malaysia, the legal age of consent to sex is 16.
Khairuddin said on Wednesday that marriage was the "best solution provided by Islam" to statutory rape.
When contacted for comment, Perak Mufti Tan Sri Harussani Zakaria said child marriages are permitted in Islam.
He cited the Hadith about Aishah but note that although she was seven when she married Prophet Muhammad who was 40 years old then, they only consummated the marriage after she turned 11.
"It's better to get married legally than to commit adultery," Harussani told Malay Mail Online. "At least, he will have responsibilities and the children get inheritance and property in a legitimate manner".
Harussani also said his parents got married when they were 12, pointing out that "the kids turned out fine".
"I think the Chinese also used to do that in the olden days. The Indians still do it even now," the conservative Muslim cleric said.
In Malaysia, Islamic law allows Muslim boys below the legal marrying age of 18 and Muslim girls below the age of 16 to wed, but they require consent from the Shariah Court that is granted on a case-by-case basis. The Shariah Courts reportedly approve the majority of applications to marry underage girls.
The legal marrying age under civil laws in Malaysia for both genders is 18, but exemptions permit girls aged between 16 and 18 to marry with the consent of the state's chief minister or mentri besar.
According to the United Nations, the 2010 census reportedly showed that about 80,000 of married women in Malaysia were aged between 15 and 19. Then Deputy Women, Family and Community Development Minister Datuk Heng Seai Kie reportedly said the same year that about 16,000 girls below 15 were married.
All Women's Action Society (AWAM) programme officer Lee Wei San said child marriage is not the solution to statutory rape as young girls are more vulnerable to abuse, including domestic violence.
"We should be talking about sex education," Lee told Malay Mail Online.
"Why force a child to have a child that she cannot raise? What about her rights to education, to work, to basically grow as a child?" the women's rights activist added.
http://www.themalaymailonline.com/malaysia/article/preacher-if-marriage-solves-child-rape-why-is-there-incest
---------
Nigeria: Possible Ban of Hijab 'An Affront To Religious Freedom Of Muslim Women'
01 January 2016
Lagos - The Muslim Public Affairs Centre (MPAC) Nigeria has lamented the possible ban of the Hijab in the country as an affront to the religious freedom of Muslim women.
MPAC Executive Chairman, Disu Kamor, said such sentiments by President Muhammadu Buhari, which he made during a chat with media on Wednesday, were unnecessary.
"As the nation confronts grave issues that affect our national security, unity and prosperity, we are plagued with excessive and unnecessary talk about secondary issues and folklore like the role that a piece of cloth on the head plays in countering terrorism," said Kamor.
Kamor said contrary to some comments made during the chat, there was no single country in the world that has banned the hijab specifically as a counter terrorism tactic.
The official said that aside, the argument that religious profiling would enhance counter-terrorism efforts was manifestly flawed and counter-productive.
"Those who support the use of this measure and calls on the government to stop Muslim women from fulfilling one of their religious obligations are stuck in a constrained model of thinking, refusing to shift their focus and policies to positive models of constructive engagement," said Kamor.
Rights
He said banning the hijab to enhance security will amount to "taking one step forward and two steps backwards" as the terrorists would act out of character and change their tactics.
Kamor argued putting a ban on an issue that united Muslims as an integral part of a Muslim woman's obligation to Allah would potentially set the administration in a collision course with the Muslim community, and strengthen the will of "bigots" who had always made life difficult for Muslim women.
"Muslim women will thus resist vehemently any attempt by the state to force them into near-nudity (if the hijab is banned), and they will use all legitimate means to secure their rights as equal citizens who deserve the same high standards of protection under the law," said Kamor.
He said MPAC called on President to reject suggestions banning the Hijab.
"We urge His Excellency to exercise extreme caution in allowing the media to cheer lead him into taking decisions that may pit his government against the Muslim community or slow down the steady progress he is already making in the war against terrorism when he takes his eyes off the ball."
In conclusion, Kamor said it was high time the government listened and made a difference in how it treated citizens as well as responding to the threat of terrorism.
"The call for the ban on Hijab is the latest debris to be washed up on our shores and Nigerian Muslims, Imams and Muslim organisations should continue to take important opportunity to make their voices heard on this and similar issues pertaining to terrorism," said the Muslim leader.
http://www.news24.com.ng/National/News/possible-ban-of-hijab-an-affront-to-religious-freedom-of-muslim-women-20160101
---------
Western Feminists Airbrush the Horrors Of Their Muslim Sisters
JANUARY 1, 2016
IDA LICHTER
The acclaimed new film Suffragette is a timely reminder of courageous reformers who placed reform before personal safety and revolutionised the world for women.
But today, the feminist movement seems bizarrely out of touch with the original, universal standards of their forbears. In sidelining Muslim women's basic rights, today's feminists ignore the suffragette legacy and the necessity for urgent reform of international human rights violations.
How would Emmeline Pankhurst and her colleagues respond if they found modern feminists indifferent to reports of young girls from ethnic and religious minorities kidnapped, raped, sold into sexual slavery or forced to marry Islamic State fighters? They might be astonished to learn that Muslim dissidents Ayaan Hirsi Ali and Taslima Nasreen, who promote secular humanism, gender equality, and freedom to criticise religion, live in constant danger due to death threats.
They might be troubled by the perils for women activists in Afghanistan, where public servant Safia Amajan, politician Sitara Achakzai, police officer Malalai Kakar and Indian author Sushmita Banerjee were gunned down by the Taliban.
On further inquiry, the suffragettes would be surprised to discover that Western feminists rarely challenge sexist laws in the Muslim world. These include polygyny and unilateral divorce. In a courtroom, women's testimony is worth half that of a man's, and women are entitled to less inheritance and reduced awards in cases of compensation for injury. Domestic violence is rarely punished, and forced or early marriage is acceptable. Victims of rape can be accused and punished for illicit sex. In some conservative Muslim majority countries, stoning is a punishment for adultery and women are unable to leave the house without their husband's permission.
Suffragettes would question why millions of Muslim women were still second-class citizens when the free world and the UN pride themselves on countless NGOs dedicated to advancing women's rights.
Saudi Arabian feminist Wajeha al-Huwaider has campaigned for women to drive a car, and launched YouTube videos against child marriage and male domination. In a push against guardian laws, her slogan read, "Treat us like adults or we'll leave the country." When Huwaider and her colleague Fawzia Al-Oyouni tried to assist a woman whose husband had locked her and the children in the house without food, they were charged with the crime of takhbib (inciting a wife to disobey her husband), sentenced to 10 months in prison.
Reformers such as Huwaider and Oyouni, are fearless campaigners, but there seems to be a deep disjunction between their objectives and those of contemporary feminists.
A sequel to Suffragettes might feature a conversation between activists of the first wave, who campaigned for the right to vote, those in the second liberation wave of the 60s, and the third wave of contemporary feminists, focused on sexual identity, culture and ethnicity.
The latter would surely face condemnation for discounting injustices deemed intolerable in their own societies. Modern feminists have neglected to empower the new Muslim suffragettes — their natural partners.
Collaboration of the feminist movement with the far left has entrenched notions of hostility to Western values, fostered a romantic lure of revolutionary movements, and found common cause with the anti-Western ideology of radical Islam. The alliance between feminists and the far Left has been reinforced by the philosophy of cultural relativism that has curbed criticism of different cultures.
Instead of joining the new suffragettes, third-wave feminists have pursued a fashionable counterculture and diet of Marxist leftovers. Worse, they have turned against the original principles of freedom and equality and joined with the enemies of their Muslim sisters.
Some avenues for freedom have opened up for women in Afghanistan with constitutional guarantees of political representation, and in Saudi Arabia, where women have been put on the advisory Shura Council and allowed to stand in municipal elections.
Despite much unfinished work to combat sexism in the West, reform of Muslim women's rights is a pressing imperative and meaningful investment in global female solidarity.
Perhaps the feminist movement could regain its momentum and high moral ground if activists write their own sequel to Suffragettes by uniting in a "democratic international of women" against institutionalised discrimination and "the horror of God's State", as entreated by Algerian Khalida Messaoudi. Otherwise, feminists risk being unworthy heirs of the suffragette movement.
Ida Lichter is the author of Muslim Women Reformers: Inspiring Voices against Oppression.
http://www.theaustralian.com.au/news/world/western-feminists-airbrush-the-horrors-of-their-muslim-sisters/news-story/56e179f3ed76e96e8bf9117ba00d12f0
---------
Saudi Man Ties Knot with Russian as Per Hindu Rituals in Gujarat
January 1, 2016
Breaking boundaries of religion and culture, a Saudi Arabian man tied the knot with his Russian fiancée in a traditional Hindu ceremony here after colourful customs and unique wedding rituals caught their fancy.
The ceremony held yesterday was organised by their common friend – Kishan Dholiya.
Interestingly, the couple – Hamid Al-Hamad and Juliana Smirnoff – had come to the city few days back to attend Kishan's marriage. Both of them got so impressed with the rituals and entire process of Hindu marriage that they decided to wed here as per those traditions.
"They came here just to attend Kishan's marriage, which took place a week back. Since they came here for the first time, both of them got curious about various rituals performed during the marriage. We made them understand the importance of each ritual," Kishan's relative Mansukh Desai said.
"Describing the importance of various rituals and Shlokas (verses) recited by the priest, we told them that these things are important for a long-lasting married life. Upon learning this, they instantly took the decision to marry here as per these traditions," he added.
Hamid is a software engineer while Juliana is into textile business. Both of them have been living in China since last few years and came in contact with Kishan there who had gone to the country for higher studies.
Upon his invitation, both of them came here to attend Kishan's marriage and fell in love with the culture.
"Indian culture and traditions caught our attention. One cannot ignore such traditional values, which are many years old. Thus, me and Juliana took a quick decision to marry as per these traditions," said Hamid, who wore a traditional Sherwani while Julinana was dressed in a saree.
"It was always my dream to wear traditional Indian attire. Though they are quite heavy, they are very beautiful. I am so happy to get married here," Juliana said.
After the couple took the spot decision to marry here, Kishan and his family arranged for their clothes, jewellery, venue etc, and arranged the wedding ceremony at Varachha area in Surat which was attended by Kishan's relatives and friends.
"To make them understand the importance of each ritual, we even translated all shlokas into English and kept on reciting them during the ritual. They are very happy to get married here," said Kishan.
http://www.abplive.in/india-news/saudi-man-ties-knot-with-russian-girl-as-per-hindu-ritual-in-gujarat-267640
---------
About Half of India's Muslim, Hindu Women Illiterate
NEW DELHI:
Jan 1, 2016
Almost half of Hindu and Muslim women are illiterate with rural areas faring the worst, latest Census report has said.
Across India, 48.11 per cent (4.03 Crore) of Muslim women and 44.03 per cent (20.60 Crore) of Hindu women cannot write or read even their names.
Though more and more girls are getting into schools, the Census figures showed that more ground has to be covered, as a huge gap between the literacy level of men and women still exists.
The male literacy rate is pegged at 69.75 per cent while the female literacy rate is way behind at 55.97 per cent.
The religion-wise data showed that Jains have the highest literacy rate at 86.42 per cent followed by Christians 74.34 per cent, Buddhist 71.83 per cent and Sikhs 67.50 per cent.
In all cases, female literacy rate is below that of male literacy.
The worst literacy rate among women is in Muslim community at 51.89 per cent followed by Hindus 55.97 per cent.
While 4.35 crore out of 8.39 crore Muslim women have the ability to read and write, 26.19 crore out of 46.79 crore Hindu women are literate.
Jains have the highest literacy rate among women at 84.92 per cent while the figure for Christians is 71.96 per cent.
In Uttar Pradesh, the most populous state in the country, 59.21 per cent of Hindus are literate while only 48.71 per cent Muslims have writing and reading abilities.
Among women, Hindus have 49.86 per cent literacy rate while that of Muslims is 41.95 per cent.
Literacy rates
The situation is worse in rural areas where female literacy rate is low for all religions compared to urban areas. In rural areas, the total literacy rate is 57.90 per cent – 65.77 per cent for men and 49.61 per cent for women.
Literacy rate of Muslim women in rural areas are the worst, with 54.43 per cent of 5.06 crore having no capabilities of writing or reading. Among Hindu women in rural belt, 51.32 per cent of 33.26 crore are illiterates.
Urban women are better placed when it comes to literacy with 70.17 per cent of 18.16 crore among them in cities and towns have the capability to write and read.
Both Hindu and Muslim community have impressive figures in urban areas.
According to the Census report, 71.44 per cent of 13.52 crore Hindu women are literate while that of Muslim women is 61.48 per cent of 3.33 crore.
DH News Service
http://www.deccanherald.com/content/520565/about-half-muslim-hindu-women.html
---------
Muslims in Gujarat State of India Ahead In Child Sex Ratio: Census
Jan 1, 2016
Ahmedabad: Census 2011 data suggests that Muslims in the state have the highest child sex ratio of 927 girls per 1,000 boys, as compared to 917 in Christians, 885 in Hindus and 848 in Sikhs. Not only is the sex ratio, but literacy rate among Muslim women in Gujarat higher than among their Hindu counterparts. The child sex ratio among Gujaratis overall is 890 girls per 1,000 boys. Census officials said that barring Muslims and Christians, no other community has crossed the 900 girl child mark.
The census data also revealed that Muslims had higher literacy rates than Hindus in general. However, Jains, Sikhs and Christians had better lite racy rates than Muslims in Gujarat.
The data reveals that Muslims, Christians and Jains had higher overall literacy and women's literacy rates compared to other communities. Officials said that literacy rates of Jain men and women were almost at par to each other. The literacy rate among Jain men was 89.85 while the same among Jain women was 88.86 percent. However, in other communities, the gap in literacy between men and women was over 10 percent.
Similarly, Christians in Gujarat have the highest percentage of working women 35%, Hindus 25%, Muslims 10.5% and Jains 9.6%. According to the data, more women were non-workers than men.While the number of women non-workers in Muslims was 89.40%, it was over 90.84% among the Jain women. Even the Sikh community has over 88.71% women non-workers.
Officials said the data reflects that the Jain community , which is mainly business-oriented, does not allow its women to go out and work.
Sociologist Gaurang Jani said that among Muslims the acceptance of traditional madrassa education is very high, even among the girls, and this influences literacy counts.
http://timesofindia.indiatimes.com/city/ahmedabad/Muslims-in-state-ahead-in-child-sex-ratio-Census/articleshow/50404249.cms
---------
Pak Woman, Afsheen Murtuza, Gets Indian Citizenship after 21 Years of Struggle
Nazar Abbas
Dec 31, 2015
RAMPUR: Afsheen Murtuza, a Karachi resident, got married to Murtuza Khan of Rampur way back in 1994. She thereafter soon renounced her Pakistani citizenship. Ever since, she has been struggling to get Indian citizenship. On Wednesday, though, the Union home ministry sent a certificate of citizenship to her, not just ending years of fight for a document that would give her certain rights, but also giving hope to similar people stuck in a limbo all around the country.
Rampur district magistrate Rakesh Kumar said on Thursday, "Afsheen Murtuza had applied for the Indian citizenship a long time ago. The process is finally complete now. Our office received the certificate from the ministry of home and we have delivered it to her."
With tears in her eyes, Afsheen told TOI, "My husband and I had sent our pleas to the office of Prime Minister Narendra Modi. This is a dream come true for us."
Afsheen, who is now a mother of three had applied for the Indian citizenship in 1994 after she got married to her Rampur-based husband Murtuza Khan. She was provided with a visa which was renewed on a yearly basis ever since. In the meantime she relinquished her Pakistan citizenship in 2000.
"In the past 21 years, we kept getting clearances from one department to another, but the much-awaited citizenship kept eluding us. In fact, we had lost all hope when it actually arrived," her husband Murtuza Khan said. "I thank PM Modi and Union home minister Rajnath Singh for making my dream come true," Afsheen said, waving her certificate to her neighbours even as she broke into an impromptu rendition of "Saare jahan se achchha, Hindustan hamara...."
http://timesofindia.indiatimes.com/india/Pak-woman-gets-Indian-citizenship-after-21-years-of-struggle/articleshow/50398119.cms
URL: https://newageislam.com/islam-women-feminism/preacher-if-marriage-solves-child/d/105829
New Age Islam, Islam Online, Islamic Website, African Muslim News, Arab World News, South Asia News, Indian Muslim News, World Muslim News, Womens in Islam, Islamic Feminism, Arab Women, Womens In Arab, Islamphobia in America, Muslim Women in West, Islam Women and Feminism