New Age Islam News Bureau
19 Jun 2012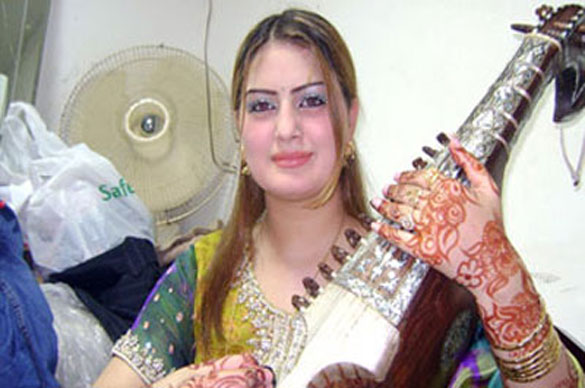 • Outrage at Afghan Justice Minister's Prostitution Comments
• Chinese Girl's Pakistani Killer Seeks Time to Get Pardon
• Abu Dhabi Police Held a Gulf Man for Targeting Pub Girls
• Turkish Mosques Begin Makeovers to Welcome Women
• The Long, Hard, Surreal Struggle for Women's Rights in Pakistan
• W. Java City Mayor Soft-Pedals On 'Headscarf for All'
• Muslim and Jewish women must find female-only gyms or face it in heavy 'appropriate' attire
• Fauzia Wahab — A Sane Voice and Holder of Progressive Values
Complied by New Age Islam News Bureau
Photo: Ghazala Javed, 24, was shot six times by gunmen
URL: https://www.newageislam.com/islam,-women-and-feminism/new-age-islam-news-bureau/popular-female-pakistani-singer-hounded-by-taliban-shot-dead/d/7661
---------
Popular Female Pakistani Singer Hounded By Taliban Shot Dead
June 19, 2012
A popular Pakistani singer who fled the Taliban to pursue her music career away from their repressive dictates was shot dead in the north-western city of Peshawar, police said Tuesday.
Ghazala Javed, 24, was shot six times by gunmen as she left a beauty salon, although police do not believe the Taliban was responsible for her murder and said her ex-husband was a suspect in the case.
Her father, who was with her, was also killed, police said.
"Two men on a motorbike sprayed bullets and fled leaving them in a pool of blood," senior police officer Dilawar Bangash told AFP.
She was shot six times and her father once in the head, Bangash said.
"We have registered a case and launched an investigation. The murder seems to be result of some internal dispute," he added.
Police official Imtiaz Khan said the ex-husband was suspected of involvement in the murders.
The singer had fled to Peshawar in 2009 to escape the then Taliban-dominated north western district of Swat as the army launched a sweeping offensive.
From 2007 to 2009, Taliban fighters controlled by radical cleric Maulana Fazlullah effectively seized control of the district, terrorising people with murders, beheadings, attacks on girls' schools and music shops.
Singers and dancers were singled out in particular until the army reasserted control in July 2009, winning praise from the United States for eliminating an Islamist threat 100 kilometres (60 miles) from the capital Islamabad.
Javed sung in her native Pashto language and released more than two dozen albums that were popular among Pashto speakers in the northwest.
She married businessman Jahangir Khan in 2010, but demanded a divorce after finding out he had another wife and because he tried to ban her from singing, the family said.
It is rare for women in the deeply conservative northwest to solicit a divorce and under Islamic law men can have up to four wives at once.
http://www.hindustantimes.com/world-news/Pakistan/Pakistani-singer-hounded-by-Taliban-shot-dead/Article1-874630.aspx
---------
Outrage at Afghan Justice Minister's Prostitution Comments
19 June, 2012
KABUL: Rights activists on Monday demanded the sacking of the Afghan justice minister after he suggested women's shelters in the war-torn country were home to "immorality and prostitution".
Justice Minister Habibullah Ghaleb told a conference organised by the women's affairs committee of the upper house of parliament on Sunday that foreign-funded rights awareness groups had been encouraging young women to defy their parents.
"Mostly they were encouraging girls, saying, 'If your father says anything bad to you don't listen to him, if your mother says anything to you don't listen to them. There are safe houses for you where you can stay'," the minister said.
"What safe houses? What sort of immorality and prostitution was not happening at those places?"
Significant progress has been made on women's rights since the fall of the Taliban, but many fear those gains are under threat as NATO troops leave and Kabul seeks peace with Islamist insurgents.
Twelve shelters in Afghanistan house around 250 women, most of them victims of domestic violence, according to the Women's Affairs Ministry. They are mostly run by charities and funded largely by international donors.
Leading Afghan women's rights campaigner Wazhman Frogh said Ghaleb's allegations were untrue and urged President Hamid Karzai sack him.
"We are demanding the president fire the minister for his remarks," she said.
The Afghan Women's Network, the country's leading women's rights group, also called for an apology and said the officials involved should be removed.
Sayeda Muzhgan Mustafahi, deputy women affairs minister, said the shelters were inspected every week and there was "no evidence to back up the minister's statement".
The deputy justice minister, Sayed Yousouf Aleem, also distanced herself from Ghaleb's comments.
http://paktribune.com/news/Outrage-at-Afghan-ministers-prostitution-comments-250755.html
---------
Chinese Girl's Pakistani Killer Seeks Time to Get Pardon
19 June, 2012
A criminal court in Fujairah adjourned hearing of a murder case for the third time on Monday after the Pakistani killer told the judge his father was trying to persuade the victim's relatives to pardon him.
The defendant had been arrested on charges of murdering the Chinese woman in the emirate by slitting her throat after raping her. He then stole nearly Dh80 in her possession before fleeing her apartment.
The unnamed killer had confessed to the murder but it was not clear if his father is offering diya (blood money) for the victim's family in return for a pardon.
"The court adjourned hearings to July 24 for the third time after the defendant asked for time so his father can get pardon from the victim's family," the Arabic language daily Alkhaleej said.
Under Islamic law, a killer can avert execution and walk free if forgiven by the victim's relatives in return for diya.
http://www.emirates247.com/crime/local/cop-impersonator-targeting-pub-girls-held-2012-06-19-1.463579
---------
Abu Dhabi Police Held a Gulf Man for Targeting Pub Girls
June 19, 2012
Abu Dhabi Police arrested a Gulf man who used a fake police card to rob and molest girls just as they step out of night clubs in the capital's hotels.
Police said they had deployed detectives at many hotels after receiving reports from many women about a man who robbed them of their money and mobile phones after showing them a police ID.
Based on descriptions provided by the girls for the man and his car, police later arrested the suspect, who confessed to his crimes.
"He was pretending to be a policeman to frighten those girls and molest them before taking their money, mobile phones and jewellery," said Brigadier Maktoum Al Shareefi, head of the Capital police.
http://www.emirates247.com/crime/local/cop-impersonator-targeting-pub-girls-held-2012-06-19-1.463579
------------
Turkish Mosques Begin Makeovers to Welcome Women
18 June, 2012
In Islam, men and women are expected to pray separately. For a long time, in Turkey at least, that meant men prayed at the mosques and women, well, didn't. But as Turkey becomes more affluent and Islam plays an important role in the government, there's an effort underway to change that and welcome them at the mosques.
The project is called "Beautifying the Mosques of Istanbul for Women" and it's trying to change how Turkish women pray.
Kadriye Avci Erdemli, the Deputy Mufti of Istanbul and one of Turkey's highest ranking female religious officials, organized a study of 3100 mosques and was apalled by what she found.
"I was really upset," Erdemli said. "Women are being excluded from religious practice, which is in itself un-Islamic. According to global surveys, women are more religious than men. But despite this, in many mosques, the facilities for women were either in bad condition or there was not enough space."
While the investigators found that women weren't intentionally excluded from mosques, neglect was widespread. Now that Turkey is prosperous, and, more importantly, with the Islamic AK Party in power, there exists the political will to fix the problem
At the 16th Century Kilic Ali Pasa mosque, Imam Selman Okumus admits his mosque was part of the problem.
Full report at:
http://www.pri.org/stories/politics-society/religion/turkish-mosques-begin-makeovers-to-
---------
The Long, Hard, Surreal Struggle for Women's Rights in Pakistan
Jonathan Kay
Jun 18, 2012
On Saturday night, I appeared as a panellist at the "Message of Peace: Countering Islamophobia" conference, hosted by the University of Toronto's Muslim Students' Association. One of the main frustrations I heard expressed at the podium concerned the subject of women's subjugation, and the way it is covered by the media.
"Yes, women are oppressed in many Muslim countries," one speaker declared. "But that is only because many Muslim countries also happen to be developing countries. Women's rights are a problem all over the developing world." To illustrate his point, he put up a series of slides showing black women being beaten in non-Muslim parts of Africa.
There's some truth to that. But it's not the whole truth. Yes, it typically is local cultural and tribal practices — not religion — that lies at the root of female subjugation in impoverished parts of the world. But only in Islamic countries are 7th-century religious texts still systematically invoked to justify the wholesale implementation of brutally misogynistic attitudes into national law. Saudi Arabia — where the Koran serves as the state constitution — offers a prime example. With the Muslim Brotherhood ascendant in Egypt, that country may soon offer another.
Full report at:
http://fullcomment.nationalpost.com/2012/06/18/jonathan-kay-the-long-hard-surreal-
---------
W. Java City Mayor Soft-Pedals On 'Headscarf for All'
Zakir Hussain
06/19/2012
The mayor of Tasikmalaya, which made headlines this month for reportedly proposing a by-law that would require all Muslim women to wear headscarves, said on Monday the regulation will be "just an appeal".
"There cannot be any penalties, we can only invite people [to wear them]," Syarif Hidayat said after meeting officials from the Home Affairs Ministry to clarify the ruling and iron out details.
"The rule is an aspiration of the community, and we have to respect that," he added. "But it also cannot contradict the [national] law, hence this consultation."
The West Java city had approved the regulation to promote community values through Muslim teachings in 2009, but news of plans to implement it surfaced only last week.
It says all adult Muslims must dress in accordance with Islamic teachings, raising fears among some that Sharia enforcement police would go around keeping people in line.
Although Tasikmalaya, where Darul Islam rebels sought to set up an Islamic state in the 1950s, has just 650,000 residents, the battle is significant as it draws attention to a rough patch in Indonesia's devolution of power to some 400 regencies and 100 cities over the past decade.
Full report at:
http://www.thejakartapost.com/news/2012/06/19/w-java-city-soft-pedals-headscarf-all.html
---------
Muslim and Jewish women must find female-only gyms or face it in heavy 'appropriate' attire
By VICTORIA WELLMAN
18 June 2012
As if working didn't require enough effort, for Muslims and Orthodox Jews, the biggest challenge is finding a place to swim, run or do yoga without the burden of having to cover up in front of men.
Facilities that offer private classes for women only where observant followers of either religion can exercise without the worry of 'immodesty', are few and far between.
And since the alternatives are forbidden, women have in the past been forced to either sweat it out under the Hijabs and customary Orthodox clothing, or forego exercise altogether.
Imam al-Hajj Talib Abdur-Rashid, of the Mosque of Islamic Brotherhood in Harlem, is an advocate of fitness who believes health and modesty are not mutually exclusive.
He told WNYC: 'Health and fitness are values of the Islamic faith. We have a traditional saying, that's attributed to the prophet Muhammad, Peace Be upon Him, and it's a well-known saying, which is "Give your body its rights."'
But he added: 'Not everyone throughout the world believes that being physically fit requires a person to be half-naked.'
Full report at:
http://www.dailymail.co.uk/femail/article-2161321/Muslim-Orthodox-Jewish-women-
---------
Fauzia Wahab — A Sane Voice and Holder of Progressive Values
By Farhad Jarral
Fauzia Wahab had been admitted to Orthopaedic Medical Institute Karachi for the past 23 days and was fighting for health after her primary gall bladder surgery. She passed away on Sunday and left her family and many followers alone.
Late Fauzia Wahab was a courageous lady, a democratic voice who fought against extremism, bigotry and was upholder of progressive values. She fought with dictatorship in a way, which many male leaders couldn't. She was a loving and kind lady and treated every jayala like her own son. I am proud of being her student in politics and learning Pakistani politics from her. She was more like a mother to me, a teacher who always taught lesson of democracy, a guide who always showed the right path and a senior leader who supported me at every platform of the Pakistan People's Party. She also termed Shaheed Salmaan Taseer's murder a political murder and she dared to speak the truth, which nobody could do.
Full report at:
http://www.dailytimes.com.pk/default.asp?page=2012\06\19\story_19-6-2012_pg7_35
----------
URL: https://newageislam.com/islam,-women-and-feminism/new-age-islam-news-bureau/popular-female-pakistani-singer-hounded-by-taliban,-shot-dead/d/7661