New Age Islam News Bureau
2 Nov 2016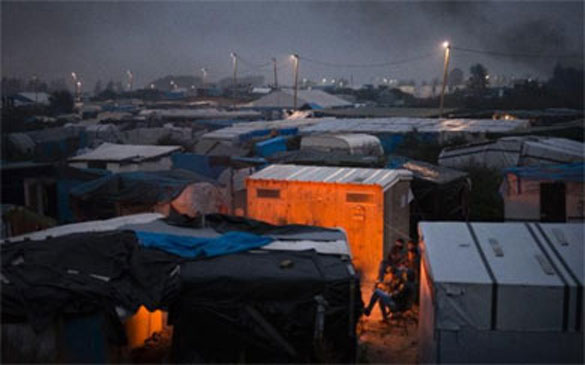 British Woman told the BBC she travelled to the Calais camp (pictured) around 15 times in 12 months CREDIT: DAVID ROSE
-------
• Sharia Councils Treat Muslim Women Unfairly, UK MPs Told
• AIMPLB Convention to Formulate Action on UCC, Triple Talaq
• Triple Talaq A Non-Issue in Kerala
• British Woman Left Husband to Marry Afghan Migrant and Take Him to UK
• Istanbul Hosts OIC Event on Women in Muslim Countries
• German Woman Attacks Police With Box Cutter, ISIS Flags Found
Compiled by New Age Islam News Bureau
URL: https://www.newageislam.com/islam,-women-and-feminism/new-age-islam-news-bureau/pope--women-will-be-banned-from-priesthood-forever/d/108989
------
Pope: Women Will Be Banned From Priesthood Forever
John Bacon, USA TODAY, November 1, 2016
The Catholic Church's ban on female priests will stand forever, Pope Francis said Tuesday.
The pontiff made the declaration in response to a female reporter asking whether he thought women would one day serve as Catholic priests and bishops, noting the head of Sweden's Lutheran Church whom Francis met on his trip there is a woman.
"St. Pope John Paul II had the last clear word on this and it stands," Francis said during a news conference aboard the papal plane on the flight back to Rome, according to Reuters.
The reporter then asked "Forever, forever? Never, never?"
"If we read carefully the declaration by St. John Paul II, it is going in that direction," the pope responded.
Pope John Paul II, in an Apostolic letter written in 1994, wrote that despite the church's long history of male-only priests, "in some places it is nonetheless considered open to debate." Not so, wrote the pope who died in 2005 and was canonized a saint in 2014.
"Wherefore, in order that all doubt may be removed regarding a matter of great importance, a matter which pertains to the Church's divine constitution itself, in virtue of my ministry of confirming the brethren, I declare that the Church has no authority whatsoever to confer priestly ordination on women and that this judgment is to be definitively held by all the Church's faithful," John Paul II wrote.
usatoday.com/story/news/nation/2016/11/01/pope-women-banned-priesthood-forever/93118528/
--------
Sharia Councils Treat Muslim Women Unfairly, UK MPs Told
1 November 2016
Sharia councils discriminate against Muslim women when they are seeking a religious divorce, MPs have been told.
The Home Affairs Committee heard evidence about the councils, which use Islamic law to grant divorces.
Maryam Namazi, of One Law for All, said the council process was "tantamount to abuse", with women told to stay silent and domestic violence justified.
Khola Hasan, a woman who sits on a UK Sharia council, said they offered women a service not available elsewhere.
'Limping marriages'
At the hearing, witnesses explained that even after a civil divorce, a family or community might not accept the marriage was over until a religious divorce had taken place.
MPs also heard that between 30 and 40% of Muslim marriages were religious only, meaning the women did not have the same rights as wives in a civil marriage.
Women complain about Sharia inquiries
Inside one of the UK's Sharia councils
Zlakha Ahmed, founder of Rotherham-based domestic violence organisation Apna Haq, said that without Sharia councils most of the women she had helped would still be in "limping marriages".
She said their husband might be living with another woman, while they did the housework and were treated as a slave.
But asked if the councils were discriminatory, she nodded, saying: "There are certain behaviours that need challenging."
Educating communities
Another witness - Shaista Gohir, chair of the Muslim Women's Network UK - called on the government to make civil marriage compulsory before Islamic marriage, and fine imams who contravened this.
She said her organisation was trying to encourage more Muslim women to get a civil marriage.
Ms Gohir said it was then a case of educating Muslim communities that a civil divorce meant a religious divorce, which would eventually make Sharia councils redundant.
She advised against sudden abolition of the councils, saying it would drive the problem underground, push up Sharia divorce charges and reduce transparency.
In the meantime, she called for councils to:
Stop questioning women in a way that made them feel guilty and asking for evidence that could not always be provided
Involve more women in decision-making
Improve transparency, including by listing members of the council
She also suggested that the government should draw up a list of those councils which followed best practice.
Khola Hasan, who also gave evidence, told the BBC that the UK's estimated 30 Sharia councils were giving Muslim women a service they could not get anywhere else.
"They cannot go to English law for a religious divorce because they don't have a civil marriage," she said.
She insisted the system was transparent and not arbitrary.
"I think there are backstreet Sharia councils that are operating without any kind of policy and procedure and those are problematic and that's what we do need to be looking at," she said.
"We cannot tar all Sharia councils with the same brush and say they are all misogynistic and unfair to women."
The committee hearing is one of two government inquiries into Sharia law.
In an open letter, more than 100 Muslim women have complained that the inquiries are aimed at banning - not reforming - Sharia councils.
http://www.bbc.com/news/uk-37838496
--------
AIMPLB Convention to Formulate Action On UCC, Triple Talaq
November 1, 2016
Amid a raging debate over Uniform Civil Code and triple talaq in the country, the All India Muslim Personal Law Board said they will deliberate on the line of action to be taken over the issues, in its upcoming convention in the city.
Describing the twin issues as an "infringement of the personal law and fundamental rights of Muslims", the AIMPLB said it would give a call for formation of a "secular platform" to counter the BJP and RSS's "evil designs".
"The BJP-RSS is trying to infringe into the personal and fundamental rights of Muslims. This will never be tolerated. The upcoming convention will deal with the issues," Trinamool Congress MP and chairman of AIMPLB organising committee, Sultan Ahmed told PTI.
According to Ahmed, the AIMPLB usually sticks to only Muslim personal laws which broadly cover marriage, talaq, succession and adoption-related issues, but this time it will step beyond its periphery and speak up against religious intolerance in the country.
AIMPLB is an umbrella organisation which has representatives from all Muslim sects, theological schools and religious orders. The body is reportedly the highest decision-making body on Muslim personal laws.
Ahmed will formally meet the state administration this week to finalise the venue for the three-day Kolkata convention starting November 18.
"We will sit with the state administration and police authorities and finalise the details this week. We have two venues in mind–Park Circus Maidan and Mohammedan Sporting Club for the public meeting," he said.
According to sources, the organising committee had already written to the state government seeking Haj Tower on VIP Road and Park Circus grounds for the convention.
http://indianexpress.com/article/india/india-news-india/aimplb-convention-to-formulate-action-on-ucc-triple-talaq-3732561/
--------
Triple Talaq A Non-Issue In Kerala
K.P.M. BASHEER
November 2, 2016
Muslim Educational Society (MES) president Fazal Gafoor, a professor of neurology by profession and a frequent commentator on Muslim issues, says 'triple talaq' (instant divorce) is a 'non-issue' among Muslims in Kerala.
"Instant divorce is rare in Kerala these days, though it is constantly being used to beat Muslims with," he told The Hindu in an interview a day after the MES and six other Muslim organisations decided at Kozhikode to resist the Uniform Civil Code and support triple talaq.
Excerpts:
How come a progressive organisation like the MES has aligned with the ultra-conservative Samastha, which is a clerics' association, as well as five other organisations on the issue of the patently anti-woman triple talaq?
First, you need to know the differences between the original triple talaq in the Sharia (Islamic jurisprudence), the mutilated version passed off as the Sharia in the British-drafted Indian Sharia laws, and the corrupted form of triple talaq allowed by certain sections of clergy and is upheld by our courts as it is legal under the colonial-day Sharia law. This corrupted form of talaq, which is commonly referred to as triple talaq, in our view, is unIslamic and anti-woman. We stand by the original Sharia-based triple talaq. Since there is no authority to enforce the original Sharia personal laws in the country, the corrupt one survives.
What exactly is the "original" triple talaq?
In Sharia, marriage is an earthly contract between two individuals, not a divine union as it is in Christianity and Hinduism. To abrogate the contract, there is a long process which is called triple talaq, or rather, three-phase talaq, which involves three interregnums as well as mediations by community elders. Elements of modern divorce counselling are built into this. When the divorce is finalised, the wife has the right to alimony, assets, and other economic benefits.
But, in reality, it is the instant divorce without the three phases that is in vogue.
True, until recently this was commonplace in Kerala and across the country because of the colonial law. Now it has almost been wiped out from Kerala because of the rising educational levels of the community and the reform initiatives of the Kerala Nadvathul Mujahideen, the Jamaat-e-Islami and the MES. Of course, there still are a few instances, but a general consensus has emerged that instant talaq is bad and that it retards the community's progress. Getting a divorce for a Muslim man is rather tough now because of the pressures from within the community. This is true for polygamy, too.
So, you mean to say that triple talaq is not an issue at all?
What I mean to say is this: instant divorce is a non-issue as far as Muslims in Kerala are concerned. True, it happens in certain places where the conservative clerics are influential. But the Muslim mass in Kerala is against it. However, instant divorce is still commonplace in many other States.
There was not a single woman leader at the Kozhikode meeting where Muslim organisations decided to oppose the UCC, though the UCC is said to benefit Muslim women most. Why?
See, the meeting was meant to be of the presidents and secretaries of the seven major organisations and all of them happened to be men. These organisations had contradictory views on a lot of issues, though. There was no conscious decision to keep women out.
http://www.thehindu.com/news/cities/kozhikode/triple-talaq-a-nonissue-in-kerala/article9293461.ece
--------
British Woman Left Husband to Marry Afghan Migrant And Take Him To UK
Nov 02 2016
A British woman has left her husband to marry an Afghan migrant so she can legally take him to the United Kingdom, it has been reported.
The 28-year-old woman, Helen Muller, was working in Calais 'Jungle' migrant camp and reportedly started a relationship with the migrant after travelling to France to work in the camp at a medical caravan.
The mother of two was quoted in a report by Telegraph as saying that the man was volunteering as a translator while he was waiting to get into England when they started talking "for hours" every day.
Ms Muller has told BBC that she is now divorced and concentrating on getting her partner, who has not been named, to the UK, admitting she may have to marry him to make sure he can stay here.
"Everything has had to become a lot more serious a lot faster," she said. "For him to be able to legally move to the UK I would have to marry him within three months of him getting here. Everyone says I am crazy but it is the only legal way he can come here."
Ms Muller further added that she travelled to Calais around 15 times in 12 months having been first inspired by her sister-in-law, who was already volunteering in the camp.
She had been volunteering in France on and off for around five months when she came across the Afghan refugee while he was helping British doctors.
Their initial conversations were about Islam and different cultures but they soon started speaking every day and Ms Muller made sure she visited him on each trip.
http://www.khaama.com/british-woman-left-husband-to-marry-afghan-migrant-and-take-him-to-uk-02196
--------
Istanbul Hosts OIC Event On Women In Muslim Countries
November 2, 2016
A conference hosted by Turkey brings together ministers from the Organisation of Islamic Cooperation (OIC) to discuss women's role in the development of Muslim countries.
The sixth convention will be held in Istanbul from Nov. 1-3 and along with ministers and high-ranking officials from 56 OIC members states, it will host names like Yemeni activist and Nobel Peace Prize laureate Tawakkol Karman and academics specializing in women's rights. The panel "Status of Women in the OIC Member States in Light of Current Challenges" will be held during the meeting.
Ministers will also discuss obstacles to the OIC Plan of Action for the Advancement of Women (OPAAW) and will adopt a declaration at the end of the conference. OPAAW, adopted in 2008, calls upon member states to take action to improve the state of women in education, health, political participation, economic sustainability, social justice and wellbeing and work-life balance.
Participants will present measures to combat violence against women and gender inequality as well as efforts to curb the economic, social and psychological impact on the lives of women and girls in troubled areas and conflict zones. The conference will also discuss Turkey's proposal for establishment of a supreme advisory women's council.
The OIC ministers will also review the contribution of Muslim women to "waqf" and charity work throughout Islamic history, and the establishment of an observatory to correct the image of women in the media, according to a statement on the OIC's website.
http://www.dailysabah.com/istanbul/2016/11/02/istanbul-hosts-oic-event-on-women-in-muslim-countries
--------
German Woman Attacks Police With Box Cutter, ISIS Flags Found
1 November 2016
German police say a Muslim convert attacked officers with a box cutter after they were called to her apartment in the western city of Essen.
Police spokesman Marco Ueberbach said on Tuesday the officers found flags with symbols of the Islamic State of Iraq and Syria (ISIS) group after they overpowered the 53-year-old woman. The officers were called to her apartment on Monday because she was throwing furniture from a window.
She did not open the door, so officers broke it down. They overpowered the woman and used pepper spray when she attacked them with the box cutter. None of the officers was hurt.
Ueberbach said the assailant was taken to a psychiatric clinic, and investigators were also looking into a possible extremist background.
https://english.alarabiya.net/en/News/world/2016/11/02/FBI-releases-Bill-Clinton-closed-case-files-days-before-vote.html
--------
URL: https://www.newageislam.com/islam,-women-and-feminism/new-age-islam-news-bureau/pope--women-will-be-banned-from-priesthood-forever/d/108989
New Age Islam, Islam Online, Islamic Website, African Muslim News, Arab World News, South Asia News, Indian Muslim News, World Muslim News, Womens in Islam, Islamic Feminism, Arab Women, Womens In Arab, Islamphobia in America, Muslim Women in West, Islam Women and Feminism