New Age Islam News Bureau
13 January 2021
• Egypt Overturns Jail Sentences for 2 Women Who Gained Fame on TikTok
• Jeddah Civil Status Court: Woman Keeps Custody Of Daughter After Second Marriage
• Kuwaiti Woman, Dr Bashayer Yousef Abdulaziz Al-Majed, Wins Int'l Muslim of the Year Award
Compiled by New Age Islam News Bureau
URL: https://www.newageislam.com/islam-women-feminism/pope-allows-more-roles-women/d/124067
-----
Pope Allows More Roles for Women In Church
Giada Zampano
11.01.2021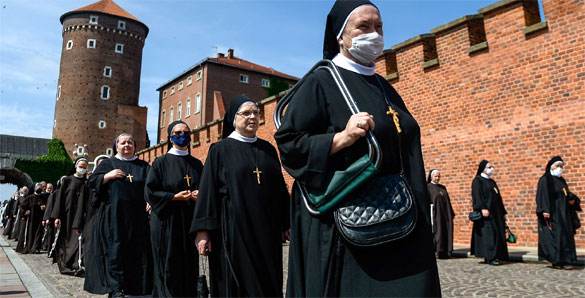 Nuns wear protective face masks as they take part in a collective mass on Krakow's Wawel Castle.Omar Marques / Getty Images file
--ROME
Pope Francis on Monday changed the Catholic Church's law to formally allow women to serve as readers at liturgies as well as altar servers and Eucharistic ministers.
In a new edict, the pope formalized what in practice has been already allowed for years in many communities around the world.
"The pontiff, therefore, has established that women can accede to these ministries and they are attributed by a liturgical function that institutionalizes them," the Vatican said.
It also stressed, however, that these roles were "essentially distinct from the ordained ministry," explaining that this new step towards women's equality within the church should not be seen as a precursor to women being ordained as priests – something feared by many conservative Catholics.
The new decree, called "Spiritus Domini," modifies the Code of Canon Law to establish that women can have access to these ministries and that they are recognized through a liturgical act formally instituting them as such.
The pope said many bishops from around the world had said that the change was necessary to respond to the "needs of the times."
In recent years the church has struggled in some regions to recruit new members of the all-male priesthood.
Francis specified that he wanted to welcome recommendations which have emerged from various synodal assemblies, writing that "a doctrinal development has been arrived at in these last years that has brought to light how certain ministries instituted by the Church have as their basis the common condition of being baptized and the royal priesthood received in the Sacrament of Baptism."
The Motu proprio edict was accompanied by a letter addressed to the prefect of the Congregation of the Doctrine of the Faith, Cardinal Luis Ladaria, in which Francis explained the theological motivations behind his decision.
The pontiff wrote that "within the spectrum of renewal traced out by the [the 1960s'] Second Vatican Council, the urgency is being ever more felt today to rediscover the co-responsibility of all of the baptized in the Church and the mission of the laity in a particular way."
https://www.aa.com.tr/en/europe/pope-allows-more-roles-for-women-in-church/2106136
--------
Egypt Overturns Jail Sentences for 2 Women Who Gained Fame on TikTok
By Vivian Yee
Jan. 13, 2021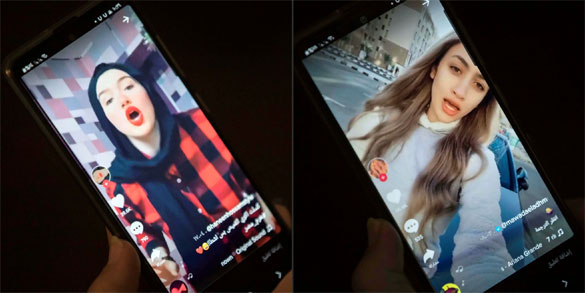 A combination of images showing videos from Haneen Hossam, left, and Mowada el-Adham, who became stars on social media.Credit...Khaled Desouki/Agence France-Presse — Getty Images
----
CAIRO — An Egyptian court has overturned the sentences of two young women who were convicted and imprisoned last year on charges of "violating family values" and "inciting debauchery" after they gained fame on TikTok, according to state-run media.
The case drew widespread attention as Egyptian prosecutors waged a far-ranging legal battle last year against what they considered public immorality in social media.
The two women were among a handful of social media influencers, including a female pop star and a belly dancer, to come under scrutiny for their posts in recent years. As their social media followings and, in some cases, income earned through videos have grown, young female influencers have faced a conservative backlash in a country where activist lawyers and prosecutors take it upon themselves to enforce strict social norms for women.
The women, Haneen Hossam and Mawada el-Adham, were 20 and 22 when they were convicted and sentenced in July to two years in prison. They became stars on TikTok, Instagram and other social media platforms with playful videos they posted of themselves dancing, lip-syncing and singing.
Egyptians stuck at home during the coronavirus lockdown loved it, and the women accrued millions of followers. But compared to other social media posts in Egypt and the West, the videos seemed tame; Ms. Hossam usually appeared in a head scarf.
But prosecutors accused the women of "indecent" activity, homing in on one clip Ms. Hossam posted on Instagram in which she encouraged female followers to try getting into the social media influencer game by posting videos of themselves to the app Likee, which pays creators based on the number of views they rack up.
Prosecutors accused Ms. Hossam of instigating young women to sell sex on the app and of human trafficking. The women denied the charges against them.
The women's defenders, including digital rights activists, have said their middle- and working-class backgrounds made them more vulnerable to charges of indecency than more affluent Egyptian women, who are subject to less moral scrutiny.
Under the new ruling, the women are supposed to be released from prison, but it was not immediately clear whether they had been freed yet.
Though the court overturned the prison sentences for both women, it upheld a fine of about $19,000 for Ms. el-Adham.
Three other defendants convicted on charges of helping the women evade arrest and conceal their alleged crimes also won their appeals on Tuesday, according to Al-Ahram, a state-owned news outlet.
https://www.nytimes.com/2021/01/13/world/middleeast/egypt-women-tiktok.html
--------
Jeddah Civil Status Court: Woman Keeps Custody Of Daughter After Second Marriage
January 13, 2021
Khitam Al Amir
Dubai: The Jeddah Civil Status Court issued a ruling this week allowing a remarried woman to keep the custody of her seven-year-old girl from her first marriage, local media reported.
In its final ruling, the court underlined that the custody was in the best interest of the girl. The verdict came contrary to what many divorced women assume: that they will lose custody of their children once married for a second time.
The woman filed a case at the court after a dispute erupted between her and her ex-husband regarding the custody of their daughter following the woman's second marriage.
She told the court that her second husband allowed her to keep her daughter in her custody, while her first husband rejected the idea of his daughter remaining in her custody because of the second marriage. The man pleaded before the court to revoke the divorced mother's custody.
The court's ruling came after it held several sessions to hear the arguments of both parties and the consent of the woman's new husband to allow her to keep custody of her daughter. The court also ruled that the father's right to visit his daughter in accordance with the schedule agreed upon at the time of divorce should be maintained.
https://gulfnews.com/world/gulf/saudi/saudi-arabia-woman-keeps-custody-of-daughter-after-second-marriage-1.1610484732645
--------
Kuwaiti Woman, Dr Bashayer Yousef Abdulaziz Al-Majed, Wins Int'l Muslim of the Year Award
12/01/2021
KUWAIT: Dr Bashayer Yousef Abdulaziz Al-Majed received the International Muslim of the Year Award 2020 at the annual British Muslim Awards. The award includes different fields, including economics, law, medicine, and politics, the latter of which was won in 2017 by Siddiq Khan, Mayor of London.
Dr Majed's award came as a result of her cultural and social contributions in the United Kingdom. This included her position on several international forums in the service of Islam and Muslim issues, as well as her attendance and delivery of lectures at several conferences, following her graduation with a PhD from a British University. This made her an honorable model for young Muslims in Britain, and as the first Arab woman to win this award and title, she is a strong role model for women in the Arab World also.
In her acceptance speech, she stated: "I was very lucky to be invited to speak in many prestigious academic conferences to encourage young Muslims and young women, and to show them that young Muslim women can achieve a lot. I am passionate about what I am doing through academia and through the government. I want to challenge the global perceptions … (of) Muslim countries."
She concluded her speech with the hadith of the Messenger (PBUH), "the believer for the believer is like an edifice," which was well received by the audience at the British Muslim awards. Dr Majed has said that she will strive to continue her support, encouraging the achievements of Muslim youth and empowering young women to see and reach their potential. The British Ambassador in Kuwait Michael Davenport received Dr Majed and offered her his congratulations for her award.
https://news.kuwaittimes.net/website/kuwaiti-woman-wins-intl-muslim-of-the-year-award/
--------
URL: https://www.newageislam.com/islam-women-feminism/pope-allows-more-roles-women/d/124067
New Age Islam, Islam Online, Islamic Website, African Muslim News, Arab World News, South Asia News, Indian Muslim News, World Muslim News, Women in Islam, Islamic Feminism, Arab Women, Women In Arab, Islamophobia in America, Muslim Women in West, Islam Women and Feminism