New Age Islam News Bureau
19 Jun 2016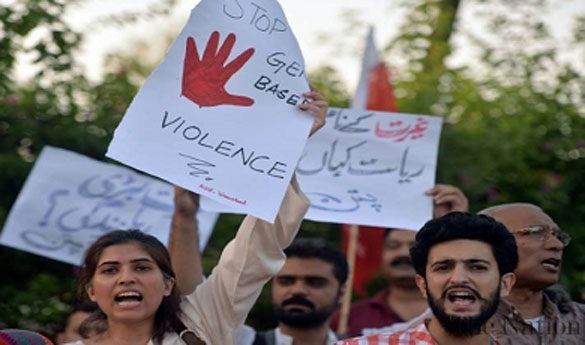 Pakistani women protesting against "honour" killings in the country. (AFP file photo)
--------
• Pregnant Woman, Husband Killed For 'Honour' In Pakistan
• UAE Opens Doors To Women In Business
• Triple talaq is un-Quranic: Zakia Soman
• Arab MK Haneen Zoabi Betrays Israel to Join another Gaza Flotilla
• Delhi NGO Gives Muslim Girls Who Had Dropped Out Of School, A Second Chance
At Higher Education
• Pakistani Woman Tortured By Family for Honour, Cutting Her Hair and Blackening Her Face for 'Honour'
Compiled by New Age Islam News Bureau
URL: https://newageislam.com/islam-women-feminism/politician-jamiat-ul-ulema-e/d/107694
------
Politician of Jamiat-ul-Ulema-e-Islam (F) Party Threatens to Rape Marvi Sirmed on Live TV Talk Show
By Thomas Lifson
Hafiz Hamdullah, a member of the Senate of Pakistan and of the Jamiat-ul-Ulema-e-Islam (F) (JUI-F) party, which is part of the ruling coalition, became enraged while on a Pakistani television panel discussion show, 10PM with Nadia Mirza. Facing criticism of honor killing from women's rights activist Marvi Sirmed, he stood up, moved aggressively to her, and threatened to rape her.
The action begins at about 3:50 in this video of the segment, which includes the escalating argument among the panelists:
Hamdullah may be a mullah, according to T.K. Whiteman, although other English Language accounts from Australia and India do not refer to him as such.
In any event, following the broadcast, he was booked by police on a complaint by Ms. Sirmed.
Police said they registered the case against the lawmaker Tuesday having obtained video clips from the broadcaster after the activist filed a complaint Friday and claimed the whole incident was recorded.
The incident comes after a series of gruesome "honour killings" in the country.
Honor killing officially is illegal in Pakistan but is estimated to occur at least a thousand times a year in that nation.
And, quite obviously, the practice is defended by some lawmakers.
americanthinker.com/blog/2016/06/muslim_politician_threatens_to_rape_womens_rights_activist_on_live_tv_talk_show.html
------
Pregnant Woman, Husband Killed For 'Honour' In Pakistan
IANS | Jun 18, 2016
ISLAMABAD: A heavily pregnant woman and her husband were killed with bullets to their heads in an apparent case of "honour" killing in the suburbs of Pakistan's Punjab province.
The dead, identified as Mohammad Shakil, 30, and Aqsa, 26, were allegedly killed for "honour" by the woman's brother who had recently returned from Saudi Arabia.
Shakil who lived in Chak No. 41 JB in Faisalabad worked in a government school whereas his wife Aqsa worked as a health visitor in a rural health centre. The couple had married four years ago.
According to reports, three days ago Aqsa's brother along with her mother, maternal uncle and another accomplice barged into the couple's house, mercilessly beat them and took the couple to an unidentified location, an Express News report said.
On Thursday night the bodies of Aqsa and Shakil were recovered from Gujra-Jang Branch canal.
An autopsy revealed that the deceased were killed with gun fire to their head. Visible marks of injuries were also found on their bodies. The postmortem report also showed that Aqsa was pregnant and was to deliver the baby in four days.
Gojra police have buried the bodies of the victims as the couple's parents did not receive the corpses.
Hundreds of women are murdered by their relatives in conservative Muslim Pakistan each year on the pretext of defending what is seen as family honour.
timesofindia.indiatimes.com/world/pakistan/Pregnant-woman-husband-killed-for-honour-in-Pakistan/articleshow/52813373.cms
------
UAE opens doors to women in business
Chanda Lokendra/dubai
Filed on June 18, 2016
Respect and receptiveness towards women and new government initiatives are attracting entrepreneurs
With a thriving, fast-paced economy that is constantly changing, the UAE is becoming the destination for start-ups and various new businesses. The buzz and luxurious high life of Dubai have always been an attractive proposition for all. Add to that, new government initiatives for supporting women entrepreneurs, respect and receptiveness towards women, encouraging certain sectors with aids and the overall upgrade in growth markets are intoxicating. Every smart, intelligent and creative woman must want to take advantage of the positive environment that is being created.
The UAE was ranked third on the inaugural 2015 Islamic Growth Markets Investments Index, which ranks countries' investment potential relative to other members within the Organisation of Islamic Cooperation.
According to an article published on the UAE embassy website: "Emirati women account for 71.6 per cent of students in government tertiary level institutions and for 50.1 per cent of students in private higher education. The 2007 United Nations Development Program status report on Millennium Development Goals recognised the positive outcome of the UAE's target-oriented policies in a number of areas, including women's empowerment. It particularly noted that state legislations in the UAE do not discriminate on the basis of gender with respect to education, employment or the quality of services provided."
Government support for SMEs nurtures the growth of female entrepreneurship in the UAE. The Ro'Ya initiative, for example, run by MasterCard and the Dubai Business Women Council (DBWC) invited business owners to present their proposals before a panel of judges, with the chance of receiving a year-long mentorship programme with networking opportunities and support for start-ups.
In Abu Dhabi, the Women's Association (AD-WA) is concerned with women's employment in two ways. Firstly, it operates an employment exchange to assist women to find employment. Sometimes, training is organised for the women to prepare them to meet the job profile.
Access to capital
Secondly, many young women with interesting ideas who wish to start a business are constrained by a lack of capital (e.g. to rent a shop, to secure a trade licence and to recruit and pay employees) and are risk averse. The AD-WA tries to assist UAE women entrepreneurs in three ways: (i) marketing exhibitions, (ii) provision of training and similar services through networking, and (iii) lobbying, alone and together with other organisations, on behalf of women engaged in business.
The Sharjah branch of the Emirates Business Women Council (EBWC) sees its role as promoting UAE women entrepreneurs, especially in training and similar business development services. The Council's preliminary analysis suggests that emphasis needs to be placed on raising awareness among women about the various possibilities of going into business. In general, women are especially wary of taking loans, although lack of capital is one of the main constraints for women seeking to open a business.
The Sharjah EBWC also feels that it is necessary to make available special, if possible free, trade licences for women entrepreneurs in certain creative fields.
Another reason women hesitate to pursue entrepreneurship is the fear of not having enough time for themselves or families. The biggest challenge is balancing a business and running the household. For example, in my case, my home is my office, which makes it that much tougher to get work done when the kids are home. Then again, there is proof of women who have mastered the art of multi-tasking and handling all the needs of office set up, as well as home, under the same roof!
Emiratis are always open to and respect women in business. In fact, owing to the good education and family value system, Arab women are empowered and they utilise their learning judiciously. Their involvement has been meaningful in every sector of their household, as well as spouse's or family businesses. It is important for them to explore new opportunities and get reintegrated into the skilled labour force by making use of the new policies and aids provided by the government.
Understanding cultures
Our research indicates that while there is an open environment for women to establish themselves and thrive as entrepreneurs in Dubai, there are two cultures they must understand and confront. One is local, highly traditional and family-oriented. The other is more inclined towards the expatriate population and more in tune with the Western concepts of individualism and diverse work culture. By understanding both types of potential clients, an entrepreneur can accomplish the desired place in the business environment.
Adaptability, tolerance, open-mindedness, strong communication skills and a good understanding of different cultures lead to a receptiveness of what clients need. These qualities are almost innate in women, they just need to put these traits into use to achieve their goals.
The author is an entrepreneur and financial planning consultant. Views expressed are her own and do not reflect the newspaper's policy.
khaleejtimes.com/business/local/uae-opens-doors-to-women-in-business
--------
Triple talaq is un-Quranic: Zakia Soman
By Zakia Soman's
19th Jun 2016
As Bharatiya Muslim Mahila Andolan co-founder Zakia Soman's campaignagainst triple talaq and nikah halal gains traction,Chandrakanth Viswanath catches up with her at her Aluva home,where she opens up about the organisation's mission. Excerpts:
There is an allegation that you have started the campaign at the behest of organisations like RSS?
We have heard some of these allegations. Those who make such allegations have no idea about us and our work. We started this organisation post-9/11 and post- Gujarat riots. In our country while the community was facing challenges from outside, women were additionally facing challenges within the community. Hence, we decided to work for the citizenship rights as well as Quranic rights of women.
Is Bharatiya in your group's name one of the reasons behindthis allegation?
Maybe. But we used the name Bharatiya with a purpose. We want to say we are Bharatiya and we are Muslim and there is no contradiction in it. All Indians have the right to be called Bharatiya. Some other names too were suggested. But we decided not to have any Urdu or Hindustani words. We were making a political statement. We don't have to be apologetic about it.
So you started the organisation as a fight for identity?
We started a movement for justice and equality for Muslimwomen. She is a citizen of India, a Muslim and a woman, she has multiple identities. She must be enabled to be an equal citizen and an equal human being.
When did you decide to work for the rights of Muslim women?
Initially, our focus was citizenship entitlements mainly within the framework of the SacharCommittee report. But when we were working on education, livelihoods, health, etc, a large number of women came to us seeking help in triple talaq and other personal law matters. Weknow that ours is a patriarchal society. However, Quran gave equal rights to women 1,400 years ago, whereas in reality, society denied it to them.
Why did you choose triple talaq and nikah halal for the campaign?
There is no mention of triple talaq in the Quran. Even in countries like Pakistan or Bangladesh where Islam is the state religion, triple talaq is not legal. We get lots of calls from women saying, "I am divorced instantly, where do I go with my children, my parents are too poor to support me?" A large number of victims of the triple talaq are economically deprived women with no education or means to support themselves. Even Kerala is no exception. The worst is the case of nikah halal. How can you force your own wife to marry another man?
You have questioned the triple talaq in the Supreme Court.
Yes, we want abolition of triple talaq and nikah halal. Both are un-Quranic.
newindianexpress.com/thesundaystandard/Triple-talaq-is-un-Quranic-Zakia-Soman/2016/06/19/article3488942.ece
------
Arab MK Haneen Zoabi Betrays Israel to Join Another Gaza Flotilla
By JNS June 19, 2016
"For the mouth of the wicked and the mouth of deceit have they opened against me; they have spoken unto me with a lying tongue." Psalms 109:2 (The Israel Bible™)
Arab member of the Israeli Knesset Haneen Zoabi (Joint Arab List) is expected to participate in a women's flotilla to the Gaza Strip in September, sources close to Zoabi told Israel Hayom.
Zoabi plans to participate in the "Women's Boat to Gaza" flotilla to protest the maritime blockade of Hamas-controlled Gaza. In 2010, Zoabi took part in the Turkish flotilla that aimed to breach the Gaza blockade. She sailed aboard the Mavi Marmara ship, where after Turkish militants attacked Israeli commandos, nine of the Turks died in ensuing clashes. For many in Israel, this move called Zoabi's loyalty to Israel into question. She has been a frequent harsh critic of the Israeli government; in April, she compared Israel's treatment of the Palestinians to the Holocaust and refused to attend Israel's national Holocaust memorial assembly.
image: breakingisraelnews.com/wp-content/uploads/useful_banner_manager_banners/402-pasted%20image%200.png
The time is now! Help the IDF fight terror. Donate to LIBI today!
Zoabi, who recently finished a four-month suspension from the Knesset for meeting terrorists' families, could find herself embroiled in conflict once again with the Knesset Ethics Committee and face another suspension over her planned flotilla participation. The flotilla will include women activists of various leftist organizations, and European female parliamentarians may join them. Organizers are keeping the location from which the flotilla will set sail under wraps.
breakingisraelnews.com/70038/traitor-arab-mk-haneen-zoabi-participate-another-gaza-flotilla/#r3TX9OKO3yJb2ZHY.99
------
Delhi NGO Gives Muslim Girls Who Had Dropped Out Of School, A Second Chance
At Higher Education
Aradhana Lamichhane | TNN | Jun 19, 2016
New Delhi: A local NGO gave over two dozen Muslim girls who had dropped out of school, a chance at higher education. Most left school at the secondary level because of poverty or lack of family support. But Pehchan, operating since 2011 in Jaitpur Extension near Okhla, identified them through door-to-door campaign, coached them privately and had them write Class X and XII exams of Jamia Millia Islamia Board, managed by the university, as private candidates.
Since 2011, 32 girls have cleared exams. This year, five students have passed Class XII and are hoping to join a bachelor's programmes at JMI. Apart from tutoring them at the free Pehchan Coaching Centre, it also funds their education and provides vocational training.
It helped Mubeena Khatoon, 19, complete her schooling. Her father died 10 years ago, leaving her disabled mother to provide for five children. Mubeena and her elder sister took up embroidery, earning a meagre Rs 2,000-2,500 per month. She came to Pehchan to learn tailoring, and was encouraged to study. Class VIII dropout, Khatoon, passed Class X with first division and got a job at a call centre. Attending coaching classes at night, she passed Class XII this year.
Khatoon doesn't have higher education plans yet but Asma, 18, does. Daughter of a daily-wager, she completed Class XII this year and hopes to study in JMI. "I want to get a BA degree, then a B.Ed (education) and teach in Pehchan," she said.
"We started Pehchan here because of the high girls' dropout rate. The nearest government school is seven kilometres away and people can't afford private schools," said activist Shabnam Hashmi. "With every child we teach, we also push their marriage back," she added. Hashmi runs the NGO, ANHAD, the major patron for Pehchan.
timesofindia.indiatimes.com/india/Delhi-NGO-gives-Muslim-girls-a-second-chance/articleshow/52814790.cms
------
Pakistani Woman Tortured By Family for Honour, Cutting Her Hair and Blackening Her Face for 'Honour'
June 19th, 2016
BAHAWALPUR: Four family members on Saturday allegedly tortured a woman, cut her hair and blackened her face for 'honour' in a remote village of Uch Sharif, about 70-km from here.
Reports said 'Sh' who had allegedly eloped with a man, came back after a week. On her return, her father Abdul Malik, husband Rajab Ali, stepmother Maqsooda Bibi and her brother-in-law allegedly tortured her. They cut her hair and blackened her face as per alleged decision of a panchayat.
When contacted, Uch Sharif police told Dawn that they had registered a case 217/16 under sections 337-B, 342 and 500 of PPC on the complaint of the woman.
According to Uch Sharif SHO, her hair were cut and she was tortured.
Taking notice of the incident, Regional Police Officer (RPO) Dr Ehsan Sadiq had her father and stepmother arrested.
The RPO directed Uch Sharif police to arrest the remaining suspects and complete investigation at the earliest. The RPO, however, denied that any panchayat made a decision on the torture of the woman. He said she was allegedly tortured on the premises of her house.
APPOINTED: As many as 81 vacant posts of class-IV employees reserved for special persons in government departments have been filled.
This was stated by Community Development Executive District Officer Aftab Peerzada at a committee meeting held here on Saturday.
The meeting held with District Officer Coordination (DOC) Chaudhry Amjad Bashir in the chair dealt with complaints of the special persons.
The EDO said under the government's policy of three per cent quota, there were 173 vacancies of class-IV employees of special persons in district government departments. He said the remaining 92 vacancies for the special persons would also be filled soon.
dawn.com/news/1265813/woman-tortured-by-family-for-honour
URL: https://newageislam.com/islam-women-feminism/politician-jamiat-ul-ulema-e/d/107694
New Age Islam, Islam Online, Islamic Website, African Muslim News, Arab World News, South Asia News, Indian Muslim News, World Muslim News, Womens in Islam, Islamic Feminism, Arab Women, Womens In Arab, Islamphobia in America, Muslim Women in West, Islam Women and Feminism