17 July 2022
• Police Confirm Teenage Karachi Girls Dua Zehra's Underage Marriage, Abduction
• Biden and the Saudi Crown Prince Discuss the Rights of Afghan Women and Girls
• Taliban Forces Arrest a Boy and a Girl for Running Away from Home in Northern Afghanistan
• Activists' Open Letter Urges World Leaders to Put Pressure on the Taliban for Girl's Education
• Imam Arrested For Alleged Sexual Abuse Of 7 Children In Western Turkey
• Women In Science: 15-Year-Old's Quest To Change The World
Compiled by New Age Islam News Bureau
URL: https://newageislam.com/islam-women-feminism/karachi-girl-dua-zehra-underage-marriage/d/127499
--------
Police Confirm Teenage Karachi Girls Dua Zehra's Underage Marriage, Abduction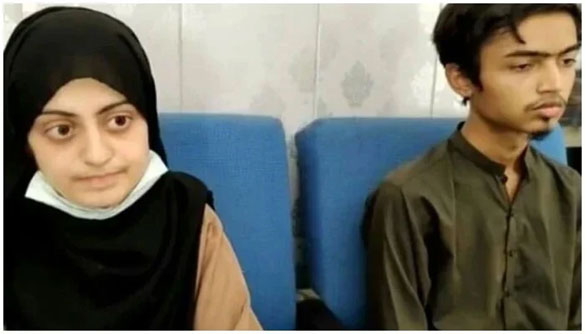 Dua Zahra (L) and her husband Zaheer Ahmed. — Screengrab via YouTube/ Geo News Live
-----
Naeem Sahoutara
July 17, 2022
KARACHI: Contrary to their previous claim that the case pertaining to kidnapping of teenage Dua Zehra and her marriage was false, police on Saturday informed a sessions court that 24 persons, including her purported husband Zaheer Ahmed, had been found involved in abducting her from Karachi and shifting her to Punjab, where they solemnised the illegal child marriage.
The investigating officer of the case, DSP Shaukat Ali Shahani, stated this in a progress report filed before Additional District and Sessions Judge (East) Muhammad Mehboob Awan.
The same court has already been seized with the hearing of an application of Dua's father seeking removal of the IO from the case for allegedly being 'biased and partial'. On Saturday, when the judge took up the matter, no comments/reply was filed on behalf of the additional inspector general (investigation) and SSP-East (investigation) as ordered by the court on the last date.
However, the IO Shahani, who had previously recommended to the trial court to dispose of the abduction case in "C" class for being false as nominated suspects were found innocent, changed his earlier stance after 'fresh' investigation into the matter.
He stated in the progress report that in the light of the directives issued by the Supreme Court and the trial court a medical board had conducted 'age estimation test', which found Dua to be between 15 and 16 years, closer to 15.
He said the statements of witnesses were recorded and the call data record (CDR) of the cell phone of suspect Zaheer was analysed, which showed his presence in Karachi on the day when Dua Zehra went missing.
He further stated that in the light of statements, circumstantial, medical and forensic evidence, held suspects cleric Hafiz Ghulam Mustafa and Asghar Ali and Zaheer Ahmed and his 21 absconding relatives had been found involved in committing the offence of kidnapping punishable under Section 363 of the Pakistan Penal Code and offence of solemnising child marriage punishable under Sections 3, 4 and 5 of the Sindh Child Marriage Restraint Act, 2013.
The IO said that Dua was still not recovered and he had approached the Sindh home department for permission to travel to Lahore to obtain custody of the girl and suspect Zaheer.
He stated that the previous IO, Inspector Saeed Ahmed Thaheem, had visited Lahore and requested the relevant judicial magistrate to hand custody of the recovered girl and main suspect Zaheer to him, but the court not only declined, but also allowed her to go along and reside with her alleged husband.
Subsequently, the IO Thaeem filed an incomplete charge sheet with the court and requested the judicial magistrate for granting more time to complete the investigation.
IO Shahani claimed that after the investigation of the case was entrusted to him on May 30, the Punjab police informed him that they had recovered Dua and Zaheer from Chishtian and subsequently the couple was produced before the Sindh High Court on June 8, where the girl testified that she was an adult of 18 years and left her parents' home out of her own choice and solemnised free-will marriage with Zaheer.
Without passing any order, the ADJ Awan fixed the matter on July 19 for comments by the police high-ups on the plea seeking change of the IO.
Source: Dawn
Please click the following URL to read the full text of the original story:
https://www.dawn.com/news/1699952/new-twist-as-police-confirm-duas-abduction-underage-marriage
-----
Biden and the Saudi Crown Prince Discuss the Rights of Afghan Women and Girls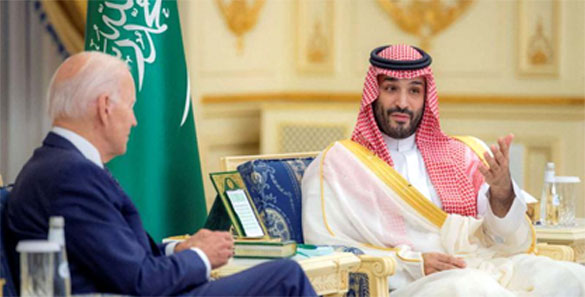 US President Joe Biden and Saudi Arabia's Crown Prince, Mohammed bin Salman
-----
By Saqalain Eqbal
16 Jul 2022
US president Joe Biden and Mohammed bin Salman, Saudi's crown prince, conversed and voiced support for addressing needs and advancing Afghan people's rights, especially the rights of women and girls to education and the best attainable quality of health, as well as the right to work for women.
The two parties emphasized the importance of bolstering Afghanistan's security and addressing the threat presented by terrorists based in Afghanistan.
This comes as the US's defense budget of $839 billion for 2023, once approved with the amendments, will bar the Pentagon from providing any form of aid to Afghanistan.
Previously, Biden also issued his notice of intent, withdrawing the designation of Afghanistan as a major non-NATO ally, depriving Afghanistan of the benefits of the designation.
Women and girls in Afghanistan, on the other hand, are denied basic rights such as the right to education and movement, as the men-only administration, the Taliban, imposed draconian policies on women following the collapse of the previous government.
Source: khaama Press
https://www.khaama.com/biden-and-the-saudi-crown-prince-discuss-the-rights-of-afghan-women-and-girls-67484/
-----
Taliban Forces Arrest a Boy and a Girl for Running Away from Home in Northern Afghanistan
By Saqalain Eqbal
16 Jul 2022
The spokesman for the Kunduz police department said that Shabana, who was engaged to another person, and Parwiz, a resident of Mullah-Ghafoor street in Kunduz's fourth district, fled their home four days ago for Balkh province before returning and being arrested in Kunduz province.
According to Obaidullah Abedi, the spokesman for the Kunduz police department, Parwiz who fled with engaged Shabana, have been arrested on Saturday, 16th July, and will be handed over to the judicial bodies.
According to the security officials in Kunduz province, the two arrested have confessed and will be dealt with under Islamic Sharia, after investigations are concluded.
Afghan women have been subject to forced marriages, and domestic violence, and according to a report by the Human Rights Watch, up to 70% of cases of "running away" from home are associated with fleeing forced marriage or domestic violence.
Following the reinstatement of the Taliban in Afghanistan, several stringent edicts are put in place, strictly restricting women's rights, including the freedom of movement, as travel bans apply to them without a Mahram.
Source: khaama Press
https://www.khaama.com/taliban-forces-arrest-a-boy-and-a-girl-for-running-away-from-home-in-northern-afghanistan-32748/
-----
Activists' Open Letter Urges World Leaders to Put Pressure on the Taliban for Girl's Education
By Saqalain Eqbal
16 Jul 2022
World leaders, regional allies, and international organizations were urged in the letter to take concerted, serious actions to fulfill their commitments to safeguard and promote Afghan girls' rights, especially the right to education.
They claim that after over 300 days without receiving an education, the girls' aspirations for development and education have been distorted, and if this situation persists, their aims and hopes will suffer greatly.
The letter calls for solemn actions beyond a "declaration of solidarity" and only condemning the Taliban, demanding immediate financial assistance for Afghanistan's educational system, funding for human rights organizations, and the installation of alternative systems for girls' education in Afghanistan.
The letter reads "Although such actions (condemning and sharing sympathies) are done with good intentions, it appears that it does not make the Taliban accountable for ensuring the rights of women and girls."
More diplomatic pressure should be applied to the Taliban in order to compel them to uphold and respect women's rights and to immediately reopen girls' schools, according to the measures suggested in this letter.
The Taliban banned secondary education for Afghan girls after seizing power on August 15, 2021. The Taliban have not yet reacted favorably to the reopening of girls' schools, despite pressure from the international community.
Source: khaama Press
https://www.khaama.com/activists-open-letter-urges-world-leaders-to-put-pressure-on-the-taliban-for-girls-education-58421/
-----
Imam arrested for alleged sexual abuse of 7 children in western Turkey
July 16, 2022
An imam appointed by Turkey's Directorate of Religious Affairs (Diyanet) to a mosque in the western province of Balıkesir has been arrested on allegations of sexually abusing four boys and three girls between the ages of eight and 12, the Cumhuriyet daily reported on Saturday.
The man, who was appointed by the Diyanet as imam of a mosque in Dursunbey's Ericek neighborhood, was arrested after an investigation was launched into him on July 7. He was detained the day after over claims that he had sexually abused seven children two months ago.
The imam, who was arrested pending trial and sent to Kepsut Prison in Balıkesir, was appointed to the post by the Balıkesir provincial director of the Diyanet three months earlier, Cumhuriyet said.
Commenting on the development, Muhammet Karakoyun, president of the Balıkesir Street Children's Association, said it was "extremely serious and worrying," adding that they would follow the trial to make sure the imam receives the heaviest sentence possible.
Karakoyun also questioned whether the Diyanet effectively investigates its officials to see if they have criminal tendencies before appointing them as imams.
Turkey ratified the Council of Europe Convention on the Protection of Children against Sexual Exploitation and Sexual Abuse, also known as the Lanzarote Convention, in 2011. According to the convention Turkey is not only responsible for prosecuting child abusers but also for preventing child abuse.
Despite the convention, cases of child sexual abuse have hit record levels in Turkey in recent years, with children being the victims of 46 percent of all sexual assault cases in Turkey. Moreover, Turkey ranks third in sexual abuse cases worldwide. According to Ministry of Justice data, sexual misconduct against children increased 29 percent between 2012 and 2019.
A report by human rights defender and main opposition Republican People's Party (CHP) lawmaker Sezgin Tanrıkulu also revealed in November 2021 that 160 children were subjected to sexual abuse in Turkey in the first 10 months of 2021.
An amendment to the Code on Criminal Procedure which stipulates that instead of taking victim testimony, tangible evidence will be required in child abuse cases was approved by the Turkish Parliament in July 2021 with the votes of the ruling Justice and Development Party (AKP) and its ally the Nationalist Movement Party (MHP).
Legal experts have criticized the amendment, saying it will make it more difficult for child abusers to be prosecuted because witness testimony or other forms of tangible evidence such as DNA samples will be necessary for a conviction and it would be exceedingly difficult to collect tangible evidence in abuse cases.
Source: Turkishminute
https://www.turkishminute.com/2022/07/16/imam-arrested-for-alleged-sexual-abuse-of-7-children-in-western-turkey/
-----
Women in science: 15-year-old's quest to change the world
By Brad Marsellos
17-07-2022
Cadence Taylor may only be 15 years old — but the young Queenslander already has her mind set on changing the world with science.
Tackling climate change and its impact on the Great Barrier Reef is a driving passion for the Bundaberg high school student, as is making sure the under-representation of women's voices in STEM (science, technology, engineering and mathematics) is addressed.
To help her achieve her goals Cadence is part of a Curious Minds mentoring program, which teams young female students with STEM professionals.
Born and raised in Kenya, Dr Shah wishes she had access to female role models in STEM to help her when she discovered a passion for science.
Documenting animal life, entering data to the citizen scientist portal, interviewing visitors to the reef and taking part in a Be a Marine Biologist For a Day program kept the pair busy on their visit to the reef.
"Being a mum as well, she gives back and inspires those that will be the next generation of women in STEM. I think that's very important in today's society."
Cadence said being part of the Curious Minds mentor project pushed her to strive harder and think about her future in science and how she may one day help other young women.
"It's such a wonderful way of giving your experience and knowledge to others and guiding them into their future STEM career."
Source: Abc.net.
https://www.abc.net.au/news/2022-07-17/women-in-science-mentoring-program/101236984
-----
URL: https://newageislam.com/islam-women-feminism/karachi-girl-dua-zehra-underage-marriage/d/127499
New Age Islam, Islam Online, Islamic Website, African Muslim News, Arab World News, South Asia News, Indian Muslim News, World Muslim News, Women in Islam, Islamic Feminism, Arab Women, Women In Arab, Islamophobia in America, Muslim Women in West, Islam Women and Feminism