New Age Islam News Bureau
3 Jul 2018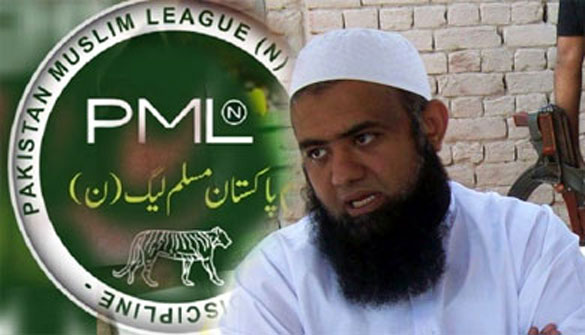 Pakistan Muslim league-Nawaz (PML-N) candidate Haroon Sultan from Muzaffargarh has stepped forward with a contentious claim, terming it 'haram' to cast votes for women.
------
• Will Consider Creating Larger Bench on Pleas against 'Nikah-Halala', Polygamy: Indian SC
• Married To Muslim, Woman Barred From ST Seat
• On College Campus, It's 'Saffron Shawls Vs Burqas'
• Malaysia: Include Child Marriages under Sexual Offences Act
• Hundreds of Terrorists Disguised as Women Among Daraa Displaced Syrians
Compiled by New Age Islam News Bureau
URL: https://www.newageislam.com/islam-women-feminism/pml-n-candidate-terms-haram/d/115718
--------
PML-N Candidate Terms It 'Haram' To Vote for Women
July 2, 2018
Pakistan Muslim league-Nawaz (PML-N) candidate Haroon Sultan from Muzaffargarh has stepped forward with a contentious claim, terming it 'Haram' to cast votes for women.
The claims were publicized by the candidate while addressing a corner meeting in his constituency in Muzaffargarh.
Sultan asserted that he will be follow the directions of religion and will abstain from casting a vote to any female candidates as it is considered 'haram'.
He went on further to say: "I will work under the commands of Allah and His messenger, Prophet Muhammad (PBUH) and will desist from doing the contrary."
The PML-N candidate is in the race for the upcoming general elections from Muzaffargarh's constituency of NA-184 where he will be face to face with Pakistan Tehreek-e-Insaf female candidate Zehra Basit Sultan Bukhari, who is also reportedly his sister-in-law.
PPP has fielded Nawaz Iftikhar Khan in this constituency.
https://www.thenews.com.pk/latest/336476-pml-n-candidate-terms-it-haram-to-vote-for-women
--------
Will Consider Creating Larger Bench on Pleas against 'Nikah-Halala', Polygamy: Indian SC
Jul 2, 2018
NEW DELHI: The Supreme Court on Monday said it would consider setting up of a five-judge constitution bench to examine the validity of the prevalent practices of polygamy and 'nikah halala' among the Muslims.
The apex court, which on August 22 last year had banned the age-old practice of instant 'triple talaq' among Sunni Muslims, had on March 26 this year decided to refer to a larger bench a batch of pleas challenging the constitutional validity of polygamy and 'nikah halala' among Muslims.
"We will look into it," a bench headed by Chief Justice Dipak Misra said, adding that they will be listed for hearing before the constitution bench after the Centre files its response.
While polygamy allows a Muslim man to have four wives, 'nikah halala' deals with the process in which a Muslim woman, who wants to re-marry her husband after divorce, has to first marry another person and get a divorce from the second person after the consummation.
Additional solicitor general Tushar Mehta, representing the Centre, said the government will file its response to the petitions.
The development assumes significance as the Centre has recently made it clear that it would oppose in the Supreme Court the practice of 'nikah halala' when the top court would examine its legal validity in the coming days.
The court's observation came when senior lawyer V Shekhar and advocate Ashwini Kumar Updhayay, appearing for Delhi-based Sameena Begum, sought urgent hearing of her petition, alleging she has been threatened by her in-laws to either withdraw the petition from the apex court or get thrown out of the matrimonial home.
"We will list her petition along with other petitions," the bench, also comprising Justices AM Khanwilkar and DY Chandrachud, said.
The lawyers said that earlier, the petitions were shown in the advance cause list of business of the Supreme Court but later they got deleted, which led them to mention them for urgent listing.
The top court had on March 26 referred to a five-judge bench the petitions challenging the constitutional validity of polygamy and 'nikah halala' among the Muslims.
It had considered the submission that an earlier five-judge constitution bench, in its 2017 verdict, had kept open the issue of polygamy and 'nikah halala', while quashing the practice of 'triple talaq'.
It had then issued notices to ministries of law and justice and minority affairs as well as the National Commission of Women (NCW) after taking note of the pleas on the issues of polygamy and 'nikah halala'.
Some petitions have also challenged the practices of 'Nikah Mutah' and 'Nikah Misyar' -- both temporary marriages where duration of the relationship is specified and agreed upon in advance.
Sameena Begum, in her petition, has said that by virtue of Muslim Personal Law and Section 494 of the Indian Penal Code (marrying again during lifetime of husband or wife) was rendered inapplicable to Muslims and no married woman from the community has the avenue of filing a complaint against her husband for the offence of bigamy.
Another plea was filed by one Rani alias Sabnam who alleged that she and her three minor kids have been thrown out of the matrimonial home after her husband re-married. She has sought that the practices of polygamy and 'nikah halala' among Muslims be declared as unconstitutional.
A similar plea was also filed by Delhi-based woman Nafisa Khan seeking almost same reliefs.
She has sought to declare the Dissolution of Muslim Marriages Act, 1939, as unconstitutional and violative of Articles 14, 15, 21 and 25 (freedom of conscience and free profession, practice and propagation of religion) of the Constitution in so far as it fails to secure for Indian Muslim women the protection from bigamy which has been statutorily secured for women in India belonging to other religions.
The top court had also allowed Muslim Women Resistance Committee, Kolkata to file an application for impleadment as a party in the hearing.
https://timesofindia.indiatimes.com/india/will-consider-creating-larger-bench-on-pleas-against-nikah-halala-polygamy-sc/articleshow/64830266.cms
--------
Married to Muslim, woman barred from ST seat
Jul 3, 2018
NAGPUR: The Nagpur bench of the Bombay high court dismissed the nomination of a Gond Scheduled Tribe (ST) woman for contesting the panchayat elections from a reserved seat, citing her marriage with a Muslim man. The onus of proving that she isn't following Islamic rituals but continues to be a Gond ST lies on the woman, the HC observed.
Shaheda Tabassum's nomination — for contesting the Panchayat Samiti resident's election as an ST candidate from Kurkheda sub-division in Gadchiroli — was rejected after her rival Manoj Sidam moved the HC, demanding the dismissal of her candidature.
Tabassum had filed the nomination in her paternal name, Sharda Deorao Uike, as the seat was reserved for an ST candidate. She was originally an ST and embraced Islam after marriage, which makes her a non-ST and thus ineligible to contest the election, the petitioner pointed out.
"In the facts of the case and considering the proposition laid down in the SC judgment, it's held that the woman is not eligible to contest the election as an ST candidate," a division bench comprising justices Bhushan Dharmadhikari and Zaka Haq said. tnn https://timesofindia.indiatimes.com/india/married-to-muslim-woman-barred-from-st-seat/articleshow/64833802.cms
--------
On College Campus, It's 'Saffron Shawls Vs Burqas'
Vijaya Karnataka
Jul 3, 2018
CHIKMAGALUR: After Sagar, Thirthahally, Sahyadri, Mangalore, Burqa dispute surfaced yet again in Koppa now.
The incident took place at a government college in Koppa Taluk when Muslim girls were objected to wearing Burqas in the classroom.
Till last year, Muslim students came to college in Burqas and removed it in rest rooms before entering their class. But this year, they attended the classes wearing Burqa which sparked controversies. This was against the college protocol of having a uniform.
On June 30, a group of students wrote to the Principal to ban Burqa but the Principal said there is no such rule like that.
Angered by this, the ABVP students came to college wearing saffron shawls protesting against women being allowed to wear a head scarf or Burqa in college.
https://timesofindia.indiatimes.com/city/bengaluru/on-college-campus-its-saffron-shawls-vs-burqas/articleshow/64840374.cms
--------
Malaysia: Include Child Marriages under Sexual Offences Act
July 3, 2018
THE new government should address child marriages in the country under the Sexual Offences against Children Act 2017 (Act 792).
This is following a video, which has gone viral, showing the marriage of an 11-year-old girl as the third wife to a 41-year-old man.
Many social groups and concerned citizens have called on the authorities to investigate this.
Underage marriages are not new in Malaysia. Concrete action must be taken by the government to end such marriages for the safety of our children.
Act 792, gazetted in July last year, is adequately equipped with many procedures to combat crimes against children.
By including underage marriages, it can ensure immediate action against the culprit.
Act 792 was an initiative of the Barisan Nasional government to protect underage children in the country from harm, especially from sexual crimes. It has introduced new offences against children, namely, child grooming and child pornography.
However, the act did not touch on child marriages.
Under laws for Muslims, the marriageable age for women is lower than men. Section 8 of the Malaysian Islamic Family Law (Federal Territories) Act 1984 (Act 303) clearly states that the minimum legal age for Muslim boys to marry is 18 years old, while it's 16 for a Muslim girl.
Younger couples are allowed to marry with written permission from the Syariah Court, after both sets of parents have put in an application to formalise their nuptials. Without permission from the Syariah Court, the couple has committed an offence and shall be punished with a fine not exceeding RM1,000 or jail not exceeding six months or both.
For non-Muslims, the legal age of marriage is 18. Non–Muslim girls are permitted to marry between the ages of 16 and 18 with the consent of the chief minister.
This is clearly stipulated under Section 10 of the Law Reform (Marriage and Divorce) Act 1976 (Act 164). Though the law on this issue seems clear, it can be abused if no proper action is taken.
An underage marriage has lasting consequences, especially for the victim. Women married in their teens or earlier struggle with the health effects of getting pregnant very young. The welfare of the newborn is also uncertain.
Underage marriages could lead to domestic violence, child sexual abuse and even marital rape if no concrete steps are taken.
The government should consider this proposal, meet agencies on the issue and find ways to protect the interest and safety of our children.
https://www.nst.com.my/opinion/letters/2018/07/386873/include-child-marriages-under-sexual-offences-act
--------
Hundreds of Terrorists Disguised as Women Among Daraa Displaced Syrians
July 3rd, 2018
There are hundreds of armed men disguised as women with fake IDs among the Syrians displaced in the border area near Jordan as a result of the ongoing bombardment campaign on Syria's Daraa province, an army senior officer said on Monday.
Director of the Jordan Armed Forces-Arab Army (JAF) Morale Guidance Department Lt. Col. Oudeh Shdeifat said that the army is "fully aware of these armed men and is dealing with the situation with complete professionalism".
In remarks to The Jordan Times on Monday, Shdeifat added that these armed men belong neither to the Syrian government nor to the opposition but "to terrorist groups which have been expelled from their strongholds, including the Daesh terror group".
"There are some parties exploiting the displaced Syrians to serve 'evil' agenda. The army is vigilant and ready to deal with."
Shdeifat said that the JAF is "firmly" sealing off the borders with Syria in implementation of a sovereign decision, adding that no refugees will be allowed to enter Jordan "except for some critical cases, only for medical treatment".
"After completing their treatment in Jordan, these Syrian patients are sent back to their country," he said.
Shdeifat also said that the army has set up a 20-bed field hospital on the borders with Syria to treat injured people and three first-aid units while six ambulances will be added to the five already existing ones, all adequately equipped.
"Around 20 injured Syrians among those displaced in the border areas have been referred to the King Abdullah University Hospital in Ramtha during the past 48 hours. Some of them have been treated and returned," Shdeifat said.
Shdeifat also said that Jordanians were still gathering donations to be sent to the displaced neighbours, adding that a total of 26 trucks laden with food, water, medicine and blankets were dispatched by the army to those across the border through the Jordan Hashemite Charity Organisation.
UNHCR spokesman in Amman Mohammad Hawari was quoted by AFP on Monday as saying that the number of displaced in southern Syria exceeded 270,000 people, as a result of the government's offensive on rebel-held parts of Daraa province.
https://www.albawaba.com/news/hundreds-terrorists-disguised-women-among-daraa-displaced-syrians-1153678
--------
URL: https://www.newageislam.com/islam-women-feminism/pml-n-candidate-terms-haram/d/115718
New Age Islam, Islam Online, Islamic Website, African Muslim News, Arab World News, South Asia News, Indian Muslim News, World Muslim News, Women in Islam, Islamic Feminism, Arab Women, Women In Arab, Islamophobia in America, Muslim Women in West, Islam Women and Feminism