New Age Islam News Bureau
29 Jul 2018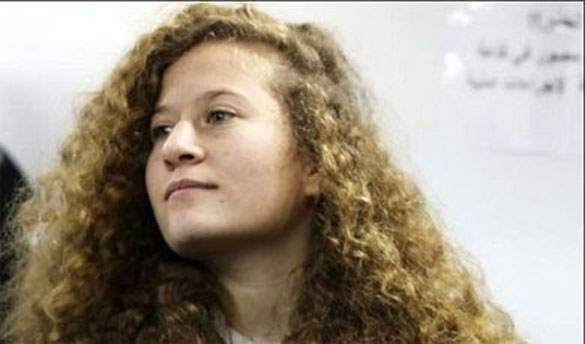 A Palestinian teenager jailed by Israel for slapping and kicking Israeli soldiers in the occupied West Bank is to go free on Sunday after eight months behind bars.
-------
• Ahed Tamimi, Symbol Of Mid East Conflict, Prepares For Freedom
• Eight Women Who Made It to NA of Pakistan through Direct Election
• Sisters Are Cooking It For Themselves At Iraq's Women-Only Restaurant
• 14 Women Kidnapped By Islamic State after Syria's As Suwaida Attack: Activists
• Sedigheh Saminejad, The First Iranian Actress
• Detained Syrian Women Face Stigma upon Release
• UAE Labour Law: Workplace Rights Every Woman Must Know
• Afghanistan: Gunmen Kill and Wound Staff at Midwife Training Centre
• It Takes a Village in Egypt to Show Women's Heroism
• Fifa Appoints Dr Rima As Medical Officer For Women's Under-20 World Cup In France
Compiled by New Age Islam News Bureau
URL: https://www.newageislam.com/islam-women-feminism/placing-women-front-centre-uaes/d/115972
--------
Placing Women Front and Centre of UAE's Corporate Management
July 28, 2018
Gender equity and equal pay for men and women in the workforce is not a fairness issue. It's a smart business strategy that is essential for UAE companies to compete globally for scarce and in-demand highly skilled talent necessary to win in the economy of the future.
The challenge companies face is clear and well documented. When we studied 20 major economies around the world in our "Future of Work" research, we uncovered some startling numbers that should serve as a wake-up call for corporate leadership across the country. Bottom-line, the UAE has as much as $50 billion (Dh183.5 billion) in unrecognised economic output at risk if we don't fill a gap of more than 110,000 skilled workers by 2030.
We also have a significant gender equality problem in the workplace that could be easily flipped into a strategic economic growth opportunity. Today, women are far too under-represented at the executive level of UAE companies. Korn Ferry data shows women representing only 10 per cent of executive in companies. What's more problematic is that the roles they are in aren't positions that are directly linked to revenue and business growth.
They tend to be in supporting cost centres such as human resources and communications which are usually lower paying jobs. That's why at the executive level in the UAE women are paid on average 15 per cent less than men.
Highly skilled females
This is where smart companies that recognise the untapped potential of a huge segment of the UAE workforce can make a major dent in this looming talent gap and better position them to compete and win in the economy of the future.
If women are in the wrong roles, what should companies be doing to get them into the right roles and increase participation of highly skilled females in executive roles key to future business success? It starts with focusing on the executive feeder pool, conducting talent assessments to identify women already in the company with leadership potential and the ability to develop core skills and competencies that will lead to success in the workplace of the future.
Companies need to proactively seek out and attract top female talent into core business roles that enable them to gain crucial experience that positions them to contribute at higher levels of the organisation and compete for higher leveraged and higher paying jobs. Next comes broadening the experience, learning and professional development opportunities presented to high potential women executives.
Well-structured and orchestrated mobility programmes can contribute greatly to individual development as well as have significant overall business impact. While mobility programmes should be applied across the workforce and are equally important for male and female executives, women tend to have fewer opportunities to participate in these simply because of the roles they are relegated to.
Mobility should be looked at in two ways. The first is done by moving up-and-coming executives across roles and business units that enable them to get a 360-degree view of the business and future growth strategies. The second is about creating international mobility opportunities that enable future leaders to gain, and bring back to the organisation, valuable experience in learning best practices in international business management.
Developing young leaders
This is easier to implement for multinational companies, but UAE entities can look at developing strategic exchange programmes with partners and customers that can serve a dual role of strengthening relationships while developing young leaders. The third area companies should look at to promote better career pathing for women is about reframing executive leadership and C-Suite roles.
Research Korn Ferry conducted with female CEOs of Fortune 1000 companies revealed that many top female executives can point to a critical point in their careers where a company or an individual mentor convinced them that they should be on executive career development paths they previously had not considered.
The UAE has the potential to break new ground in true gender equality in the workplace, but that's not going to come solely from government regulation. It has to come from private companies leading the charge and recognising that increasing female participation at higher valued executive positions is a smart business strategy for bridging the talent gap and winning in the future of work.
https://gulfnews.com/business/analysis/placing-women-front-and-centre-of-uae-s-corporate-management-1.2257998
--------
Ahed Tamimi, Symbol Of Mid East Conflict, Prepares For Freedom
Joe Dyke
Jul 29, 2018
A Palestinian teenager jailed by Israel for slapping and kicking Israeli soldiers in the occupied West Bank is to go free on Sunday after eight months behind bars.
Ahed Tamimi was arrested on December 19, days after she was recorded on video with her cousin Nour Tamimi in the yard of their home in Nabi Saleh, near Ramallah, telling two soldiers to leave, then shoving, kicking and slapping them. She was aged 16 at the time and turned 17 in prison. She was refused bail throughout her detention and subsequent trial in an Israeli military court on charges including assault, stone-throwing, incitement to violence and making threats.
On March 21 the court agreed a plea bargain giving her an eight-month sentence including time already spent in custody.
The same court hearing freed Nour Tamimi immediately, when she accepted a plea deal.
Ahed comes from a family of prominent activists and has been involved in a series of previous incidents, with pictures of her confronting soldiers widely published. But the December video went viral and turned her into a symbol of the Israeli-Palestinian conflict. For Palestinians she is a hero, jailed for standing up to soldiers occupying her land and intruding upon her family home.
To many Israelis she personifies how Palestinians encourage their children to hate and how they try to manipulate the media.
This week an Italian artist daubed a 14-foot image of her face and curly reddish hair on the Israeli separation wall in the occupied West Bank. On Sunday she is expected to step back into the spotlight at a scheduled press conference at her home after her release.
'Terrorist to hero'
When the video was originally published, many Israelis saw it as a symbol of the restraint displayed by their army. As Ahed and Nour pummel the soldiers the two cousins simultaneously film the scene on their phones, apparently seeking to provoke them. The soldiers do not react, however, backing away instead.
Yet after the girls - and Ahed's mother, who also recorded the incident - were arrested and then hit with a list of charges, there was criticism even within Israel that military prosecutors were overreacting.
Critics compared her eight-month sentence to that of Elor Azaria, an Israeli soldier who served nine months in jail for shooting dead a prone Palestinian attacker. Palestinian president Mahmud Abbas met with her family and hailed her courage.
With each court appearance, media attention grew and helped create a Palestinian icon. "You cannot take a little terrorist girl and make her a hero, and this is what we did," Oren Hazan, an Israeli MP from Prime Minister Benjamin Netanyahu's right-wing Likud party, told AFP.
Yara Hawari, a Palestinian activist and friend of the Tamimi family, said the tough sentence helped build support.
"It was a symbolic image of a child confronting a heavily armed Israeli soldier at her home," she told AFP. "The fact that what she did got her so long in prison is also something that drew a lot of attention."
Wider cause
The Tamimi case also highlighted other aspects of the Israeli military court system including its more than 99 percent conviction rate for Palestinians. Omar Shakir, head of NGO Human Rights Watch in Israel, said her release on Sunday would be a moment to reflect on what he called the "endemic" ill-treatment of children in the Israeli legal system. "Ahed Tamimi will soon be free, but hundreds of Palestinian children remain locked up with little attention on their cases," he said.
Many Israelis, however, still believe Tamimi poses a serious risk, accepting a military prosecutor's description of her as a threat to public security.
"The fact is that she is very dangerous," Hazan said, arguing that a slap one day can turn into a shooting or stabbing attack in the future. "Most Israelis will tell you that they want to see her in jail for 20 years," he said. How Tamimi will cope with her return to the public eye is unclear, but indications are she will be vocal. Her father Bassem, who was not jailed in the incident, has been campaigning against Israel's military occupation of the West Bank for decades.
"I don't think any child can be totally ready to become a prominent symbol of the Palestinian struggle, but Ahed is a very strong child," Hawari said. "We have seen from the interrogation videos, from how she behaves in court, that she is incredibly confident and resilient. So I think she will take this in her stride."–AFP
https://nation.com.pk/29-Jul-2018/ahed-tamimi-symbol-of-mid-east-conflict-prepares-for-freedom
--------
Eight Women Who Made It to NA of Pakistan through Direct Election
Jul 28 2018
On Wednesday, eight women won on general contestable seats for the parliament, out of the 272 up for grabs. In 2013, the last time Pakistan went to vote, nine women made it to the national assembly through direct election.
Here are the women who clinched victory:
1) Mehnaz Aziz
Pakistan Muslim League- Nawaz's Mehnaz Aziz clinched victory in the NA-77 Narowal 1 constituency after securing 106,366 votes.
Her closest competitor was Independent candidate Mian Tariq Anis, who secured 70,596 votes.
The total number of registered voters in the constituency was 507,995.
2) Ghulam Bibi Bharwana
Pakistan Tehreek-e-Insaaf's Ghulam Bibi Bharwana emerged victorious from NA-115 Jhang 2 constituency after securing 91,434 votes.
Her closest competitors include independent candidates Muhammad Ahmad and Waqas Akram who secured 68,515 and 60,598 votes respectively.
The total number of registered voters in the constituency was 457,988.
3) Zartaj Gul
Pakistan Tehreek-e-Insaaf's Zartaj Gul claimed victory in NA-191 Dera Ghazi Khan 3 constituency after securing 79,817 votes.
PML-N's Sardar Awais Ahmed Khan Leghari was the runner-up after securing 54,548 votes.
The total number of registered voters in the constituency was 380,414.
4) Nafisa Shah
Pakistan Peoples Party Parliamentarians' Nafisa Shah clinched victory in NA-208 Khairpur constituency after securing 107,847 votes.
The politician, who has served as MNA from 2008 onwards, defeated Grand Democratic Alliance's Syed Ghous Ali Shah.
She is the daughter of former Sindh chief minister Qaim Ali Shah.
5) Shazia Marri
Pakistan Peoples Party Parliamentarians' Shazia Maria was elected from the NA-216 Sanghar 2 constituency after securing 80,752 votes.
The total number of registered voters in the constituency was 291,935.
She served as the Minister of Sindh for Information from 2008 to 2010.
6) Fahmida Mirza
Grand Democratic Alliance's Fahmida Mirza proved to be victorious in the NA-230 Badin 2 constituency in a closely contested competition against PPPP's Haji Rasool Bux Chandio.
Mirza clinched victory with a margin of only 860 votes.
She has also served as the 18th Speaker of the National Assembly of Pakistan from 2008 to 2013, the first female parliamentary speaker in the Muslim world.
7) Shams-un-Nisa
Pakistan Peoples Party Parliamentarians' Shams-un-Nisa won in the NA-232 constituency of Thatta after securing 152,691 votes.
Her closest competitor was Pakistan Tehreek-e-Insaf's Arslan Bux Brohi who secured a total of 18,900 votes.
The total number of registered voters in the constituency was 440,329.
8) Zubaida Jalal
Balochistan Awami Party's Zubaida Jalal created history after she was elected as the only women candidate for National Assembly from Balochistan.
Jalal contested and won the NA-271 Kech with 32,866 votes.
Her competitor Syed Ehsan Shah from BNP-A, on the other hand, managed to secure 20,583 votes.
Jalal has previously served as the federal education minister in then prime minister Shaukat Aziz's cabinet.
https://www.geo.tv/latest/205161-women-elected
--------
Sisters Are Cooking It For Themselves At Iraq's Women-Only Restaurant
July 25, 2018
At Luxury Time, a restaurant in the Kurdish city of Erbil, there are no man-size portions.
The women-only restaurant, with its all-female staff, was opened this month by 23-year-old business graduate Tara Mohammed Ihssan who was fed up of unwanted attention on nights out with friends in northern Iraq.
"If you want to go out, it is so uncomfortable because everyone is staring at you," she told Reuters.
"So I have always thought about doing something like this for me and for the rest of the girls to feel comfortable."
The restaurant's sleek, modern interior, with hanging chandeliers and colorful couches, has drawn unwanted attention, however, with some men coming to the door to see what the fuss is all about.
"I have been thinking, if it stays this way I will put security on the door," Ihssan said.
"I find it unfair as all the cafes here are just for men, why can't you accept that there is this cafe for ladies."
http://www.thejakartapost.com/life/2018/07/25/sisters-are-cooking-it-for-themselves-at-iraqs-women-only-restaurant.html
--------
14 Women Kidnapped By Islamic State after Syria's As Suwaida Attack: Activists
by Nehal Mostafa
Jul 28, 2018
Baghdad (IraqiNews.com) Islamic State has leaked photos for fourteen women from the Syrian city of As Suwaida, saying they were kidnapped from their houses in the eastern countryside of the city, according to activists on social media platforms.
The activists launched hashtag "Kidnapped women of As Suwaida", urging action to rescue them.
News circulated after the attack reported that at least 17 people, most of whom were women and children, were kidnapped.
According to Reuters, 20 names of kidnapped people were documented.
The death toll from the Islamic State gun attacks and three bomb blasts on villages of al-Matouna, Douma and Tima in the countryside of As-Suwayda rose to over 200 people. Tens of others were injured.
The militant group then claimed responsibility for the deadly attacks.
The United Nations condemned the terrorist bombings in Sweida city and called for the protection of civilians and civilian infrastructure.
Islamic State lost almost all the territory it held in Syria last year in separate offensives by the Russian-backed army and a U.S.-backed militia alliance. The militant group then launched insurgency operations from its pockets in the desert areas, after it lost its strongholds in eastern Syria last year.
https://www.iraqinews.com/arab-world-news/14-women-kidnapped-by-islamic-state-after-syrias-as-suwaida-attack-activists/
--------
Sedigheh Saminejad, The First Iranian Actress
July 29, 2018
The first non-silent Iranian movie, The Lor Girl, was screened in 1933 in Tehran. Sedigheh Saminejad starred in the movie, playing the role of Golnar, the Lor girl.
Sedigheh Saminejad (a.k.a. Rouhangiz) was the first Iranian actress to appear in a non-silent movie.
Saminejad was born on June 24, 1916, in Bam, a city in the southern Iranian province of Kerman. Shortly after beginning high school, she married Reza Damavandi who worked in India. She later moved to India with her husband.
The movie The Lor Girl was made by Ardeshir Irani and Abdol-Hossein Sepenta. Sepanta, an Iranian poet, writer and journalist, traveled to India to study the influence of ancient Iranian culture on the country. Sepenta worked with Irani, a movie director, to produce The Lor Girl while he was in India, since Iran had no resources to produce movies at the time.
Lack of access to an Iranian actress to play the leading female role frustrated them. Sedigheh Saminejad, whose husband worked for the Hindi Imperial Film Company in Mumbai, volunteered to play the role after getting her husband's permission. The movie took seven months to make and was shown in Iran in 1934 where it was an instance hit. She played in another movie entitled, Shirin and Farhad.
Sedigheh Saminejad, a Muslim, was regularly harassed physically and emotionally by family members and others in Iran and in India who did not tolerate a Muslim woman playing in a movie. As a result, she gave up acting after her second movie.
One of the documentary filmmakers who met with Mrs. Saminejad in 1971, 38 years after the film was shown in Tehran, says, "This film has been a nightmare for the whole life of this woman. She told me that she was really torn at the hands of the fanatics her entire life. And I assert that no comment or opinion about the movie, other than hers, the person who lost the peace of her life because of the movie, is valid. While smiling with tearful eyes, she said the fanatic Iranians would physically harass her and throw bottles at her. She had to enter and exit the studio with a body guard. Because of all the harassments from the family members and others, she continued, she never felt compelled to play in any other movie."
After living in India for six years, she returned to Iran with her husband. Shortly after, she divorced her husband and moved in with her mother in Tehran. She found a job at the Jiroft Clinic and was paid 200 Iranian toumans. As a pre-condition for joining the Cultural Ministry, she had to take the ninth-grade elementary exit exam to receive a passing certificate.
The famous historian Bastani Parizi who was at the time a reporter for the Ettela'at newspaper writes about her: "While I was proctoring the ninth-grade exit exam, I noticed a depressed old woman taking the exam. I asked who she was and why was she taking the exam. One of the attendees asked me quietly, do you not know her? She is the Lor Girl." (Ettela'at weekly, July 20, 1956).
The first Iranian actress lived the last 20 years of her life away from the art and culture circles and died poor and alone on April 30, 1997.
https://women.ncr-iran.org/famous-women/5379-sedigheh-saminejad-the-first-iranian-actress
--------
Detained Syrian Women Face Stigma Upon Release
July 28, 2018
Sundus Filfleh, a schoolteacher and a mother from Latakia city in western Syria, struggles to support her two girls and overcome the stigma of serving time in prison for her civil activism.
"After I was released from prison, the first question people asked me was whether I was raped," Filfleh told VOA. "Society looks at a released woman in a suspicious way. There is a social rejection of the women who are released from prison."
Syrian government forces arrested Filfleh during a peaceful protest in 2011 as she was trying to escape with other anti-government protesters. She said security forces opened fire on unarmed peaceful protesters to disperse their gathering.
She was imprisoned for about a year by the Syrian regime for her civil activities.
She said prison profoundly changed the way her family and other people view her as a person.
"My husband never accepted me again. We were separated after I was released. A lot of inmates were abandoned by their spouses and families after they were released as well," she said.
Filfleh said her family members tried to her get out of prison, but turned their backs on her when she was released.
Torture and delivery
Filfleh was pregnant with her daughter when she was arrested, and she gave premature birth to her child inside the prison as a result of severe beating and torture by prison guards.
Now out of prison, Filfleh tries to find meaning and purpose in life. She lives in northern Syria's Idlib province, one of the last rebel held strongholds in Syria. She works as a social worker, helping other women who went through gender-based violence during the country's war.
But social work brings its own challenges, and she fears that her work might provoke extremist groups who disapprove of women's activism and advocacy for rights.
"Surviving the experience of detention took fear out my heart. We must fight back this extremist thought," Filfleh said.
A recent U.N. report said Syrian women have suffered many abuses, including sexual violence, torture and trauma, by different warring factions in the country.
The report also echoed Fifleh's experience that prison takes a heavy toll on inmates and changes women's lives forever.
"Owing to social norms and honor codes, however, men tend to be celebrated by their community upon their release, whereas women face shame, stigma and rejection by husbands or parents, who assume that they were raped in custody," the report said.
Gülden Sönmez, a lawyer who organized the Conscience Convoy, an all-female march, in Turkey's border region with Syria earlier this year, told Turkish media outlets that about 14,000 women had been imprisoned by the Syrian regime and that most of them had died because of torture and abuse.
A cause
Rejection by the community has prompted abandoned Syrian women to band together to help heal some of psychological trauma. Some have established organizations to help former prisoners raise awareness their situation and experiences.
Walaa Ahmad, a former prisoner and founder of the Idlib-based Release Me Foundation, started her nonprofit organization to provide psychological healing and education for women who suffered during and after detention in Syria.
"The greatest challenge these women face is the acceptance of society. Many of these women are divorced by their husbands, neglected by their parents, and found themselves cut off without a place to live," Ahmad said.
"Some of these women are imprisoned with their children, and this creates a greater pressure on them after their release from prison," Ahmed added.
Ahmed was arrested in late 2014 for her civil activism and was finally released in early 2017. She said she was arrested at a military checkpoint by government forces and taken to the notorious Adra prison in northeast Damascus.
Ahmed was hesitant to go into the details of her experience in prison, but like Filfleh, she finds comfort in helping other women with similar experiences overcome their struggles in post-prison life.
140,0000 detainees
The Syrian Observatory for Human Rights, a U.K.-based rights group monitoring developments in Syria since 2011, has documented more than 140,000 cases of people being detained by the Syrian regime.
The group charges that detainees have been subject to torture and that nearly 15,000 people, including women and children, have died as a result.
The group also says the 15,000 figure represents only cases that can be documented. It says the actual number of detainees who died in government prisons could be several times higher.
VOA could not independently verify the authenticity of these figures.
Many international organizations are urging the Syrian government to release prisoners incarcerated by the regime during the country's civil war, which broke out in 2011.
In March 2017, Zeid Ra'ad Al Hussein, the U.N. high commissioner for human rights, told a Geneva forum that in order for the Syrian people to find peace, there must be accountability and justice.
"Today, in a sense, the entire country has become a torture chamber, a place of savage horror and absolute injustice," Al Hussein said.
Syrian local sources said that the fate of thousands of Syrian detainees might be revealed as the government regains most of the land it lost to various rebel groups in the past few years.
https://www.voanews.com/a/detained-syrian-women-face-stigmatization-upon-release/4504442.html
--------
UAE labour law: Workplace rights every woman must know
July 29, 2018
Women workforce in the UAE have certain rights which they should equip themselves with to avoid exploitation at workplace. The UAE Labour Law lays down special provisions relating to the working hours and conditions of women employees.
Let's take a look at the important aspects of the law related to working women in the country.
Night shit rules: Women in UAE may not work after 10 pm, except ...
Article 27 and Article 28 of the Employment Law deals with employment of women and night shifts, which reads as:
Article 27:
Women may not be employed at night . The word 'night' shall mean a period of eleven consecutive hours at least including the period from 10pm until 7am
Article 28:
However, Article 28 provides for an exception to the forgoing:
"The following cases shall be excepted from the clause prohibiting women to work at night.
a) In the event where the work in the establishment is stopped due to force majeure.
b) Work in responsible managerial and technical jobs.
c) Work in medical and other services as may be decided by the Minister of Labour and Social Affairs if the working woman does not normally carry out a manual job."
Article 29: Safety at workplace
It is the responsibility of the employer to provide basic amenities or arrange for basic facilities in the work place. Your employer should advise its clients to provide basic amenities and facilities while its employees go to their location to perform their work. Further, an employer must take extra precautions regarding the safety of women and provide for their sanitation and amenities.
This is in accordance with Article 29 of the Federal Law No. 8 of 1980 regulating Employment Relations in the UAE (the "Employment Law'"), which states:
"No women shall be employed on any job that is dangerous, arduous or detrimental to health or morals or on any other operations specified by order of the Minister of Human Resources and Emiratisation (MoHRE) after consulting the competent authorities."
Article 30: Maternity, childcare leave
A female employee is eligible for 45 days of maternity leave upon completion of one year of employment with the employer; and half of the pay if she has not completed one year of employment. This is in accordance with article 30 of the federal law no. 8 of 1980 regulating employment relations in the UAE (the 'Employment Law'). It states: "A female employee shall be entitled to maternity leave with full pay for a period of 45 days, including the period preceding and the period following her confinement, on condition that she has been in her employer's service for a continuous period of not less than one year. If she has not completed the aforesaid period of service, she shall be entitled to maternity leave with half pay.
On the expiry of her maternity leave, a female employee may be absent from her work without pay for a maximum period of 100 consecutive or non-consecutive days, if such absence is due to an illness preventing her from resuming her work and if the illness is confirmed by a medical certificate issued by the medical service specified by the competent health authority; or if the latter authority confirms that the illness as caused by the women's work or confinement.
'The leave provided for in the preceding two paragraphs shall not be deducted from other period of leave'.
Article 31: Nurseries in public offices
In addition to the prescribed rest period, according to Article 31: "A working woman nursing her baby is entitled to two additional 30-minute breaks everyday for 18 months after the birth of her baby. These additional breaks are considered part of her working hours and no deduction in wages can be made. At the end of maternity leave, private sector employees have the right to extend maternity leave, with a maximum of 10 days without pay. This additional leave can be continuous or interrupted - if caused by illness which must be confirmed to the employer by a certified government physician.
Article 32: Equal wages for women and men
This is in accordance with Article 29 which states: "The female worker shall be granted a wage equal to that of the man should she be performing the same work."
A law that will ensure equal wages for women and men has been approved by the UAE Cabinet on Tuesday, April 10. The 'law on equal wages and salaries for men and women' will ensure that women have equal opportunities as partners in the UAE's development. It will also empower women to lead future national strategies and ambitious projects, it was announced.
The Cabinet's approval of the law is in line with the government's objective to ensure the protection of women's rights and support their role in the national development process.
Article 94: Cleanliness and ventilation for women employees
It is the responsibility of the employer to ensure perfect cleanliness and ventilation in each workplace. Further, the employer shall provide proper toilet facilities for its employees. This is in accordance with Article 94 of the Employment Law, which states: "Without prejudice to the provisions of the regulations and orders issued by the competent government authorities, an employer shall ensure perfect cleanliness and ventilation in each workplace with adequate lighting, drinking water and toilets."
Article 101: Safety while working in remote areas
An employee is employed in remote areas the employer must take care of the facilities in such areas. This is in accordance with Article 101 of the Employment Law, which states: "Every employer employing employees in areas remote from towns and not connected with them by any normal means of transport shall provide his employees with the following services:
Adequate means of transport
Suitable living accommodation
Drinking water
Suitable food stuff
First-aid facilities
Recreation and sports facilities
The areas to which all or part of the provisions of this article apply, shall be specified by order of the MoHRE. Except in the case of food stuff, the cost of services referred to in this article "shall be defrayed by the employer and shall be entirely free of charge to the employees." In the event your employer continues to commit a breach of the provisions of the Employment Law, you may lodge a complaint against your employer with the MoHRE.
https://www.khaleejtimes.com/nation/dubai/uae-labour-law-workplace-rights-every-woman-must-know-1-
--------
Afghanistan: gunmen kill and wound staff at midwife training centre
28 Jul 2018
Gunmen have stormed a midwife training centre in the eastern Afghan city of Jalalabad, fighting security forces for several hours and killing several staff.
Nearly 70 people, including students and teachers, were inside the centre in the capital of Nangarhar province at the time of the attack on Saturday.
The Nangarhar police chief, Ghulam Sanyee Stanikzai, said two people – a guard and a driver – had been killed and five others wounded.
The provincial governor's spokesman, Attaullah Khogyani, said three people had been killed and eight wounded.
Some of the people inside the centre escaped while others the gunmen took others hostage. "They were freed by the police during the operation," Stanikzai said.
One attacker was wearing a suicide vest and blew himself up. The other was killed by security forces, Khogyani said.
There was no immediate claim of responsibility for the attack but Islamic State, which has a stronghold in Nangarhar, has carried out most of the recent assaults in the Jalalabad.
The Taliban denied involvement in a WhatsApp message sent to journalists.
Inamullah Miakhil, a spokesman for the provincial health department, said 48 women from remote districts were enrolled in the two-year midwifery course.
The training facility, which is near the city centre in an area where several international organisations and consulates have offices, is funded by the public health ministry.
"We don't know why the midwife centre came under attack," Miakhil said, adding that all NGOs and government bodies in Jalalabad were at risk.
Jalalabad has been the scene of several attacks in recent months that have killed dozens, as US and Afghan forces continue offensive operations against Isis and Taliban militants. Government buildings, including hospitals and medical facilities, are a common target for insurgents.
Midwives have been attacked in the past for providing reproductive health services to women, though such attacks are rare. Islamist groups and many ordinary Afghans also oppose women working outside the home.
Thousands of women have been trained as midwives since the US-led invasion in 2001, but Afghanistan still has one of the highest maternal and child mortality rates in the world.
The last major attack in Jalalabad was on 11 July when gunmen raided an education department compound in the city, sparking a battle with security forces that lasted for hours. At least 11 employees were killed.
A suicide bomb attack claimed by Isis on a crowd of Afghan Sikhs and Hindus in on 1 July killed at least 19 people and wounded 21.
The Taliban is Afghanistan's largest militant group and Isis has a relatively small but potent presence, mainly in the east and north of the country. It first emerged in Afghanistan in 2014 and quickly established a stronghold in Nangarhar. Intensified aerial and ground operations against the militants have failed to dislodge them.
An unprecedented three-day ceasefire involving Afghan security forces and the Taliban last month did not include Isis. The first formal nationwide truce since 2001 was marred by two Isis suicide attacks in Nangarhar.
The Afghan government and its foreign backers are seeking to strike a peace deal with the Taliban, but US forces have repeatedly said they plan to annihilate Isis.
https://www.theguardian.com/world/2018/jul/28/afghanistan-gunmen-jalalabad-nangarhar-midwife-training-centre
--------
It Takes a Village in Egypt to Show Women's Heroism
29/07/2018
AL SAMAHA, Egypt - A l Samaha is a village that knows no rest or despair. The farms, the plants that flutter in the air and the primitive farming machines tell of unrelenting toil and hope.
The women of Al Samaha in Egypt's southern province of Aswan are self-dependent and do not rely on outside or male support to feed its residents or their children.
It is a women's world but one in which things many modern women might consider to be necessities — makeup, perfume, hair dye, manicures, high heels and sunglasses — are unheard of. Al Samaha's residents know nothing but work.
"We will not eat if we do not work," said Sanaa Nour, a mother of four and one of 300 homeowners in the village. "Work is the central part of our life here in the village."
Al Samaha was founded in 1988 by the government of former President Hosni Mubarak as a gathering point for single mothers — women who lost their husbands because of death or divorce. It was part of a project to create six rural communities 120km north of the city of Aswan.
The project was the first rural community whose economy would be the sole responsibility of its women residents. Each of the women living in the village is given a home and 2 hectares of land to cultivate.
The homes have two rooms, a kitchen, a toilet and space for raising domesticated animals and fowl, such as goats, cows, sheep and chickens.
Village residents are free to grow the crops they want, except for sugar cane, which is grown in abundance in Aswan.
In male-dominated Egypt, Al Samaha is very different but it is a place that evokes all meanings about women's bravery, heroism and perseverance.
Nour, 46, moved into the village several years ago after her husband died. She worked in farming with her husband before she moved to the village. She wakes early in the morning, heads to the farm, which is not far from her home, works in the field all day and returns before sunset to prepare food for her children.
Nour grows rice and wheat. She keeps most of the produce for the family but sells surpluses in the market. She raises fowl to feed her children.
"Life is good," she said. "There are ups and downs, of course, but we have to keep moving."
Life in Al Samaha is very austere. Apart from the small clinic and school in the village, there are no other facilities. The homes are very small and the streets and alleyways of the village are dusty. The facades of the homes are rarely painted.
However, each home holds stories of women's bravery and sacrifice.
Nabiha Abdullah, a mother of five in her early 60s, had a harsh life after her husband died about 15 years ago. She worked to feed her children but it was far from easy. When she heard about the village, she quickly decided to move and start a new chapter.
Abdullah said she was afraid at first because the village was mainly a desert. "I worked in the field together with my children and then things started to improve day after day," Abdullah said. "I cannot say life is bright. It is full of
difficulties, in fact."
Not all those in the village are succeeding. Some could not put up with hard work. Others left a few months after they arrived.
The village has its tough rules. Women given homes and plots of land must remain single, said Hamdi al-Kashef, the Agriculture Ministry official supervising the project.
"When the children of those widowed women grow up and get married, they have to move outside the village as well," Kashef said.
Problems have been accumulating in Al Samaha for years. Some of the plots are not fit for farming because of high salinity. The only clinic and only school in the village are not functioning well because of the lack of staff or poor maintenance.
Nevertheless, the village residents deal with their problems, sometimes by cracking jokes and other times by being patient.
"Each woman living here has her own problems that seem insurmountable," Abdullah said, "but when we discuss them, we discover that our problems are lighter than those of other women."
https://thearabweekly.com/it-takes-village-egypt-show-womens-heroism
--------
Fifa appoints Dr Rima as medical officer for Women's Under-20 World Cup in France
July 28, 2018
The UAE still face a wait to qualify for only their second World Cup and may have missed out in Russia, but it is still raining World Cups for Emiratis. Close on the heels of three Emiratis officiating at the World Cup in Russia, another Emirati is set to make the country proud on the world stage.
Dr Rima Mohammed Qasim Al Hosani has been selected by Fifa, the world governing body for football, as a medical officer for the Women's Under-20 World Cup to be held in France from August 5 to 24.
The Emirati woman is the Vice President of the Sports Medicine Committee at the UAE Football Association (UAE FA) and will be tasked with doping tests on player as well as other medical matters during the World Cup. Dr Rima will oversee medical teams that provide medical services to players, officials and employees of Fifa, over the course of the tournament.
She will also be part of the team which will conduct doping tests on players as well as supervise emergency medical assistance for players and the fans, who will come to witness the World Cup. Dr Rima will have a busy time ahead of her as she will also be liasoning with local hospitals in France in the event of any injuries that may occur. She also holds the responsibility of educating the medical teams, who are travelling with the teams as well as educate volunteers, in keeping with Fifa standards.
The appointment also provides Dr Rima the opportunity to glean and record information for research and studies and identify patterns of injury and risk, when they occur. She will also oversee recovery and rehab of injuries.
This isn't a first for Dr. Rima though. The Emirati woman was appointed as a medical officer during the Fifa Under-17 World Cup in the UAE in 2013 and the Fifa Club World Cup last year. And the journey will continue after France for Dr Rima with she being appointed as a Medical Officer for the Fifa Club World Cup to be held in Abu Dhabi at the end of the year as well as the AFC Asian Cup to be held on home soil early next year.
Sixteen teams will be competing in the Under-20 World Cup with matches to be played across four host cities - Saint-Malo, Vannes, Concarneau and Dinan-Lehon.
Earlier, Emiratis Mohammed Abdullah Hassan, First Assistant International Referee, Mohammed Ahmed Al Hammadi, and Second Assistant International Referee Hassan Al Mahry officiated in the just-concluded World Cup in Russia, with the all-Emirati team in-charge of the Group C fixture between eventually champions France and Peru.
Meanwhile, India's Uvena Fernandes is among the 30 assistant referees who will officiate during the Women's World Cup. This is her second appointment after she became the first Indian woman assistant referee to officiate in a Fifa World Cup during the Under-17 Women's World Cup in Jordan in 2016. A squadron leader with the Indian Air Force's air traffic control unit, Uvena officiated four matches including the final.
https://www.khaleejtimes.com/fifa-appoints-dr-rima-as-medical-officer-for-womens-u-20-world-cup
--------
URL: https://www.newageislam.com/islam-women-feminism/placing-women-front-centre-uaes/d/115972
New Age Islam, Islam Online, Islamic Website, African Muslim News, Arab World News, South Asia News, Indian Muslim News, World Muslim News, Women in Islam, Islamic Feminism, Arab Women, Women In Arab, Islamophobia in America, Muslim Women in West, Islam Women and Feminism