New Age Islam News Bureau
5 Jun 2013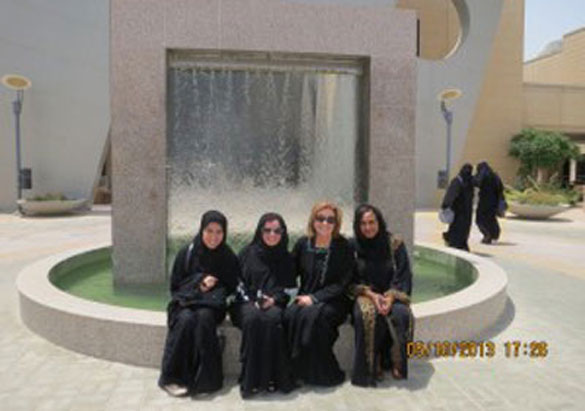 Photo: Abaya-clad Saudi leaders and Anne Doyle at Prince Mohammad University, Dhahran, Saudi Arabia
---------
• Implement Laws on Child Protection, NSHR, Madina, Urges Authorities
• 'Unemployment Main Reason for Late Marriages in Kashmir'
• A decorated Navy SEAL who turned into a woman
• Femen: Tunisia Detains, Expels Ukraine Topless Activist
• Domestic Violence on the Rise in Aceh
• In Afghanistan, Women Denied Their Inheritance Now Have A Champion
• Behind Black Robes, Hijabs and Niqabs, Saudi Women Are Dreaming Big
• Jailed God man Gulzar Ahmad Bhat's follower lodges complaint of rape against cops
• Husband to Be Flogged For Slapping Wife in Saudi Arabia
• Expat Women in Saudi Arab Haven't Lost Hope
• Lady Magistrate Ordered To Pay Rs One Lakh as Compensation
Compiled by New Age Islam News Bureau
URL: https://newageislam.com/islam-women-feminism/pil-muslim-clerics-issuing-divorce/d/11911
------------
PIL against Muslim Clerics Issuing Divorce Certificates
TNN | Jun 5, 2013
CHENNAI: Badar Sayeed, the first woman to head the Waqf Board and the Tamil Nadu Minorities Commission in Tamil Nadu, has filed a PIL in the Madras high court to stop the practice of Muslim clerics or Quazis issuing Talaq (divorce) certificates.
The first bench comprising acting Chief Justice R K Agrawal and Justice M Sathyanarayanan issued notice to the state and central government, returnable in two weeks.
In her PIL, Badar Sayeed, who was AIADMK MLA between 2001 and 2006 and had also served as additional advocate-general in the high court, said that though Quazis had not been statutorily conferred any administrative or judicial power to issue certificates and other documents certifying or approving Talaq, they had been continuing the practice unlawfully.
According to her, Quazis Act, 1880 was enacted only for the purpose of attendance of a kazi at marriage, and the Act does not confer any power on them to issue certificates recognising divorces. "It has been repeatedly held that any Talaq, unless preceded by mediation or reconciliation, is invalid. But the Quazis in Tamil Nadu are unilaterally issuing certificates and documents recognizing talaq," she said.
Seeking to restrain Quazis from issuing such certificates and documents, Badar Sayeed further said that Quazis were judicial authorities under the Muslim Personal Law once upon a time, but their powers had been taken over by civil courts during the British rule.
Even assuming that the practice of Talaq in respect of personal law is constitutionally valid the condition precedent for invoking triple Talaq was satisfied or not cannot be adjudicated or inquired into by the Quazis. Such a procedure can be conducted only by a court of law, she said.
The petitioner further said that the mandatory conditions for pronouncing triple Talaq are not being followed by many Muslim men and that Muslim women were left in lurch due to the lacuna. "They are asked to be satisfied by certain reliefs given under the Muslim Women (Protection of Rights on Divorce) Act, 1986," she said.
http://timesofindia.indiatimes.com/india/PIL-against-Muslim-clerics-issuing-divorce-certificates/articleshow/20434847.cms
-------------
Implement Laws on Child Protection, NSHR, Madina, Urges Authorities
June 05, 2013
MADINAH — The National Society for Human Rights (NSHR) has called on authorities to implement child protection laws.
Sharaf Al-Qarafi, Director of NSHR's branch in Madinah, was quoted as saying by Al-Madinah newspaper that the call has come following a few recent incidents.
The NSHR is following up the case of an infant who suffered for two weeks because a nurse allegedly left a needle inside his chest. The society is also following up the case of two Afghan children who ran away from home because they were allegedly mistreated by their parents.
Al-Qarafi said: "We started gathering information about the case of the baby who was the victim of a botched circumcision that he underwent at a private polyclinic.
"These are violent practices against innocent children. There should be a special law to protect those innocent creatures."
Meanwhile, six families in Madinah are in pain after their babies suffered botched circumcisions at the hands of an ENT specialist at a private polyclinic.
The parents are worried that their babies might not be able to use their penises in the future because the doctor, who did not have any license to perform such procedures, had cut too deep into the organs' skin.
A father of one of the victims said his baby's health has been deteriorating after the botched circumcision procedure.
Another parent called on the authorities to refer all victims to advanced hospitals in the Kingdom for proper treatment.
Dr. Hassan Sani, associate professor of psychology at Taiba University, described what happened to the children as a major disaster that will have an impact on their mental health, especially as they might not be able to enjoy a married life and have children.
"Those children and their families need to undergo a comprehensive psychological rehabilitation program to help them come to terms with their condition and life.
"A hope of recovery should be instilled in their minds."
Dr. Salih Khawaja, plastic surgery consultant, offered a glimmer of hope to parents of the victims.
He said it is possible to reconstruct the victims' genital areas. When the victims turn 10, they can undergo several skin grafts to repair the affected areas.
He noted that there are several specialist hospitals in the Kingdom that can perform this type of operation.
Muhammad Al-Qayedi, director of the polyclinic where the children had the circumcisions, said he has provided the Madinah Health Affairs with all the information they needed about the doctor.
Sulaiman Al-Khareef, a lawyer, said medical error compensation ranges between SR90,000 to SR150,000 in the Kingdom while in other countries it can reach SR500,000 to SR1 million.
He said no case on this issue has taken place in the Kingdom before.
http://www.saudigazette.com.sa/index.cfm?method=home.regcon&contentid=20130605168612
------------
'Unemployment main reason for late marriages in Kashmir'
IMRAN MUZAFFAR
June 05, 2013
Srinagar, June 4: A research in 2009 revealed that late marriage phenomenon was increasing in Kashmir due to acute poverty and prevailing conflict. Since then the figures have swelled to double with studies and analysts saying rising unemployment is the main big reason why this trend continues, leading to frustration, and in some cases increasing suicidal tendencies, among youth.
The 2009 study conducted by University of Kashmir sociologist Prof B A Dabla had revealed that actual age of marriage in Kashmir had risen to 31 years in male and 27 in female category respectively. The desirable age of marriage, it said, was 23 years in male and 20 years in female category.
"This was the situation in 2009. After three years, figures must have increased to a large extent. We are soon going to conduct another study on the subject," Prof Dabla told Greater Kashmir.
The survey, Prof Dabla being its principal investigator, had revealed that socio-economic and educational-political developments in Jammu and Kashmir had radical impact on the practice of marriage. "Politically-oriented developments in last 20 years of militancy had further changing impact on the traditional pattern of late marriages in Kashmir," it stated.
The study had stated that major causes of late marriage were: acute poverty, dowry in different shapes, attaining modern education, present conflict situation and rising employment. "Other minor factors which contribute to the emergence of late marriage in Kashmir are illiteracy, modernization impact, health abnormality, customs and traditions, caste consideration and search for proper match," it stated.
"The problem is acute. It has devastatingly intensified in three years," Prof Dabla said. "In our 2009 study, we had pointed out many causes of promulgation of this phenomenon. Right now, unemployment is one main big reason."
The study, conducted on 1500 respondents from 10 districts of Kashmir division, had blamed the phenomenon of late marriage for rising suicides in Kashmir. "Late marriage has long-time implications on individuals and society at large," it stated. "Its impacts are various forms of mental depression, increase in suicidal rate and encouragement of immoral activities."
Linking the phenomenon with health, the study had also identified consequences of late marriage including abnormal child birth, increase in crimes and frustration of youth. Increase in divorces was one the main consequences of the phenomenon, the study found. The study also blamed late marriage phenomenon for imbalanced sex ratio and drug addiction.
A research conducted by the Department of Immunology and Molecular Medicine at SKIMS this year blamed late marriage for possible genetic disorders among Kashmir women, naming it Down's Syndrome. "Down's syndrome seems to be occurring at a higher frequency in persons [who resort to late marriage]," the study said.
The issue of late marriage is also attracting young researchers to conduct surveys and has of late become a subject of study in sociological, anthropological and economic studies. An academic at Kashmir University said that late marriage is becoming a dominant subject of study and research in many departments including sociology, psychology and economics.
Interestingly, Jammu and Kashmir has the highest number of unemployment rate in north India, which according to experts is one of the main causes of increase in late marriages. Around 5.94 lakh youth have registered themselves with the employment department in order to get jobs, a government survey revealed in March this year.
http://www.greaterkashmir.com/news/2013/Jun/5/-unemployment-main-reason-for-late-marriages-in-kashmir--70.asp
------------
A decorated Navy SEAL who turned into a woman
Daily Mail
June 5, 2013
A FORMER Navy SEAL has written a book about the 20 years that she spent in the elite squad as a man before living life as a woman.
Kristen Beck was called Chris while she served in the famous Navy SEAL squad, a team which gained international recognition after eliminating al- Qaeda top shot Osama bin Laden.
As Chris, Beck served for 20 years in SEAL team 6 and retired just months before the May 2011 raid on bin Laden's compound in Pakistan.
During her time in the military, Beck went on 13 deployments — including seven in combat zones — and earned both a Purple Heart and a Bronze Star.
Now she is detailing her multi- year process in transitioning from living life as one of the world's most highlyskilled soldiers to that of her female personality that feels like " more of a match to her emotional personality". With the help of author and psychiatry professor Anne Speckhard, Beck has penned a book called Warrior Princess and attempts to explain the need for her transition. " Chris really wanted to be a girl and felt that she was a girl and consolidated that identity very early on in childhood," Speckhard told ABC News. The book was released over the weekend, and addresses how she dealt with living as a man in order to continue to serve her country.
Transgender individuals are not allowed to serve in the US military, as that right was not included in the recent overhaul of the ' Don't Ask, Don't Tell' laws that now permit gays and lesbians from serving in the armed forces.
Beck is now promoting the book as she pursues her new career as an activist and public speaker. She has created a garden in the backyard of her home in St. Petersburg, Florida, and is opening it up to returning veterans from Iraq and Afghanistan in an effort to help calm them as they return to civilian life.
Mail Today
------------
Femen: Tunisia detains, expels Ukraine topless activist
June 05, 2013
Tunisian police detained a Ukrainian topless activist in the capital Tunis before expelling her from the North African country on Tuesday, a leader of the women's protest movement Femen said.
"Some men entered her hotel room, ordered her to take her belongings and drove to the police... She was deported and is now on a plane to Kiev," Femen's leader in Paris, Inna Shevchenko, told AFP on the phone.
Meanwhile, three other Femen women, two French and one German, face jail terms of up to a year when they go on trial in Tunis on Wednesday, although their lawyer is confident of a lighter sentence.
They are charged with indecency and an attack on public morals after staging a topless protest last week outside the main courthouse in Tunis in support of Sboui, a young Tunisian with the same "sextremist" movement.
Sboui, who was arrested last month after painting the word "Femen" on a wall "near a cemetery in an act of protest against hardline Islamists, is separately due to appear before an investigating judge on Wednesday.
Held in detention since May 19, she has not yet been formally charged but risks between six months and two years in jail if tried for indecency and desecrating a cemetery.
The judge has indicated that she could be accused of acting as part of an organised gang and therefore attract a heavier sentence.
http://english.alarabiya.net/en/News/middle-east/2013/06/04/Femen-Tunisia-detains-expels-Ukraine-topless-activist-.html
------------
Domestic violence on the rise in Aceh
Nadya Natahadibrata
June 05 2013
A coalition of women's rights groups report that cases of violence against women have been on the rise in Aceh in the past two years.
The coalition, Jaringan Pemantauan 231 (231 Monitoring Network), of non-governmental organizations (NGOs) monitors the implementation of Article 231 of Law No. 11/2006 on female empowerment and child protection in Aceh.
In its survey found 1,060 reported cases of violence against women in the province in 2011 and 2012, of which they were able to fully verify 561.
Of these cases 73.6 percent were domestic, 224 cases in 2012 up from 189 in the previous year.
Samsidar, an activist from LBH Apik Aceh, one of NGOs in Jaringan Pemantauan 231, claims the large number of cases is a legacy from violent conflict in the region.
"In Aceh, violence often takes place in public places and no sanction is handed down to the perpetrators. It is then internalized within society without any concrete solution by the government," Samsidar said on Tuesday.
Suraiya Khamaruzaman of women's rights organization Flower Aceh put the blame on the Sharia-inspired ordinances in the region.
Full report at:
http://www.thejakartapost.com/news/2013/06/05/domestic-violence-rise-aceh.html
------------
In Afghanistan, Women Denied Their Inheritance Now Have A Champion
June 4, 2013
By Jay Price — McClatchy Foreign Staff
KABUL, AFGHANISTAN — A modest campaign sponsored by the U.S. government has begun tackling one of the most basic problems on the long list that women face here: being robbed of property that they have rightfully inherited.
A 30-day pilot program of television and radio ads and billboards in Kabul province, coupled with an ongoing series of workshops in three Kabul districts and around the city of Jalalabad in the northeast, have begun spreading the word that under Afghan and Islamic law, women are entitled to a share of the property when their parents or husband dies.
That was news to many, and dozens of women have been pouring in to the Ministry of Women's Affairs over the last few months for help getting their inheritance. Those taking the even riskier step of filing a legal grievance against male relatives jumped from little more than half a dozen a year nationally to nearly 50 in Kabul and almost 40 elsewhere in Afghanistan in the first few months of 2013, said Fawzia Amini, head of the ministry's legal rights department.
Full report at:
http://www.fresnobee.com/2013/06/04/3327060/in-afghanistan-woman-denied-their.html#storylink=cpy
------------
Behind Black Robes, Hijabs and Niqabs, Saudi Women Are Dreaming Big
Anne Doyle
June 05, 2013
If you think "Saudi feminist" is an oxymoron, come with me behind the walls of the female side of the campus of Prince Mohammad University (PMU), a new, private, co-ed centre of higher education in Saudi Arabia's Eastern Province, just across the Arab (Don't say Persian!) Gulf from Iran.
Yes, a 20 foot wall separates male and female students in a country where unrelated women and men aren't allowed to mingle, not even for a cup of coffee at the local Starbucks SBUX -0.25%. But once inside PMU's female, inner sanctum — where all classes are taught in English, you will meet a new generation of ambitious, highly-educated Saudi women who remind me of young, American feminists in the 60's and 70's.
Full report at:
http://www.forbes.com/sites/annedoyle/2013/06/04/behind-black-robes-hijabs-and-niqabs-saudi-women-are-dreaming-big/
------------
Jailed God man Gulzar Ahmad Bhat's follower lodges complaint of rape against cops
Jun 04 2013
Srinagar: A female follower of Gulzar Ahmad Bhat, the self-styled godman arrested on charges of sexual exploitation of girls studying in his religious school, has lodged a complaint before a local court alleging that two policemen had raped her in custody.
The woman, aged around 19 years, yesterday filed a complaint before the Chief Judicial Magistrate Srinagar in which she alleged that she was raped by two policemen during her detention at Kothibagh police station last month.
Full report at:
http://www.indianexpress.com/story-print/1124946/
-------------
Husband to Be Flogged For Slapping Wife in Saudi Arabia
June 05, 2013
Manama: A man in Saudi Arabia charged with slapping his wife was sentenced to 10 days in prison and 30 lashes.
The court in Al Qateef in the Eastern Province said that the wife could witness the flogging in retribution for the physical pain her husband caused her, Saudi daily Al Sharq reported on Wednesday.
The husband will also have to take part in special sessions on marriage counselling and on how to treat and deal with spouses, the judge ruled.
According to the court documents, the wife, in her 30s, filed the case after her husband slapped her on the face during an argument.
He admitted the act, arguing that she had been impolite with his relatives, the daily said.
http://gulfnews.com/news/gulf/saudi-arabia/husband-to-be-flogged-for-slapping-wife-in-saudi-arabia-1.1192906
------------
Expat Women in Saudi Arab Haven't Lost Hope
June 05, 2013
JEDDAH – Expat women who are under the sponsorship of their male guardians and working illegally are not included in the amnesty, spokesman of the Ministry of Interior Hattab Al-Inizi has clarified.
Expat women are not allowed to transfer their sponsorship from their male guardians to their employers, he told Saudi Gazette.
Hundreds of expat women, who are under their husbands' or fathers' sponsorship, are working in private schools, beauty salons and many other places in violation of labor laws, which clearly stipulate that dependents of expat workers cannot take up jobs.
When the crackdown on undocumented and illegal workers began in March, many private schools and places where such women were working closed down. The grace period announced by the King gave them a reprieve and a hope that working expat women too will be covered under the amnesty and allowed to transfer sponsorship.
Full report at:
http://www.saudigazette.com.sa/index.cfm?method=home.regcon&contentid=20130605168592
------------
Lady Magistrate Ordered To Pay Rs One Lakh as Compensation
June 04, 2013
Chennai: Madras High Court, in a unique verdict of its kind, ordered a lady magistrate of Dharampuri to pay Rs one lakh as compensation to a lady plaintiff for wrongly putting her into custody, thereby violating her fundamental rights. The High Court ruled that the action of the lady magistrate was not right.
This Court also ordered a departmental enquiry against the lady magistrate. Justice Vinod K. Sharma of the High Court also imposed a fine of Rs one lakh on her for filing a false affidavit in which she had stated that she had not ordered the (lady) plaintiff to be sent to jail. Justice Sharma also said in his verdict that the action of Dharampuri magistrate was unjust.
The knowledge about her carelessness and unjust verdict had come to light in October 2000 but instead of rectifying her mistake she (lady magistrate) continued treating the plaintiff like an accused and subsequently released her on bail. The H C judge further said that the (lady) magistrate, because of her irresponsible action deprived the applicant / plaintiff of her freedom, thus violating her fundamental rights.
Full report at:
http://www.milligazette.com/news/6983-lady-magistrate-ordered-to-pay-rs-one-lakh-as-compensation
------------
URL: https://newageislam.com/islam-women-feminism/pil-muslim-clerics-issuing-divorce/d/11911