New Age Islam News Bureau
19 Feb 2018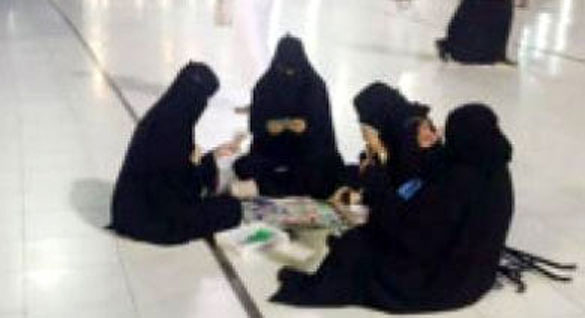 Caption: Women playing Sequence at the Holy Mosque in Makkah – Okaz
-----
• 'Where Have The Young Men Gone?' Single Syrian Women Search for Soul mates
• 29% Increase in Number of Saudi Female Lawyers
• Muslim Girl in Lion Dance Troupe a Hit in Malaysia
• Muslim Girls from Bihar Show Willingness to Study Abroad, But Want Clarity on Dressing System and Security
• Iraq Court Convicts 'Duped' IS Foreign Widows
Compiled by New Age Islam News Bureau
URL: https://www.newageislam.com/islam-women-feminism/picture-women-playing-board-game/d/114333
--------
Picture of women playing board game at Makkah mosque goes viral
February 19, 2018
Manama: A picture of four fully-covered women sitting cross-legged at the mosque and playing a board game went viral on social media, triggering a wide array of comments.
"The women were spotted at around 11 pm on Friday playing the board game Sequence at the western square near King Abdul Aziz Gate," Saudi daily Okaz reported on Monday, citing a source.
"The operation room was alerted and the women's section at the General Presidency was tasked with dealing with the situation. Supervisors went up to the four women and requested the women to respect the sanctity of the mosque and stop their game. The women complied and left."
"Regretfully, there are some people who use such incidents to doubt the professional commitment of the staff and question their work."
The General Presidency for the Holy Mosque in Makkah and the Prophet's Mosque in Madinah confirmed that it had told the women not to play the board game at the Holy Mosque.
Most online users condemned the attitude by the four women whose nationality was not known, saying that they should respect the spiritual significance of the mosque.
"The Holy Mosque is for prayers, supplications and devotion, and all people should make sure nothing else disturbs their piety," one user said.
However, another user said that although he did not condone the "public show" by the four women, he compared it to the use of smartphones by some worshippers.
"Some people, waiting for prayers or for friends, have a tendency to take out their cell phones and use applications for several purposes," he posted.
http://gulfnews.com/news/gulf/saudi-arabia/picture-of-women-playing-board-game-at-makkah-mosque-goes-viral-1.2175765
--------
'Where Have The Young Men Gone?' Single Syrian Women Search for Soul Mates
19 February 2018
Syrian student Nour wistfully examines her bare ring finger, then scans fellow classmates around her at Damascus University. Amid the sea of women, there's no eligible single man in sight.
At 30, Nour says she is eager to get married — but Syria's protracted conflict means potential suitors have emigrated, joined the army or lost their lives.
"I hope a wedding ring will decorate this finger someday," says Nour, who asked to use a pseudonym to speak freely.
"But there are no more young men here. They all left years ago. I'm noticing a drop year after year."
Syria's conflict erupted in 2011 with mass protests, just as Nour was preparing to graduate with her first degree in economics. She recalls fielding weekly marriage proposals at the time.
"But today these proposals have almost completely stopped. They're limited to ones I see as incompatible for a normal marriage — either from men who are already married or old!"
To pass the time, Nour has opted to pursue her second degree at Damascus University in literature.
"I've got nothing to fill my time with. No friend, no lover, no husband," she sighs, pulling her dyed blonde hair away from her face.
"I'm terrified I'll find a grey hair before I get married. I'll definitely lose all hope at that point."
In Syria's broadly conservative society, women were generally expected to marry in their 20s, but the lack of eligible bachelors has somewhat relaxed those norms.
"Now, because of the crisis, a woman could marry at 32 without people saying she's late to wed," said Salam Qassem, a psychology professor in Damascus.
More than 340,000 people have died in Syria's war, and thousands of men have been deployed on front lines far from home.
Of the country's pre-war population of 23 million, more than five million have fled the country and even more are internally displaced.
That has unraveled the social networks parents once used to find potential spouses for their sons and daughters, said Qassem.
"Neighbors used to all know each other in the past, or could get to know each other easily. But today, families are scattered all over the place," she said.
Some Syrians have creatively circumvented such obstacles with "Skype weddings," where brides and grooms in different provinces or even countries authorize a third party to sign their marriage licenses as they exchange vows online.
Yusra, 31, said the fact that she has yet to wed makes her parents fret that she will "miss the marriage train."
"I don't want you to become a spinster," her mother warns her repeatedly, advising her to "look around carefully to find a catch."
But much like Nour, Yusra — who works as a government translator — finds herself surrounded by women or by male colleagues that she considers too old to be compatible.
"Everyone knows a huge section of Syria's youth has paid the biggest price for what's happening," the tall, slender woman told AFP.
"Some emigrated. Some are fighting. Financial considerations prevent others from even thinking about getting married — not to mention, of course, those who died over the past seven years," Yusra said sadly.
On top of all that, she said the war has "widened the sectarian rift in society," making people from different religious backgrounds less likely to get hitched.
The war has also led to skyrocketing inflation, widespread unemployment, and economic losses estimated at more than $225 billion — making 37-year-old Firas balk at the thought of a wedding.
"Rising living costs and other financial factors make getting married like mission impossible," said Firas, who works in a washing machine repair shop in the Damascus neighborhood of Bab Touma.
Mortar rounds fired by rebels entrenched outside the capital have landed near his shop, endangering his life and those of this customers.
"I can't make plans or imagine my future. I'm living day by day — God knows if I'll be alive tomorrow," said Firas, who keeps a pencil tucked behind his ear even when he is not in the shop.
"Anyone that gets married in these circumstances is crazy. I can't guarantee a safe and dignified life for myself, so how I could I guarantee one for my wife and children?"
In a nearby district, medical student Munzer Kallas hangs a massive calendar on his bedroom wall, with key dates circled in red.
They mark upcoming application deadlines for scholarships to pursue his studies abroad.
"I don't think about marriage at all. Marriage needs stability, and I decided to follow my brother to Germany," said Kallas, 26.
"I'm better off looking for a plane ticket than a wife."
https://english.alarabiya.net/en/features/2018/02/19/-Where-have-the-young-men-gone-Single-Syrian-women-search-for-soulmates.html
--------
29% increase in number of Saudi female lawyers
Feb 19, 2018
RIYADH — There has been a 29 percent increased in the number of registered female legal practitioners in the Kingdom.
The total number of the licensed Saudi lawyers has reached 4,816, consisting of 4,607 men and 209 women in the fourth and final quarter of 2017, the Arabic daily Al-Watan reported quoting a quarterly report by the Authority of the Saudi Lawyers (ASL).
The authority said there are 8,766 law graduates currently under training. They include 6,835 men and 1,931 women.
It said the number of Saudi women lawyers has increased by 29 percent compared to 13 percent for men.
The authority said it received about 45 complaints during the past year of which six were settled by reconciliation, 17 reserved and 13 referred to the concerned authorities. "Nine complaints are still under study," it added.
It said as many as 23,000 visits were made to the authority's website, on which more than 2.6 million tweets were posted.
The authority said it received 5,626 telephone calls during the year and its electronic pages were browsed more than 35,000 times.
In collaboration with the Ministry of Education, it has initiated a legal scholarship program of which about 170 law students have benefitted, the authority said.
"We have also conducted a six-week training program to arm lawyers with skills needed for the labor market in which 25 women lawyers participated," it said.
The authority said it has launched a number of initiatives to promote the institutional work including a registry for the law firms and a referral number to the lawyers, which will enable the concerned government authorities to provide services to their offices.
"The referral number will enable the lawyer to open a file at the labor office, open a bank account and other various services," it said.
The authority said it had also provided on its electronic gate enough data about the reliable law offices in Arabic and English for general use by the public.
http://saudigazette.com.sa/article/528668/SAUDI-ARABIA/29-jump-in-number-of-female-lawyers
--------
Muslim girl in lion dance troupe a hit in Malaysia
FEB 19, 2018
PETALING JAYA • Despite opposition from her relatives and friends, a Mandarin-speaking Muslim girl insisted on joining a lion dance troupe.
"Friends and relatives think that as a Muslim, it is not right to join the lion dance troupe. I (see) lion dance as a sport," Ms Mariam Abdul Nazar said in a StarTV video that has gone viral.
The video is warming hearts at a time when rising Islamic conservatism in Malaysia seems to be fraying inter-racial bonds.
The 20-year-old said she had to explain to her friends and relatives that lion dance troupes perform and participate in competitions. She added that only then did her friends and family understand her desire to be part of the team.
Ms Mariam, a business student at Universiti Malaya, said she has been a drummer in the troupe for the past eight years.
She has picked up Mandarin along the way.
"It's part of the reason why my Mandarin is okay. I train here and get to communicate," she said.
Ms Mariam added that she joined the troupe because she liked "the sound" the drums make.
"It's powerful, it looks cool and it has a pattern," she said.
http://www.straitstimes.com/asia/se-asia/muslim-girl-in-lion-dance-troupe-a-hit-in-malaysia
--------
Muslim girls from Bihar show willingness to study abroad, but want clarity on dressing system and security
by Santosh Singh
February 17, 2018
Over 50 Muslim students from Bihar's leading colleges such as Patna Women's College, Magadh Mahila College and Maulana Azad Engineering have expressed their willingness to study at US universities under ambitious Indo-US collaboration programme. While the students, who participated at a workshop (13-14 February) at Patna attended by Ohio State University, expressed enthusiasm at prospect of studying in US, they also wanted to know about their security, parity with students from other nationalities and religions and more importantly if they would be allowed to wear full dresses.
Patna is among six Indian cities chosen for the programme promotion along with Delhi, Hyderabad, Aligarh and Kurnool. Bihar Muslim students are elated at Patna's inclusion in the 75,000 US dollar one-year education promotion programme, which started in September last year, to prepare students to seek admission in post-graduation and research in science, technology, engineering and mathematics (STEM). The programme is for Muslim girls and girls from other disadvantaged groups, ones belong to scheduled caste and OBCs.
Syed Hasnain, local expert who played a crucial role in mobilising and motivating Muslim students, told The Indian Express: "Women in STEM roadshow, as this is popularly known as, did evoke good response in Patna after we were hard put by Muslim women students to convince them to attend it. Most of them come from poor economic background with some of them having annual family income of Rs 2 lakh. Since I know about only four Muslim women having gone abroad to pursue research, this may well be a huge opportunity. Our intention is to prepare them in such a manner that they are able to get scholarship, which can make their education almost free".
Karen E Irving, an associate professor at the Ohio State University, told The Indian Express:"As per figures of US department of state, USA had about 9,70,000 international students in 2015. Of it, 1,35,700 students were from India, 14 per cent of the total students. China, South Korea, Canada and Mexico had sent maximum of these students to US". Sultana N Nahar, a reseach professor at Ohio State Unity, added: "Muslim women students from India had neglible presence – less than even 0.25 per cent – in US educational institutions. This is where this programme holds so much importance".
Ayesha Tabassum, a Chemistry third year graduation student in Magadh Mahila College, Patna, said: "With my family's annual income ofRs 1.20 lakh, I cannot think of going to US for higher studies. I attenfed STEM to settle my doubts on dressing, security and parity of treatment with other students. I am now looking forward to tough preparation. If I am able to make the cut for science research in US, it would be a realisation of a dream".
Sidra Perbeen, pursing Zoology honours from Patna Women's College, said her father, a private teacher, cannot afford her higher education from even a big Indian ciries. She said STEM programme had given her a ray of hope. Amber Jabeen, doing research in science from Patna University, said she had been motivated to prepare hard to get admission at Ohio State University. "We asked some questions from Ohio faculty members and are now looking forward to mentoring from senior teachers", she said.
Dr Nasreen Haque, president of Intalage Inc, an organisation which sends STEM background teachers, mostly women, told Bihar Muslim students not to be too wary about gender and religious discrimination. "At times, media blows it out of proportion. Muslim girls are free to wear veils", she said allaying apphensions of participating students. The STEM programme would not offer any monetary benefits to students but would work as a facilitator and guide for students to get enrolment. The programme is part of Indo-US exchange programme, agreed upon during tenure of Dr Manmohan Singh as India's PM.
http://indianexpress.com/article/india/muslim-girls-from-bihar-show-willingness-to-study-abroad-but-want-clarity-on-dressing-sytem-and-security-indo-us-programme-5067826/
--------
Iraq court convicts 'duped' IS foreign widows
February 19, 2018
BAGHDAD - A court in the Iraqi capital on Sunday sentenced to death a Turkish woman and 11 other foreign widows to life in jail for belonging to the Islamic State group.
The 12 women, 11 Turks and an Azeri, some of whom appeared in the dock nursing infants, were convicted despite their pleas that they had been duped or forced by their husbands to join them in Iraq .
The women, aged between 20 and 50, were all arrested in Mosul or Tal Afar where their husbands were killed as Iraqi forces recaptured the northern cities from IS last year.
"I got to know my husband through the internet. He proposed we meet in Turkey but an intermediary there told me he would drive me to my future husband without saying where," said Angie Omrane, the Azeri woman.
"I thought we were staying in Turkey but I found myself in Syria and then my husband took me to Iraq ."
Leila, one of the Turkish women, said: "My husband forced me to come to Iraq by threatening to take away my two-year-old son if I didn't follow him.
"I didn't take part in any violent action. I stayed at home the whole time."
Only the woman condemned to death, speaking through an interpreter, acknowledged that she willingly travelled to Iraq with her husband and their children.
"We had to leave Turkey because my husband was a wanted man. I wanted to live in an Islamic state where sharia is the law of the land."
But "I regret having come," said the 48-year-old Turkish woman whose husband and two sons were killed in air strikes.
The state-appointed defence lawyers argued that the women had all been duped into coming to Iraq and were not involved in any acts of violence.
But they were found guilty under Article 4 of Iraq's anti-terrorism law against "any person who commits, incites, plans, finances or assists in acts of terrorism" and for illegal entry into the country.
The woman condemned to death broke down in tears while another Turk almost fainted.
A judicial source said the sentencing of the women by a three-judge panel had followed weeks or even months of questioning.
They have one month to lodge an appeal.
A total of 509 foreign women, including 300 Turks, are being held in Iraq with 813 children, according to a security source.
https://nation.com.pk/19-Feb-2018/iraq-court-convicts-duped-is-foreign-widows
--------
URL: https://www.newageislam.com/islam-women-feminism/picture-women-playing-board-game/d/114333
New Age Islam, Islam Online, Islamic Website, African Muslim News, Arab World News, South Asia News, Indian Muslim News, World Muslim News, Women in Islam, Islamic Feminism, Arab Women, Women In Arab, Islamophobia in America, Muslim Women in West, Islam Women and Feminism