New Age Islam News Bureau
9 Jun 2017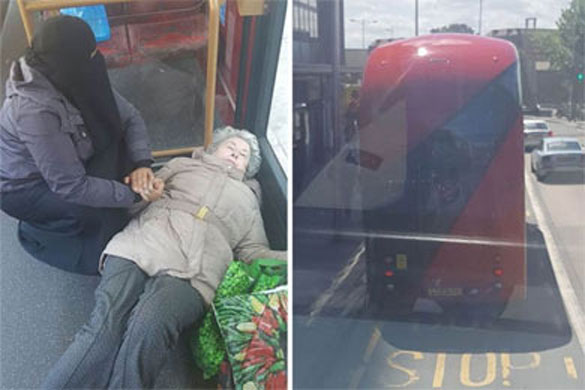 VIRAL: Pic of a Muslim woman helping an elderly passenger has been shared by thousands online
----
• Muslim Student Asked To Remove Hijab before Entering Karnataka Assembly
• For The Ladies, Ramadan in Riyadh Is Like Never Before
• Muslim Women Clerics Challenge Traditional Narratives
• Oshawa, Ont., Woman Charged In 5 Alleged Assaults On Muslims Over 2 Days
• Afghan Women's Arrest: Main Suspect Identified By CCTV Footage
Compiled by New Age Islam News Bureau
URL: https://www.newageislam.com/islam-women-feminism/photo-muslim-woman-helping-elderly/d/111477
--------
Photo of Muslim Woman Helping Elderly Woman Who Fell On Bus Goes Viral
8th June 2017
The touching photo – which shows the Niqab-wearing woman kneeling beside the pensioner while holding her hand – has already been shared by thousands online.
The Facebook post was shared by Hamza Young Boss with the caption: "This is the real Islam".
Social media users have been saying they hope the image proves Britain will defeat terrorist-inspired hate in the wake of the recent terror attacks.
The UK's terror level has remained "severe" despite three major terror attacks which have rocked Britain in three months.
Hamza said the 84-year-old woman had apparently got her head stuck between the door and metal pole while travelling through east London.
She was then confronted for 20 minutes by the stranger while they waited for an ambulance to arrive.
He posted in the caption: "An 84-year-old lady just got her head stuck between the door and metal pole on El1 bus from Ilford to Barking.
"The Muslim lady holding her hand supported her for 20 minutes until the ambulance arrive. This is the real Islam."
The picture has since been shared more than 40,000 times and liked by 35,000 others.
Facebook users were quick to praise her actions.
Bethany Roberts said: "Love this. People need to realise that the terrorists are not Muslim. Real Muslims are actually such a lovely community of people."
Jordan Mortlock wrote: "Lovely. Love it when a community can come together as one."
Figures release by Sadiq Khan, the mayor of London, have shown a large increase in Islamophobia since the attack on Saturday.
This comes after another photo of a Muslim woman which went viral in March following the attack which Khalid Masood's rampage which killed four people.
http://www.dailystar.co.uk/news/latest-news/620918/Muslim-woman-elderly-woman-fell-on-bus-viral-Facebook-photo
--------
Muslim student asked to remove hijab before entering Karnataka Assembly
June 8, 2017
Bengaluru, June 8: A Muslim student went through a horrific experience when she was asked to remove her hijab and subjected to security check for around 20 minutes before entering Karnataka Assembly. The undergraduate student of journalism arrived to with her classmates to witness a Karnataka Assembly session on Wednesday when she was allegedly mistreated by security officials. The girl broke down after she was stopped from entering Karnataka Assembly because of her hijab. The Speaker of Karnataka Assembly K B Koliwad ordered an inquiry and sought a report from the chief marshal, adding that they have 'no dress code'.
A group of students from from Christ University – a private varsity in Bangalore – visited Karnataka Assembly to watch the proceeding. A Muslim girl was stopped and asked to remove her hijab, while other students walked in. "Someone took a video of the police asking her to remove the hijab. The police allowed her to enter the assembly gallery only after the teachers assured them about the girl's identity," Christ Junior College Principal Fr Biju K Chacko told IANS. The girl was wearing her college uniform of western suits and long trousers, besides the hijab.
However, the girl watched the proceedings of Karnataka Assembly, a teacher accompanying the group said, "She got emotional, wanted to leave and skip the session." Following the incident, Speaker K B Koliwad sought reply from chief marshal of the security staff. "We have no dress code in the Assembly. We will take action if there is violation of any rule," Koliwad was quoted as saying.
According to a report of The Telegraph, an aide in chief minister Siddaramaiah's office said marshals were wary of visitors with black clothes. "There have been instances when visitors bring black clothes to wave from the gallery and disturb the session. In this case, women staff frisked her (the student) and later let her join her friends in the gallery," said the official. Congress MLA and minister Roshan Baig also sought help from Speaker to stop such incidents in the future.
http://www.india.com/news/india/muslim-student-asked-to-remove-hijab-before-entering-karnataka-assembly-2212815/
--------
For the ladies, Ramadan in Riyadh is like never before
June 9, 2017
By Hanan Alnufaie
TRADITIONALLY the fasting month of Ramadan is an occasion for family gatherings, cooking delicious food, testing different restaurants and, of course, a renewed zeal for worship.
However, this Ramadan Saudi women in Riyadh are witnessing a host of new activities. These include family entertainment events, fashion shows, makeup workshops, beauty bazaars, children's activities and summer camps.
With this dramatic change in how the holy month is spent, Saudi Gazette sat down with a number of women to know how they think and feel about the new activities for ladies.
"If you have lived in Riyadh for a long time, you will surely notice the change. I personally enjoy it a lot. I just had an amazing evening yesterday. I went with my family to a wonderful fashion event at Four Seasons," Noura Ahmed, 24, said.
Noura, a fresh graduate, said she initially expected the place to be literally empty because everyone would be busy with worship or iftar parties. "However, the event turned out to fully crowded and it was obvious women enjoyed these types of events to the full," she said.
Noura considered it a big step, "because a few years ago we had nowhere to go and enjoy. I could only meet my friends at restaurants and eat. However, now the case is totally different, especially in Ramadan. I can participate as an organizer and exhibitor, or perhaps market the events. If I did not do any of these, I can simply go to see and buy the latest fashion designs and makeup products."
She added: "Ladies-only events in Ramadan also give us the chance to see our favorite female celebrities who come to meet their fans, take selifies and send them to Snapchat."
Salwa Abdullah, a mother and teacher, had a very similar impression. "Yes, I enjoy going to Ramadan ladies' events. Before we could only shop for Eid from the malls. We bought clothes, makeup and accessories from the brands displayed at the malls. This year, the situation has changed as I have many more options. I can buy my outfit from Saudi fashion designers and I can get different Saudi brands like Afnan Batel's makeup line. These ladies events opened the doors for talented Saudi women to showcase their abaya designs, outfit designs, accessories and even shoe designs," she said.
Talking about the disadvantages of having so many such events, she opened up her mind: "I love getting to know Saudi female designers who can change the traditional concept that a chic lady must get her items from a well-known brand. However, sometimes we have several events in one day. So you do not know where to go. To me that is not a good thing, because you will make people feel lost. The timing of these events should be more organized," she commented."
http://saudigazette.com.sa/saudi-arabia/ladies-ramadan-riyadh-like-never/#
--------
Muslim Women Clerics Challenge Traditional Narratives
Jun 8, 2017
Recent terrorist attacks such as the one in London inevitably lead to coverage of Islamist ideology, Muslim culture and Muslim women's rights. What is often missing, however, in my view is the fact that within Islam there are many diverse views – change is afoot and not least among women.
Indonesia recently hosted an unusual conference of Muslim women religious scholars that attracted hundreds of participants from across Indonesia as well as from countries such as Kenya, Pakistan and Saudi Arabia. This International Forum of Women Ulamas (Muslim religious scholars) concluded by issuing fatwas, or nonbinding religious edicts, against child marriage, sexual abuse and environmental destruction.
It is believed to be the first-ever such gathering of Muslim women ulamas. Women have long been sidelined from the teaching and interpretation of Islam. But today, in many countries, women ulamas are emerging and acquiring more significant roles.
Indonesia's women ulamasIn researching my book, "Mobilizing Piety," which looked at Islam and feminism in Indonesia, I met many Muslim women who are scholars, teachers and leaders of their religion. They are not alone. There are a growing number of women ulamas around the globe. But Indonesia, with the world's largest Muslim population, has an unusually long tradition of women ulamas.
Different from the Christian idea of priest or minister, the word ulama simply means a person who is learned in Islam. This can be a religious teacher or theologian, a judge in a religious court, a professor or a government religious official.
By this broad definition, women ulamas in Indonesia go back to the 17th century. Queen Tajul Alam Safiatuddin Syah ruled over the Islamic kingdom of Aceh (now Indonesia's northernmost province) for 35 years and commissioned several important books of Islamic commentaries and theology. At a time when female rulers anywhere in the world were unusual, she was the primary upholder of religious authority in what was then a prosperous and peaceful kingdom.
A more recent example is that of Rasuna Said, who started as a teacher in 1923 at one of the first Islamic girls' schools in West Sumatra. By the 1930s, she had become an important figure in the independence movement against the Dutch. After Indonesia achieved independence in 1945, Rasuna represented women's groups in the new government. Later she served as a member of an advisory council to then-President Sukarno.
Today in Indonesia, women ulamas are helping to change how Islam is understood and practiced. Over the last three decades a new generation of women religious leaders has emerged in Indonesia, though it is not known just how many there are.
As I found in my research, Indonesian women's rights activists are working together with women ulamas as well as progressive male ulamas who popularize alternative interpretations of the Quran that are empowering for women. For example, while some Muslims believe that the Quran allows husbands to strike wives who are disobedient, many activists counter this interpretation and point to other equally important verses that stress mutual respect and kindness between spouses.
Such a strategy has also been used by Muslim women activists in Iran and Malaysia, and is a focus of a global Muslim women's network, which works for Muslim women's equality. In many Muslim countries, women's rights activists lack religious credentials. Indonesian women Ulema are more accepted as they are trained in Muslim schools and Islamic universities.
Increasing number of women Ulema Aside from Indonesia, there are many other countries where women have begun to play a role as Ulema. Women prayer leaders (imams), however, remain rare. Many Muslims in Indonesia and elsewhere believe that women can be prayer leaders only to all-female congregations. Women-only mosques are still unusual, as in most Muslim societies, women pray at home or in a special section of the mosque. The only place with a long tradition of Muslim women who lead prayers is China.
Among China's 21 million Muslims, women-led mosques and Quranic schools go back to at least the 19th century. The phenomenon has apparently spread in recent years as the government has loosened some restrictions on religion.
In other countries, governments have established programs to train women ulamas – and imams – as a strategy to counter the growth of extremism.
For example, in Egypt, the Religious Endowments Ministry plans to appoint 144 female imams for the first time so as to teach women about Islam and stop them from being radicalized. And in 2006, Morocco introduced the "murshidat" – Muslim women religious leaders – who now number over 400. In Turkey, as part of its effort to spread Islam more widely, the government has increased the number of official Muslim female preachers, who currently number over 700.
In Europe and North America, women have recently begun to lead prayers at several mosques. Most of these mosques are for women, but more controversially, Muslim feminist and scholar Amina Wadud has led prayer services for mixed congregations. in New York City and London.
Struggles over women's religious authorityThese are major changes, and not all Muslims agree with them.
As scholar Kathryn Robinson points out, some conservatives argue that only men should be religious leaders. Indeed, some of the attendees at the Indonesian conference were reluctant to consider themselves ulama because they see it as a masculine role. Also the issuing of fatwas by the conference of women clerics is unusual.
The conference comes at an important time, when the voices of religious conservatives and extremists, whose adherents also include women, seem to be dominant in many Muslim societies. For example, since Indonesia democratized after 1998, conservative interpretations of Islamic law have placed restriction son women's mobility and autonomy in some regions of the country. The recent conference's fatwa against child marriage is especially significant because the percentage of women married before age 18 remains stubbornly high in Indonesia, with some religious leaders supporting early marriage. The same is true in other Muslim majority countries such as Egypt, where an estimated 17 percent of girls are married before their 18th birthdays.
Against such trends, the meeting of women Ulema shows a multifaceted Islam in which Muslim women clerics are asserting their rights and promoting social justice.
http://www.news-journalonline.com/news/20170608/muslim-women-clerics-challenge-traditional-narratives
--------
Oshawa, Ont., woman charged in 5 alleged assaults on Muslims over 2 days
Jun 08, 2017
A 47-year-old Toronto-area woman is facing multiple assault charges after allegedly targeting Muslims on three occasions.
Durham Regional Police allege the accused approached a couple including a woman wearing a hijab at an Oshawa, Ont., mall on May 21, uttered threats and assaulted them.
They say a bystander approached the accused to ask about her actions, and she allegedly kicked the female bystander and another male who attempted to intervene, both of whom are Muslims.
The next day, it's alleged the accused approached a Muslim woman at an Oshawa park and pushed her to the ground before fleeing the scene.
An Oshawa woman is charged with five counts of assault, and single counts of threatening death and threatening bodily harm.
Investigators say they are in contact with the Ministry of the Attorney General in regards to possible hate crime charges.
http://www.cbc.ca/news/canada/toronto/oshawa-woman-assaults-muslims-1.4152066
--------
Afghan women's arrest: Main suspect identified by CCTV footage
Jun 08 2017
ISLAMABAD: The main suspect has been identified on Thursday who facilitated three Afghan women, caught from the Islamabad airport, attempting to illegally board a London-bound flight of the Pakistan International Airlines on May 28.
The suspect, identified as Altaf alias doctor brought the three women to the airport and due to the fear of inspection, threw their passports into a dustbin and boarded his flight to London.
The suspect was identified with the help of CCTV footage.
According to an alert by the British High Commission Islamabad, the suspect despite travelling to London on May 28, later travelled to Muscat on May 30 with Oman Air.
The subject holds a valid 10-year UK visit visa, according to the alert sent to all airlines operating within Pakistan and FIA immigration.
The three women paid $20,000 each for traveling to London. The women were provided fake boarding passes with the aid of PIA Task Force head Israr Ahmed, who is in FIA's custody.
According to sources, the Afghan women were arrested in light of the information provided by Britain.
On May 28, three Afghan women were arrested for attempting to illegally board a London-bound flight of the PIA.
Officials of the FIA had said the three Afghan women — holding genuine Afghan passports — had obtained their boarding passes for a PIA flight to Kabul.
Once the ladies reached the departure lounge after passing through immigration, they were provided fake British passports and boarding passes for PIA's London-bound flight that was taking off at the same time.
Before the women could board the plane, however, FIA officials arrested them.
https://www.geo.tv/latest/145069-afghan-womens-arrest-main-suspect-identified-by-cctv-footage
--------
URL: https://www.newageislam.com/islam-women-feminism/photo-muslim-woman-helping-elderly/d/111477
New Age Islam, Islam Online, Islamic Website, African Muslim News, Arab World News, South Asia News, Indian Muslim News, World Muslim News, Women in Islam, Islamic Feminism, Arab Women, Women In Arab, Islamophobia in America, Muslim Women in West, Islam Women and Feminism