New Age Islam News Bureau
31 May 2014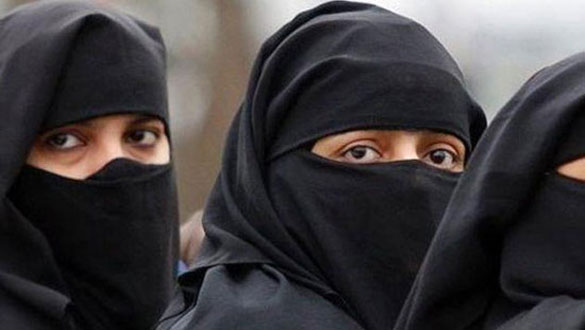 Female students in Princess Nora bint Abdul Rahman University for women in Saudi Arabia (Reuters)
----------
• Saudi Religious Police Arrests 60 Female Students for Attending Mixed Party
• Indian Film Actress Monica Converts to Islam and Quits Films
• Iran Population Drive Bugs Women's Rights, Health Advocates
• Standing by the Education Rights of Schoolgirls
• Niger Sees First Slavery Conviction over 'Fifth Wife'
• 'Loud Minority' Opposes Saudi Women's Employment, Lobbyist Says
• Women from Broken Homes More Prone To Domestic Abuse
• One Man, Two Wives and Many Accepted Forms of Violence in Pakistan
• Islamic Childhood Centre Open To All Cultures
Compiled by New Age Islam News Bureau
URL: https://newageislam.com/islam-women-feminism/photo-israeli-couple-kissing-during/d/87293
--------------
Photo of Israeli Couple Kissing During Meeting with Abbas in Ramallah Sparks Uproar
31 May, 2014
A photo of an Israeli couple kissing each other during a meeting with Palestinian Authority President Mahmoud Abbas in Ramallah on Wednesday has sparked a wave of criticism and sarcastic comments on the Internet.
Abbas's critics are using the photo to criticize him for meeting with Israelis. A video documenting the moment the two young Israelis kiss each other has appeared on Youtube, triggering strong responses from Muslims and Arabs worldwide.
On Wednesday, some 250 Israelis were invited to a meeting with Abbas in his Mukata presidential compound in Ramallah. The meeting was organized by a Palestinian committee that seeks to maintain contacts with Israelis as a way of advancing peace and mutual understanding.
During the meeting, Abbas told the visiting Israelis that he was interested in resuming the peace talks with Israel, reiterating his demand for the release of Palestinian prisoners.
Abbas also pledged to pursue security coordination with Israel. He dismissed criticism of the security coordination between Israel and the PA, saying: "Security coordination is sacred and it will continue despite our political differences."
Abbas's comments about the security coordination drew sharp criticism from many Palestinians, including leaders of the "anti-normalization" campaign in Ramallah who oppose all forms of contacts with Israelis.
But the photo of the Israeli couple kissing each other has drawn even sharper criticism, with comments posted by many Palestinians on Facebook and Twitter.
One Palestinian wrote: "How can we blame the Arabs for failing to defend Jerusalem when such immoral things are taking place in the president's office?" Another commented was: "This is the most famous kiss in history."
A third Palestinian wondered whether the kiss was part of the security coordination that Abbas was talking about during his meeting with the Israelis.
A Palestinian graphic designer from Nablus published a cover of a new "novel" entitled, "Kissing in the Times of the Mukata."
http://www.jpost.com/Middle-East/Photo-of-Israeli-couple-kissing-during-meeting-with-Abbas-in-Ramallah-sparks-uproar-354798
--------------
Saudi religious police arrests 60 female students for attending mixed party
31 May, 2014
The Saudi Religious Police have detained a group of young people at a mixed-gender graduation party, Al Arabiya Net reported on Friday.
The Commission of the Promotion of Virtue and the Prevention of Vice arrested 60 girls and 15 boys during the mixed party, which was reportedly organized by seven graduates.
No alcoholic drinks – banned in Saudi Arabia - were found by the police, an anonymous source told Al Arabiya.
The arrested girls were handed to their parents while the young men were referred to the relevant authorities.
The Saudi Religious Police works to enforce strict codes of conduct in the kingdom.
Members patrol the streets to enforce the separation of unrelated men and women, dress code and prayer by Muslims.
http://english.alarabiya.net/en/News/middle-east/2014/05/30/Saudi-religious-police-arrests-60-female-students-for-attending-mixed-graduation-party.html
--------------
Indian Film Actress Monica Converts to Islam and Quits Films
TNN | May 31, 2014
After musicians AR Rahman and Yuvan Shankar Raja, the latest to join the bandwagon of those who converted to Islam is actress Monika. The Azhagi actress revealed that not only did she convert to Islam and changed her name to MG Rahima, she also bid adieu to her film career. The actress added that she was planning to tie the knot, soon. The actress at a press meet added that she liked the principles of Islam and hence, took the decision.
Monica has been part of films including Inidhu Inidhu Kadhal Inidhu, Isai Arasan 23m Pulikesi, Varnam and the recent Jannal Oram.
http://timesofindia.indiatimes.com/entertainment/tamil/movies/news-interviews/Monica-converts-to-Islam-and-quits-films/articleshow/35832431.cms
-----------
Iran population drive bugs women's rights, health advocates
31 May, 2014
DUBAI — Iran's supreme leader has called for a population increase, in an edict likely to restrict access to contraception that critics fear could damage women's rights and public health.
In his 14-point decree, Ayatollah Ali Khamenei said increasing Iran's 76 million-strong population would "strengthen national identity" and counter "undesirable aspects of Western lifestyles".
"Given the importance of population size in sovereign might and economic progress ... firm, quick and efficient steps must be taken to offset the steep fall in birth rate of recent years," he wrote in the edict published on his website.
Khamenei's order — which must be applied by all three branches of government — in effect replaces the "Fewer Kids, Better Life" motto adopted in the late 1980s when contraception was made widely available.
Since then the birth rate has fallen from 3.2 percent in 1986 to 1.22 percent now, according to the CIA World Factbook. At current fertility rates, Iran's median age is expected to increase from 28 in 2013 to 40 by 2030, according to UN data.
But many Iranians are concerned about policy shifts to boost the population, something proposed for years by conservatives, including former President Mahmoud Ahmadinejad who favored nearly doubling the population to 120 million, encouraging women to stay home and devote their time to child rearing.
Unprotected
Reformist Iranians fear the fertility campaign could undermine the position of women in a country where 60 percent of university students are female but only 12.4 percent of the work force is, according to the Statistical Center of Iran.
There are also fears about sexual health.
"In order to fight AIDS, our only route is to distribute and teach people to use condoms," Dr. Minoo Moharez, head of the AIDS Research Center at Tehran University told Shargh daily.
"If, based on some policies, the distribution of condoms in the country is faced with limitations, it will cause horrible events, the increase of AIDS patients from unprotected sex will be compounded," she added.
Fertility is one of many issues that divides conservatives and reformists in Iran where President Hassan Rohani has called for as easing of social restrictions.
Rohani has said little on birth control, focusing his attention on seeking a deal with world powers on Iran's nuclear program in order to escape economic sanctions.
Farzaneh Roudi of the Population Reference Bureau, a Washington-based think-tank, said that if Tehran is concerned about an aging workforce, it could employ more of its women.
"The government could tap the women labor force, many of whom do not work in the formal economy," she said, arguing that the political drive for a baby boom was unlikely to succeed.
"It's hard for me to imagine that people will have more children because Khamenei wants them to," Roudi said.
http://www.saudigazette.com.sa/index.cfm?method=home.regcon&contentid=20140529206751
--------------
Standing by the Education Rights of Schoolgirls
31 May, 2014
Claiming that God directed the senseless kidnappings of hundreds of schoolgirls in Nigeria is nothing but reprehensible. The assailants, Boko Haram, either have a dubious understanding of their faith or, more likely, are acting in their own selfish political interests, apparent from the reports of lavish lifestyle of their deceased founder, M. Yusuf. The religious ideology proclaimed by groups like Boko Haram or Al-Qaeda is "a political ideology fashioned by misinterpreting, misrepresenting and corrupting the religious text" as Dr. Rohan Gunaratna of International Centre for Political Violence and Terrorism Research in Singapore points out.
To Nigerian Muslims, it is clear that the actions of Boko Haram, which include attacks on churches and mosques, killing hundreds of people including Christians and Muslims, are criminal and terrorist acts and have nothing to do with their professed faith. Nigerian Muslim cleric Ibrahim Ahmed Abdullahi, who publicly condemned Boko Haram's violence and was later killed by the group, told the Associated Press that the group recruits from among the impoverished youth by promising them "a more prosperous life at the end of a Kalashnikov rifle." Abdullahi told the AP in November 2010 that for people living in absolute poverty, any invitation to bring about change has an appeal.
Boko Haram is not alone among terrorist groups that feed on the desperation of young people, giving them a false hope of a better future and pushing them into a quick sand of perpetual violence. PKK in Turkey, a Marxist organization that is responsible for some of the highest number of suicide attacks in the world after Sri Lanka's Tamil Tigers and Al-Qaeda, has been feeding on the desperation of Kurdish youth whose families suffered ultranationalist policies and poverty for decades. University of Chicago professor Robert Pape, author of Dying to Win (Random House, 2006) and co-author with James Feldman of Cutting the Fuse (University of Chicago Press, 2010), demonstrated through 30 years of research that suicide terrorism in particular is associated with political occupation, rather than religious fundamentalism.
Actions of Boko Haram and others like it have no justification in or any association with any faith. They are rather associated with totalitarian mentalities that feed on young people's desperation, which is often a result of various forms of inaptitude, injustice or oppression by local governments, non-governmental actors or foreign powers. Needless to say, none of the conditions that play a role in the formation of such groups justify any of their atrocities. Muslims around the world must continue their loud condemnation of such terrorist acts and support the international community in aiding the releases of these schoolgirls.
Influential Muslim preacher Fethullah Gulen, who is considered by TIME magazine as "the most potent advocate of moderation in the Muslim world," has strongly condemned the kidnappings in Nigeria as well as other such violent acts. In an interview with the Atlantic in the aftermath of the attack on Malala Yusufzai in Pakistan, he said that denying girls access to education simply goes against the spirit of the Muslim religious tradition and that women should be able to take on every role in our society, including those of physicians, military officers, judges and head of state. He has advocated for women to have a powerful voice in the ongoing dialogue about the future of our communities.
Gulen believes that holistic education that augments math, science, language, humanities and arts with character development is the solution to addressing systemic societal problems. Intolerance of diversity and discrimination against women are but two examples of such societal problems that start at the mindset of the individual and should be addressed at that level first and foremost. That is the reason the Gulen-inspired educators around the world have been establishing educational institutions as the quintessential tool for building free and fair societies that protect and celebrate human rights of all citizens.
Individuals who share Gulen's ideas have founded hundreds of private, STEM-based, secular schools around the world, including in countries like Nigeria, Pakistan, and Afghanistan that serve boys and girls. President Karzai of Afghanistan and President Sharif of Pakistan recently praised the contributions of such schools to their societies.
The senseless abductions of young girls seeking nothing but a chance to learn only illustrates the threat that education poses to groups committed to a narrow worldview that suppresses human rights of others who do not think like them. The kidnappings must serve as a reminder to all in the Muslim world of the important role that education plays in cultivating free societies and in protecting people against totalitarian, oppressive forces.
Muslims must do more to publicly promote the shared values of life, liberty, compassion and dignity. These values are conferred on us by God, who in the Qur'an (Chapter 17, verse 70) has ordered us to: Treat people with dignity out of respect for their Creator, be concerned with the well-being of every human, have compassion for every suffering person and value every life equally.
As someone who comes from a family of teachers -- my mother, now deceased father, sister, two aunts and other relatives -- I constantly observed the effort these educators put into developing young minds and helping them achieve their true potential. I saw how their students appreciated that and expressed their gratitude later in their lives.
All around the world, there are people similarly dedicated to helping young generations actualize their true human potential, especially in areas where such opportunities are scarce. So when I see events such as those in Nigeria, it renews my commitment to the promotion of education and the protection of human rights and freedoms. If totalitarian-minded people are against educating girls, it must surely be the right thing to do.
http://www.huffingtonpost.com/alp-aslandogan/standing-by-the-education_b_5394316.html?utm_hp_ref=religion
--------------
Niger sees first slavery conviction over 'fifth wife'
31 May, 2014
A man has been sentenced to four years in jail in Niger in the first ever conviction for slavery in the country.
The pressure group Anti-Slavery International told the BBC the 63-year-old man was convicted of having what is known as a "fifth wife".
Men in Niger are allowed to have four wives under a local interpretation of Islamic law.
With a "fifth wife", no marriage takes place and the woman is treated solely as property.
Niger officially banned slavery in 2003 but anti-slavery organisations say thousands of people still live in subjugation.
The conviction took place in the town of Birnin Konni in south-west Niger, close to the border with Nigeria.
Anti-Slavery International says "fifth wives" are often girls of slave descent sold to wealthy men who view the purchase of young women as a sign of prestige.
The women face a lifetime of physical and psychological abuse and forced labour, the group says.
The case was taken to court by Anti-Slavery's partners in Niger, Timidria.
Sarah Mathewson, Africa Programme Co-ordinator at Anti-Slavery International, said it was "incredible" to achieve a conviction.
"It's been over 10 years since the law against slavery was passed in Niger and we've worked since then to bring perpetrators of slavery to justice," she said.
"We hope that this judgment will serve as a catalyst for more prosecutions, as we are pursuing many other cases before the courts."
In a landmark case in 2008, the West African regional body Ecowas found Niger's government guilty of failing to protect a woman from slavery. It ordered the government to pay compensation to the victim.
http://www.bbc.com/news/world-africa-27611802
--------------
'Loud minority' opposes Saudi women's employment, lobbyist says
31 May, 2014
It is not the government, but a minority of people with "loud voices" who oppose Saudi female participation in the workforce, a women's rights lobbyist said.
"We never have issues with the government," Dr. Basmah Mosleh Omair, CEO of Al-Sayedah Khadijah Bint Khuwailid Center, told Al Arabiya News on Thursday.
"Some in middle management positions have old ideologies against women that really delay progress," she said, adding that top-level officials are "pro women."
The center works to reform gender-biased employment regulations.
Societal support
According to a study released this week by the center, 79% of Saudi men and 90% of women supported female employment.
"People claimed resistance was much higher than acceptance, and the results prove that we have a normal society with both sides," said Omair. "The next phase should concentrate on awareness programs."
For example, "women and men didn't know that the male guardian's approval isn't required for her employment. It's not part of the labor law. They didn't know that you can travel within the country without approval."
The center works with the Ministry of Labor to ensure that it "doesn't just open low-level skills for women," Omair said.
"Now there are women employed in factories and sales, but we want more opportunities in leadership, as board members, in family businesses, [public] and private companies."
Forthcoming reports from the center will cover sexual harassment at the workplace, maternity laws, and women's impact in family businesses.
http://english.alarabiya.net/en/perspective/analysis/2014/05/30/-Loud-minority-opposes-Saudi-women-s-employment-lobbyist-says.html
--------------
Women from broken homes more prone to domestic abuse
31 May, 2014
Women who have not been brought up by their biological parents are more prone to domestic violence if they marry men from similar sociological backgrounds, said experts.
This, many have said, is due to the fact that these women do not have families that can intervene and protect them.
Many women have since demanded special laws to address social problems related to divorce and alimony.
One such victim of abuse recounted her ordeal to local media.
"Two years ago, I married a young man who had also lived in a shelter like myself with no parents or next of kin," she said.
"I soon found myself getting beaten up everyday until one day, he broke my jaw. I reported the incident to the Social Affairs Department, who referred me for treatment."
The bruised and battered woman now lives in a furnished apartment that costs SR2,700 monthly in rent, which is is paid by the department.
"I filed for divorce 18 months ago and a supervising committee is currently following up on my case," she said.
"I fail to understand why there are no special laws to shield us from violence considering we have no family or parents to protect us."
"Women who have grown up in government shelters need even more protection after they get married," said another domestic abuse victim.
The woman, who had suffered minor fractures, told local media: "When we get married to men that come from broken homes like us, we become more vulnerable to domestic violence because these men suffer from negative self-image that translates into violence and insubordination."
"Children are often at the receiving end of such violence and self-loathing," she said.
"No one knows of the circumstances we live in or the daily violence we face. I approached a human rights body, but they were unresponsive. The Social Affairs Department only provides financial in the form of rent, but we have to earn our living ourselves."
She appealed to the Minister of Social Affairs to put in place a mechanism against abuse and its aftermath.
Several female social workers and researchers said that they paid a visit to one of the victims.
They said that her case will be referred to family protection services, but that she would not be allowed to return to the shelter.
However, she will receive financial aid to pay for temporary lodging or be enrolled in training programs to qualify her for a job.
A judge at a Dammam court, who spoke on condition of anonymity, said, "There is no defined mechanism to deal with such cases. We only get notifications from social affairs offices to assist these cases on the judicial level and to speed up proceedings."
He said that there are eight pending cases of divorce filed by victims of domestic violence with no parents in Eastern Province courts, noting that these cases have been given priority but no preferential treatment.
http://www.arabnews.com/news/578536
--------------
One Man, Two Wives and Many Accepted Forms of Violence in Pakistan
May 31, 2014
LONDON — The murder case of Farzana Parveen, it seemed, could hardly have turned more tragic or gruesome: a 25-year-old pregnant woman, bludgeoned to death with a brick by family members on a busy street, for having married the man she loved.
Then, in recent days, came a dark twist.
It turned out that Ms. Parveen's husband, Muhammad Iqbal — who had been photographed over the bloodied body of his wife, his face etched with grief — had been a black widower five years earlier. Mr. Iqbal, 45, said he had killed his first wife to be with Ms. Parveen, and later won his freedom, legally, using an Islamic provision of Pakistani law. "I strangled her," he said of his first wife in a telephone interview. "I liked Farzana since she was a child."
The attack on Ms. Parveen in Lahore, Pakistan, on Tuesday has generated global outrage, a public intervention from Prime Minister Nawaz Sharif and an unusually aggressive effort by the Pakistani police to pursue those responsible. By Friday morning five men, including Ms. Parveen's father, had been arrested, but officers were still searching for her two brothers, one of whom faces accusations of beating her to death with a brick.
To some, Ms. Parveen's death was a sign of growing religious intolerance in Pakistan, an impression burnished by news media reports of a stoning, an image with echoes of Taliban-era Afghanistan.
Yet rights activists and analysts said the deaths of Mr. Iqbal's two wives were not a product of religious extremism, but rather stemmed from a deep rooted societal prejudice against women and what they call a flawed legal provision that allows killers to, quite literally, get away with murder.
"The state has created an enabling environment for honor killings," said Saroop Ijaz, a lawyer and commentator whose office is yards from the spot where Ms. Parveen was felled. "A woman being disciplined by her family is seen as a private matter by the police, the courts and the law."
Under an Islamic provision of Pakistani law, a convicted murderer can avoid punishment either by obtaining forgiveness from the victim's family or through payment of "blood money," also known as diyat.
The rich and powerful often abuse the law to avoid punishment, but rights activists say it can also foster a dangerous sense of impunity.
"It creates the feeling that you can kill a person in broad daylight and get away with it," said Ali Dayan Hasan, a former director for Human Rights Watch in Pakistan.
In Mr. Iqbal's case, police records show that after killing his first wife, Ayesha Bibi, in 2009, he absconded for four years, during which he stayed with Ms. Parveen's family in Nankana Sahib, a district roughly 60 miles west of Lahore.
The police captured Mr. Iqbal in April 2013 but his incarceration was short-lived. His son, his first wife's next of kin, legally pardoned him for that killing and he was set free. Months later, he asked for Ms. Parveen's hand in marriage.
But that union was blighted by a dispute with Ms. Parveen's father over the dowry payment, and came to a bloody conclusion Tuesday outside the Lahore High Court.
As men crowded around Ms. Parveen, who was three months pregnant, a man fired a gun and the bullet grazed her ankle, said Umer Riaz Cheema, a police investigator. She tried to flee but was pulled to the ground by her shawl.
Her father, Muhammad Azeem, hit her with a brick taken from the side of the road. Then her brother Zahid and a cousin named Mazhar Iqbal took up the attack, the investigator said.
After Ms. Parveen died, her family continued to beat her body with a shoe. Had she reached the courthouse, her lawyer said, she would have testified that she had married Mr. Iqbal of her own free will.
The independent Human Rights Commission of Pakistan reported 869 so-called honor killings in 2013. Most occur in rural areas, where tribal practices hold strong.
Ms. Parveen's death shocked many Pakistanis because it occurred in broad daylight in the country's second-largest city, outside a courthouse and before a crowd of witnesses.
"We have turned into a nation of brutalized beings unmoved by death," the Pakistani daily The News said in an editorial.
Even religious conservatives, who rarely stand up for women's rights, joined in the condemnation.
"These acts have nothing to do with Islam," said Maulana Tahir Ashrafi, head of the Pakistan Ulema Council, which represents Islamic clerics.
The attack on Ms. Parveen coincided with publicized attacks on women elsewhere: the rape and lynching of two teenage girls in India and the deadly rampage by a disturbed young man in Santa Barbara, Calif. Put together, they highlight "the wave of violence against women," said Stéphane Dujarric, the spokesman for United Nations Secretary General Ban Ki-moon, on Friday. "Every man, every woman, deserves to be protected by the law."
The diyat provision has much wider applications than just honor killings, and the law has been invoked even by the United States. In 2011, American officials used it to obtain the release of Raymond A. Davis, a C.I.A. contractor who had shot dead two Pakistanis on the street earlier that year.
The families of his victims were paid $2.34 million in compensation — it was never clear by whom — and Mr. Davis was flown out of Pakistan within hours.
Later, the United States government paid $100,000 to the family of a third man, who was killed by C.I.A. officials who ran him down with their jeep as they rushed to Mr. Davis's aid, said an American official who spoke on the condition of anonymity.
The intense focus on Ms. Parveen's death has created a push for judicial action. Both Mr. Sharif and his brother, Shahbaz Sharif, who is the chief minister of Punjab, have publicly urged the police and courts to move swiftly.
Alongside the Islamic provisions, Pakistan's penal code also has clauses that could be invoked to ensure that Ms. Parveen's killers serve jail time, said Mr. Ijaz, the lawyer.
Ms. Parveen has now been buried, but her husband, Mr. Iqbal, has complained of fresh threats from her family. "They say they will kill me," he said, speaking by phone, "and that they will remove her body from the grave and burn it."
Waqar Gillani contributed reporting from Lahore, Pakistan, and Rick Gladstone from New York.
http://www.nytimes.com/2014/05/31/world/asia/honor-killing-of-pakistani-woman.html
-----------
Islamic childhood centre open to all cultures
31 May, 2014
The cultural mix planned for the Waikato's first Islamic early childhood centre means kids could be reading Cinderella, Ramadan Moon or a book in te reo.
Iqra Educare is on the site of the Boundary Road mosque in Hamilton and will bring together Islamic, Kiwi and Maori culture.
The centre is licensed for 30 pupils and is now open and accepting enrolments.
"It's been such an exciting journey for all of us," governing board executive member Yasmin Khan said.
"For some of the [Muslim community] parents, it's a big thing for them because it's in the premises of the mosque. So they can relate. They can feel comfortable. Because some of them do have language barriers."
A survey last year showed a large number of children in the local Muslim community weren't in early childhood education, so Iqra Educare was developed to help increase that number.
However, it is open to all ethnicities and the team welcomes interested families to drop in.
The centre's name, Iqra, is the first word in the Koran and means to read or to recite, Khan said.
The centre will have Islamic values and blend Islamic curriculum with New Zealand's early childhood curriculum Te Whariki.
A love for God, family and the community would be base values but Khan said it wasn't all about religion.
"We're not teaching them to memorise the Koran. It's just like any other centre but just having basic Islamic values."
The cultural immersion approach would be similar to the idea behind kohanga reo, she said.
Head teacher Natasha McCosh said they wanted to create a multicultural centre more representative of today's New Zealand.
Around ten children are enrolled up so far and there has been interest from families representing a variety of cultures, including Maori, Samoan, Afghan and Somalian.
Islamic values are reflected with halal food for the supplied morning and afternoon teas, no pork on the premises, and prayers before meals.
Children at the centre will also celebrate Islamic events like Ramadan and the festival of Eid (at the end of Ramadan), as well as important times like Matariki (the Maori New Year).
The centre is also inspired by the Reggio Emilia approach of an "emergent curriculum" which is partly determined by the children's interests.
Three qualified and registered teachers are employed at the centre. libby.wilson@fairfaxmedia.co.nz
http://www.stuff.co.nz/waikato-times/news/10091038/Islamic-childhood-centre-open-to-all-cultures
--------------
URL: https://newageislam.com/islam-women-feminism/photo-israeli-couple-kissing-during/d/87293