New Age Islam News Bureau
18 Aug 2013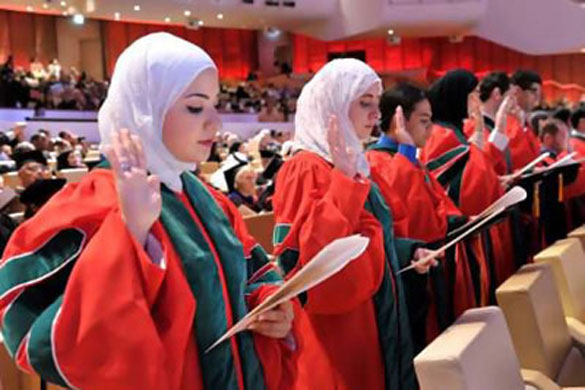 Iqbal Al Assaad, left, receives her medical degree from Cornell University's Qatar branch Courtesy of Weill Cornell Medical College in Qatar Library
-------------
• Palestinian Female Child Prodigy Becomes Doctor at Age 20
• Garment Disaster Victims' Of Bangladesh Lives a 'Waking Nightmare'
• Malaysian Housewife Claims Trial to Maid Abuse Charges
• Stress and Rising Cost Of Living Lead To Rise in Domestic Violence in Malaysia
• Dubai Company Creates Language Apps to Help Develop Bilingual Children
• Abandoned, paralysed Iraqi wife continues struggle in Saudi Arabia
• Man Trying To Smuggle Housemaid to Riyadh Arrested
Compiled by New Age Islam News Bureau
URL: https://newageislam.com/islam-women-feminism/philippine-shelter-uae-offers-women/d/13078
------------
Philippine shelter in UAE offers women new skills to make a fresh start
Ramona Ruiz
Aug 18, 2013
DUBAI // Dozens of women at a labour office shelter are kept busy learning new skills to help them overcome their trauma and slowly regain their confidence.
The women, mostly housemaids, have spent weeks at the Filipino Workers Resource Centre in Dubai after fleeing their employers because of lack of food and sleep, maltreatment, overwork or non-payment.
"When they arrive here, you see them often staring into space, feeling like there's no hope," said Delmer Cruz, the labour attaché in Dubai.
"So we do not focus primarily on the economic dimension of reintegration. We need to address their psycho-emotional needs first. We try to make them feel good about themselves."
A human resources consultancy company has developed modules on "self-awareness, self-discovery and self-recovery" and "unleashing your potential".
Its owner, Cristina Calaguian, runs the sessions along with two other volunteers.
"We try to build their confidence and not dwell on the negative things," said Jerry Selayro, 35, human resources professional who spent eight years in recruitment.
"They suffered from various traumatic experiences which often develop into a badly tarnished self-image, so we encourage them to plan their life. Many of them have been sexually abused. One maid said her head was shaved by her employer to punish her for being flirtatious."
Mr Selayro and his brother Jec, 22, conduct psycho-emotional sessions at the shelter at least twice a month.
After the sessions, the next step is to provide other skills apart from housekeeping, then convert those skills into livelihood opportunities by generating business ideas, Mr Cruz said.
Trainers from the non-profit Filipino Digerati Association are on hand to assist the women in massage therapy and reflexology.
"We would like to help them earn some income and develop their own business," said Wilfren Papaya, 32, a quality engineer in Dubai and the group's president.
Digerati will also offer training on dressmaking, balloon-making and cosmetology so the women can start their own business when they return to the Philippines.
Another group, 3K, made up of housemaids, is teaching the women the craft of making accessories. They create earrings, bracelets and necklaces made of beads.
"I'm fortunate to have good employers who are very supportive," said Annabelle Caser, 39, a housemaid in Dubai. "They allow me to take some time off to teach the women."
Free training on hair, make-up, nail art, hand-painting, candle-making, photography, and mobile maintenance and troubleshooting, will also be offered.
The Philippine overseas labour office in Dubai offers an orientation programme for the women on ways they can access the government's various services.
"Balik Pinay, Balik Hanapbuhay" aims to provide training to generate a means of livelihood back home for the women after their work abroad.
Other activities include group counselling on personality development, regular health check-ups by the Philippine Health Care Professionals group, and promoting a healthy lifestyle through aerobics, Zumba and ball games.
A similar shelter in Abu Dhabi that houses runaway housemaids plans to provide a secretarial training course, crocheting and cross-stitching, and various arts and crafts.
"These women need to be kept busy and productive during their idle time," said Angel Borja Jr, the labour attache in Abu Dhabi.
"We're now stepping up our reintegration programme to ensure they make the most of their time here."
rruiz@thenational.ae
http://www.thenational.ae/news/uae-news/philippine-shelter-in-uae-offers-women-new-skills-to-make-a-fresh-start#ixzz2cJjHgn4G
------------
Palestinian Female Child Prodigy Becomes Doctor at Age 20
Elizabeth Dickinson
Aug 18, 2013
ABU DHABI // Iqbal Al Assaad was not just a prodigy as a child, she was a prodigy with a dream - to become a doctor and help the Palestinian relatives she visited in refugee camps while she was growing up in Lebanon.
She graduated from high school, top of her class, at the age of 12. Already, she had mastered the biochemistry and mathematics she would need for medical school.
By the age of 13, Iqbal had not only learnt to drive, she had caught the eye of Lebanon's education minister, who helped her to secure a medical scholarship in Qatar.
And this year, at 20, she became not only the youngest ever medical graduate from Cornell University's Qatar branch, but possibly the youngest Arab doctor ever.
"Since day one, Iqbal stood out as a very mature and professional student despite her age and experience," says one of her professors at Cornell, Dr Imad Makki.
"The sky is the limit for Iqbal."
There is just one problem: Iqbal cannot work as a doctor in Lebanon, the country of her birth. "My dream is to come back to do something for the Palestinian refugees in the camps, even by opening a free clinic for them," she says.
"But if you're a Palestinian doctor, you're not allowed to work in public hospitals."
Medicine is among several dozen professions from which Palestinian refugees are still effectively barred.
Although Palestinians in Lebanon were given the right to take clerical and lower-level jobs in 2005 and allowed to work in further professions in 2010, skilled fields such as medicine and law are regulated by professional syndicates. These organisations impose strict restrictions on membership meant to guard jobs for Lebanese nationals.
The syndicates worry that a Palestinian "entrance to the labour market will be overwhelming - so they feel it's about job opportunities for Lebanese nationals", said Lina Hamdan, a spokeswoman for the Lebanese government's Lebanese-Palestinian Dialogue Committee. "Officially there is nothing preventing them from practising and working, but the professions are ruled by the syndicates."
Iqbal's story is unique, but her dilemma is increasingly common. The UN Relief Works Agency, UNRWA, estimates the Palestinian population in the country at roughly 450,000, with about 92,000 new Palestinian refugees arriving from Syria since that conflict began in 2011.
For the young Iqbal, it was a lack of health care for Palestinians that touched her most deeply.
She grew up in Bar Elias, a small village in the Bekaa valley, after her parents arrived in Lebanon. She visited relatives in the refugee camps and was struck from a young age by the poverty she found.
Although UNRWA provides primary medical care facilities, it cannot pay for more advanced medical cases, meaning refugees often "face a choice between forgoing essential medical treatment and falling deeply into debt," as the organisation explains on its website.
"It was seeing that refugees don't have any type of medical insurance," Iqbal says. "Only if this person has money and can afford things at the hospital, then he can get the medical care he needs."
With a dream in the back of her mind, Iqbal dedicated herself to education, diving into mathematics and biology.
After she graduated from high school, herconviction impressed Lebanon's education minister Khaled Qabbani, who promised to secure a scholarship. He turned to Qatar Foundation chairwoman Sheikha Mozah bint Nasser Al Missned.
Qatar welcomed Iqbal on a full scholarship at Weill Cornell Medical College, part of a group of elite branch American campuses in the country's Education City. She had never taken an entrance exam. Nor had she ever lived outside Lebanon. She was at least five years younger than all her peers.
Her voice still evokes the pressure she felt to succeed.
Ms Al Assaad is now on her way to the United States for a residency in paediatrics at the Children's Hospital in Cleveland, Ohio, one of the top residencies for her speciality.
She wants to come back to Qatar to work, since the country's education system gave her so much.
Then, she will follow her dream.
"I want to come back the Middle East between Qatar and Lebanon," she says. "I feel it would be the first step" if Lebanon could let refugees work as doctors.
But working in an independent Palestine would be an even better solution. "Palestine," she said, "is always a dream."
edickinson@thenational.ae
http://www.thenational.ae/news/world/middle-east/palestinian-child-prodigy-becomes-doctor-at-age-20#ixzz2cJjbwJ5M
------------
Garment Disaster Victims' Of Bangladesh Lives a 'Waking Nightmare'
Udisa Islam
Aug 18, 2013
Sumaya, a worker of Tazreen Fashions, received a blunt head trauma on the night the factory burnt down. Afterwards for several days, she was bleeding through the nose.
On July 4, eight months after the incident, doctors at Dhaka Medical College Hospital diagnosed her with exophthalmoses, a swelling of the eye which is common among patients suffering from blunt head traumas. On July 14, she had a surgery. Further diagnosis suggested that she had developed a tumour which was cancerous.
Three months after the collapse of Rana Plaza in Savar on April 24, in which over 1,100 workers died and 2,500 others were injured, many survivors and even the rescue workers are facing post-traumatic problems.
Rubina Begum, who worked at one of the factories in Rana Plaza for two years, is suffering from a serious pelvic fracture. She has been unable to work and has been told by doctors that she may never engage in strenuous activities, such as intercourse. Speaking to our correspondent, Rubina expressed her fear that she would be "neither valued as a worker nor as a wife."
During the Rana Plaza rescue operations, many locals and activists volunteered to rescue the workers who were under the rubble. Rafiq, one such volunteer, rescued at least 20 workers alive and recovered many dead bodies. Rafiq has been traumatised since the incident, his family members said. Rafiq has not slept peacefully in the last three months, they said. In his dreams he always sees rubble, dead bodies and hears people calling to him to be rescued.
Doctors have told rescue worker Yusuf Ali he will never be able to walk normally again because of an injury to his spinal cord that he got in the Rana Plaza rescue operation. "I have rescued many people who are now living a good life? What will happen to me?" he said.
"When any disaster happens we take only short term actions. But no one even thinks about what will happen in the long term. The survivors are living an almost dead life. But nobody comes forward to help them," said Kolpona Akter, executive director of the Bangladesh Centre for Workers Solidarity.
Saydia Gulrukh, an anthropologist and activist working for Tazreen victims, said, "When one incident happens authorities create a fund. This is a very short term initiative. After sometime they close the fund, and the victims of the incident who are long term sufferers do not get any help from them. What should they do then?"
http://www.dhakatribune.com/bangladesh/2013/aug/02/rmg-disaster-victims%E2%80%99-lives-%E2%80%98nightmare%E2%80%99
------------
Malaysian Housewife Claims Trial to Maid Abuse Charges
Aug 18, 2013
PETALING JAYA(Malaysia): A housewife has claimed trial to charges of abusing her Indonesian maid by beating and scalding her.
Chai Eng Fong, 40, was charged in the Sessions Court with causing hurt to the 30-year-old woman by hitting and pouring hot water on her, leading to injuries to her face, head, ears, breast, back and thighs.
She was slapped with a second charge of exploiting her maid by coercing her into forced labour, an offence under Section 14 of the Anti-Trafficking in Persons and Anti-Smuggling of Migrants Act.
The offences were alleged to have taken place at Chai's home in Subang Bestari, Shah Alam at 7pm on Aug 8.
The mother of four claimed trial to both offences, which each carrying a maximum of 20 years' prison term and a fine upon conviction.
DPP Zhafran Rahim Hamzah urged the court to use its discretion not to allow bail as the alleged offences were an issue of public interest.
Judge Rozina Ayob allowed bail at RM25,000 for each offence, with additional conditions that Chai surrender her passport, stay away from the maid and witnesses and report to a police station once a month.
http://www.thestar.com.my/News/Nation/2013/08/17/Housewife-claims-trial-to-maid-abuse-charges.aspx
------------
Stress and Rising Cost Of Living Lead To Rise in Domestic Violence in Malaysia
BY P. ARUNA
Aug 18, 2013
PETALING JAYA (Malaysia): An increasingly stressed community and the rising cost of living may be among the causes of the spike in the number of domestic abuse cases, said several groups.
All Women's Action Society (Awam) programmes manager Betty Yeoh said while power and control issues were the underlying reasons for abuse, higher stress levels could also be a trigger.
"We are a very stressed society. If there is no proper communication between the couple or individuals, it can definitely lead to conflict," she said yesterday.
Some people, she said, felt they had the "privilege" to "punish" their spouses or partners.
"This shows that there is no respect for the other person."
Some influential persons, or those "connected" to higher authorities, she said, felt they were powerful and above the law and would show this by being abusive.
"We have had victims who did not dare take up legal cases against the perpetrators because they felt they would not win against such influential persons," she said.
Some 991 domestic violence cases – of which 715 involved female victims – were lodged with the police from January to April last year.
Women, Family and Community Development Minister Datuk Rohani Abdul Karim said the number rose to 1,353 for the corresponding period of this year and of this, 998 cases involved female victims.
On Wednesday, two video clips of women being severely beaten up – one by her husband and the other by her ex-boyfriend – went viral on Facebook.
Befrienders KL chairman L. Mary Raj said individuals who were not able to express their stress and anger in a healthy way could turn abusive.
"Stress is definitely one of the contributing factors to the increase in violence. You need to talk to someone instead of keeping your problems bottled up.
"The problem is, many still think it makes them seem 'weak' to seek help," she said.
Neuro-psychologist Dr Nivashinie Mohan said abusers learnt violent behaviour from their family, people in their community and other cultural influences as they grow up.
"Society as a whole is becoming more violent as people resort to violence as a way of coping with the daily stress of life," she said.
http://www.thestar.com.my/News/Nation/2013/08/17/Stress-and-rising-cost-of-living-lead-to-rise-in-violence.aspx
------------
Dubai company creates language apps to help develop bilingual children
Melanie Swan
Aug 18, 2013
DUBAI // A new series of apps has been developed to teach preschool children multilingual language skills.
The first app from Appy Kids, Appy Animals, is currently available for the iOS platform and is aimed at children aged 2 to 4. The interactive programme gives kids a chance to learn animal names in Hindi and English, while getting a glimpse of Indian culture through the use of illustrations as well as music created by Bollywood music director, Ram Sampath.
Growl Media, who created the apps, plans to localise Appy Animals in a variety of languages starting with an Arabic version that is due to be released shortly. The introduction of Android and Amazon Kindle formats is also due later this year.
"There are thousands of good educational apps for the early years segment," said Growl Media's founder Dinesh Lalvani. "Yet there are very few that target this specific region and even fewer that offer original content and quality.
"Users can expect our apps to be well thought out, with the developmental and educational needs of the early years segment in mind. Additionally, they can expect each app to make language and learning a fun and exciting experience for kids, regardless of ethnicity," he added.
Dr Georgia Daleure, an expert of early years education based in Sharjah, says apps can have a very positive impact in language development. "Languages take practice and with the likes of iPads kids can just sit and spend time interacting, learning words, sounds and letters with the stimulation of sound and colour. This is something they can do by themselves even when they're young."
Mr Lavani said the idea for Appy Animals came to him when he was looking for a way to teach his 2-year-old son Hindi.
"It was astounding to me that there was nothing out there to help me teach my son Hindi, so I decided to try to create an app myself. As the project grew, I became aware that there was a market out there for culturally relevant content that can provide young kids an opportunity to understand not only their own native languages and cultures, but that of others as well," he said.
"Research shows that children who learn two languages in their early years are much better equipped to multitask as they grow up. In light of this research, our apps are relevant for all children, regardless of whether they are of Indian descent or not. Also, in a world that is becoming increasingly homogenised, familiarity with different cultures and languages can only help to make children more culturally aware as adults," he added.
http://www.thenational.ae/news/uae-news/education/dubai-company-creates-language-apps-to-help-develop-bilingual-children#ixzz2cJjAjuHn
------------
Abandoned, Paralysed Iraqi Wife Continues Struggle in Saudi Arabia
Aug 18, 2013
Manama: She was deeply vivacious and particularly eager to have a life of infinite possibilities and blissful dreams.
And when at the age of 13, the Iraqi girl who would later be known as Umm Nayef was approached by a Saudi man, she realised that her marriage would be the first step towards the fulfilment of her dreams.
"We were living in Kuwait and I readily accepted," she said. "We had five children together. One day, he decided to go back to Saudi Arabia and prepared the necessary papers for himself and the five children. But not me. He simply did not recognise me as his wife and did not record my name anywhere," she said, quoted by local Saudi daily Al Sharq.
Despite her repeated pleas to recognise her formally as his wife, her husband refused. He later brought her to Saudi Arabia, but on a domestic helper's visa.
She insisted on her status with her children.
"I decided to go to court and I filed a legal suit, asking for either a formal recognition or a divorce. He opted to divorce me. But it did not end there and my nightmare took a worse turn as he pushed for my deportation from Saudi Arabia. The police took me to the court and there the judge said that I either had to leave or marry another Saudi or remain in the country. I eventually chose to marry a Saudi man who was paralysed. My aim was to be near my children," she recalled.
Umm Nayef moved to a garage donated by a benevolent man and started selling sundry items at the popular market in Hafr Al Baten in the northeastern region of Saudi Arabia to sustain herself.
"However, one month later, my former husband contacted my family in Iraq and told them that I got married to a man who was beneath my dignity and social class. One of my nephews was so upset that he came to Saudi Arabia and shot at me with his pistol as I was heading home from the market. He hit me on the back and I suddenly lost all power to move."
The attacker was sentenced to four years in prison and to a compensation fine of 90,000 riyals (Dh88,108).
"He served only one year and was let out. He was deported without paying me anything," she said.
"The problem is that I am paralysed and cannot make any move. I have lost one son and the other is having serious medical problems. My daughters are also suffering from various illnesses. We are destitute and we need help, especially as we live in a single room that is totally unfit," she said.
A local charity organisation officer said that they were aware of the situation of Umm Nayef.
"She is on our list and she is getting 500 riyals a month," he said.
http://gulfnews.com/news/gulf/saudi-arabia/abandoned-paralysed-iraqi-wife-continues-struggle-1.1221526
------------
Man Trying To Smuggle Housemaid to Riyadh Arrested
Aug 18, 2013
AL-ARTAWIYA – Police in Al-Artawiya town arrested a man who tried to smuggle a housemaid to Riyadh without her sponsor's knowledge after she agreed to pay him SR2, 000 in return. The sponsor got suspicious about the housemaid when he saw her packing her stuff and getting ready to leave. There was a man outside waiting for her in a car. The sponsor called the police right away and they arrested the man. The smuggler confessed to helping many housemaids run away from their sponsors. The housemaid told police that she wanted to run away because the sponsor mistreated her.
http://www.saudigazette.com.sa/index.cfm?method=home.regcon&contentid=20130818177283
------------
URL: https://newageislam.com/islam-women-feminism/philippine-shelter-uae-offers-women/d/13078