New Age Islam News Bureau
3 Jul 2015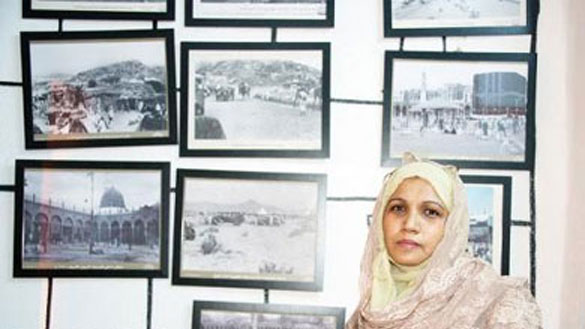 Saudi Woman Took 500,000 Pictures of the Two Holy Mosques in 12 Years
-----------
• Death Sentences Awarded In "Farkhunda Lynching Case" Reversed
• Gang-Rapes Almost Tripled In 6 Months in Bangladesh
• Saudi Woman Took 500,000 Pictures of the Two Holy Mosques in 12 Years
• Ban Male Expats from Operating Amusement Park Rides in Saudi Arabia
• Dearborn Police Sued: Forced Muslim Woman To Remove Her Hijab In Front Of • Male, Her Crime May Shock You
• Iran: Volleyball Federation Should Penalize Ban on Women
• Two Christian Women Accused of Blasphemy Tortured by Muslim Villagers in Pakistan; Faces Painted Black, Beaten as They're Forced to Parade Around on Donkeys
Compiled by New Age Islam News Bureau
URL: https://www.newageislam.com/islam,-women-and-feminism/new-age-islam-news-bureau/petition-seeking-to-annul-shariat-based-inheritance-for-muslim-women-dismissed/d/103753
-----------
Petition Seeking To Annul Shariat-Based Inheritance for Muslim Women Dismissed by Kerala HC
03rd July 2015
KOCHI: The Kerala High Court has dismissed a batch of petitions seeking to declare that the practice followed by Muslims as per Shariat with regard to inheritance of Muslim women is violation of Article 14, 15, 19 and 21 of the Constitution.
Dismissing the petition filed by Quran Sunnath Society and others, a Division Bench comprising Chief Justice Asok Bhushan and Justice A M Shafeeque said that it was for the legislature to consider the issue and frame a competent piece of legislation. Relying on a previous order by the Apex Court, the Division Bench also made it clear that the issue could not be adjudicated by the court in a Public Interest Litigation. The petitioners approached the court contending that that Shariat practised in India led to discrimination against female children.
"Shariat applicable with regard to the succession of Muslim community is based on misinterpretation of principles of Quran. A female child does not get a share of property equal to what a male gets. If a deceased Muslim has daughters only, they do not get share equal to what she would get if she was a male and will have to share property among other close relatives of the deceased. But if the deceased person has a male child, the right over the entire property is given to him only," the petitioners submitted. "Muslim scholars have pointed out that Shariat law was not immutable," they pointed out. Petitioners also pointed out that Muslim countries such as Pakistan, Malaysia and Egypt have introduced legislation to change Shariat.
http://www.newindianexpress.com/states/kerala/Petition-Seeking-to-Annul-Shariat-based-Inheritance-for-Muslim-Women-Dismissed/2015/07/03/article2899198.ece
-----------
Death Sentences Awarded In "Farkhunda Lynching Case" Reversed
By ZABIHULLAH MOOSAKHAIL
Jul 02 2015
The death sentences awarded to four men involved in the brutal killing of a helpless Afghan girl in capital Kabul have been reversed.
Abdul Nasir Murid, the Judge at Appeal Court has told media that the death sentences of the four convicts have changed to imprisonment from 10 years to 20 years.
He said three convicts have been given 20 years imprisonment while a fourth one is awarded 10 years of imprisonment.
According to AP news agency the decision was made behind closed-door on Wednesday which outraged the girl's family as well as criticism of the lawmakers and activists.
Shukria Barakzai has told the news agency that this is against the constitution of Afghanistan.
"This is against the constitution. The courts should be open to the public, and this closed-door hearing undermines the credibility of the sentences," Shukria Barakzai is quoted by the news agency as saying.
Farkhunda Malikzada was lynched by an angry mob in Kabul on March 19 after she was wrongfully accused of burning a copy of the holy Quran.
The mob brutally beaten her to death, ran over a vehicle on her body and then set her body on fire during daylight near Shah Du Shamshera Shrine in the heart of Kabul.
However, investigation proofed all allegations baseless attributed to Farkhunda in this case.
The horrific incident dragged street protests across the country demanding "Justice for Farkhunda".
Security agencies detained 40 suspects in connection to the case including 19 policemen for recklessness in their duties while the incident was happening.
The court later announced one year imprisonment to each of the 19 policemen, death sentences to four convicts, 16 years imprisonment to eight other convicts and 18 were released based on unavailability of enough evidence to proof their involvement in the murder.
http://www.khaama.com/street-protests-expected-in-kabul-after-court-reversed-death-sentences-awarded-in-farkhunda-lynching-case-3588
-----------
Gang-Rapes Almost Tripled In 6 Months in Bangladesh
July 03, 2015
The number of gang-rapes reported every month in the country has nearly tripled to 24 in the last six months, shows a report of Bangladesh Mahila Parishad.
Nine gang-rapes were recorded in January, and in June it was 24, said a press release of the organisation. The Parishad collected data on violence against women (VAW) based on reports of 14 national dailies of the country.
A total of 492 rapes took place in the country from January to June 2015.
The total number of violence against women incidents in the last six months was 2,079. These incidents include attempted rape, sexual harassment, abduction, murder, and child marriage.
In June, 66 rapes, 56 murders, five murders after rape, 33 suicides, 25 physical assaults, and 25 incidents of harassment were reported in newspapers, according to the press release.
http://www.thedailystar.net/city/gang-rapes-doubled-six-months-106648
-----------
Saudi woman took 500,000 pictures of the Two Holy Mosques in 12 years
A unique visual treat
July 02, 2015
A Saudi woman in her 40s makes history by taking as many as 500,000 photographs of the Two Holy Mosques and the holy sites within a span of 12 years.
Susan Iskandar can rightly be called as an 'ambassador of the Two Holy Mosques' by disseminating their sublime message all over the world through her unique photographs that were showcased at numerous photo exhibitions and galleries.
She offers the viewers, belonging to all faiths, an opportunity to have a glimpse of the Grand Mosque in Makkah, Prophet's Mosque in Madinah, and the current phase of their expansion, as well as into the holy sites of Mina, Arafat and Muzdalifah and the ongoing massive development works, the Saudi Press Agency reported.
Iskandar is currently displaying 80 photographs picked from her albums at the Ramadan festival (Ramadanuna Kida 2) in the Jeddah's Historical Area. For Iskandar, photography is more than a passion since childhood and she started taking snaps at the age of 9.
In the latter phase, what differentiated her from other photographers was her passion blended with some sort of spirituality that eventually led her to focus on giving a visual treat to the people around the world about the Holy Mosques.
Iskandar is delighted to say that some of these pictures were instrumental in guiding some people into the fold of Islam. "It was fabulous that one Chinese citizen reverted to Islam after watching the photographs of the Holy Kaaba and the Grand Mosque when I displayed them at a photo gallery in a foreign country."
The photographs she displayed at the Ramadan festival included some aerial ones that she took during daytime and night by using three professional cameras. These photos speak volumes about the holy sites and the massive expansion and development works. They also tell about the immense contributions and services rendered by King Salman and his predecessors King Abdullah and King Fahd after assuming the title of 'Custodian of the Two Holy Mosques.'
There is an unmatched stamping of her talent in photography in each one of these pictures, especially the latest photos of the ongoing largest ever expansion of the Grand Mosque as well as the exclusive photos of the Holy Kaaba and its keys, the Black Stone (Hajar Al-Aswad), Maqam Ibrahim (the Station of Prophet Ibrahim) and humanitarian aspect pertaining to the Haj pilgrims.
The Union of Arab Sports Photographers honored Iskandar at its session held in Morocco in recognition of her superb talent as was evident in a three dimensional visual treat depicting the pictures of Two Holy Mosques with King Salman in the middle.
http://www.saudigazette.com.sa/index.cfm?method=home.regcon&contentid=20150703249249
-----------
Ban Male Expats from Operating Amusement Park Rides in Saudi Arabia
Fahd Bin Jolaid
Al-Jazirah
It is a grave mistake that amusement parks hire expatriate male workers to operate rides as some of them sexually abuse children. Some of them touch our children's bodies pretending that they are trying to help them get into rides or to ensure they do not fall. Our innocent children listen to their instructions.
Educating our children about sexual harassment and asking them not to let anyone touch them and then leaving them unsupervised and alone in amusement parks to be touched by expatriate workers is a sheer contradiction. A few days ago, I visited an amusement park in one city and was sad to see that workers appeared to be touching children all over and putting safety belts around the sensitive parts of their bodies. I saw this happen before my eyes in various rides, including mountain climbing and bumper cars, etc.
The Ministry of Labor must step in and replace male workers with female ones at all amusement parks inside or outside malls. Only Saudi women should be allowed to work in these places. Expatriate male workers should be banned and not allowed to work in amusement parks.
Leaving the situation unresolved poses a great danger to our children. The authorities should step in and pass laws requiring amusement parks to only employ Saudi women to operate rides. Most rides are not complicated and I am sure Saudi women can learn how to operate them quickly and easily.
Our children are often left unattended in amusement parks with maids and away from their parents. Mothers go shopping while fathers believe that their responsibility ends with simply dropping their wives and children off at amusement parks and giving them money. What is happening inside our amusement parks proves that sexual abuse of children is on the increase. It is a crime that needs to be stopped by replacing these expatriate workers with Saudi women. Oh Allah! Bear witness that I have conveyed this message.
http://www.saudigazette.com.sa/index.cfm?method=home.regcon&contentid=20150703249208
-----------
Dearborn Police Sued: Forced Muslim Woman To Remove Her Hijab In Front Of Male, Her Crime May Shock You
July 3, 2015
he Dearborn Police Department has been slapped with a lawsuit after a Muslim woman says that she was ordered to remove her hijab, or headscarf, for her booking photo after she was arrested. Maha Aldhalimi says her rights were violated after her arrest last September. While at the Dearborn Police Department, Aldhalimi said she was forced to remove her hijab in front of a man.
She says that she was crying and pleaded with the Dearborn Police Department not to violate her religious belief that she mustn't remove the hijab in front of male strangers. She claims that she only removed the scarf under threat. Her lawyers filed her lawsuit in a federal court in Detroit, Michigan on Tuesday. Maha Aldhalimi was told that she was placed under arrest over an unpaid parking violation, according to WILX.
Dearborn has one of the largest Muslim populations in the United States. Earlier this year, a similar event occurred at the neighboring Dearborn Heights Police Department. In January, 27-year-old Malak Kazan filed a federal lawsuit against that police department for the same reason. Kazan was arrested for a traffic misdemeanor, according to the Detroit News. Kazan also requested that a female take her photo, but her request was also denied. Police pointed out that a female officer is not always available.
These two are not alone. According to USA Today, several cases have been filed in the Detroit area on behalf of Muslim women. The women say that they should either be allowed to keep their hijab on or have female officers handle them, so that they are not in violation of their religious beliefs. Canton, Michigan lawyer Nabih Ayad has handled several cases where women were forced to remove their hijab and says that forcing Muslim women to remove their scarves in front of males is a constitutional violation.
"You have to respect the right to wear religious attire."
Robert Sedler, a professor of constitutional issues at Wayne State University Law School also believes that these women's rights have been violated. In Aldhalimi's case, she says that after explaining the religious significance of the hijab to the Dearborn Police Department officers, she was still ordered "to remove her hijab or it would be removed involuntarily against her will."
What do you think? Did the Dearborn Police Department violate Aldhalimi's civil rights by forcing her to remove her hijab in front a male instead of providing a female officer?
http://www.inquisitr.com/2221396/dearborn-police-sued-forced-muslim-woman-to-remove-her-hijab-in-front-of-male-her-crime-may-shock-you/
-----------
Iran: Volleyball Federation Should Penalize Ban on Women
JULY 2, 2015
The International Volleyball Federation, also known as the FIVB, should penalize Iranian authorities for continuing to prevent Iranian women and girls from attending an international men's volleyball tournament in Tehran. Iran's men's national team is scheduled to play its final two matches in Tehran on July 3 and 4.
Iran is hosting the international matches against Russia at the Azadi Sports Complex in Tehran as part of the FIVB's 2015 World League. In four previous matches that took place in Tehran on June 19, 21, 26, and 28, officials prevented Iranian women from entering the reportedly 12,000 capacity stadium and allowed only a small number of foreign women into the stadium. The FIVB has so far failed to penalize Iran or publicly speak out against the ban, which contravenes the principle of gender non-discrimination in sports. The next major men's international volleyball tournament hosted by Iran will be the 2015 Asian Volleyball Championships, due to take place between July 31 and August 8, 2015.
"Despite promises to the contrary, Iranian authorities have repeatedly scorned the rules that allow women to cheer for their national volleyball team alongside their male counterparts," said Minky Worden, director of global initiatives. "At this point, the FIVB should penalize Iran by either canceling the remaining matches and rescheduling them for a different location, or requiring that the matches take place without the presence of any spectators – men or women."
On June 17, 2015, the semi-official Iranian Students' News Agency reported that a source inside Iran's volleyball federation had confirmed that the "entry of all women to the Azadi Sports Complex during the World League matches has been prohibited." The report indicated that the decision to ban women had been made despite earlier reports that the Iranian volleyball federation would issue special passes to a select number of women after it announced that it would not sell tickets to women at large.
The ISNA report also noted that the decision to allow women to attend had drawn public protests and "harsh reaction from certain groups" who oppose the presence of women at men's sporting competitions, notwithstanding earlier announcements by government officials that they would deal harshly with any demonstrations in support of or against the presence of women at the matches. On July 1, president Hassan Rouhani's advisor on women and family affairs, Shahinkdokht Molaverdi, told reporters that her government decided not to push further on the matter because of the respect it has for the country's religious authorities, some of whom had voiced their opposition to the presence of women at the volleyball matches.
The 2014 ban on women spectators led to the arrest of several men and women protesting the ban. The ban elicited sharp criticism from Human Rights Watch and others, who called on Iranian authorities to release Ghoncheh Ghavami, an Iranian-British dual national whom authorities arrested on June 30 after she and others attempted to enter a stadium in protest of the ban. The arrests also prompted the FIVB to affirm its commitment to "inclusivity and the right of women to participate in sport on an equal basis." Since then, Iranian officials have issued conflicting statements regarding whether they would lift such restrictions in part or whole. In April 2015 the FIVB announced that it would "not award Iran hosting rights to any FIVB controlled events while women were banned from sporting events in the country."
Authorities released Ghavami from prison in November and effectively dropped the case against her, but subjected her to a two-year foreign travel ban.
The male-only policy for spectators at volleyball matches dates to 2012, when the Sports and Youth Affairs Ministry extended the existing policy on soccer matches to cover volleyball. Iranian officials claim that mixed attendance at sports events is "un-Islamic", threatens public order, and exposes women to crude behavior by male fans.
In December 2014, Human Rights Watch wrote a letter to Dr. Saleh Bin Nasser, the head of the Asian Volleyball Confederation (AVC), urging the AVC to "revoke its selection of Iran as a co-host of the 2015 Asian Men's Volleyball Championships while Iran continues to discriminate against women and girls by denying them access to volleyball matches." To date, Human Rights Watch has not received a response to its letter, and there are no indications that the AVC intends to prohibit Iran from hosting the tournament if the ban on women continues, or to penalize Iran for its discriminatory action.
"All organizers of international sporting events, including the FIVB and AVC, should do the right thing and actively support the right of women and girls to participate in sports," said Worden. "Iranian authorities cannot have it both ways – while they maintain their failure to play by the rules, they should lose the opportunity to host international sporting events."
Human Rights Watch has called on organizers of international sporting events to include non-discrimination clauses in their host city contracts, following the decision by the International Olympic Committee (IOC) in September to include that requirement. The IOC has since informed the finalists bidding for the 2022 Winter Games of this requirement.
https://www.hrw.org/news/2015/07/02/iran-volleyball-federation-should-penalize-ban-women
-----------
Two Christian Women Accused of Blasphemy Tortured by Muslim Villagers in Pakistan; Faces Painted Black, Beaten as They're Forced to Parade Around on Donkeys
July 3, 2015
Two Christian women from a Pakistani village in the Sheikhupura district of Punjab province have reportedly been tortured by Muslim villagers, after which their faces were painted black and they were paraded around the town on donkeys.
The Pakistani Christian Post reported that the women, identified as Rukhsana and Rehana, were accused of committing blasphemy, which activists have said is a common way for the Muslim majority to oppress Christian and other minorities.
The two Christians apparently got into an argument with a Muslim woman who wanted to buy from their home a flex used as a carpet for a low price, to which the Christians refused. The Muslim woman then accused the Christians of committing blasphemy by pointing out that the carpet has images of Holy Books and Quran verses on it, which prompted a Muslim mob to beat the Christians and drag them out of their home.
Rukhsana's husband, Awais, had his head shaved in the incident, after which all three Christians had their faces painted black, had shoes put around their necks as garlands, and were paraded around town on donkeys, while the mob continued teasing and beating them. The public punishment was eventually put to an end after police were called into the village.
Human rights group The Voice Society was reportedly instrumental in getting the police to get involved and help the Christians. The families of Rukhsana and Rehana have said that they will leave the village following the attack, and not come back again.
PCP noted that some Muslim extremists in Pakistan look for "any reason" to persecute and execute Christians and other minorities, and noted that Christians are finding themselves in an "awful reality" where they are being targeted around the world.
Tensions between the majority Muslim community and minority Christians remains especially high in Pakistan. Fides News Agency reported that a major massacre was prevented back in May in Lahore partly due to three Muslim leaders standing up against other Islamic imams who were inciting a mass attack on Christians for alleged blasphemy.
There has been some movement within Pakistan's parliament seeking to make changes to the controversial blasphemy laws. Human rights activist Pervez Rafique, who's also a former minority member of parliament representing the Pakistan People's Party in Punjab, told The Christian Post in an interview in May, however, that it will be difficult to see such changes materialize.
"It's hard to change or relax the laws," Rafique told CP, "especially the blasphemy law 295-A-B-C of Pakistan's penal code."
The activist explained that although to change or abolish laws the parliament needs only simple majority, two third majority is needed to amend the constitution or any article of the constitution — a level of support those opposed to the blasphemy laws do not have.
http://www.christianpost.com/news/two-christian-women-accused-of-blasphemy-tortured-by-muslim-villagers-in-pakistan-faces-painted-black-beaten-as-theyre-forced-to-parade-around-on-donkeys-141126/
-----------
URL: https://www.newageislam.com/islam,-women-and-feminism/new-age-islam-news-bureau/petition-seeking-to-annul-shariat-based-inheritance-for-muslim-women-dismissed/d/103753