New Age Islam News Bureau
7 March 2020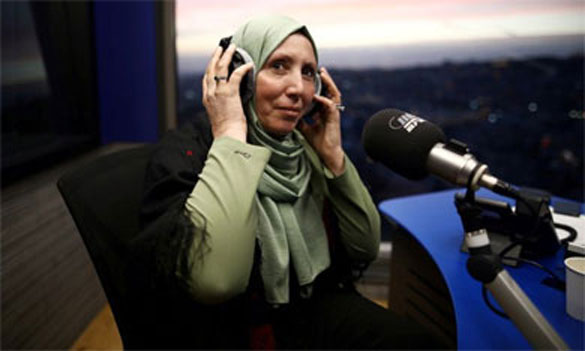 Iman Yassin Khatib, poised to become the first lawmaker in Israel's history to wear a hijab or head scarf, which she does as a Muslim, following results of her Arab Joint List party in Israel's election, participates in an interview in a radio show in Naz
-----
• 'Wife Not Housemaid': Indonesian Muslim Clerics Challenge Conservative Views on Spousal Roles
• 'Look Beyond the Veil', Says Israel's First Hijab-Wearing Lawmaker
• 4 Saudi Female Engineers Strive To Preserve Historic Jeddah's Identity
• 'Opponents of Aurat Azadi March Oblivious To Suffering of Women'
• Pakistani Islamists Accused of Defacing Pro-Woman Mural
• Meet Amani Saeed, the Poet Championing Women and Confronting Islamophobia, One Verse at a Time
• Arab Women Struggle For Real Change
• Women Can Help 'Turbo Charge' Arab Economies but Reforms Needed
• GCC Sees Women's Rights Progress in Wake of Reforms
• Afghan and Burmese Women: Sisters in the Universal Struggle for Human Rights
• US Awards Syria Refugee International Women of Courage Award
Compiled By New Age Islam News Bureau
URL: https://www.newageislam.com/islam-women-feminism/peshawar-historic-sunehri-mosque-opens/d/121251
--------
Peshawar's Historic Sunehri Mosque Opens Doors to Women after 23 Years
Sirajuddin
March 06, 2020
Peshawar's historic Sunehri Masjid on Friday opened its doors to female worshippers for the first time since 1996, a move warmly welcomed by women of the neighbourhood.
Nearly 15-20 women offered Friday prayers after the administration of the mosque, located on main Saddar road in Cantonment area, announced the move.
A banner put up outside the mosque stated that arrangements have been made for women to offer Friday prayers in the hall located on the upper floor of the mosque. Mosque officials said women will also be allowed during Eid prayers.
The mosque's naib imam, Muhammad Ismail, said the decision — which comes days ahead of International Women's Day observed on March 8 — was taken to facilitate women living in Saddar and other areas.
"Before 1996, women were allowed to attend Friday prayer congregations in the upper portion of the mosque," he recalled, adding that in 1996, females were barred from praying in the mosque due to growing militancy.
"Now we have opened the upper portion again so that women can offer Friday prayers alongside males in a separate section and listen to Friday khutba (sermon)," Ismail said.
He revealed that the mosque's khateeb also threw light on women's issues and their rights in Islam during Friday's sermon.
Kousar Shah, 45, a resident of Saddar, was one of the women who attended the prayers at the mosque today along with her daughters. "I am really happy, and this is a really good decision," she told DawnNewsTV.
She said the facility should be available to women for daily prayers as well. "We are hopeful that the mosque administration will allow women regularly also," she added.
Anila Sajid, 22, appreciated the mosque's imam for the decision.
Strict security measures were taken during the Friday prayers and police personnel were deployed around the mosque.
The construction of Sunehri Masjid started in 1946 and it was completed after 30 years, according to naib imam Ismail.
https://www.dawn.com/news/1538890/peshawars-historic-sunehri-mosque-opens-doors-to-women-after-23-years
--------
'Wife Not Housemaid': Indonesian Muslim Clerics Challenge Conservative Views on Spousal Roles
Ivany Atina Arbi
March 3, 2020
While conservative Muslims in Indonesia believe that the main responsibility of a wife is to stay at home and be an adept homemaker, two clerics maintain that Islam has never positioned women as maids. It is instead the obligation of the husband to provide food, clothes and decent housing for his wife, meaning he is the one who should cook, do the laundry and keep the house neat, according to the clerics who spoke about the teachings of Sunni Islam's four largest mazhab (Islamic schools of thought): Hanafi, Maliki, Shafi'i and Hanbali. "When I looked closer at Islamic jurisprudence books, I was surprised that none of the major mazhab actually obligated wives to take care of household duties," cleric Ahmad Sarwat said on Friday during a public discussion on his book titled Wife not Housemaid, which was first published last year. The event came amid a plan by a...
https://www.thejakartapost.com/news/2020/03/03/wife-not-housemaid-muslim-clerics-challenge-conservative-views-on-spousal-roles.html
--------
'Look Beyond the Veil', Says Israel's First Hijab-Wearing Lawmaker
March 6, 2020
NAZARETH, Israel — A female Muslim lawmaker from Israel's Arab minority is set to become the first in parliament to wear a hijab, or head scarf, after Arab parties won their largest ever showing in this week's election.
Iman Yassin Khatib, 55, won a place on the Joint List coalition's slate of 15 seats in the 120-member Knesset.
The party draws most of its votes from Israel's 21% Arab minority - who are Palestinian by heritage but Israeli by citizenship.
The mother of four served as the manager of a community center in the Galilee village of Yafat an-Nasreh on the outskirts of Nazareth, the city where Jesus grew up, before entering national politics.
"There is no way (the hijab) won't capture people's attention. But what's more important is what is inside: the ability and potential to advance our community," said Khatib as she accepted congratulations and posed for selfies on a street in Nazareth.
Khatib said she felt her hijab had sometimes stirred anti-Islam sentiment in Israel, whose nine million population is mostly Jewish.
"Every challenge I faced in my life was made harder because I wear a hijab," she said. But she urged people to "look beyond the veil".
Israel's Arab minority is mostly descended from the Palestinians who lived under Ottoman and then British colonial rule before staying in Israel after the country's 1948 creation.
It is predominantly Muslim, but also includes members of the Christian and Druze faiths.
Many Arabs complain of discrimination in areas such as health, education and housing, and their leaders accused Prime Minister Benjamin Netanyahu of incitement against them during recent elections.
Netanyahu's Likud party counters that its 15 billion shekel ($4.34 billion) investment plan for the Arab sector is the largest ever by an Israeli government.
Arab voter turnout surged to 64.7% in Monday's election, its highest in 20 years. That gave the Joint List coalition two more seats in parliament than in last September's ballot.
It is the third-largest party in the Knesset after Netanyahu's Likud and the centrist Blue and White Party. But its influence will likely be limited since no Arab party has ever joined an Israeli government.
Analysts cited anger toward Netanyahu and his U.S. ally President Donald Trump as one reason for the surge in Arab voters in this election, the third in a year.
Khatib is one of four women lawmakers among the Joint List's Knesset members. She belongs to its Islamist faction, Ra'am, which campaigns for more services and rights for Arabs in Israel, and supports the creation of a Palestinian state.
"There is a growing awareness amongst Arab women that we can be active participants in our future," said Khatib.
"My message to young women: there is a possibility. There is a way. Don't limit your hopes and dreams."
https://www.nytimes.com/reuters/2020/03/06/world/middleeast/06reuters-womens-day-israel-arabs.html
--------
4 Saudi Female Engineers Strive To Preserve Historic Jeddah's Identity
March 4, 2020
By Zain Anbar
JEDDAH — Four female Saudi engineers have swung into action to preserve the original identity and architectural beauty of heritage buildings as part of the ongoing restoration work in Jeddah's Historic Area that found a place in UNESCO's World Heritage List.
The women are engaged in documenting A to Z information regarding these buildings and their rich urban heritage. The restoration work comes as part of the ambitious plan to develop the tourism mechanism in accordance with Vision 2030.
Al-Anoud Al-Sheikh said that her role is to document historical buildings by photographing them with a drone and do their laser scanning after gathering information about each building. The documentation and collection of comprehensive information will be helpful in the event of their renovation by investors who may come forward to convert them into museums or restaurants, she said.
Sarah Abu Al-Hamayel, who works in the restoration, reinforcement and rescue department, said her role is related to the renovation of dilapidated buildings and refurbishing them for future use.
Dania Ba Issa is involved in work with consultants and contractors to ensure the buildings' standards and their conformity with UNESCO standards, in addition to routine work of building documentation.
Lajeen Badreeq says that the nature of her work is to participate in implementing the strategic plan of the Historic Area with the UNESCO team in developing buildings so as to adhere to the standards to preserve the building's identity. The team is also tasked to ensure that the new buildings do not bypass the norms for the urban heritage identity of residential buildings in the Historic Area.
http://live.saudigazette.com.sa/article/590254/SAUDI-ARABIA/4-Saudi-female-engineers-strive-topreserve-Historic-Jeddahs-identity
--------
'Opponents of Aurat Azadi March Oblivious To Suffering of Women'
Aamir Yasin
March 07, 2020
ISLAMABAD: Civil society and Aurat Azadi March organisers on Friday rejected what they called religious and rightwing political parties' propaganda and threats against the march and reiterated to continue their struggle for basic rights.
At a joint press conference, the speakers called on the local administration to take measures to ensure it was held peacefully without any interference from rightwing elements.
The press conference was organised by Aurat Azadi March in collaboration with Women's Democratic Front (WDF), Awami Workers Party (AWP), Women's Action Forum, Human Rights Commission of Pakistan (HRCP), Pakistan Federal Union of Journalists (PFUJ), Mazdoor Kissan Party (MKP) and Progressive Students Federation and others.
They said opponents of the march were oblivious to the reality and suffering of Pakistani women who had been violently victimised and repressed for decades in all walks of life.
They said the march was taking place because of the stark gender inequalities in Pakistan from mass female illiteracy to their economic exploitation within and outside home, to rising domestic and public violence, high levels of child and forced marriages to denial of inheritance and property rights and exclusion in decision-making structures at all levels.
The rising feminist movement is an expression of the reality that women are no longer willing to accept patriarchal oppression in the public and private sphere and are now increasing resisting violence and repression they have been undergoing for decades.
Those who are alarmed by these changes must accept that women are not going to retreat into their homes or from claiming their inalienable rights anymore, they added.
WDF President and Aurat Azadi March organiser Ismat Shahjahan said women from all walks of life were on the streets protesting for their rights and it was the responsibility of the state to listen to them, address their demands and come up with a policy framework for women's emancipation and progress.
She said rising violence from an overdeveloped patriarchal structure had made women's lives miserable which was why they were now speaking out in such large numbers.
She said the anti-march propaganda was an orchestrated campaign of defamation similar to what took place against all people's movements in Pakistan by feminist struggles, class struggles or nationalist struggles, because these struggles destabilise the established order of power.
Another organiser, Anam Rathor, said the purpose of the march was to speak out against all forms of violence, inequality and oppression that we face in every aspect of our lives — from killings to forced marriages, from sexual violence to acid attacks, from harassment to moral policing — and to take steps towards the creation of a more just and humane social order.
Human Rights Commission of Pakistan (HRCP) member Nasreen Azhar said the campaign against Aurat Azadi March was a sign that women were threatening the very foundations of the oppressive patriarchal order that governs our society.
She defended the right of women and gender minorities to march and call for their rights.
She said the religious right was falsely trying to paint the march organisers as un-Islamic even though all of their demands were well within the rights granted to women by Islam and the Constitution.
Other speakers who came out in full support of the march included AWP Punjab President Ammar Rashid, WAF's Saadia Bukhari and Tahira Abdullah, HRCP's Harris Khalique, MKP's Information Secretary Kamran Khan and Progressive Students Federation's Minhaj Swati.
They said religious groups had approached the Islamabad city administration and the Islamabad High Court (IHC) to stop the march.
Students of a seminary also defaced a mural that was being painted as a part of the march in G-7. They are also planning to lead counter-protests to intimidate and confront women's march in Islamabad.
They said the right to freedom of assembly and association was among the fundamental human rights enshrined in the Constitution.
The organisers of the march also presented their manifesto which called for an end to economic exploitation, patriarchal violence, political exclusion, social oppression and public marginalisation of women.
https://www.dawn.com/news/1538919/opponents-of-aurat-azadi-march-oblivious-to-suffering-of-women
--------
Pakistani Islamists Accused of Defacing Pro-Woman Mural
March 5, 2020
ISLAMABAD — Dozens of seminary students linked to a radical pro-Taliban cleric defaced a mural depicting two women painted by rights activists to commemorate International Women's Day in the capital Islamabad, police and activists said.
The women's rights-themed mural painted on the wall of a house near the sprawling Jamia Hafsa seminary was spray painted black Wednesday. The defacing of the mural came after a court earlier ruled that rights activists could organize a women's rights march.
Police said they have opened an investigation into the incident and so far no one has been arrested.
Pakistani women plan to hold rallies across the country to celebrate International Women's Day to bring attention to their efforts to seek better jobs, protections in the work place and end domestic violence.
Women's rights rallies are held every year and they sparked controversy last year when activists introduced a new slogan: "My body, my choice."
Pakistani women have largely been deprived of their rights since the country gained independence in 1947. About 1,000 women are killed every year by relatives in so-called honor killings.
International Women's Day is Sunday and rights activists in Pakistan plan to hold rallies to commemorate the day. Meanwhile, some conservative Pakistani women have vowed to to hold a "Modesty March" to counter rallies of liberal activists.
https://www.nytimes.com/aponline/2020/03/05/world/asia/ap-as-pakistan-womens-march.html
--------
Meet Amani Saeed, the Poet Championing Women and Confronting Islamophobia, One Verse at a Time
6 March, 2020
'We integrate the taste of home
into your bland dishes,
then stand washing up over the kitchen sink
wistfully wishing,
for some nostalgic rewind
of the diasporic ticker tape to some time,
where Allahu Akbar meant god is great
and didn't turn you into a walking pipe bomb'
Just some of the powerful sentences by poet Amani Saeed, who has taken the London Slam community by storm with her defiance in the face of Islamophobia and her exquisite words on the beauty – and complexities – of being a Muslim woman living in the West.
The 24-year-old recently published a collection called Split, in which she documents her thoughts on spirituality and her identity, multi-faceted as it is.
"The first poem I wrote was about Charlie Hebdo," Amani tells The New Arab.
"The school I went to in the States was really diverse and I was actually in the majority. It was mostly South and East Asians. There's something about your confidence when you're in the majority, of not being knocked down from a young age and not having to bear the brunt of that.
"So when I came here [UK] it was a real culture shock for that reason. I just remember being so appalled by how people were treating Muslims at the time. That was when Daesh [the Islamic State group] was at its height and they were beheading bus drivers and so on.
"I lived with a bunch of Evangelical Christians. They were lovely people, but I remember once we were watching the news and they were showing a [graphic] video with the guy's head blurred out. It was terrible, but all of their heads just turned to look at me. And I remember thinking, 'What are you looking at me for?'" she adds.
"I then realised they were looking for an explanation. Or some kind of proof that I thought this was terrible – which I thought was a given!"
Born in the UK, Amani grew up with a foot in England and a foot in America's New Jersey, along with a rich cultural tapestry. She has family from both Iraq and India, as well as uncles and aunties born in both Pakistan and India after the partition of 1947.
Hers is a unique position; Amani is both a Muslim and a 9/11 survivor, and carries both the trauma of the Twin Towers falling in 2001 – a seismic shock in the cultural fabric of America – as well as the Islamophobia that was borne out of that shock.
A storm of anti-Muslim sentiment is spreading across the world; India's Hindu-Supremacist Narendra Modi has made the country deadly to live in as a Muslim, with riots and killings happening all over the country. In the UK the Conservative party is frequently having to deny its Islamophobia.
"That was my first day at first grade," Amani says, recalling the moment the towers were destroyed.
"We went into the towers, we got boat lifted out of the situation, my mum was on one of the last trains before the building went down."
She adds: "On the one hand you think, 'That is my personal trauma, that is something I experienced,' and at the same time people are calling you a terrorist. It is hard."
And it's not only political landscapes that provide a breeding ground for anti-Muslim rhetoric. A viral hashtag, #FlyingWhileMuslim, was created after Ryanair CEO sparked controversy by saying terrorists are "generally Muslims," pushing for more checks on Muslim men.
The rise in far-right rhetoric has bolstered Islamophobia, as seen in the deadly New Zealand Christchurch Mosque massacre, and more recently the deadly Germany shootings which is being investigated as a far-right terror incident – but it's not always overt.
"I have a lot of privilege in terms of I'm light-skinned, I don't wear a hijab, for all intents and purposes a lot of the time people think I'm hispanic. So I don't get racial epithets yelled at me in the streets," Amani says.
"Where I faced more Islamophobia is in the workplace. I remember one time when I was very new at my job, I walked in and someone who was a couple of levels above me found out I was Muslim. In front of everyone in an open-plan office, she said to me, 'If you come in tomorrow wearing a hijab, we know you've been radicalised. Ha ha ha!' She thought she was being funny. I remember standing there, 21-years-old, facing off a 40-plus-year-old woman thinking, 'I'm new to this job, what the hell do I say to you?'
"A year later the Muslim ban was in effect in America and again she thought she was making a joke by saying, 'Oh, it means you can't go back to the States to visit your parents anymore. Ha ha!' I'm a dual national and I'm privileged to have both passports, but I remember at the time, my inner New Jersey came out and I went, 'Damn you can't say that!' It just came out. I didn't even think about it!"
Amani also commented on the situation in China, where millions of Uighur Muslims have been interned, tortured and killed on the basis of "re-education" and the weaponisation of the 9/11 rhetoric.
"It's the next Holocaust, and the world is passively watching on," she said, choosing to spill her frustrations out by writing a poem about it.
"I wrote Xinjiang because I am horrified," Amani explains.
"I wrote it because we don't talk enough about it when it's the next Holocaust. It is! You're putting people in concentration camps, the stories that come out of there are atrocious. There are stories of people being experimented on. Of people dying.
"It's horrific and no one seems to care, or if people do know about it, they decide China is such a big economic power that of course 'What can any one government do?' It's horrible."
Much of Amani's poetry explores the lines between stereotype and expectation and of Muslim women's bodies being weaponised by both white feminists – who use it to argue for liberation, and for parts of the Muslim community – who weaponise it as a form of control.
"Being a Muslim woman in London is being a walking contradiction," Amani says.
"It is being someone who can't win the argument between your society and your community. I say it so much. No matter what you do, people are scrutinising your existence.
"If you're not wearing a hijab, 'Why aren't you wearing a hijab?' If you are wearing a hijab, you're not wearing it correctly."
She continues, "If you're doing arranged marriage, 'Oh Jesus Christ you're not liberated!' according to Western feminism, but if you try and find marriage for love, if you have sex before marriage "Astaghfirullah! Everyone has an opinion, a debate over your body and you just get lost in this wash of people's opinions."
Despite the maelstrom of misunderstanding, stereotype and stigma pushed onto Muslims as though they are a monolith, Amani remains steadfast in the simplicity and beauty of Islam.
"The sahib I knew in America answered all my questions about that. He said something that really stuck with me, which is that, 'Islam is a really simple religion for those two reasons. And if people are complicating things, they don't have to be that complicated because what is at the root of it is your intentions.'
"There are different ways of reflecting on God, and I think the most important thing to me as a Muslim woman is not to be so prescriptive about things, but to do the best that you can and to have the best intentions that you can when you do it."
Amani Saeed is a member of Barbican Young Poets and the poetry collective The Yoniverse. She runs a poetry open mic night called The Hen-nah Party and is currently working on a poetry show at The bunker Theatre.
https://www.alaraby.co.uk/english/society/2020/3/6/amani-saeed-the-poet-championing-muslim-women
--------
Arab Women Struggle For Real Change
MARCH 6, 2020
Women in the Arab region have long struggled to obtain the rights due them under international law and treaties, and for greater representation in their countries' political and social systems. There has been progress in several states but many view the changes as merely scratching the surface and designed to polish the image of governments and ruling political parties.
In the past few years, several Arab countries have adopted laws to protect women and their rights, particularly in the political arena.
In Lebanon, some see the presence of six female cabinet members in the new government unveiled on January 22, including Zeina Akar as defense minister and deputy prime minister, as an effort to win over angry protesters who remained in the streets for days after the announcement. This record feminist representation sets a precedent not only for Lebanon but for the entire Arab world.
Nada Nassef, a Lebanese political activist, has taken part in the protests that began in mid-October against planned new taxes and then widened to what many call a revolution, to express deep dissatisfaction with economic mismanagement, corruption and sectarianism. She told The Media Line that the appointment of six female ministers was "folkloric," as the women were appointed to the "wrong posts" rather than within their areas of expertise.
"It was a step designed to save face," Nassef said.
She said there is a misconception that Lebanese women have equal rights but that in comparison with advanced countries, where there is high female representation, "Lebanon lacks that. Also, we still have unfair laws against women, such as the citizenship law and personal status laws that are great injustices for us."
However, she added that the current revolution highlighted the issue of women's rights, and that being in the streets together day after day demanding government change had created solidarity among females. "But in terms of legislation and laws, we have not achieved anything yet," Nassef said.
In 2019, the Palestinian Authority, in an effort to protect girls, passed a law setting the minimum age for marriage at 18 for both genders. Moreover, the Women's Affairs Ministry said that by the end of 2019, the PA would enact a Family Protection Law in the Palestinian territories. This after thousands of females protested in the West Bank and elsewhere against physical, psychological, sexual and economic violence against Palestinian women, as part of the Tala'at movement and under the slogan "There is no free homeland without free women."
Tala'at demonstrations took place in Ramallah and Rafah in the Palestinian territories; in Jerusalem; in Jaffa, Nazareth, Jish and Araba, in Israel; and as far afield as Beirut and Berlin.
Luban Alashqar, an instructor of social studies at Birzeit University, near Ramallah, told The Media Line that the law setting a minimum age for marriage did not represent real change, as it allows judges to waive the rule in "exceptional cases," "and most of our judges are traditional and conservative," depriving the legislation of real teeth.
As for the Family Protection Law, she said that it wasn't enacted, despite the PA government's vow to do so.
Alashqar said that based on the latest survey on domestic violence by the Palestinian Center Bureau of Statistics, there has been a slight improvement, "but the study measured traditional violence, whereas now women suffer now from different kinds of violence, such as violence against them in media and digital content."
She added that women's respect and freedoms should be reflected in laws and regulations, "as states are judged on the space they give to women's institutions to carry out their work."
In late 2019, as the issue erupted on social media, the Palestinian street split over a commitment the PA had made in 2014 by signing the Convention on the Elimination of All Forms of Discrimination Against Women (CEDAW).
Some Palestinians rejected the treaty, "because it contradicts local norms, religions and divine law," while others supported it, as it aims to eliminate discrimination against women and achieve equality between the sexes.
Alashqar opined that the division over CEDAW reflected the lack of awareness of the majority and the fact that they formed their opinions based on rumors.
"It's an international treaty that concerns all the nations around the world. The subject was highlighted in Palestinian social media for deceptive ends, showing certain parts of the treaty but not others. The reactions showed the patriarchal system that dominates the country."
She said that the treaty confirmed basic human rights, while some clauses that are incompatible with the country's culture could be covered by exceptions.
In Saudi Arabia, women's rights have noticeably improved over the past two years.
A central aspect of Saudi Vision 2030, a plan to reduce the kingdom's dependence on oil, diversify its economy, and develop public service sectors, is for Saudi women to work across a broad spectrum of industries, as opposed to being limited to such sectors as education. Saudi women can now obtain travel documents, including passports, without the consent of a male relative. Saudi women now have the same legal rights as men in matters of work, leisure, finance, law and health. Women can now drive and register as co-heads of household, along with their husbands.
Additionally, Riyadh has committed to raising the female labor participation rate from 22 percent to 30 percent, by reforming both the economy and the legal system.
Lama al-Sulaiman, a Saudi businesswoman who is vice president of the Jeddah Chamber of Commerce, told The Media Line that the Saudi woman had become a partner in the country's opportunities, building, development and public opinion. "She became part of the community and it's only the beginning," Sulaiman said.
She said that the country's laws and regulations now help women to become partners and contributors in developing the country. "In terms of implementation, there is a certain change required in the culture to ensure that what has been enacted becomes reality," Sulaiman said.
In Iraq, amid widespread demands to transform the political system, feminists are demanding 50% representation in any new cabinet. Recently, hundreds of women and girls took to the streets asserting their right to participate in anti-government protests and demand political reforms.
Activists say that Iraqi women have proved themselves through wide participation in the latest demonstrations, which showed that the country's feminist movement, which began gaining steam close to two decades ago, has paid off.
Milad Latof, a Dubai-based Iraqi journalist and political activist, participated in the protests that began on October 1, demanding an overthrow of the political system and of foreign influence. She told The Media Line that after several devastating wars in Iraq, women became powerless and spent most of the time locked up at home because of sexual harassment and the dangerous security situation.
"However, the revolution changed that, where the female voice was raised alongside all of the other Iraqi voices that emerged for the homeland," Latof continued. "Iraqi women played a big role in the latest demonstrations, actually an extremely important role. They brought peace to the protests because after the female representation became noticeable, the Iraqi security forces stopped using tear gas and sound bombs [stun grenades], as well as bullets, against the protesters."
She added that at protests away from "sit-in squares," which didn't include women, weapons were used against male demonstrators.
Women in Tunisia have witnessed remarkable progress. In 2017, the government passed a law to end violence against women, in addition to the Personal status law. Donia Bin Othman, a Tunisian lawyer and political activist, told The Media Line that Tunisia had always been a leader in terms of women's rights, especially since the Personal Status Law was issued, as it made remarkable progress at all levels.
"In 2017, a very important law was issued, which has to do with ending all kinds of violence against women, and it was implemented in 2018," Bin Othman said. "The state is required to take all necessary measures to protect women under this law, from physical, moral, economic, social and political violence."
She added that Tunisian women suffered from male tyranny prior to the Tunisian revolution but that women's rights were among many issues considered within the context of political, social and economic reforms afterward. "However, Tunisian women still demand a law to equalize the inheritance rights of women and men," she said.
The 2011 revolution in Tunisia, which resulted in the establishment of Tunisia's first democratically elected government, came in response to high levels of unemployment, political corruption and overall poor living conditions. In 2019, Tunis banned the wearing of the niqab – the full-face veil – in public institutions and government offices. The decision came after suicide attacks in the Tunisian capital, as the terrorists wore niqabs to sneak weapons past security forces. Some people, however, feel that the security consideration conflicts with personal freedoms for women guaranteed by a 2011 Tunisian law.
https://www.jpost.com/Middle-East/Arab-women-struggle-for-real-change-620002
--------
Women Can Help 'Turbo Charge' Arab Economies but Reforms Needed
Daniel Sanderson
March 7, 2020
Women can help "turbo charge" the economies of Middle East nations by filling the jobs of the future, according to the authors of a major new report.
Research led by McKinsey & Company, the global management consultancy firm, reveals that technological job opportunities for women in the region could more than double by the end of the decade, to 11 million, with development of artificial intelligence among the innovations responsible.
However, it also found that major shake-up of society, legal systems and schools are needed if women are to reach their potential, and drive up low rates of female participation in the workforce.
The report found that despite some progress being made in the UAE and other Arab nations, women still faced unequal laws, a lack of flexibility from some businesses and cultural barriers which held them back in the world of work.
Women are "not yet sufficiently integrated" into high-productivity sectors in the Middle East, nor are they equipped with the technological skills to take advantage of the new opportunities, Rima Assi, a senior partner at McKinsey and an author of the report, said.
She called for a "paradigm shift" in the years to come to address the challenges, with the release of the report timed to coincide with International Women's Day.
"Many countries and organisations have made significant progress by implementing policies and creating environments that lead to greater parity," Ms Assi said. "There is real momentum, yet challenges remain.
"There are indeed deeply rooted societal and mindset shifts required to unlock the opportunity of gender parity. This unlock is a critical one - and does have significant second and third order effects for the stability not only of the region, but of the global economy."
The report looked at the UAE, Saudi Arabia, Jordan, Kuwait, Lebanon, Oman, and Egypt, collectively home to almost 80 million women. Despite high female education levels, just under a quarter in the countries participated in the workforce – a figure around half of the global average.
While in the UAE gender inequality in areas of education and digital exclusion were classed as low, there was an "extremely high" gender gap in relation to professional and technical jobs and legal protections, the report found. There were five men for every woman in professional and technical jobs in the country – the highest disparity of all nations examined.
"Legal protection seems to be stagnant across all GCC countries, with clear gaps in legislative frameworks," the report states. "A supportive legislative and regulatory environment is vital for helping women manage assets, open a bank account, enter certain professions, or start a business."
Among the recommendations are for new measures to be introduced to encourage girls in science, technology, engineering and science subjects in school.
Although a "reverse gender gap" has emerged at universities with more women than men enrolled, a disproportionate number of females tend to study subjects in areas such as arts and education, potentially leaving them without the skills to benefit from new technologies.
It also calls for legislative changes across the region to ensure that women are paid equally, to prevent discrimination from banks based on gender, reform to parental leave and better provision of child care.
Employers should consider setting targets for recruiting more women and adopt more flexible working policies, the report said. Women should also "empower themselves" through "grit and resilience", the authors claimed.
"Focusing on internal factors that are within their control contributes towards creating gender parity," they wrote. "This involved having the confidence and self-value to speak up, and women owning their space and their voice".
A Dubai-based chief executive, who was quoted anonymously in the report, said: "In previous studies, we found cultural barriers, organisational policies barriers, and self-imposed barriers.
"In many cases, women defeat themselves and give up too soon. All three types need to be tackled if we want more women to become corporate leaders."
https://www.thenational.ae/uae/women-can-help-turbo-charge-arab-economies-but-reforms-needed-1.989343
--------
GCC Sees Women's Rights Progress in Wake of Reforms
06/03/2020
LONDON- With International Women's Day celebrated on March 8, efforts to improve the lives of women in the Gulf Cooperation Council region is yielding positive results.
In February, during the 39th session of the Arab Women's Committee, which convened under the banner of "Empowering Women... Development of Society," Riyadh was declared the "Capital of Arab Women 2020."
Saudi Arabia hosting the UN-endorsed event speaks volumes about the progress the kingdom has made on female empowerment.
"Women, Business and the Law," an annual report compiled by the World Bank that analyses laws and regulations pertaining to women's economic inclusion, said the Saudi economy leads the world in improvement towards gender equality.
"Saudi Arabia made the biggest improvement globally, enacting reforms in six out of eight areas measured including in women's mobility, sexual harassment, retirement age and economic activity," said the report, which also praised the United Arab Emirates for its reforms.
The World Bank report showed Saudi Arabia's ranking increasing 38.8 points since 2017. Among areas highlighted were Saudi women's freedom of movement, as reforms under the country's Vision 2030 championed changes to domestic laws. Women in the kingdom no longer need permission from a male guardian to travel abroad or to obtain a passport, for instance.
"Saudi Arabia also amended the Civil Status Law to allow a woman to choose where to live in the same way as a man by removing a provision that made the husband's home the default residence," the report said, adding that a husband can no longer sue his wife for leaving the marital home.
"These new regulations are history in the making. They call for the equal engagement of women and men in our society," Saudi Ambassador to the United States Princess Reema bint Bandar bin Sultan said about the reforms.
"It is a holistic approach to gender equality that will unquestionably create real change for Saudi women," she added.
The World Bank highlighted what it described as ground-breaking Saudi reforms, which ranged from laws that protect women from discrimination in employment to the criminalising of sexual harassment in public and private sector employment, while encouraging women's entrepreneurship by prohibiting gender-based discrimination in accessing financial services.
The United Arab Emirates, which has a progressive record in support of its female population and counts eight women serving in the government's cabinet, was also lauded for its reforms.
"Over the last several years, Emirati authorities have shown a commitment to removing legal barriers to women's work," the World Bank report said.
UAE reforms include prohibiting discrimination based on gender in employment, introducing penalties for sexual harassment and lifting restrictions on women's work at night and in certain industries.
Bahrain also reportedly made progress with its Supreme Council for Women recently adopting a second National Plan for the Advancement of Bahraini Women for 2013-22, which focuses on supporting women's entrepreneurship and enhancing their physical and psychological wellbeing and protection from domestic violence.
Additionally, Bahrain adopted provisions regarding sexual harassment in employment, including criminal penalties for perpetrators. Bahraini Labour Minister Jameel bin Mohammed Ali Humaidan said the new laws were in line with international standards.
Regional achievements were also recognised in the United States. In January, during the keynote address at the Global Women's Forum in Dubai, Ivanka Trump, daughter of US President Donald Trump, praised Saudi Arabia and the United Arab Emirates for improving the quality of life of female citizens.
"Saudi Arabia has changed laws to respect women's freedom of movement and access to credit and financial services," Trump said. "Bahrain has introduced legislation against discrimination in the workplace and Jordan removed legal restrictions which limited women's ability to work at night.
"We all need to applaud these achievements and advancements."
Trump commended Emirati leaders for "removing barriers to women joining the workforce and developing a national strategy that recognises that women are central to sustainable growth."
"We know that this is going to grow and flourish in the years ahead," she said.
https://thearabweekly.com/gcc-sees-womens-rights-progress-wake-reforms
--------
Afghan and Burmese Women: Sisters in the Universal Struggle for Human Rights
By Kamal Ahmad and Farhat Popal
March 07, 2020
On the surface, Nasiba from Afghanistan and Formin from Myanmar have little in common. Nasiba grew up in the city of Kabul, while Formin is from a remote village in the Maungdaw district of Rakhine state. But take a closer look, and they become sisters in the universal struggle for women's rights and equal participation in the social, political, and economic life of their countries. And that struggle requires continued investment and support from the United States and the international community.
The worlds they must navigate are not easy. Women and girls in Afghanistan face lack of equal access to educational opportunities due to threats of violence and harassment, poverty, and long distances to the closest school. While women in Myanmar, on average, have much higher literacy rates than Afghan women, there are immense economic, regional, and urban-rural disparities.
When it comes to economic participation, violence affects Afghans' attitudes toward women's inclusion, which in turn impacts Afghanistan's ability to grow its economy. For women in Myanmar, their participation in the economy is concentrated in the informal sector, with concerns about poor pay and working conditions, long hours, sustainability, and lack of protection under the law.
Supporting women's education and economic empowerment — and gender equality overall — is important for the future of both countries.
We know that when women are educated, they are more likely to become gainfully employed, raising the income of the entire household. We also know that gender equality is critical to a country's economic growth and stability. And perhaps most importantly, gender equality and women's economic empowerment have strong ties to prosperity and peace.
Organizations like the Asian University for Women (AUW) in Chittagong, Bangladesh and the George W. Bush Institute in Dallas, Texas are committed to providing women and girls with the tools they need to tackle these challenges and more.
Founded in 2008, AUW has developed a unique model for educating and empowering the next generation of women leaders across Asia and the Middle East. In its admissions and scholarship programs, AUW prioritizes women who are first in their family to enter university. It particularly targets marginalized communities and provides two years of on-campus college preparatory classes prior to their entry into the undergraduate program. As a regional institution with 100 percent of its graduates returning to their home countries, AUW exemplifies a model of cultivating knowledge, skills, and empowerment within the region and retaining these future leaders.
AUW students Nasiba and Formin exemplify how powerful access to quality education can be in creating opportunities for young women. Nasiba intends to study economics at university and hopes to provide economic opportunities to her community as an entrepreneur. Formin aspires to become a lawyer, focusing on the plight of her people, the Rohingya minority of Myanmar. Since 2017, over 730,000 Rohingya have crossed the border into Bangladesh to flee atrocities committed against them by the military.
As young women like them build on their education and move forward in their careers, continued training and mentorship is essential to ensuring access to quality jobs and leadership positions.
At the George W. Bush Institute, the model for advancing women's leadership and human rights is based on shared learning and mutual exchange, safe spaces to have conversations about their country's and/or region's challenges and successes, and exposure to inspirational leaders and different methods of tackling pressing challenges. The Institute implements this vision through its Liberty & Leadership program (LLP) for young scholars leading change during Myanmar's democratic transition, and the WE Lead program for mid-career women advancing economic opportunity in the Middle East, North Africa, and Afghanistan.
LLP scholar, Evelyn, saw that women in her community did not have agency to work outside the home, and those who did were paid a very low wage. To address this challenge, she is working to provide jobs to women producing traditional clothing. Afghan WE Lead scholar, Homa, identified a similar challenge for women in her province. In addition to serving as director of a local NGO focused on women's economic empowerment, she started her own embroidery and clothing business to empower women in rural areas.
Despite facing immense challenges in their countries, Afghan and Burmese women are incredible leaders with a thirst for knowledge, and the persistence and courage to make a positive impact in their communities and countries. The United States and the international community must continue to invest in women and girls like Nasiba, Formin, Evelyn, and Homa through targeted scholarship programs and funding for training and mentorship, for example. On International Women's Day and beyond, this is essential – for the advancement of women, for the advancement of society, and for advancement of the world.
https://thediplomat.com/2020/03/afghan-and-burmese-women-sisters-in-the-universal-struggle-for-human-rights/
--------
US Awards Syria Refugee International Women of Courage Award
March 6, 2020
A Syrian refugee living in the UK has won the International Women of Courage Award given to her by the US Department of State alongside 11 other notable women from around the world.
Amina Khoulani, a Syrian refugee based in Manchester, was presented with the award at a ceremony hosted by US Secretary of State Mike Pompeo on Wednesday. The US' First Lady Melania Trump spoke at the ceremony and commended the women's' accomplishments before granting them the awards.
Khoulani, who moved to Manchester with her husband and three children last year, was one of the countless victims of the Syrian regime of Bashar Al-Assad and his security services. Due to her "peaceful activism" and calls for greater civil rights in the country, she was arrested by the regime and imprisoned for six months in 2013, and her husband was imprisoned for two and a half years. While they survived their sentences in Assad's notorious prison network, her three brothers were killed during their detentions.
Her third brother was confirmed to have also been tortured to death; information the family only discovered after Khoulani discovered a picture of his body in the infamous "Caesar report" which consists of thousands of pictures of the tortured corpses of Syrians which were leaked by a former regime photographer.
The Manchester-based charity for Syrian refugees living in the West – the Rethink Rebuild Society – said it "is proud of Mrs Khoulani's achievement, which reflects the persistence of Syrians to pursue justice and freedom despite the difficulties they are facing as new refugees in host societies."
Khoulani now reportedly devotes her life and time to help the families of forcibly displaced Syrians and refugees escaping from the conflict, and has founded an organisation named Families for Freedom.
https://www.middleeastmonitor.com/20200306-us-awards-syria-refugee-international-women-of-courage-award/
--------
URL: https://www.newageislam.com/islam,-women-and-feminism/new-age-islam-news-bureau/peshawar-s-historic-sunehri-mosque-opens-doors-to-women-after-23-years/d/121251
New Age Islam, Islam Online, Islamic Website, African Muslim News, Arab World News, South Asia News, Indian Muslim News, World Muslim News, Women in Islam, Islamic Feminism, Arab Women, Women In Arab, Islamophobia in America, Muslim Women in West, Islam Women and Feminism