New Age Islam News Bureau
27 Jan 2013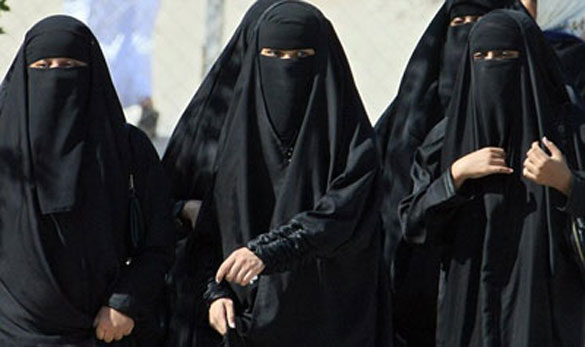 • Babies – For – Sale Racket, 33 Held, Mastermind — a Malaysian Woman
• Bridging Gender Divide in Nigeria's Internet Access
• Syrian Refugees Told To Say 'I Don't' To Egyptian Marriage Proposals
• Selling Little Girls to Pay Back Debt in Afghanistan
• Saudis Turn to Ethiopian Maids after Beheading Limits Supplies
• Syrian Girls 'Sold' Into Forced Marriages
• Muslim Women Finally Able To Embrace Manicures, Nail Polish That Fits Religious Restrictions
• Soccer Groups in Middle East Push Women's Right to Participate
• Afghanistan's Pedagogy of the Invisible
• Daughters Demand Contact with Detained Iran Opposition Couple
• The Word On Women - Can Afghan Women's Rights Soldier on without Foreign Troops
Compiled by New Age Islam News Bureau
Photo: Perversity of Saudi Arabia: Enforce Female Dress Code, Men Can Go Out In Underwear
URL: https://newageislam.com/islam-women-feminism/perversity-saudi-arabia-enforce-female/d/10165
---------------
Perversity of Saudi Arabia: Enforce Female Dress Code, Men Can Go Out In Underwear
Perversity of Saudi Arabia's moral police who rigorously enforce female dress code but are happy for men to go out in their underwear
Religious police say men can walk around in underwear
But women still face punishment if they violate strict clothing laws
Latest example of Saudi Arabia's unfair treatment of women
24 January 2013
Saudi Arabia's feared morality police say they will not punish men who walk around in their underwear - but women still face harsh punishments if they violate strict laws on women's dress codes.
The Commission for the Promotion of Virtue and Prevention of Vice has denied reports of a ban to counter the controversial trend of young men frequenting shopping malls in their undershirts and long pyjamas.
Women, however, are still expected to cover their body with a cloak, head covering and a veil according to the country's strict Islamic laws.
'The commission has not issued any statement about this matter and violations in general are addressed according to the existing regulations,' Najm Al Dhufairi, a spokesman for the commission, reported Saudi news website Albawaba.
Saudi daily Al Yaum reported that the commission had called for a ban on young men walking into shopping malls wearing white undershirts and long underpants usually worn under the traditional robes, known as a thawb or dishdasha.
The commission reportedly took the decision because more and more young men are doing it as an act of rebellion.
Spokesman Ziad Al Ruqaiti said that complaints about young men 'parading in their undershirts and long underpants in shopping malls' was often reported by families, the third biggest complaint by shoppers after verbal assaults and harassment.
He added: 'Usually the security services at the shopping malls deal with such incidents and the police intervene only when matters get out of their control.'
Saudi Arabia's strict interpretation of Islam prohibits men and women who are not immediate relatives from mingling and women from driving. The playing of music, dancing and many movies also are a concern for hard-liners who believe they violate religious and moral values.
A SYMBOL OF THE ARAB WORLD
A thawb, or dishdasha, is an ankle-length robe commonly worn in Arab countries.
The word thawb is the standard Arabic word for 'a garment'.
It is the traditional Arab clothing for men throughout the Middle East and parts of Africa.
Those who refuse to obey their orders are often beaten by the religious police, known as mutaween, and sometimes put in jail.
Many in Saudi Arabia say they exploit their broad mandate to interfere in people's lives.
Perhaps the most serious and widely criticised incident attributed to them occurred on March 11, 2002, when they prevented schoolgirls from escaping a burning school in Mecca, because the girls were not wearing headscarves and robes.
Fifteen girls died and 50 were injured as a result.
Widespread public criticism followed, both internationally and within Saudi Arabia.
The many restrictions on women have led to high rates of female unemployment, officially estimated at around 30 per cent.
The country sent two female athletes to the London Olympics last year, ending the Muslim country's record of sending only all-male teams to the Games.
Comments in the Saudi blogosphere were divided about the underwear issue. One posted: 'I can assure you that most of these young men do it not out of conviction, but rather as a daring challenge', while another claimed the men do it: 'because they have plenty of free time and no real place where they can use their potential'.
The second poster was likely referring to high levels of unemployment in Saudi Arabia, estimated to be 35% among men in their 20s.
'Get them busy by engaging them in activities they like and they will put an end to their unusual behaviour,' was the advice.
One took a harsher view: 'They just want to be different even if their outfits clash with good taste and public decency. They are moral outcasts who need help.'
http://www.dailymail.co.uk/news/article-2267595/Perversity-Saudi-Arabia-s-moral-police-rigorously-enforce-female-dress-code-happy-men-underwear.html#ixzz2J5N08900
---------------
Babies – For – Sale Racket, 33 Held, Mastermind — a Malaysian Woman
33 held in babies- for- sale racket
JANUARY 25, 2013
A DOCTOR and a National Registration Department (NRD) officer are among 33 people arrested by police, believed to be involved in a babies-forsake racket.
The syndicate's mastermind — a Malaysian woman in her fifties — was also arrested. The selling price, depending on their parentage, gender, nationality and looks, ranged from RM18,000 to RM30,000.
The mothers — many of whom are unmarried and including foreign nationals — were only paid between RM2,000 and RM4,000.
Penang police chief Datuk Abdul Rahim Hanafi said the "package" came complete with birth certificates and MyKid issued by the arrested NRD staff.
The babies were delivered by a doctor in a private clinic whose staff were also picked up by police.
It is learnt that the mastermind would approach foreign workers who are willing to get pregnant, or those who "accidentally got pregnant" and visited a clinic to have abortions and made them change their minds in exchange for fast money.
Abdul Rahim said police had been monitoring the syndicate for about a month based on public information and zeroed in on them on Dec 12 last year.
The syndicate had been active since early last year and had connections with a clinic on the island which acted as the "middleman".
An exchange of phone numbers, believed to have been obtained from the clinic, would enable a meeting between the syndicate and clients to select their babies of choice by looking at photographs before agreeing on a price.
Abdul Rahim said police had rescued nine babies and toddlers — three boys and six girls NABBED AFTER SURVEILLANCE: Abdul Rahim (in baju Melayu), state CID chief SAC Mazlan Kesah (right) and other police officers show photographs of the babies sold by the syndicate along with their birth certificates at a press conference at the state police headquarters yesterday — aged between two months and eight years in Penang, Kedah and Perak.
The nine had already been sold to couples in the three states. "We are trying to ascertain if there are more babies sold by the syndicate and also whether other NRD personnel are linked to the syndicate," he said.
All nine children, believed to be of Thai, Bangladeshi and Malaysian parentage, have been placed under the care of an undisclosed home.
"We're waiting for a court order to place the babies and children in a proper home or surrender them to the relevant agencies," Abdul Rahim said.
All the 33 arrested are being investigated under Section 14 of the Anti Trafficking in Persons Act (Atip) 2007 which carries a maximum of 20 years imprisonment upon conviction.
http://www.mmail.com.my/story/33-held-babies-sale-racket-45254
---------------
Bridging gender divide in Nigeria's Internet access
23 JANUARY 2013
Situational variations among countries and within regions signal that Internet penetration levels are not predetermined, and that significant increases in the share of women and girls online could be achieved. ADEYEMI ADEPETUN, in this report, examines the economic potential of bridging the divide in Nigeria. Excerpts:
FROM activists in Egypt to coffee farmers in Colombia and the Occupy Nigeria protests, the Internet has transformed the lives of billions of people. It functions as a gateway to ideas, resources and opportunities that never could have been realised before, let alone fathomed.
All around the world, the Internet is helping people to imagine new possibilities and then, to make them happen.
Bridging the Internet gender gap represents an opportunity of immense proportions, knowing fully well that Internet access is fast becoming an indispensable entrée to a hyper-connected world.
The Internet is best thought of not so much as a technology but rather as an infrastructure, a mass of interlinked hardware and software—from deep sea cables and telephone wires to desktop computers and mobile phones—connecting an increasingly large proportion of the world's computing devices.
Many services today operate via the Internet—including perhaps most famously, the World Wide Web—but the Internet itself predates these. It is the vast, physical network within which much of modern digital culture exists.
The history of the internet dated back to the Cold War and the communications networks developed by America in the wake of Russia's launch of the satellite Sputnik, the first man-made object ever to orbit the earth in 1957.
Shocked by its rival's achievement, America poured resources into developing new communications technologies. In particular, the aim was to develop communications networks able to function even if a disaster destroyed large parts of the network itself.
The rest is history. Today, the Internet facilities are available and have linked everybody far and near together.
Indeed, various reports have shown the transformative power of the Internet to improving the social economic situations of countries across the globe. Report said the Internet contribution to global GDP was greater than the GDP of Canada in 2012. In India, Internet-based economic activity accounted for more than five per cent of GDP growth.
However, despite its transformative power, research has shown that women and girls are being left behind in the revolution, especially in the developing economies.
On average across the developing world, report said nearly 25 per cent fewer women than men have access to the Internet, and the gender gap soars to nearly 45 per cent in regions like sub-Saharan Africa, adding that in rapidly growing economies the gap is even enormous.
According to a research conducted by Intel and Dalberg, titled: "Women and the web," presented at the just concluded Working Forum on Women Information and Communication Technologies And Development (WICTAD) conference in Washington DC, U.S.A, it was revealed that nearly 35 per cent fewer women than men in South Asia, the Middle East and North Africa have Internet Access, and nearly 30 per cent in parts of Europe and across Central Asia.
In most higher-income countries, the research noted that women's Internet access only minimally lags that of men's, and in countries such as France and the United States, in fact exceeds it.
2012 statistics on Internet Usage and population, according to Internet World Stats ranked Africa least among continents with Internet penetration.
Internet World Stats estimated that there are 2.4 billion Internet users globally, but access was not equally dispersed, stressing that developing countries in particular lag behind.
In specific, North America has 274 million Internet users, controlling 79 per cent penetration. Europe has 519 million users, with 64 per cent penetration, Asia with 1.1 billion users of the Internet has 28 per cent penetration.
The Middle East, with 90 million users has 40 per cent Internet penetration. Oceania/Asia has 64 per cent penetration from 24 million users, while Latin America and the Caribbean's 255 million users have 43 per cent penetration.
The African continent, with 167 million users has 16 per cent Internet penetration. This, according to experts is rather too small to engender rapid development of the continent.
According to the report, there are 600 million women and girls in developing countries using the Internet today, which is nearly 25 per cent fewer than men. The report was optimistic that the number of women online can be doubled within three years, reaching 1.2 billion, due to the projected growth rate of Internet adoption, and assuming action taken by public and private sector actors would accelerate adoption and reduce the gender gap by a further 40 per cent.
Indeed, the report pointed out that doubling the number of women and girls online would generate an estimated additional $13 to $18 billion in GDP across developing countries.
It noted that this would unleash a market of new platform sales and network access amounting to an estimated $50 to $70 billion.
However, these aggregated figures like all global figure—mask a good deal of nuance and variation among countries.
According to the International Telecommunications Union, between 2009 and 2011 Internet penetration grew at an average of more than 18 per cent per year in developing countries worldwide.
ITU stressed that if this trend continues by 2014, Internet penetration in developing countries will reach above 40 per cent.
"We acknowledge that penetration growth may slow, as the people offline are increasingly those that are the hardest to reach.
"Conversely, improvement of ICT infrastructure, the proliferation of Internet access platforms and falling costs of devices and associated services could buoy penetration growth. Taking these and other variables into account, we believe that if action is taken to implement the recommendation suggested, our target of more than 1.2 billion women online in developing countries within three years can be reached," ITU stated.
In Nigeria today, with about $7 billion investments in four major submarine cables including MainOne, Glo1, SAT3 and WACS carrying over 7.78 terabytes bandwidth capacity, the Internet penetration remains abysmally low. Out of World Bank's estimated population of about 160 million Nigerians, only 45 millions presently have access to the Internet.
The 45 million users are dominated by 90 per cent of the male folks, leaving the remaining 10 per cent for the women, creating a huge gap.
The Minister of Communications Technology, Mrs. Omobola Johnson attested to the fact that Internet penetration is still low in the country, when she said that over 7.78 terabyte of internet capacity was lying untapped at the shores of the country, yet Internet penetration in the country remains abysmally low.
According to her, unless the capacity was connected to the hinterlands through last-mile connectivity, it would remain a challenge for the country in getting the capacity inland and that Internet penetration in the country would also remain a challenge.
But if the gap between men and women Internet usage must be bridged, there was need for adequate sensitisation on its benefits, according to the president of Women in Technology in Nigeria (WITIN), Mrs. Martha Alade-Omoekpen.
Alade-Omoekpen, who was also a speaker at the WICTAD conference, said the Internet offers potentially transformative benefits, stressing that there are myriads of concrete benefits for the female folks from the Internet, which include access to improve education, job opportunities, access to health and other services.
She said the Internet provides users more subtle but profound benefits related to empowerment, confidence, a sense of connection and participation, even a feeling of liberation.
"Once achieved, all these benefits to individual women and girls create positive outcomes for their communities and countries, through their impact on economic development, gender equality, and the growth that can result from a greater diversity of ideas and political participation," she stated.
The WITIN president believed that access to the Internet can facilitate specific ends, stressing that Internet access provides more subtle, longer-term benefits around empowerment, such as increased confidence, external validation and expression.
Buttressing Alade-Omoekpen's claims, a retired Director of Education in Lagos and a technology advocates, Mrs. Adetoun Ojo pointed out that the Internet can convey numerous benefits to women, but that unlocking these benefits depends on how deeply women engage online.
"Fully engaging on the Internet requires feeling conversant—knowing what to look for, how to search and how to leverage networks, knowledge and services, as well as having fast, unrestricted, reliable access.
"Study showed that the longer a woman had been using the Internet, the more likely she was to report concrete benefits such as earning additional income, applying for jobs and other expanded benefits," she stated.
Trully, if developing economies, such as Nigeria must be transformed through the Internet, IT for Change Advocate, who also spoke at the forum in Washington DC, Anita Gurumurthy argued that women who can access only mobile phones do not receive the transformational and empowering benefits of the Internet.
"Women need to participate in a full-fledged way, with the Internet and a computer or laptop, in order to create knowledge. This isn't possible with a platform such as SMS. They need equal participation."
Benefits of Internet access, according to Gurumurthy do not accrue to women and girls alone. She said the effects of bringing millions more women and girls into the online world ripple far beyond themselves and their own households and communities.
Exposed to new information, ideas and connections, women and girls, according to Gurumurthy will spread their new knowledge and confidence throughout their spheres of interaction, helping to undermine stereotypes and others foundations of gender inequality.
By and large, if Nigeria's Internet must experience needed transformation, a former Association of Telecommunications Companies of Nigeria's President, Dr. Emmanuel Ekuwem believed in having more infrastructure to drive broadband access.
In an interview with The Guardian, Ekuwem said broadband services will flow through broadband infrastructure, but what do we do to ensure rapid broadband infrastructure penetration of every nook and cranny of Nigeria so that broadband services can flow through?
"We need massive broadband infrastructure roll out across the entire length and breadth of Nigeria. We have Main One Cable's 1.92 terabits/sec broadband as well as those of Glo One, SAT3, WASC at the coast. We must get these to the hinterland of Nigeria.
"We need massive roll out of fibre optic cables, broadband wireless (radio and light-laser) and broadband VSAT to carry terabits/sec broadband capacity from the coast into the hinterland. We cannot afford digital divides in Nigeria."
The former ATCON boss explained that there is a very close correlation between broadband capacity available to a nation, a people, a state and the level of their economic activities and productivity.
Emphasising the World Bank established fact that broadband penetration increases GDP of nations much higher than narrowband (like voice), Ekuwem said the country's voice centric telecoms revolution has impacted positively on many lives in Nigeria and has given a boost to economic growth rate.
"You can imagine what will happen when we go broadband in full blast."
http://www.ngrguardiannews.com/index.php?option=com_content&view=article&id=111221:bridging-gender-divide-in-nigerias-internet-access&catid=55:compulife&Itemid=391
---------------
Syrian Refugees Told To Say 'I Don't' To Egyptian Marriage Proposals
January 24th, 2013
The Egyptian National Council for Women Rights (NCWR) condemned on Wednesday the phenomenon of Egyptian men marrying Syrian refugees.
Many Syrians have been recently displaced to Egypt due to the civil unrest in their home country. The number of registered Syrian refugees has reached 8, 858 according to the most recent updated data at the United Nations High Commissioner for Refugees (UNHCR).
The council said in a statement that these marriages are "crimes committed against women under the guise of religion, as some of the Islamic preachers encourage young Egyptian men to marry Syrian refugees."
Full report at:
http://www.albawaba.com/editorchoice/syria-egypt-refugee-marriage--466009
---------------
Selling Little Girls to Pay Back Debt in Afghanistan
January 25th, 2013
By Samuel Burke, CNN
The mother of a little Afghan girl cannot even turn to face her daughter. She looks down in shame as she explains why she must hand the girl over to drug lords.
The father of the girl has done what many Afghan farmers must do to finance their opium farms: borrow money from drug traffickers. But the Afghan government and international forces' attempt to halt the opium trade has quashed the father's poppy business, and with it, his ability to pay back the lenders.
The drug lords have taken him hostage to extract a payment.
"I have to give my daughter to release my husband," the mother explains with the girl at her side. She looks no older than six.
Full report at:
http://amanpour.blogs.cnn.com/2013/01/25/selling-little-girls-to-payback-debt/
---------------
Saudis turn to Ethiopian maids after beheading limits supplies
26 January 2013
Written by William Davison and Simon Clark / Bloomberg News
ZEINI KADIR escaped at dawn, when the gates of the house in Dammam, Saudi Arabia, were open for morning prayers.
Barefoot, she ended up at an agency catering to Ethiopian workers like her. After flying to Addis Ababa, she rode two buses and walked three hours to the mud-walled home where she grew up. She'd lasted just three months, cooking and cleaning seven days a week in the 18-room house, where she said she was beaten with a stick. Still, she said she would have stayed in Saudi Arabia if she could have found another job.
Full report at:
http://businessmirror.com.ph/index.php/features/global-eye/8264-saudis-turn-to-ethiopian-maids-after-beheading-limits-supplies
---------------
Syrian Girls 'Sold' Into Forced Marriages
Jan 23, 2013
Syrian women and girls, some as young as 14 years old, are being 'sold' into forced marriages or prostitution after becoming refugees, aid workers and religious charities have said.
http://www.telegraph.co.uk/news/worldnews/middleeast/syria/9821946/Syrian-girls-sold-into-force-marriages.html
---------------
Muslim Women Finally Able To Embrace Manicures, Nail Polish That Fits Religious Restrictions
By DAILY MAIL REPORTER
25 January 2013
A 'breathable' nail polish, which allows water vapours to pass through to the nail, is causing a stir among devout Muslim women who are unable to wear regular polish because of the washing involved in daily prayers.
Muslims' pre-prayer ritual includes washing the arms and face completely, where water must touch every surface - an impossible feat if a layer of paint is covering the nails.
But Inglot Cosmetics, a company from Poland which is available in the U.S. at Macy's, has released a new line of permeable polish called O2M which will allow Muslim women the freedom to wear polish as they please.
Full report at:
http://www.dailymail.co.uk/femail/article-2268351/Muslim-women-finally-able-embrace-
---------------
Soccer Groups in Middle East Push Women's Right to Participate
January 25, 2013
Soccer associations throughout the Middle East launched a campaign recently to put women's soccer even with men's soccer in an area where the right of a woman to pursue a career in athletics is still controversial and when Islam in politics continues to rise.
The campaign was announced following a seminar in Jordan's capital of Amman. The seminar had been organized by WAFF, the West Asian Football Federation and one big absentee at the seminar out of the 13 members of the Middle East Football Association was Saudi Arabia. In Saudi Arabia, soccer for women is lost in the legal and political nether land along with the country of Yemen.
Full report at:
http://www.mideasttime.com/soccer-groups-in-middle-east-push-womens-right-to-participate/945/
---------------
Afghanistan's Pedagogy of the Invisible
January 25, 2013
Noorjahan Akbar
Perhaps part of the reason it is hard to find girls in Afghan classrooms is because women and girls are hard to find in textbooks?
A report produced by the Ministry of Education in 2007 says that while 85% of female students in Afghanistan completed elementary school, less than 5% had the chance to study beyond middle school. Whether the statistics are accurate or not, Afghanistan does have a significantly small number of female high school graduates.
Full report at:
http://www.undispatch.com/afghanistans-pedagogy-of-the-invisible
---------------
Daughters Demand Contact With Detained Iran Opposition Couple
January 26, 2013
DUBAI (Reuters) - Two leading Iranian opposition figures held under house arrest for almost two years have been denied contact with their children, their daughters said in a statement published on Saturday.
Mirhossein Mousavi stood in presidential elections in 2009 and became one of the figureheads of the huge street protests over allegations of vote rigging that followed. He was detained with his wife Zahra Rahnavardstood in February 2011.
Full report at:
http://www.nytimes.com/reuters/2013/01/26/world/middleeast/26reuters-iran-
---------------
The Word on Women - Can Afghan women's rights soldier on without foreign troops
By Alice Baghdjian
January 26, 2013
As the 2014 deadline for most NATO-led combat troops to leave Afghanistan approaches, a question mark hangs over the future of women's rights in the war-torn country.
Since the 2001 ouster of the Taliban, Afghan women have reclaimed rights and freedoms long denied to them, including the ability to vote, go to school and work outside the home.
With the scheduled withdrawal of most foreign troops by the end of 2014, however, many fear a rollback of women's rights and a potentially violent backlash against leaders of the Afghan women's rights movement.
Full report at:
http://www.trust.org/trustlaw/blogs/the-word-on-women/can-afghan-womens-rights-soldier-on-without-foreign-troops
---------------
URL: https://newageislam.com/islam-women-feminism/perversity-saudi-arabia-enforce-female/d/10165