New Age Islam News Bureau
8 Sept 2016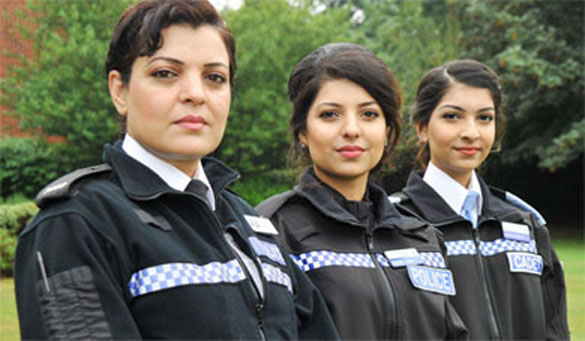 Mum Saima with her two daughters Nayhaa and Narmeen, Policing Northants
-------
• Not Unusual For Muslim Women to Lead, Says Marina Mahathir
• A Mum and Her Daughter Policing Northants on a Mission to Change the Perceptions of Muslim Women
• Two Men Detained In Spain For Kicking Pregnant Woman Wearing Niqab
• Shariah Bill Forum 'All About Men and Power', Not Justice, Malaysian Female Filmmaker Claims
• South African Muslim Marriage Bill: Will It Finally See The Light Of Day?
Compiled by New Age Islam News Bureau
URL: https://newageislam.com/islam-women-feminism/personal-law-board-views-'medieval,'/d/108506
----
Personal Law Board Views Are 'Medieval,' Say Indian Muslim Women
September 8, 2016
Denouncing the "derogatory" statements made by the All India Muslim Personal Law Board (AIMPLB) in their counter affidavit submitted to the Supreme Court regarding triple Talaq (practice of divorce), the petitioners, and members of the Bharatiya Muslim Mahila Andolan, have asked for a public apology and termed the board as having views, "no longer fit to exist in modern society."
In its affidavit, the AIMPLB had argued that the Shariyat (Muslim personal law) permits the use of triple Talaq to keep the dignity and privacy of both the parties intact and save them from public censure, which stems from delayed justice received in a court of law. News reports quoted the board saying men have greater reasoning power as compared to women and a man giving triple Talaq to his wife was a better option than murdering her or burning her alive.
However, the BMMA and Muslims for Secular Democracy (MSD), who were protesting against the alleged remark made by the board said, "Their stand smacks of a medieval mindset and prejudice against women. To presume that this would take care of murder of women and illicit relationships is a fallacy and the facts do not bear this out."
Members of the BMMA said that on an average, they receive between 15 and 20 cases relating to triple Talaq every month. Khatoon Shaikh, who is the Maharashtra convener of BMMA, said the board does not know the ground reality and is disguised as a non-governmental organisation.
She said there needs to be an arbitration period before divorce is granted and that the process of divorce should not be male-centric. Ms. Shaikh also said the movement will go to Jantar Mantar in New Delhi, if need be, and the activists will stage a Dharna there until their demand of a total ban on triple Talaq is not met.
Co-founder of the BMMA, Noorjehan Safia Niaz, said Muslims across the country have come out in support of the ban and that there is dissent even in the conservative part of the community with many men and religious priests admitting that the practice is biased and prejudiced against women. "The board's argument that the procedure of divorce is written in the Quran is false, as is their claim of being Quranic; they are cut off and outdated from the reality of current times," Ms. Niaz said.
A joint statement issued by the BMMA and MSD said legal abolishment should not be limited to triple talaq, but should also extend to "misogynist practices" like underage marriages, muta [temporary] marriages, polygamy and any form of unilateral divorce.
On September 5, the apex court granted the Centre four weeks' time to file a response on a batch of petitions on the issue.
http://www.thehindu.com/news/cities/mumbai/personal-law-board-views-are-medieval-say-muslim-women/article9082160.ece
--
Not Unusual For Muslim Women to Lead, Says Marina Mahathir
September 8, 2016
PETALING JAYA: Prominent rights activist Marina Mahathir has lamented that some women buy into the idea that they have to accept a lesser role than males.
In a live interview with the National Human Rights Society (Hakam), streamed on Facebook, Marina said many conservative Muslims believed that women could not become leaders, and this was primarily due to her biological functions.
"Some say a woman cannot become a menteri besar (MB) because she cannot accompany the Sultan for religious functions when she is menstruating."
However, Marina pointed out that the primary role of a menteri besar was to administer the state, thus a woman's biological functions should not be used as an excuse to deny her appointment as a person of authority.
It is believed Marina was referring to the objections by some against the appointment of PKR President Dr Wan Azizah Wan Ismail as Selangor menteri besar in 2014, during the state's MB crisis.
Eventually, PKR Deputy President Azmin Ali was appointed menteri besar.
Marina said Islam's history was filled with female leaders, such as Prophet Muhammad's first wife Khadija, who was a successful businesswoman during her time, as well as the Prophet's youngest wife, Aisha, who was regarded as a leader in the community.
"It is not unusual for Muslim women to lead, but nowadays we seem to be making an issue out of it."
She also spoke on the issue of gender inequality in Malaysia, explaining that it was not an issue limited to the Muslim community.
Marina said to resolve the issue of gender inequality in society, the concept of gender equality had to start from home.
She said that both husband and wife must have equal roles, responsibilities and be equally respected.
"If there is inequality in a family, it will just carry over to society. We cannot expect schools to teach kids about gender equality if they go home and see inequality."
Marina also touched on the lack of women in power, noting that only 10 per cent of parliamentarians were women and that only three women were full ministers in the Cabinet.
Marina added that political parties on both sides of the divide seemed reluctant to ensure 30 per cent of decision-making positions were occupied by women and that real political will was needed for this to become a reality.
Last year, Prime Minister Najib Razak launched the Malaysian chapter of the "30% Club" in a bid to triple the percentage of women on companies' boards by 2016.
In the past, the government has also sought to increase women's participation in the public sector with many top posts now held by women.
http://www.freemalaysiatoday.com/category/nation/2016/09/08/not-unusual-for-muslim-women-to-lead-says-marina/
--
A Mum and Her Daughter Policing Northants on a Mission to Change the Perceptions of Muslim Women
'You can be a Muslim and cop at the same time!': A mum and her daughter policing Northants changing stereotypes
September 08, 2016
​A mum and her daughter who are both special constables for Northants Police - as well as her other daughter who is a cadet - say they are on a mission to change the perceptions of Muslim women.
Saima Saleem, who is in her early 40s, was a full time mother to three daughters, until she became a special constable for the force back in August 2014.
Currently undertaking a BA Policing degree at the University of Northampton, Saima now carries out a minimum of four hours a week of voluntary policing work.
Her 22-year-old daughter Nayhaa Saleem is also a special constable, and the younger member of the family is 17-year-old Narmeen, who is a police cadet.
"Every single day is different," Saima said. "What I like most in my role is that I get to help people and keep them satisfied with my work. And by helping them feel safe with us around.
"Before joining Northamptonshire Police, I had never worked. I had no work experience as I had always been a house wife. Facing an interview was a really big obstacle for me as I had no idea what to expect or what kind of example I could give to them.
"After failing my first interview, I wasn't disheartened at all but instead I was even more enthusiastic after the support I received. I failed my fitness test because I am that person who always parks the car nearest to the lifts! But I tried again and with the help of gym instructors and coaching from officers I finally passed."
Saima says that culture has played a huge part her life, adding: "As a Pakistani woman, being a special constable is a big thing. I always wanted to join the police force but never had the courage. But when my husband saw my passion towards the police, he told me to join. He has been such a huge support for me.
Speaking about what it means to her to be a special, she added: "As a Muslim female officer, I want to become a role model for women. They should step forward so they can achieve what they want to do in their lives."
Nayhaa, who is following in her mum's footsteps as a special constable, said: "My encouragement to become a special constable came from my mum. Watching her get ready for her shifts, feeling so excited and coming back home so pleased with herself when she helped someone or when she stopped a crime taking place, it really inspired me. Her passion and love for the job made me want to be a part of the force as well."
Speaking about the role, she added: "I love the fact that every day is so different, you never know what to expect when you go on duty. It's always so exciting
"Some people have no trust in the police and that's what I want to change. I want to treat the public respectfully so we get the same respect back."
READ: Messages pour in for ex-Northampton Town goalkeeper after his surgery in battle with cancer
As a Muslim female officer, Nayhaa says it is more than just a job: "For me, being a Muslim officer means a lot," she said. "Firstly, because I want to change people's views on Muslims, I want to show that we are a part of this community as much as they are and what we are doing is for this community. You can be a Muslim and a police officer at the same time!
​"Being quite young and a female, I do sometimes struggle as people want to talk to someone a bit older or a male officer whom they think will have more knowledge or might help them more than I will. This is one thing that I will have to deal with.
"You can help people whether you're big or small, male or a female, young or old. Getting asked how I will be able to do this, makes me want to do it even more. It makes me want to show people that being a small woman doesn't stop you from doing anything. It doesn't limit you."
Narmeen, who is a cadet and joined after being encouraged by her mum, said: "As my mum was in the police, I was encouraged to apply for the cadets as it would help me with my future career. I first joined when I was 16. I'm now waiting for my 18th birthday so I can apply to become a special.
"What I like most about my role is the fact you get an inside view about what the police actually do, you learn skills before you apply to become a special and therefore are at an advantage of knowing what set of skills and what knowledge is needed.
"As a 17-year-old Muslim female cadet I'm proud to become a role model for the people of my age."
http://www.northampton-news-hp.co.uk/you-can-be-a-muslim-and-cop-at-the-same-time-family-policing-northants-changing-sterotypes/story-29696833-detail/story.html
--
Two men detained in Spain for kicking pregnant woman wearing niqab
September 8, 2016
Madrid: Police in Barcelona confirmed on Wednesday they have arrested two men for kicking a pregnant woman who was wearing a niqab, a cloth worn by some Muslim women to cover their face.
The attack took place on Monday night in the Ciutat Vella, a district of Barcelona, Xinhua news agency quoted the local police as saying.
The two men first insulted the pregnant woman for wearing the niqab, and when her husband, who was with her, tried to protect her, they pushed him several times, before kicking the woman in the stomach.
A group of passers-by stopped the assault and protected the woman and her two young children until police arrived. The woman was later taken to hospital where tests confirmed that neither she nor her unborn baby had suffered any serious injury.
The two detainees have been confirmed as known members of right-wing groups with previous convictions. They were detained and accused of hate crime, assault and causing injury.
http://www.siasat.com/news/two-men-detained-spain-kicking-pregnant-woman-wearing-niqab-1015082/
--
Shariah Bill Forum 'All About Men and Power', Not Justice, Malaysian Female Filmmaker Claims
September 8, 2016
KUALA LUMPUR, Sept 8 — Filmmaker Norhayati Kaprawi has criticised a recent forum on PAS' Shariah Bill that featured an all-male panel, saying it was not so much about justice and morals but about men and power.
Norhayati, who was sitting next to lawyer and activist Siti Kasim at the forum last Monday that saw Siti giving the middle finger to her hecklers, claimed the moderator, Dr Yusri Mohamad from Yayasan Dakwah Islamiah Malaysia (Yadim), ignored her when she raised her hand to ask questions during the second Q&A session.
"What I saw in that forum was that IT WAS all about MEN AND POWER, not so much about upholding justice, and not about creating a high moral society," Norhayati said in a Facebook post yesterday in a mixture of Malay and English.
"The moderator saw me putting up my hand, but he looked elsewhere and allowed the men to stand up and ask questions, even though during the first Q&A round, the men already asked plenty of questions.
"So, in that ALL MALE forum, SITI was the ONLY WOMAN who got to participate in the whole discussion," Norhayati added.
She also said the moderator had failed to control the rowdy audience when Siti was speaking.
The forum on "Pindaan Akta 355: Antara Realiti Dan Persepsi" organised by the Karangkraf Group in Shah Alam Monday — which discussed PAS president Datuk Seri Abdul Hadi Awang's private member's Bill that seeks to amend the Shariah Courts (Criminal Jurisdiction) Act 1965 (Act 355) — featured an all-male panel, including moderator PAS secretary-general Datuk Takiyuddin Hassan, Minister in the Prime Minister's Department Datuk Seri Jamil Khir Baharom, Kepong MP Dr Tan Seng Giaw from the DAP, and MCA central committee member Gan Ping Sieu.
Norhayati said she had wanted to ask Takiyuddin and Jamil Khir what was their obsession with enhancing punishments under Shariah law.
"Shouldn't they be obsessed instead with how to ensure JUSTICE in the Shariah legal system so that it's implemented effectively? So that each Muslim WILL UNDERSTAND WHAT IS JUSTICE AND HOW IMPORTANT IT IS FOR JUSTICE TO BE EFFECTED WELL AND EFFECTIVELY?" she said.
She pointed out that women's rights groups had submitted more than five years ago draft amendments to the Islamic Family Law Act so that it would be fairer and protect the rights of Muslim women. However, nothing has been done so far.
"Harsh punishments will not create good people. What will shape people into good human beings is education about strong ethics since young, so we need to focus on EDUCATION, not PUNISHMENT," she said.
The activist pointed out that the crime rates in countries like Sweden, Denmark and Japan were much lower than those in Muslim countries.
"If all of you, especially women, want to go on holiday, you all will definitely feel much safer in those countries compared to many Muslim countries, including those that have implemented hudud, even though Sweden, Germany and Japan all don't have hudud," she said.
PAS has insisted that Hadi's private member's Bill only aims to give the Shariah courts stronger punitive powers to offences listed under Act 355, while Jamil Khir reportedly said last month that there was a need to strengthen the Islamic courts as most of the fines and jail sentences have purportedly failed to deter offenders.
http://www.themalaymailonline.com/malaysia/article/shariah-bill-forum-all-about-men-and-power-not-justice-female-filmmaker-cla
--
South African Muslim Marriage Bill: Will It Finally See The Light Of Day?
08 SEP 2016
"The ongoing violation of the human rights of women in Muslim marriages has been the subject of a 10-year law reform process, which has apparently ground to a halt," the Women's Legal Centre (WLC) said in a statement earlier this week. "The WLC are taking the South African Government to court for failing to pass legislation that will give recognition to Muslim marriages."
This date with the High Court has been a long time coming. Under apartheid – in terms of the Marriage Act 25 of 1961, if one prefers specifics – Muslim (Nikah) marriages, Hindu marriages and other traditional marriages were not given the same legal recognition as civil marriages. The Recognition of Customary Marriages Act, which was enacted in 2000, delivered some reforms, but failed to recognise Muslim marriages, thanks to wording that specifically included only "customs and usages traditionally observed among the indigenous African peoples of South Africa, and which form part of the culture of those peoples".
The Muslim Marriage Bill, which eventually followed the investigations of a dedicated Project Committee on the South African Law Reform Commission, has still not been enacted. The deadline for public comment on the Bill passed in 2011.
Fast forward to late 2015, and a legal representative for two Islamic organisations argued that the legal centre was unfit to appear before the Western Cape High Court to fight for the recognition of Muslim marriages.
"It is comparable to my pet cat Roshan appearing before the court," Advocate Zehir Omar told Judge Siraj Desai.
On behalf of his clients, the Lajnatun Nisaa-Il Muslimaat (the Association of Muslim Women of South Africa) and the United Ulama Council of South Africa (UUCSA; one of two organisations with the same name), Omar added that the legal centre's wish to give legal recognition to Muslim marriages was unconstitutional, because it singled out Islam rather than other religions which also faced issues of gender equality.
The president, Ministers of Home Affairs and Justice and Correctional Services respectively, as well as the Speaker of the National Assembly and the Chairperson of the National Council of Provinces, all filed papers opposing the legal centre. They argue that Muslim communities are not in favour of the legislation.
But the WLC, for its part, is also basing its approach on the Constitution. Women's Legal Centre Attorney Hoodah Abrahams-Fayker told Daily Maverick that the practice of discriminating against Muslim women should not be accepted in democratic South Africa.
"We are hoping that the Court will agree that the non-recognition of Muslim marriages is unconstitutional," she said on Wednesday.
In the legal centre's engagement with communities nationally, there has been support for legal framework to recognise Muslim marriages, she added.
Nonetheless, the delay in resolving the issue is partly due to divided opinion among Muslims, say both Abrahams-Fayker and UCT Associate Professor in law, Waheeda Amien.
"The freedom of religion clause in the Constitution includes a proviso that any legislation purporting to regulate religious personal law systems or religious marriages, cannot conflict with other provisions in our Bill of Rights including gender equality," Amien wrote in 2015.
Abrahams-Fayker believes there is not sufficient reason to prevent legal recognition of Muslim marriages.
"The major challenge is that a few Muslim communities consider that enacting legislation to govern Muslim marriages affects the 'purity' of the religion of Islam," she told Daily Maverick. "[Regarding the delay], that is exactly what we are asking the court. The South African Law Reform Commission investigated the issue a long time ago, there is a draft Bill, the courts have acknowledged that non-recognition of Muslim marriages is discriminatory, but still no legislation has been passed."
In 2015, Omar argued that the entire hearing disrespected Islam – and Muslim women, who he argued were comprehensively protected.
"The motive is to undermine Islam," he said. "Their aim is to erode away the teachings of the Qur'an and Sharia."
Muslim law, he added, provided for the protection of women, where for instance the man is obliged to maintain his ex-wife for a period following the divorce.
"In South African law, after the divorce, it is finished," Omar told the court.
The problem comes in, however, with enforcement of the requirements of Islamic law. At present, there are no legal consequences for a man who does not protect his wife; who ill-treats her against the instruction of the Qur'an; and who does not – contrary to Islamic teachings – provide for his wife (or wives) and children. A woman married under Islamic law but not under civil law has precious little protection outside of her community. Clergy and Sharia courts, says Abrahams-Fayker, frequently side with men. And if, in this instance, a woman is treated unjustly, she then has little or no legal recourse.
Amien argues that although Islamic law does to some extent protect women, the lack of legal support also results in damaging ignorance of women's rights – particularly among women themselves.
"[M]any women are unaware of their Islamic law rights and even when they are aware, they seldom have the negotiating power to assert them."
A further difficulty is in the issue of polygamy. In 2015, some 100 Imams (Muslim clergy) underwent the necessary training to become marriage officers, which did ease the process of combining religious and legal marriage for those who wished to. However, this still leaves some wiggle room where there is more than one wife. In this case, the second (or third, or fourth) wife is not protected with respect to inheritance, dependant's claims, etc.
Amien has noted a number of the complexities surrounding the Muslim Marriage Bill.
"The first, and it appears the most contested issue, is whether or not a secular state should be regulating a religious family law system that has for centuries been regulated within the private domain by members adhering to that religion," she writes.
"Those adopting the position that the state should not be interfering in the private matters of a religious community echo the laïcité approach of the northern and western hemispheres. Ironically, it is precisely the laïcité approach that is being used today to discriminate against Muslim women in many European countries. A similar approach was previously used to advocate against state intervention in domestic violence because the latter was perceived to fall within the private sphere of the family and not within the domain of the state." It is the state's duty, however, to intervene where there are inequalities or other abuses, believes Amien.
In a nutshell, says the Women's Legal Centre, lack of recognition for Muslim marriages has numerous potential ramifications. Whether a wife has a right to inherit from her deceased husband, to whom she was married according to Muslim rites, is an issue; as she is not defined as a wife in terms of SA law. Where a Muslim wants a divorce in terms of her Muslim marriage, she cannot automatically turn to the courts for a decree of divorce, or for a determination of the proprietary consequences (i.e., who is entitled to which portion of the marital assets), and care of the children. Pensions, maintenance claims and housing applications can be affected.
Muslim marriages are dissolved by Muslim clergy and/ or Islamic tribunals, which can have an adverse impact on Muslim women, Abrahams-Fayker adds.
"A husband can grant a unilateral divorce, where the issues of property distribution of the marital assets, maintenance and the children's care has not been decided. Further, in cases where a Muslim woman exercises her right to apply for a divorce, it is not easily granted as the clergy are all male… decisions are sometimes biased in favour of men."
And where the clergy or tribunal do rule in favour of women, the ruling is not enforceable, since it is not a direction from the court.
"Of concern to the WLC is the many Muslim divorces that take place without the oversight of the court and the advice of the Family Advocate regarding what is in the best interests of the children," the centre said in a statement on Monday. "In the case of civil and customary divorces there is judicial oversight, but this is not the case with Muslim divorces."
There is room for legal regulation of faiths in our country, believes Amien.
"In light of South Africa's history of discrimination on the basis of, among others, race, gender and religion, we adopt an approach that is tolerant toward, accommodating of, and in fact celebratory of religion. Moreover, our Constitution enables our government to enact legislation to regulate religious personal law systems or religious marriages." According to her, it is "not entirely accurate" to argue that the Bill does not comply with Islamic law; it "is formulated within an Islamic law paradigm."
This debate is not just gaining momentum in South Africa. Early in September, a Sharia scholar in the UK argued that British courts needed a more comprehensive strategy to protect Muslim women married religiously.
In the US, the matter of "personal laws" versus "social reforms" has been raised in the Supreme Court.
In Malaysia, there is also some confusion regarding religious versus national law.
And in India, the matter of triple talaq (divorce by means of a man uttering three times that he no longer wishes to be married to his wife) has been under the spotlight.
Locally, however, a leading concern for the Women's Legal Centre is that the courts may rule that legitimising Muslim marriages will be unconstitutional, since women are not treated equally in Islamic law. At this stage the Constitution, it appears, could swing matters either way.
http://www.dailymaverick.co.za/article/2016-09-08-the-muslim-marriage-bill-will-it-finally-see-the-light-of-day/#.V9FOVVt97IV
--
URL: https://newageislam.com/islam-women-feminism/personal-law-board-views-'medieval,'/d/108506
New Age Islam, Islam Online, Islamic Website, African Muslim News, Arab World News, South Asia News, Indian Muslim News, World Muslim News, Women in Islam, Islamic Feminism, Arab Women, Women In Arab, Islamophobia in America, Muslim Women in West, Islam Women and Feminism