New Age Islam News Bureau
15 Nov 2018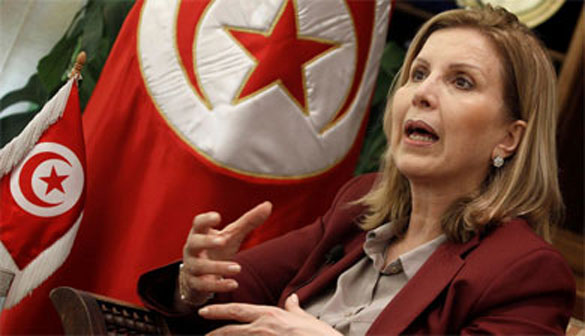 REUTERS/Zoubeir SouissiFormer Tunisian Tourism Minister Selma Elloumi Rekik speaks during an interview in Tunis, Tunisia, April 20, 2016.
-----
• Malaysia to Allow Child Marriages to Go On, But Tighter Enforcement
• Woman Tapped As Head of Presidential Diwan In Tunisia
• Saudi Forum Stresses More Women in Leadership Roles
• Women Football Clubs in Saudi Arabia Call for Championships
• Hiking Requires Husband or Father's Permission For Women
• Kurdish Woman Accused of Murder Hanged By Iran
• Female Politicians Want Bigger Voice in Bangladesh
• Muslim Group Reacts to Govt Approval of Hijab in Schools
• Sheikha Fatima awarded 'Pioneers of Arab Giving Award' in Riyadh
• WWE Crown Jewel: Saudi Arabia Event through Eyes of a Woman
Compiled by New Age Islam News Bureau
URL: https://www.newageislam.com/islam-women-feminism/pas-womens-wing-says-marital/d/116887
--------
PAS Women's Wing Says Marital Rape a 'Liberal' Concept
15 NOVEMBER, 2018
KUALA LUMPUR — Parti Islam Se-Malaysia's (PAS) Dewan Muslimat has condemned the concept of marital rape as non-existent in Islamic Shariah law, and instead urged caution over the 'liberal needle'.
The women's wing said certain quarters continue to harp on about the issue, by using the Pakatan Harapan (PH) government as a platform to voice out.
"This is but a design used to attack the Islamic Ummah (community), and Muslim women are now being targeted by such stirring of emotions and feminist sentiments. The fighters of liberalism deign to consider any element of force even between a husband and wife to be connected to wickedness," it said in a statement.
The Islamist party women's wing said that in over half a century of Barisan Nasional rule, it had failed to implement the agenda of individual human development, to the extent that the family unit, which is meant to be the calmest refuge for a person, has been unable to enjoy the prosperity of life.
"As the leaders were more focused on the aspect of material development, unequal distribution brought about its share of burdens and distracted the rakyat from their true purpose as God's slaves on Earth.
"This has even affected the relations of husbands and wives, which ought to have been built with Mahabbah, Mawaddah and Rahmah (affection, love and mercy). Unfortunately, this most pressing aspect has been left without an agenda to turn society's smallest nucleus into the nation's pillar of strength," it said.
Dewan Muslimat said, in turn, marital and household problems played their part in contributing to various negative social ills, and the ensuing chaos not only led to grief or criminality but also stunted Malaysia's future.
"Frequently wives and children become victims, their welfare neglected. This decline has attracted attempts by liberals to break sacred covenants and toss aside the voice of 'struggle' by fighting for that which is wrong and unnatural," it said. MALAY MAIL
https://www.todayonline.com/world/pas-womens-wing-says-marital-rape-liberal-concept
--------
Malaysia to Allow Child Marriages to Go On, But Tighter Enforcement
15 Nov 2018
KUALA LUMPUR: Laws to better protect the interest of those involved in child marriages will be tabled in Parliament by the middle of next year, says Deputy Prime Minister Datuk Seri Dr Wan Azizah Wan Ismail.
The amendments will cover both civil and Islamic marriages and make it a requirement for reports from relevant agencies to be submitted before such marriages are allowed.
"For non-Muslim marriages, Cabinet papers to amend the Law Reform (Marriage and Divorce) Act 1976 will tabled in Cabinet in 2019.
"The amendments, among others, will include the requirements that social, health and police reports are submitted for application for underage marriages, which comes under the purview of the Home Ministry," she said when replying to a question raised by Khairy Jamaluddin (BN-Rembau) in Parliament on Thursday (Nov 15).
At present, she said the government had tightened approval for underage marriages whose procedures are governed by the Home Ministry, Syariah and customary courts.
She said the Syariah Judiciary Department's standard operating procedure (SOP) on Muslim underage marriage was issued to Syariah courts nationwide on July 23.
"Under the SOP, the state Welfare Department and Health Department, and state police, must submit a social, health and police report if a Syariah judge finds it necessary for consideration in an application for an underage marriage," she added.
Dr Wan Azizah said the reports would contain information on the applicant's background, income, social status, and education level.
"This will help the Syariah judge in coming to a decision that will protect those involved in underage marriages," she said.
Although the Federal Government has proposed that the minimum marrieagable age be fixed at 18, Dr Wan Azizah said that so far, only Selangor had done so, two months ago.
She added that Melaka, Penang, Kedah, Johor and Sabah had indicated their intention to raise the minimum marriageable age to 18.
To a question by William Leong (PH-Selayang), Dr Wan Azizah told lawmakers that the marriageable age in Britain, Canada and Australia was 16, while there was no minimum age for certain states in the United States.
Child marriage became a national issue in July after it was reported that a 41-year-old man in Gua Musang, Kelantan, had taken an 11-year-old girl as his third wife.
There were also reports of another marriage in Tumpat, Kelantan, where a 15-year-old girl married a man nearly 30 years older than her.
On Tuesday (Nov 13), a group of civil society activists and school students staged a peaceful demonstration in front of Parliament to urge the government to ban child marriages.
https://www.thestar.com.my/news/nation/2018/11/15/malaysia-to-allow-child-marriages-to-go-on-but-tighter-enforcement/
--------
Woman Tapped As Head of Presidential Diwan In Tunisia
Mohamed Ali Litfi
November 14, 2018
TUNIS, Tunisia — Salma Elloumi Rekik assumed her post as head of the presidential diwan Nov. 1. She replaced Salim Elezabi, who resigned Oct. 9 due to his opposing the policy adopted by Hafez Caid Essebsi, the executive director of Nidaa Tunis and son of President Beji Caid Essebsi.
Rekik, a 62-year-old businesswoman, served as minister of tourism and handicrafts for three years. She will be the first woman to head the presidential diwan, which oversees the work of the president's advisers, since Tunisia's 1965 independence. President Essebsi appointed her to the post Oct. 21.
Rekik has survived four Cabinet reshuffles, which were lobbied for by several opposition parties and the Tunisian General Labor Union (UGTT).
Bushra Belhaj Hamida, an official spokeswoman for the presidency, told Al-Monitor that the appointment of Rekik is an important step toward empowering women in politics. "Women need to be granted sovereign ministries," she said.
Hamida added that Tunisian women still aspire to secure high-ranking political positions, especially since they accounted for 47.7% of the total winners in the municipal elections. They also headed 29.55% of the electoral lists, according to statistics announced by the Supreme Independent Electoral Commission in May 2018.
She said Rekik earned the post given her performance as minister of tourism and handicrafts.
Forbes Magazine named Rekik one of the top 10 most powerful Arab women in government for 2017 due to the success she achieved in Tunisia's public sector.
Three million Algerian and Libyan tourists visited Tunisia in 2016, while 6.7 million tourists from all over the world visited the country this year. Despite the terrorist operations witnessed in Tunisia, Rekik managed to turn Tunisia into the second destination in Africa, following South Africa.
Mounia Ibrahim, a member of Ennahda movement, which holds a majority in parliament, told Al-Monitor that Rekik's appointment marks a valuable victory for Tunisian women in politics. She pointed out that although women have managed to hold political decision-making positions, their representation within parties remains insufficient.
She added that out of 160 Tunisian parties, only two are headed by women: the Democratic Movement for Building and Reform, headed by Amina Mansour al-Qarawi, and the Tunisian Party, headed by Myriam Mnaouar.
This, according to Ibrahim, is a weak figure in a country that has come a long way in the field of rights and freedoms and that seeks to promote the role of women in decision-making positions.
Maha Jouini, a member of the Regional Coalition for Women Human Rights Defenders, told Al-Monitor that Rekik's appointment was well deserved, as the post had thus far been the preserve of men.
"Community growth is measured by the ability to integrate women and enhance their capacity as leaders in the political and development process," she said, adding, "This appointment reflects women's role in building a democratic and political process in Tunisia in the wake of the January 2014 revolution."
Abdeljabbar Maddouri, the former editor-in-chief of Sawt Achaab newspaper, told Al-Monitor that Rekik's appointment was merely a measure aimed to satisfy her after she resigned as treasurer in Nidaa Tunis and after the Oct. 17 decision to merge the Free Patriotic Union with Nidaa Tunis.
Rekik's appointment precedes a Cabinet reshuffle that is yet to be announced by Prime Minister Youssef Chahed. The reshuffle aims to fill the positions of minister of energy and minister of tourism and handicrafts.
Khaled Kaddour was dismissed from his post as minister of energy on corruption charges, and the Cabinet reshuffle might include other ministries, depending on their performance.
Political parties in Tunisia have yet to agree on the reshuffle, as the Nidaa Tunis bloc (55 parliamentarians out of 217) is calling for Chahed's departure, while Ennahda (68 parliamentarians out of 217) is seeking a ministerial reshuffle while keeping Chahed in his post.
On the other hand, Yuad bin Rajab, a member of the Tunisian Association of Democratic Women, a nongovernmental organization, praised Rekik's appointment in a statement to Al-Monitor. She said such an appointment is the fruit of women's efforts and successes in all fields.
She said, however, that this shall not overshadow the violations that women are still facing as part of attempts to silence their voices and isolate them in politics.
Women's gains, she added, are still at stake amid the ongoing violations and attacks carried out against women in the public sector.
The Tunisian Association of Democratic Women — an independent women's rights group that works to achieve full and effective gender equality — condemned in a statement issued Oct. 29 the violations committed against female political activists, such as verbal abuse and exposure to violence.
Yamina al-Zaghlami, a parliamentarian for Ennahda, was the subject of a derogatory media campaign due to her helping out a person whom the Ministry of Interior had banned from traveling to France for security reasons. Nidaa Tunis parliamentarian Fatma al-Massadi accused Zaghlami of helping a terrorist leave the country in a press statement to El Hasade website Oct. 29.
Rekik's appointment as head of the presidential diwan is a bold attempt to involve women in Tunisia's political decision-making process at a time when Tunisian women keep hoping for a chance to fulfill their dreams of taking over sovereign ministries and the presidency.
https://www.al-monitor.com/pulse/originals/2018/11/tunisia-appoints-women-head-presidential-diwan-first-time.html
--------
Saudi Forum Stresses More Women in Leadership Roles
November 14, 2018
JEDDAH: Dr. Huda bint Mohammed Al-Ameel, rector of Princess Nourah bint Abdulrahman University, led the Saudi delegation at the Women's Economic Empowerment Forum for the Middle East and North Africa region, which ended in Tunis on Wednesday.
Al-Ameel highlighted the efforts made by Saudi Arabia to empower women in various fields. She pointed out that the Kingdom has made significant progress in this regard, citing the appointment of many women to decision-making positions in state organizations.
Vision 2030, she added, contains a clear commitment to increase the participation of women in the labor market, as well as plans for increased sources of income that will not bear fruit unless based on equal employment opportunities for women and men.
http://www.arabnews.com/node/1405026/saudi-arabia
--------
Women Football Clubs in Saudi Arabia Call for Championships
15 November, 2018
In light of the ongoing developments in the Saudi sports sector, especially on the level of women participation after the appointment of two ladies in the Saudi football federation, and the permission given to women to enter sport stadiums and events, the women football clubs hope to mark a presence under the sport authority's umbrella.
The women football fans wish to see their hopes fulfilled as part of the ongoing efforts aiming to promote health, quality of life and community sports, all under the Saudi vision 2030.
Lina Al-Maeena, member of the Saudi Shoura Council and Jeddah United Foundation, said that 15 year ago, she established a private team and handled its training and progress.
"I worked to promote the club under a commercial umbrella, and I managed to overcome many obstacles and difficulties," she added, noting that she is optimistic about major upcoming developments such as building an organizational structure and launching community sports programs.
"We do not deny that there is a significant development in the women sport sector in Saudi Arabia. One of the most important developments is the appointment of Princess Rima Bint Bandar and two other women as members of the Saudi Football Federation. The contribution of those women sports staff will certainly have a huge impact," Maeena said.
Saudi Arabia has now more than 15 women football teams. The most recent team is the newly established Royal Lyons team in Riyadh, along with many similar teams in other cities such as Jeddah and Dammam.
"This club is the fruit of dreams and painstaking efforts. We look forward to harnessing the players' physical and artistic potentials to create a team that meet their dreams of participating in local and regional tournaments," said Taline al-Abd al-Mohsen, team manager and football coach at AC Milan Academy and co-partner in the Royals Lyons club.
The new team includes more than twenty football players, and offers a privacy atmosphere for women, especially in Saudi Arabia.
Abd al-Mohsen told Asharq Al-Awsat that the team has the support of many sports companies, which introduced a free stadium as part of an initiative to back the team, along with a number of academies that provided the team with the required consultancy.
The Royal Lions' coach asserted that the Sports Authority set no regulations concerning the establishment of teams or the selection of their names. But, laws and regulations are expected to be endorsed to organize the participation of women sports teams in light of the ongoing mobility and development, and the appointment of two women members in the Football federation, Adwa' Arifi and Haifa al-Sabab, who will play an important role in highlighting women's football.
Taline said her team aspires to form a large base of talented players to become the core of the Saudi national women team and represent the Kingdom in regional and international forums.
https://aawsat.com/english/home/article/1463686/women-football-clubs-saudi-arabia-call-championships
--------
Hiking Requires Husband or Father's Permission For Women
14 November 2018
Married women must have their husbands' permission, and single women as well as young women under 20 years must have their fathers' permission before they can participate in any hiking or nature tours. This instruction was issued by the Hiking Board of Razavi Khorasan Province to all clubs in the province.
The official IRNA news agency reported on Tuesday, November 13, 2018, that the directive had been issued on November 4, 2018, to hiking clubs.
The directive reads in part, "The so-called sports activities which are increasingly spreading under the pretext of nature tours, hiking, etc. in mixed-gender groups and are planned as illegitimate sources of income promote moral promiscuity, unveiling of women, spread of shamelessness and liberalism, and lead to immoral and illicit relations among women and men, targeting the genuine culture and roots of Iran, Islam and the foundations of the family."
The second paragraph of this directive reads, "To observe article 1105 of the Civil Code as well as the religious decrees of religious scholars, and to protect the foundation and bases of families, it is going to be required that married women have their husband's permission and single women and young women under 20 must have their father's permission to participate (in such activities)." (The official IRNA news agency – November 13, 2018)
The news met with widespread negative reactions in Iranian society.
Misogyny is institutionalized in the clerical regime's laws. The mullahs' Civil Code depicts women as men's captives or sex slaves. Specifically, a nine-year-old girl can be forced into marriage on her father's order, and she must live anywhere her "husband" wants and cannot leave home, go to work or travel without his permission. Article 1105 of the Civil Code stipulates, "The family is headed by the husband and the woman may not leave home without the husband's permission."
https://women.ncr-iran.org/iran-women-news/5567-hiking-requires-husband-or-father-s-permission-for-women
--------
Kurdish Woman Accused of Murder Hanged By Iran
November 15, 2018
Sharareh Eliasi, a Kurdish woman from Sanandaj, was hanged in the province's central prison on Tuesday according to Hengaw, a group which reports on human rights violations involving Kurds in Iran.
Eliasi was arrested and sentenced to death five years ago by Iran's Judiciary for her alleged involvement in the murder of Kaveh Gholam Veisi, reportedly during an altercation over personal matters.
"Zahid Aliyassi, the father of the executed, asserted the innocence of his daughter in an interview with Hengaw and explained that the husband [of Sharareh] had stabbed his daughter's alleged murder victim," Jila Mostajer, manager of Hengaw, told Kurdistan 24.
However, the Iranian judicial authorities charged Eliasi with the murder.
According to the Iran Human Rights Monitor (Iran HRM), she was only 27 at the date of her execution.
In 2018, three Kurdish women so far have been hanged in Iran's prisons, based on the statistics of Hengaw.
Human rights organizations claim that Iran is the world's leading per capita executioner.
It also holds the record in the execution of women and minors.
According to the Iran HRM, over 3,600 people have been executed under Iranian president Hassan Rouhani. Sharareh Eliasi has become the 85th woman to be executed under Rouhani.
Philip Luther, Amnesty International's Research and Advocacy Director for the Middle East and North Africa, earlier called on Iran to work towards abolishing the death penalty.
"They must also immediately impose an official moratorium on executions with a view to abolishing the death penalty."
http://www.kurdistan24.net/en/news/41630cda-3554-4231-a5d0-39f2e35673e9
--------
Female Politicians Want Bigger Voice in Bangladesh
November 14, 2018
With an eye on the national election next month, female Bangladeshi politicians have called for better representation of women in parliament and an empowered role in policymaking.
Bangladesh will hold an election on Dec. 30, the Election Commission said on Nov. 12. It will be the 11th poll since Bangladesh won independence from Pakistan in 1971.
About 10,000 candidates are seeking nominations from major political parties including the ruling Awami League, the oldest and largest political party, and the Bangladesh Nationalist Party (BNP), the second-largest party.
The Jatiya Sangsad (National Assembly) has 350 seats including 50 reserved exclusively for women. It currently has 18 female MPs who were directly elected.
The Representation of the People Order 2009, the regulatory law for political representation in Bangladesh, requires all political parties to ensure 33 percent female representation in their membership, in parliament and on parliamentary committees by 2020. However, women politicians say parties are failing to achieve the rate.
During a seminar in Dhaka on Nov. 13, some 50 women politicians from major parties including the Awami League and the BNP alleged that parties tend to give women minor posts which deny them direct involvement in the decision-making process.
Democracy International, a U.S.-based democracy and civil rights advocacy group, organized the program titled "Advancing Women's Leadership in the National Election," sponsored by USAid and UKAid.
"Women are still being treated as women, not as people, by all political parties," Selima Hossain, a former minister and BNP vice-chairman, told the seminar, reported the Dhaka Tribune newspaper.
"I have been holding a reserved seat for the past two terms and I appreciate its existence, but it is not wise to think that women cannot be directly elected in constituencies," Awami League MP Sofura Begum said.
Dipika Samaddar, a Baptist Christian who is seeking an Awami League nomination from Barishal-2 constituency in southern Bangladesh, had similar views.
"An MP elected directly is entitled to great honor, rights and public support to work for better changes in society, which MPs holding reserved seats cannot expect. The world has changed and women in Bangladesh too. They deserve better political representation for the good of the country," Samaddar told ucanews.com.
Depriving women of better representation is a result of a patriarchal mindset, said Rita Roseline Costa, convener of the Women's Desk at the Catholic Bishops' Conference of Bangladesh.
"Women have come a long way in terms of their contributions in the society, the state and the world. In developed countries women have a better role in policymaking, but in a male-dominated society like Bangladesh women are seen as inferior to men. Their role in leadership is limited and often ornamental," Costa told ucanews.com.
"A competent woman can serve people equally to a man. Our nation can only prosper if we can ensure women are allowed to play their role in society properly."
Political analyst Rasheda Rawnak Khan said a level playing field is required for women in politics.
"As of today, women in Bangladesh go through various forms of discrimination starting from birth. Often their potential remains suppressed amid an unfavorable atmosphere," Khan told ucanews.com.
"From grassroots level, political parties need to offer women equal rights and platforms so that they can climb up the ladder of leadership and contribute to society and the country."
https://www.ucanews.com/news/female-politicians-want-bigger-voice-in-bangladesh/83867
--------
Muslim Group Reacts to Govt Approval of Hijab in Schools
November 14, 2018
By Fikayo Olowolagba
Muslim Rights Concern (MURIC) on Wednesday commended the approval of the use of Hijab by female Muslim students in all public schools in Lagos.
This is coming after the Lagos State government on Tuesday issued a circular approving the use of hijab by female Muslim students in all public schools.
The circular read inter alia, "Since the case of the use of hijab in Lagos State is still pending in the Supreme Court of Nigeria, the status quo should be maintained to avoid contempt of the court. That is, students should be allowed to wear hijabs on school uniforms but same must be short, smart, neat and in the same colour of the uniform (skirt).
"Furthermore, schools' management are advised to downplay comments and disciplinary actions on the use of smart hijabs until the final determination of the case by the Supreme Court.
"No student should be discriminated against in any form on the basis of religion. All principals and teachers must be sensitized to comply accordingly. You are enjoined to adhere strictly to these recommendations".
Commending the decision, MURIC director, Professor Ishaq Akintola in a statement sent to DAILY POST urged other government agencies to take a cue from the Lagos government.
The Statement reads: "Though belated, it is better to be late than never to do it at all. The wind of change is sweeping across the South West and no state government wants to be caught within the camp of reactionaries.
"We call on all government agencies and employers of labour to note this development. It is a monumental decision. The patience exhibited by Lagos Muslims has paid off. A quiet and peaceful revolution is ongoing and it is in the best interest of all men and women of goodwill to join the train before it leaves the station so that they may not be left behind.
"Reports reaching MURIC headquarters say the Tutor General Permanent Secretary (TGPS) of District 6 has also issued a circular directing all school principals within the jurisdiction to allow female Muslim students who wish to use the hijab to do so. We are yet to hear anything from Districts 1, 2, 3, 4 and 5. We are therefore calling on the remaining five TGPS to follow suit. Delay will imply insurbodination and sabotage of government's good intention.
"We congratulate the Lagos State chapters of the Muslim Students Society of Nigeria (MSSN), the Muslim Congress (TMC), the Muslim Teachers Association of Nigeria (MUTAN) and the Federation of Muslim Women Association of Nigeria (FOMWAN). We commend them for their steadfastness, patience and forbearance.
"In conclusion, we charge all the Islamic organizations in the state to immediately set up monitoring units for the successful implementation of the state government's directive.
"Muslim parents should be mobilized to visit schools for the purpose of ensuring compliance. We warn that nobody should take the law into his or her hands. Defaulting principals and recalcitrant teachers should be reported to the nearest office of Islamic organizations."
http://dailypost.ng/2018/11/14/muslim-group-reacts-govt-approval-hijab-schools/
--------
Sheikha Fatima awarded 'Pioneers of Arab Giving Award' in Riyadh
November 15, 2018
His Royal Highness Prince Faisal bin Bandar bin Abdulaziz, Prince of Riyadh Region, awarded H.H. Sheikha Fatima bint Mubarak, Chairwoman of the General Women's Union (GWU), President of the Supreme Council for Motherhood and Childhood, and Supreme Chairwoman of the Family Development Foundation (FDF), the 'Pioneers of Arab Giving Award,' in appreciation of her volunteer and humanitarian initiatives.
Noura Al Suwaidi, Director of the GWU, received the award on Sheikha Fatima's behalf, during the 5th Arab Giving Forum, which was launched yesterday in Riyadh, with the attendance of Prince Turki bin Faisal bin Abdulaziz; Princess Sara bint Faisal bin Abdulaziz; Princess Nouf bint Faisal bin Turki, Chairwoman of the Board of Directors of the Al Ghad Youth Association; Sheikh Shakhbout bin Nahyan Al Nahyan, UAE Ambassador to Saudi Arabia; Dr. Adel Al Shameri, CEO of the Zayed Giving Initiative, and several princes, ambassadors and pioneers of giving.
Prince Faisal expressed his happiness at the launch of the forum in Riyadh while expressing his pride at the presence of such humanitarian efforts in the Arab world, and noting the idea of adopting giving.
He also thanked the Emirati officials and authorities that participated in the forum and wished them luck.
Prince Faisal congratulated Princess Sara bint Faisal for being chosen as a "Knight of Arab Giving," for her contributions to social work and her giving while wishing her, Princess Nouf Al Faisal, and the staff of the association future luck and success.
Princess Sara praised the work of the forum, which is supported by President His Highness Sheikh Khalifa bin Zayed Al Nahyan while pointing out that many prominent international figures in the area of humanitarian work are looking forward to the forum's recommendations and are keen to participate, due to its realistic goals and initiatives.
She said that Emirati charity institutions and organisations derive their reputation and love for giving from the late Sheikh Zayed bin Sultan Al Nahyan, the UAE's Founder, who made the UAE a leader in all areas of giving, including at the forum.
Princess Nouf praised the efforts of Sheikha Fatima in volunteer work and humanitarian giving, adding that she is a model of the leading mother, who is characterised by her accurate future vision to create a better future for the entire community, especially for women.
She stressed that the title, the 'Mother of the UAE', is connected to her support for the humanitarian causes of Emirati and Arab women, as well as her efforts to empower and support other women around the world, through organising humanitarian campaigns, promoting giving, and assisting needy patients.
Al Suwaidi expressed her happiness at participating in the forum, which is being held under the patronage of Prince Faisal, and with the attendance of local and Arab pioneers of giving.
She affirmed that holding the forum in Saudi Arabia reflects the deep relations between the Emirati and Saudi peoples, whose foundations were established by the wise leadership of both countries while pointing out that the UAE, under the leadership of President His Highness Sheikh Khalifa bin Zayed Al Nahyan, His Highness Sheikh Mohammed bin Rashid Al Maktoum, Vice President, Prime Minister and Ruler of Dubai, and His Highness Sheikh Mohamed bin Zayed Al Nahyan, Crown Prince of Abu Dhabi and Deputy Supreme Commander of the UAE Armed Forces, is connected to Saudi Arabia by historic relations, common histories and united fate.
https://www.emirates247.com/news/emirates/sheikha-fatima-awarded-pioneers-of-arab-giving-award-in-riyadh-2018-11-15-1.675667
--------
WWE Crown Jewel: Saudi Arabia Event through Eyes of a Woman
November 15, 2018
Despite controversies over the death of Saudi journalist Jamal Khashoggi's, the WWE decided to go ahead with the Crown Jewel event in Saudi Arabia earlier this month. With women not allowed to participate in the ring in the country, a fan, who attended the show in Saud University in Riyadh, shared her experiences. The official page of National Geographic shared images from a Saudi woman Tasneem Alsulta, in which she talked about the WWE's event from the eyes of a woman attendee.
"I recently attended the WWE's wrestling show in Saudi Arabia, the Crown Jewel Event in Riyadh, with many other women. I do not consider myself a fan just yet, but I will admit that it was a fun experience- the glitter pants were an added bonus," the Instagram post read.
The Saudi General Sports Authority (SGSA), in April, had to apologise after pictures of "indecent" women were shown on big screens at the first-ever televised WWE event in Saudi Arabia, The Greatest Royal Rumble. The incident took place when footage of female wrestlers, Carmella, Bayley and Sasha Banks, who were banned from taking part in the event in Jeddah, were played for the crowd during an advertisement. In a statement, the SGSA said, "The authority has made sure to ban showing of any segment that involves women wrestling or any scenes related to it, and stipulated that to the company (WWE). The authority also disapproved any promotional stuff with pictures or videos showing women in an indecent way."
But even though, only men were allowed to participate in the event, women were allowed to watch in the audience for the first time. Previous WWE events in the country only allowed for the male audience and were not televised.
At the Crown Jewel event, earlier this month, Renee Young was allowed to sit at the commentary table but was asked to cover herself but she wore all black and head to cover her full body except her face.
https://indianexpress.com/article/sports/wwe-wrestling/wwe-crown-jewel-saudi-arabia-event-through-eyes-of-a-woman-5447541/
--------
URL: https://www.newageislam.com/islam-women-feminism/pas-womens-wing-says-marital/d/116887
New Age Islam, Islam Online, Islamic Website, African Muslim News, Arab World News, South Asia News, Indian Muslim News, World Muslim News, Women in Islam, Islamic Feminism, Arab Women, Women In Arab, Islamophobia in America, Muslim Women in West, Islam Women and Feminism