New Age Islam News Bureau
1 Nov 2012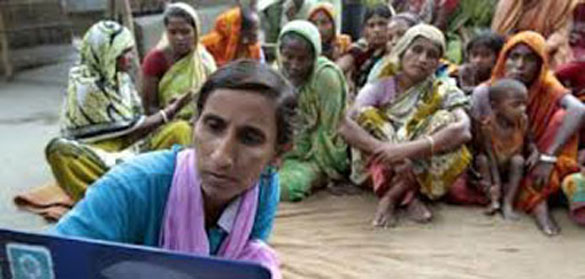 • Arab Women Turn to Crafts as a Source of Employment
• Skills Training Give Runaway Indonesian Maids A Second Chance
• The Info Ladies Project: Internet Rolls into Bangladesh Villages on a Bike
• And A Blog That Blew the 'Purdah'
• 3rd Arab Women Leadership Forum to kick off on Nov.19
• 9 Iranian Female Prisoners Go on Hunger Strike
Compiled by New Age Islam News Bureau
Photo: The Info Ladies Project: Internet Rolls into Bangladesh Villages on a Bike
URL: https://newageislam.com/islam-women-feminism/parents-kill-daughter-with-acid/d/9163
--------------
Parents Kill Daughter with Acid for Talking To a Young Man, in PoK
November 1, 2012
MUZAFFARABAD: A mother and father in Pakistan-administered Kashmir killed their 15-year-old daughter by dousing her with acid after seeing her talking to a young man, police said Thursday.
Local police officer Tahir Ayub told AFP the father, Mohammad Zafar, had had suspicions about his daughter Anvu Sha and became enraged when he saw her with a boy outside their home on Monday.
"Zafar beat her up and then poured acid over her with the help of his wife. She was badly burnt but they did not take her to hospital until the next morning, and she died on Wednesday," Ayub said.
Doctor Mohammad Jahangir of the state run Kotli hospital confirmed the death, saying the girl was brought to hospital in a "very critical condition" with almost 70 percent burns.
Anvu Sha's married elder sister alerted police and demanded they investigate the incident in Khoi Ratta district, 140 kilometres (87 miles) north of Muzaffarabad.
"The parents have confessed, saying that they suspected the girl had illicit relations with a boy," Ayub said. "We have registered a murder case against the girl's father and mother."
http://tribune.com.pk/story/459277/parents-kill-daughter-with-acid-in-muzaffarabad-police/
----------
Arab Women Turn to Crafts as a Source of Employment
By RANA F. SWEIS
AMMAN — Through their eight years of marriage the husband of Suzan Qouqas would not allow her to work, even though she had studied to become a pharmacist. A year ago, she found herself divorced, with three children and no career.
At first, Ms. Qouqas, 34, who lives in Amman, found solace in baking desserts and selling them to neighbors and friends.
Then one day Ms. Qouqas stumbled onto a Facebook page called Sitat Byoot, or Women of the Home, an online start-up created two years ago by Saeed Omar, 34, as a marketplace for Arab handicrafts created by women.
Sitat Byoot promotes, sells and delivers worldwide handmade products created by Arab women — and it provides skills training.
Ms. Qouqas decided to learn how to crochet, a form of knitting that produces lacy fabrics, using a hooked needle. Today her skills in crocheting are turning her into a promising entrepreneur.
"I knew I had it in me to create, work and support my children, but I didn't think I could implement my ideas," Ms. Qouqas said during an interview.
Ms. Qouqas is one of an increasing number of Jordanian women who, for a few hours each day, escape from family and social constraints into gainful, home-based activities: Some plant, some weave, some work as designers.
For those who do not have access to the Internet, marketing is done primarily by word of mouth. They sell their products to relatives and neighbors: More and more, they make a significant contribution to the household's income.
Because they work from home — and often alone — they can do so without alarming Jordan's predominantly conservative society. They still tend to children and chores.
Even in rural districts, still struggling with basic services and chronic unemployment, women of all ages are learning skills that match the needs of their communities. Loans from foreign donors and nongovernmental organizations are being allocated to training and skills development as the cost of living continues to rise.
Over the years, women in Jordan have become judges, lawyers, doctors and ministers, but traditional attitudes toward gender roles have been embedded in the culture. Rising enrollment of women in universities has yet to show through in the broader labor force.
"The challenges for women's equality still remain in family relationships and the struggle begins from there," said Layla Naffa, a project director at the Arab Women's Organization, a nongovernmental organization that was founded in 1970 by a group of Jordanian women activists.
Two-thirds of unemployed university graduates are women, according to the department of statistics. The mismatch between job requirements and skill sets is a major contributing factor to unemployment, according to the International Monetary Fund.
The Sitat Byoot Facebook page created by Mr. Omar for women's creations already has over 24,000 fans and a link to the store.
"My family is into retail and fashion so I was born into this," he said. "The handmade industry worldwide is huge and the Arab world is not contributing. I thought let's solve this problem and make these products appear."
The online marketing provided by Sitat Byoot has become popular among Jordanian women.
"I already had the passion and commitment to make unique products that cannot be easily found in shops," said Ms. Qouqas, "but it is very difficult to do it without a platform, so Sitat Byoot has helped in terms of implementation."
"There is a demand for good quality," she said of the items she crochets, "and when it is handmade I choose the colors and the threads."
Other products being crafted by women include designs on glass cups, chocolates and wrappings for them, jewelry, stationery, organic soaps made with olive oil, and school bags.
International organizations are giving loans to locally trained women who are buying their own sewing machines to create school bags, while women in rural areas are being trained to plant and cultivate vegetables in their home to be sold in the market.
Alaa' Abu Karaki, public relations and projects manager at DVV International, a German adult education association that implements development projects, said: "After the training, the women are eager to apply for loans and to have their own greenhouses. They have commitment, enthusiasm and patience, and they are becoming the leaders in the family."
But real challenges remain for these women.
For those who live in more conservative and rural districts, just going to training sessions outside the home can cause family feuds. For other women, lack of transportation from rural districts to training centers in Amman is a barrier.
The economic sustainability of these small projects also remains a main concern for both the women and for small businesses like Sitat Byoot.
"We are a small start-up and we don't have any investors," said Mr. Omar. "Social impact investors are absent, and so sustainability is a big problem and it is something I worry about a lot."
For women like Ms. Qouqas, meeting with other women at the training sessions has both inspired her and empowered her.
"I really want to believe that people will realize that this is part of our tradition and that women have talents and have always worked," she said. "They can contribute a lot to society."
http://www.nytimes.com/2012/11/01/world/middleeast/01iht-m01-jordan-women.html
--------------
Skills Training Give Runaway Indonesian Maids A Second Chance
Lily B. Libo-on / 1 November 2012
For the 40 Indonesian domestic workers, life could have been upside down after they ran away from their employers for a dozen and one reasons of their own.
However, the Indonesian Embassy, in close coordination with women volunteers of different nationalities, has done what could possibly reshape their future for the better if they decide to work abroad again. They were given training in various skills so that they could find better jobs.
Indonesian Ambassador Salman Al Farisi says only one per cent of those who have gone home have come back to the UAE to work. "Based on the latest figure released to us by the Ministry of Foreign Affairs, our nationals in the UAE have reached the 79,000 mark. Yet, 60 to 65 per cent of them work as household service workers, and for them, we have wanted to improve their skills."
Skills training range from proficiency in English language, entrepreneurship, Indonesian dance, sewing, computer, manicure and pedicure (mani pedi) to Quran reading.
Coming up next by the second week of November is a cooking class to be conducted by Umi Al Farisi, wife of Ambassador Al Farisi, and five other ladies, who are wives of Indonesian diplomats at the embassy in Abu Dhabi.
Al Farisi says that teaching them to cook quality Indonesian food will enable them to acquire the expertise and create the opportunity to open small enterprising household food products in their own villages. "Those who acquire skills in computer and English language end up in semi-skilled jobs in the cities."
The programme at the embassy has attracted a multi-racial team of 20 foreign volunteers, majority of whom are British, American, Australian and other expatriate housewives, who while waiting for their kids to be picked up from their schools, drop by the Indonesian Embassy shelter to share their knowledge and skills with these runaway domestic helpers.
Instructors from Indonesia also come to Dubai to train them personally on entrepreneurship, mani pedi and Indonesian dance, First Secretary Lely Meiliani told Khaleej Times.
Started in 2010, the programme got a boost in 2011 when many volunteers came forward to train these less fortunate workers.
lily@khaleejtimes.com
http://www.khaleejtimes.com/nation/inside.asp?section=nationgeneral&xfile=/data/nationgeneral/2012/November/nationgeneral_November1.xml
--------------
The Info Ladies Project: Internet Rolls into Bangladesh Villages on a Bike
FARID HOSSAIN, Associated Press
November 1, 2012
JHARABARSHA, Bangladesh (AP) — Amina Begum had never seen a computer until a few years ago, but now she's on Skype regularly with her husband. A woman on a bicycle brings the Internet to her.
Dozens of "Info Ladies" bike into remote Bangladeshi villages with laptops and Internet connections, helping tens of thousands of people — especially women — get everything from government services to chats with distant loved ones. It's a vital service in a country where only 5 million of 152 million people have Internet access.
The Info Ladies project, created in 2008 by local development group D.Net and other community organizations, is modelled after a program that helped make cell phones widespread in Bangladesh. It intends to enlist thousands more workers in the next few years with start-up funds from the South Asian country's central bank and expatriates working around the world.
D.Net recruits the women and trains them for three months to use a computer, the Internet, a printer and a camera. It arranges bank loans for the women to buy bicycles and equipment.
"This way we are providing jobs to jobless women and at the same time empowering villagers with critical information," said Ananya Raihan, D.Net's executive director.
The women — usually undergraduates from middle-class rural families — aren't doling out charity. Begum pays 200 takas ($2.40) for an hour of Skype time with her husband, who works in Saudi Arabia.
Begum smiles shyly when her husband's cheerful face pops up. With earphones in place, she excitedly tells him she received the money he sent last month. He asks her to buy farm land.
Even Begum's elderly mother-in-law now uses Skype to talk with her son.
"We prefer using Skype to mobile phones because this way we can see him on the screen," Begum said, beaming happily from her tiny farming village in Gaibandha district, 120 miles (192 kilometres) north of the capital, Dhaka.
In the neighbouring village of Saghata, an Info Lady is 16-year-old Tamanna Islam Dipa's connection to social media.
"I don't have any computer, but when the Info Lady comes I use her laptop to chat with my Facebook friends," she said. "We exchange our class notes and sometimes discuss social issues, such as bad effects of child marriage, dowry and sexual abuse of girls."
The Info Ladies also provide a slew of social services — some for a fee and others for free.
They sit with teenage girls where they talk about primary health care and taboo subjects like menstrual hygiene, contraception and HIV. They help villagers seeking government services write complaints to authorities under the country's newly-enacted Right to Information Act.
They talk to farmers about the correct use of fertilizer and insecticides. For 10 takas (12 cents) they help students fill college application forms online. They're even trained to test blood pressure and blood sugar levels.
"The Info Ladies are both entrepreneurs and public service providers," Raihan said.
Raihan borrowed the idea from Bangladeshi Nobel laureate Muhammad Yunus, who in 2004 introduced mobile phones to rural women who had no access to telephones of any kind, by training and sending out scores of "Mobile Ladies" into the countryside.
That hugely successful experiment drew in commercial mobile phone operators. Now more than 92 million people in Bangladesh have cell phone access.
Nearly 60 Info Ladies are working in 19 of Bangladesh's 64 districts. By 2016, Raihan hopes to train 15,000 women.
In July, Bangladesh's central bank agreed to offer interest-free loans to Info Ladies. Distribution of the first phase of loans, totalling 100 million takas ($1.23 million), will begin in December. Raihan said D.Net is also encouraging the large population of Bangladeshi expatriates to send money home to help Info Ladies get started.
"It's very innovative," says Jamilur Reza Chaudhury, a pioneer of information technology education in Bangladesh. "The project is really having an impact on the people at grass-root level."
Info Lady Sathi Akhtar, who works in Begum's and Dipa's villages, said she makes more at the job than she would as a school teacher. She said that after making payments on her 120,000 taka ($1,480) loan and covering other costs, she takes home an average of 10,000 takas ($123) a month.
"We are not only earning money, we are also contributing in empowering our women with information." ''That makes us happy."
http://www.newstimes.com/news/world/article/Internet-rolls-into-Bangladesh-villages-on-a-bike-3998827.php#ixzz2Axtg22Ay
--------------
And A Blog That Blew the 'Purdah'
Sreedevi Chitharanjan
Nov 1, 2012
KOZHIKODE: Maina Umaiban never imagined that a girl like her, hailing from a sleepy village in Idukki district, would make it to the literary world. There was no library in her area nor was there any good educational institution.
Bu tin 1996, a three-day literary workshop held in Kanhangad, while pursuing her B Com degree, and gave her the confidence to write. Thus was born a writer who through her blog posts rose issues against practices in the society which she found disturbing.
For newspaper readers, she is a writer standing for environmental issues. But her posts on her blog www. sarpagandhi.blogspot.in, which began in 2007, addresses a host of topics such as the 'purdah' code for women to child marriages in the Muslim community. After marrying to Sunil K Faizal, the 34-year-old published three books Visha Chikilthsya (2008), Chandanagramam (novel, 2008) and Athmadamsanam (2012).
Full report at:
http://timesofindia.indiatimes.com/city/kozhikode/And-a-blog-that-blew-the-purdah/articleshow/17043237.cms
--------------
3rd Arab Women Leadership Forum to kick off on Nov.19
October 31, 2012
DUBAI: Dubai Women Establishment (DWE) will host the third edition of its flagship Arab Women Leadership Forum on Nov.19-20 at the Grand Hyatt in Dubai.
The two-day forum will focus on issues and opportunities surrounding the role of women in the boardroom under the theme "Board Leadership '&' the Case for Diversity."
The Arab Women Leadership Forum will feature national and internationally-recognised speakers and accomplished women role models, as well as serve as a high-level networking platform for conference attendees.
Full report at:
http://gulftoday.ae/portal/d3563b47-a8a2-44bc-bda3-640272425c98.aspx
--------------
9 Iranian Female Prisoners Go on Hunger Strike
By THE ASSOCIATED PRESS
DUBAI, United Arab Emirates (AP) — At least nine Iranian women political prisoners have gone on a hunger strike to protest snap body searches and abuse by prison guards at the main prison in Tehran, according to an Iranian opposition website.
The kaleme.org reported late Wednesday that the women started the strike after female guards at Evin prison in northern Tehran carried out unannounced inspections that included body searches, beating and verbal insults of the prisoners.
The report said the prisoners were mainly political activists and journalists convicted in the wake of mass street protests that followed the disputed 2009 re-election of President Mahmoud Ahmadinejad. The website says the strikers have demanded an apology and guarantees that the guards would not undertake similar actions in the future.
Full report at:
http://www.nytimes.com/aponline/2012/11/01/world/middleeast/ap-ml-iran-hunger-
--------------
URL: https://newageislam.com/islam-women-feminism/parents-kill-daughter-with-acid/d/9163