New Age Islam News Bureau
28 Feb 2014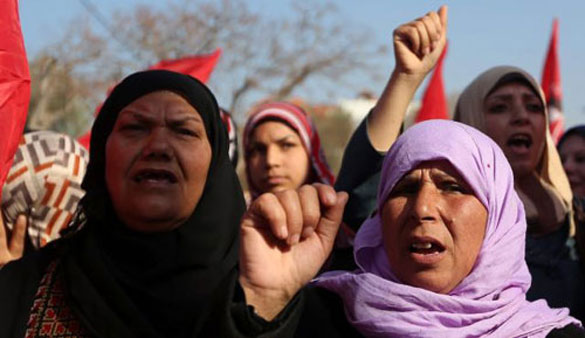 Palestinian women protest in Gaza City, Jan. 2, 2014. Photo by AP
--------------
• 'Christian Divorce Law in Pakistan Is Insulting To Women'
• Leicester Boys' School Bans Women from Applying For Job as Science Teacher
• Achieving Full Women Empowerment in Pakistan
• Indian SC Judgment on Adoption Is Not Infringing On Muslim Personal Laws At All
• Media Is 'Best Tool' To Empower Women, Says Pioneering Female Emirati Lawyer
• Report: Woman Convicted Of Terrorism in Israel Worked As Obamacare Navigator
• Malnutrition Survey: 'Over 70% Mothers in Sindh Are Vitamin D Deficient'
• Sexual Assault Reports Surge in US Military
• Towards A Fashionable Muslimah at USA Islamic Fashion Week
• Muslim Movie Aims To Protect Women
• Drugs Demerits — Female Force Leads the Way in Saudi Arabia
• Saudi Jewellery Shops Not Ready For Women Employees Yet
• South African Government Launches Free Contraceptive Device for Women
Compiled by New Age Islam News Bureau
URL: https://newageislam.com/islam-women-feminism/palestinian-women-seek-tougher-laws/d/45956
-----------
Palestinian Women Seek Tougher Laws to Combat Honour Killings
February 28, 2014
A Gaza teen stabbed to death by her brother while she prayed in her room has become the latest addition to a grim statistic: Palestinian women killed by relatives, often for allegedly shaming the family.
Twenty-six women were slain by relatives in the West Bank and Gaza in 2013, twice as many as the year before, according to official figures. The rise stems from mounting economic difficulties in the Palestinian territories, compounded by ongoing leniency for those killing in the name of "family honor" and social acceptance of violence against women, women's rights activists said Wednesday.
They urged Palestinian President Mahmoud Abbas to repeal sections of a penal code that allows for short sentences of at most a few years for the perpetrators. Abbas suspended one article of the code in 2011, but others remain on the books, said Hanan Ashrawi, a senior PLO official and former legislator.
Ashrawi said she repeatedly has urged Abbas to adopt legal reforms, especially of articles that discriminate against women, but so far to no avail. She said she last met with Abbas in November, but that he referred the matter again to his legal adviser.
She said that male politicians often brush aside women's concerns, with the argument that more important issues are at stake, such as ending Israeli occupation and establishing a Palestinian state.
Ashrawi said archaic laws harming women also undercut Palestinian aspirations. "We are fighting for freedom and human dignity," she said. "How can you deprive women of all these things?"
Abbas aides, including his adviser on legal affairs, did not return requests for comment.
Perpetrators punished lightly
So-called honor killings are committed regularly in traditional Arab societies that enforce strict gender separation and view an unmarried women's unsupervised contact with a man as a stain on the family reputation.
The most recent killing was carried out Saturday in the town of Bani Suheila in southern Gaza, according to the Palestinian Center for Human Rights, which cited a police report.
The victim was identified as 18-year-old Islam al-Shami. The girl was stabbed in the neck with a kitchen knife while she was praying in her room, the rights group said. Her 21-year-old brother was arrested and later told police he killed his sister to defend the family honor, according to the rights group.
In the West Bank, a mentally disabled 21-year-old woman was strangled by her brother in September, ostensibly over family honor, according to the Independent Commission for Human Rights, another Palestinian group. Her brother is in prison over the killing.
In all, 26 women were killed by their relatives in 2013, compared to 13 the year before, according to Palestinian government statistics. All were labeled "honor killings," though in some cases, the motives appeared less clear-cut or ambiguous.
"There is a clear increase in so-called honor killings in Palestinian society," said Rabiha Diab, the women's affairs minister in the West Bank.
In some cases, perpetrators claimed to have killed in the name of family honor, when in effect they appeared to have had financial or other motives and hoped to benefit from relatively lenient punishments, she said.
Some human rights groups provided slightly different figures, depending on their classification of killings of women by relatives.
Perpetrators spend at most a few years in prison.
In Gaza, the longest sentence has been three years, said Anam al-Inchasi, a judge.
"Judges are members of the same society in which honor killings take place," she said, referring to the prevailing attitude that violence against women is an internal family matter.
http://www.haaretz.com/news/middle-east/1.576737
----------
'Christian Divorce Law in Pakistan Is Insulting To Women'
February 28, 2014
LAHORE: A section of the Christian Divorce Act 1869 has been challenged before the Lahore High Court for being "offensive and insulting" to women.
At the first hearing of the case on Thursday, Justice Mansoor Ali Shah directed the petitioner to bring relevant documents before the court at the next hearing, date for which would be fixed by the registrar's office.
The petitioner, Ameen Masih, said he was going through a divorce and that a petition for maintenance was pending before a civil court.
He said the main reason behind the divorce was that he and his wife were not happy together. He said he also did not get along with his in-laws.
However, he said, under Section 10 of the Christian Divorce Act 1869 he could only divorce his wife if he accused her of adultery. He said he could not make an accusation he did not believe to be true.
Saying that the Act had existed since the colonial times, he requested the court to declare Section 10 of the Act ultra vires and in contravention of the Constitution through exercise of judicial review.
He said several countries, including the UK and the USA, allowed a Christian man to file for a divorce on grounds like unreasonable behaviour which enabled divorce petitions to be dealt in an expeditious manner. He said Section 10 of the Christian Divorce Act 1869 was an obstacle in convenient separation between spouses who agreed to do so. He said divorces under the Act had been tarnishing the image of innocent women.
http://tribune.com.pk/story/677009/judicial-review-christian-divorce-law-is-insulting-to-women/
------------
Leicester Boys' School Bans Women from Applying For Job as Science Teacher
February 28, 2014
A Muslim boys' school is facing claims of segregation after advertising for a temporary science teacher but making clear that women need not apply.
The advert published by the outsourcing company Capita requested a "Male Science Teacher" to cover lessons, including some mathematics classes, until the end of the current academic year on a short term contract for up to £150 a day.
Secular campaigners said the advertisement was just the latest in a series of demands for religious customs and practices to be "accommodated" in the education system as a result of giving faith groups the power to run schools.
It follows a storm over allegations that non-Muslim female staff at the Al-Madinah free school in Derby had been forced to wear headscarves in line with strict Islamic practices.
There have also been concerns that girls at other Islamic schools are being required to wear full veils as well as questions over segregation in classes.
Capita argued that the exclusion of women could be legally justified but the advert was later withdrawn after a warning from the Department for Education over the need to comply with equality law.
The National Secular Society said it had been alerted to the advertisement by a female science teacher who had been looking for work in the Leicester area.
Among requirements listed for the job are a good knowledge of the national curriculum and an ability to plan "innovative and engaging lessons".
The advert describes the school simply as an Islamic School for Boys in Leicester without specifying which school.
Capita refused to confirm the name of the school claiming it was to "protect their confidentiality".
But it follows a similar advertisement placed by the Madani Boys School in Leicester last month for the post of "Male Technician" in the IT department.
Capita insisted that the male-only requirement was legal under the Equality Act, which allows employers an opt-out from sex discrimination rules in specific circumstances.
"These provisions are referred to as occupational requirements and they create exceptions that allow an employer to act in a way that would otherwise be discriminatory," a spokeswoman said.
"Capita Education Resourcing is committed to equal opportunities both as an employer, and as an agency for the recruitment and placement of educational staff."
But a spokeswoman for the Department for Education said: "Schools must comply with equality law.
"We asked Leicester City Council to raise this with the school and the advert has now been withdrawn."
Stephen Evans, campaigns manager at the NSS said: "Being male isn't a genuine occupational requirement for a science teacher in a state school. Any attempt to try and make it so is unjustifiable.
"The Government's encouragement of schools run by religious groups will bring with it increasing demands for religious customs and practices to be accommodated within our education system.
"If religious demands to discriminate and segregate along gender lines are accommodated, teachers of the 'wrong sex' will be disadvantaged and children in such schools are unlikely to be adequately prepared for life as equal citizens in a liberal democracy – which should be one of the fundamental aims of education policy.
"For some religious groups, it is clear that the primary goal of state education should be to instil parents' religious beliefs in children.
"Equality must not be sacrificed in the rush to satisfy their demands."
http://www.telegraph.co.uk/news/religion/10666129/Muslim-boys-school-bans-women-from-applying-for-job-as-science-teacher.html
----------
Achieving Full Women Empowerment in Pakistan
February 28, 2014
Women empowerment calls for responsibility and requires them with intellect taking up the posts instead of women who have been selected by their male counterparts.
In 1944, Pakistan's founding father Muhammad Ali Jinnah said in a speech,
"No nation can rise to the height of glory unless your women are side by side with you; we are victims of evil customs. It is a crime against humanity that our women are shut up within the four walls of the houses as prisoners."
The lives of Pakistani women have changed during the past 30 years and they are more empowered and emancipated then they were ever before. Today, more and more women are entering the workforce yet still women face many problems, discrimination and harassment in the work force.
Women empowerment refers to the ability of women to transform economic and social development when empowered to fully participate in the decisions that affect their lives through leadership, training, coaching consulting and the provision of enabling tools for women to lead within their communities, religions and countries.
Women empowerment generally has three components: Women's sense of self-worth, their right to control their own lives, and their ability to influence the direction of social change to create a just world. Empowerment has multiple, interrelated and interdependent economic, social, personal and political dimensions.
Economic empowerment means to empower women by giving her rights of properties, financial responsibilities, adequate shares in jobs, and business opportunities. In social dimensions, it means women's social status should be equal to that of man by avoiding all discrimination based on injustice and inequality.
Women are required to have respectable status in society
Politically, women should be empowered by reserving their seats in national as well as provincial assemblies and providing their independent right of one woman one vote. Personally, they should be given equal liberty and freedom in their personal affairs, such as, in the case of marriage, vocational pursuit. As a whole, women empowerment aims at providing women with their social, economic, political and personal rights.
Legal aspect
Let's examine various laws passed regarding women in Pakistan. The Protection against Harassment of Women at the Workplace Act (2010) seeks to create a safe working environment for women. Harassment is one of the biggest hurdles faced by the working women preventing others who want to work to bring themselves and their families out of poverty.
This Act will pave the way for women to participate more fully in the development of the country, and builds on the principles of equality and women's right to earn a livelihood without any fear of discrimination. This Act complies with the government's commitment to high international labor standards and empowerment of women.
It also adheres to the Universal Declaration of Human Rights, the Convention on the Elimination of all forms of Discrimination against Women and the International Labour Organization's Convention 100 and 111 on workers' rights. It adheres to the principles of Islam and all other religions which assure women's dignity.
This Act requires all public and private organizations to adopt an internal code of conduct and a complain/appeals mechanism aimed at establishing a safe working environment for all working women.
Prevention of Domestic Violence Act (2008)
The Domestic Violence (Prevention and Protection) Bill was passed unanimously by the National Assembly on August 4, 2009, but the bill lapsed after the Senate failed to pass it within the three months period required under the Constitution.
Legislators from both opposition and government parties told Human Rights Watch that even though Pakistani President Asif Ali Zardari Zardari and Prime Minister Yousaf Raza Gilani supported the bill, it was delayed by unofficial opposition from some ministers.
The Domestic Violence bill seeks to prevent violence against women and children with a network of protection committees and protection officers and prompt trials of suspected abusers. The measure makes sexual harassment or intimidation punishable by three years in prison, a 500,000 rupee fine (4,750 USD), or both. The bill includes protection in public places such as markets, public transport, streets or parks, and more private places, such as workplaces, private gatherings, and homes.
Hudood Ordinance (1979)
The Hudood Ordinance was enacted in 1979 as part of Pakistani General Muhammad Ziaul Haq's Islamization and replaced or revised in 2006 by the Women's Protection Bill. The Hudood Law was intended to implement Sharia law, by enforcing punishments mentioned in the Holy Quran and Sunnah for zina (unlawful sexual relations), qazf (false accusations of fornication), offence against property, and drinking.
As for zina, a woman alleging rape is required to provide four adult male eyewitnesses. The ordinance has been criticized as leading to hundreds of incidents where a woman subjected to rape, or even gang rape, was eventually accused of zina and imprisoned becoming a victim of extremely unjust propaganda.
In 2006, then President Pervez Musharraf again proposed reforms in the ordinance. On November 15, 2006, the Women's Protection Bill was passed by the National Assembly, allowing rape to be prosecuted under civil law. The bill was ratified by the Senate on November 23, 2006, and became law after President Musharraf signed it on December 1, 2006.
Religious aspect
In Islam the importance of women and their success as human beings is measured with completely different criteria: their fear of Allah and obedience to Him, and fulfillment of the duties He has entrusted them with, particularly that of bearing, rearing and teaching children.
Nevertheless, Islam is a practical religion, and responds to human needs and life situations. Many women need, or wish, to work for various reasons. For example, they may possess a needed skill, such as a teacher or a doctor. While Islam does not prohibit women working outside her home, it does stipulate that the following restrictions be followed to protect the dignity and honor of women and the purity and stability of the Islamic society, the conduct of women, after all, is the backbone of any society.
Political aspect
The political representation of women in Pakistan is higher than India, Sri Lanka and Iran. Pakistan is listed as 45th in the Inter-Parliamentary Union's (IPU) list of women in national parliaments and stood ahead of several developed democracies, including Canada, the UK and the US. The only positive development thus far has remained the relatively large representation of women in the National Assembly, the Senate and provincial assemblies in comparison to other countries.
Of the 342 seats in the National Assembly, women now comprise 22.2 percent of those seats. In the Senate, women make up 17 percent of the parliamentary seats. This indeed is significant departure from the past considering that women are often discouraged from entering politics. Pakistan is also one of the 30 countries which have a woman as Speaker of the National Assembly.
The political growth of a country requires both male and female participation in government affairs. Women representation in the government ensures that work is done for the overall good of both genders. However, women participation calls for responsibility and requires them with intellect taking up the posts instead of women who have been selected by their male counterparts.
For more on women's rights, read here. Please share this article on Facebook, Twitter and Google+
Saira Ronaq is a writer and graduate student in gender studies at the University of Karachi. Read other articles by Saira.
http://www.sharnoffsglobalviews.com/women-empowerment-pakistan-219/
----------
Indian SC Judgment on Adoption Is Not Infringing On Muslim Personal Laws At All
February 28, 2014
New Delhi: Expressing her happiness on the judgment of the Supreme Court that has opened scope for minorities to seek adoptions legally, social activist and petitioner in this case Shabnam Hashmi has termed the judgment as "landmark," although she pointed out that she had expected lot more. "I wanted a lot more, nevertheless it is a landmark judgment," she told TCN.
While disposing the 2005 petition of Hashmi on February 19, a bench of Chief Justice P. Sathasivam, Justice Ranjan Gogoi and Justice Shiva Kirti Singh allowed the adoption under the amended juvenile justice law.
The court noted that the Juvenile Justice Act, 2000, as amended in 2006, is an enabling legislation that gives a prospective parent the option of adopting an eligible child by following the procedure prescribed by the act, rules and the Central Adoption Resource Agency (CARA) guidelines.
Pointing that the judgement will now allow minorities, particularly the Muslims, to adopt, Hashmi told TCN, "Till this judgment came, we did not have any legal options for non-Hindus to adopt. None of the civil laws were there."
She said that even she was not much aware of the laws till she adopted a daughter 17 years ago. "I had adopted a daughter 17 years ago and it was at that time that realised that non-Hindus can only get guardianship. And the legal relationship of that guardianship is till the time that the child becomes an adult, which is 18 years for a boy and 21 years for a girl."
Terming the precedence so far followed "extremely problematic and extremely insensitive," she elaborated that when you raise a child you get emotionally attached to her, and no one can take way that rights; yet legally a child cannot even write the names of the parents after he/she becomes an adult.
Her main argument in the court was that every child in India should have the right to family, explaining that often the child adopted is too young at the time of adoption and does not know about biological parents, adding that its "highly insensitive" to not even let them write the 'adoptive' parents' name.
Expressing her dismay on the opposition of the All India Muslim Personal Law Board (AIMPLB), she said, "I think they are sadly mistaken because I think that the Supreme Court has given a judgement which would have made them happy in fact," adding, "It is not infringing upon the Muslim laws at all."
Hashmi pointed out that the SC has not given any separate law, but only expanded the scope of the existing law (JJ Act) for people of all communities to adopt," adding, "It is an optional law, no one can force anyone to adopt. Muslims want to follow Muslim laws, no one is stopping them. At the same time as the Supreme Court said that Muslim Personal Laws cannot curtail a citizen from adopting."
Hashmi said that she would have understood the displeasure of the AIMPLB if the Apex Court had made adoption a fundamental right, as she had originally demanded. Reiterating that the judgement is not infringing upon Muslim laws, she expressed unhappiness saying, "I think they are mistaken by appealing against it."
The three Judge bench had also said, "To us, the (juvenile justice) act is a small step in reaching the goal enshrined by article 44 of the constitution. Personal beliefs and faiths, though must be honoured, cannot dictate the operation of the provisions of an enabling statute."
Article 44, under the directive principles of state policy, says that the state shall endeavour to secure a uniform civil code for all people throughout India.
The reference to the "Uniform Civil Code" too had angered the Muslim groups. SQR Ilyas, General Secretary of the Welfare Party of India, who is also a member of the AIMPLB, had criticised the reference as "unnecessary and uncalled for."
Asked about her opinion on the reference to Uniform Civil Code, she said, "I think that the Muslim groups are not understanding what the Court is saying because the Court clearly said that unless the communities themselves are ready for it, they cannot bring a uniform civil code. So it is actually agreeing with them."
http://twocircles.net/2014feb27/sc_judgment_adoption_not_infringing_muslims_laws_all_shabnam_hashmi.html
----------
Media is 'best tool' to empower women, says pioneering female Emirati lawyer
February 28, 2014
DUBAI // Diana Hamade, one of the first female Emirati lawyers in the country, still raises eyebrows when she walks into court.
"Judges are shocked when a female stands up and argues," said the founder of International Advocate Legal Services in Dubai. "They tell me, 'you look like a woman who can do a better job at home'.
"Local judges look at me and ask, 'why aren't you home with your kids?' I tell them my kids are happy with a lawyer mum. The law is completely a male-dominated field."
The pioneering lawyer was at a discussion in Dubai on how the media can empower women, entitled Worth 100 Men: Identifying the Role of Media in Women's Empowerment.
"Lawyers before me did not use the media. The media is our best tool," Ms Hamade said.
She said the first woman to practise law in the UAE was licensed in 1991.
"Today, there are 40 female public prosecutors, 60 women lawyers in firms and two female judges in Dubai."
Other discussion panellists said empowerment of women began at home.
"It is important to raise children who respect women from an early age," said Mona Tavassoli, founder of Mom Souq, an online bazaar.
"We forget our children are the future decision makers. The change should start at home."
Taghrid Al Saeed, head of digital communications at Mubadala, said: "Women reinforce stereotypes. We parrot them. We have to challenge ourselves."
The event was organised by the Womanity Foundation, a Swiss foundation established in 2005 to raise the profile of women.
"Our goal is to find innovative solutions to empower women," said Yann Borgstedt, its founder, who hopes to set up a base in the UAE.
"We are using media to portray issues in a non-confrontational way. We want to work in the region and Dubai is the right hub."
Mr Borgstedt said his organisation planned to air a 30-episode Arabic radio show, Radio Fiction, on an aspiring Arab journalist and the challenges she faced.
The fictional journalist's story is expected to touch on women's role in society, their social and economic empowerment, participation in public life, domestic violence, sexual harassment and family relationships.
It will be broadcast in the UAE, Saudi Arabia, Jordan, Palestine and some North African countries, including Egypt, from April.
"We want to generate a debate on her and discuss topics like violence against women, salary discrimination against women, access to certain jobs and early marriage," Mr Borgstedt said.
"We may be able to change perspectives and perhaps bring about a change in laws."
pkannan@thenational.ae
http://www.thenational.ae/uae/media-is-best-tool-to-empower-women-says-pioneering-female-emirati-lawyer#ixzz2uewgI11w
----------
Report: Woman Convicted of Terrorism in Israel Worked as Obamacare Navigator
February 28, 2014
An Arab-American community activist charged with immigration fraud for hiding that she was once convicted of a terrorist bombing in Israel worked briefly as an Obamacare navigator in Illinois, according to a report from National Review Online.
The U.S. attorney's office for the Eastern Division in Michigan announced in October that Rasmieh Yousef Odeh was accused of unlawfully procuring U.S. citizenship after she hid that she "was convicted in Israel for her role in the 1969 bombings of a supermarket and the British Consulate in Jerusalem … carried out on behalf of the Popular Front for the Liberation of Palestine," a terrorist organization.
National Review reported that the Illinois Department of Insurance on Nov. 24 "quietly revoked" Odeh's certification as an in-person navigator to help people sign up for insurance under President Barack Obama's signature health care law. The insurance department said in a disciplinary report the decision was "based on an investigation which revealed that she had been convicted in Israel for her role in the bombings of a supermarket and the British Consulate in Jerusalem and failed to reveal the conviction on her application."
According to an FBI background report for Odeh obtained by National Review, no past criminal offenses were cited. The Illinois Department of Insurance conducts background checks on navigators, National Review reported.
The U.S. attorney's indictment in October said that Odeh and accomplices placed multiple bombs at the two sites on Feb. 21, 1969. One of the bombs exploded at the crowded supermarket, killing two students from the Hebrew University of Jerusalem and injuring 20. The British Consulate was damaged as a result of the attack.
Odeh was sentenced to life in prison in 1970 but was released after 10 years as part of an Israeli prisoner exchange, after which she moved to the West Bank.
According to the U.S. attorney, she immigrated to the U.S. in 1995 and was naturalized as a U.S. citizen in 2004.
The indictment alleged that when she filed to immigrate to the U.S., "Odeh omitted her arrest, conviction, and imprisonment overseas, which were material facts for the United States government in determining whether to grant her citizenship," the U.S. attorney's statement said.
If convicted, Odeh could be stripped of her citizenship and faces a maximum sentence of 10 years.
National Review reported that the Department of Insurance discovered Odeh's history only after the U.S. attorney's announcement about her indictment. She has reportedly used as many as nine aliases.
Arab-American activists in Chicago expressed outrage at Odeh's indictment last fall and viewed it as an attack on the community.
The Associated Press reported in October that Odeh was an associate director at the Arab American Action Network in Chicago, a nonprofit that "advocates for new immigrants and tries to combat anti-Muslim and anti-Arab prejudice."
The group's website said Odeh had worked as a lawyer and was focused on domestic-violence groups and women's issues, the AP reported.
Organization director Hatem Abudayyeh told the AP in October, "She is a leader in the community — a stalwart, an icon."
"It's an escalation of attacks on our community," he said. "We are very, very angry."
At an October hearing in Detroit, Odeh pleaded not guilty as her supporters marched outside the courthouse holding signs that said, "stop anti-Arab racism."
http://www.theblaze.com/stories/2014/02/27/report-woman-convicted-of-terrorism-in-israel-worked-as-obamacare-navigator/
----------
Malnutrition survey: 'Over 70% mothers in Sindh are vitamin D deficient'
February 27, 2014
KARACHI: More than 70 per cent of mothers in Sindh are deficient in vitamin D. Nearly half of the children under five years old suffer from stunting and around 40 per cent of children are underweight.
These alarming statistics on malnutrition levels in the country were revealed in the National Nutrition Survey, which was discussed in a policy dialogue organised by Save the Children on Wednesday. The event aimed to bring together experts to examine the current nutrition levels in Sindh, identify the role of different stakeholders and come up with a way forward to address the issue in the province.
Dr Shabina Ariff, an assistant professor at Women and Child Health Division at Aga Khan University, said that newborns will be affected if mothers were a victim of malnutrition. Women in Sindh had the highest reported rates of night blindness during their last pregnancy, she pointed out. "These figures have not changed significantly in the past decades," she said. "Under such conditions, children – the backbone of the country – will not be able to help it move forward."
There was risk of suffering from a 'demographic nightmare' of a growing unskilled, economically unproductive population if the issue of malnutrition is not addressed, claimed Prof Dr Iqbal Memon, the president of the Pakistan Paediatric Association. "A poorly constructed building will eventually fall."
While highlighting several misconceptions about healthy children, Prof Memon said that mothers usually come with a concern that their children were weak despite the fact that they don't know the definition of a healthy child. "Only the fattest child, one who looks like an ox, is considered a healthy child, which is a misconception," he clarified, adding that feeding babies from a feeder led to many diseases.
Dr Saifullah Jamro, the head of the paediatrics department at Chandka Medical College in Larkana, warned that malnutrition makes children vulnerable to communicable diseases, such as measles. Malnutrition also reduces the effectiveness of certain vaccinations, he added.
Poverty not a major cause
Dr Salma Shaikh, a professor at Liaqat Medical University, explained that poverty was not the only reason behind child malnutrition in the country as there was a strong relationship between fertility, disease burden and practices, such as hand washing and breastfeeding. "Malnutrition undermines both physical and mental development in children," she said.
Other speakers insisted, however, that issues of poor governance, social injustice, gender-based discrimination and poor resource allocations need to be addressed. "If not for God's sake, please be united for humanity's sake," said civil society activist Zulfiqar Halepoto.
Even Save the Children's provincial advocacy manager Iqbal Detho urged that malnutrition should be taken up as a national issue and must receive the attention of policy makers and legislators. Dr Irshad Danish of the same organisation said that current malnutrition crisis in Pakistan has been estimated to cost the economy three per cent of the GDP per year.
Dr Haris Gazdar, a social policy and political economy expert, said that malnutrition was a complex issue which was closely linked with governance and political economy. The complexity of the issue can be unfolded through research and dialogues, he suggested.
http://tribune.com.pk/story/676485/malnutrition-survey-over-70-mothers-in-sindh-are-vitamin-d-deficient/
------------
Sexual assault reports surge in US military
February 28, 2014
WASHINGTON: Reports of sexual assaults in the US military jumped 60 percent last year, but officials said Wednesday the surge shows victims have more confidence their cases will be taken seriously.
There have been a spate of high-profile cases in the past two years, leading to a series of initiatives and prompting President Barack Obama to express outrage over the problem and lawmakers to demand dramatic action.
About 5,400 cases of sexual assault were reported in fiscal year 2013, or about 15 a day, said Pentagon spokeswoman Lieutenant Colonel Cathy Wilkinson, citing preliminary statistics.
"This is a 60-percent increase in victim reports" compared to the 3,374 reports the Defense Department received in 2012, she told AFP in an email.
Pentagon officials have acknowledged the scourge is under-reported and have introduced measures designed to encourage victims to come forward without fear of damaging their career.
"We assess this increase in reports as consistent with a growing level of confidence in our response system," Wilkinson said.
But the military's handling of sexual assault cases came in for harsh criticism at a Senate hearing on Wednesday, with victims telling lawmakers they were humiliated and even demoted after reporting crimes.
Some lawmakers have pushed for legislation that would strip commanders of authority to decide whether sexual assault cases go to trial and instead have independent prosecutors handle the cases.
Wilkinson said an additional statistic indicated that victims now had more trust in the military system because there were "growing numbers of reports made by victims about incidents that took place prior to joining the military."
Last May, Defense Secretary Chuck Hagel ordered all the armed services to re-examine the backgrounds of all current recruiters and sexual assault counselors to ensure they were qualified to hold "positions of trust."
As a result, the US Army removed 588 soldiers from jobs as drill sergeants, recruiters, victims advocates and sexual assault response coordinators, spokesman Colonel David Patterson said.
"We will continue working to better ensure we select the very best people for these posts, and that the chain of command knows what is expected of them, and how important this work is to the army," Patterson said.
The soldiers were sacked from those positions for infractions ranging from child abuse, sexual assault and pornography to drunk-driving convictions.
At least 79 of those removed from their posts are due to be discharged from the army, he said.
The number of soldiers removed was ten times higher than the initial figure the army provided in August.
Hagel ordered the review after a military study found reports of unwanted sexual contact had risen 35 percent from 2010 to 2012.
One high-profile case in recent years includes Brigadier General Jeffery Sinclair, 51, a former deputy commander of American forces in southern Afghanistan.
He faces a court martial over accusations he forced a woman into oral sex and threatened to kill her and her family if she told anyone. He has denied the charges but admitted to having an adulterous affair.
http://www.nation.com.pk/international/28-Feb-2014/sexual-assault-reports-surge-in-us-military
------------
Towards a fashionable Muslimah at USA Islamic Fashion Week
February 28, 2014
Make way on the runway America – USA Islamic Fashion Week has arrived! Organized by the Modesty Defined Islamic Fashion Council of America, LLC (MDIFC), this lively event was hailed a success by those in attendance.
More than a year in the planning, the USA Fashion Week, held February 13-16 in the DC, at Maryland Virginia area, had an expressed goal by organizers: to bridge the gap between modest and Islamic fashions by showcasing the distinguished designs of emerging and established Muslim women designers.
Baring the winter weather that gripped the Northeast, curious and excited attendees were able to enjoy and view the original fashion creations of La Merveille by KD Noor Couture, AK Designs, Akilah Fashions, Dols Designs, IDeen Collection, Hadiyah Weeks, Snazzy Fashions, Qadira's Qreations as well as purchase accessories and items from vendors in the 'boutique' marketplace.
With the professionalism and polish to rival any runway show in the fashion world, young, slim models showcased chic, fashionable and Islamic inspired clothing for the American Muslimah.
Towards a fashionable Muslimah
Sarah, A young Muslim convert in attendance was amazed at the variety. She said, "I always see Muslim women dressed in one of three ways. They either are completely uncovered and undistinguished from other Americans, draped in ill-fitting bag-lady type clothing or dressed in all black as if they are in mourning.
To be honest, it's the number one thing that I struggle with as a new convert – the dress. What we wear is an expression of who we are and how we feel, which is why I like the outfits with bold colors and patterns. I am shaped by my culture even as I embrace Islam so dark dull clothing is often worn by those seen as stern, mean or closed-minded. Also, because sadness, depression, and other negative emotions are associated with black and bland colors, those outfits do not attract my attention without appropriate accessories.
I liked that to a certain extent the fashion show taught how to put things together. I would love to own some of these pieces. I think I would feel feminine and put together in those outfits and also relieved that what I am wearing meets religious obligations."
Another young Muslimah who had grown up in Islam in the US marveled at the unique expressions of some of the designs. "Some of the designs really spoke to who I am as an American Muslim." She said. "As a teen, it seemed like the girls that covered, popularized a variation of the clothing on TV shows like 'I-Carly' where they wore turtle neck and long sleeved t-shirts under a short sundress or even cocktail dress and some pants.
I never liked that look and I'm way too curvaceous and endowed for that type of clothing to offer the modesty that I want to adhere to. How refreshing to see loose, vibrant, feminine clothing that is oriented towards a young audience. In addition, I like the idea of Americans developing our unique look – again. When my Mom was growing up Muslim women wore long skirts, blouses, turbans and long tops over pants. It was the way people could tell she was one of those 'Muslims'. But these new designs are wonderful and so very pretty.
I loved the ethnic inspired clothes, especially the colors and vibrant patterns. My only complaints are that I didn't see enough 'casual' wear or clothing for large busted women."
Organizing and designing expertise
Indeed, USA Fashion Week organizer, Komita Carrington, explained that models chosen to be on the runway were 'industry' standard size, but also included that the individual designers themselves had the option of stating whether the styles offered were available in larger sizes.
The USA Islamic Fashion Week organizers are themselves industry professionals. MDIFC founder, Romana Kerns Muhammad has more than 28 years in the fashion industry where she did actual modeling and model coaching, development and management.
The co-founder, Komita Carrington, who was in charge of choosing the models, works with adolescent girls to develop an appreciation for modestly unique clothing. Other committee members are Akilah Baynes who served as lead designer coordinator and is the designer and founder of Akilah Fashions, Jalila Q. Muhammad is a graduate of a Creative Fashion program in college and served as the event lead producer and designer of Qadira's Qreations. And USA Fashion Week PR director, Aliyah Bashir, is the founder of Image Maker Public Relations company in Maryland.
Designers for the show came from all over including New York, New Jersey, Maryland, Virginia, Illinois, Texas and Canada with inquiries from designers in the Middle East and Asia.
When asked what would be the defining feature of Islamic fashions for the Muslim Woman in North America, MDIFC co-founder Komita Carrington explained that America has so many different flavors including indigenous descendants from many generations or newly arrived naturalized or first generation Americans, that the American Muslim modest attire has a range of style and expression.
But it will not be like a Muslim woman from India where the dress of Muslims and non-Muslims is similar or even parts of Africa where the clothing is practically the same. In North America, there are different religions and the uniquely modest attire of Muslims has its own distinctiveness.
Fashions that came down the runway this week included outerwear, formal wear, bridal, abayas and ethnically inspired outfits with pants, skirts, tops, dresses, jackets and all other forms of clothing worn in the US and Canada
Future plans for MDIFC is to continue to provide a platform for emerging designers to have their work known and ultimately available to the buying public.
Indeed, many of the designers want to see their fashions available at retail stores in the nation not just Muslim clothing boutiques. As USA Fashion Week organizers posted on their Facebook page "This first show gives us leverage to move forward in expanding the vision of creating an exclusive opportunity for the American-based Muslim Fashion Community." Plans are already in place for another show in September 2014 and again next year in February 2015 in the DC, Maryland, Virginia area (DMV).
Mahasin Shamsid-Deen is a World renowned author, poet and published playwright with plays performed, staged, and or read in the United States, Europe and the Middle East.
http://mshale.com/2014/02/28/fashionable-muslimah-usa-islamic-fashion-week/
----------
Muslim movie aims to protect women
February 28, 2014
MUSLIM leaders in Glasgow have spoken out against female genital mutilation and violence against women.
A new film, to be premiered at Govanhill Baths, features senior Muslim scholars discussing domestic abuse, forced marriage, sexual harassment, honour- based violence and female genital mutilation.
Filmed by Amina, the Muslim Women's Resource Centre, the project forms part of its, You Can Change This campaign.
Ghizala Avan, campaign director at Amina said: "Violence against women is a global issue.
"We aim to bring all communities together to drive violence against women out of our neighbourhoods, communities and society.."
Imam Habib Rauf, of Glasgow Central Mosque, took part in the project along with Sheikh Abdul Aziz Ahmed, from the Islamic Studies Trust, and Imam Hafiz Muhammad, Edinburgh's Iqra Academy, .
In the film they highlight the message that Islam forbids all violence against women.
This new film, Imams for Change: Challenging Violence against Women, is the third film in a series.
Smina Akhtar, director of Amina MWRC added: "Violence against women happens in all communities.
"We felt it was important to have a strong message coming from our religious leaders, particularly because we know that there are some men who pervert our culture to justify their wrong-doing."
Chief Inspector Graham Goulden of Police Scotland's Violence Reduction Unit, said: "Violence against women is a top priority.
"Whilst a robust response to these issues is essential, policing alone will not stop the problem. The answer lies within our communities."
http://www.eveningtimes.co.uk/news/muslim-movie-aims-to-protect-women-153915n.23541616
----------
Drugs Demerits — Female Force Leads the Way in Saudi Arabia
February 28, 2014
THE Department for Women's Affairs at the Kingdom's Anti-Drug Directorate has been playing a pivotal role in spreading awareness among female members of society on the demerits of drug abuse. Under the theme 'Members of Society Are Precious to Us,' the department has worked out meticulous strategic plans and comprehensive programs aimed at saving society from this grave social menace, according to a report in Al-Riyadh Arabic daily. Amal Khashoggi, director of the department, said young Saudis are the most likely victims of drugs.
"If we follow up the announcements made by the Ministry of Interior, we should realize that there are some forces who attempt to smuggle drugs into the Kingdom with an ulterior motive of earning money and an evil design of doing damage to members of society. The government has mobilized all its human and material resources to prevent this venom from spreading in society by using all its might and capabilities," she said while noting that drugs are inflicting severe damage to members of society as well as to the nation's economy.
Khashoggi said that her department has been making concerted efforts to save the younger generation from drug abuse. "We concentrate on making women aware of the consequences of using drugs. We are keen in carrying out a well-planned strategy and action program with the participation of all segments of society," she said.
Referring to the awareness programs being carried out by the department, Khashoggi said: "We concentrate on mass awareness through conducting programs suitable to all segments and age groups of women in society. There are separate programs for students, teachers, writers and ordinary women. The programs include workshops, training courses, lectures, forums and seminars which all aim to spread awareness and discover ways to find out those who misuse drugs so they can be helped," she said.
The Anti-Drug Directorate takes part in almost all major events for women as well as national festivals, with special plans and programs to realize its objectives. The department, which started in 1407H as a modest division with two female employees and a limited mission, has become a full-fledged department with a large number of employees by the year 1429H.
Khashoggi said that there are exaggerated reports about the number of female drug addicts in the Kingdom, and claimed the number of registered female addicts is very low.
"There are several factors that lead women to use drugs, and these include addiction of a parent, lack of religious awareness, emulating bad friends, lack of family monitoring, family problems and inclination to take drugs under the influence of drug abusers mainly."
Hana Al-Fareeh, director of the preventive affairs division at the department, highlighted the significance of awareness campaigns.
"We are working out plans and programs to make all women in Saudi society aware of the evils of drug abuse. Hence, our programs encompass all sectors of women at colleges and universities, as well as other institutions under the Ministry of Education, Ministry of Health, Ministry of Social Affairs, General Directorate of Prisons, Customs Department, Civil Status Department, Riyadh Mayoralty and the department to eradicate illiteracy," she said.
Apart from delivering awareness lectures for school students, Al-Fareeh said, the department holds awareness exhibitions all over the Kingdom with a focus on various types of drugs, ways to fight drug abuse and treatment of drug addicts.
"We are also distributing brochures and leaflets that explain the demerits of drug abuse and its harmful effects on society. There is a working team that focuses on drugs more common and dangerous in Saudi society, like hashish and amphetamine pills," she said.
According to Al-Fareeh, her department is keen on ensuring participation of at least one woman, a recovering addict, in its awareness programs. "The woman shares her harrowing experience as a drug addict with participants and explains how it was possible for her to recover from the scourge of drugs and restart her life."
Al-Fareeh noted that the Ministry of Interior has produced a number of films on the negative effects of drug abuse, which were aired on Saudi TV and several satellite channels. "Our department has organized several awareness and training workshops for student guides at schools across the Kingdom in this regard. This prepares them to organize massive anti-drug awareness programs among students," she said while adding that the department has several new plans aimed at saving some five million Saudi students from drug abuse.
http://www.saudigazette.com.sa/index.cfm?method=home.regcon&contentid=20140228197125
----------
Saudi jewelry shops not ready for women employees yet
February 28, 2014
It is still inappropriate for women to work at jewelry shops because the working environment needs reforming, the chairman of the gold and jewelry committee at the Riyadh Chamber of Commerce and Industry told Al-Hayat daily.
No decision has been made yet regarding the possibility of requiring jewelry shops to hire female workers, Karim Al-Eneizi said.
"It's difficult for a woman to protect a jewelry shop that is worth millions of Saudi riyals. Women's nature does not allow them to do that," he said.
Most women who own such shops have employed their relatives to run their businesses.
The majority of women who work for gold factories are usually hired as designers.
Ayman Al-Hafar, CEO of L'azurde Company, said he supports the idea of women working in the gold sector.
However, the current obstacles related to the work environment should be removed first before women can venture into the field, he said.
Al-Hafar said: "We will only hire women if the work environment gets improved and caters to their nature.
"Women are the best choice to deal with female customers."
The company has more than 100 women working as gold and diamond designers, he added.
Meanwhile, 17 women have been trained by the Riyadh Chamber of Commerce and Industry on how to sell gold and attract customers.
The trainees were introduced to the art of selling and the basic rules for selling gold.
They were given an English for business purposes course in addition to practical training to improve their performance.
The course focused on how to identify the purity of gold and which carat it is, how to recognize the several types of diamonds and how to deal with customers in general.
Labor Minister Adel Fakieh said last year that his ministry was looking into the possibility of feminizing jobs in a range of commercial activities.
He made the remarks following the successful placement of female workers in lingerie outlets throughout the country.
The commercial activities specifically set aside for females would be announced once studies on the subject were completed, the minister was quoted by local media as saying.
Jobs in more than 7,000 lingerie shops across the Kingdom were fully feminized by the end of 2013, according to figures released by the ministry.
http://english.alarabiya.net/en/business/economy/2014/02/27/Jewelry-shops-not-ready-for-women-employees-yet.html
----------
South African Government Launches Free Contraceptive Device For Women
February 28, 2014
TEMBISA (South Africa), Feb 28 (BERNAMA-NNN-SA NEWS) -- South African Health Minister Dr Aaron Motsoaledi has launched a new contraceptive device which will be available free to women at all state clinics from June.
The contraceptive device, which is a sub-dermal implant lasting three years, is expected to reduce the number of unwanted and teenage pregnancies and reduce the number of maternal deaths in the country.
The device is implanted below the skin of the arm and will be added to the current birth control methods used by women to prevent unwanted pregnancy.
Motsoaledi said when he unveiled the new device at the Ethafeni Clinic in Tembisa, near Johannesburg, on Thursday during the launch of the revised Contraceptive and Fertility Planning Policy and Service Delivery Guidelines that family planning and the use of contraceptives had a wide range of benefits.
He reminded the gathering that the National Development Plan asked all South Africans to work together to reduce the burden of disease, in particular those related to maternal and child mortality. "Our Contraceptive and Fertility Planning Policy and guidelines are rooted in that," Motsoaledi said.
A national team has been set up to visit all hospitals, both public and private, to collect data about women who died as a result of pregnancy. "From this committee, we know there are one million women falling pregnant in South Africa per year, out of these, 8.0 per cent are girls below the age of 18."
He said these minors were giving birth to 80,000 unplanned babies annually. "They contribute to 36 per cent of all maternal deaths, because they are too young to fall pregnant. They easily die .... due to issues like hypertension."
However, the minister pointed out that the new device was not only targeted at young girls, but married women, who are advised by their doctors not to fall pregnant again, following previous pregnancy-related complications.
Once inserted, the device is effective for three years. "You no longer have to go to the hospital every three months, you'll now go after three years. But if you want to have a baby before three years, you just come and ask us to remove it," said Motsoaledi.
He said 2,000 nurses had so far been trained on how to insert the device which will be available in all public hospitals, free of charge, by June. By the time it is rolled out, 4,000 nurses would have been trained.
http://www.bernama.com.my/bernama/v7/wn/newsworld.php?id=1018227
----------
URL: https://newageislam.com/islam-women-feminism/palestinian-women-seek-tougher-laws/d/45956