New Age Islam News Bureau
19 Feb 2016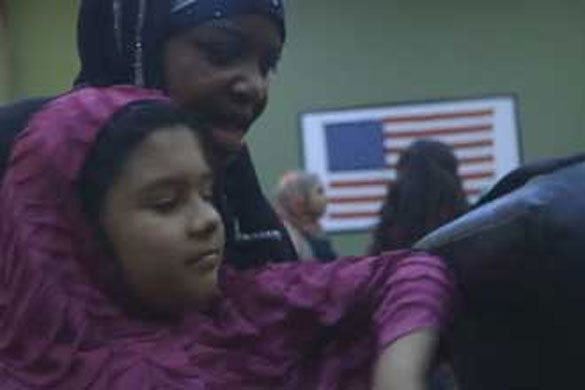 Photo: Self-defense for Muslim women
----------
• Fearing Attacks, Tennessee Muslim Women Learn Self-Defense
• At Least Five Canadian Women Have Conceived Children with Islamic State Fighters: Researcher
• Ottawa's 'Hijab Day': Is It Even Necessary?
• Meet Aneela Naz, the KP Police Officer Battling Criminals and Stereotypes
Compiled by New Age Islam News Bureau
URL: https://newageislam.com/islam,-women-and-feminism/new-age-islam-news-bureau/palestinian-leader-gives-wife-beating-tips-on-gaza-tv/d/106404
------------
Palestinian leader gives wife-beating tips on Gaza TV
February 18, 2016
A top spiritual leader in the Palestinian territory of Gaza told a television audience last week how and when men can beat their wives, advising not to hit them in a way that "makes the face ugly."
The shocking interview with Hassan Al-Laham, who holds the title "mufti of Gaza," came during a weekly Palestinian Authority TV program on social issues. Explaining that divorce must be a last resort in Islam, Al-Laham laid out the four steps that should come first.
"Allah said: Warn them [the wives], and separate from them, and hit them, and bring an arbitrator from his family and an arbitrator from her family," he said.
Al-Laham, whose title makes him the top spiritual leader appointed by the Palestinian Authority, then went into detail about how a husband should hit a wife.
"Not hitting that will bring the police, and break her hand and cause bleeding, or hitting that makes the face ugly," he said.
The hitting should "be like a joke," even reinforcing "the love and friendship" between the couple, he said.
The segment was flagged by the nonprofit watchdog Palestinian Media Watch. Director Itamar Marcus noted that the Palestinian Authority, which appointed Al-Laham and is responsible for the television programming which is beamed by satellite throughout the Arab world, is viewed as more moderate than Hamas, the terrorist group that governs Gaza.
"They actually think this is a moderate message – that it is okay to beat your wife," Marcus told FoxNews.com. "This is their perception."
foxnews.com/world/2016/02/18/palestinian-leader-gives-wife-beating-tips-on-gaza-tv.html
------------
Fearing Attacks, Tennessee Muslim Women Learn Self-Defense
February 18, 2016
Thirty women on a gym mat punch palm-first, striking invisible targets at shoulder level.
"Again," the instructor calls out.
Nearly all the women are wearing a Hijab, one of the reasons they're in this self-defence class in Antioch, Tennessee, a community nestled next to Nashville. For three hours, these Muslim women learn Krav Maga and Brazilian jiu-jitsu defence moves, including kicks, punches and elbow strikes that will help them escape an attacker.
"When I'm dressed like this, they know," says Lufta Islam, touching her hijab and long dress. " 'OK, she's a Muslim girl.' "
Islam, a mother of four, is one of the tiniest women on the mat, standing at barely 5 feet tall and weighing less than 100 pounds. She has never been physically assaulted but describes feeling more insecure than ever since the Paris and San Bernardino, California, attacks in which female terrorists were prominently involved.
A photo of the San Bernardino attackers entering the United States was particularly damaging, women in the class say. In the July 2014 image taken at Chicago's O'Hare International Airport, Tashfeen Malik looks expressionlessly into the camera. She's wearing a black Hijab.
"That impacted everyone," Annette Martin recalls. Martin says she went to work the day after Malik's photo was published, having to defend her religion and her hijab. "That's them. I'm still the same individual. I have not changed."
Since then, Islam says she's walked across the grocery store parking lot and had groups of men come up close, snickering or muttering, "Look, there's one."
At least three times a week, Islam says, "I feel like I'm not really in safe place." She tries to travel with her husband, but that's not always possible for a busy mother. And when her 16-year-old daughter asked to stop wearing her hijab, Islam relented, understanding her child did not want to face relentless bullying.
The other women in the class share similar stories. Selwa Kanakrieh had a college classmate call her a member of ISIS. Ericka Bonds-Hasan had a security guard physically rip off her hijab. "All Muslims should die," a man told Martin.
These women have seen the news reports since the Paris and San Bernardino attacks. A Tampa woman fears she was shot at and nearly run off the road leaving her mosque. Three boys in the Bronx allegedly punched a Muslim sixth-grader during recess, trying to rip off her hijab. A New York postal worker was arrested after a Muslim woman accused him of spitting in her face, yelling anti-Muslim slurs, all while she pushed her baby in a stroller.
Such reports may support the women's fears, but the data regarding Muslim women is far more opaque.
National hate crime data is self-reported to the FBI and lags a year behind. In 2014, the data showed Muslim hate crimes were second only to anti-Jewish crimes. But the FBI doesn't track whether the victims in those religious hate crimes are male or female.
The Council on American-Islamic Relations says it is better able to track attacks on mosques as an empirical measure of anti-Muslim sentiment. Its latest study found that after the November 13 Paris and December 2 San Bernardino attacks, incidents targeting mosques spiked, including cases of damage, destruction, vandalism, harassment and intimidation. In both November and December there were 17 such incidents, the highest number since the organization began tracking attacks in 2009. The group says the number of mosque attacks from 2014 to 2015 quadrupled.
Frustrated by the lagging data on individual hate crimes, criminologist Brian Levin, a professor at California State University, San Bernardino, launched a hate crime study through his research group, the Centre for the Study of Hate and Extremism.
Levin confirmed and analyzed hate crimes reported in the media and by civil rights groups, using FBI hate crime reporting standards. The center found in the month following the Paris attacks, from November 13 to December 13, the rate of anti-Islamic hate crimes tripled, compared with the monthly average from the previous five years. In the week following the San Bernardino attack, there were 11 suspected hate crimes alone.
Levin then broke his data down further, looking at who the victims were in those reported crimes in November and December. Forty percent were women, he found. What Levin doesn't know, due to limited data, is if the percentage of Muslim female victims has grown.
"They're easily identifiable and an easy target," Levin says. "What I worry about is we may have indeed turned a corner where women are targeted for attack in anti-Muslim hate crimes."
There have been strides in breaking down stereotypes about Muslim women. In hospitals, schools and corporate offices across the nation, women in Hijab are doctors, teachers and therapists. At the 2016 Olympics in Rio de Janeiro, fencer Ibtihaj Muhammad will be the first competing U.S. athlete to wear a Hijab at the Olympics. Noor Tagouri, a Washington journalist working in radio and Canadian television, wants to be the first mainstream news anchor wearing a Hijab.
But those advances can quickly be overshadowed and forgotten. After a passing driver yelled at Aisha Lbhalla to "not blow up a building" and another man made obscene gestures and tailgated her on the way home, Lbhalla organized the self-defense class in Tennessee. She had heard about similar classes in New York and Los Angeles.
"When people see a woman covered, or she is in modest attire, that represents Islam to them," Lbhalla says. "So as a result, we are receiving the brunt of the hostility. They take out their fears or their hate for Islam and Muslims out on us."
Lbhalla, who heads the Muslim Women's Council in Nashville, says she's also concerned about the rhetoric in the presidential campaign, namely what she's heard from Donald Trump.
"That rhetoric brings out the worst in people," she says. "That plays to their bias and their bigotry and their fear. It's very, very dangerous."
After the three-hour class, Lufta Islam says learning a few self-defense moves has helped build her confidence. But the class won't change the reality of her daily life.
Islam says she wants so badly to contribute more to her community.
"But they look at you a different way. And you feel sad," she says, her eyes welling up with tears. "You know, even (if) you go to the market, you go to the workplace, no matter where you go, you know, you're Muslim. Automatically they're assuming something."
edition.cnn.com/2016/02/18/us/muslim-women-self-defense-class/
-------
At least five Canadian women have conceived children with Islamic State fighters: Researcher
February 19, 2016
This undated file image posted on a militant website on Jan. 14, 2014, which has been verified and is consistent with other AP reporting, shows fighters from the Islamic State of Iraq and the Levant (ISIL) marching in Raqqa, Syria. (THE CANADIAN PRESS/AP/Militant Website, File)
In their bid to raise "the next generation of mujahedeen," at least five Canadian women have conceived children with ISIL fighters, according to radicalization researcher Amarnath Amarasingam.
"We think there's about 10 to 12 Canadian women who have gone to (ISIL-controlled territory in) Syria, of those, three have had children and two are currently pregnant," said Amarasingam.
A post-doctoral fellow at Dalhousie University, Amarasingam has been conducting a detailed survey of Westerners who have left to become foreign jihadists.
He's talked to recruits to the Islamic State of Iraq and the Levant (ISIL) via social media. He's interviewed fighters at the Syrian border. And, with the promise of strict anonymity, he has met with the Canadian families who harbour the terrible secret of having a son or daughter in the world's most notorious jihadist group.
"There's a kind of trauma that many of these parents live with; they feel that they missed some kind of key sign," he said.
"A lot have been unable to go to work. At least one father has descended into alcoholism."
As Amarasingam explained, "it's not simply that their child has made a mistake," but they now have grandkids growing up in a war zone from which they likely may never emerge alive.
Plus, ISIL has had no qualms about using young children as executioners.
"Lions are obligated to teach their cubs hunting skills," one ISIL fighter told Amarasingam in January when he asked why they were having their children "introduced to war and killing so young."
The Canadian women hail almost exclusively from urban areas and are aged between 19 and 26. They are either converts from Christian or secular families, or grew up in families of lapsed Muslims.
While Amarasingam said it has been the case in Europe that radicalized Muslim families have groomed a child for jihad, Canada's ISIL recruits all turned their back on families they saw as decadent sellouts.
Most notable was the case of RCAF Cpl. Wayne Driver, who was helping to train Canada's anti-ISIL bombing mission when he received word that his son Aaron had been arrested while attempting to make his way to ISIL-controlled territory.
"I still can't understand how your kid could do something like that, especially when you did your best like any parent to raise him," Driver told Postmedia in October.
Amarasingam said the warning signs are usually subtle. New friends, new behaviours, more time spent online. And then suddenly, a child is either in RCMP custody or messaging home from the Middle East.
"Because you have an 18-year-old, you don't associate (these new behaviours) with Syria, you just think you have an asshole kid," he said. "In hindsight everything starts to make sense."
The women all changed their name upon leaving Canada and generally live in Raqqa, the northern Syrian city that has been the de-facto ISIL capital since 2014.
Their husbands pull in about $100 per month as fighters for ISIL, and the families live in houses abandoned by Syria's millions of refugees.
Amid brutal propaganda videos of beheadings and immolations, ISIL differs from other radical groups such as al-Qaida in that it tries to position itself as a state builder.
"You're not simply raising a child, you're raising the next generation of mujahedeen to protect the caliphate," he said.
While Raqqa's Internet access is spotty, several of the Canadian women remain in awkward contact with their families via Skype. While these conversations were once filled with entreaties to come back home, Amarasingam says the families generally dial back their scorn and keep the conversation shallow for fear of being cut off altogether.
Up to 30,000 foreigners from 86 countries have been drawn to Iraq and Syria since the rise of ISIL, leaving Western countries scrambling to staunch the flow of their own radicalized citizens.
"The key factor underlying the decision to 'migrate' is that these are young women who are 'searching' for something," said Laura Huey, a researcher at the University of Western Ontario who has studied the phenomenon of women leaving to join ISIL.
"Women who migrate — muhajirah — are treated more deferentially, and even more so when they become mothers and/or widows of fighters."
ottawasun.com/2016/02/18/at-least-five-canadian-women-have-conceived-children-with-islamic-state-fighters-researcher
-------
Ottawa's 'Hijab Day': Is it even necessary?
February 19, 2016
An organization in Ottawa called the City for All Women Initiative (CAWI) is asking Canadian women in the nation's capital to offer support for the hijab, the head covering worn by many Muslim women. On Feb. 25, the group is holding an event as part of Ottawa Hijab Solidarity Day, and is asking non–Muslim women to wear the hijab at Ottawa's city hall in a show of solidarity with their Muslim sisters.
As a non-Muslim woman who was forced to wear a hijab, this event brings back terrible memories for me. I was born and raised in Shiraz, Iran, and after the rise of the Islamic government, I was forced to wear a hijab. I was neither a supporter of the new regime nor a Muslim, and I bitterly resented having to hide my hair and comply with the new restrictive policies. But disobeying the rules was not an option for me. All women had to adhere to the same policy, without debate, and disobedience was met with severe consequences, such as arrest and the fear of being assaulted by acid-tossing vigilantes.
Although not all Muslim women wear the hijab, those who do wear it because they believe it is a religious obligation. I have yet to meet a non-Muslim woman who wears the hijab as a form of cultural expression in Canada. However, I have met many devout followers of Islam who say that the hijab is not a required tenet of their faith.
Canada is a diverse, multicultural society, where many religious and cultural groups live together peacefully with mutual respect for each other's customs. Indeed, when Quebec's provincial government first proposed its controversial Charter of Values, I spoke out against the clause that limited the right of individuals, in specified circumstances, to wear symbols of their religion. Even so, I cannot abide the idea that non-Muslim Canadian women should demonstrate support for our Muslim sisters by wearing a hijab. The hijab is a reflection of religious beliefs – it is not a fashion statement.
Jews do not have a "Wear a Kippah Day" to support Jewish men. Sikhs never demanded a "Turban Day" to support Sikh males. So why have a "Hijab Day"?
Any Canadian woman can wear the hijab if she sees fit, just as any Sikh male can wear a turban. Canada is a free country, and Canadians have the right to live according to their own dictates, religious beliefs and social customs. Our laws have clearly established this. In this context, I cannot understand why we should gather and demonstrate our solidarity for a garment that is guaranteed by the Canadian Charter of Rights and Freedoms. I have many Muslim friends and I am eager to know their customs but they never asked me to cover myself in solidarity for them.
New immigrants and refugees come to Canada for many reasons. Many find themselves caught between the traditions and culture of their homeland, and liberal Canadian attitudes. There is no question that coming to a new country can be difficult. I know. I have stood on both sides of the immigration line myself.
As Canadians, it is crucial that we remain faithful to the rights that are entrenched within our Charter of Rights and Freedoms. All forms of religious expressions are equal and none require special treatment. I am grateful that in Canada we have the freedom to express ourselves as we please, in contrast to the countries that make it mandatory for woman to wear religious symbols, regardless of their belief.
My personal history with the hijab makes it impossible for me to accept covering my hair. I will forever identify the hijab with the repressive tradition of the Iranian Islamic government, which used its dominance of religion to control its people. I encourage Muslim women all over the world to promote their culture and identity – and I will gladly eat at their table, sing a song of celebration, and rejoice at their success. Nonetheless, to suggest we endorse their religious beliefs by wearing a hijab is unreasonable in this country, which has so clearly promoted the rights of minority members to lives as they please.
I welcome my hijab-wearing Muslim sisters. But I refuse to wear the hijab as a prerequisite for their solidarity. And for the same reason, I would never dare ask them to remove their hijab in solidarity with non-Muslim Canadian women. In the end, my values are no more important than theirs. And after all, isn't that the Canadian way?
Sima Goel has been a practising chiropractor in Montreal since 1994. She is the author of Fleeing The Hijab, A Jewish Woman's Escape From Iran. The article was originally published in The Canadian Jewish News
newsgram.com/ottawas-hijab-day-is-it-even-necessary/
-------
Meet Aneela Naz, the KP police officer battling criminals and stereotypes
Ali Akbar — Published about 5 hours ago
PESHAWAR: District Superintendent Police Aneela Naz has worked hard to earn a name in a male-dominated police force.
As she makes her way into her office, a man stands up in a gesture of respect: she is one of the few women serving the police department for almost two decades. Inside, she settles down in her chair, glancing at a stack of forms waiting to be signed. The room is as sparsely decorated as other police offices in Khyber Pakhthunkhwa; aside from a desk and a plaque with her name, there isn't much else.
"I don't know how 19 years have passed," DSP Naz laughs. Over the years, she has learnt it all: from learning how to operate every type of weapon to going on raids and operations alongside her male colleagues. She has topped every course and now trains both men and women in the formidable police force.
Naz has seen the KP police force transform from a team with only 19 women, to one with over 600 serving in different departments all across the province.
A woman doing a 'man's' job
Naz has topped every course and now trains both men and women in the formidable police force.—Photo by author
Fresh out of school and looking for a job in 1996, Naz was discouraged from joining the police force. "Even thinking of joining the police [for women] was considered bad in society," she remembers.
Despite hailing from a conservative village tucked away in the district of Lakki Marwat, Naz's father was a learned man whose refused to conform. He moved to Peshawar so his children—two daughters and three sons—could get a good education and make something of their lives. Today, all five siblings are government employees in different departments.
Naz finally joined the police force as an assistant sub-inspector in 1996. Soon after her bold decision, Naz's close family members cut off relations with her family as they "felt embarrassed" by her career choice. One uncle specifically told her: don't show up anywhere in your police uniform.
Her decision to take on the job was not well received by her neighbours and extended family either. They increasingly felt the profession was associated with corruption and bribery, and were alarmed at her decision as there very hardly any women in the police force.
Sit together, raid together
"The concept of men and women having different abilities has ended now; we are no longer considered different," say Naz.
At the time she joined, men and women had separate trainings and hardly worked together. She particularly noticed a gender bias when it came to promotions; but says that isn't the case anymore. It helps to have a police force with over 600 women, including dozens of officers and a handful of DSPs.
Neither is there compulsion upon women to behave or act in a certain way. There is no dress code prescribing a traditional shalwar kameez, or the more western pants and shirt. "There are two uniforms," Naz explains. Both options are available to female officers to choose from.
Getting to a stage where men and women train and work together was difficult, but now life is easier. Naz says today women have no problem working alongside men, and in her case, even training them.
Naz joined the police force as an assistant sub-inspector in 1996.—Photo by author
In her training sessions across the province— including in Mardan, Swabi, Charsadda and Nowshera— Naz interacts with both men and women. "Men and women sit together, and they raid together," she smiles.
A force of women for women
At specialised training schools all over KP, female officers undergo intensive physical training, and learn how to shoot and handle weapons and artillery.
"Our ladies have learnt to be tougher after doing these courses," Naz says. "They can face challenges themselves."
But she feels women should consider the profession for more than just the learning skills it has to offer. "It's a meaningful way to help people," she says. "People know we can help solve women's problems."
Naz says today women have no problem working alongside men.—Photo by author
Naz describes the various stations where citizens, especially women, have started coming in regularly because of the presence of female officers. Naz feels they offer a welcoming environment for women, who generally do not feel comfortable confiding in male officers.
In comparison, the moment they enter a station and see another woman sitting behind a desk waiting to talk to them, they open up. "Women can share their troubles with other women," Naz says. "They can say what they really feel."
Rectifying misconceptions
Today, the same uncle who felt embarrassed by Naz's profession now introduces her with pride to his friends and relatives. "It isn't a negative concept for them anymore," she beams. "I know they feel proud of me when they introduce me to others.
Naz represented the Pakistani police during a conference in the UK, where she also received an award for serving her country. Now that her relatives see what she has achieved, she says they treat her with greater respect and dignity. They no longer harbour misconceptions about women in the police force.
"It is now considered a respectable institution," Naz says. She feels more and more women are attracted to the police force because of the department's comfortable environment.
dawn.com/news/1240132/meet-aneela-naz-the-kp-police-officer-battling-criminals-and-stereotypes
URL: https://newageislam.com/islam,-women-and-feminism/new-age-islam-news-bureau/palestinian-leader-gives-wife-beating-tips-on-gaza-tv/d/106404
New Age Islam, Islam Online, Islamic Website, African Muslim News, Arab World News, South Asia News, Indian Muslim News, World Muslim News, Womens in Islam, Islamic Feminism, Arab Women, Womens In Arab, Islamphobia in America, Muslim Women in West, Islam Women and Feminism