New Age Islam News Bureau
16 Oct 2012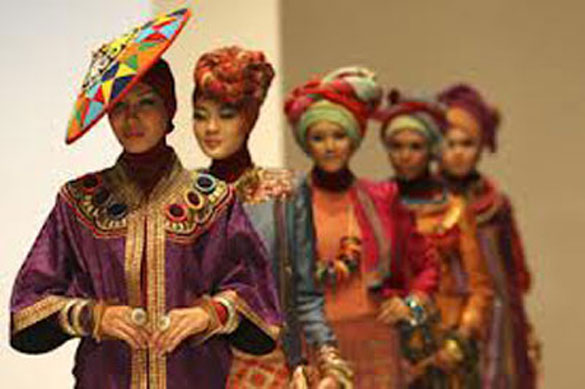 • In Manila, They Accuse Me of Being a Terrorist Because I Am Muslim
• Incidence of Child Marriages on the Rise in Malaysia
• Indonesia Aims to be Islamic Fashion Powerhouse
• Malala Yousafzai: Will Her Shooting End Islamic Extremism In Pakistan?
• Taliban Doesn't Want Girls to Become Something
• Madonna Strips for a Good Cause: A Smutty Dedication to Dying Malala Yousafzai
• International Rural Women's Day in Pakistan Calls for Action Plan on Women
• 'Early Marriage Harmful For Women'
• Girls, Hope and Computers in Afghanistan
• Run for Muslim Women's Veil on Historic EDSA in Manila
• Pakistani mother, 4 children killed in British house fire
Compiled by New Age Islam News Bureau
Photo: Indonesia Aims to be Islamic Fashion Powerhouse
URL: https://newageislam.com/islam-women-feminism/palestinian-labourers-sexually-harassed-israeli/d/9005
-----------
Palestinian Labourers Sexually Harassed By Israeli Women
By Nasouh Nazzal
October 15, 2012
Ramallah: Palestinian labourers working in Israel are at a high risk of sexual harassment by Israeli women, according to a recent field study conducted by the Palestinian Central Bureau of Statistics. The study found that 77 per cent of the Palestinian labourers in Israel had been subject to sexual harassment by Israeli women.
In an interview with Gulf News, Shaher Saad, the President of the Union of the Palestinian Labourer Federations, said the Palestinians face a real problem with the labourers who work in Israel on permits other than the official legal work permits.
He stressed that the problem increased further with the illegal labourers who are smuggled into Israel and spend days and weeks there for work. He said those labourers usually are blackmailed, harassed and forced to get involved in illicit and intimate affairs.
"There are about 55,000 Palestinian labourers who enter Israel for work through illegal and unacceptable methods," he said. "The real focus needs to go to those illegal labourers who get sexually harassed."
According to Israeli law, labourers who hold official work permits are more than 35 years of age with at least two children and clear security history. "We believe that those labourers are safe and to a large extent are not targets of sexual harassment as they enjoy some judicial rights," he said. "In cases in which those labourers are subject to any kind of physical harassment, they can report it to the Israeli police which will handle such violations."
Saad said his union has come up with extensive programmes to raise the awareness of the Palestinian labourers, mainly targeting illegal workers. "Aids is a key enemy fought by the union," he said.
He said Palestinian labourers should be extremely careful inside Israel knowing that some Israelis will take advantage of the labourers and harm them. "The Israelis only care for their joy and interests and pay no attention or consider judicial consequences when they handle Palestinian labourers," he said.
Meanwhile, Saad said the minimum Palestinian wage imposed by the Palestinian Government has made the already bad situation even worse.
The Palestinian government has approved 1,450 Shekels (Dh1,383) as the minimum wage level, a level which was refused by the union and other Palestinian official public welfare organisations.
Saad said this minimum wage scheme has motivated more Palestinian labourers to run to Israel and West Bank colonies for work.
"Palestinian labourers cannot survive on this wage in the West Bank at all," he said. "The consequences of imposing this minimum wage were clearly been explained to the government but it did not take them into account."
"We are forcing Palestinian labourers outside the West Bank in searches for better work place and Israel is the ideal destination," he said.
So far, the Palestinian authorities have failed to imposed an HIV test for labourers who have worked in Israel, especially before they marry. An increasing number of HIV patients have been reported by Palestinian medical authorities. "This is an alarm and this issue should be taken in a more serious way," Saad said.
http://gulfnews.com/news/region/palestinian-territories/palestinian-labourers-sexually-harassed-in-israel-study-1.1089603
-----------
In Manila, They Accuse Me of Being A Terrorist Because I Am Muslim
Mindanao woman liberated from family-imposed curfew as fears ease
October 16, 2012
COTABATO CITY: Minabai Pili has lived most of her life with a family-imposed 4pm curfew.
"It was enforced by my parents as they were afraid that when it got dark, the situation outside my home could get dangerous," said the 23-year-old. "There was a war in Mindanao and you never know when there would be killings and bombings."
The married midwife grew up with the fear that leaving her home at night would be inviting trouble.
"The war was a constant threat to our lives and it was a huge security problem," she said.
In the past four decades of war in southern Philippines, an estimated 150,000 people have been killed and thousands of families displaced.
Minabai, a long-time resident here, said that throughout the years, she always feared for the lives of those close to her.
Her three brothers as well as her uncles and cousins are soldiers with the Moro Islamic Liberation Front.
"But they are not afraid to die because as mujahedeen (freedom fighters), when they die for their religion, they believe they will go to heaven."
The sweet-looking woman also said she faced discrimination as a Muslim, especially when she visited the Philippine capital.
"In Manila, they accuse me of being a terrorist because I am Muslim and I wear the hijab (headscarf)," she said. "This makes me very sad because I am not a terrorist, I am an innocent Muslim."
Yesterday, Minabai was at Camp Darapanan in Sultan Kudarat Province, about 15km from Cotabato City, to be with the MILF as they listened to the live report of the signing ceremony in Manila.
"I am happy that peace is coming and we will be able to set up the Bangsamoro government which we have been waiting for a long time."
Minabai took the advantage of the large presence of MILF fighters to hold a grenade launcher for the first time in her life.
"I have a phobia of guns as they are the weapons that destroyed peace in Mindanao," she said.
But yesterday was different, there was a promise of peace.
http://thestar.com.my/news/story.asp?file=/2012/10/16/nation/12178479&sec=nation
-----------
Incidence of Child Marriages on the Rise in Malaysia
Marry at 14, despair by 18?
Oct 16, 2012
MALAYSIA - She was just 14 and used to go out with her boyfriend. The boyfriend used to give Pushpa (not her real name) gifts and she didn't think much about accepting them.
But her parents didn't approve of her going out with him because they feared that their daughter will be labelled "promiscuous".
Pushpa, now 18, told The Star: "We were friends. We'd never had sex ... They (her parents) forced us to get married. I didn't want to get married. I wanted to live at home with my brother and sisters."
By the time she was 16; she had suffered a miscarriage and given birth to her daughter. She is pregnant with their second child.
Pushpa's case is not an isolated one. The incidence of child marriages is on the rise, judging by statistics compiled from various sources.
In Kedah alone, statistics from the state Islamic Religious Department show a 35 per cent spike in marriage applications involving under aged individuals between 2008 and 2010, The Star reported.
Of the total of about 275 applications in those years, 90 per cent involved girls under the age of 16.
Pushpa, meanwhile, said their marriage is not a happy one because her 28-year-old husband was upset that he was forced to marry her.
He hardly talks to her, and even though there is no physical abuse he stopped being nice to her, she said.
"He goes out all the time, gets drunk and then comes home and demand that I have sex with him. He gets angry each time I talk about going back to school.
"I miss my friends. Now, I stay at home and cook and clean and look after my daughter. I live with my husband's parents and his sisters but I have no friends. They (his sisters) go to school and go out with friends but I… don't do anything."
Her marriage was not registered since she was under the legal age of marriage. They just had a religious ceremony to mark the union, she told The Star.
Under Malaysian law, the legal age for marriage for non-Muslims is 18 for both men and women.
However, marriages are allowed for those between 16 and 18 with written consent from the chief minister. For Muslims, the legal age of marriage for males is 18 and women, 16. But with the permission of the syariah court, Muslims can marry at any age.
There are two kinds of child marriages in Malaysia; marriage between an underaged boy and girl, and marriage between a girl and an older man. For a long time, it was considered a non-issue, but recent cases highlighted in the media have brought it into sharp focus.
In October 2010, Siti Maryam Mahmod, 14, wedded 23-year-old teacher Abdul Manan Othman and the couple later participated in a mass wedding reception organised by the Federal Territory Islamic Affairs Department.
Earlier that year, there was public outcry over the marriage of two girls aged 10 and 11 to men in their 40s in Kelantan. The 11-year-old was found days later, abandoned and in a state of shock. UN statistics show that globally, as many as 10 million girls are forcibly married before they turn 18.
Sisters in Islam executive director Ratna Osman feels that the country's laws have to change. She is calling for the legal age for marriage for both Muslims and non-Muslims to be 18.
http://news.asiaone.com/News/AsiaOne%2BNews/Malaysia/Story/A1Story20121014-377559.html
-----------
Indonesia Aims to be Islamic Fashion Powerhouse
October 15, 2012
JAKARTA–A new breed of designers is seeking to blend Islamic modesty with cutting-edge style to turn Indonesia into a global center of Islamic fashion.
The idea may seem like a bad fit for some fashion mavens, who when thinking of Islamic fashion usually picture drab black or white cloths used to cloak female beauty rather than celebrate it.
But the Islamic-fashion industry has taken off in recent years as designers look for ways to incorporate the bold colors and rich textile traditions prevalent in some Islamic societies while still maintaining sufficient modesty to adhere to Muslim mores.
Indonesia, as the world's largest Muslim-majority country, is already one of the main players, with a local fashion industry now estimated to be worth $6.6 billion dollars a year. But local designers and retailers – led by an industry group called the Indonesian Islamic Fashion Consortium – are hoping to expand the Islamic fashion component of the industry even more by drawing up a road map to make Indonesia the "capital" of global Islamic fashion by 2020.
Right now, Malaysia, Thailand and France are among the leading Islamic fashion hubs, industry officials say.
For the past two years, Indonesia's consortium has embarked on road shows in Europe, Asia and the Middle East to introduce Indonesian Islamic fashion designers to the outside world. Its members have toured Indonesia's provinces and organized workshops for local entrepreneurs and designers on marketing and production.
It has also organized an annual Indonesian Islamic Fashion Fair and, for the first time last year, a national Muslim beauty pageant.
"The creativity of these young (Indonesian) designers is endless," said Jetti Hadi, editor-in-chief of local Islamic fashion magazine Noor and a co-founder of the consortium. "Their designs are fashionable but still adhere to the Islamic rules of modesty, which means that the clothes are loose-fitting and do not reveal the shape of women's bodies."
The Indonesian pavilion at the International Fair of the Muslim World in Paris last year attracted more than 2,000 visitors, Ms. Hadi said. Back at home, there were 164 booths at an Islamic fashion show in Jakarta this year, compared to only 30 booths two years earlier, she said.
Meanwhile, at this year's Muslim beauty pageant, known as the World Muslim Beauty Contest, more than 750 women participated. Women from as far away as the Netherlands, Germany and Australia and from various professions such as lawyers, engineers and athletes applied to take part in the contest, but only 20 made it to the final on September 15 and all of them except for one are Indonesian.
Participants were judged not only by their beauty, but also their ability to read the Koran in Arabic and other Islamic knowledge as well as their social activities. Most importantly, they were required to wear Muslim clothing. Judges voted environmental activist and entrepreneur Nina Septiani as the winner of the crown.
"Whenever people around the world hear about terror attacks (conducted by Islamist militants), the image of Islam is tarnished somewhat. We want to change the perception that Muslims are extreme," said Aries Muftie, a member of the jury, and an expert on Islamic finance.
Long known as a relatively secular Muslim nation, Indonesia has seen an increase in the number of women wearing hijab, or Islamic dress in recent years, which some analysts have attributed to rising Islamic conservativeness.
But as that has happened, it has also increased the demand for designers to help add more variety to the attire. It has also led to a mushrooming of online shops and boutiques that cater to Islamic fashionistas, known locally as hijabers. Entrepreneurs use popular social networking sites such as Facebook FB +0.01%, Twitter and Multiply as well as local online marketplaces to promote their items.
A rising middle class in Southeast Asia's largest economy has also fuelled a boom in the domestic fashion industry.
The sharia unit of the state-owned Bank Rakyat Indonesia BBRI.JK -1.31% has embraced the Muslim fashion aficionados by issuing a debit card that also serves as a membership card for the "Hijabers Community," which has 77,000 "likes" on Facebook and almost 57,000 followers on Twitter.
For aspiring entrepreneurs and designers like Jakarta-based Rika Septiana, Facebook provides an opportunity to start a business without having to rent space. Armed with a laptop and an Internet connection, Ms. Septiana started her online Islamic fashion shop in 2010, offering hand-stitched headscarves, necklaces, hand-made crochet flower brooches and other accessories popular among hijabers.
She said business is good enough that she's thinking of giving up her other job as a secretary at a foreign company and turning to designing full-time.
"I have a lot of ideas that I have yet to put into reality. Also working from home means I can have more time with my children," she said.
Despite the proliferation of designers, it's still not fully clear how much of an impact Indonesian designers are having on the Muslim world at large, as statistics are hard to come by. Export numbers are difficult to estimate because most transactions with overseas buyers are conducted individually and aren't reported to national authorities.
Nevertheless, more and more Malaysians and Singaporeans are now traveling to Indonesia to sample its styles, says Irna Dewi, a manager at Mosaict Hijabstore, a popular Islamic fashion chain that caters to middle-class customers.
Indeed, Indonesia is increasingly becoming known as a trendsetter for Muslim fashion styles, says Annisa, an Islamic fashion observer who like many Indonesians goes by one name and writes for www.fashionesedaily.com, a local fashion website.
"The current trend incorporates bold colors, bold patterns and cutting-edge designs," she said, which together show that "Indonesian Muslim women have become more expressive and confident in hijab." At a recent Islamic fashion show, for instance, models walked the runway wearing bright-colored tie dye blouses combined with long skirts of floral-patterned songket, a hand-woven fabric from Sumatra island.
They also put on bold accessories such as huge beaded necklaces, oversized bangles and headscarves embroidered with Swarovski stones.
http://blogs.wsj.com/searealtime/2012/10/15/indonesia-aims-to-be-islamic-fashion-powerhouse/
-----------
Malala Yousafzai: Will her shooting end Islamic extremism in Pakistan?
OCTOBER 15, 2012
Pakistanis are united in condemning a brazen attack on a 14-year-old girl, but it's an open question whether this anger will translate into real change
On Monday, Malala Yousafzai, the Pakistani schoolgirl shot and severely wounded by Taliban gunmen, arrived in England for medical treatment. Malala, only 14 years old, had been targeted for demanding equal education opportunities for girls, which the Taliban claimed was a violation of Islamic law. Malala's shooting has sparked near-universal outrage in Pakistan, and even politicians, most of whom are afraid to cross Pakistan's powerful extremist groups, have openly condemned the Taliban.
Full report at:
http://theweek.com/article/index/234841/malala-yousafzai-will-her-shooting-end-islamic-extremism-in-pakistan
-----------
Taliban Doesn't Want Girls to Become Something
Afghan girl, 'No one is racist to each other'
16 October, 2012
By Tasha Impey
"It's awesome, all of the cultures come together and we are like one big family, no one is racist to each other," says Year 11 student, Narges, who is one of the many new faces calling the South East home.
Politics and religion were not even whispered about when over 300 migrants came together to celebrate cultural diversity.
Instead, they shared traditional food which reflected their countries of origin, including a controversial pig, performed song and dance, laughed, chatted and welcomed each other.
Full report at:
http://www.abc.net.au/local/photos/2012/10/16/3611723.htm
-----------
Madonna Strips for a Good Cause: A Smutty Dedication to Dying Malala Yousafzai
October 15th, 2012
She has been accused of getting overly political on stage before but Madonna sunk to a new low this week with a strip-show dedication to a Pakistani girl shot at by the Taliban.
Malala Yousafzai, 14, hit the headlines last week when she was attacked alongside two classmates on a school bus. The teenage girl was fighting to get an education in the extremely conservative North West of the country and has now been flown to the UK for treatment.
Full report at:
http://www.albawaba.com/editorchoice/madonna-taliban-malala-yousafzai-446543
-----------
International Rural Women's Day in Pakistan Calls for Action Plan on Women
16 October, 2012
ISLAMABAD: The two-day festival-cum-conference organised to mark the International Rural Women's Day on Monday concluded at Shakarparian with certain recommendations by the participants for devising an action plan for peace and development of Pakistan's rural women. The rural women from 100 districts participated in the event.
The event was organised by Potohar Organisation for Development Advocacy (PODA) in collaboration with Lok Virsa (National Institute of Folk and Traditional Heritage) and several other partner institutions. The special features were women artisans-at-work with display of craftsmanship by craftswomen from different parts of the country with their tools, finished and semi-finished products; promotional stalls by NGOs working for empowerment of women, a conference to focus on the women issues; audio visual presentations on women issues and musical shows.
Full report at:
http://www.dailytimes.com.pk/default.asp?page=2012\10\16\story_16-10-2012_pg7_29
-----------
'Early Marriage Harmful For Women'
By Nasouh Nazzal
October 15, 2012
In the Palestinian Territories, local Sharia courts allow women aged 15 or younger to marry
Ramallah: Early marriage is a harmful reality for thousands of young women in the Palestinian Territories with local Sharia courts allowing women at age 15 or younger to marry.
Opponents claim that early marriage has extremely harmful effects on women and that sharply increasing numbers of divorce cases involving women married young is evidence of this.
Full report at:
http://gulfnews.com/news/region/palestinian-territories/early-marriage-harmful-for-women-1.1089583
-----------
Girls, Hope and Computers in Afghanistan
10/15/2012
Decades of war in Afghanistan have led some to doubt the future, but one brave woman I met last week believes educating the country's girls will make an important difference.
Razia Jan, a CNN "Heroes of 2012" finalist, visited as a guest of the Omaha Suburban Rotary Club. They plan to sponsor 55 girls at her Zabuli school.
She was born in Afghanistan but came to the United States in 1970. In relative comfort as a tailor, she responded after 9/11 by sending hundreds of blankets to Ground Zero rescue crews. She also helped send thousands of shoes to children in Afghanistan.
Full report at:
http://www.huffingtonpost.com/jeremy-harris-lipschultz/afghanistan-girls-education_b_1965815.html
-----------
Run for Muslim Women's Veil on Historic EDSA in Manila
By Nikko Dizon
October 13th, 2012
MANILA, Philippines – Wearing pink Hijabs, young Muslim women will join hundreds of other Muslim professionals, members of the Armed Forces of the Philippines, and other non-Muslims in a run Sunday on the historic Epifanio de los Santos Avenue or EDSA to promote religious understanding among Filipinos.
"This run by Muslim women on EDSA is the first of its kind and its significance also underlines the need for awareness on the wearing of hijab [veil] as an important part of our Islamic Faith, celebrates diversity and peaceful coexistence in the mainstream," said Bai Rohaniza Sumndad Usman of the Young Moro Professionals Network (YMPN) that is organizing the event.
"This is also a good opportunity for us to present the positive paradigm about Islam in response to the different challenges being faced by Muslims," she added in a statement released by the AFP public information office.
Full report at:
http://newsinfo.inquirer.net/288414/run-for-muslim-womens-veil-on-edsa-sunday-morning
-----------
Pakistani mother, 4 children killed in British house fire
15 October 2012
LONDON - A Pakistani mother and four of her children were killed Monday in a suspected arson attack on their home outside London, police said.
Sabah Usmani and her sons Sohaib, 11, and Rayan, six, as well as 12-year-old daughter Hira, died in in their end-of-terrace home in Harlow, Essex, in what firefighters described as "harrowing scenes".
A third son, Muneeb, nine, died in hospital while Maheen, a three-year-old girl, remains in a critical condition in a specialist burns unit.
"In the history of Essex Police, seldom has there been an incident of this gravity, in which five people, four of them children, have lost their lives," Assistant Chief Constable of Essex Police Full report at:
http://www.khaleejtimes.com/kt-article-display-
-----------
URL: https://newageislam.com/islam-women-feminism/palestinian-labourers-sexually-harassed-israeli/d/9005