New Age Islam News Bureau
21 November 2020
• Saudi Women Allowed To Organise Tours, As Saudi Arabia Seeks To Empower Women
• How Saudi Arabia Plans To Enter Women's Football Team In Future World Cups
• Woman's Self-Immolation Sparks Outrage In Iran
• Iran Jails Ailing Female Dissident Who Signed 2019 Letter Asking Khamenei to Quit, Husband Says
• Women Want To Work From Home Post-Pandemic Despite Housework Burden: Study
Compiled by New Age Islam News Bureau
URL: https://www.newageislam.com/islam-women-feminism/palestinian-girls-compete-rare-gaza/d/123535
--------
Palestinian Girls Compete In A Rare Gaza Boxing Contest, In The Gaza Strip, Where The Sport Is Mostly Popular With Men
November 20, 2020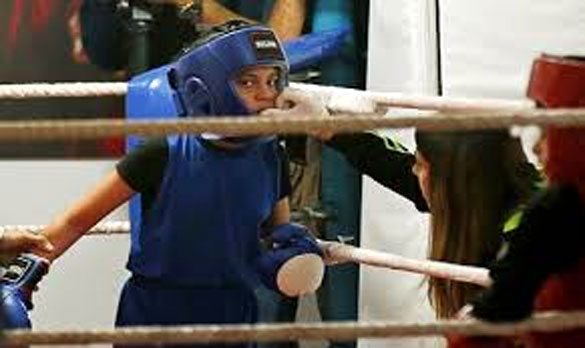 Friday's contest featured female boxers as young as seven years old
------
GAZA: Trading jabs and punches, young Palestinian girls competed in a female boxing tournament on Friday in the Gaza Strip, where the sport is mostly popular with men.
Friday's contest featured female boxers as young as seven years old, and was attended by dozens of spectators.
One boxer, Hala Ayoub, said she hoped the contest would show people that boxing is not only a man's sport.
"My ambition is to become a famous boxer and to raise the flag of Palestine and fight in local and international contests," said Ayoub, 15.
"It (boxing) taught me how to defend myself, and how to release bad energy," she said.
The number of female boxers in Gaza has doubled in the past six months since an initial 18-member all-girl team was formed. It now has 45 athletes, according to captain Osama Ayob.
Ali Abdel-Shafi, deputy chairman of the Palestinian Boxing Federation, said some of the girls from Friday's competition would be selected to join the Palestinians' boxing team and take part in a competition in Kuwait in February.
"This is the first championship I've taken part in...There is tension because of the audience and the noise but I am excited as well," said Malak Mesleh, 15.
Women make up half of the Gaza Strip's two million people.
Citing security concerns with Gaza's ruling group Hamas, Israel and Egypt have long maintained border restrictions.
https://www.arabnews.com/node/1765961/sport
--------
Saudi Women Allowed To Organise Tours, As Saudi Arabia Seeks To Empower Women
November 21, 2020
Ramadan Al Sherbini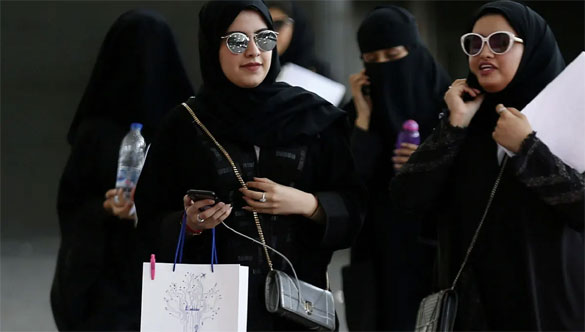 Representative image
-----
Cairo: Saudi regulations, outlining rules for organising tourist trips, are allowing female nationals to be engaged in the business, a local newspaper reported, as the country is vigorously seeking to empower women.
According to the regulations, which went into effect Friday, tour organiser must be a Saudi national - a male or a female - or a foreign investor having a valid licence, Okaz newspaper said.
In 2018, the kingdom allowed women to drive for the first time in its history, ending a decades-old ban on female driving. In another move enhancing women's empowerment, Saudi authorities have allowed women to travel without a male guard's approval and to apply for a passport, easing long-time controls on them.
Saudi Arabia is endeavouring to boost its tourism industry as part of an ambitious plan aimed at diversifying the oil-reliant economy.
According to the Saudi regulations, the tour organiser is defined as a person licensed to organise tourism itineraries and market them inside or outside the kingdom in return for specific charges.
The services that tour organisers are allowed to offer include car rentals, accommodation, entertainment, management of tourist destinations and insurance brokerage.
Potential dangers
Under the new rules, the Tourism Ministry has obliged tour organisers to cover tourists and travellers with insurance against all potential dangers and damage that could result from trips, Okaz reported.
Organisers are banned from operating programmes in military, border, customs or private zones without obtaining a permit, and are committed to observing instructions prohibiting photo-taking there.
Last year, Saudi Arabia launched a new visa scheme aimed at attracting foreign holidaymakers to the kingdom. The instant tourist visa is obtained online or upon arrival at the Saudi airports.
Before the global coronavirus pandemic, Saudi Arabia's aim was to attract 100 million visitors annually by 2030.
https://gulfnews.com/world/gulf/saudi/saudi-women-allowed-to-organise-tours-1.75411981
--------
How Saudi Arabia plans to enter women's football team in future World Cups
21 Nov 2020
Saudi Arabia has approved the establishment of a new department to develop women's football in the kingdom, the latest move in a liberalisation drive.
The board of directors of the Saudi Arabian Football Federation (SAFF) has appointed Adwa AlArifi to head the department which will develop a strategy and a detailed implementation plan to promote women's football and expand female participation levels across the kingdom, Saudi Press Agency reported on Saturday.
In line with the goals of Saudi Arabia's Vision 2030 blueprint, the department will also raise public awareness of the importance of women's participation in football and will work to ensure the participation of Saudi Arabian women's national teams in international competitions.
AlArifi said in comments published by SPA that organised women's football in Saudi Arabia has witnessed an encouraging start in the last two years, generating momentum which led to the SAFF board's approval to establish a special department to foster continued growth.
She also noted that the increased presence of women at administrative decision-making levels within the game will help to accelerate the development of women's football.
SAFF has also launched a Twitter account to help the public keep informed about all news and developments in relation to women's football. (@SAFF_WFD).
The development comes amid as Saudi Arabia's first women's football league has begun, after being postponed because of the coronavirus pandemic.
More than 600 players for 24 teams based in Riyadh, Jeddah and Dammam are competing for a championship cup.
There's also a growing trend of females wearing a sports-friendly version of the abaya gown.
Pictures of female athletes running in the garb in the Red Sea city of Jeddah went viral in 2018, setting off a new debate on sartorial freedoms for women in a country where the typically all-black, body-shrouding garment is obligatory in public.
Akin to a zippered jumpsuit, sports abayas envelop a woman's body but offer greater mobility for sporting activities.
The latest fad is an ensemble of "soccer-themed abayas" - in the colours of the local teams, a new way for female sporting fans to cheer for their favourite players.
Such fashion trends are gaining momentum amid the kingdom's liberalisation drive, including the historic royal decree allowing women to drive and enter sports stadiums for the first time.
https://www.arabianbusiness.com/culture-society/454910-how-saudi-arabia-plans-to-have-womens-football-team-at-future-world-cups
--------
Woman's self-immolation sparks outrage in Iran
Syed Zafar Mehdi
21.11.2020
TEHRAN
A shocking incident of a woman setting herself on fire in the southern Iranian province of Hormozgan has evoked widespread anger and outrage across the country.
The incident was reported on Thursday in the port city of Bandar Abbas, where a 35-year-old woman attempted self-immolation after her house was razed down by local authorities.
The woman, according to local officials, suffered substantial burns and is presently undergoing treatment at a local hospital in the city on the southern coast of Iran.
Local sources said the woman was living with her two children along with two other women and their children in the ramshackle house located in the Bist o Davvam town of the city.
While the mother is hospitalized, her children and other occupants have been rendered homeless.
Provincial officials who visited the victim in the hospital on Friday have ordered investigation into the matter that has gathered storm on social media.
The port city of Bandar Abbas, strategically located at the entrance of the Persian Gulf, overlooking the Strait of Hormoz, was tipped to become an important commercial hub in the region.
It, however, has been reduced to a hub of ghettos occupied by poverty-stricken people. According to official estimates, roughly half of the population in the port city -- some 240,000 -- lives in authorized houses.
The latest incident has again put the spotlight on grinding poverty in the province, difficult living conditions, and indifference of local authorities towards the plight of people.
The municipality officials say a warning had been given to the occupants of the house to vacate it, since the land belongs to the government and is "situated on a flood channel".
But the woman's relatives claim they had asked the municipality not to go ahead with the plan, as they were staying in the house "as a matter of necessity, not choice".
The incident has drawn widespread anger and outrage across Iran.
Samieh Rafiee, a lawmaker from the capital Tehran, denounced the action and called for "amendments in existing laws" to prevent such incidents in the future.
Ali Reza Zakhani, a lawmaker from the city of Qom, termed it a "bitter event" and an example of "discriminatory behavior" towards the poor.
https://www.aa.com.tr/en/middle-east/woman-s-self-immolation-sparks-outrage-in-iran/2051116
--------
Iran Jails Ailing Female Dissident Who Signed 2019 Letter Asking Khamenei to Quit, Husband Says
By Michael Lipin, Ramin Haghjoo
November 20, 2020
WASHINGTON - Iran has imprisoned an ailing female dissident who signed a 2019 letter calling on its Islamist ruler to quit, rejecting her pleas to delay the start of an effective 27-month prison term until she is treated for severe pain, according to her husband.
Speaking to VOA Persian from Iran on Tuesday, Abbas Vahedian Shahroudi, the husband of Shahla Jahanbin, said she had gone to Tehran's Evin prison on November 14 in response to her latest summons, and had hoped to be granted a further delay in starting her prison term for medical reasons.
Jahanbin previously told VOA that she received a summons to start her sentence in May and persuaded prison officials to postpone the incarceration by several months so she could undergo needed back surgery and have time to recover. She said, though, that she could not schedule the surgery in the following months because of the COVID-19 pandemic, putting her at risk of being arrested and jailed at any time unless she received another delay.
In his VOA interview, Vahedian said Iranian authorities who met his wife at her November 14 arrival at Evin told her that she would have to begin serving her prison term immediately because Iran's top military force, the Islamic Revolutionary Guard Corps, objected to further delays in her incarceration.
Vahedian later posted a Wednesday tweet saying he had spoken to Jahanbin by phone minutes earlier in their first contact since her Saturday arrest. He said his wife told him that she still was suffering from severe pain in her shoulder and back.
VOA could not independently verify the circumstances of Jahanbin's detention because it is barred from reporting from Iran.
Jahanbin was among 14 Iranian women who signed the August 2019 open letter demanding the resignation of Iranian Supreme Leader Ayatollah Ali Khamenei. Authorities initially arrested her in connection with the letter later that month before releasing her on bail in November 2019.
The 14 signatories of the letter were charged by Iranian authorities with spreading anti-government propaganda and "gathering and conspiring against national security." Jahanbin received a final prison sentence of 30 months for her role in the letter, but her effective term was reduced to 27 months to account for the time that she already served in jail last year.
Jahanbin was defiant in a VOA interview last month, saying she had no regrets about the letter despite the prospect of imminent imprisonment that could exacerbate her osteoarthritis, a degenerative joint disease affecting both her neck and shoulders. She also faced a risk of coronavirus exposure in an Iranian prison system criticized by international rights activists as unsanitary and overcrowded.
Shahla Entesari and Shahla Jahanbin told VOA Persian they received Wednesday phone calls summoning them to Tehran's Evin prison within 10 days to start serving sentences.
Vahedian was one of 14 mostly male dissidents who signed an open letter in June 2019 making similar demands for Khamenei to quit and for Iran's Islamist constitution to be changed. Authorities arrested him in August 2019 and granted him a temporary release from a prison in Mashhad in July.
In his comments to VOA, Vahedian accused Iran's Islamist rulers of trying to pressure him and his wife into signing what he called a letter of repentance. He also had a defiant message for them.
"The only way out of this authoritarian regime is to create a strong alternative to it, and no alternative is more powerful than a unified nation," Vahedian said. "No one will help us to make Iran free. We are the only ones who can do it."
https://www.voanews.com/middle-east/voa-news-iran/iran-jails-ailing-female-dissident-who-signed-2019-letter-asking-khamenei
--------
Women want to work from home post-pandemic despite housework burden: Study
November 18 2020
Women are expected to prefer working from home post-pandemic despite the heavy burden of housework, a study carried out by Turkish academics with the support of the Scientific and Technical Research Council of Turkey (TÜBİTAK) has revealed.
Mahmut Bayazıt of Sabancı University and İlknur Özalp Türetgen from Istanbul University conducted a research to reveal how white-collar workers who lived with their families and partially worked from home during the pandemic were affected by the outbreak and how they coped with the new order.
An eight-week longitudinal study examined how the work-family balance of individuals who had to work remotely at home, where they lived with others due to the pandemic, was affected within the scope of the study.
The research, which brings together data on subjects such as the time individuals allocate to home, work and themselves, reveals that the experience of working from home shows significant differences according to seniority, gender, married and having children.
The research shows that the pandemic strains women more than men.
As millions work from home, it has been observed that women experience conflicts based on their job-related roles preventing their family responsibilities and family roles from their job-related responsibilities.
Women take on housework more than their spouses, even if they are more established in their careers than their husband.
Physical stress symptoms such as body pain, fatigue, and psychological stress symptoms such as helplessness and anger are also more common in women.
Women with children under six years of age constitute the group with the highest rates of both work-family and family-work conflict.
Despite all these results, women said they will prefer to work from home as often as possible after the pandemic, more than men.
When stay-at-home orders and weekend lockdowns ended on June 1, the research found that the time allocated to work and home increased rapidly, while time individuals spend on themselves decreased.
It is among the findings that those who believe that they receive high levels of social support from their managers and family have lower physical and psychological difficulties and higher levels of satisfaction.
https://www.hurriyetdailynews.com/women-want-to-work-from-home-post-pandemic-despite-housework-burden-study-160114
--------
URL: https://www.newageislam.com/islam-women-feminism/palestinian-girls-compete-rare-gaza/d/123535
New Age Islam, Islam Online, Islamic Website, African Muslim News, Arab World News, South Asia News, Indian Muslim News, World Muslim News, Women in Islam, Islamic Feminism, Arab Women, Women In Arab, Islamophobia in America, Muslim Women in West, Islam Women and Feminism