New Age Islam News Bureau
7 May 2020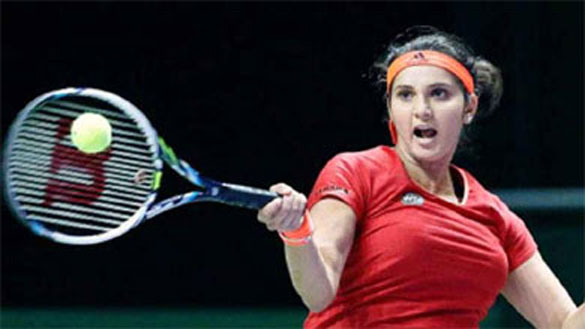 Sania Mirza Still Feels She Has Top Level Tennis Left in Her
-----
• Palestinian Anchor Sues US-Based Channel for Anti-Hijab Discrimination
• India Has Learnt to Accept Female Athletes but Still A Long Way to Go: Sania Mirza
• 6,500 Pregnant Indian Women Register to Fly Home From UAE
• Rural Women Earning Adequate Income from Home Based Tailoring
• Turkey's First Female Traffic Police Officer Shares Career Memories
• Egypt TV Show Aired During Ramadan Under Fire for Insulting Women
• High-Achieving Indonesian Islamic University Student to Be Stripped of Honours After 30 Women Report Him for Alleged Sexual Abuse
• UN Population Fund Calls for Urgent Money for Yemeni Women
• Egypt: Missing Christian Mother Reappears as Pious Muslim in Video
• Delhi Court Orders FIR Against Two Women for Communal Slurs, Lockdown Violation
• Pregnant Woman, Who Moved India's Apex Court to Fly Home, Among First to Be Repatriatedfrom Dubai
• Wasim Akram, Babar Azam Inspire Pakistan Women's Team
• Women Psychologists in Herat, Afghanistan Terrified for Clients During Pandemic Lockdown
• National Council for Women, UN Women Launch "Our Mental Health Is A Priority" Initiative To Support Women's Mental Health
• Kosovar Woman Accused of Joining Islamic State In Syria
• Palestinian Woman Leads Fight Against Coronavirus, While Others Fall Victim To Domestic Violence
Compiled By New Age Islam News Bureau
URL; https://www.newageislam.com/islam-women-feminism/palestinian-anchor-sues-based-channel/d/121783
-------
Palestinian anchor sues US-based channel for anti-hijab discrimination
5 May, 2020
A Palestinian journalist and broadcaster has filed a lawsuit against the US-based Al-Hurra television channel for discrimination, reports confirmed, after she was allegedly rejected for an anchor position because she wears a hijab.
RaedaHamra said she was prevented from taking part in a pilot anchor test for the Arabic-language channel two years ago because the channel allegedly "did not want a veiled woman on screen".
The case dates back to 2018 after Jordanian media worker Nart Buran took position as head of the channel's news department, the report adds.
Buran has since moved to the UAE to take up the role of director at the Abu Dhabi government-linked International Global Investments, an organisation which includes Sky News.
Last month, a Muslim woman accused New York police of demanding she remove her hijab for a photo after allegedly committing a driving offence, launching a federal civil rights lawsuit against the force.
The incident reportedly occurred in August 2019, when Ihsan Malkawi and her husband were arrested in New York's Yonkers, Westchester County "on false allegations of abuse" which her attorney said were later unfounded, NBC News reports.
Malkawi refused, telling the police officer that it was an article of her faith. After consulting a male supervisor, she was told to remove the scarf anyway because "it's the law".
Asking Muslim women to remove their head scarves is a common practice in that part of New York, though it has been ruled unconstitutional in other parts of the country, her attorney said.
After spending a night in jail, Malkawi was taken to a second prison for processing where she was once again photographed without her hijab, and forced to wear a short-sleeved shirt, the lawsuit alleges.
However, in February, the US was praised for its move to permit hijab-wearing Muslims, as well as those who don a beard for religious purposes, into the United States Air Force.
The update to the Air Force's code for "dress and personal appearance" will allow airmen to ask for a waiver to wear religious apparel.
https://english.alaraby.co.uk/english/news/2020/5/5/palestinian-anchor-sues-us-based-channel-for-anti-hijab-discrimination
-------
India has learnt to accept female athletes but still a long way to go: Sania Mirza
May 06, 2020
New Delhi: Path-breaking tennis ace Sania Mirza takes pride in the fact that many of India's sporting stars, outside cricket, are women even though she believes that it will take a few more generations before being a sportswoman is seen as a natural career choice in the country.
The winner of six Grand Slam titles, spoke on a range of issues including the role of parents and attitude of coaches towards women players during a webinar organised by the All India Tennis Association and the Sports Authority of India (SAI).
"I take huge pride in the fact that outside cricket, the biggest sports stars are women athletes. If you see magazines, billboards, you find women sports stars. That is a huge step, I know how difficult it is to pursue a sport being a woman," Sania said.
"This is a signal that things have changed but we have miles to go before we reach the point where when a girl picks up boxing gloves, or a badminton racquet or says 'I want to be a wrestler', it's not out of ordinary, it should become natural progression."
"Sport in this side of the world does not come naturally to parents. They want their daughters to be doctors, lawyers, teachers but not an athlete. Things have changed in the last 20-25 years since I started playing tennis but still there is long way to go," she said.
Olympic medal-winning shuttlers P V Sindhu and SainaNehwal, six-time world champion boxer M C Mary Kom, Asian Games champion wrestler VineshPhogat, and former world champion weightlifter MirabaiChanu are among the lot making waves globally consistently.
"Certain norms are outlined for girls. Even after I had achieved everything, I was being asked when I am going to have a child as if until I have a child, my life will not be complete.
Responding to Suresh Sonchalam, the director of AITA's coach education programme, Sania said she faced a lot of hurdles in her career but strong support from her parents proved to be the key in her successful journey.
"What we were doing was against the norm. I started playing at age of six and at that time a girl picking up the racquet and dreaming of playing Wimbledon was laughed at.
"Log kyakahenge (what will people say) has killed more dreams than anything else. I was lucky to be born to parents, who did not care about it."
"Coaching the girls is more trickier. At the age of 13-14 they are still discovering who they are. There are changes happening in the body. There are hormonal changes which happen throughout their lives."
The 33-year-old also advised coaches not to put pressure on young players, saying the key is to strike a balance between encouragement and putting them under the pump.
"Secret to success is competitiveness. I was always aggressive, did not mind losing a few matches or making mistakes ar junior level. The goals were bigger. My parents never told me after I lost a match they why I did not put that ball inside."
https://gulfnews.com/sport/tennis/india-has-learnt-to-accept-female-athletes-but-still-a-long-way-to-go-sania-mirza-1.1588778361959
--------
6,500 Pregnant Indian Women Register To Fly Home From UAE
May 6, 2020
Eleven pregnant women are scheduled to fly out of Dubai to Kozhikode, Kerala, on the first repatriation flight to India, starting Thursday, May 7.
At least 6,500 pregnant women in the UAE, in various stages of their pregnancy, have registered their interest to return home to India, Khaleej Times has learnt. A large number of the women could be from Kerala as almost 9,000 pregnant women, from across the world, have registered with the non-resident Keralites Affairs' (NORKA), the Kerala government's official portal.
The women and their families in the UAE have appealed to diplomatic missions to consider them for immediate travel, citing a lack of medical insurance and financial inability to have their babies in the UAE.
Remya Rajamma, a 33-year-old pregnant woman from Alappuzha, Kerala, said she is a little over 34 weeks pregnant. She, along with her 18-month-old baby and husband, are eagerly waiting to travel to India to have their baby. "I have to travel before May 10. I cannot travel after that. The doctor has said it is not safe," Remya told Khaleej Times. She does not have medical insurance.
As the family awaits a positive response from the consulate, diplomatic sources at the Consulate General of India in Dubai have said that priority to travel immediately will be first given to women who have crossed 28 weeks of pregnancy.
"The registered cases are at various stages of their pregnancy, not all of them are in advanced stages. We are also making travel arrangements for those accompanying them," said Press consul Neeraj Aggarwal.
Approximately 11 pregnant women are scheduled to fly out of Dubai to Kozhikode, Kerala, on the first repatriation flight to India, starting Thursday, May 7, said Aggarwal. The mission is taking into consideration each emergency case and looking into appeals made by the families on social media platforms.
On Thursday, India begins the 'Vande Bharat Mission', a mammoth exercise to repatriate several hundred thousand stranded Indian citizens across the world. Almost 200,000 Indians in the UAE have registered on the web portal collecting data of persons wishing to return home.
Khaleej Times reached out to several pregnant families in the UAE, all of whom said they are willing to risk the travel amid the Covid-19 coronavirus crisis, especially to Kerala since the state relaxed quarantine norms for returnees on Wednesday.
Chief Minister Pinarayi Vijayan has said non-resident Keralites returning from abroad from Thursday, except pregnant women and children, will remain in state-run quarantine centres.
Remya Rajamma said, "When I gave birth to my older child, I left my job here in Dubai and returned to Kerala for the older one's delivery." Rajamma travels to Dubai every six months for visa renewal purposes. "This was also supposed to be a short trip, but I got stuck here." The clock is ticking in Remya's case as she has only three safe days to travel. "I have registered on Norka and on the embassy website. Now, I am waiting," she said.
For many of these parents, this is their first child. Keralite Rahul Ramesh's wife AnaghaAnandam is eight months pregnant. Strangely, Ramesh has received permission to travel on Thursday to Kozhikode. However, his wife's name was not on the first list of travellers.
"I've asked the consulate to replace my name with hers. We don't have medical insurance. I am okay with her travelling, I can stay back. Her due date is June 15, and the last day she can travel is May 11," said Ramesh.
Rehna Varghese, a 28-year-old who is also on the seventh month of pregnancy said, "I have a job here, but because I was already pregnant when I started working, my company could not extend medical insurance for this purpose."
https://www.khaleejtimes.com/coronavirus-pandemic/6500-pregnant-indian-women-register-to-fly-home-from-uae
--------
Rural Women Earning Adequate Income From Home Based Tailoring
07th May 2020
ISLAMABAD, (UrduPoint / Pakistan Point News - 7th May, 2020 ) :Skilled Rural Women are earning adequate income from home based tailoring and stitching ahead of Eid ul Fitr.
Due to COVID-19 lockdown, home based work was on the rise and rural women stitches clothes for community clients and earns. Most skilled rural women these days were busy in stitching of Eid clothes.
After completing a four-month training course at an informal school established near her locality, she has learned how to stitch, sew clothes.
"Now I can cut the cloth according to measurement and sew the same into dresses. Each dress requires a little change following new fashion designs to attract customers," she said.
Head of Sakafat, Momina Khayal said that skilled women had a passion to learn to discover their true potential, adding that women had a become source of inspiration for others because of their amazing skills, enterprising ambitions and entrepreneurial dreams.
https://www.urdupoint.com/en/pakistan/rural-women-earning-adequate-income-from-home-913694.html
--------
Turkey's first female traffic police officer shares career memories
MAY 06, 2020
Turkey's first female traffic police officer reminisced about her career that started when she was just 18 in Istanbul, Turkey's most crowded city, in 1968. Fikriye Yavuz, a 71-year-old retired police officer, shared her memories with Anadolu Agency (AA) about the days when she would direct traffic in Istanbul.
Yavuz, now living in Mersin, a port city in southern Turkey, said after graduating from high school, she had applied to become a police officer when she saw a job ad in the newspaper. However, she did not know if women would be hired as traffic police. Yavuz said a telegram was delivered to her house, but her father had hidden it from her. Later she found out about the letter thanks to her brother. Her father did not want her to take the job, but after days of trying to convince her father, she succeeded. "I was Turkey's first-ever female traffic police officer. People would find it strange, be surprised and some would admire it." "I was also excited about it since I came to a big city from the countryside," Yavuz said.
As the first woman to lead traffic, Yavuz said a uniform was sewn especially for her at the time. Yavuz said many journalists would knock on her door during those times to share her story.
Headlines like "People who watched the first female trafficker with curiosity caused traffic jam" and "Pretty girls have become police, let's not overtake" filled the pages of newspapers, Yavuz said. "Now, when I see female traffic police officers, I instantly feel happy. I wish in my time we were also as crowded as now so then I would not have drawn so much attention," she said. Yavuz, who has kept her service documents, old newspapers and her uniform, says they are symbols of her life.
As Turkey's first female traffic police officer, Yavuz started her journey in Istanbul and later worked in several branches of the Turkish National Police. She gave lessons in the academy, became a chief inspector and retired as a police chief in 2009.
https://www.dailysabah.com/turkey/turkeys-first-female-traffic-police-officer-shares-career-memories/news
--------
Egypt TV show aired during Ramadan under fire for insulting women
5 May 2020
Some Egyptian legislators have called on Prime Minister MoustafaMadbouly to ban a prank television show aired every year during Ramadan, accusing it of inciting violence against women.
The show Ramez Magnon Rasmi, or Ramez Is Officially Crazy, invites celebrities onto what is branded as a serious talk show in Dubai, but it turns out to be a hoax episode hosted by actor Ramez Galal.
The guests are handcuffed to a chair with Galal threatening them with crabs and snakes, or with other punishments if they do not "confess" to his questions.
In the first episode, Galal made fun of actress Ghada Adel for being a divorced woman, and in others, he hit some actresses on their shoulders and touched their faces to get a reaction.
Mohamed Khalifa, one of the parliamentarians who filed a complaint with the prime minister, said the show should be taken off-air immediately. But the programme was defended by its broadcaster, the Saudi-owned MBC Group.
"It is a sadist show that is not only insulting to women but it is damaging to the whole society as it contains a lot of violence, torture and bullying," Khalifa told the Thomson Reuters Foundation.
The prime minister's office did not respond to requests for comment on the prank show that Galal has hosted during Ramadan for about seven years, regularly causing controversy.
Another parliamentarian, Mortada Mansour, filed a complaint to the public prosecutor, calling for the show to be withdrawn as it contained violence as well as the harassment of female guests.
Sexual harassment, domestic violence, and discrimination against women are widespread and serious problems in Egypt, according to the United Nations.
A 2017 survey by UN Women and gender equality group Promundo found more than 60 percent of Egyptian men said they sexually harassed a woman, and most men believed women sometimes deserved a beating.
The National Council for Women filed an official complaint to the country's Supreme Council for Media Regulation, saying the show's presenter offended and patronised female guests.
The programme has also sparked controversy among social media users and followers on its Facebook page, some of whom called for it to be taken off-air.
Mazen Hayek, an MBC spokesman, said the channel acknowledged the criticism but added it was a top-rated show and all guests had given their approval to air the episodes.
"To people who criticise the show and have reservations about Galal's comments on women, we tell them we hear you and respect your opinion. We totally respect women's rights," Hayek said.
"But if you do not like the show you can watch other shows. You cannot take three seconds of a TV prank show and label the whole channel as insulting women, especially since we have been empowering women both in our shows as well as in ... MBC."
"Besides normalising torture through the pranks, Galal also makes insulting remarks and comments on female guests, their clothing and their reactions," said RandaFakhr el-Deen, head of the NGOs' Union on Harmful Practices Against Women and Children.
"This is another show that encourages society to normalise violence and harassment in all its forms against women."
https://www.aljazeera.com/news/2020/05/egypt-tv-show-aired-ramadan-fire-insulting-women-200505141222833.html
--------
High-Achieving Indonesian Islamic University Student to Be Stripped of Honours After 30 Women Report Him for Alleged Sexual Abuse
May 7, 2020
Bambang Muryanto
As many as 30 female students from the Indonesian Islamic University (UII) in Yogyakarta have come forward and reported IM, an alumnus of the school, to the Yogyakarta Legal Aid Institute (LBH Yogyakarta) for alleged sexual abuse.
IM, who graduated from UII's school of architecture, is currently studying for a master's degree at the University of Melbourne in Australia.
In response to the reports, UII plans to strip IM of the honours he received for his high academic achievements, UII spokeswoman Ratna Permata Sari said.
The legal counselors of the women said the alleged abuse had gone on for years. "The survivors reported that they experienced the sexual abuse between 2016 and 2020," LBH Yogyakarta deputy director Meila Nurul Fajriah told The Jakarta Post on Wednesday.
According to reports received by LBH Yogyakarta, IM allegedly committed acts of sexual abuse while studying at the university, and allegedly continued to harass women via social media after graduating and continuing his studies in Australia.
IM was known as a popular student on the campus because of academic achievements and for speaking on religious matters at various discussions.
"There were various patterns to the way he sexually harassed and abused his victims. We have identified four common patterns," Meila said.
The first pattern, Meila said, was by communicating via Instagram. IM, Meila said, would begin by initiating a conversation with his victims under the guise of trying to motivate them to succeed in their studies. IM would later take the conversation in a sexual direction.
The second pattern was by video call, in which IM would allegedly expose his genitalia to the victim as soon as she answered the call.
He also reportedly lured in women by selling IELTS and TOEFL practice books and asking them to pay with cash on delivery, before inviting the women to his dorm where he would engage in inappropriate and unwanted physical contact, such as hugging them from behind.
"We recognized there was a power imbalance in these relationships. IM used his influence and his gentle persona to manipulate his victims into trusting him," she said.
"The survivors only want IM to acknowledge his wrongdoings, and demand institutions, communities and organizations stop putting him in the spotlight, including UII. They also want the university to create regulations on sexual abuse prevention on campus," Melia continued, adding that LBH Yogyakarta was already conducting an investigation into the case should the women want to take legal action.
Of the 30 reports received by LBH Yogyakarta, some of the women had submitted their reports to @UIIBergerak, the university's antisexual abuse campaign on Instagram, as well as to Instagram user @fasyateixera. Some students also reported IM directly to the university's Law and Ethics Bureau.
IM responded to the allegations via Instagram, stating he been wrongly accused and that he forgave those who had accused. He hand wrote a three-page "clarification letter" and published photographs of each page on his account and also shared a picture of his work desk where the letter was placed near a string of tasbih (prayer beads).
"To all my good friends who had have participated in this slander against me, I have already forgiven you before you have realized your mistakes. What happened to me today is the fate that Allah has given me," he wrote in the letter.
https://www.thejakartapost.com/news/2020/05/06/high-achieving-uii-student-to-be-stripped-of-honors-after-30-women-report-him-for-alleged-sexual-abuse.html
------
UN Population Fund calls for urgent money for Yemeni women
May 7, 2020
UNITED NATIONS, May 6 (Xinhua) -- The UN Population Fund (UNFPA) on Wednesday called for 59 million U.S. dollars to urgently protect the health and safety of women and girls in Yemen, where one woman dies every two hours giving birth.
More than 48,000 women could die from complications of pregnancy and childbirth in Yemen due to severe funding shortages and the possible closure of reproductive health facilities, amidst rising risks posed by COVID-19, said the UNFPA in a press release.
To save lives, the UNFPA is calling for urgent funding of 59 million dollars to provide life-saving reproductive health care and women's protection services until the end of 2020. An additional 24 million dollars is needed for the COVID-19 response to protect health workers and women and girls accessing reproductive health services in the conflict-affected country, it said.
As it stands now, nearly half of all health facilities in Yemen are not functioning or only partially functioning. Only 20 percent of health facilities provide maternal and child health services due to staff shortages, lack of supplies, inability to meet operational costs, or damage due to the conflict. Equipment and medical supplies are inadequate or obsolete. Health workers have not been paid, or have only been irregularly paid, in more than two years, said the UNFPA.
If the COVID-19 pandemic is prolonged, the number of women unable to access family planning, facing unintended pregnancies, gender-based violence and other harmful practices could skyrocket by millions of cases in the months ahead, it warned.
A severe funding shortage will force the UNFPA to halt the provision of life-saving reproductive health services in 140 health facilities in Yemen. If these facilities close, an estimated 320,000 pregnant women will be cut off from reproductive health services and more than 48,000 women could die of emergency obstetric complications, it said. Enditem
http://www.china.org.cn/world/Off_the_Wire/2020-05/07/content_76013792.htm
--------
Egypt: Missing Christian Mother Reappears as Pious Muslim in Video
07 May 2020
Cairo: (By Raymond Ibrahim) After disappearing in Egypt, a Coptic Christian wife and mother appeared in a video, dressed in all black Islamic attire (niqab), saying that she had willingly converted to Islam and no longer wants anyone—her husband, children, family—to bother about her anymore.
Ranya Abd al-Masih ("servant of Christ"), 39, was a high school teacher of English in al-Minofiya, just north of Cairo. She has three daughters, the youngest about 9. On April 22, she disappeared. A few days after her family contacted state security, the aforementioned video, which is just over one minute, appeared.
In it, and in between tears, Ranya insists that she has finally and formally converted to Islam, which— "praise be to Allah"—she had been secretly following for nine years. She also adds that she took her jewelry and belongings the day she left home, and therefore it should be obvious that she disappeared of her own accord and was not kidnapped.
Her family argues that such claims are for public consumption—likely being made at gunpoint and/or even under the effects of drugs: she did not, they say, take her jewelry and belongings on the day she disappeared; moreover, it is clear in the video that she is surrounded by and getting cues from others.
On May 1, the Coptic Orthodox Christian Church in al-Minofiya added its voice to the family's by issuing a statement asking President Sisi to intervene and prompt state security "to return our daughter Ranya Abd al-Masih, who suddenly disappeared from her home under unknown circumstances, and whose three young daughters are heartbroken at her absence, as is her husband and her entire family."
"We've no problem for her to go [to Islam] of her own free will—based on conviction—but not as a person who is threatened and coerced into doing so," her brother, Remon, said in a full-length interview. "She was definitely kidnapped and forced to make that video, due to threats against her or her husband and children if she refused to comply." He said the idea that she had "secretly" embraced Islam was ludicrous, citing the fact that up until her disappearance she was regularly attending church, visiting and praying in monasteries—even fasting 55 days in the lead up to Easter. "We are sure that Ranya, our beloved sister, whom we know so well, is not the one we saw on the video; that is a woman who is being threatened and coerced."
Her Facebook and other social media accounts are also saturated with Christian images and messages. Several of the family's Muslim acquaintances confirmed these points, saying they too find it hard to believe that such a piously Christian woman would willingly abandon her faith, husband and children in such a sudden manner.
Remon, her brother, insists that this seems to be an elaborate scheme perpetrated by the "Muslim Brotherhood"—the politically correct way of indicating any "Muslim radical" in Egypt, considering the government's open conflict with the Brotherhood. In reality, and based on ample precedent, if any group is responsible, it is likely the Salafists, with implicit help from security organs.
Remon himself made this clear by lambasting state security, which, to date, has been unresponsive to the family's pleas, citing the video as "proof" of no wrongdoing. "I am calling on President Sisi and every other official," he said; "We need to see and speak with her; but nobody cares and nobody wants to help. Is she even alive?"
Incidentally and needless to say, if the situation was reversed—if a married Muslim woman had disappeared and then reappeared in a video saying she was Christian and not to bother over her—all of Egypt, particularly state security, would be on its feet investigating; and then, if true, both the apostate and her Christian "helpers" would likely be punished.
If Ranya had in fact converted of her own will, well and good, her brother and family emphasized; however, it is only right that they be allowed to independently confirm this on their own—not least since the abduction of Coptic Christian women and girls who later appear on video as converting to Islam of their own will is an ongoing phenomenon in Egypt; this is to say nothing of the straightforward kidnapping or luring of Coptic women (four in the same month that Ranya "converted").
"We want to take care of our women and children. They will no longer be able to leave the house!" Ranya's brother lamented, adding that this incident is establishing a bad precedent: "Whoever steps out can be kidnapped and no one will ever be able to reach them…. What will we do about our Coptic mothers, sisters, wives, and daughters? We are in an era when such things should not happen."
"If you can hear me, Ranya, know that we will never abandon you until we see you," her brother concluded: "Because you are a victim of a terror."
http://www.pakistanchristianpost.com/news-details/2164
--------
Delhi Court Orders FIR Against Two Women For Communal Slurs, Lockdown Violation
May 07, 2020
A Delhi court on Wednesday directed the city police to register an FIR against two women who had allegedly violated the lockdown orders and passed communal slurs in the Rodgran, Lal Kuan on April 16, stating that this might lead to communal tension in the area which had witnessed tension due to a parking fight.
Metropolitan Magistrate Rishabh Kapoor ordered that the case be registered against the two women under sections 188 (disobedience to order duly promulgated by public servant), 153A (vilification or attacks upon the religion, race, place of birth, residence, language) and 295A (deliberate and malicious acts, intended to outrage religious feelings of any class by insulting its religion or religious beliefs).
According to a complaint by a local resident, on April 16, the two women—Mamta and Suraiya—had allegedly tried to disrupt the communal harmony by passing communally disparaging remarks. The complainant Waiz Islam contended that these two women were carrying metal rods in their hands and caused public annoyance by smashing the doors of houses and shops, mostly populated by the Muslims.
He said the video of the incident was taken and uploaded on the web. The complaint added that the area is communally sensitive and has already witnessed communal tension due to a parking issue. He said that even though the matter was reported to the Station House Officer (SHO) and an email was also sent to the DCP, no action has been taken so far.
In an Action Taken Report (ATR), the Delhi police informed the court that the two women were out on the streets to feed the stray dogs and had a heated exchange with the people of Rodgran. The police said the ladies did not pass any communal slurs and a local press reporter uploaded the video on the web without verifying it.
However, the court said that the duo had violated the lockdown and even though they belonged to an NGO, they should have carried proper passes granting them permission to roam freely. The judge also pointed out that both the women were residents of Farshkahan, Lal Kuan and Gali Jamun Wali, Ballimaran, around 450 and 750 meters respectively from the place of the incident.
The Metropolitan Magistrate said that there is no justification as to what the women were doing in the area where the incident occurred. He said all the offences are cognizable in nature and requires investigation.
"…prima facie commission of cognizable offence is shown. The area of occurrence is a sensitive area which has already witnessed communal tension on a previous occasion, therefore, (if) incidents like these are not taken in law, it would lead to communal disharmony and disturbance in public peace and tranquillity, which the nation is not prepared (for) at this time of Covid-19," the judge said.
https://www.hindustantimes.com/india-news/delhi-court-orders-fir-against-two-women-for-communal-slurs-lockdown-violation/story-kgXEhmePTxKQBdHYItoYkL.html
--------
Pregnant Woman, Who Moved India's Apex Court To Fly Home, Among First To Be Repatriated From Dubai
May 06, 2020
SajilaSaseendran
Dubai: Athira Geetha Sreedharan, 27, from Kerala, who had filed a petition in India's Supreme Court seeking help to return home for her delivery, is among the first batch of Indians to be repatriated to India on Thursday.
She and her husband Nithin Chandran, a Dubai-based engineer, were finally relieved when she was short-listed and managed to get a ticket for the Air India Express Dubai-Kozhikode flight on Thursday.
"I had thought this won't happen. It is unbelievable that finally it is coming true. I am very happy and thankful to everyone who supported me."
He said the youth wing of UAE-based expat organisation Incas which supported them to file the petition, sponsored Sreedharan's ticket as a token of appreciation for taking up the cause of many women like her.
"We didn't want financial support for the ticket. But when they offered it as a gift for her, I felt morally responsible to offer free tickets to at least two others who are really in need. I will be doing that," said Chandran.
"Finally, I am going to fly. I am happy but at the same time, I am a bit nervous about flying. This is the first flight during the lockdown and there are concerns about how safe it is to fly. But I am trying to stay optimistic and looking forward to joining my family soon."
Both the pregnant women said they were relieved and happy to hear that the Kerala government would allow pregnant women to be home quarantined as announced by the Chief Minister Pinarayai Vijayan on Wednesday.
Muneeruddeen had to take the tough call of leaving the UAE, which he called home for 26 years, for good, after he consecutively lost two jobs in the last one year.
"Life is so unpredictable. I never expected we will have to go back like this. But we can't blame anybody, neither governments nor the companies that suffered big losses."
He urged the Indian missions to allow group registration for families as individual registration was causing confusion and concerns for families wanting to fly together.
"We are very happy to be among the first to fly home as a family. But we hope that everyone else who has been waiting to go home will also be able to return soon," he said.
"This will be a learning experience for my three children. We are ready to be quarantined at the facility arranged by our government. After that we will go home and join my eldest son who has come back from Delhi where he is studying," he said.
https://gulfnews.com/uae/pregnant-woman-who-moved-indias-apex-court-to-fly-home-among-first-to-be-repatriated-1.71362743
--------
Wasim Akram, Babar Azam inspire Pakistan women's team
May 3, 2020
To help players learn from the crickets elite and remain focused on the game during the COVID-19 lockdown, the Pakistan Cricket Board (PCB) has organised online sessions for the Pakistan national women's team with the legendary Wasim Akram and Babar Azam.
The interactive sessions will be held via videoconference calls in which around 35 women cricketers — current internationals and emerging players — will be provided insights about how to strategize and approach the game in different conditions.
ICC hall of famer and the highest wicket-taker in Test cricket from Pakistan, Wasim Akram, on Monday, shared his experiences and provide an overview about his learnings over the course of his extraordinary 18-year-long international career. Wasim had delivered a similar session to Pakistan men's and a selection of emerging team players last week.
The session with Babar Azam — whose stratospheric rise has seen him at the top of the T20I rankings, number three in ODI rankings and number five in Test rankings — will be attended by women batters in which the captain of the national men's T20I side will shed light on the art of batting by sharing how he gears up for different conditions and situations.
Sharing her excitement about the opportunity to learn from Wasim Akram, Aliya Riaz said: "I have grown up watching videos of Wasim Akram and how he brought laurels for Pakistan with both bat and ball from some adverse of situations.
"It is a great opportunity for me and I am eager to learn from the great of the game and understand his work ethic which made him stand apart from the rest."
Looking forward to the session with Babar Azam, OmaimaSohail said: "Babar Azam is a top batsman and a session with him will help all the batters to understand what makes him different than the others and reflect on how we can continue to improve ourselves."
Urooj Mumtaz, the chair of the national women's selection committee, said: "It is extremely important that the players continue to develop during this phase when cricket is on hold and these sessions are certainly going to be beneficial in that aspect.
"We keep looking for ideas to keep the players engaged and motivated. Fitness plans have been provided to both the senior and junior group of players and they have been working at home to ensure they are ready once the situation normalises.
"Sessions with Wasim Akram and Babar Azam will provide the players an opportunity to listen and learn from the best, helping them in improving their game. Pakistan has produced some of the most extraordinary cricketers in the history of the game and we will continue to bring them on board for the benefit of our players."
https://www.thestatesman.com/sports/wasim-akram-babar-azam-inspire-pakistan-womens-team-1502883732.html
--------
Women Psychologists in Herat, Afghanistan Terrified for Clients During Pandemic Lockdown
4/28/2020
According to the BBC, more than 150,000 Afghans returned from Iran this past March, with thousands more crossing the border daily.
Although seeking help is still an obstacle for victims and survivors of domestic violence, some women in Herat manage to get help from organizations which provide assistance and shelters.
Twenty-five-year-old Marzia Akbar is part of a small group of female psychologists. Her team runs a covert counseling clinic at a local hospital in the Herat province. Through meetings and domestic violence hotlines, Akbari and her team have helped many victims of domestic abuse.
Akbari expressed her fear for her clients: "I'm very scared for them; many women in Herat may survive coronavirus but won't survive the lockdown."
The Afghan government criminalized domestic violence in 2009, but Afghan authorities still consider domestic violence as private family matter, which treats victims as perpetrators of so-called "moral crimes."
Other factors such as victim shaming, social and cultural stigmas, and economic vulnerability also prevent women from seeking help. Somet Afghan women who risk asking for help face discrimination, have to give up their children and face revenge from their perpetrators.
According to Akbari, violence has become part of many women's lives in Herat. She believes this normalization of violence caused her work not to be taken seriously. When the clinic where Akbari and her team were helping women turned into an isolation center for patients with coronavirus, it became even harder to connect with her clients.
"We tried to relocate to another place but the only reason women could manage to reach us before was because the counselingcenter was based at the local hospital. Many of their families didn't know these women were seeking counseling; they thought they were attending a medical appointment," Akbari told The Guardian.
Before the stay-at-home order in Herat, Akbari had 50 clients per week—now she can barely make phone contact with 25 of those women.
Zainab, another of Akbari's client, was 13 when she was married to her cousin. Her husband physically abused and raped her. With the help of Akbari, Zainab managed to get a divorce last year—but she was forced to give up her children. Besides harassment from her ex-husband, Zainab has to endure the lockdown with her parents who are also abusive.
https://msmagazine.com/2020/04/28/women-psychologists-in-herat-afghanistan-terrified-for-clients-during-pandemic-lockdown/
--------
National Council for Women, UN Women launch "Our Mental Health is a Priority" initiative to support women's mental health
May. 6, 2020
Cairo, 6 May 2020- In light of what Egypt and the world is facing as a result of the spread of the novel coronavirus COVID-19 pandemic, and as part of the social responsibility to spread awareness among citizens, the National Council for Women in partnership with the United Nations Entity for Gender Equality and the Empowerment of Women (UN Women) launched today the "Our Mental Health is a Priority" initiative, in collaboration with several partners, including Safe Kids and Shezlong, and sponsored by Egypt Today magazine and website, to be launched on the council's and partners' social media platforms starting today, Wednesday, May 6, 2020.
The initiative includes a series of awareness-raising videos, provided by a number of psychologists and institutions that provide psychological support, and it aims to support the mental health of Egyptian women and raise awareness among citizens on the importance of mental health in general, in light of the spread of the coronavirus, especially in times of quarantine and curfew precautionary orders which requires staying at home for longer periods.
Dr. Maya Morsy, President of the National Council for Women, highlighted that the initiative is an important part of the state's efforts to raise the awareness among citizens, stressing its importance in providing many substantial advice and psychological and social support to the family in general, and woman in particular, in light of the precautionary measures that require staying at home long periods of time.
Dr.Morsy commended the efforts of the Egyptian media for spreading awareness among citizens at this critical stage, as well as Egypt Today magazine and website for its cooperation and quick response to sponsor this initiative.
Ms. Gielan El Messiri, Head of UN Women Egypt County Office a.i., emphasized that mental health services for women are part of the essential services that must be available to women and girls, especially in times of crisis such as the COVID-19 pandemic, and that this initiative would explain how to deal with the crisis in the best ways.
The first video, entitled "Balance in the Time of Corona ", aims at understanding the impact of the current situation on our mental health and the steps that we need to take to overcome this crisis safely.
https://www.egypttoday.com/Article/1/86488/National-Council-for-Women-UN-Women-launch-%E2%80%9COur-Mental-Health
--------
Kosovar Woman Accused Of Joining Islamic State In Syria
May 06, 2020
PRISTINA -- Prosecutors in Kosovo have filed terrorism charges against a woman accused of having joined the Islamic State (IS) extremist group in Syria.
Kosovo;s Special Prosecution said on May 6 it had filed the indictment against the suspect, identified only as D.D., to the Basic Court in Pristina.
In Syria, she joined her husband, an IS fighter who trained her how to use an automatic rifle and made her part of the militants' logistics group.
After her husband was killed, she married another IS fighter, living and operating in Syria's conflict zones until December 2018, when she was arrested near the border with Turkey.
The suspect is part of a group of 110 Kosovars repatriated from Syria in April last year. They included four alleged IS fighters, 32 women, and 74 children.
https://www.rferl.org/a/kosovo-woman-accused-of-joining-is-in-syria/30597911.html
--------
Palestinian woman leads fight against coronavirus, while others fall victim to domestic violence
May 6, 2020
Ahmad Melhem
RAMALLAH, West Bank — AishyaNimr (known by her nickname Umm Iyad), 58, heads in the early morning to the headquarters of the local council of the village of Qira in Salfit governorate in the northern West Bank to follow up on the council's emergency procedures as part of the efforts to stem the outbreak of the novel coronavirus.
Umm Iyad has been heading the village council since 2017 and with the virus outbreak, she also started leading the emergency committee formed to this effect.
Umm Iyad told Al-Monitor that she begins her workday by checking up on citizens in home quarantine in the village, whose number amounted to 21 at the beginning of the crisis but had dwindled to one at the time of this writing. She also is handling the issue of 144 of the village's workers in Israel. Most of the rest of the village's population of 1,370 work in agriculture.
Umm Iyad also visits the checkpoints set up at the two entrances of the village to check up on the security officers before returning to the village council offices.
"The coronavirus outbreak and the consequent state of emergency had made my work more challenging. I don't get back home before 11 p.m., where I have to continue following up on every update regarding the measures to cope with the spread of the virus. I also follow up on the needs of citizens through the recently formed committees, such as the health committee, to follow up on the quarantined, or the medical committee to follow up on the elderly, as well the social committee to follow up on the citizens' needs," Umm Iyad added.
Umm Iyad is also currently working on a community initiative to cultivate 5 dunums of land and grow vegetables to achieve self-sufficiency for the village's citizens. The plot of land was offered by a citizen to the people of the village.
On April 22, the first 2,500 seedlings arrived and were planted. "The project requires 18,000 seedlings. We already managed to get some and we are seeking to secure the rest," she said.
Since the beginning of the virus outbreak and the announcement of a state of emergency by President Mahmoud Abbas on March 5, Umm Iyad managed to equip and turn three apartments and a kindergarten into a quarantine area for those who do not have a place to be confined in. She stressed that she is greatly supported by the council's members and the townspeople.
This positive image of Palestinian women during a time of pandemic is only one side of the story. The other side is darker and more terrifying with the rising rates of domestic violence, especially against women during the lockdown.
Statistics from the Ministry of Social Development on April 21 showed that "social workers across the Palestinian governorates have been dealing with some 70 women who have been victims of domestic violence since the beginning of 2020 through April 10. Also, 48% of the [cases of] abused women were received during the lockdown period (from March 5 to April 10)."
Minister of Social Development Ahmed Majdalani told Al-Monitor, "Cases of domestic violence, be it physical or verbal abuse, and sexual assaults have increased during the confinement period." He explained that the "economic and financial crisis also contributes in the increasing violence against women, not to mention the emotional stress resulting from the lockdown."
Ministry statistics indicated that 40% of women have been subjected to emotional and mental abuse, and 31% to physical abuse. Other women also have suffered other forms of violence, such as restricted freedom, sexual harassment, financial abuse, rape, online bullying and forced marriage.
This has led 60% of the victims to flee their houses and 21% to attempt suicide, not to mention the violence's negative impact such as physical and mental illnesses, fractures and pregnancy out of wedlock, according to the ministry.
Ministry Undersecretary Dawood al-Deek told Al-Monitor, "The ministry's studies show that violence against women is likely to rise should the lockdown drag on." He said, "The ministry's teams are working on resolving disputes and cases of violence by intervening at people's homes," noting that the three shelter centers under the supervision of the ministry in the West Bank are open for battered women. "All precautionary and health measures will be applied for newcomers, most notably a 14-day quarantine period inside the shelter home," Deek explained.
He added that the actual cases of violence against women is higher than the registered cases at the ministry, as some women turn to social society institutions, which in turn try to mediate to resolve family disputes with social workers. Deek said that since the beginning of 2020, social workers have been working with some 70 women who have been subjected to violence, with a little over a fifth of these referred to women's protection centers under the supervision of the ministry. Shelter centers received six women since the beginning of the coronavirus crisis through April 10.
According to its report, the ministry has also been offering psychological support and guidance to many of the affected women, in addition to other cash and in-kind assistance, emergency aid, medical insurance and economic empowerment, as well as child protection services for the children of violence victims.
The Minister of Women's Affairs, Amal Hamad, told Al-Monitor that the number of complaints that have been lodged with the concerned parties that deal with violence against women this month have spiked compared with the same month last year. "This prompted the ministry to adopt new mechanisms to resolve disputes within households," she said.
Hamad said her ministry formed support committees in 200 local councils to immediately intervene with families at home, forming specialized committees made up of mental and social health experts. A hotline was also set up to receive complaints from battered and abused women.
An opinion poll conducted by the Arab World for Research and Development, whose results were published April 20, showed that expectations that violence against women will continue increased 53% compared with the last poll published March 31.
The research firm's director, Nader Said, told Al-Monitor that this alarming increase "is a dangerous indicator of societal changes, which must be highlighted and that solutions must be found for."
https://www.al-monitor.com/pulse/originals/2020/04/palestinian-women-fight-coronavirus-domestic-violence.html
--------
URL: https://www.newageislam.com/islam-women-feminism/palestinian-anchor-sues-based-channel/d/121783
New Age Islam, Islam Online, Islamic Website, African Muslim News, Arab World News, South Asia News, Indian Muslim News, World Muslim News, Women in Islam, Islamic Feminism, Arab Women, Women In Arab, Islamophobia in America, Muslim Women in West, Islam Women and Feminism