New Age Islam News Bureau
11 Aug 2018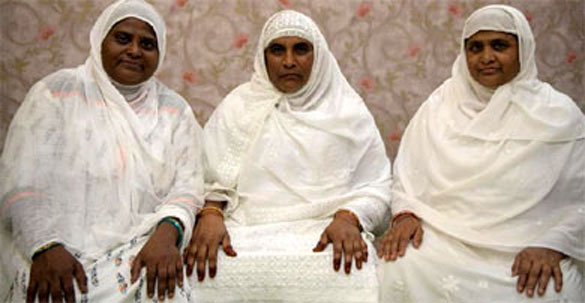 Taiyyabhi Hamid Sheikh, Shamshabbi Israeli Sayeed and Naseema Begum Mehmood Sayeed at Taloja in Navi Mumbai on Friday(Bachchan Kumar/ HT Photo)
------
• Breaking Tradition: 16 Women from Maharashtra Leave For Haj without Male Guardian
• Girls under 10 got Married In South-western Iranian Province
• Modi Govt's Triple Talaq Bill Places Burden on Muslim Women to Prove the Offence
• Women in UAE Come Together To Celebrate 'Naya Pakistan'
• Sufi Women Deprived Of Their Rights at Varamins' Qarchak Prison
• Scottish Tory Councillor Likened Muslim Women to Umbrellas
• Bus Driver in Bristol Demands Muslim Woman Remove Niqab
Compiled by New Age Islam News Bureau
URL: https://www.newageislam.com/islam-women-feminism/paks-sindh-let-divorced-widowed/d/116104
--------
Pak's Sindh to Let Divorced or Widowed Hindu Women Remarry
Aug 11, 2018
KARACHI: For the first time, divorced or widowed Hindu women in Pakistan's Sindh province have been allowed to remarry under a landmark amendment made by the provincial assembly, a report said.
The Sindh Hindu Marriage (Amendment) Bill 2018 not only accords the right of separation to both the spouses, but also ensures the financial security of the wife and children, 'The Express Tribune' reported.
It was moved by Pakistan Muslim League-Functional leader Nand Kumar and passed by the assembly in March. "Either party to Hindu marriage, whether solemnised before or after the commencement of this Act, may present a petition to the court praying for decree of judicial separation," according to the law. The law also places a general ban of underage marriages in the Hindu community.
"The Hindu community had been protesting forced conversions and marriages of underage girls. This law has banned the marriage of minors from the Hindu community," said Nand Kumar. Kumar has also moved a bill against the forced conversions of members of religious minorities, but the bill was gathering dust in the Sindh Assembly secretariat.
https://timesofindia.indiatimes.com/world/pakistan/paks-sindh-to-let-divorced-or-widowed-hindu-women-remarry/articleshow/65360976.cms
--------
Breaking Tradition: 16 Women from Maharashtra Leave For Haj without Male Guardian
Aug 11, 2018
Shamshadabai Isarail Sayeed, 62, is among the first groups from Maharashtra to visit Haj, the annual pilgrimage to Muslim holy sites in Saudi Arabia, without a mehram (husband or male blood relation as guardian). She is worried about how she and her sisters-in-law and aunt will make do at the holy cities, and requests journalists to tell the travel and diplomatic authorities to take care of them.
Unlike her, her sister-in-law Taiyyabhi Hamid Sheikh is determined to make the most of the trip. Being the youngest in the group, Sheikh's family looks up to her to take care of the other women travelling along with her. "Wahan jaa ke dekh lenge aur kar lenge. Karna to padega (When we reach there, we will manage. Only, we have to do it)," Sheikh said.
For these women, the idea of going for the pilgrimage this year is an 'emotional one' because Sayeed's husband, who was suppose to be their mehram, passed away last year. This was why Sayeed's son Jakeriya Isarail had decided that he would be their companion. But he changed his decision after he was told that a new rule allows women to travel without the mandatory male companion if they are in a group of four.
"They are hesitant because it is difficult for them to accept that they are travelling without a male companion. They are worried about what people in the community would think about them breaking this tradition. But, we want them to go, so that they set a good precedent for other women," says Nazeen Sayeed, their daughter-in-law.
Another group of women from Nagpur, Wardha and Mumbai are travelling with companions who they saw for the first time at a meeting that took place ahead of Haj. "My mother wanted to go, and it is not always possible for someone to accompany them. In such cases, their wish remains unfulfilled. Now, we are glad she got company and went to Haj," said Rafik Sheikh Hingni, whose mother Hamida Chand Sheikh left for Haj earlier this month.
The applications of the first group of women from Mumbai leaving for Jeddah — the entry point for the holy sites — were approved on Saturday morning. Last year, their applications were rejected in the lottery system, which has been revoked this year for women.
The development comes after the Saudi government earlier this year allowed women to perform Haj without a mehram.
Haj officials said women did not have to worry about arrangements in Saudi Arabia. "We have made special provisions for women travelling without mehram. They will stay in a separate building at Mecca and Medina, and for the first time, 13 Khadim-ul-Hujjaj (personal caretakers) have been assigned to assist them," said Maqsood Ahmed Khan, chief executive officer, Haj Committee of India (HCOI).
Acceding to earlier data provided by the minority affairs ministry, around 1,300 women will travel to Haj for the first time without mehram; of them 1,000 are from Kerala.
"Why should we be worried? There are so many females from Kerala in Saudi Arabia. The restrictions cannot be applicable for a person like me who has lost her husband and father. How would I have gone otherwise if it wasn't for this provision?" said a retired teacher from Mohammed Ali Road, travelling along with her sisters.
Religious leaders are divided over the new rule.
"The Saudi government is doing too many things that are against the Shariat. Even if women go for Haj, it is not accepted when they are going without a mehram," said Maulana Syed Moinuddin Ashraf, founder of the Maharashtra Muslim Front.
"No where in Islam, it is said that women cannot go for Haj alone. In fact, Islam approves of this decision. We are glad that the Saudi government approved it," said Maulana Yasoob Abbas, spokesperson of the All India Shia Personal Law Board.
https://www.hindustantimes.com/mumbai-news/breaking-tradition-sixteen-women-from-maharashtra-leave-for-haj-without-male-kin/story-RqIDgolAOJpRKumpSDB3tJ.html
--------
Girls under 10 got Married In South-western Iranian Province
04 August 2018
Girls under 10 got married in the southwestern Iranian province of Kohgiluyeh and Boyer-Ahmad over the past Iranian year.
Ali Mohammad Taghavi, general director of the National Statistics Registration Office in this province, announced that nine girls under 10 years of age had gotten married in the Iranian year 1396 (March 2017- March 2018) in the Kohgiluyeh and Boyer-Ahmad Province.
Taghavi added, "Another 12 girls got married under 11 years of age; 25 were married under 12; 63 were married under 13; 124 girl children were married under 14; 225 girls got married under 15; 258 were married under 16; 312 girls were married under 17 years of age, and 384 girls got married under 18 years of age." (The state-run ISNA news agency, July 29, 2018, and salamtnews.com, July 31, 2018)
This amounts to a total of 1,412 marriages which took place under 18 years of age in just one year in this rather small province, alone.
According to the statistics provided by the Registration Office of Bushehr Province (southern Iran), seven girls under 10 years of age were married there. A total of 234 marriages of girls under 15 took place in this province in the year spanning from March 2016 to March 2017.
Mohsen Aghaii, director of the Registration Office of Kurdistan Province, has also announced, "A total of 339 marriages of girls under 15 have been registered in Kurdistan Province, the majority of whom are between 10 to 14 years old." (The state-run Kurd Today website- December 20, 2016)
Earlier in May, Parvaneh Salahshouri, head of the so-called women's faction in the mullahs' parliament, said, "The statistics show that there have been 37,000 marriages of girls under 15 in the country last year, and in the same time interval, 2,000 of them either got divorced or became widows." (The state-run IRNA news agency, May 8, 2018)
Meanwhile, the presidential directorate on women and family affairs has also published a report on the number of marriages of girls under 10 in recent years, as the following:
220 children from March 2011 to March 2012;
187 children from March 2012 to March 2013;
201 children from March 2013 to March 2014;
176 children from March 2014 to March 2015;
179 children from March 2015 to March 2016.
This makes up a total of 963 marriages of girls under 10 in five years. (The state-run ISNA news agency – October 14, 2017)
https://women.ncr-iran.org/iran-women-news/5394-girls-under-10-got-married-in-southwestern-iranian-province
--------
Modi Govt's Triple Talaq Bill Places Burden on Muslim Women to Prove the Offence
APURVA VISHWANATH
10 August, 2018
The Narendra Modi government may hail the legislation on criminalising triple talaq as a victory for Muslim women, but the problem areas have been conveniently overlooked.
The problem with the triple talaq bill is that it seeks to provide a criminal law solution to a civil law issue of divorce. Uttering talaq thrice does not translate into divorce, as per the Supreme Court verdict. So in reality, the "offence" is desertion and leaving the wife as a destitute as law minister Ravi Shankar Prasad puts it.
Leaving the wife in a lurch is not an offence so far, but now it will be for only Muslim men. Muslim Women (Protection of Rights on Marriage) Bill, 2017 is nothing more than an eyewash because the bill serves no purpose other than providing a legal framework to target Muslim men.
While the government insists that criminalising marital rape or decriminalising adultery or allowing same-sex partnerships will break down the institution of marriage, Muslim marriages clearly don't need protection.
An exception seems to have been made for Muslim marriages by prescribing a three-year jail term for men pronouncing instant triple talaq.
If you move past this huge discriminatory motive of the law, the question of how the offence can be proved still remains. The law places the burden of proving the offence on the wife. Apart from cases where instant triple talaq is pronounced over texts and emails, the rest will remain highly contested.
In most gender-protection laws, like rape laws in the IPC, dowry laws or the Domestic Violence Act, the onus is on the man to prove he did not commit the offence. Without substantial amendments to this effect, the triple talaq bill is unworkable.
A rather practical approach to the instant triple talaq issue is perhaps provided by Congress MP Husain Dalwai's private member bill in 2016. It sought the abolition of instant triple talaq by laying down a procedure for both court divorces and outside-court divorces that allows both husband and wife enough time to reconsider.
But the government's tokenism will only end up causing more trouble. While focusing on instant triple talaq, it is leaving out other glaring violations of women's rights in nikah halala – which requires a divorced woman to marry another man, consummate the marriage and divorce him if she wants to remarry her previous husband. Conveniently, even the apex court did not pick up this issue while deciding on triple talaq.
It is dangerous to regulate civil aspects by bringing penal consequences. If the aim is to protect the interests of Muslim women, then attempt must be made towards securing maintenance and alimony for them instead of sending the man to jail.
Prasad asked the Congress why it spoke of securing maintenance and alimony to the aggrieved wife when that provision is not permitted in dowry laws or the Domestic Violence Act.
That is because those offences, which involve battery and physical harm, are inherently covered under criminal laws unlike pronouncing instant triple talaq wherein provisions to protect rights of the wife are not prioritised.
"Watered-down bill" for Rajya Sabha
Although the Congress, fearing the label of being a Muslim supporter only put up a feeble fight against the bill in Lok Sabha and eventually voted on it, it has made some noise in the Rajya Sabha.
The government seems to have provided two concessions to get the opposition on board – to make the offence 'bailable' instead of 'non-bailable' and to ensure that only the affected wife or her blood relations can complain against her husband.
The first concession is tricky since non-bailable doesn't mean that the man will be entitled to bail rather it will be the judge's discretion to grant one. The second concession, however, is significant because it avoids a situation where a grudging neighbour or a minority hater can simply file a case against a Muslim man.
Despite these changes, the triple talaq law will have a tougher test in the courts.
https://theprint.in/opinion/off-court/modi-govts-triple-talaq-bill-places-burden-on-muslim-women-to-prove-the-offence/96466/
--------
Women in UAE Come Together To Celebrate 'Naya Pakistan'
August 11, 2018
The participants will be dressed in Pakistani national flag's colours for the event.
As Imran Khan takes his prime ministerial oath next week, a group of Pakistani women in the UAE is celebrating the "new beginning of their country".
Women from Pakistan, India and other nations will come together today for an event titled Naya Pakistan.
The participants will be dressed in Pakistani national flag's colours for the event.
The event, organised by a Pakistani expat Hena Khan, will be attended by over 50 women of different nationalities, mostly Indian and Pakistani.
It will be held from 12pm to 3pm at the B&B Cricket Bar, Dubai. The invitation is open to all women and children.
During an interaction with Khaleej Times, Pakistani expat women expressed joy over the win of Imran Khan and hoped the country will change for better.
"We have been desperately looking forward to see Imran Khan as our Prime Minister. Our dream has come true now, and we want to celebrate it," said Saleha, who works as teacher in Dubai. She added that they look forward to see better education system and most importantly, end to corruption.
Neha, an Indian expat, is excited to be a part of the event. She has been living in the UAE for eight years and has a daughter.
"It doesn't matter which country we belong to. We are bonded by love and harmony. I have many Pakistani friends and we share wonderful relationship," said Neha, who will be travelling from Sharjah to attend the event.
Another Indian mother, Shefali, said she wishes peace and development for Pakistan.
"We are celebrating 'Naya Pakistan' because we all want peace for all countries. By participating in the happiness of our Pakistani friends, we want to send a positive message across," she told Khaleej Times.
Kirti, who often holds jewellery exhibitions, said she felt proud as an Indian to be a part of the celebration of her Pakistani friends.
Pakistan Tehreek-e-Insaf (PTI) has emerged as the single largest party in Pakistan's National Assembly in the July 25 polls. Imran Khan, who is the chairman of PTI, will be taking over as the prime minister of Pakistan.
Talking about the event, Hena Khan said it will be attended by expat women to show support to 'Naya Pakistan' and celebrate Imran Khan's vision. Events like these give Indian and Pakistani community a chance to come together and network, she added.
Mahum Anees from Pakistan said she felt 'Naya Pakistan' will definitely change the meaning of democracy.
"I feel great, enthusiastic and equally happy to see women from other communities coming forward to show encouragement and appreciation, and to celebrate Naya Pakistan with us. It is a great opportunity to deepen their understanding of women's rights no matter which part of the world we belong to. We all are humans first."
Some women from Sri Lanka and Bangladesh are also going to be a part of the event.
http://www.khaleejtimes.com/nation/dubai/Women-in-UAE-come-together-to-celebrate-Naya-Pakistan
--------
Sufi Women Deprived Of Their Rights at Varamins' Qarchak Prison
11 August 2018
Sufi women continue to be deprived of their basic human rights at Qarchak Prison in Varamin, north central Iran.
Sepideh Moradi was sentenced in absentia to five years in jail. She had refused to appear in court in protest to unfair trials and denial of legal counsel to Sufi women during court proceedings.
At the same time, Ms. Shokoufeh Yadollahi was sent to hospital for the fourth time due to her critical health conditions. Ms. Yadollahi was denied medical treatment for over five months, despite serious injuries she suffered at the time of arrest.
Sepideh Moradi was sentenced to five years' imprisonment in absentia on August 8, 2018, by Tehran's Revolutionary Court. She was also banned from leaving the country for two years, and from engaging in any social or political party or group or any activity in the social media.
Ms. Moradi was introduced in the court as "an extremist element and one of the officers in charge of the outlaw Majzooban-e Noor website (majzooban.org) belonging to a sect (Gonabadi Dervishes)."
Ms. Moradi has been accused of "association and collusion to act against national security."
Also on Wednesday, August 8, 2018, Ms. Shokoufeh Yadollahi who is in dire physical conditions, was dispatched to hospital for the fourth time. In addition to impaired vision and severe headaches, she has been suffering in recent days from pain in eyes, ears and teeth due to sinus infection for which she was transferred to Amir Alam Hospital.
Ms. Yadollahi was wounded during the bloody crackdown on the protest gathering of Gonabadi dervishes in Tehran on February 19, 2018, suffering from a broken skull and completely losing her sense of smell. With passage of time, Ms. Yadollahi's conditions got worse because Sufi women were denied medical treatment.
Ms. Yadollahi is the mother of Kasra, Pooya and Amir Noori who have been sentenced to 12, 2 and 6 years' imprisonment, respectively, as well as to flogging, internal exile and other social privations.
Ms. Yadollahi is one of the Sufi women who have been detained in Qarchak Prison since February 20, 2018, deprived of access to lawyer and other basic rights.
https://women.ncr-iran.org/iran-women-news/5406-sufi-women-deprived-of-their-rights-at-varamins-qarchak-prison
--------
Scottish Tory Councillor Likened Muslim Women to Umbrellas
August 11 2018
A Scottish Tory councillor has apologised for sharing an image comparing Muslim women to patio umbrellas.
Ron McKail, an Aberdeenshire councillor and deputy provost, is reported to have shared an image of three folded black patio umbrellas on Facebook in 2016. It read: "I spent half an hour talking to them, wanting to learn about their culture until the bartender cut me off and told me they were patio umbrellas."
The apology came amid a wider row in the party over comments made about burkas by Boris Johnson, the former foreign secretary. Mr Johnson has refused to apologise for comments comparing women who wear veils covering the face to bank robbers and letterboxes despite condemnation from senior Tories including Ruth Davidson, the leader of the…
https://www.thetimes.co.uk/article/councillor-likened-muslim-women-to-umbrellas-plkf6h0xz
--------
Bus Driver in Bristol Demands Muslim Woman Remove Niqab
Aug 11, 2018
A 20-year-old Muslim mother said she felt "treated like a terrorist" after a bus driver in Bristol demanded she remove her niqab.
The anonymous young woman said the First Bus driver began berating her for wearing the niqab – a face veil that leaves the area around the eyes clear – as soon as she boarded the number 24 bus with her two-month-old baby.
A video posted online shows the driver telling her it was "not good" that he could not see her face because "the world is dangerous".
The woman told The Bristol Post: "He said I was scary and I was dangerous, and he kept talking about it during the journey.
"He was insinuating I was going to bomb the bus. How is that possible, when I've got a baby with me?"
She added: "He continued to insult me, and he made me out to be a terrorist, and kept saying everyone should see each other's faces. He asked why I was wearing a balaclava.
"I've been humiliated in public, and I'm disappointed. It's 2018, we shouldn't be like that. I'm being stereotyped."
First Bus has apologised and said the driver had been disciplined. The July incident was reported to the police as a possible hate crime and the company is now helping officers with their enquiries.
"We would like to fully and unreservedly apologise to the customer for the distress caused when one of our drivers expressed his personal opinions," said a spokesman for First Bus.
"The driver behaved in an offensive fashion that in no way reflects our deeply held values as an inclusive company which welcomes all people, irrespective of background, race, nationality or religion as customers or employees.
"We are arranging a meeting with the customer to apologise in person and discuss matters in more detail."
Although the driver was stirred enough to step out of his seat and question what the woman was wearing, others on the bus – one of whom was wearing a hijab headscarf – jumped to the defence of the fellow passenger.
The witness wearing a hijab told the driver: "I don't understand why you care how she's dressed. It's her choice what she wears."
Video shows the driver stepping off the bus to explain his actions to a First Bus supervisor.
A spokesman for Avon and Somerset Police said: "We are investigating a report of a hate crime that occurred on a number 24 bus in Bristol on 1 July at about 12.40pm. Enquiries are ongoing."
Earlier this week Boris Johnson sparked furious criticism after he suggested Muslim women wearing niqabs and burqas resembled "letter boxes" and "bank robbers".
https://www.independent.co.uk/news/uk/home-news/bus-driver-niqab-remove-video-veil-burka-bristol-a8486521.html
--------
URL: https://www.newageislam.com/islam-women-feminism/paks-sindh-let-divorced-widowed/d/116104
New Age Islam, Islam Online, Islamic Website, African Muslim News, Arab World News, South Asia News, Indian Muslim News, World Muslim News, Women in Islam, Islamic Feminism, Arab Women, Women In Arab, Islamophobia in America, Muslim Women in West, Islam Women and Feminism