New Age Islam News Bureau
27 Dec 2019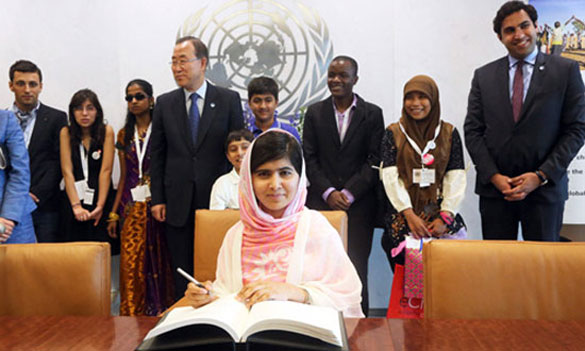 The United Nations (UN) has declared Pakistani education activist and Nobel laureate Malala Yousafzai as "the most famous teenager in the world"
------
• Pakistan's Malala Yousafzai Declared 'Most Famous Teenager' Of Decade by UN
• UAE, Saudi Female Entrepreneurs More Confident Over Funding
• Muslim Women Join Anti-CAA Stir In Karnataka
• Muslim Women in Delhi's Shaheen Bagh Haven't Left the Streets in 13 Days, and They Don't Plan to Either
• 'Everybody Is Talking About It': Women's Rights to Take Centre Stage In 2020
• Male Boss Forced Muslim Prison Guard to Remove Her Hijab: Suit
• Women In Business "Must Be Knowledgeable And Trust Their Knowledge"
• French Author Mathilde Loujayne Pens A Thoughtful Book On Islam From Dubai
Compiled By New Age Islam News Bureau
URL: https://www.newageislam.com/islam-women-feminism/pakistans-malala-yousafzai-declared-most/d/120641
------
Pakistan's Malala Yousafzai Declared 'Most Famous Teenager' Of Decade By UN
December 26, 2019
The United Nations (UN) has declared Pakistani education activist and Nobel laureate Malala Yousafzai as "the most famous teenager in the world" in its Decade in Review.
In part one of its review series, which takes into account events that happened between 2010 and the end of 2013, the UN highlighted the devastating Haiti earthquake in 2010, the beginning of the ongoing Syrian conflict for 2011 and Malala's work in favour of girls' education for the year 2012.
In 2014, Malala became the youngest recipient of the Nobel Peace Prize in recognition of her efforts for children's rights.
In October 2012, Malala was shot in the head at point-blank range by the Taliban as she was returning home from her school in Swat valley.
"The attack made waves around the world, and was widely condemned: on Human Rights Day that year, a special tribute to Malala was held at the Paris headquarters of the UN Educational, Scientific and Cultural Organization (UNESCO), pushing for action to ensure every girl's right to go to school, and to advance girls' education as an urgent priority," UN wrote.
"Malala's activism and profile have only grown since the assassination attempt. She became a UN Messenger of Peace in 2017, with a special focus on girls' education," it added.
The 22-year-old was also recently chosen by Teen Vogue as as its cover person for its last issue of the decade.
The magazine announced it had decided to "reflect" the last ten years with the education activist.
"The last ten years have been rooted in the brilliant, world-changing demands of teens across the world. As Teen Vogue reflected on this, we knew there was one perfect person to sit down and reflect on this wild decade with: Malala Yousafzai," the US publication said.
https://www.thenews.com.pk/latest/589048-pakistans-malala-yousafzai-declared-most-famous-teenager-of-decade-by-un
------
UAE, Saudi Female Entrepreneurs More Confident Over Funding
Thu 28 Nov 2019
Female entrepreneurs in the UAE and Saudi Arabia are more confident about raising capital for their businesses than their global peers, according to new research from HSBC Private Banking.
HSBC Private Banking's She's the Business report revealed that 67 percent of female business owners surveyed in the UAE and Saudi Arabia feel confident when raising funds, ahead of the global average of 60 percent.
When looking at investors to pitch to, female entrepreneurs in the UAE and Saudi Arabia said they are drawn to those who are empathetic and have a similar experience to themselves (68 percent), who are transparent and clear about their investment criteria (60 percent) and who have a positive reputation (57 percent).
According to the research, women in the UAE and Saudi Arabia are also likely to have invested slightly more of their own money ($138,000) in their businesses than their male counterparts ($132,000), with female entrepreneurs slightly less likely to be rejected for capital than their male counterparts - 49 percent of female entrepreneurs were rejected compared to 62 percent of male entrepreneurs.
HSBC said women in the region take 9.8 months on average to raise capital, while women in other global regions take 8.4 months.
When going through the pitch process, almost a third of female entrepreneurs pitch to panels of all or mostly men (32 percent) and only 8 percent pitch to mostly or all-women panels.
A third of female entrepreneurs (31 percent) in the UAE and Saudi Arabia said they experience gender bias when securing capital, close to the global average of 35 percent. The particular manifestations of gender bias were around the level of questioning around risk in their business and financial plan (44 percent) and lack of questioning around potential gains or upsides in their business plan (31 percent). For male entrepreneurs, the figures were lower, at 25 percent and 8 percent respectively.
The research, conducted among more than 1,200 entrepreneurs in Europe, Asia, the Middle East and the US, will help inform HSBC Private Banking's work to overcome the barriers facing female entrepreneurs, said Sobhi Tabbara, global market head, MENA, HSBC Private Banking.
"This report highlights the challenges female entrepreneurs face in the UAE and Saudi Arabia. Working in a very competitive market and having to contend with gender bias concerns is a tough environment to evolve in. However, I am pleased to see some good headway in the region, with high levels of confidence and strong success rates when raising capital. Nonetheless, we still need to do more to overcome concerns of bias and encourage more diversity among the investor community."
https://www.arabianbusiness.com/startup/434647-uae-saudi-female-entrepreneurs-more-confident-over-funding
------
Muslim Women Join Anti-CAA Stir In Karnataka
26th December 2019
BENGALURU: Anti-CAA protests refused to die down in Karnataka with hundreds of Muslim women taking the centre-stage on Thursday holding protests here and at Shivamogaa and Kalaburagi.
The women staged a protest at Eidgah Grounds in Shivamogga holding the national flag, banners and placards declaring their opposition to CAA (Citizenship Amendment Act) and NRC (National Register of Citizens).
A similar protest was held in front of the Bengaluru's town hall that was attended by large number of Muslim women.
At Kalaburagi, protesters, mostly women, staged a demonstration from Jagat Circle to Deputy Commissioner's (DC) office shouting slogans against the CAA.
Anti-CAA protests and demonstrations have also been held in Mysuru, Bagalkote and Dharwad, among other places.
Hundreds of protesters had taken part at an agitation in Daharwad, organised by "progressive organisations", which was attended by senior Congress leader and former MP V S Ugrappa.
Police had made elaborate security arrangements so that no untoward incidents take place.
At Mysuru's Town Hall grounds too, thousands of people staged a protest called by several Muslim organisations, amid tight security.
Holding national flags, the protesters demanded the withdrawal of CAA as they said it was anti-democratic.
At Bagalkote, hundreds of protesters staged a march till DC office.
The protest was called by 'Bagalkote Muslim Unity' and other "progressive organisations".
Anti-CAA protests had reached its peak in the state last week, with it turning violent in Mangaluru, resulting in the death of two in police-firing.
The CAA says members of Hindu, Sikh, Buddhist, Jain, Parsi and Christian communities, who have come from Pakistan, Bangladesh and Afghanistan till December 31, 2014, and facing religious persecution there, would not be treated as illegal immigrants but given Indian citizenship.
The Act says refugees of the six communities would be given Indian citizenship after residing in India for five years, instead of 11 earlier.
https://www.newindianexpress.com/states/karnataka/2019/dec/26/muslim-women-join-anti-caa-stir-in-karnataka-2081259.html
------
Muslim Women in Delhi's Shaheen Bagh Haven't Left the Streets in 13 Days, And They Don't Plan to Either
December 27, 2019
Shaheen Bagh, Delhi: Gulabi is angry. The anger, in fact, is so intense that she has been sleeping on a thin line of foam sheet that has been laid out on the streets of Shaheen Bagh, for 12 nights now. She is relentless even in Delhi's coldest December in 100 years. "This is our home, no one can ask us to leave our home," she says.
Just a day after students of Jamia Millia Islamia University faced tear gas and batons following their protest against a new citizenship law and a proposed citizens' register that has brought hundreds of thousands of people onto the streets across the country, the locals of Shaheen Bagh decided to start their own form of protest.
A nearly 1-kilometre stretch of a wide, six-lane highway connecting India's capital city with a burgeoning suburb was blocked. A makeshift tent was put up. An assortment of tables was brought in to act as the stage. And, the locals of the area sat there -- all day, all night.
For nearly two weeks now, the locals, most of them women and children, have been protesting, holding placards that read 'No to CAA', while the stage is occupied -- with music, shayari, and the intermittent 'azadi' slogans.
On one of the cold winter nights earlier this week, a student of Jamia and a resident of that area took the stage to recite these words.
"Leher bhi ekbar wo Musa ki chali hai...
Ab to lagta hai tabassum, maut bhi inaam se kam nahi...
Teri sanson ki khusbhu jo is vatan se mili hai..."
It was met with thunderous applause.
Gulabi explains the reason for her anger. "They first scrapped special status for Jammu and Kashmir under Article 370, then they declared that mandir will be made in place where the Babri Masjid existed and now they want us to leave our home. This is an attack on our religion. They don't want Muslims here."
Sakina intervenes. "Arre, they will ask us to leave and we will leave? We have been here since before India was formed and we will remain here. India is our home."
Gulabi and Sakina alternate their night vigil at the protest. "She gets to sleep tonight," says Sakina.
It is past midnight. The locals have now started distributing perhaps the 89th cup of tea and boiled eggs. Gulabi has spent the day sitting at the protest. Now she will go home, feed her children and Sakina's children before going to sleep.
Sana says she comes to the protest every day with her 72-year-old grandmother. The 16-year-old and her grandmother sit on the stairs of the shuttered line of shops that surround the protest area and the stage. Every day, they get there at 5 pm and do not leave till late at night. "They want Muslims to leave the country, that's why we are protesting," she says.
The demonstrations began after the President's nod to the Citizenship Amendment Act (CAA) that provides non-Muslim minorities from Afghanistan, Bangladesh and Pakistan, who moved here before 2015, a pathway to Indian citizenship. While there have been reports of violence in some areas, and even deaths in large parts of Uttar Pradesh, the locals of Shaheen Bagh are determined. "This is going to be a peaceful protest. We are sitting here for our rights."
Once the songs and the slogans are over, it gets a little quiet. This is when the screening of the Libyan war movie Lion of the Desert begins. The film from 1981 is set during the reign of Mussolini and revolves around Libyan leader, Omar Mukhtar. Omar, an Arab Muslim rebel, leads the resistance to the fascist regime.
There's a volunteer group of more than 100 people working in shifts. They arrange for tea, food, programmes, bedding and medicine.
Humera Sayed, a zoology student from Delhi University, runs a team of volunteers who help women protesters access medicines and restrooms. The team had initially appealed to women to be out protesting only till 10 pm. But, she says, they continued staying throughout the night.
Shahnawaz, another student, is responsible for tea and food. "We collected some money from the locals and arranged for food," he says. The volunteers also ensure safety, especially of the local women and the women who come visiting.
"No gents with you?" one of them asks me when I was leaving the protest site at 2 am. I realise they want to ensure there's no crime in the area. Three policemen with a police van and an empty bus stand about 200 metres away from the barricade that the locals have put up. When I say 'No', they ask me to walk on the main road. "Be safe," one of them says.
I go back the next night, on Christmas Eve. The crowd is bigger. Right in front of the stage are around 200 women with their children. Behind them, some men are sitting. Outside the square that's made with ropes tied to poles, more and more people come pouring in with every passing hour. The national flag is hoisted on these poles.
Shama, Sana and Honey share a PG accommodation in the neighbourhood. Sana, a qualified doctor, who is yet to begin her own practice says she hasn't told her parents that she goes to the protest site every night, and sits there for hours with her friends discussing politics and their identities as Muslim women. All three of them are from Bihar.
"There are violent protests in Bihar. At this point, our families would not want us to step out. They won't understand that this is a peaceful one. We feel safe, especially with so many women out here," Sana says.
"Did two Jamia students really die?" Sana asks.
Honey intervenes and says, "No, that was fake news."
"We just don't know what to believe these days on social media anymore," Shama says.
Just past midnight, a local dressed up as Santa joins the crowd. Holding a placard that reads 'NO CAA, NO NRC', he walks around distributing sweets. 'Home' features a lot of times in their placards, their poems, and their songs. "Women have always been at the forefront when it comes to protecting their homes. Why should we step back now?" asks Sakina.
For now, though, they have decided the roads are going to be their home as they prepare for yet another day and night of protest.
https://www.news18.com/news/buzz/muslim-women-in-delhis-shaheen-bagh-havent-left-the-streets-in-13-days-and-they-dont-plan-to-either-2437221.html
------
'Everybody is talking about it': women's rights to take centre stage in 2020
Fri 27 Dec 2019
World leaders, civil society and the private sector are preparing to make 2020 the biggest year yet for the advancement of women's rights.
Over the course of the year, thousands of people are expected to attend high-level UN events and forums in Mexico City and Paris to mark the 25th anniversary of the Beijing platform for action, a landmark agreement to end gender inequality.
More than 160 countries have already submitted reports outlining the progress made and the obstacles faced in achieving the Beijing agreement. In January, the UN secretary general is expected to publish an assessment of global efforts, and member states are already negotiating ways to accelerate action.
Global gatherings for gender equality, convened by UN Women – which has launched its own Generation Equality campaign – and co-hosted by the governments of Mexico and France, will be held in May and July. Governments, women's rights activists and businesses are expected to form coalitions to agree fully-funded action plans on abortion rights, ending violence and other specific issues.
"2020 is going to be massive, and the potential [for change] is enormous," said Katja Iversen, president and CEO of Women Deliver, a global advocacy group for women's rights. "Everybody is talking about it. A lot of people are talking about how to get in on the act."
Iversen cautioned, however, that the year "has to end in strong action". "We can't have empty commitments again. We need big, bold, accountable commitments and action. If that doesn't happen after this year, we will all lose tremendously."
The Beijing platform for action was adopted unanimously by 189 governments at the UN's fourth world conference on women, held in China in 1995. It is considered the most progressive international blueprint for advancing women's rights.
It covered 12 key areas. These included eliminating violence against women, ensuring all women have access to family planning and the reproductive healthcare they need, removing barriers to women's participation in decision-making, and providing decent jobs and equal pay for equal work. The declaration urged governments to assess the impact of environmental degradation on women, and called for indigenous women to be given an equal say in sustainable development. It also recognised the disproportionate burden of unpaid care that falls on women and called for a better portrayal and representation of women in the media.
A quarter of a century on, however, no country has achieved gender equality, and the Beijing agenda is being undermined by growing conservative populist movements that seek to roll back women's rights. The Trump administration has taken a leading role in the pushback.
There has been some progress but, globally, one in three women are still expected to experience sexual or physical violence in their lifetime, women are paid less than men for doing the same work, and they continue to bear a disproportionate burden of unpaid care work. Hundreds of thousands of women still die each year from complications in pregnancy and childbirth, and less than a quarter of MPs are women.
Françoise Girard, president of the International Women's Health Coalition, said 2020 is a "key moment to gather and push [the Beijing agenda] forward".
"We are very engaged in the Beijing+25 anniversary work. It's a moment where governments are going to negotiate a new agenda," she said.
As well as fighting for "issues that remain difficult", such as abortion rights, body autonomy and sexual orientation, Girard said the anniversary offered a chance to push for action on issues "that have really developed since Beijing". These include the impact of the climate crisis on women, targeted support for female refugees, and the impact of sexual violence at work on women's economic participation. "We're now understanding the impact that has had in keeping women back in the workplace", said Girard.
She added that activists will be calling on governments to afford greater protection to female human rights defenders, and to take more seriously online harassment and mental health issues.
"There's lots [of areas] that we have come to understand in the past 25 years that were mentioned in Beijing but not all were developed. We're eager to bring these to the fore."
As well as the Beijing anniversary, next year will mark two decades since UN security council resolution 1325 first acknowledged women's unique experience of conflict and their lack of involvement in peace negotiations. Nine subsequent resolutions have been passed. Anniversary events are being planned for October and activists will be steeling themselves for the introduction of any new resolution. In April, heavy lobbying by the US resulted in the removal of key language around sexual and reproductive health and rights from a resolution introduced by Germany.
Next year also kicks off the 10-year countdown to achieve the UN sustainable development goals, which includes a commitment to end gender inequality by 2030.
"These are all extremely important to advance women's rights," said Dinah Musindarwezo, director of policy and communications at Womankind Worldwide, a global organisation supporting women's rights groups in Africa and Asia.
She said she hoped 2020 would mark the coming together of feminist groups to create a strong, global movement for change.
"It's a crucial year because we see it as a year where we can come together and accelerate the promotion of women's rights and gender equality," said Musindarwezo.
"Twenty-five years is a long time to wait to achieve the commitments our governments have made," she added. "We can't wait another 25 years."
https://www.theguardian.com/global-development/2019/dec/27/everybody-is-talking-about-it-womens-rights-to-take-centre-stage-in-2020
------
Male Boss Forced Muslim Prison Guard to Remove Her Hijab: Suit
By Andrew Denney
December 26, 2019
A female corrections officer says she was forced to defy her Muslim beliefs when a lone male supervisor demanded she remove her Hijab, a new $8 million lawsuit charges.
Maureen Billings, a corrections officer at the Bedford Hills Correctional Facility in Westchester County, claims her bosses retaliated against her after the 2017 incident by taking her off payroll for seven months, according to the lawsuit filed in federal court in White Plains.
Billings claims her captain, Paul Artuz, made her take off her Hijab during a meeting at the women's prison to demonstrate that it could be quickly removed without it choking her, the suit reads.
The woman said she would be OK with taking off the Hijab in front of Artuz as long as a fellow female officer was in the room.
The Islamic faith prohibits women from disrobing in front of men who are not of their immediate family, Billings alleges.
But Artuz refused to bring in a female officer, despite the fact that at least two other female captains were on duty that day, the papers charge.
Following the meeting, Billings injured her knee in what was deemed a stress injury.
But Billings said that her bosses retaliated against her over the Hijab issue in May 2017 by taking her off the payroll and not allowing her to return to duty for seven months, despite the fact that she had a doctor's note stating that she was cleared to work.
She was eventually allowed to return to work in December 2017, but was not provided with a reason for why she was kept out of work for seven months.
The woman is demanding at least $8 million in damages, her suit states.
The New York Department of Corrections and Community Supervision declined to comment on the suit.
"This is a case that demands immediate attention," said Frederick Brewington, an attorney for Billings. "Religious accommodations of this sort cause no problems for an employer."
https://nypost.com/2019/12/26/male-boss-forced-muslim-prison-guard-to-remove-her-hijab-suit/
------
Women in Business "must be knowledgeable and trust their knowledge"
27 December 2019
It's 7pm at Swirl wine bar in the Faubourg St John neighborhood of New Orleans a wine tasting is underway. Some 300 different wines from all over the world, but with an emphasis on Italy and France, are stacked in wooden racks around the small but bustling wine bar-cum store. The Swirl staff circulate and discuss grape types, vintages and regional growing variations with customers.
Beth Ribblett set up the business almost 14 years ago. "My work means making sure my customers are enjoying themselves and I also get great satisfaction from educating people about the wine we are serving", she told UN News on a visit to Swirl. "I want them to know where it's from and the story behind the wine. This is one of the most important things we do. Is I always want to be learning, and educating customers helps me to do this."
Male dominated industry
Ask any bar or restaurant owner in the United States and they will tell you it's a hard business to make a success of and Beth Ribblett says it's especially difficult for women. "The catering industry is male dominated from chef to sommelier, so it can be tough for women."
And she says that women continue to be treated badly. "I am sad to hear stories of men taking advantage of young women and I hate that this is still part of our business. I am upset that women feel they have to put up with this behavior or somehow ignore it in order to make progress," adding that her advice to young women is "to be knowledgeable, trust that knowledge and be confident if challenged."
Poetic process
Five miles south of Swirl, another woman is hard at work in another industry traditionally dominated by men. Kai Bussant is a milliner, a maker of hats, as well as an all-round designer, who is currently employed by the hatmakers, Goorin Bros, to restore and refurbish hats.
"Historically, millinery has been male-dominated, but I don't believe customers are concerned about a woman working on their hat," she told UN News." As a woman, when I'm dealing with customers, I like to be inclusive and comforting and explain the process and timeline."
She brushes down a grey women's fedora she has been working on and adds: "there is a poetic process of designing or bringing a hat back to life as well as an exacting attention to detail, and maybe women can offer something different."
Gender equality
Both Kai Bussant and Beth Ribblett are thriving in their respective fields, and it's hoped their success stories can be replicated in other industries not just in the US but globally. The UN's specialized agency for work-related issues, the International Labour Organization (ILO), is aiming to create more opportunities for women by promoting gender equality in workforces worldwide.
Both women have participated in an ILO photography project called "Dignity at Work: The American Experience." The project launched to mark the organization's centenary in 2019 documents the working life of people across the United States. Kevin Cassidy, the Director of the ILO's office for the United States believes change is happening: "The people I have met as I have criss-crossed the United States with this project are telling me there is a sea-change in terms of gender equality and the understanding of women's role in society, although this has been happening slowly. We do need more women in the workforce and these women, young and old, are role models for others, showing they can have successful careers."
And he adds, "that women at work suffer from a lack of confidence not competency. Some recent research shows that when women apply to jobs they need 100 per cent confidence they can do the job, for men they only need to believe they can do 50-60 per cent of the job before applying."
The ILO is taking a "proactive role" according to Kevin Cassidy in reducing the barriers for women to succeed at work. In June 2019, the organization passed a convention, a legally binding international treaty that may be ratified by member states, on violence and harassment in the workplace, which is one of the key barriers preventing women from entering the workforce. The ILO has also agreed a convention on domestic workers which will provide women, especially those who are migrant workers, with protection at work.
Back at Swirl wine bar the wine tasting event is coming to an end and customers are finishing off reds, whites and rosés. It's been a long day for owner Beth Ribblett and her team pouring and explaining with he confidence borne of their in-depth knowledge, the stories behind each wine they have served.
https://news.un.org/en/story/2019/12/1053651
------
French author Mathilde Loujayne pens a thoughtful book on Islam from Dubai
Hafsa Lodi
Dec 27, 2019
A pastel pink background with glossy rose-gold text is not your typical cover for a book on religion, especially one centered on Islam – a realm where academic discourse has been historically dominated by men – but that's exactly what you'll find on Big Little Steps. Written by French Muslim convert Mathilde Loujayne, it offers a breath of fresh air for someone seeking an easy-to-read, engaging and informative take on the religion.
It took almost a decade – nine years to be precise – for Loujayne to write the book, from conceptualising the idea to drafting the synopsis, putting it all together and then finding a publisher. The project was deeply personal, inspired by her own conversion to, and experience of, Islam. "The idea of writing this book started haunting me for years and I slowly watched it become an unattainable dream, the longer I did nothing about it," she tells The National shortly after the global book launch last month and before it's released in North America in January.
Loujayne was brought up in the South of France and Oman, before moving to Dubai, where she has lived for the past 12 years. Her journey as a new Muslim takes up much of the book, which will appeal to teens and young women seeking soulful guidance. "As a teenager, I was eager to learn about Islam and to have my questions answered, but it was nearly impossible back then to find books that were adapted to me as an audience. As a female, I also found it difficult to relate to male authors. So I felt like I could make a difference by making the book visually appealing to the female audience with a pale colour palette and hand-drawn illustrations to bring my stories to life – the visual aspect meant just as much as the content I was writing," Loujayne explains.
Readers are kept engaged with quirky watercolour illustrations, such as of constellations when describing the history of the Quran, and of a woman praying. Personal notes to the reader are also scribbled in the margins, giving it the appearance of a well-kept journal or diary, as opposed to a heavy book on religion.
Its first sentence sets the tone for what's to come: "I hope there will be croissants in paradise". It might be an unlikely opener for Islamic literature, but, throughout, Loujayne uses simple, everyday language, while retaining an educated, informative tone. For example, when describing the obligatory prayers, she writes: "He has prescribed for us set meeting hours to talk to him, confide in him, and it's up to us whether we RSVP or not. This rendezvous strengthens our relationship with God, deepens our spirituality and holds many rewards."
There's also an undeniable focus on women, as Loujayne highlights Islamic Hadith and practices that relate to females. She also shares "10 groundbreaking sharia laws that improved women's status after the rise of Islam", and another section features excerpts written by modern-day Muslim women, including a motivational speaker, Miss Universe contestant, artist and fashion designer. "Sisterhood is a huge part of Islam and our community," explains the writer. "Through conducting research while writing the book I could not help but marvel at the inspiring Muslim women who paved the way for us today and I did not want them to be forgotten, so I made it a point to highlight their stories, whether they lived thousands of years ago or are living among us today. I would have personally loved to read this when I was doing research on the religion in my teens."
Loujayne also sheds light on wardrobe essentials for women seeking conservative clothing. This includes "instant sleeves" – essentially fabric tubes that can be worn under short-sleeved T-shirts to cover the arms – and "underscarves", which are worn under hijabs to ensure the hairline is covered. There's even a whole section on halal beauty secrets.
Loujayne urges readers to develop their knowledge through suggested extra reading material in a bibliography, as well as references marked in the margins. For example, she points readers to the Saheeh International translation of the Quran, which was interpreted by three American women who converted to Islam in the 1980s. She also invites those interested to join her online book club on Goodreads.com. "It's called Soul Sisters, and I want it to be an open space where we can exchange our thoughts on a variety of Islamic literature," she says. "It's open to both Muslims and non-Muslims, but I try to keep women at the centre of all book picks."
Loujayne has no plans to write another book. Instead, she's focusing her efforts on translation opportunities for Big Little Steps – starting with French, naturally.
https://www.thenational.ae/arts-culture/books/french-author-mathilde-loujayne-pens-a-thoughtful-book-on-islam-from-dubai-1.956564
------
URL: https://www.newageislam.com/islam-women-feminism/pakistans-malala-yousafzai-declared-most/d/120641
New Age Islam, Islam Online, Islamic Website, African Muslim News, Arab World News, South Asia News, Indian Muslim News, World Muslim News, Women in Islam, Islamic Feminism, Arab Women, Women In Arab, Islamophobia in America, Muslim Women in West, Islam Women and Feminism