New Age Islam News Bureau
30 May 2020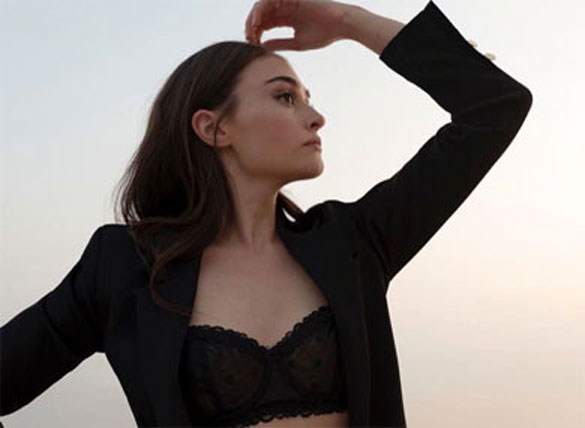 Esra Bilgiç, Halima Baji for Pakistan
----
• Saudi Women to Get More Legal Rights with Regards To Marital Process
• Her Highness Sheikha Fatima bint Mubarak Praises Women's Contribution To Global Peacekeeping
• British Hijab-Wearing Judge Mistaken for Interpreter, Says, It Shows the Level of Discrimination That Exists in The Legal Profession
• Pakistan's Women Peacekeepers Make Their Mark
• Iran's President Calls for New Rules for Women after 14-year-old Girl's Alleged 'Honour Killing'
• Turkish Female Basketball Player Joins Barcelona
• Pakistan PM Forms Committee to Probe Issues Facing Female Inmates
• Florida Woman Sentenced to Prison for Coordinating With ISIS
• A Matter Of Life And Death For Yemen's Women And Girls As Funding Dries Up
Compiled by New Age Islam News Bureau
URL: https://newageislam.com/islam-women-feminism/pakistanis-turkish-actress-esra-bilgiç/d/121990
--------
Pakistanis To the Turkish Actress Esra Bilgiç: Astaghfirullah Halima Baji, Behave Like A Muslim Woman
11-05-2020
KAMLESH SINGH
Pakistanis are distraught to discover Halima baji wears a bikini and poses in short clothes. Some are pleading Her Hotness EsraBilgiç, an actor, to behave like a good Muslim woman. If this sounds astaghfar-fetched, go check out the Turkish actress's Instagram account.
Many Pakistanis have and they can't unsee the legendary Halima Sultana, the mother of the Ottoman Empire, posing in a bra. Astaghfirullah or Allah maafkarein, you see, they just discovered a collective feeling of belonging to a Turkish heroine from a legend. The legend, Dirilis: Ertugrul, dubbed in Urdu as Ertugrul Ghazi, currently playing on PTV, as a lockdown special series.
Midnight's Children, as they say, separated at birth. But Indians have been there, done that. People of vintage would remember how ArunGovil and DeepikaChikhalia were treated as the real Ram-Sita couple in India when Ramayan fever gripped the DD-addled nation. People would wash the TV room and light incense sticks before the episodes started. The roads looked like they were put under a voluntary lockdown. Every household was glued to the TV. ArunGovil, who played Ram, would have people, even elders, touching his feet and Deepika (Sita) rode the popularity chariot to LokSabha. And, yes, India was horrified to discover Deepika exposed her body in B-grade films and Govil did non-Ram-like roles. That they were human, not divine, was a shock.
As a lockdown special, Ramayan is back on Doordarshan and once again it's creating viewership records. But Indians are all too wise to fall for the divinity of Deepika or ArunGovil the second time. Not so for Pakistan though. This is their first time.
Pakistanis are emotionally shattered by the behaviour of EsraBilgiç and are asking her why so sexy. Pakistanis have been searching for her on Google and discovering that she is a model and actor, not really Halima Khatun, the woman of a Turkish legend, the wife of Ertugrul Ghazi she plays in Dirilis: Ertugrul.
Halima Khatun (HalimeHatun as the Turks pronounce) is the wife of Ertugrul and mother of Usman I who went on to found the Usmania dynasty, or the Ottoman dynasty. There are conflicting theories about her existence but the general agreement is that she birthed the Ottoman founder and was the beloved wife of Ertugrul, a legendary warrior who fought for Islam, hence given the title Ghazi.
She has suddenly become Pakistan's own: baji. Baji/baaji is an honorific for an elder sister. Now imagine the horror of an honour-killing society to see the baji of the pious kissing a man on the lips on camera. She does that in the current Turkish thriller Ramo. This is why the astaghfirullah, seeking forgiveness from Allah. To top that, it's all happening in the holy month.
Man with no past
Pakistanis have a peculiar problem. They have very few historical figures for inspiration. Pakistan itself has a history shorter than Bata, and it can't acknowledge India's history as its own. They looked towards Arabia and the history of Arabia is the history of Islam, the greatest hero of which cannot be depicted. Pakistanis are so short of historical heroes that they appropriated as heroes Aghanistan'sGhori, Ghazanavi, and Abdali who in their own local legends are villains of the worst order. After all, it's these invaders who dealt the heaviest blows on the local populace when they invaded India to plunder its riches. The landmass that's today called Pakistan bore the brunt of these invasions by Afghan marauders on their way to Delhi and on the way back to Afghanistan.
Since birth, Pakistan has this sibling rivalry going. In cricket, in nuclear programmes, and finally in democracy too (no coup since Musharraf); one does a thing, the other has to too. Can't make it, then beg, borrow, steal, but do it somehow. India reruns Ramayan and Pakistan finds Ertugrul. Arabs still treat Pakistanis no better even after decades of Arabising the Pakistani culture. So why not Turkofy?
TurkibaTurki
Turkey has been the flavour of late because the Ottoman Empire was the muscular mountaintop of Islam, the basis of Pakistan's foundation. As Turkey, under the current head RecepTayyipErdogan, aspires to re-establish Turkey as the leader of the Muslim world, it has found an ally in Pakistani leader Imran Khan. Turkey, Pakistan and Malaysia recently announced they would have their own international TV channel like al-Jazeera to counter the Arab soft power in the Islamic world.
Turkey has had strained ties with the Arabs since the fall of the Ottoman Empire. Since the House of Saud snatched the guardianship of Mecca and Medina, the two holiest shrines of Islam, Saudi Arabia has had a unique advantage in the Islamic community. While Saudis with their oil riches have kept their population from modernising, they have also funded regressive Wahhabi ideology across the Muslim world, especially in poorer countries. Turkey, on the other hand, was modernised by Kemal Ataturk, who imposed and enforced modernity with an iron hand. RecepTayyipErdogan, in some measures, has tried to undo a lot of that by Islamising the modern society. So at the moment, Turkey is an ideal society for former playboy prime minister Imran Khan of Pakistan, who wants to modernise Pakistan while playing by the religious rules. Turkey has been modern, but is now playing by the religious rules. The telecast of Ertugrul Ghazi in Urdu has to be seen in that context.
But a large part of that society can't make out the reel from real. The people of barre-saghir as the subcontinent is called in Urdu are emotional to a fault. The shock that Indians received seeing DeepikaChikhalia in short clothes is now being experienced by Pakistanis who see EsraBilgiç in a two-piece, fixing her hair in the open, on the beach. Blastolutelyphemous! This is totally unacceptable in a society based on honour. Astaghfirullah, baji, kapade to dhangkepahnein.
EsraBilgiç: Hmm...I wonder if he takes me to his place today. pic.twitter.com/oK2NYCKuRw
— Lady Sodoffsky (@FreeRange_Duck) May 10, 2020
Weather Report
Talking about Indo-Pak rivalry, India recently began including Gilgit-Baltistan and Muzaffarabad in its national weather forecast bulletins. Gilgit is, after all, part of the Ladakh Union Territory even though Pakistan controls it since it occupied it in 1947.
In response, Pakistan began including Leh in its weather forecast. But then to naqal you need aqal. The latest forecast said maximum temperature in Leh will be -4 degrees Celsius and the minimum a -1. That is not how temperatures work! Astaghfirullah, bros, cool down. Ertugrul is a drama series and Esra is just an actor.
https://www.dailyo.in/variety/halima-baji-esra-bilgi-dirilis-ertugrul-arun-govil-deepika-chikhalia/story/1/32874.html
--------
Saudi Women to Get More Legal Rights with Regards To Marital Process
22-05-2020
Over the past three years, the improvement of women's rights has been at the forefront of Saudi Arabia's reform efforts, particularly with regards to marital matters. This week, it seems there will soon be another major gain for women as reports point to discussions currently being held in relation to marriage contracts.
According to various sources interviewed by Okaz, it is believed that the Kingdom's Ministry of Justice is working on a more inclusive process, regulations, and provisions that will allow women to be present during the drafting of their marriage contracts, thereby ensuring better transparency and consensus from both parties.
The new procedure will require women to explicitly state if they are satisfied with their prospective life partners, and their presence means they will now be able to examine the contents of the contracts before signing. In fact, her consent will be needed in order to validate the marriage. The new process will also give women the power to appoint a guardian for the process and aims to ensure that no form of coercion is used.
This new process, if put into effect, will be one in a series of reforms that have been set into motion since the ascension of Crown Prince Mohammed Bin Salman. Indeed, Saudi Arabia, and particularly its Ministry of Justice and the Shoura Council, has been active in working on improving the rights of women across the Kingdom through introducing new laws and restructuring old ones.
In 2017, for instance. the matter of underage marriage of both Saudi and non-Saudi girls living in the Kingdom was brought to light with restrictions finally put in place regarding the issue. A year after that, members of the Shoura Council proposed a monetary compensation to be paid to divorced women, and also supported the proposal with a recommendation to the ministry to cease accepting complaints against women who run away or disobey their families.
https://www.abouther.com/node/29321/people/features/saudi-women-get-more-legal-rights-regards-marital-process
--------
Her Highness Sheikha Fatima bint Mubarak Praises Women's Contribution To Global Peacekeeping
29-05-2020
ABU DHABI, 29th May 2020 (WAM) - Her Highness Sheikha Fatima bint Mubarak, Chairwoman of the General Women's Union, GWU, President of the Supreme Council for Motherhood and Childhood, and Supreme Chairwoman of the Family Development Foundation,FDF, has praised the contributions made by women to peacekeeping operations around the world.
This came in a statement she made today to mark the International Day of United Nations Peacekeepers, which is observed around the world on 29th May every year. It is celebrated this year under the theme: Women in Peacekeeping: A Key to Peace.
Sheikha Fatima said the UAE believes in the woman's role in the society as a leader, decision-maker and a key partner in the development process.
She also highlighted the UN Women's selection of the UAE to provide a two-year Peacekeeping Training Programme for women from different parts of the world, saying it is a testimony to the country's message of peace and security to the world.
"The Peacekeeping Training Programme, jointly undertaken by the UN Women and the GWU, is one of the national strategic priorities to empower women in the UAE. It is built on a constructive partnership and continuous cooperation with the relevant international organisations to enable and engage women into making positive changes," she said.
The programme was first launched in January 2019 with 134 Arab women from the UAE, Bahrain, Egypt, Jordan, Saudi Arabia, Sudan and Yemen, featuring a three-month basic military training followed by a two-week peacekeeping training at Khawla bint Al Azwar Military Academy for Women in Abu Dhabi. The second phase, which started in January this year, saw women from African and Asian countries trained on peacekeeping operations.
The programme is run in partnership with the UN Women UAE Liaison Office in Abu Dhabi, the UAE Ministry of Defence, and the GWU.
https://wam.ae/en/details/1395302845269
--------
British Hijab-Wearing Judge Mistaken for Interpreter, Says, It Shows the Level of Discrimination That Exists in The Legal Profession
May 29, 2020
LONDON: A newly appointed British hijab-wearing judge has spoken of how she was recently mistaken for an interpreter by a court usher.
Raffia Arshad, 40, who was appointed deputy district judge on the Midlands circuit last week, said the incident, which took place before she became a judge, shows the level of discrimination that exists in the legal profession.
Arshad, who was appearing in court as a barrister, told Metro newspaper that an usher asked her whether she was an interpreter, and that when she said no, he asked whether she was "here on work experience," to which she replied: "No, I'm actually the barrister."
She told Metro: "I have nothing against the usher who said that, but it reflects that as a society, even for somebody who works in the courts, there is still this prejudicial view that professionals at the top end don't look like me."
Arshad, who is one of the first hijab-wearing judges in the UK, said she did not take the advice of a relative who told her not to wear her hijab at an interview for a scholarship at the Inns of Court School of Law in 2001.
The family law barrister succeeded at the interview and was given "a considerable scholarship."
She told Metro: "I decided that I was going to wear my headscarf because for me it's so important to accept the person for who they are, and if I had to become a different person to pursue my profession, it's not something I wanted."
As of April 1, 2019, only 7 percent of court judges in England and Wales were from black, Asian and minority ethnic backgrounds (out of those whose ethnicity was known). Around 30 percent of court judges were women.
Arshad will begin sitting part-time on the Midland circuit later this year, and will continue to practice from St. Mary's Family Law Chambers, where she has worked as a barrister for the last 15 years.
https://www.arabnews.com/node/1681811/world
--------
Pakistan's women peacekeepers make their mark
May 29, 2020
Sana Jamal
Islamabad: Pakistanis are joining the global community in remembering fallen peacekeepers as United Nations (UN) Secretary-General AntónioGuterres honoured those who sacrificed their lives to protect people in war-torn countries.
Among the fallen heroes honoured on the International Day of UN Peacekeepers (May 29) is a Pakistani, Sepoy Amir Aslam, who served with the UN Organisation Stabilisation Mission in the Democratic Republic of the Congo (MONUSCO). Honouring men and women who have served as UN peacekeepers, UN chief said "more than 3,900 have lost their lives in the line of duty". He also praised the 95,000 peacekeepers working during the COVID-19 pandemic.
Pakistan's role in UN peacekeeping
With nearly 4,462 uniformed personnel serving in some of the most dangerous UN missions, such as in the Central African Republic and Mali, Pakistan is the sixth largest contributor to UN peace operations. Since its first deployment to the Congo in 1960, the country has consistently ranked as a top contributor, deploying more than 200,000 troops in almost every continent. Pakistan's heroic dedication remains unparalleled even after 24 Pakistani troops lost their lives in 1993 in one of the worst attacks on UN in Mogadishu. Recently, Pakistan's efforts of rescuing 2,000 people in the Congo floods and services of women peacekeepers in the fight against COVID were widely hailed.
Pakistani women peacekeepers protecting and inspiring people
This year's theme "Women in Peacekeeping" highlights the rising role of women serving in peace operations. Committed to peace and security, Pakistani women are making their mark and leaving a legacy to inspire more women to join the mission. Pakistan has achieved the goal of deployment of 15 per cent female staff officers as nearly 450 women have served in UN missions. "Pakistan is a leader in championing women peacekeepers and an example for other troop contributors", the UN chief said during his recent visit to Pakistan. They have successfully implemented projects on vocational training, medical and psychological support, and other security operations.
First-ever Pakistani Female Engagement Team
In January 2020, the first Pakistani Female Engagement Team (FET) in any UN mission around the world received medals for serving in MONUSCO for participation in military and police operations including peacekeeping, humanitarian efforts, and disaster relief. The team includes psychologists, stress counselors, vocational training officers, gender advisors, doctors, nurses, operations officers, information officers, and logistics officers.
"I see the smile of my son in smiles of Congolese children": Major SamiaRehman
Pakistan Army's Major SamiaRehman, who serves as an operational planning officer with the UN mission in Congo, says it is an honour to serve under the Blue Helmet wearing the Pakistani flag. "It was a hard decision to leave my two-year-old son behind, but once I saw Congolese children striving for a better future, I decided to work for them" she shared in an online post. Now "I see the smile of my son in the smiles of Congolese children." Her husband also served in the DRC as a peacekeeper. "He gave me the strength to join the mission, as it was not easy for my family and friends to accept it." In 2019, she was awarded the UN Special Representative for Secretary-General (SRSG) Certificate of the Year.
Why is it important to have women peacekeepers?
Major Samia encouraged more women to participate in peacekeeping, as they serve as a role model in local communities facing violence. Women only represent 6 percent of the UN's uniformed military, police, justice, and correction personnel. "Being a woman, a female peacekeeper, I deeply understand the suffering of Congolese women and children" she says, adding that "working in a peacekeeping mission is one of the best experiences I have ever had."
Major FoziaPerveen, the first Pakistani officer to serve as a peacekeeper in Cyprus, says that women can play a key role in peace-building efforts. Sharing her personal experience in an interview, she said "locals, particularly women, are more open to engagement if the officer dealing with them is a woman." She hailed the fact that women hold key leadership positions in UN mission in Cyprus.
Major Saba Anwar shares achievement and challenges in DRC
Major Saba Anwar, the team FET leader in Congo, says that their services have helped establish strong bonds with local people, especially women, to promote peace in the Central African country. The peace efforts and enhanced protection led to a "decrease in sexual violence cases, recruitment of child soldiers and threats by armed groups in the region" she shared in an interview with APP. The COVID outbreak has not deterred the resolve of women peacekeepers or hindered the routine peace activities, she added. Major Saba is part of the 49-member Pakistani women army officers' team in MONUSCO. With 1,945 troops, Pakistan is the biggest contributor to the UN mission in DRC.
Proud moment for Pakistan
The relationship established by Pakistan's all-female team has won the hearts and minds of locals and "paved the way for further deployment of female peacekeepers," Major Saba said. The contribution to peace efforts in DRC is "a proud moment for me and my team - being a woman and a brave soldier of Pakistan Army." The extensive role of women and recognition has encouraged women from many countries to join peace mission.
What do UN Peacekeepers do?
• Protect civilians
• Prevent conflicts
• Build rule of law and security of institutions
• Promote human rights
• Promote women, peace and security
• Deliver operational support
https://gulfnews.com/world/asia/pakistan/pakistans-women-peacekeepers-make-their-mark-1.71755805
--------
Iran's President Calls for New Rules for Women after 14-year-old Girl's Alleged 'Honour Killing'
MAY 30, 2020
Iranian President Hassan Rouhani has called for new protections for women after a 14-year-old girl was allegedly murdered by her father in a so-called "honor killing," sparking outrage in the country.
RominaAshrafi's father is suspected of killing her with a farming sickle after she ran away from her family home in northern Iran's Taleshcounty with a 29-year-old man, the semi-official Fars news agency reported.
Police have arrested the teenager's father. Ashrafi's death has been widely covered by Iranian media across reformist, moderate and pro-government news outlets.
It is unclear whether the 29-year-old man will face criminal charges.
Amnesty International condemned the killing and called on authorities to ensure full "accountability" for the crime.
"We call on Iran's authorities & lawmakers to end the impunity for violence against women/girls & criminalize domestic violence. They must amend Article 301 of the Penal Code to ensure accountability proportionate to the severity of the crime, without resort to the death penalty," Amnesty said in a statement on Twitter, Thursday.
According to the UN High Commissioner for Human Rights, Article 301 reduces punitive measures for fathers involved in so-called "honor killings."
Rouhani has expressed "regret" over Ashrafi's death. During a cabinet meeting in Tehran, the President "ordered accelerated study and ratification" of a bill that protects women against violence, Fars reported Thursday.
https://www.news18.com/news/buzz/irans-president-calls-for-new-rules-for-women-after-14-year-old-girls-alleged-honor-killing-2644533.html
--------
Turkish Female Basketball Player Joins Barcelona
MuhammedEnesCalli
29.05.2020
Turkish basketball player InciGuclu inked a two-year contract with Barcelona's women's basketball team.
Guclu's move was announced by her agency Tagar Sports Management on Friday.
''We are excited to announce that our young talent, @GucluInci, signed two year contract with Barcelona Women's Basketball Team. Inci joins Barca CBS as the leading part of their new big project. We wish her the best of luck through her new journey,'' it said on Twitter.
The 21-year-old center was born in Turkey's southern Adana province.
https://www.aa.com.tr/en/sports/turkish-female-basketball-player-joins-barcelona/1858400
--------
Pakistan PM Forms Committee to Probe Issues Facing Female Inmates
30 May 2020
ISLAMABAD: Prime Minister Imran Khan on Friday constituted a committee to investigate the plight of female prisoners.
The committee has been constituted taking into account the problems of female prisoners, whether convicted or awaiting trial, in overall context of gender bias prevalent in the society at large and issues associated therewith. The committee shall submit its report in the matter within a period of four months.
The committee will suggest a comprehensive and workable system of governance of prisons in Pakistan to ameliorate the plight of women prisoners.
It will review prison rules and other relevant laws with a view to suggest gender specific changes in order to bring improvements for women inmates. The committee will also review situation of children accompanying women in jails and work to help mainstream such children, especially with regard to their education and social integration.
The committee will ensure availability of gender-specific services for women prisoners addressing their physical, psychological, emotional, and sociological needs.
The committee will also review the overall governance, legal aid and management systems/processes in prison administration, especially with regard to women prisoners and to suggest improvements.
It will review individual cases of human rights violations and victimization of women inmates and suggest measures for institutional accountability.
Situation of children, accompanying women in jails and work to help mainstream such children, especially with regard to their education and social integration, will also be assessed.
It will review post-release programmes to ensure that women prisoners are able to adjust in society after they leave the prison. The committee will suggest comprehensive and workable system of governance of prisons in Pakistan with a view to ameliorating the plight of women in prison. The step has been taken in view of the need to put in place institutional arrangements to address the issue in a comprehensive manner.
The committee will assess if Prison Rules, Code of Criminal Procedure-1898 and international best practices are being adhered to with respect to women prisoners, especially their protection, rights, health, security and well being.
The committee comprises Federal Minister of Human Rights Dr ShireenMazari (chairperson), secretary Ministry of Human Rights (secretary), secretary Ministry of Interior, home secretaries of four provinces and Gilgit-Baltistan, Inspector General Prisons (provinces and GB), founder and executive director of Justice Project Pakistan Sarah Belal and lawyer HayaZahid. The chairperson may co-opt any person as member of the committee.
https://www.pakistantoday.com.pk/2020/05/29/pm-forms-committee-to-probe-issues-facing-female-inmates/
--------
Florida Woman Sentenced to Prison for Coordinating With ISIS
30 May 2020
A Florida woman was sentenced Friday to five years and 10 months in federal prison for attempting to send cellphones to the Middle East to be used as bomb detonators by the ISIS terrorist group.
For all the latest headlines follow our Google News channel online or via the app.
Alison Marie Sheppard, 35, of Punta Gorda, had pleaded guilty in Fort Myers federal court last year to attempting to provide material support to ISIS, a designated foreign terrorist organization.
Sheppard began using Facebook and other social media applications in 2016 to connect with others who supported a Salafi terrorist mindset and ISIS, according to court documents. She also used social media applications to engage in encrypted communications with people she believed were supporters of ISIS.
One of those people was later apprehended by the FBI and began cooperating with federal law enforcement. Sheppard also began communicating with two undercover agents who she believed were ISIS supporters.
In June 2017, Sheppard told the agents she could purchase and ship the cellphones for ISIS, prosecutors said. She bought 10 phones the next month and mailed them to one of the agents, believing they would be forwarded to the Middle East and used in pressure cooker bombs.
https://english.alarabiya.net/en/News/world/2020/05/30/Florida-woman-sentenced-to-prison-for-coordinating-with-ISIS.html
--------
A Matter Of Life And Death For Yemen's Women And Girls As Funding Dries Up
29 May 2020
Hajjah, Yemen – In mid-May, just as the COVID-19 pandemic arrived in Yemen, funding for UNFPA's life-saving reproductive health services dried up. UNFPA has been forced to suspend the provision of reproductive health care in 140 out of 180 health facilities. Now only 40 health facilities across the country are providing these services.
There have already been tragic consequences.
Mariam, a war widow with four daughters, had been receiving antenatal care at the UNFPA-supported BaniShamakh health centre – the only health centre in the district. But when she arrived with heavy bleeding last week, she found that maternal services had ceased and the doctor had departed. Mariam subsequently died of haemorrhage.
In another incident, a woman named Zainab died of post-partum bleeding after delivering a daughter, Safiya. The hospital where she planned to deliver had lost its gynaecologist due to the funding shortage, leaving Zainab to give birth at home, without help when complications arose.
Current and former health facility staff say they are heartbroken.
"The most painful part is that now we are powerless and we cannot do anything about it," said Adel Shuja'a, a nurse at the BaniShamakh centre. He says all the maternal care – from iron and folic acid supplements to management of obstetric emergencies – has stopped. "We are in this poor community that is exhausted from war. The suffering of poor families has increased, and we may lose many of our mothers and children."
"What stuck with me most was a man whose eyes filled with tears when he learned that free services were not available," said a nurse from Al Hudaydah, who broke the news to several pregnant women that no midwives were available. "He returned to his home with his pregnant wife… I felt so helpless that day."
Millions at risk
UNFPA is the sole provider of life-saving reproductive health medicines and supplies in Yemen, which has seen its health system all but collapse under five grinding years of conflict.
Last year, UNFPA reached more than 3.5 million women and girls with reproductive health and protection services, providing support to 260 health facilities and 3,800 reproductive health workers. But as funding has run out, these programmes have been scaled back or shut down.
At the beginning of 2020, UNFPA appealed for $100.5 million for its humanitarian response in Yemen; to date, only 41 percent of that has been mobilized. An additional $24 million is needed for the COVID-19 response.
If no funding materializes by July, UNFPA will be forced to close up to 90 per cent of its life-saving reproductive services across the country.
The funding had been a game-changer, said one midwife from Al Shahel Rural Hospital. "We were able to have reproductive health medicines, a midwife and a female doctor. The health facility never had a midwife or a female doctor before. It was a big turning point for our village," she described. "We were serving more than 23,000 people, but unfortunately the support has now stopped."
The hospital had received up to 120 cases per day, she said. "But now, after suspending the services, we are unable to provide the most basic treatment."
The long-term costs could be staggering: It is estimated that 2 million women and girls of childbearing age could be at risk due to the loss of reproductive health services. Some 48,000 women could die from complications of pregnancy and childbirth.
Health care winding down as pandemic ramps up
Reproductive health services are winding down just as Yemen begins to grapple with the COVID-19 pandemic. The country has so far recorded 282 cases of the disease.
"We still continue providing services, even with a lack of face masks and gloves," said Dr.Eshraq Al-Amrani, a former general physician at Al Shahel Rural Hospital. "I cannot lie that I am very worried."
"We do not have the minimum means of personal protection," said Nurse Shuja'a.
UNFPA has been working to provide personal protective equipment and essential medical supplies to Yemen's health system, so far reaching 114 health facilities. Some 40 ventilators have been provided.
But more funding is needed.
"We are now in a life-or-death situation. Women and girls will die if we do not provide critical reproductive health services. We can only do so if funding becomes available," said Nestor Owomuhangi, UNFPA's acting representative in Yemen.
A virtual pledging conference, co-hosted by the Kingdom of Saudi Arabia and the United Nations, is taking place on 2 June.
https://reliefweb.int/report/yemen/matter-life-and-death-yemen-s-women-and-girls-funding-dries
--------
URL: https://newageislam.com/islam-women-feminism/pakistanis-turkish-actress-esra-bilgiç/d/121990
New Age Islam, Islam Online, Islamic Website, African Muslim News, Arab World News, South Asia News, Indian Muslim News, World Muslim News, Women in Islam, Islamic Feminism, Arab Women, Women In Arab, Islamophobia in America, Muslim Women in West, Islam Women and Feminism