New Age Islam News Bureau
21 May 2018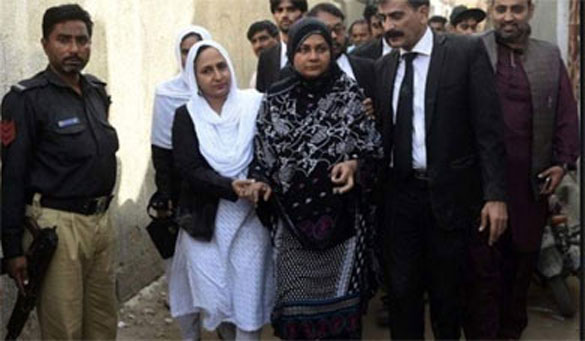 Nawab was just 16 years old when someone slit the throats of her parents. (AFP)
-----
• Khyber Pakhtunkhwa Appoints First Lady Muharrar
• Giza Establishes the First Women and Girls Zone in Egypt
• Dr Aafia's Family 'Rejects' Rumours of Her Death
• US Embassy in Egypt, UN Women Open Imbaba's First Women's 'Hub as Part of Safe Cities Initiative
• Saudi Female Engineers Head to Panama to Compete With the Best at P&G CEO Challenge
• Iran: Women's Addiction Has Risen To 12 Per Cent
Compiled by New Age Islam News Bureau
URL: https://www.newageislam.com/islam-women-feminism/pakistani-woman-acquitted-after-wrongfully/d/115311
--------
Pakistani Woman Acquitted After Wrongfully Jailed For 20 Years
20 May 2018
Asma Nawab spent two decades in jail, wrongfully accused of murdering her family. Finally acquitted, she is seeking a new life, free from whispers and memories.
Nawab was just 16 years old when someone slit the throats of her parents and only brother during an attempted robbery at their home in Pakistan's port city of Karachi in 1998.
With the killings dominating headlines, prosecutors pushed for swift justice in a 12-day trial that ended with a death sentence handed to Nawab and her then-fiance.
The next 20 years were"very painful", Nawab, now 36, says tearfully.
At first the other inmates were sceptical at her protests of innocence, but eventually she formed a new "family" of women - some convicted of kidnappings, others of murders.
They supported one another when progress on their cases was poor, or family neglected them.
"We would cry on Eid and other festivals... It was very painful. I would feel it intensely" when relatives failed to visit, she said through sobs."Only once my uncle came to see me."
Though her trial was speedy, her appeal moved at a glacial speed through the justice system.
Supreme Court petition in 2015
It was not until 2015 that her lawyers petitioned the Supreme Court, which - after a three-year hearing - ordered Nawab released due to lack of evidence last month.
"The verdict of this case was given in 12 days but it took 19 and a half years to dispose of the appeals" her lawyer Javed Chatari said.
Nawab said the acquittal left her stunned "I really couldn't believe it" she said.
The verdict left her "perplexed" she said, and she struggled to understand what would come next."How would I face the world after living so long in jail?"
The judicial system
Stories like Nawab's are common, where the judiciary lacks the capacity to cope with the country's surging population and an expanding case load, resulting in a mammoth backlog.
In 2017 alone, there were more than 38,000 cases pending in Pakistan's Supreme Court in addition to hundreds of thousands awaiting trial across the judiciary, according to a Human Rights Commission Pakistan report released in April.
"Unequal power structures allow for people with advantage - money or power - to rise above the law. For the poor, the system is sluggish and sometimes is so weak that it is safe to label it as almost non-existent" said lawyer Benazir Jaoti, who specializes in women's legal and political empowerment in Pakistan.
"Within the system, women are one of the groups of people that are significantly disadvantaged, it being a patriarchal society and a patriarchal system."
Even when the system finally comes through as it did with Nawab's acquittal, that is usually as far as it goes, leaving those whose lives have been dismantled to repair the damage with little or no support.
What's next for Asma?
Nawab has had little to return to since leaving Karachi's central prison in early April.
With her loved ones dead, her family house was looted then fell into disrepair.
Any potential compensation from the state will take time to process, her lawyer admits, acknowledging there's a high chance she will receive nothing. In the meantime, she is unemployed.
During her first visit back to her humble family home she quietly wept as her lawyer broke the gate's lock with a hammer.
"(The police) left nothing behind" she said after walking through the dilapidated house covered in dust and cobwebs.
"I lost my parents and now I see none of their belongings.
https://english.alarabiya.net/en/News/world/2018/05/20/Pakistani-woman-acquitted-after-wrongfully-jailed-for-20-years.html
--------

Khyber Pakhtunkhwa Appoints First Lady Muharrar
May 21, 2018
PESHAWAR: Khyber Pakhtunkhwa (KP), which is considered a conservative province of Pakistan, has appointed the first female Muharrar in Kohat police in a bid to introduce gender equality in the department.
"Zobia Musarrat's appointed was done purely on merit", District Police Officer (DPO) Abbas Majeed Marwat told a local media outlet on Sunday.
The offer was open to everyone. However, the interested officers were called for their knowledge about law. In the end, she topped the exams and got selected on the basis of her overall results", the DPO added.
She joined the police force in the year 2009. She holds a bachelor's degree and completed her lower course in 2007.
It is a matter of pride to be selected purely on the basis of merit. "I have been appointed as Muharrar (writer of complaints) at the city police station for the specific purpose of addressing women's issues," Zobia told the newspaper.
Women are rarely able to make it to the police stations across KP to file complaints because of cultural and social barriers.
"Being appointed as a Muharrar in the city means that more women would be able to have the comfort to speak to a female police officer", she said.
https://www.pakistantoday.com.pk/2018/05/20/khyber-pakhtunkhwa-appoints-first-lady-muharrar/
--------

Giza Establishes the First Women and Girls Zone in Egypt
May 20, 2018
Giza has become the first governorate in Egypt to include a special zone for women and girls, following in the framework of the United Nations, which aims to create safe cities free of violence against them.
Recently inaugurated by Giza's governor Mohamed al-Daly, the zone is located within the suburb of Imbaba.
The US Agency for International Development (USAID) has funded the zone as part of the United Nations Women's Authority in cooperation with the Egyptian National Council for Women.
According to Al-Ahram, the program aims to empower women and girls socially, helping them to confront harassment and creating safe spaces in public for them.
The zone features a girl's park designed to allow them to practice many activities safely and freely.
Manal Awad, Deputy Governor of Giza for Community Service and Environmental Development, has said in media statements that the project came about as implementation for the Empowerment of Women 2030 national strategy, prepared by the National Council for Women.
The strategy seeks to provide better integration of women and girls in urban areas, making cities and public spaces safer for them.
Besides the zone's inauguration, an exhibition of handicraft projects for women and girls have been established, alongside various awareness seminars that will take place regularly inside the area, according to Al-Ahram.
Cities participating in the UN Global Initiative are committed to taking measures to ensure that women and girls are socially, economically and politically empowered in public places and protected from all forms of violence.
http://www.egyptindependent.com/giza-establishes-the-first-women-and-girls-zone-in-egypt/
--------
Dr Aafia's Family 'Rejects' Rumours of Her Death
BY SALMAN FARRUKH
May 21, 2018
LAHORE: Amid speculations of Dr Aafia Siddiqui's death on the social media, her sister and Aafia Movement Pakistan founder Dr Fauzia Siddiqui on Sunday rejected the 'rumours' regarding Dr Aafia's death.
Talking to Pakistan Today, Dr Fauzia said that such rumours may be a preemptive measure to divert the outrage of the people against Dr Shakeel Afridi's possible escape from Pakistan to the United States.
She said that in such devastating times, such rumours are extremely disturbing for her and the family which is praying for her safe return back to the country. Dr Fauzia said that the rumours, which she hoped to be untrue, seem to contain an element of malice.
She further said that she established contact with Pakistan's Consular General in Texas Aisha Farooqi who maintained that she has not heard back from the local prison authorities, therefore, she could neither confirm nor deny any such information.
She maintained that she is relying on the information being provided to her by the government authorities, including Pakistan's Consul General in Texas, Houston.
Dr Fauzia, a neuroscientist by profession, also said that such rumours have become a source of concern for the family, and appealed to the people not to spread such rumours.
Earlier, a private media outlet reported that Dr Fauzia had said that her family, for last two years, has not been able to establish contact with her. She had further said that in case of any change in the prisoner's status, the prison authorities are liable to inform the family according to the US laws. She said that the prison records suggest that she is alive.
Surprisingly, the prison record has labeled her a 'white' prisoner despite the category of 'Asian' being available on the website.
Speaking about Colonel Joseph's escape from the country after having killed one local, she said that Pakistan should have sought Dr Aafia's release before allowing him to go back to his homeland.
Dr Fauzia asked the nation for special prayers for Dr Aafia's safe return.
Pakistan Today made several attempts to contact the Ministry of Foreign Affairs and Pakistan's Consulate General in Texas, Houston but no response was received by the time of filing of this report.
https://www.pakistantoday.com.pk/2018/05/21/dr-aafias-family-rejects-rumours-of-her-death/
--------
US Embassy in Egypt, UN Women Open Imbaba's First Women's 'Hub as Part of Safe Cities Initiative
20 May 2018
In coordination with the governorate of Giza, the US Embassy in Cairo is launching the first community center for women and girls in the lower-middle class neighborhood of Imbaba, a statement by the embassy read on Sunday.
The opening of the center is a part of the Safe Cities project, a joint program in partnership with UN Women which aims to strengthen the capacity of public institutions and community service organizations to provide safe spaces for women and girls, in addition to victim services such as shelters and legal support, according to the statement.
"One step at a time, we are working in partnership to create an Egypt that says no to sexual harassment – and yes to safe cities," said US Deputy Chief of Mission Dorothy Shea, who joined Giza Governor Mohamed Kamal El-Daly to inaugurate the community hub.
The diplomat said in the statement that the US is committed "to supporting the government of Egypt's efforts to ensure that women and girls are socially, economically, and politically empowered in public spaces."
The Safe Cities program is part of the $30 billion that the American people have invested in Egypt through USAID since 1978.
"In order to change perceptions of violence against women, the project supports advocacy efforts and uses innovative awareness-raising tools such as interactive community theater, storytelling, and art to promote a culture of zero-tolerance for violence against women – and a culture of responsibility towards the survivors of this abuse," the statement read.
According to a UN Women study, 99.3% of surveyed Egyptian women said that they had experienced sexual harassment in their lifetimes.
http://english.ahram.org.eg/NewsContentP/1/299856/Egypt/US-embassy-in-Egypt,-UN-Women-open-Imbabas-first-w.aspx
--------
Saudi Female Engineers Head to Panama to Compete With the Best at P&G CEO Challenge
May 21, 2018
JEDDAH — The team of three Saudi women from Jeddah have reached the third and final round of a competition that challenges them with real-life business challenges; they've already beaten 3,600 students across Africa and Asia.
Three young Saudi women have proved that there's no barriers to their ambition and talent. The all-female team of Linah Hussain, Malak Mously and Rawan Baik — three engineering students from Jeddah's King Abdulaziz University — are only a step away from winning P&G's global CEO Challenge. The ladies have already competed and won against teams from the Middle East in round one; they came out tops in the second round for the Indian Subcontinent, Middle East and Africa region. They will now represent the IMEA region in the global finals in Panama City this May.
Over 3,500 students from dozens of universities from across the region took part in the CEO Challenge, which began in January. Each team was given the opportunity to work on business challenge simulations aimed to test and further enhance their marketing, general management, human resource and strategy development and budget planning skills.
The first step in their journey was an online challenge, during which the ladies competed against regional teams. The second step was a trip to Mumbai in India, where the Saudi team competed against winners from regional heats in Bahrain, Egypt and India. The four teams were challenged to come up with a solution for a real-life business issue impacting the company's Head & Shoulders brand. Following training sessions, an in-depth case briefing and a presentation to both P&G India's leadership team as well as executives from Saudi Arabia, the Saudi team of female engineers came first.
Now the three ladies will compete in the global final in Panama City against teams from all over the world. They'll have the opportunity to present their business solutions for a real-life case study to P&G's CEO David Taylor.
"We're incredibly proud of these three young women from Jeddah's King Abdulaziz University," said Hani Ismail, Saudi country manager for Procter & Gamble. "We've never had a team of Saudi women engineering students, and they've proved to everyone who's been involved that they're capable of anything and everything. I want to wish them all the best in the final. They've made us all proud with what they've accomplished." — SG
http://saudigazette.com.sa/article/535245/BUSINESS/Saudi-female-engineers-head-to-Panama-to-compete-with-the-best-at-P-ampG-CEO-Challenge
--------
Iran: Women's addiction has risen to 12 per cent
20 May 2018
Unofficial figures indicate that the number of addicted women in Iran has risen from 3 to 12 per cent.
Ahmad Kaheh, general director of public education at the Social Directorate of the State Security Force, announced that the percentage of women used to be three per cent in the past, but unofficial figures indicate that it has risen to 12 per cent of the population of addicts.
Kaheh also said, "36 per cent of narcotic drug consumers are college students. Whereas in the past only five per cent of addicts had higher education."
Narcotic drugs have a more destructive impact on women compared to men. It takes eight years for men to resort to drug injection, but women are paving this road in only two years. (The official IRNA news agency - May 12, 2018)
Addiction among women has also more devastating consequences affecting more people around them, including their children.
https://women.ncr-iran.org/iran-women-news/5087-iran-women-s-addiction-has-risen-to-12-per-cent
--------
URL: https://www.newageislam.com/islam-women-feminism/pakistani-woman-acquitted-after-wrongfully/d/115311
New Age Islam, Islam Online, Islamic Website, African Muslim News, Arab World News, South Asia News, Indian Muslim News, World Muslim News, Women in Islam, Islamic Feminism, Arab Women, Women In Arab, Islamophobia in America, Muslim Women in West, Islam Women and Feminism