New Age Islam News Bureau
24 Jun 2019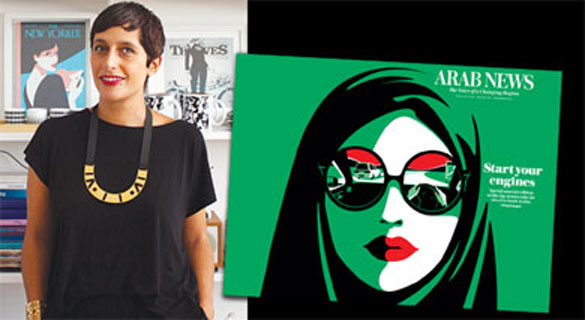 French artist Malika Favre has created iconic covers for "The New Yorker" magazine, with animations that have gone viral online.
-------
• How Malika Favre's Arab News Cover Image Of A Woman Driving Made Its Mark In Saudi Arabia
• Saudi Justice Ministry To Launch Women's Notary Departments
• Behind The Wheel, A Year On: Saudi Women Savour New Freedom
• Marriage Contracts Solidify Saudi Women's Constitutional Right To Drive
• Aisha Ahmad Suleiman: 'People Tried To Stop Me Playing Polo'
• One Woman's Quest for a Driving License in Saudi Arabia
• What Has Changed Since Saudi Women Started Driving?
• For One Saudi Woman, New Driving License Is 'A Well-Deserved Privilege'
• Muslim Women Covered Their Faces Due To Open Economy – Muslim Religious Affairs, Sri Lanka
Compiled by New Age Islam News Bureau
URL: https://www.newageislam.com/islam-women-feminism/pakistani-wives-being-abandoned-uk/d/118975
--------
Pakistani Wives Being Abandoned By UK-Based Families: Report
Jun 23, 2019
LONDON: Hundreds of Pakistani brides brought into the UK to marry British-Pakistani men are being sent back to their country and abandoned by their husbands, with many separated from their young children, according to a UK media report.
The women come to the UK after arranged marriages in Pakistan and often raise children before their husbands or in-laws get tired of them or decide they are no longer of use, 'The Sunday Times' reported.
The women are reportedly tricked into returning to Pakistan for a holiday or to see a sick relative.
They are then abruptly divorced and discarded thousands of miles away from their children, who grow up being told their mother is dead, mentally ill or chose to desert them, the report said.
According to research collated from law firms and charities, the newspaper estimates that at least 1,000 cases of Pakistani wives have been abandoned since 2002.
The UK Home Office routinely blocks mothers who try to re-enter the country, it found.
Most came to the country on a spousal visa, which their husbands can cancel simply by notifying immigration authorities that the marriage has broken down.
"It is the most vile form of misogyny to abandon women once they have been used for their reproductive capacity. The Home Office must treat this as what it is: domestic violence and trafficking of women who gave up everything to build lives here," said Naz Shah, Labour Party's shadow women's and equalities minister, who is currently dealing with a case of an abandoned Pakistani woman.
Since 2017, family courts in the UK categorise abandonment as a form of domestic violence, but it is not a criminal offence.
While domestic abuse survivors are entitled to reside in the UK permanently, they can apply only from in the country.
"We must support these women and end a system that effectively keeps mothers and children apart and favours their alleged abusers," said Baroness Warsi, a former Conservative Party chairperson.
A Home Office official said any instances of abandonment are "shocking".
"These cases, while extremely rare, are some of the most complex and challenging to deal with. We have met with organisations who have raised concerns and are committed to working with them to gain a better understanding of this issue," the official said.
https://timesofindia.indiatimes.com/world/pakistan/pakistani-wives-being-abandoned-by-uk-based-families-report/articleshow/69915227.cms
--------
How Malika Favre's Arab News Cover Image Of A Woman Driving Made Its Mark In Saudi Arabia
June 24, 2019
JEDDAH/RIYADH: An image by French artist Malika Favre, marking the day that women were allowed to drive in Saudi Arabia for the first time, has been formally recognised with a slew of awards after it became something of a cultural sensation.
The picture, commissioned to cover the special "Start Your Engines" edition of Arab News in June last year, took off as a popular symbol of that historic moment. It was downloaded as mobile wallpapers, replicated on hats, painted on a wall mural in Riyadh and, to celebrate its one-year anniversary, Arab News is giving away bumper stickers with it in today's print edition.
It wasn't just the masses that embraced the image. It went on to become the success story of the newspaper awards season, clinching seven design gongs, including the Society for News Design's Award of Excellence for cover story illustration.
"For Arab News to be recognized on a global scale with so many awards is a great honor," said Simon Khalil, global creative director at Arab News. "This highlights just how important this moment in history was for women across the Kingdom. We hope Malika's work and our cover will empower women across the whole region."
Favre, whose mother is Algerian, is an illustrator for The New Yorker, New York Times, Vanity Fair and Penguin Books. She's known for her minimal style, with designs that are easily linked back to her through her use of vibrant colors and positive/negative spacing.
"As a champion of women for years through her unique creative style, Malika Favre was the obvious choice for our cover, and her illustration brilliantly captures the significance of this moment on the day Saudi Arabia changed forever," said Khalil.
Favre's illustration is of a Saudi woman in her headscarf, with her hands on a steering wheel reflected in her sunglasses (in the animated online version, her hands and the wheel move). "A story within a story," the artist described it.
The artwork has resonated with a lot of people, to the extent that even those who were not Arab News readers at the time shared it and downloaded it in droves. Favre thinks that's because it is about "empowering women and looking forward to the changes to come."
Favre is a firm believer in celebrating even the smallest milestones in life. "The cover holds a very positive message, and I think this is what resonated with people out there, and especially the women of Saudi Arabia," she said from her base in London.
Favre was not expecting Saudi Arabia's reaction to the cover. "It is always an amazing feeling when an illustration starts having a life of its own."
One Saudi female artist was especially moved by the cover. For a Panorama Mall contest in which she participated, Noha Al-Johar recreated Favre's design as mural on the wall of the mall's parking lot.
Al-Johar told Arab News that she went into the competition blindly, but then saw Favre's illustration and knew what she had to do. For three days she replicated the design faithfully, right down to the street details in the oversized sunglasses.
When Favre came across a photo of the homage painted by Al-Johar, she shared it on her social media accounts. Al-Johar was very humbled by the attention. "I want to thank her," she said. "She's the definition of a visionary."
Favre expressed delight at how her illustration has been received. "As an artist, getting awarded for a piece is very fulfilling," she said.
"This cover was very important for me on a personal level as a woman, and I was really happy to see the image being shared, emulated and celebrated by other artists."
From the archives: More about artist Malika Favre and her Arab News cover illustration
http://www.arabnews.com/node/1515156/saudi-arabia
--------
Saudi Justice Ministry To Launch Women's Notary Departments
June 23, 2019
RIYADH — The Ministry of Justice is seeking to recruit women notaries with the aim of facilitating judicial services for women and expanding their role in the Kingdom's governmental sector, Asharq Al-Awsat newspaper reported, citing informed sources.
The sources revealed that Justice Minister Waleed Mohammed Al-Samaani, who is the chairman of the Supreme Judicial Council, ordered the ministry to begin the necessary steps to launch women's notary departments in a number of cities across the country.
The Ministry of Justice has also begun the recruitment of women as legal advisers, researchers, and legislators for the first time, and it aims to develop a women's public administration as part of the ministry's new structure.
Statistics issued by the ministry showed that 70 women were licensed in the past to carry out the authentication work. It said 155 legal licenses were issued for women last year, in addition to the employment of 240 Saudi women in different areas, including legal, technical and social.
In 2018, Saudi women began obtaining notarization licenses to work in private notary departments at the Ministry of Justice.
According to the ministry, private notaries can issue and cancel powers of attorney (PoAs), and notarize corporate charters and property conveyances. Their private offices work in the mornings and evenings, seven days a week, using an integrated digital system.
Licensed private notaries totaled more than 13,000 in 2018, and the ministry announced its plans to continue granting licenses while observing the quality of services provided. — Al-Arabiya English
http://saudigazette.com.sa/article/569708
--------
Behind The Wheel, A Year On: Saudi Women Savour New Freedom
June 23, 2019
Qatif: Buckling up in a pearl-silver Lexus, Sabeeha Al Fakher takes the wheel and relegates her son to the passenger seat, a role reversal the 68-year-old Saudi widow never imagined would be possible in her lifetime.
Until June 24 last year, the act would have been considered a crime in Saudi Arabia, where hardliners have preached for decades that allowing women to drive would promote gender mixing and promiscuity.
Overturning the world's only ban on female drivers has potentially put thousands of women behind the wheel in the most visible symbol of the conservative kingdom's modernisation drive.
Among them is Fakher, a mother-of-five who never thought she would see the reform, which ushered in a new era of freedom and mobility for women.
"I still don't believe it," she said, zipping past younger drivers in her native eastern city of Qatif.
Her husband, who passed away a decade ago, secretly taught her how to drive during trips to neighbouring Bahrain in the 1990s, despite the risk of infuriating family patriarchs.
The reform has freed many Saudi women from their dependence on private chauffeurs and male relatives.
Munirah Al Sinani, a 72-year-old mother of four, driving in the nearby city of Dhahran with her husband in the passenger seat, said: "We go wherever."
Arson attacks
The move was part of Crown Prince Mohammad Bin Salman's much-trumpeted reform drive aimed at overhauling the conservative state.
Their new-found mobility allows women to join a labour market chronically short of female workers. Some three million women could receive licences and start driving by 2020, according to consultancy firm PwC.
Only a handful of driving schools for women have cropped up in Saudi cities, where applicants have rushed to learn to drive cars and even Harley-Davidson motorbikes — scenes unimaginable until recently.
Social media is rife with memes of traffic pileups blamed on women drivers, along with condescending messages advising women to "avoid wearing makeup" while driving.
More alarmingly, arsonists "opposed to female drivers" torched a woman's car near the holy city of Makkah last July, Saudi media reported.
The woman had reportedly started driving to save money — she had been spending much of her salary on hiring a driver. Since then local media has reported at least five more arson attacks on women's cars in several cities.
Opposition from 'guardians'
Many women also face opposition from family members, in a country where women are often only as free as their "guardians" — husbands, fathers and other male relatives — allow.
Women need a guardian's permission to study, get married or even renew passports.
That is not the case for driving licenses, but it is unclear what legal recourse women have if guardians physically prevent them from taking the wheel.
Fakher recalled asking two conservative Qatif families: "Why are you stopping the girls?"
She was accused of "interference" and told that their fathers were keen on preventing their daughters from driving. The women appeared to have no say in the matter.
Reforms
As Saudi Arabia Monday marks one year since it allowed women to drive for the first time, a flagship reform as the Kingdom seeks to overhaul its ultra-conservative image, other reforms that affect women include:
Education
In July 2017, Saudi Arabia's education ministry announced girls' schools would begin to offer physical education classes for the first time, provided they conform with Islamic law. The ministry did not specify whether girls would need permission from their guardians to take part. Saudi Arabia has several women-only universities.
Employment
Restrictions the guardianship system has long imposed on women's employment have been loosened in Saudi Arabia. Crown Prince Mohammad bin Salman, named heir to the throne in June 2017, has promoted an economic plan known as "Vision 2030", which aims to boost the female quota in the workplace from 22 to 30 percent by 2030.
King Salman, his father, has signed decrees allowing women to apply online for their own business licences. The Saudi police force now also employs female officers.
Personal status
Under the guardianship system, women of all ages require the consent of their male guardian to get married. A man may divorce his wife without her consent. In January, the Saudi justice ministry said courts were required to notify women by text message that their marriages had been terminated, a measure apparently aimed at ending cases of men getting a divorce without informing their partners.
Public spaces
In January 2018, women were allowed into a special section in select sports stadiums for the first time. They had previously been banned from attending sporting events.
Saudi Arabia has also reined in its morality police, who for decades had patrolled the streets on the lookout for women with uncovered hair or bright nail polish.
https://gulfnews.com/world/gulf/saudi/behind-the-wheel-a-year-on-saudi-women-savour-new-freedom-1.1561290485346
--------
Marriage Contracts Solidify Saudi Women's Constitutional Right To Drive
June 24, 2019
Dammam: Saudi salesman Majd had just begun his wedding preparations when his fiancee sought to enshrine in their marriage contract a condition already guaranteed by law: her right to drive.
Wedding contracts have long been a safety net for brides in the deeply patriarchal society, used to guarantee demands that are often otherwise vulnerable to the whims of the husband or his family. Such legally binding contracts typically codify anything from the woman's right to have her own house, hire a maid, or to study or work.
But after the Kingdom last year lifted a decades-long ban on female motorists, a popular new condition in the contracts is the right to own and drive a car, according to documents seen by AFP and interviews with wedding clerics.
Majd, 29, who is due to marry this month in his native Dammam in eastern Saudi Arabia, signed off on two demands from his 21-year-old fiancee , the right to drive, and to work after marriage, according to the contract he shared with AFP.
"She said she (would) like to be independent," explained Majd, who requested his last name be withheld as the discussion was a private family matter. "I replied: 'sure, why not?'"
Overturning the world's only ban on women drivers is the most palpable social change in the ultra-conservative kingdom, which is pursuing a wide-ranging liberalisation drive. To drive, women do not require the explicit approval of their male "guardians", husbands, fathers or other male relatives, whose permission is needed by women to study, get married and even leave prison.
But it remains unclear whether women have any legal recourse should their guardians prevent them from taking the wheel. And many in the kingdom appear to be trapped in this troubling scenario.
"Some women prefer to include the driving condition in their contract to avoid any marital conflicts" over the issue, said Abdulmohsen al-Ajemi, a Riyadh wedding cleric who received his first such enquiry from the family of an engaged woman last week.
"It's a way to guarantee the husband will keep his promise." A breach of wedding conditions can be used by women as grounds for divorce, clerics say. There are no official statistics on the number of such contracts. Saudi Arabia's justice and media ministries did not respond to AFP's request for comment.
But Munirah al-Sinani, a 72-year-old housewife in Dhahran, a city in the Kingdom's east, said she had come across two such cases recently among her acquaintances. "If you don't let me drive, if you say 'no', then khallas (finished), I don't want you," Sinani quoted one of the women as telling her potential spouse.
The trend underscores how women appear to be using the contracts to side-step patriarchy, and the conditions appear to be getting bolder. A man in eastern Al-Ahsa city told AFP that during a marriage within his extended family, the bride demanded that her husband-to-be give up smoking.
Another woman asked that her husband have no access to her salary and another stipulated that she should not fall pregnant in the first year of marriage, according to cleric Ajemi.
A Saudi woman took social media by storm recently when she posted her wedding contract online. The document prohibited her husband from taking a second wife, even though polygamy is legal in Islam. Angry online trolls rebuked her husband as "unmanly" for accepting the condition.
Men also sometimes use wedding contracts to stipulate that the "wife will never work" or that she must agree to live with his mother, senior cleric Adel al-Kalbani told AFP.
The new conditions are a sign of the kingdom's social transformation that appears to be granting women more rights, Kalbani and Ajemi said.
But they could also cause strains in marriages in a traditional society where such conditions may be deemed insulting or signify a lack of trust in the husband, typically the head of a household.
Saudi media has already reported a spike in divorce cases in recent years. "In the past, society did not listen to women. Husbands would turn around and firmly say 'No'," cleric Ajemi said. "But now they are listening to the aspirations of women, adapting to their demands."
https://www.news18.com/news/world/marriage-contracts-solidify-saudi-womens-constitutional-right-to-drive-2200863.html
--------
Aisha Ahmad Suleiman: 'People Tried To Stop Me Playing Polo'
Jun 24, 2019
Polo is widely seen as a men-only-game in northern Nigeria, but one woman is trying to change the story.
Aisha Ahmad Suleiman, a polo player from Kaduna State, says being a Muslim woman, she faced many challenges when she first started to play the game.
In this BBC Africa One Minute Story, Aisha says she is now determined to encourage more girls and women from the conservative region to venture into the sport.
https://www.bbc.com/news/av/world-africa-48697253/aisha-ahmad-suleiman-people-tried-to-stop-me-playing-polo
--------
One Woman's Quest for a Driving License in Saudi Arabia
NOOR NUGALI
June 24, 2019
RIYADH: No sooner had the royal decree of Sept. 26, 2017 lifting the ban on women driving been issued than excitement filled Saudi Arabia. Women began to gear up for the big day when they would get behind the wheel without breaking the law.
I remember waking up my two young sons on the day the decree was announced with the words: "Well, gentlemen. It looks like I'll be getting to drive before you both." They looked at once stunned and delighted.
The royal decree took effect on June 24, 2018. It has been one year since women in Saudi Arabia were first allowed to drive, and the ranks of aspiring female drivers just keep swelling.
I had been hearing horror stories about the Saudi Driving School (SDS), located in Princess Nourah University in Riyadh, so I decided to put on my journalist hat and find out the truth. What I saw was somewhat different.
On May 23, I signed up for the driving placement exam, which allows women with prior driving experience to skip the mandatory 30 hours of lessons and settle for 12 or 6 hours, depending on an evaluation by a driving examiner.
I had my exam scheduled a full month later, but I had heard of exceptions being made, so I asked the officer concerned to set up an earlier appointment. My request was considered: I was evaluated in two weeks' time and advised to take 12 hours of driving lessons.
Men in Saudi Arabia know from birth they will be able to drive on the Kingdom's roads one day. Women, on the other hand, could afford to think likewise only since 2017. The goal of the SDS, according to its operations supervisor, Aseel Al-Saleh, is to "give women the confidence to overcome the fear of being on the road."
She added: "When you take the final exam, wear your seat belt, say Bismillah and drive as you would do on the streets and not as if it were an exam you have to pass. No examiner will fail you if you succeed. Our pass rate is 90 percent."
Although it opened its doors only a year ago, the SDS has already issued 40,000 driving licenses. After complaints of long waiting periods, the administrative process has been streamlined. With the staff working 12-hour shifts six days a week, help and guidance are always at hand for Riyadh's aspiring female drivers. "Our motto is to teach them how to drive safely," said Nora Al-Dossary, supervisor of marketing and PR at SDS.
For mothers with little children, the SDS has a high-quality nursery with a playground and a toy driving track. Kids can spend time there learning about road safety and getting their own "driving license" while their mothers finish their lessons.
Amira Al-Maliky, a lecturer coordinator, recounts the case of an elderly man who came to the office gates to tell her he had one daughter and a son who was in jail. If the daughter could drive, life would be different for him and his family. Al-Maliky said seeing the young woman's learning process through to the end became a personal mission for her.
"The joy we get from helping people is what keeps us going," she said. "We are trying our best to help all female applicants gain the confidence and the skill to take to the country's roads."
Of course some customers don't have grumbles. Some applicants express frustration that they have to take lessons even after a full year of practice. Also, as Al-Dossary said, there are applicants who express surprise they have to take the full 30, or 12, hours of lessons despite having driven for a year without a license - and without "following the rules of safe and correct driving."
At the same time, "the SDS recognizes unique Saudi talents and we are proud to have them as part of our school," she said. She was referring to two instructors who have taken part in international racing. One of them, Jawaher AlZamil, who is now an examiner, was a rally racer who competed in the VMAX race in London last March. "My dream is to see Saudi women in the highest of positions" Al-Zamil said.
On June 20, I passed my theory exam. Now I am looking forward to the practical lessons, clearing the tests and joining the growing ranks of Saudi women who have a license to drive.
http://www.arabnews.com/node/1515266/saudi-arabia
--------
What Has Changed Since Saudi Women Started Driving?
June 23, 2019
RIYADH: Today is the first anniversary of the female driving ban being lifted in Saudi Arabia, and many women are celebrating this day by talking about their journey, their moments of joy and what has changed since they started their engines.
Today in the streets of Riyadh or Jeddah or Dammam, you will find that many women have started to exercise their right to drive, although many feel not as many as expected.
Official numbers have yet to be released, but it is widely believed that female driving schools cannot keep up with the demand. It can take applicants several months to start their lessons at one of the schools, most of which are located within Saudi universities.
Tala Abdulfattah, a 19-year-old student at Princess Noura University (PNU), managed to enrol in driving classes one month before June 24 last year, and it took her three months to get her license.
"It was extremely easy to enroll, probably because I was one of the first groups to register and start," she explained. "I received the confirmation after two months (after) announcing they have opened their application page. I had to take 30 hours of classes since I had no knowledge of how to drive, and it was fine by me and worth the money and effort, but the downside of it was that each appointment was far from the other, starting with the classes and ending with the test."
It appears that many applicants faced the same problem of a long wait to start their training. "The enrollment itself was very easy," said Munerah Al-Ajlan, a standardization analyst in Riyadh public hospital. While she failed to get a confirmation message, it took her six weeks to get her license from the Saudi Driving School at Princess Nourah University. "It was the technical issues and the long waiting periods that were difficult."
But she said it was worth the wait. "The last year has been very empowering; I could sense my independence every time I open the driver's car door," Al-Ajlan said.
Deem Al-Dekhayel, a project communication manager in Riyadh, said she found that the Saudi Driving School and traffic department were well organized once the applicants started their training. It took her a month to get her license from the time she received the message to take the placement test. "It took longer than I expected, but once that process began, everything was professional and clear."
Al-Dekhayel has found that having a license is a game-changer. "Financially I feel like we are better without a personal driver. In my situation, not only I had to pay my driver his monthly salary and benefits, but also I had to provide accommodation for him which was difficult."
A lot of female drivers expressed how amazing last year was for them and how much support they got in the streets. Al-Ajlan said: "I feel in control when I get in my car."
Munirah Nujayman, an English instructor at PNU, already had her license from abroad, so she switched it easily a month after June 24. "It took me one day to replace it with a national one," she said.
Nujayman had her reservations about driving in her home country. "Even though I have been driving for four years abroad, I was not sure about getting my license and driving here in my country. It felt weird, and I thought that I may not be safe out there. However, after a period of time riding with Uber and comparing its cost with having my own car, I decided to go for a license and break that fear. None of my fears were true. Everything is normal, and I haven't faced any issues except for the horrible traffic jam during the rush hour."
In any city, roads can be overwhelming for new drivers regardless of their gender. "It is not easy to drive in a big city like Riyadh, especially with the changing road detours for the Metro and during the rush hours," Al-Dekhayel said. "Many drivers are not following the rules, which makes it difficult to expect their movement around you. Drivers usually act as if they are in a hurry and expect you to move aside for them."
Al-Ajlan, on the other hand, has been encouraged by how helpful other drivers can be. "Other drivers usually love to help (me) parking, even when it is not needed."
Despite the slow start, seeing female drivers on the road is certainly more common a year later, especially in major cities. Al-Ajlan said female drivers take up nearly one-third of the parking spots at her workplace.
"Now every time I go out I see one or two females on the road, I still get excited and feel happy when I see a female driving," Tala said.
http://www.arabnews.com/node/1515121/saudi-arabia
--------
For One Saudi Woman, New Driving License Is 'A Well-Deserved Privilege'
RAWAN RADWAN
June 24, 2019
JEDDAH: At 10:55 p.m. on June 23, 2018, I was glued to my TV set in Hungary. I was waiting for the clock to strike midnight in Saudi Arabia and for the first engines to roar with my fellow Saudi women behind the wheel. I vowed to return to my home country and grant myself a well-deserved privilege — my own Saudi driver's license.
I applied for my license in August on the Jeddah Advanced Driving School's website as soon as I found an opening. I paid SR2,520 ($600) with the promise of a placement test at a later time. I called customer service, who explained that because of the high demand I should check every day until I found an opening.
The requirements were a valid ID card, a medical report and an eye exam. Clinics and hospitals are linked with the traffic department and the school's database, so the school received the results directly.
I drove after returning to Saudi Arabia in late September, sometimes accompanied by my brother, to test the waters. Driving was allowed in areas where the police knew families practised regularly as long as they were careful. I know my city's streets pretty well and driving wasn't as intimidating as I thought it would be. But when I hit major roads I wanted to change my mind. It takes a while to adjust to the change from being a passenger to being the driver. But the training lowered my anxiety.
I took my placement test on Jan. 7. I entered the driving school and saw women instructors, some with past experience driving abroad and others recently employed after having passed the assessments. No men were allowed — and that was a welcome gesture for many.
I got behind the wheel of the car with my instructor, who didn't look much older than 30. She smiled at me reassuringly as I eased the car toward the designated test area. I passed the placement test, even after struggling to parallel park. I was ranked intermediate, which meant I was required to complete 12 training hours.The hours were to be divided between classroom instruction and practice with an instructor. The school deducted SR1,102.5 from what I initially paid, and I will be refunded the remaining amount.
It took two months from the placement test to the theory classes and another two for the final exam. The wait was because of the volume of students applying. On May 14, I returned to the school one last time. I passed with a score of 87 percent.
I have noticed that drivers around me barely register that I'm a woman. I get looks sometimes, but they come with smiles and the occasional thumbs-up.
http://www.arabnews.com/node/1515146/saudi-arabia
Two thirds of Tory members believe UK areas 'under Sharia law', as poll reveals scale of Islamophobia in party
Two thirds of Conservative Party members believe that parts of Britain "operate under Sharia law", a new poll has shown amid a mounting Islamophobia scandal.
A YouGov poll found that almost half of Tories believed in the myth of no-go zones where "non-Muslims are not able to enter" and 39 per cent thought Islamist terror attacks "reflected widespread hostility to Britain among the Muslim community".
Counter-extremism group Hope Not Hate called on leadership candidates Boris Johnson and Jeremy Hunt to address the "Islamophobia crisis" in their party.
"From the grassroots to the great offices of state, Conservative members buy into racist myths, with almost half unwilling to have a Muslim prime minister – and only 8 per cent being proud to have one – and most denying that there's even an issue to confront," said campaigns director Matthew McGregor.
"No mainstream political party should accept racism and racists within its ranks. The Conservatives have paid lip service by saying they have zero tolerance to Islamophobia and anti-Muslim prejudice, but this new poll confirms they face a real crisis."
In a poll carried out shortly before Sajid Javid was knocked out of the leadership contest, 43 per cent of members agreed with the statement that: "I would prefer to not have the country led by a Muslim."
Mr Javid had tried to make his fellow leadership candidates commit to an independent investigation into Conservative Party Islamophobia during a live television debate.
The research suggested that Tories are more opposed to Muslim immigration than that from other faiths, with 40 per cent wanting the number of Muslims entering Britain lowered.
Under one in 10 members thought Islamophobia was an issue in the party, while almost 80 per cent denied there was a problem.
Previous research found that only a third of the wider British public believed in "no-go zones", but that attitudes towards Muslims were changing in the wake of Isis-inspired terror attacks and grooming scandals where the majority of suspects have been of Pakistani heritage.
YouGov polled almost 900 party members between 14 and 18 June for the latest research, which comes after heavy criticism over the handling of Islamophobia complaints against Conservative activists and councillors.
Last month, the Muslim Council of Britain sent a 20 pages of evidence to the Equality and Human Rights Commission accusing the Conservatives of failing to take action against racism.
Mr Johnson, who is tipped to become the next prime minister, was among MPs named in the dossier following remarks comparing veiled Muslim women to "letterboxes" and "bank robbers".
In the days following his comments, there were reports of his words being used to abuse women in public, as monitors recorded an uptick in Islamophobic hate crime.
The Conservatives were also criticised for refusing to draw up a definition of Islamophobia, and then refusing to adopt one that resulted from a parliamentary inquiry.
The government has pledged to appoint two advisers to "arrive swiftly at a collective position".
Hope Not Hate called on the two leadership contenders to "publicly and unambiguously" commit to tackle the issue, including by establishing an independent body to investigate Islamophobia in the party and increasing transparency in disciplinary procedures.
https://www.independent.co.uk/news/uk/politics/tory-islamophobia-sharia-law-poll-conservative-party-members-leadership-a8971731.html
--------
Muslim Women Covered Their Faces Due To Open Economy – Muslim Religious Affairs, Sri Lanka
June 23, 2019
The clothes that Muslim ladies wear to cover their faces came to Sri Lanka following the Open Economy concept in 1977, according to Minister of Posts, Postal Services and Muslim Religious Affairs M.H.A. Haleem.
He says that no one wore such clothing during his parents' time and that Muslim women covered their heads using their sarees.
"After the Open Economy system, a lot of women left to the Middle East for employment. They brought back these styles of clothes inspired by Arab women", pointed out Haleem.
"We do not approve of this. Covering the face isn't approved even by religion. By now this issue has been resolved. Only smaller issues are left now. I believe these would be resolved to", the Minister added.
Minster Haleem expressed these views at a function held at his office in Mawilmada, Kandy, today (23), to celebrate his reappointment to the Ministerial post.
Disclaimer: All the comments will be moderated by the AD editorial. Abstain from posting comments that are obscene, defamatory or slanderous. Please avoid outside hyperlinks inside the comment and avoid typing all capitalized comments. Help us delete comments that do not follow these guidelines by flagging them(mouse over a comment and click the flag icon on the right side). Do use these forums to voice your opinions and create healthy discourse.
http://www.adaderana.lk/news.php?nid=55942
--------
URL: https://www.newageislam.com/islam-women-feminism/pakistani-wives-being-abandoned-uk/d/118975
New Age Islam, Islam Online, Islamic Website, African Muslim News, Arab World News, South Asia News, Indian Muslim News, World Muslim News, Women in Islam, Islamic Feminism, Arab Women, Women In Arab, Islamophobia in America, Muslim Women in West, Islam Women and Feminism