New Age Islam News Bureau
23 February 2021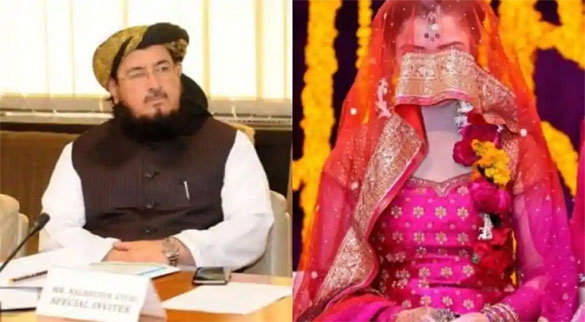 Maulana Salahuddin Ayubi (left) and (bride picture used for representational purpose) Photograph:( Twitter )
---------
• Turkish women scientists' ratio surpasses EU average, data shows
• The AuratAzadi March explains why we need feminism
• Philippine security forces arrest nine women with extremist ties
• Did you know MalalaYousufzai can speak four languages?
• Police hunt man who allegedly turned Muslim woman apostate
• It's not Woman's Hour, it's White Woman's Hour
• End of religious headwear rule says athletes are more than their uniforms
• Quarter of investors in Saudi Stock Market are women
• Saudi Arabia: More women joining civil service sector
• German beach volleyball duo boycott Qatar over bikini ban
• The Sultanate Participates in 8th Arab Woman Conference
• Jirga system and women rights
• They Built Libraries to Honor Loved Ones, Women Felled by Bombings
• Ten French women who joined IS go on hunger strike in Syria camp
• Yemen: Women captives recall ordeal in Houthi prisons
Compiled by New Age Islam News Bureau
URL: https://www.newageislam.com/islam-women-feminism/pakistani-politician-maulana-salahuddin-ayyubi/d/124376
--------
Pakistani politician MaulanaSalahuddinAyubi, who is in his late fifties, marries 14-year-old girl
Feb 23, 2021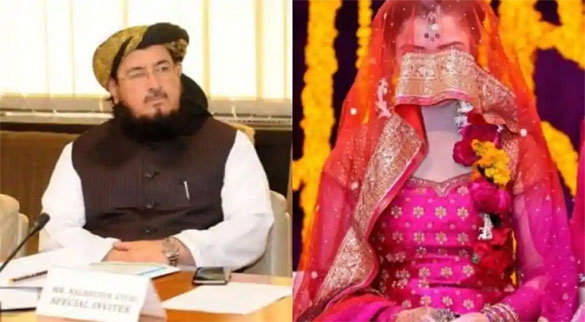 Maulana Salahuddin Ayubi (left) and (bride picture used for representational purpose) Photograph:( Twitter )
---------
A Pakistani politician who is a member of the National Assembly of Pakistan since August 2018, MaulanaSalahuddinAyubi has got married to a 14-year-old Chitrali girl, sources said.
As per the details, the local Police said that they were investigating the matter at the request of an NGO working for the welfare of women in Chitral. Police said that Nikah of the girl was solemnized out of Chitral and the matter was under investigation.
According to a report by Dawn, the girl was a student of Government Girls High School, Jughoor, where her date of birth had been recorded as of October 28, 2006, which showed that she had not attained the age of marriage.
MaulanaSalahuddinAyubi, the Member of the National Assembly is in his late 50s, according to Pakistan media.
Chitral police station SHO Inspector Sajjad Ahmed was quoted as saying that a few days ago on the complaint of the organisation, the police had reached the girl's home, but her father had denied the girl's marriage and had even given an affidavit to this effect.
The marriage of the teenage girl with the Pakistan MP, who is four times her age, comes despite the country's law, which does not allow marriages of girls below the age of 16 and also recommends punishment for parents if they wilfully do it.
According to Pak Observer, the lawmaker has only solemnized Nikkah with the girl while a proper marriage ceremony is yet to be held.
Meanwhile, the Lower Chitral DPO has said that the girl`s father has assured the authorities that he will not send his daughter until she is 16-years-old.
https://www.wionews.com/south-asia/pakistani-politician-maulana-salahuddin-ayubi-who-is-in-his-late-fifties-marries-14-year-old-girl-365627
--------
Turkish women scientists' ratio surpasses EU average, data shows
February 23 2021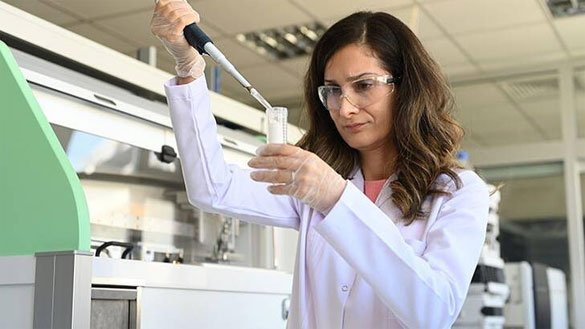 The proportion of women scientists and engineers in Turkey surpassed the EU average in 2019, according to the Eurostat report.
The report said there were around 15.4 million scientists and engineers in the EU in 2019, adding that 59 percent of them were men, while 41 percent were women.
The country with the highest rate of women scientists and engineers in the European continent was Norway with 55 percent, and the lowest rates were recorded in Finland and Luxembourg with 30 and 27 percent, respectively.
The ratio of Turkish women scientists and engineers is higher than in some developed countries of the EU like Germany, France, Netherlands and Italy.
While there are a total of 579,868 engineers in Turkey, only 133,044 of them, a part corresponding to 23 percent, are women, according to the figures of the Union of Chambers of Engineers and Architects in Turkey.
However, there is no data on individuals who are not engineers although they work in the field of science and technology.
The most preferred engineering fields by women were listed as construction, agriculture and food.
Evaluating the findings to daily Milliyet, SelmiyeAlkanGürsel, an academic from Istanbul's Sabancı University, stated that the number of female students studying in the fields of science, engineering, technology, and mathematics (STEM) at their universities increased by 40 percent in the last five years.
Gürsel also said that the interest of female students in STEM fields at Sabancı University was constantly increasing at both undergraduate and graduate levels.
She emphasized that the number of female students in their faculties has increased by 35 percent in the undergraduate field and 45 percent in the graduate field since 2016.
ElifNurFıratKaralar, the first Turkish scientist to have received the European Molecular Biology Organization (EMBO) Young Investigator Award, which is given to young scientists, also proudly explained the progress of women in the field of science.
"As successful women talk about the difficulties they face on the way they walk, the number of young women who take them as examples increases, and they become encouraged," Karalar said, stressing that women are now demolishing "glass ceilings."
HasanMandal, the chairman of the Scientific and Technological Research Council of Turkey (TÜBİTAK), also pointed out that the rate of women among those supported within the scope of TÜBİTAK's programs for scientists was 58 percent last year.
"The fact that 793 of 1500 undergraduate students supported within the scope of the Intern Research Fellowship Program are women is another proof that girls aspire to pursue professions in the field of science and technology," Mandal said.
"We will continue to increase our support to direct and encourage more girls to the field of science and technology," he added.
https://www.hurriyetdailynews.com/turkish-women-scientists-ratio-surpasses-eu-average-data-shows-162600
--------
The AuratAzadi March explains why we need feminism
Feb 23, 2021
Whenever March 8 comes around, people start popping up from all over questioning why we need feminism and what good it does.
Unlike the dirty word people have made it to be, Feminism isn't a man-hating movement that seeks to destroy the world as we know it. Instead, it is a movement that advocates for equality and women having the same rights as everyone else (and no, this does not mean less rights for anyone else.)
This year, the AuratAzadi March Islamabad has a clear answer for people asking what feminism is. A video on its Twitter account explains why women in Pakistan need the movement, and it's spot on.
Even though 52% of Pakistan's population is made up of women, they are still thought of as second class citizens, says a volunteer at the Azaadi March, RababZehra. Women have to fight for their right to education, health and safety, she explains.
"Many Pakistani women have to face domestic violence, sexual harassment, forced marriages and mental pressure."
She also explains that women aren't always safe in public spaces. On public transport, or anywhere where there are men, women are in danger of being stared at, having things said to them and being groped, she says.
"Women have to fight a war in which they are told they are less than men," Zehra explains.
"This is why we need an alternative ideology, which believes in the principle of equality and justice. We need an ideology which can guarantee political, social, economic, and individual rights of men, women and people of all genders. That ideology is called feminism."
The AuratAzadi March is, as always, on Women's Day, March 8 across Pakistan (and the rest of the world) and we hope we'll see you there.
https://images.dawn.com/news/1186610/the-aurat-azadi-march-explains-why-we-need-feminism
--------
Philippine security forces arrest nine women with extremist ties
February 23, 2021
MANILA: Philippine forces have arrested nine women who were related to Abu Sayyaf commanders and militants in the south and could have been "potential suicide bombers," the military said Tuesday.
The women were captured Friday in raids on houses in three towns in the predominantly Muslim province of Sulu, said Lt. Gen. CorletoVinluan, Jr., who heads the military's Western Mindanao Command.
The southern province is the stronghold of Abu Sayyaf, which is known for ransom kidnappings, beheadings and bombings.
Troops also seized bomb parts, including batteries, detonating cords, suspected explosive powder and oil, an iron pipe and nails, along with a grenade, cellphones, backpacks and a sketch of a suspected targeted bombing area, the military said in a statement.
"We are always ready to welcome those who wish to return to the folds of the law but if you will refuse to do so, we will surely hunt you down and prevent you from inflicting havoc in the communities," said Maj. Gen. William Gonzales, who heads government forces in Sulu.
"May this serve as a clear message to the supporters and remaining members of the Abu Sayyaf," Gonzales said.
The suspects would face criminal charges for illegal possession of explosives, military officials said, adding that intelligence and surveillance helped troops track down the suspects. It was not immediately possible to reach the arrested suspects to get their comments.
Among those arrested were three daughters and a sister of HatibHajjanSawadjaan, the Abu Sayyaf leader who was wounded in a gunbattle with troops in July last year and died a few days later in the mountainous hinterlands off Sulu's Patikul town.
A few weeks after Sawadjaan's death, two widows of Abu Sayyaf militants separately detonated bombs in suicide attacks that killed 14 people, including soldiers, and wounded 75 others in Jolo town in Sulu. The military said then that the bombings, the worst extremist attacks in the country last year, may have been staged by the Abu Sayyaf to avenge the death of Sawadjaan, who was believed to have been designated by the Daesh group as its leader in the southern Philippines.
The United States and the Philippines have separately blacklisted the Abu Sayyaf, which has been considerably weakened by years of battle setbacks, military offensives and surrenders but remains a national security threat.
https://www.arabnews.com/node/1814266/world
--------
Did you know MalalaYousufzai can speak four languages?
Feb 23, 2021
The youngest laureate to receive a Nobel Prize for her impressive achievements in education, MalalaYousufzai is celebrating International Mother Language Day, a worldwide annual observance to promote multilingualism and spread awareness about cultural diversity.
In a recent video posted on Twitter, the Oxford graduate introduced herself as a 23-year-old from Swat, Pakistan whose mother tongue is Pashto.
"My mother tongue is Pashto and at home, we all speak in the Pashto language," she introduced. Yousufzai continued to speak in not one, but four different languages, shocking viewers with the revelation that she is quadrilingual.
"I also speak Urdu, which is the national language of Pakistan," she added. "Most of the films, dramas and songs I see are in Urdu."
Naturally, the young activist also said she was well-versed in English, which she said improved once she went to the United Kingdom for her undergraduate education. "Most of my readings are in the English language."
Like that wasn't enough, Malala informed her audience that she was currently in the process of learning Swahili — a language originating from the coast of East Africa, and spoken by millions of people in Kenya, Uganda, and Tanzania.
"I like it," she exclaimed.
The video was uploaded through TikTok, an app Yousufzai first joined in December 2020 as she urged women to donate to the Malala fund for Giving Tuesday.
https://images.dawn.com/news/1186600/did-you-know-malala-yousufzai-can-speak-four-languages
--------
Police hunt man who allegedly turned Muslim woman apostate
February 21, 2021
PETALING JAYA: Johor police raided a house at the DatoOnn housing area in Johor Bharu yesterday, after a video of a man who allegedly turned a Muslim woman apostate went viral on social media.
The raid was carried out at 9.50pm. Johor police chiefAyob Khan MydinPitchay said the suspect, around 29 years old, was already identified, but not found at the premises.
"Police checks found that only the father and his sister were staying there." He said no one was arrested and no items confiscated during the raid.
The viral video, which was 3-1/2 minutes long, showed the non-Muslim man admitting that he had converted a Muslim woman.
In a statement, Ayob Khan said the case was being investigated by the federal Classified Criminal Investigation Unit.
"The Johor police urges the public to send any information directly to the police, and to refrain from taking any action personally, which may cause disharmony and threaten public order," he said.
Further investigations were being carried out under the Sedition Act, Penal Code, and Communications and Multimedia Act.
https://www.freemalaysiatoday.com/category/nation/2021/02/21/police-hunt-man-who-allegedly-turned-muslim-woman-apostate/
--------
It's not Woman's Hour, it's White Woman's Hour
RuqayaIzzidien
23 February, 2021
When 29-year-old Zara Mohammed was invited on to BBC Radio 4's Woman's Hour, she probably expected to discuss her recent election as the first female Secretary General of the Muslim Council of Britain (MCB). Instead, presenter Emma Barnett hounded her with antagonistic questioning, interruptions, and derailment, which typify the harassment and dehumanisation that Muslim women face every day.
The programme achieved none of its purported aims - "to inform, challenge and inspire," instead acting as a mouthpiece for toxic white feminism. It's not a challenge when you question an interviewee on a topic that doesn't relate to their expertise. All this achieved was a derailment of the conversation away from Mohammed's appointment, vision, and even away from how she might help combat sexism in her capacity as MCB Secretary General.
It's not informative when you invite guests onto a radio show for the sole purpose to hector them for clout, or when you're religiously illiterate and too privileged to think you need to research your topic properly.
As an open letter to the BBC, which was signed by more than 100 figures including writers, politicians, and academics, pointed out, Barnett's interview "mirrored the style and tone of an accountability interview with a politician, rather than authentically recognising and engaging in what this represented for British Muslim women."
Barnett was so deeply out of her depth that she was oblivious to her own ignorance. It's a false equivalence to compare priests and rabbis - which Barnett excitedly pointed out do permit women - to imams. An imam is any person who leads a prayer, even in their own home, and not necessarily a measure of scholarly or religious authority. There are surely hundreds of female imams in the UK every single day.
Up and down the UK, there are Muslim women in positions of religious authority as chaplains, reciters, scholars, campaigners, theologians, and activists. Many of them work to fight against the dehumanisation that was exemplified on Woman's Hour.
What's ironic, is that although some Muslim women are restricted or oppressed by Muslim men, I'd wager that many more are routinely subjugated by the Islamophobia that Barnett subjected Mohammed to. In fact, it's a subject on which I've been quizzed by people in positions of authority as a test of my palatability. Ask any Muslim woman. We know this devil's advocate setup well, and it's never designed to "inspire" or to understand us.
Read more: Feminism means equal rights for all women, not just white women
It's a trap. That's what made Barnett's mock curiosity so despicable. She dressed up a gotcha question in niceties in an attempt to make her disdain pass for interest: "I'm genuinely intrigued to know," she said. Right, Emma, you're "genuinely intrigued to know," but not willing to, you know, Google what an imam is.
This interview should be on an intersectionality curriculum. It's a classic example of toxic white feminism, which claims to support all women, including, very vocally, Muslim women, but actually seeks to punish us when we're empowered outside the margins of what they deem acceptable.
True allyship shouldn't railroad Muslim voices in favour of what it considers to be the worthy battles. And what struggles, goals and campaigns get trampled when we're continuously talked over? Right now, Muslim women in the UK are working for equal representation, employment discrimination, the safety of women and children, racial justice for Black people, among many other causes. None of these informing, inspiring, and challenging topics were amplified, because all Woman's Hour could focus on was an imaginary insult.
In a statement, BBC head Tom Davie reiterated the programme team's response, which said, "we believe it was legitimate for the programme to seek to explore some of the issues facing Muslims in the UK."
That the BBC lacks representative involvement at production level is what leads them to think that this, of all things, is the issue of the day that Muslims face, not, for example, being held accountable for the actions of others.
And the fact that they edited and shared the such a hostile interview on social media highlights how Muslim women's subjugation is something they celebrate, even in the same breath are condemning it.
Embarrassingly, if Barnett had bothered to spend 30 seconds on the Muslim Council of Britain's website she'd see that they don't need her to smugly question female representation in mosques - the MCB runs a flagship development campaign for women leaders in mosques. In the past four years, the majority of their projects have been headed by women, and two years ago they held a conference of entirely female speakers.
But that doesn't fit the antagonistic narrative that Barnett set out to achieve. It's a lesson that women of colour should have learned when actor and fitness studio owner KelechiOkafor pulled out of her interview in January after being cursed at off-air by Barnett. Genuine dialogue requires a respectful space, and if you're not white, you won't find it on Barnett's Woman's Hour.
Zara Mohammed's appearance on Woman's Hour exemplifies toxic white feminism. These women do not care about your liberation or fight, they care about coopting you into their own battles, about mutilating you into their cautionary tale, and about reasserting their own humanity against the savagery of you.
RuqayaIzzidien is a British-Iraqi freelance writer specialising in social and cultural affairs. Her work has been published in The New York Times, the Guardian, the BBC and Al Jazeera English. She runs a blog, Muslim Impossible, and is the author of the novel The Watermelon Boys.
https://english.alaraby.co.uk/english/comment/2021/2/22/its-not-womans-hour-its-white-womans-hour
--------
End of religious headwear rule says athletes are more than their uniforms
February 22, 2021
By Dilshad Ali
(RNS) — When she was not allowed to play in her second volleyball game of the season, 14-year-old NajahAqeel never thought her pushback would knock down nearly every obstacle in her way, like a bowling ball knocking over pin after pin.
Last September, the ninth-grader at Valor College Prep in Nashville, Tennessee, was pulled from the court after an official pointed out that her coach had not provided a waiver for her to play while wearing her hijab, or religious headscarf. When she was told she couldn't play, Najah started crying. She received support from her family and teammates but still felt hurt. Then she began to push back.
Until this year, most schools, states and national high school athletic associations had typically forbidden religious headwear, citing safety concerns, unless a student or coach had applied for a waiver. No waiver, no play.
But Najah argued that her hijab wasn't a safety concern, as she wore it as a closely wrapped bun. "It wouldn't be able to hurt anyone," she told me in an interview last fall.
She and her family decided that the waiver rule had to get changed, not only in her own school district, but across the state.
Because she (with the support of her team) stood up against the rule, the National Federation of State High School Associations, one of the main associations overseeing high school sports, eliminated the waiver requirement for religious headwear, including hijabs, turbans and yarmulkes, for the fall sports of field hockey, soccer and volleyball once their seasons concluded.
The magnitude of this step is not lost on me. In my two decades of covering Muslims in America, I've reported on a multitude of hijab bans, after having to obtain permission as a young girl to wear sweats in gym class and when I briefly played basketball and ran track, due to Islamic modest dress guidelines, and for my daughter to do the same decades later.
I've had to provide a letter to wear my own hijab in my driver's license and passport photos as an adult. It's something many Muslim girls and women are used to doing.
Pressure for change has been building. Last year, high school cross-country runner Noor Alexandria Abukaram was disqualified by the Ohio High School Athletic Association as she was running a 5K (and beating her personal record), because her coach hadn't gotten a waiver for her to run in her Nike hijab, which is designed specifically for competitive running.
Noor launched the "Let Noor Run" initiative to address "discrimination Muslim women face in sport and advocating for policy changes that promote inclusivity," as reported in this Religion News Service story last year.
Bilqis Abdul Qaadir, a top-ranked high school and college basketball player, was denied from playing in the International Basketball Federation, or FIBA, which at the time didn't allow headwear. That rule changed in 2017 because of persistent advocating by Qaadir and several other athletes and religious groups, including DarshPreet Singh, the first turbaned basketball player in the NCAA.
It should be a no-brainer. Why should a high school or college athlete need to seek permission to wear a hijab, a turban or whatever is her religious observance?
My employer, the fashion company Haute Hijab, launched a "Can't Ban Us" campaign last fall as Najah's story broke to work with athletes and athletic associations to educate about the religious significance and mechanics of hijab and why it shouldn't deter anyone from participating in team or individual sports.
In December, Haute Hijab met with Lindsey Atkinson, director of sports at the National Federation of State High School Associations and liaison to the volleyball rules committee, to present information about hijab, hijab accessories (pins), how it is worn, fabrics used, the construction of sports hijab and how risk factors regarding hijab have been overblown.
In the weeks since we met, the federation's volleyball rules committee voted unanimously to change its rules regarding religious head coverings. Soon after, field hockey and soccer followed suit. Hopefully the federation's winter and spring sports rules committees will continue the trajectory.
I asked TheresiaWynns, director of sports and officials with the federation, why the tide is shifting now, after so many years. "I think the momentum has come out of a result of more athletes who are religious and wanting to show their religious belief in wearing whatever … they need to wear for that.
"Bottom line, (the message is) 'I have a right to play, and I have a right to honor and respect my religion,'" Wynns said.
The fierce young women who have pushed for their right to play wearing hijab are to whom these long-fought-for victories belong. Bilqis' reprieve from FIBA came three years too late, but she is determined not to let what happened to her happen to other Muslims.
And Najah? At her recent news conference, she said she hoped her experience would be one of "many steppingstones to stop discrimination."
It sometimes feels as if the only time we discuss Muslim women is when we are talking about objections to hijab, when that is just one part of multiple narratives. In the athletic world, this is what activist and journalist Shireen Ahmed called, in a 2016 article for The Daily Beast, reducing "an athlete to her outfit." Hijab-wearing women are just stand-in, however, for women who suffer discrimination for Muslim dress.
"I'd like to send a message out there to all the women that our voices matter," Najah said. "We need to stand up for our beliefs and values."
(Dilshad D. Ali is a journalist and blog editor for the website Haute Hijab. The views expressed in this commentary do not necessarily represent those of Religion News Service.)
https://religionnews.com/2021/02/22/end-of-religious-headwear-rule-says-athletes-are-more-than-their-uniforms/
--------
Quarter of investors in Saudi Stock Market are women
February 23, 2021
Samir Salama
Abu Dhabi: A raft of surveys indicate that women do more market research, are better at matching their investments to their goals, trade less and remain calmer during market upheavals.
The Saudi stock market recorded the entry of about 381,000 new women investors during the last two years; 37,000 last year, and 244,000 in 2019.
That brings the number of female investors' portfolios to 1.4 million at the end of last December, compared to 1.3 million at the end of December 2019 and about one million female investors by the end of 2018.
According to the Capital Market Authority, the number of individuals investing in the stock market reached a record level of 5.6 million by the end of 2020, including 1.4 million women (24.8 per cent), and 4.2 million men.
On a quarterly basis, the number of women who have investment portfolios in the stock market increased by 14,000 in Q4 2020.
The number of individual investors in the Saudi stock market increased to about 5.5 million investors Q2 2020 compared to 4.7 million investors in the same quarter of 2019, an increase of 17 per cent, a steady increase for the fourth consecutive quarter. The increase came after a jump in the number of female investors to 1.7 million, an increase of about 64 per cent compared to the same quarter of 2019.
The number of male investors increased to 4.2 million investors in Q2 2020 compared to 3.7 million investors during the same quarter of 2019, an increase of 12 per cent.
The number of individual investors increased 0.3 per cent compared to 5.5 million investors in Q1 2020.
On the other hand, the number of males in the Saudi stock market increased to 4.2 million, an increase of 73,000 investors, compared to the previous year, where their number was 4.124 million, and their number increased by about 27,000 investors compared to the Q3 2020, which was 4.17 million.
Annual growth
During the last 4 years, the number of female investor portfolios grew from 989,708 women in 2017 to about 1,008,054 in the following year, up to 1,352,000 by the end of 2019 and then 1,389,000 female investors in 2020, a growth rate of 2.7 per cent over 2019.
https://gulfnews.com/world/gulf/saudi/quarter-of-investors-in-saudi-stock-market-are-women-1.77383221
--------
Saudi Arabia: More women joining civil service sector
February 22, 2021
TawfiqNasrallah
Dubai: The number of women working in the civil service sector has increased 25 times within the last 10 years, according to a report issued by the Family Affairs Council.
The report titled "The role of Saudi women in society and in various business and government sectors," showed that the number of women workers in the security and military sectors reached 9,408 at the end of 2019 while 500 military jobs for women are under process at the Public Security.
The number of female employees in the civil service shot up from 21,000 in 2010 to more than 484,000 in 2019, which is approximately 25 times over the last 10 years.
Women in the military
According to Al Watan Newspaper, the women employees in military and security sectors constitute two per cent of the total female employees of the government sector. These sectors include Ministry of Interior, Ministry of Defense, Ministry of the National Guard, Presidency of General Intelligence, Presidency of State Security, Control and Investigation Authority, General Directorate of Investigation and the Public Prosecution.
Although the presence of women in the military and security sectors has been restricted mainly to jobs in administrative or technical support sections, the Kingdom has realized the importance of women's contribution in this aspect, which opened the door to accepting women for jobs in military and security forces.
Earlier in 2018, the Public Security Directorate announced the opening of admission and registration to fill a number of military and security jobs for women.
Procedures are also in place at the Public Security to hire 500 women for military jobs while the Ministry of Interior is expanding the scope for hiring more women in a number of sectors, including the General Directorate of Passports where the number of women staff reached more than 1,500, as well as in a number of other sectors.
The number of female employees in the Ministry of Interior and its various sectors reached 6,250. There were several women officials of the Ministry of Defense who have won medals for their outstanding contributions mainly as doctors serving the armed forces during the operations of the Decisive Storm and Restoration of Hope.
151 female diplomats
The number of Saudi women working in the diplomatic sector reached 151, and there was an increase in the percentage of women joining the diplomatic jobs under the Ministry of Foreign Affairs, reaching 25.8 per cent in 2019 from 20 per cent in 2017.
The percentage of women in public jobs covered by the civil service reached more than 40 per cent of the total employees of both sexes in 2019. Saudi women have also reached important decision-making positions in government institutions and universities and they occupy leadership and supervisory positions in a number of ministries and government institutions.
Education sector
The education sector accounts for 83 per cent of all women working in the government sector, and the high percentage indicates the state's keenness to include women in the education sector as one of the most essential sectors for social development.
The number of women working in the public education sector, covering all phases of schools, is equal to that of men in the same sector, and the percentage of female faculty members in universities is three percent.
Women are holding key positions in this sector, such as deputy minister, university president and various administrative, academic and technical positions.
Health sector
The health sector comes next to the education sector, as 13 per cent of the total number of female government workers worked in the health sector in 2018.
It is evident from the statistics that the percentage of female doctors working in the health sector increased from seven per cent in 2014 to 36.3 per cent in 2018, while the percentage of females in the total nursing profession reached 61.8 per cent in 2018.
The percentage of female workers in allied medical groups reached 24.4 per cent in 2018, while the percentage of female dentists out of the total employees was 36.4 per cent in 2018, and the percentage of females out of the total number of workers in the pharmacy profession was 37 per cent.
The Public Prosecution Office is currently working to recruit qualified women to serve as its members. In January 2018, it announced vacancies for women to work as members on an equal basis with men.
The report also showed that unemployment rate among women dropped to 28 per cent in 2020 from 35 per cent in 2012. The number of commercial registrations issued to women increased by 65 per cent in 2019.
Women represent 50 per cent of the Women's Council of the Human Rights Commission while women make up 20 per cent of the Shoura Council, with 30 members out of the total 150 members are women.
https://gulfnews.com/world/gulf/saudi/saudi-arabia-more-women-joining-civil-service-sector-1.77373883
--------
German beach volleyball duo boycott Qatar over bikini ban
FEB 22, 2021
Germany's beach volleyball stars Karla Borger and Julia Sude have said they will boycott a tournament in Qatar next month because it was "the only country" where players were forbidden from wearing bikinis on court.
"We are there to do our job, but are being prevented from wearing our work clothes," Borger told radio station Deutschlandfunk on Sunday.
"This is really the only country and the only tournament where a government tells us how to do our job -- we are criticising that."
Qatar is hosting the upcoming FIVB World Tour event but strict rules about on-court clothing have led to world championships silver medallist Borger and her doubles partner Sude shunning the event.
The tournament in March is the first time that Doha has hosted a women's World Tour event, though the city has been a regular fixture on the men's tour for seven years.
Yet female players have been asked to wear shirts and long trousers rather than the usual bikinis, a rule which the world beach volleyball federation FIVB claims is "out of respect for the culture and traditions of the host country".
In a decision supported by the German volleyball federation DVV, Borger and Sude told Spiegel magazine during the weekend they "would not go along with" the rules imposed by the Qatari authorities.
Borger said that they would normally be happy to "adapt to any country", but that the extreme heat in Doha meant that bikinis were necessary.
Her team mate Sude pointed out that Qatar had previously made exceptions for female track and field athletes competing at the World Athletics Championships in Doha in 2019.
The country also allowed female beach volleyball players to compete in bikinis at the ANOC World Beach Games in 2019.
Though not as hot as the scorching summer months, temperatures in the Gulf state can reach as high as 30 degrees Celsius (86 degrees Fahrenheit) in March.
Speaking to Deutschlandfunk on Sunday, Borger questioned whether Qatar was a suitable host nation.
"We are asking whether it's necessary to hold a tournament there at all," she said.
Qatar has hosted an increasing number of major sporting events in recent decades, though its human rights record, lack of sporting history and brutally hot weather make it a controversial venue.
Heat and humidity were major issues during the road races at last year's World Athletics Championships held in Doha.
Discriminatory labour practices and alleged human rights abuses in Qatar have been the subject of intense scrutiny ahead of next year's football World Cup.
https://www.hindustantimes.com/sports/german-beach-volleyball-duo-boycott-qatar-over-bikini-ban-101614013132563.html
--------
The Sultanate Participates in 8th Arab Woman Conference
23-02-2021
Muscat, 23 Feb (ONA) --- The Sultanate, represented by the Ministry of Social Development, today took part in the 8th conference of the Arab Women Organization themed "Arab Woman and Cultural Challenges". The opening ceremony of the conference was held under the patronage of President Michel Aoun of the Lebanese Republic.
The Sultanate was represented in the conference by Laila Ahmed al-Najjar, Minister of Social Development.
Held via video conferencing in Lebanon, the three-day conference addresses a range of topics pertaining to status of Arab women between heritage and modernity: between confrontation and reconciliation, Arab women in the midst of literary and artistic production, the mechanisms of socialization and the economic role of women in sustainable development and the elimination of poverty and marginalization.
The conference also discusses the Arab women between citizenship, government policies and civil struggles, and the dissemination of a gender culture: diverse and intersecting Arab tracks, as well as the contribution of women to strengthening and steadfastness of society and the land.
https://omannews.gov.om/NewsDescription/ArtMID/392/ArticleID/28031/The-Sultanate-Participates-in-8th-Arab-Woman-Conference
--------
Jirga system and women rights
By Sheikh Abdul Rasheed
February 22, 2021
On August, 30, 2018, while hearing a case related to forced marriage of minor girls to settle murder and tribal disputes, the Supreme Court of Pakistan had declared jirga and panchayat (tribal councils) unconstitutional and illegal as they were against fundamental human rights. Regrettably, in the blatant violation of the apex court's orders, the tribal councils continued to occur in several regions of the country infringing human rights with apparent impunity.
On February 06, a jirga of tribal elders at Wara region of Mamond tehsil of Bajaur district banned women from calling the local FM radio station and visiting Sada-e-AmanCenter, a place where cash grant is given to women after they give birth under the government policy. The jirga announced that if any tribesman allowed his female to telephone the radio station or to visit the said center, he would be fined Rs.10,000.
Similarly, on the behest of jirga, a couple hailing from Kohistan who had married of their own free-will in Karachi in September, 2020, were allegedly killed after two months in November. In another incident, a 15-year-old girl and a boy 17 were reportedly electrocuted by their families in compliance with the orders of a jirga in September last year in Karachi. These are the latest episode in the ongoing saga of such heinous decrees of the unconstitutional parallel judicial system across the country.
Amidst many other factors, the substantial factor responsible for the continued existence of the jirgas and panchayats is that many of the bodies are represented by feudal lords, Sardars and Maliks who have been powerful and dominant parliamentarians in successive governments and controlling decision-making and policy formulation processes in Pakistan's parliament.
Moreover, vani, a tradition of giving girls in marriage by force to compensate for a crime committed by their male relatives, is the most ubiquitous tradition in rural Pakistan. In 2012, 13 girls between the ages of 4 and 16 were ordered to be married off to resolve a murder dispute between two clans in Balochistan.
The shocking fact is that members of jirgas and panchayats are authorized to use unrestricted powers to award death and other stringent sentences, and they are not accountable and answerable to anyone. The matter of great concern is that the members have no or little knowledge of laws concerning the criminal and civil matters. Despite this fact, the bodies have yet been existing and functioning effectively. Amidst many other factors, the substantial factor responsible for the continued existence of the jirgas and panchayats is that many of the bodies are represented by feudal lords, Sardars and Maliks who have been powerful and dominant parliamentarians in successive governments and controlling decision-making and policy formulation processes in Pakistan's parliament.
Although many of the matters referred to the jirgas and panchayats, the tribal judicial system, are related to women and girls, yet the tribal councils are fully represented by men and women have no say in them. Complete absence of women representation is one of the principal reasons that decrees issued by this patriarchal structure badly affect and tyrannize females. These illegal non-state justice institutions are wholly and evidently opponents of the fundamental rights of women to free-will life, education and health. They prevent girls from achieving schooling, restrained women within their houses and develop the destructive traditions of child marriage and honour killing. Not only this, but women have been made victims of many other oppressive, barbaric and criminal acts. It shows that abhorrence for women's liberty and the misogynist attitude in Pakistan's patriarchal society are deep-seated and entrenched. These are the significant reasons that, according to the Global Gender Gap 2017 report, Pakistan was placed at second worst country for women with the rank of 143 out of 144 countries.
Some believe that jirgas and panchayats making speedy decrees offer a swift settlement of disputes, while courts of law take too long to give out justice. The fact is that rapidly made rulings by the bodies do not bring about remedies for injustice, violence and exploitation. Instead, the verdicts persecute women, minorities and the economically feebler people.
The faulty and wrong rulings of jirgas have resulted in initiating and resurfacing of the fatal tribal conflicts in Sindh. Started on insignificant issues, the tribal disputes ultimately culminate in the deadly wars which result in killings of a gigantic number of lives and huge financial losses. A colossal number of such tribal clashes have taken place in the province so far. Many of the bloody disputes continued for long years, some of them lasted for two decades. Traditionally, the jirgas compensate murder with murder and remaining amount of money goes into pockets of chieftains of the disputing tribes.
The fatality and prolonged continuity of the clashes finally badly affect women of the conflicting tribes. In tribal feuds, mostly men are killed. And during the fighting taking place between tribes, no male member of the disputing clan can look-after his crops or continue his job in any other village, town or city because of the terror of being killed by the rivals. In these both situations, their women have to shoulder lifelong responsibility to support families working in the fields or begging for money.
Although women are entitled the fundamental rights to life, liberty, security and dignity by the constitution of Pakistan and the international laws, yet jirgas and panchayats have been a massive source of serious violations of these women rights. The government of Pakistan should shoulder the responsibility to protect women rights, and to this end the government has to obliterate jirga and panchayat systems.
https://www.pakistantoday.com.pk/2021/02/22/jirga-system-and-women-rights/?__cf_chl_jschl_tk__=0c8f4306f9c798b03340eff397b00cfaa3695414-1614080806-0-AQeygfg9YU5vENcBOCOJsgIChlwQ96BXeDrOfSp-nOpJKofuMyaeGniGjjX5IdP9SpayA8Vvi-5If8M-t0ZV4NSP2KT_t-slIUYyWfkCFiwimzeKE4l7P6oev7t-AR3ptQ6qThRfM3HIOrx29yRCfuv-hmza5tZnKfFis9Gd_863kYG0rNUSGelX70BdTE8VKbjcSZaHpTdVMto7UnMMCoYNOmpfDXOXoah_mo5luxbHRuzjyfb1IuGWKg2pojqsMKzNOldl8MRXTlSGrmqqDul9vbBN004C9hMCAgrVjH5Z6ULleDN6hWvniAatHparYl5fwRkVfKBi83O4uv_s-j4hdTsoIjDjLiieE5RQPJHj
--------
They Built Libraries to Honor Loved Ones, Women Felled by Bombings
By Fatima Faizi and Rod Nordland
Feb. 21, 2021
KABUL, Afghanistan — When his soon-to-be fiancée, NajibaHussaini, was killed in a Taliban suicide bombing in Kabul, HussainRezai didn't know how to grieve for her.
"I had lost my love, but I wasn't allowed to mourn," said Mr.Rezai, a 33-year-old government employee. Though they had traveled to Daikundi Province to seek her parents' approval to marry, they weren't officially engaged, and he felt pressure to simply move on after her death.
It was July 2017 when a Taliban bomber detonated a vehicle packed with explosives, killing at least 24 people, including Ms.Hussaini, who was 28.
Thirteen months later, on the other side of the city, 40 students were killed when an Islamic State bomber detonated himself at a university entrance exam preparation center. Among those killed was RahilaMonji, 17, the youngest of nine siblings.
These women didn't know each other, but their lives were snuffed out by the same uncompromising violence that has killed thousands and left gaping holes in the lives of countless Afghans.
Yet Ms.Hussaini and Ms.Monji's loved ones were inspired to fulfill the same dream: to build public libraries memorializing the women they had lost.
Today, those libraries — one in Kabul, the capital, and the other in Daikundi Province — stand as symbols of the progress made toward gender equality and access to education in Afghanistan, where as many as 3.5 million girls are enrolled in school, according to a recent U.S. watchdog report, and where, as of 2018, one-third of the nation's teachers were women.
But those gains have also been overshadowed by violent resistance. Education centers are routinely the targets of terrorist attacks and more than 1,000 schools have shut in recent years, according to UNICEF.
Now, as negotiations between the Afghan government and the Taliban slowly move forward in Qatar, many worry that a peace deal could mean that the progress Afghan women have made the last two decades will be lost. And the Taliban's potential return to power is a grim reminder to the families of Ms.Hussaini and Ms.Monji that the legacy they created could soon unravel.
"I never want the Taliban ideology to govern my people again," said Hamid Omer, Ms.Monji's brother. "Where I was born, my village had to burn all the school textbooks available in our school. I am afraid we will face the same situation again."
As a student, Ms.Hussaini was so determined to succeed that she walked an hour and a half each way to and from her high school while also teaching part time, said her sister Maryam.
She did extraordinarily well, an impressive accomplishment for a person from Afghanistan's poorest province, Daikundi, in the central highlands — especially in a country where women and girls are marginalized by an education system often closed off to them by their families and Afghanistan's patriarchal society.
They also face a constant threat from the Taliban, who in past years have burned down girls' schools, threatened to kill female students and splashed acid in their faces.
After getting her bachelor's degree in computer applications in India, Ms.Hussaini completed a master's degree in Japan. She then quickly landed a prestigious job in the government's Ministry of Mines and Petroleum, where she was commuting in a minibus with several of her colleagues the morning they were hit by the suicide bombing.
For years, Mr.Rezai said, he cried whenever he thought of Ms.Hussaini. "It took me three years to change the shape of my grief into a positive thing," he said.
Ms.Hussaini had always said that Daikundi Province should have a library — a bold ambition in a country of roughly 38 million people and only 100 public libraries, according to a spokesman for the Ministry of Education.
In July 2019, he opened the NajibaHussaini Memorial Library in Nili, Daikundi's capital.
At first, the entire collection comprised only Ms.Hussaini's 400 textbooks. But today it has more than 12,500 books, magazines and research reports — most of which were donated.
The library is popular with young people, many of them students who are chronically short of educational resources, especially books.
"Najiba is not dead, she breathes with all the girls and boys who come to her library and study," Mr.Rezai said.
Taliban negotiators in Qatar have said they support women's rights, but only under their interpretation of Islamic law, and any specific conditions of a power-sharing agreement have so far not addressed the rights of Afghan women in any detail.
A growing narrative has emerged that the country can "either have women's rights at the cost of peace, or peace at the cost of women's rights," according to the watchdog report.
But some activists see a permanent cease-fire as a catalyst for furthering women's rights.
"Women have been change makers not only for inclusivity of the peace process, but also for paving ways for reconciliation at the local level," said MetraMehran, an organizer of the Feminine Perspectives Campaign, a social media initiative advocating for women's rights in Afghanistan.
She added, "A cease-fire will give them the space to fight for their representation in the process and ensure their perspectives are reflected on policies and decisions."
In Kabul, Ms.Monji had similar ambitions to Ms.Hussaini. A voracious reader, especially of novels in Persian and English, Ms.Monji had always been full of strange ideas and strong ambitions.
When she told her brother, Mr. Omer, that she had placed fifth in her class in a practice run of annual exams, he offered her $1,000 if she placed first, half seriously saying they would use that money to open a free library in their community. Then she surprised him with her results: She was at the top of her class and insisted he keep their bargain.
The next day, in August 2018, the Mawoud Academy, where she was studying to prepare for college, was destroyed by an Islamic State suicide bomber. She was among the dozens killed.
Learning of the bombing, Mr. Omer and her other siblings began the frantic search known so well to families whose loved ones cannot be located after a deadly attack.
In the forensic department of the Kabul Police Department, Mr. Omer found a badly burned body wearing a watch like the one Ms.Monji owned. Another sister recognized the tattered dress — it was their youngest sister.
Back at home, Ms.Monji's books were lined up on her desk, and Mr. Omer found the one she most recently had been reading: "And the Mountains Echoed" by the Afghan novelist Khaled Hosseini.
Then he found her diary. "It was just full of her simple wishes for peace and a better future," Mr. Omer said.
Normally for an Afghan funeral, a family slaughters several sheep and stages a feast for everyone they know, but as the siblings grieved together, Mr. Omer had a different idea.
"At that moment I decided I would not feed people," he said. "I would provide the money for a memorial library. It is what Rahila would have wanted."
Ms.Monji's family soon found a room on the upper floor of a mosque in their neighborhood in Kabul. As they built the library's social media following, book donations poured in. The family went on to establish the Rahila Foundation, which gives scholarships to needy children and organizes personal development and skills training programs.
"Now my sister saves the lives of hundreds of others," Mr. Omer said. "Her soul is inside each of them."
After she was killed, Mr. Omer was so furious that he wanted to take up arms and kill some of the extremists himself. "But when I calmed down, I thought, if I take up a gun like that, what is the difference between me and the terrorists?"
He added, "Establishing a library was a strong slap in the face to all the terrorist groups in Afghanistan."
https://www.nytimes.com/2021/02/21/world/asia/afghanistan-libraries-women-taliban.html
--------
Ten French women who joined IS go on hunger strike in Syria camp
By Anna Pujol-Mazzini
22 February 2021
Ten French women who joined the Islamic State have started a hunger strike in their detention camp in Syria in a bid to pressure France to bring them and their children back.
The women have been held alongside over 64,000 people, mainly women and children believed to be relatives of jihadists, in squalid camps managed by Syrian Kurdish forces in the north since Islamic State fighters were defeated in Syria in 2019.
They started the hunger strike "to protest against the stubborn refusal of French authorities to organise their and their children's repatriation," according to a statement released by two French lawyers representing the group on Sunday.
"Faced with this endless and pointless arbitrary detention, these women have chosen to stop feeding themselves. They are only demanding one thing: to be judged for what they have done," it added.
Earlier this month, human rights experts from the United Nations urged 57 countries, including Britain, France and the United States, to repatriate the wives and children of jihadists stuck in the squalid camps of Roj and Al Hol, in northern Syria.
"An unknown number of people have already died because of their conditions of detention," the UN said.
Dozens of French mothers and around 200 French children of suspected armed extremists live in the muddy camps, where malnutrition, disease and violence are rife.
The issue of how to treat the wives and children of fighters has given way to much debate in France, a country with a high number of citizens who have joined the Islamic State, and where terror attacks claimed by Islamist militants have killed hundreds.
France has repatriated 35 children so far, many of them orphans, but authorities have insisted they will only take back children on a case-by-case basis, leaving mothers behind to face local justice along with their husbands.
Opinion polls have shown a majority of French people are against the repatriations.
Last week, two lawmakers wrote an open letter to President Macron urging the government to repatriate the hundreds of "innocent" French children stuck in Syria.
Russia, Germany and the United States have brought some of their citizens home, and Kurdish officials have been pressing countries to repatriate their citizens for years.
https://www.telegraph.co.uk/news/2021/02/22/ten-french-women-joined-go-hunger-strike-syria-camp/
--------
Yemen: Women captives recall ordeal in Houthi prisons
Mohammed Alragawi
23.02.2021
Three Yemen-based human rights organizations have accused Iran-backed Houthi rebels of committing civil rights violations, amounting to war crimes.
A joint report issued by these groups has documented 1,181 violations against women that included murder, torture, enforced disappearance, sexual violence.
Speaking to Anadolu Agency, WesamBasindowah, director of the 8th March Yemeni Union Women, one of the authors of the report said women and children have in particular suffered and have been first targets of war in Yemen.
"The report aims to shed light on the types of violations that Houthi militias committed against women in Yemen, during the period from 2017-2020.
The report has documented 274 cases of enforced disappearance listed 538 female detainees and 71 incidences of rape and four suicide cases.
Quoting testimonies of released prisoners like Nasma Muhammad, the report claimed that she was kidnapped on March 24, 2019, by Zainabiyat -- a women's military group established by Houthis. She is currently receiving treatment in Cairo.
"During interrogations, I was accused of providing coordinates to the Arab coalition and being an agent of America and Israel and working in a prostitution network. They tortured, beaten, electrocuted, and sexually harassed and raped me," she told human rights groups.
Her parents had to pay a ransom of 3 million Yemeni riyals ($6,000) for her release.
Asma al-Omaisi, 22, a mother of two children, is on death row on charges of spying.
She was arrested in October 2016. After 15 months, a Houthi court in the capital Sanaa pronounced the death sentence. Her request to appeal despite international requests has been turned down.
Sharing her experience, Noora al-Jrowi, president of the Coalition of Women for Peace in Yemen told Anadolu Agency that she was among 77 women arrested by Houthis after they organize a protest on Dec. 6, 2017, in capital Sana'a against Houthis.
"The intervention of the UN High Commissioner for Human Rights succeeded in releasing us. At that moment, I decided to defend women's rights in Yemen. As protests continued, the arbitrary arrests also continued. The year 2018 was the worst year ever in the history of women's rights in Yemen," she added.
Shocking facts about sufferings
"Violations of women's rights in Yemen, especially the rights of female prisoners in Houthi-controlled prisons is unspeakable. There are shocking facts about the sufferings of detainees," said Basindowah.
Quoting the report, she said Houthi prisons are like graves for women.
After the killing of Ali Abdullah Saleh, the former president on Dec. 2, 2017, Houthi violations against women have become more systematic, said the report.
Women have been paying the price of the six-year war in Yemen. Reports suggest that there are 293 female detainees under the age of 18, in addition to dozens of mothers in Houthi prisons.
A panel of experts in its report to the UN Security Council president in January 2020 has also confirmed violations committed by Zainabiyat.
Basindowah also noted that Zinabiyat was carrying out illegal tasks like raiding houses and kidnapping.
"These women militias are accused of brutal acts against women such as arbitrary arrest, looting, sexual assault, beating, torture, and facilitating rape in secret detention centers," she said.
The report also noted that till now 321 female detainees have been released.
Stigma doesn't allow women to speak
In a conservative society like Yemen, al-Jrowi believes that "society is the biggest obstacle in exposing Houthi crimes against women because announcing these crimes is considered as a bigger crime".
To add salt to the injury and further alienate detained women from their families and society, they are accused of working with prostitution networks, so they remain in detention for long periods up to 2-3 years.
"Some women were killed in their homes while opposing arrests," she added.
Besides 8th March Yemeni Union Women', other groups who have compiled the report included the Coalition of Women for Peace in Yemen, the Anti-Human Trafficking Organization, and the Yemeni Coalition for Independent Women.
https://www.aa.com.tr/en/middle-east/yemen-women-captives-recall-ordeal-in-houthi-prisons/2153806
--------
URL: https://www.newageislam.com/islam-women-feminism/pakistani-politician-maulana-salahuddin-ayyubi/d/124376
New Age Islam, Islam Online, Islamic Website, African Muslim News, Arab World News, South Asia News, Indian Muslim News, World Muslim News, Women in Islam, Islamic Feminism, Arab Women, Women In Arab, Islamophobia in America, Muslim Women in West, Islam Women and Feminism